MRRL Hall of Fame
MADONNA
Details

Category: Inductees
Created: Thursday, 29 September 2011 21:10
Written by Gary Johnson
Madonna has been the most controversial female artist in the history of rock and roll. She is also one of the most commercially successful a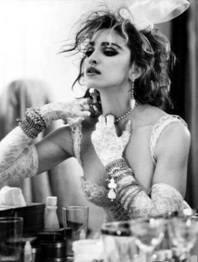 Madonna 1980'srtists in the history of popular music. Madonna has been a major star for going on twenty-five years; no other female singer in pop field has been as prominent or as successful over such a long period of time.
Borrowing a page from David Bowie, Madonna has reinvented herself by changing her music and looks many times, and she has carried off every change with her amazing and varied talents. One of Madonna's most important skills is her understanding of media and how to use it to her advantage. Early on, Madonna perceived the importance of MTV in promoting music. Her well-produced videos have helped her sell millions of records and have been an important factor in her becoming one of the world's biggest international stars.
Although her family lived in Pontiac, Michigan, Madonna Louise Veronica Ciccone was born in her mother's hometown of Bay City, Michigan. The eldest daughter, she was named after her mother, the former Madonna Fortin.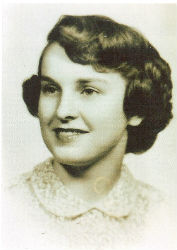 Madonna's mother
Madonna's mother, Madonna Louise Fortin, graduated from St. Joseph High School in 1951, one of several parochial high schools in Bay City that were in operation at that time. Sadly, her mother died from breast cancer when Madonna was just five. Madonna has frequently discussed the effect that her mother's death had on her life and career, calling it "one of the hardest things I've faced in my life".
After remarrying, Madonna's father moved his young family to Rochester Hills, Michigan, and this is where Madonna attended high school. Even though she lived several hours away, Madonna would often come back to Bay City in the summers to stay with her grandmother, Elsie Fortin, who lived in the Banks area on the city's West Side.
In Rochester, Madonna took piano lessons and then fell in love with dance. She took ballet, jazz, and tap lessons while cheerleading and maintaining a straight-A average at Rochester Adams High School. Her ballet teacher, Christopher Flynn, mentored Madonna in dance and also provided her with her first exposure to gay discos, a scene that would later be important to her music and style.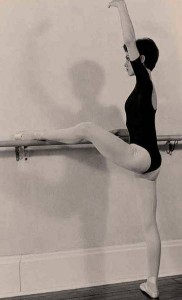 Madonna attended the University of Michigan for one year on a dance scholarship before moving to New York City, with Flynn's encouragement. There she studied with Martha Graham, and later joined a dance troupe where she worked with noted choreographer Alvin Ailey. Madonna lived in squalid conditions when she first moved to New York, working at a series of low paying jobs and taking nude modeling jobs to earn money.
Madonna went to France two years later as a dancer on a tour featuring disco singer Patrick Hernandez. It was there that Madonna met Dan Gilroy and when the pair returned to New York, they formed a band called the Breakfast Club. Madonna played drums and sang in the band.
After leaving the Breakfast Club, Madonna formed a band called Emmy with Detroit-born drummer and former college boyfriend, Steven Bray. She and Bray split from the group, and together they produced some demo tapes that were played by the deejay at the popular New York club, Danceteria. The deejay, Mark Kamins, then produced Madonna's first dance club hit, "Everybody", in 1982 and that led to her signing with Sire Records.
In late 1983, Sire released her first album, "Madonna", and it became a # 8 hit on the album charts. The album provided Madonna with her first three hit singles on the pop charts: "Holiday", "Borderline", and "Lucky Star". Madonna's first videos received heavy airplay on MTV.
Madonna appeared on American Bandstand that year, dancing and lip-synching her way through "Holiday". Her image at this time was that of a sexy, but innocent rebel dressed in black lace, beads, fishnet stockings, and blond hair. Her look started a fashion trend for girls across the country who were called "Madonna wannabes" by the press.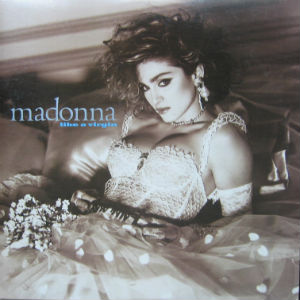 Like A Virgin LP
In 1984, Madonna released her first # 1 album, "Like A Virgin". Her provocative performance of the title song on the MTV Music Awards caused a sensation, and the song eventually spent six weeks at the top of the pop singles' charts. MTV was the perfect medium for showcasing Madonna's highly marketable ingredients of song, dance, and sexuality.
In one of her most celebrated videos, "Material Girl", Madonna paid homage to Marilyn Monroe in her most elaborate production to date. The popularity of the song and video led to Madonna being given the nickname "the Material Girl" in the press. "Angel" and "Dress You Up" were also Top Ten singles taken from the "Like A Virgin" album.
In 1985, Madonna had a small part in the film Vision Quest as a nightclub singer. In the movie, she performed her next # 1 single, "Crazy For You". She then earned good reviews for her first starring role in Desperately Seeking Susan.
She went out on the road for the first time with her Virgin Tour of 1985, and Madonna played two sold-out homecoming shows at Cobo Hall in Detroit.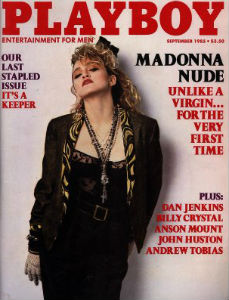 In the summer of 1985, Playboy and Penthouse published a number of nude photos of Madonna taken while she was struggling in New York in the late 1970's. Publication of the photos caused a swell of publicity and public discussion of Madonna, not all of it positive.
The mayor and some of his like-minded followers in Madonna's hometown of Bay City cancelled plans to honor their most successful native daughter with a key to the city in light of the nude photos. After failing to block the national publication of the photos, Madonna was unapologetic and defiant, but never responded publicly to the snub by Bay City's mayor.
In 1986, Madonna married actor Sean Penn, with whom she appeared in Shanghai Surprise. The film, which was produced by ex-Beatle George Harrison, was a commercial flop and Madonna's marriage became the hot topic of gossip columns around the world.
Her next # 1 hit, "Live To Tell", wa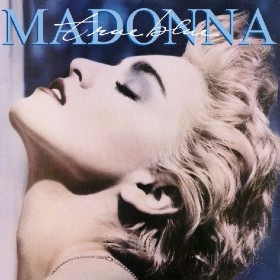 True Blue LPs from the soundtrack of Penn's film At Close Range. The song was featured on her new album "True Blue". Madonna caused a great deal of controversy with her second single from the album. "Papa Don't Preach" drew criticism with its perceived message that young unwed women should keep their babies. The song became Madonna's fourth # 1 single, and its excellent video did a good job of expressing the song's true meaning.
There was little doubt, however, that the lyrical content of Madonna's songs had deepened and critical acceptance of her as a musical artist began to grow. "True Blue" also contained another # 1 single, "Open Your Heart", and two other Top Ten hits, "True Blue" and "La Isla Bonita".
Madonna became embroiled in a second controversy with her hometown of Bay City when some of her comments to Jane Pauley during a 1987 interview on the Today Show were taken out of context by the Bay City Times. The resulting front page editorial, titled That's Cold, Madonna, made it appear that Madonna had put down her hometown when she referred to Bay City as a "smelly little town".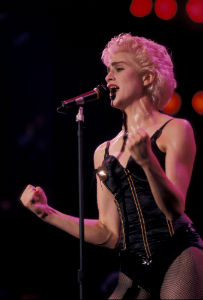 Madonna at the Silverdome 1987
In truth, Madonna had simply used a poor choice of words when relating a childhood memory of the offensive chemical smells from the nearby Dow petrochemical plant that greeted her every time she visited her grandmother's home on Smith Street in Bay City.
Despite clarifying her comment to Pauley and stressing that she had "great affection for Bay City", the slanted Bay City Times editorial is the only thing many people in Bay City still remember. After Madonna learned that her remarks had been misinterpreted, she stopped her concert at the Pontiac Silverdome the following night and apologized, saying in part; "I didn't mean the people of Bay City are stinky. The Dow Chemical plant was right near my Grandma's house and I know. I didn't mean it about the people."
Madonna's marriage to Penn ended in 1988, and she took time off from music to appear in the Broadway production, Speed The Plow.
She returned to her recording career in 1989 with the album "Like A Prayer". The title song's video, which included burning crosses and a bl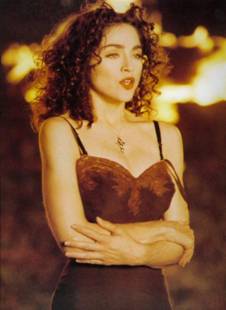 "Like A Prayer" videoack Jesus figure, caused Madonna's biggest controversy yet. The Vatican censured the video, and a Pepsi commercial that showed brief scenes of the burning crosses was pulled from television.
The publicity from the ordeal, however, helped make Madonna an international phenomenon and the "Like A Prayer" single became Madonna's seventh # 1 hit. The hit album also spawned four more hits: "Express Yourself", "Cherish", "Oh Father", and "Keep It Together".
Madonna's astounding career continued throughout the 1990's. Her work in films was spotty, but she earned good reviews for her performances in Dick Tracy, A League Of Their Own, her tour documentary Truth Or Dare, and especially for the musical Evita for which she won a Golden Globe for "Best Actress in a Musical or Comedy".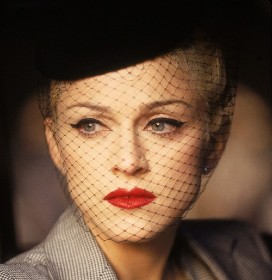 Madonna as Evita
The Michigander continued to be the top female recording artist in the world. Madonna surpassed Detroit's Aretha Franklin as the female performer with the most # 1 hits, as she topped the charts with "Vogue", "Justify My Love", "This Used To Be My Playground", and "Take A Bow". She charted a total of twenty-four singles during the decade.
In 1992, Madonna signed a multimillion-dollar deal with Time-Warner, guaranteeing release of all albums, films, and books under her own Maverick Production Corporation. Her first Maverick book project was the highly controversial coffee-table photo book, Sex. Adult in nature, it featured strong sexual content and graphic photographs of Madonna nude, simulating sexual acts, and wearing S&M gear. Although it caused a great controversy and resulted in bad press and negative attitudes toward Madonna, it was a runaway best-seller.
The book was followed by her "Erotica" album that was hurt somewhat by the Sex controversy. The album peaked at # 2 and produced only two Top Ten singles, the title track and "Deeper And Deeper".
Madonna then put on her most controversial and explicit world tour to date in 1993 with The Girlie Show Tour. Madonna was featured as a whip-carrying dominatrix surrounded by topless dancers, and the show's content was protested in many locations.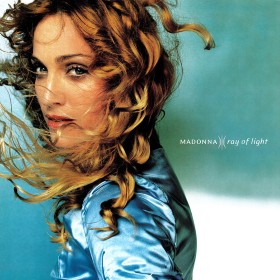 Ray Of Light
Madonna moved away from the more overt sexual material on her seventh studio album, "Bedtime Stories", and into more R&B flavored songs. The following year she released "Something To Remember", a collection of her best ballads.
In 1996, came her greatest film success, Evita, and the film's soundtrack became her twelfth platinum album.
At a time when many felt that her finest recordings were behind her, Madonna returned to prominence with her 1998 album, "Ray Of Light". It blended personal and introspective lyrics with Eastern sounds and techno music. The album charted # 2 and earned Madonna her best reviews since "Like A Prayer". In 2000, she released the well-regarded "Music" album.
Madonna has aged gracefully and has recently revealed a more spiritual and maternal side. She married British film director Guy Ritchie in 2000. She is the mother of two children of her own, and she has adopted two children from the African nation of Malawi.
She does, however, continue to be a controversial figure. Her 2003 video for the title track of her album, "American Life", resulted in some criticism over the military imagery in the clip. Out of respect for the troops fighting in Iraq, Madonna edited the video before its release.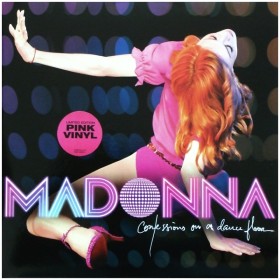 Confessions On A Dance Floor
Her album, "Confessions On A Dance Floor" returned Madonna to her disco roots. Her Confessions Tour, however, caused debate in many venues because Madonna performed her hit "Live To Tell" on a large cross while wearing a crown of thorns.
Madonna was voted into the Michigan Rock and Roll Legends Hall of Fame in 2006.
Madonna was inducted into the Rock and Roll Hall of Fame during her first year of eligibility in 2008. The year also saw the release of a new CD, "Hard Candy", which included the hit single "4 Minutes" featuring Justin Timberlake and Timbaland. Madonna then embarked on her Sticky & Sweet world tour that included a sold-out performance at Ford Field in Detroit.
She also produced the documentary "I Am Because We Are" which explored the terrible conditions in Malawi where more than 1 million children are orphaned by AIDS. Unfortunately, 2008 closed with Madonna and Guy Ritchie being granted a preliminary divorce after eight years of marriage.
2012 was a big ear for Madonna. She wrote and directed the feature film W.E. and won a Golden Globe in the Best Original Song category for "Masterpiece". Madonna was the headline performer in a glitzy halftime show at the 2012 Super Bowl. She also released a well-received new album, "M.D.N.A", and set up another world tour.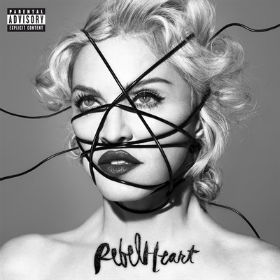 "Rebel Heart" album
Madonna released her thirteenth studio album, "Rebel Heart" in 2015, and the Rebel Heart Tour, launched to promote the album, traveled to North America, Europe, Asia, and Austraila and grossed nearly $170 million in ticket sales from its 82 shows.
In late 2016, Billboard magazine named Madonna its Woman of the Year. In December, Rolling Stone magazine named Madonnaland, Alina Simone's book that dealt in part with Madonna's relationship with her hometown of Bay City, as one of its Ten Best Music Books of 2016.
After moving to Lisbon, Portugal with her adoptive children, Madonna was inspired by the country's music to produce her 14th studio album, "Madame X", in 2018. It topped the Billboard charts that year, making it her ninth # 1 album. An all-theatre tour of North America and Europe was launched to promote the album, but a recurring knee injury forced Madonna to cancel several shows.
In 2020, Madonna was reported to be writing a script about her life and career with with Diablo Cody with plans to make it into a film.
MRRL Hall of Fame: https://www.michiganrockandrolllegends.com/mrrl-hall-of-fame
Dr. J. Recommends:
"The Immaculate Collection". Sire Records.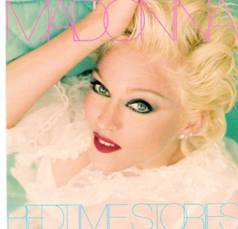 "Bedtime Stories" This is a terrific greatest hits collection that covers the years 1983 – 1991. The seventeen songs include all of Madonna's essential early singles.
"Erotica" and "Bedtime Stories". Maverick Records. These two albums are sometimes overlooked in favor of Madonna's bigger hits. Both are excellent and worth checking out.
"Ray Of LIght" and "Hard Candy" are best two Madonna CD's of the last ten years.
From The Bookshelf:
Life With My Sister Madonna by Christopher Ciccone with Wendy Leigh
A behind-the-scenes look at the most famous woman of our time written by the member of her family who knows her best. Christopher Ciccone's memoir covers the forty-seven years he spent growing up with, working with, and trying to understand his perfectionist, and career-driven older sister. This is a must-read for all Madonna fans.