MRRL Hall of Fame
MARK FARNER
Details

Category: Inductees
Created: Thursday, 04 June 2015 03:01
Written by Gary Johnson
In a distinguished rock and roll career that started in the mid-60s, Mark Farner has played and recorded with some of Michigan's greatest bands: Terry Knight and The Pack, The Bossmen, The Fabulous Pack, and most notably, Grand Funk Railroad. Farner began his solo career in 1976 after the first break-up of Grand Funk. He has continued to perform and record as a solo artist for the next 40 years as well as participating in Grand Funk reunions in both the 80s and 90s.
Mark Farner was born on September 29, 1948 at St. Joseph's Hospital in Flint, Michigan. His introduction to music came from weekend gatherings where relatives from both sides of his family would play music and sing. Mark's mother, Betty, and her family had come to Michigan during the great depression of the 1930s from Arkansas in search of higher paying jobs and had brought their traditional music with them. Mark's mother was an accomplished singer who taught him how to sing harmony vocals, and his father, Delton, played both guitar and saxophone.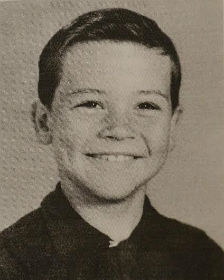 Mark Farner pre guitar
After his promising high school football career was cut short by a knee injury, Farner began playing guitar when his mother rented a flat top Kay guitar along with six prepaid lessons as a present for his 15th birthday in 1963. After seeing The Beatles on the Ed Sullivan Show, he was inspired to let his hair grow long and obtain a harmony electric guitar and amplifier the following year.
Like so many other Michigan teens inspired by the British Invasion, Farner started playing and singing in local bands, the first being The Geneseeians (named after Flint's Genesee County). From there he went on to join Mojo and The Nightwalkers and then Robin's Hoods, who later became known as The Derelicts.
Following his expulsion from Kearsley High School during the fall of his senior year after a physical confrontation with one of his teachers, Farner caught a big break when he was asked to join one of the Flint area's most popular bands, Terry Knight and The Pack. Farner was recruited for the group by Jim Atherton, a friend and the band's manager, to replace bassist Herm Jackson who had been drafted. Mark moved into the Atherton family home on Grand Blanc Road south of Flint and soon learned how to play his new instrument. Farner quickly bonded with drummer Don Brewer as the band's rhythm section, and became a frequent guest at the Brewer family dinner table in Swartz Creek, a suburb of Flint.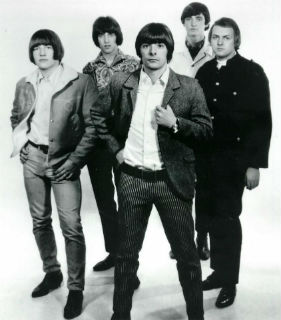 Terry Knight & The Pack: (L to R) Mark Farner, Bobby Caldwell, Terry Knight, Don Brewer, Herm Jackson
Terry Knight and The Pack had already recorded two singles by the end of 1965. The band had opened for both The Rolling Stones at Cobo Hall in Detroit and The Yardbirds at the IMA Auditorium in Flint in December, by which time Farner had joined the band. One of the songs performed that night by The Yardbirds was "Mister, You're A Better Man Than I", a non-single cut from the band's latest album, "Having a Rave Up with The Yardbirds". Terry Knight and The Pack, featuring Farner on bass, covered the song as "Better Man Than I". It became their next single released on the Lucky Eleven label, owned by Flint businessman Otis Ellis. The song became a big regional hit, reaching the Top 10 in both Detroit and Cleveland and # 1 in Flint. "Better Man Than I" also charted nationally, reaching # 125 on the Billboard Pop chart.
After Herm Jackson received a medical discharge from the Army, Farner gave back his bass seat in Terry Knight and The Pack to Jackson in the summer of 1966 and joined The Bossmen, another top mid-Michigan band led by Dick Wagner. The Bossmen, who also recorded for Lucky Eleven, gave Farner a chance to play guitar and sing; and he performed on the band's biggest hit single, "Baby Boy". Although Wagner was the band's main singer, Farner had an important solo spot in the group singing a version of "House Of The Rising Sun" at their performances that reportedly knocked out audiences. He also wrote his first song, "Heartbreaker", with The Bossmen and performed it on stage for the first time with the group before they broke up in early 1967.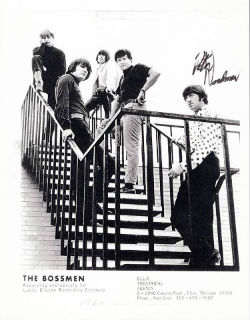 The Bossmen (L to R) Lanny Roenicke, Dick Wagner, Mark Farner, Warren Keith, Pete Woodman
Farner rejoined Terry Knight and The Pack as their lead guitarist in January of 1967 after Curt Johnson left the band; and Mark played on some of the songs on the group's second album, "Reflections", including the band's biggest hit single, "I (Who Have Nothing)". Shortly thereafter, Knight left the band and went on to form a short-lived group called The Terry Knight Revue, complete with an eleven-piece orchestra and two female Go-Go dancers.
Following Knight's departure, the band carried on as The Fabulous Pack and issued their first single, a cover of Bob and Earl's "Harlem Shuffle", on the Lucky Eleven label in the spring of 1967. Although their version did not chart nationally, "Harlem Shuffle" was # 1 on WTAC, Flint's top AM radio station.
Now on something of a roll, the band's next single was "Wide Trackin'", a song written by Dick Wagner at the request of Otis Ellis for use in an advertising campaign for the Pontiac Division of General Motors, who were currently promoting the virtues of the 'wide tracking' Pontiac cars. The single was issued with a picture sleeve and was given out at Pontiac dealerships which helped it get airplay regionally.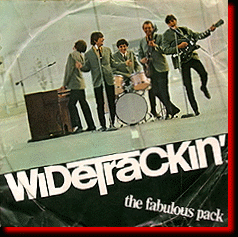 "Widetrackin'" picture sleeve
Like many other bands of the Vietnam era, The Fabulous Pack's lineup was affected by the military draft. Although Farner was classified 4-F because of his medical issues, the band went through a number of personnel changes and in 1968 an old friend from Flint named Craig Frost joined on keyboards. At this point the band changed its name back to The Pack in hopes of getting back on the charts. The group signed with Capitol Records and issued a cover of the Jimi Hendrix Experience's song, "Fire", as their lone single under the title "Next To Your Fire". When the single failed to chart, Capitol turned down an album the band had recorded with John Rhys.
Farner lived in Bay City, Michigan for most of 1968. The Pack was still being managed by Jim Atherton who had formed a partnership with local businessman Bill Kehoe called Delta Promotions, located in a building on Euclid Avenue. Farner and Atherton eventually rented a house on Bay City's west side near the corner of N. Henry and E. Jenny. Dick Rabbit, another band represented by Delta Promotions, also lived at the house and it became a popular hangout for other bands and a spot where local 'heads' could smoke and/or purchase marijuana.
Worried about the drug activity at the house, Farner moved out shortly before the dwelling was raided by the police. Atherton along with the three Thayer brothers who made up the Dick Rabbit power trio were arrested in the bust which became a front page story in the Bay City Times in early 1969. The arrest caused Jim Atherton to take on a much lower profile role at Delta Promotions which moved its offices from Euclid Avenue, near the Michigan State Police's Bay City post, across town to a larger facility on Tuscola Road.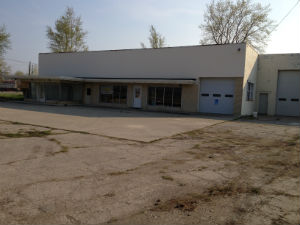 Former site of Delta Promotions
The Pack came to an end after a disastrous mini-tour of the Boston area in the winter of 1969. Delta Promotions persuaded the band to go out East and play for free in order to break into the Boston market. Unbeknownst to the band, Delta was being paid for their performances while The Pack stayed in two unheated summer cottages on Cape Cod during one of the worst winters on record. Disillusioned by their experience, the band broke up after returning to Michigan.
Brewer and Farner were interested in forming a new power trio along the lines of Cream and the Jimi Hendrix Experience. While hanging out at the Delta Promotions facility on Tuscola Road they heard a rehearsal of the new version of ? and The Mysterians who had recently signed with Delta. Most of the members of the band that had a # 1 hit with "96 Tears" in 1966 were now gone and lead singer Question Mark was trying to revive his career after a glue sniffing arrest the previous spring in Saginaw had tarnished his reputation.
Brewer and Farner were impressed by the bass player for The Mysterians, a Flint native and friend of Farner's named Mel Schacher. Schacher had been playing bass and serving as road manager for the band but was unhappy with his role and jumped at the chance to join a new band.
Rather than go back with Delta Promotions, Brewer suggested they contact Terry Knight who had numerous contacts in the music business. Knight came to see the band rehearse at the Flint Federation of Musicians' Hall and was impressed. It was Knight who suggested the name Grand Funk Railroad as a play off the Grand Trunk Western Railroad that Ran through Michigan, Ohio, and Ontario, Canada.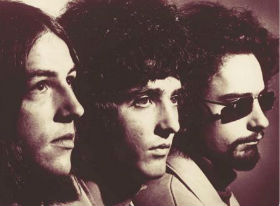 Grand Funk Railroad: Mark Farner, Don Brewer, Mel Schacher
Knight got a six-month contract for the band, which included a single and a follow-up album and a three year deal with Knight's Good Knight Production Company. The deal was heavily weighted to Terry Knight's benefit. Grand Funk Railroad's big break came two months later as the unbilled and unpaid opening act for an estimated crowd of 180,000 at the Atlanta International Pop Festival on July 4, 1969. The band earned a standing ovation for their 45-minute set and was called back for several encores. Capitol representatives were also at the festival for their performance and, within weeks, issued the single "Time Machine" to take advantage of the word of mouth spreading across the country about the hot new band from Michigan. Their debut single reached # 48 on the Hot 100.
On August 25, 1969, Capitol released Grand Funk Railroad's first album, "On Time", and it peaked at a very respectable # 27 in Billboard, earning the band its first gold record. On the minus side, Knight adopted a policy whereby the band did not speak with the music press, leaving Terry Knight to do all the interviews. Unfortunately, most of the music press resented this strategy and, as a result, frequently lambasted Grand Funk Railroad's recordings and concert performances.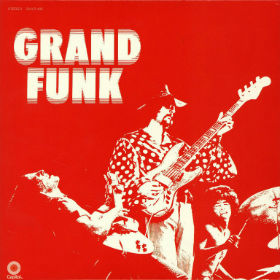 Despite the critics, nearly every Grand Funk Railroad show was a sell-out. To keep the momentum going, Capitol released the band's second LP, "Grand Funk", before the end of the year. Although it sounded somewhat hurried and didn't produce a hit single, "Grand Funk" sold more than its predecessor, reaching # 11 in Billboard and eventually earning a platinum record for the band.
In the spring of 1970, Terry Knight pulled off the biggest publicity stunt in rock history up to that time when he produced what was said to be the world's largest billboard to advertise Grand Funk Railroad's third album, "Closer To Home", in New York's Times Square. The billboard, which featured the cover of the album, was 60 feet high and took up the length of an entire city block. The cost of producing the billboard and renting the space for a month was over $100,000.
The publicity seemed to work as the "Closer To Home" reached # 6 on the LP chart and the title track peaked at # 22 on the Hot 100 after it was released as a single. The band performed in concert over 100 times in 1970 and released the 2 LP "Grand Funk Live Album" at the end of the year to take full advantage of their popularity. It became their biggest hit yet, peaking at # 5 and going double platinum in sales.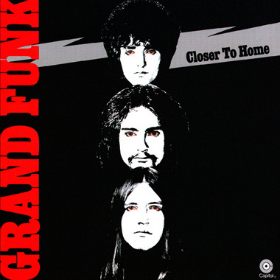 "Closer To Home" LP
Grand Funk Railroad toured overseas for the first time in 1971 and released their fifth Capitol album, "Survival" in the spring. The album reached # 6 and produced two charting singles; covers of Traffic's "Feelin' Alright" and The Rolling Stones' "Gimme Shelter".
In July, the band sold out their concert at Shea Stadium in New York in 72 hours, breaking the record set by The Beatles for their first show at the ballpark six years earlier. They closed out the year with the # 5 hit album "E Pluribus Funk" and their second Top 40 single, "Footstompin' Music", featuring Farner on keyboards.
1972 saw Grand Funk Railroad break with Terry Knight. Concerned with Knight's fiscal responsibility and tired of his despotic managerial style, the band fired him in early 1972. Knight sued for breach of contract which began a protracted legal battle that lasted two years and ended when the band settled out of court. Knight came out the clear winner with the copyrights and publisher's royalties to every Grand Funk recording made from March of 1969 through March of 1972, not to mention a large payoff in cash and oil wells.
Flint native Craig Frost was added to the band's lineup in 1972. Their first recording project without Terry Knight, and under the shortened moniker of Grand Funk, was titled "Phoenix". Recorded in Nashville, the band members produced the record themselves and the end product contained a softer, more restrained sound. Although "Phoenix" sold less than the previous four Grand Funk Railroad albums, it reached # 7 in Billboard and produced another Top 40 single with "Rock & Roll Soul".
Grand Funk's greatest commercial success came with its next two albums, both produced by Todd Rundgren, a successful recording artist in his own right and one of rock's hottest record producers in the early 70s. Rundgren had been recommended to the band by Lynn Goldsmith who was Grand Funk's photographer and publicist. The first of these albums, "We're An American Band", was released in July of 1973. It peaked at # 2 in Billboard and spent 35 weeks on the chart. The album's title track, "We're An American Band", was issued as the lead single and it became a gigantic radio smash and Grand Funk's first # 1 hit on the Hot 100. "Walk Like A Man" was then issued as the follow-up single and reached # 19.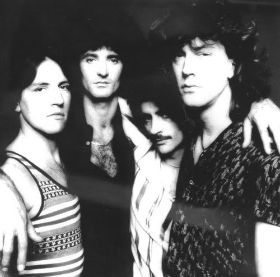 Farner, Brewer, Schacher, and Frost
Rundgren was the obvious choice to produce Grand Funk's next album, "Shinin' On", in 1974. It featured an elaborate 3-D cover with 3-D glasses, a novel idea created for the album jacket by manager Andy Caviliere and photographer Lynn Goldsmith. The album featured slicker production and more of a group effort vocally, but it did not match the sales of "We're An American Band", as "Shinin' On" peaked at # 5. The band's remake of Little Eva's 1962 hit, "The Loco-Motion", became their 2nd # 1 single. The album's title track was released as the follow-up and was also a solid hit, peaking at # 11 on the Hot 100.
Despite all the chart success, Farner believed that many of Grand Funk's early fans were turned off and felt that the band had sold out to achieve Top 40 success. He also felt that it ultimately led to the band's commercial failure a few years later. Farner in his biography From Grand Funk To Grace: "We lost many of our fans. Somehow my mind got a little deranged and I began to think maybe this is the way you've got to write music to be a success. So it was me who departed from the first devotion of saying what needed to be said for the people. Don's songs were more about partying than politics, so the direction and our fan base changed. This led to our losing popularity over the years. My perception is that we had our greatest moments in the first three years of the band because we had a closer relationship to the people."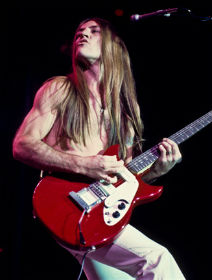 Farner on stage
When Todd Rundgren became unavailable to produce Grand Funk's next album, Jimmy Ienner was brought in to man the boards for "All The Girls In The World", released in December of 1974. The album peaked at # 10 and produced two more hit singles: a cover of "Some Kind Of Wonderful" by the Soul Brothers Six, which reached # 3, and "Bad Time", Farner's composition about the break-up of his first marriage, which peaked at # 4. Unfortunately, the album and its two singles would be Grand Funk's last big hits as tensions between the band members increased due to personal issues, burnout, and disagreements over musical direction.
Grand Funk was still a major draw on the concert circuit in 1975, however, and several of the shows on their tour in support of the "All The Girls In The World" were recorded for the 2 LP live album titled "Caught In The Act". The album reached a respectable # 21 but it was also the first Grand Funk album that failed to earn any awards. The recording also led to a dispute with Capitol Records who felt that Grand Funk should deliver two albums of new material to fulfill their contract rather than the two discs on the live album.
In order to avoid another legal hassle, the band agreed to record one more album for Capitol. "Born To Die" was released in January of 1976 and was Grand Funk's first real flop. The album charted at # 47, the worst showing for any of the band's LPs; and both singles, "Take Me" and "Sally", failed to crack the Top 40.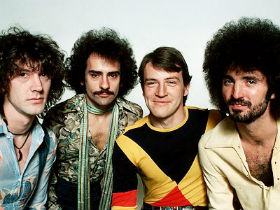 Frost, Schacher, Farner, and Brewer
Grand Funk signed with MCA Records in 1976 and went into the studio with Frank Zappa as their producer. It was an unusual pairing but the resulting album, "Good Singin', Good Playin'" was considered by many critics to be Grand Funk's finest and most daring album. Disco had changed the musical landscape by 1976, however, and the album stalled at # 52. The band released a cover of The Contours' "Can You Do It" as the lead single but it only reached # 45 on the Hot 100. The album and single would prove to be the final charting records in Grand Funk's storied career.
The band broke up shortly after the release of "Good Singin', Good Playin'" in the late summer of 1976. Don Brewer, Mel Schacher, and Craig Frost went on to form a new band called Flint nine months later and released one self-titled album on Columbia Records that sold poorly. Flint recorded a follow-up album in 1979 but broke up after the LP was cancelled by their record label.
Mark Farner launched his solo career in 1977 after signing with Atlantic Records. His first album for his new label was produced by his old friend and fellow Michigan music legend Dick Wagner. The resulting "Mark Farner" LP was filled with catchy, hook-filled songs that revealed Farner's Pop and R&B influences but it did not sell. Farner went back to the power trio concept for his second Atlantic album in 1978. Produced by Jimmy Iovine, "No Frills" suffered from a lack of promotion and, like its predecessor, did not dent the charts.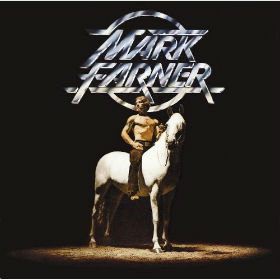 Farner's first solo album
In 1980, Farner, Brewer, and Schacher decided to reform the original lineup of Grand Funk. Shortly before they were to sign with Full Moon Records, a subsidiary of Warner Bros., Schacher decided to drop out of the reunion. Dennis Bellinger, who had been playing bass in Farner's band, was brought in as the replacement. Released in July of 1981, "Grand Funk Lives" was the band's first new set of recordings in five years, but it failed in the wake of new wave acts like Blondie, U2, Elvis Costello, and The Police that were starting to dominate both the sales charts and the air waves. "Grand Funk Lives" only reached # 149 on Billboard.
The sessions for 1983's "What's Funk?" were marred by constant disagreements between Farner and Brewer, the health problems of producer Gary Lyons, and the sudden death of manager Andy Caviliere. It was obvious to Warner Bros. that the chemistry that had made Grand Funk a great band was missing and the label put out "What's Funk?" with very little promotion. Not surprisingly, the album tanked and became the first non-charting Grand Funk album and the last studio album put out by the band.
By the middle of the decade, Farner and his second wife Lesia had begun to embrace their Christian faith and Farner saw his music as an opportunity to share the message of God. He formed Mark Farner's Common Ground Ministry which published inspirational newsletters as well as information on his tour schedule. Farner called his new music direction 'God Rock', a mix of his Grand Funk hits along with his new message-driven material that was performed in bars, nightclubs, and other secular venues.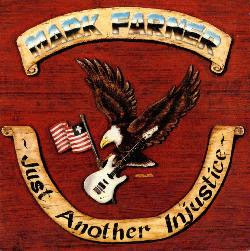 In 1987 Farner signed with Frontline Records, a Christian-based label sold mainly through religious outlets. The following year, Frontline released "Just Another Injustice", the first of three Mark Farner albums for the label. The album contained the song "Isn't It Amazing", Farner's first Contemporary Christian hit that reached # 2 on Billboard's Inspirational Chart and was nominated for the Dove Award.
Farner released "Wake Up" on Frontline in 1988 and "Some Kind Of Wonderful" for the label in 1991. The following year Frontline released "Closer To Home", a compilation of the best of Farner's three albums. Because Frontline was a small independent label, sales of all of Farner's releases was limited and he claims to have made little or no money from the experience.
While Farner was recording on Frontline, he was signed by promoters David Fishof to perform on the Super '70s Fest tour in the summer of 1988. He put together the Mark Farner Band and performed his hits on two dozen dates on a bill that included Randy Bachman, Dr. Hook, and Rare Earth. Farner's performance so impressed Fishof that he recommended him for Ringo Starr's All-Starr Band tour of 1995.
Besides Farner on guitar, Ringo's band also included Randy Bachman on guitar, Felix Cavaliere on keyboards, John Entwhistle on bass, Billy Preston on keyboards, Mark Rivera on horns and percussion, and Ringo's son, Zak Starkey on drums. Farner performed "The Loco-Motion", "Some Kind Of Wonderful", and I'm Your Captain" during the shows. Being in Ringo's All-Starr band put Farner back in the spotlight and it ultimately led to a Grand Funk Railroad reunion.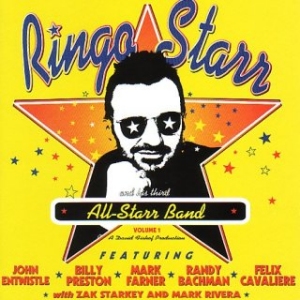 Farner stayed on the road in late 1995 and early 1996 as part of the Northwest Airlines All-Stars, a band that included Cavaliere, Preston, and Rivera along with Steve Cropper, Lou Gramm and other sidemen. In April, Grand Funk was honored with a Lifetime Achievement Award at the Motor City Music Awards held in downtown Detroit at the State Theatre where the reunited band performed "Some Kind Of Wonderful".
It was apparent that the differences between Don Brewer and Mark Farner had not completely healed when Grand Funk reunited in 1996 for a 14-show mini-reunion tour. The Farner-Brewer-Schacher lineup was enhanced by Howard Eddy Jr. on keyboards, rhythm guitar, and backing vocals since Craig Frost was touring with Bob Seger's Silver Bullet Band.
The band entered the Harmonie Park Studios in Detroit in August with the intention of recording a new album. Five tracks were cut before the idea was scrapped. Only three of the songs have been released. They appeared of the Grand Funk box set retrospective, "Anthology", which was released in 1999.
Grand Funk hired David Fishof as their manager and promoter and he produced their sold out benefit shows in New York, Los Angeles, and Detroit in 1997 to raise money for orphans in the war-torn region of Bosnia-Herzegovina. For the benefit, Grand Funk was backed on several songs by a 32-piece orchestra led by Paul Shaffer. The Detroit show was recorded and released on Capitol Records as a 2 CD set entitled "Bosnia" and issued in October.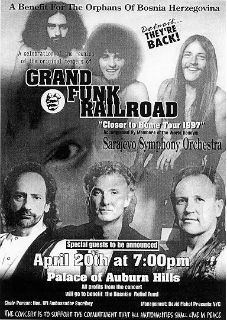 The band toured extensively from 1996 to 1998 but they lost David Fishof early in 1998 as he tired of continual run-ins with Don Brewer and also of being the middleman as the old tensions between Brewer and Farner reappeared regularly. Brewer and Farner went their separate ways after the tour but appeared along with Terry Knight later in the year in a highly interesting VH1 Behind The Music special on Grand Funk Railroad.
In June of 1999, Capitol Records released "Thirty Years Of Funk – 1969-1999 The Anthology" a 3 CD retrospective set spanning Grand Funk's recording career. The following year, Don Brewer and Mel Schacher announced they were embarking on a year-long tour, billing themselves as Grand Funk Railroad, but without Mark Farner. Supplementing the lineup was Max Carl on lead vocals, Bruce Kulick on lead guitar, and Tim Cashion on keyboards. Farner had been asked but declined believing that he deserved a greater share of the revenue than the other two because he was the primary songwriter, along with being the lead vocalist and guitarist.
Although he was opposed to Brewer and Schacher using Grand Funk Railroad as their band name, there was nothing he could do about it. Farner had signed a legal document in 1998 wherein he and Brewer and Schacher formed a corporation to own the Grand Funk trademark to limit their liability as individuals on the road. Two-thirds of the corporation is the majority, and majority rules. Brewer and Schacher have continued to tour over the years as Grand Funk Railroad.
Farner formed Lissmark Communications in the 90s with Steve Lisuk and has since released his new solo recordings along with the reissues of his earlier solo material, including the two Atlantic albums, on Lissmark Records.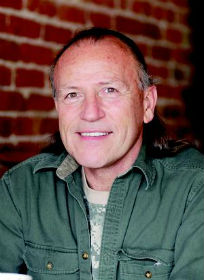 Mark Farner
In 1999, Farner was honored with the Lakota Sioux Elders Honor Mark. During a concert in Hankinson, North Dakota a special presentation was made honoring Farner for his Native American ancestry and his contributions. Members of the Lakota nation presented him with a hand-made ceremonial quilt. Farner's great grandmother was a full-blooded Cherokee Indian, and he has also been presented with the Cherokee Medal of Honor by the Cherokee Honor Society.
In 2001, Farner's authorized biography was published. From Grand Funk To Grace was written by Bay City author Kristofer Engelhardt; and it is the most complete account of Mark Farner's life, family, and musical career to be found in print. Engelhardt had the full cooperation of Farner and his family during the writing of the very detailed and well-researched biography. Almost all of the facts presented in Farner's MRRL biography have been taken from Engelhardt's book.
Grand Funk's former manager Terry Knight was murdered by his daughter's boyfriend in 2004 in Texas after attempting to intercede in an argument between the two. In a interview with Gary James for the Classic Bands web site, Farner said that Knight had drugged away all the money he had made from Grand Funk by using heroin and cocaine, and also by smoking crack. Farner claimed that he had tried to contact Knight several times over the years to tell him that he forgave him for screwing the band out of millions of dollars: but apparently Knight did not want to talk to him and the two never did speak before Knight's untimely death.
Although Grand Funk Railroad continues to be snubbed by the Rock and Roll Hall of Fame, the band was among the first inductees to the Michigan Rock and Roll Legends online Hall of Fame in 2005. After the site began honoring Legendary Michigan Songs, Grand Funk has been well represented over the years by the induction of "We're An American Band" in 2008, "Closer to Home/I'm Your Captain" and "Some Kind Of Wonderful" in 2009, and "Bad Time" in 2015. In addition, Terry Knight and The Pack's "Better Man Than I", on which Farner played bass and sang backing vocals, was inducted in 2015.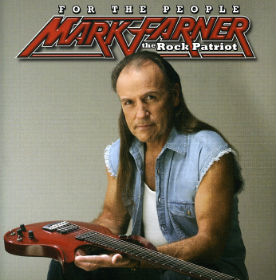 Now managed by his wife Lesia, Farner has continued to tour regularly in the 21st century with his band N'rG, which plays a mix of Grand Funk hits and Farner's solo songs. After suffering from heart problems for eight years, Farner had a pacemaker installed in 2012. He is able to keep up his stamina on stage by doing strength training and eating right with his wife's help.
Farner's solo recordings have been intermittent since the turn of the century. He put out the "Red, White and Blue Forever" EP in 2002 and the "Live!!! N'rG" album came out in 2003. Farner's last studio album, "For The People" was released in 2006. In 2014, Farner issued the single "Take You Out".
Mark Farner was voted into the Michigan Rock and Roll Legends online Hall of Fame as a solo artist in 2015.
MRRL Hall of Fame: https://www.michiganrockandrolllegends.com/mrrl-hall-of-fame
Video: Listen to the Mark Farner Band perform "When A Man Loves A Woman" at: https://www.youtube.com/watch?v=RQTGsSKJow0