MRRL Hall of Fame
MARSHALL CRENSHAW
Details

Category: Inductees
Created: Sunday, 01 June 2014 09:52
Written by Gary Johnson
In 1982, Marshall Crenshaw was tabbed the next big thing by members of the music press. Hyped as the second coming of Buddy Holly, Crenshaw produced two classic albums and an irresistibly catchy Top 40 single in a little over a year; but he somehow missed snatching the brass ring. Crenshaw was one of the leading purveyors of power pop, a musical genre that drew its inspiration from 1960s British and American pop and rock music. Despite writing and recording a host of songs featuring strong melodies, clear vocals, and catchy guitar riffs, Crenshaw's album releases, for the most part, had only modest commerical impact.
Now considered something of a cult artist, Crenshaw has soldiered on for over three decades and has enjoyed a successful, and still evolving, music career that includes an impressive discography of recordings, an active touring schedule, a book on rock and roll movies, as well as impressive stints in both radio and the motion picture industry.
Marshall Crenshaw was born in Detroit on November 11, 1953, but was raised in the affluent suburb of Berkley, located along the Woodward Corridor in southeastern Oakland County. He was one of four boys born to Howard and Jeanne Crenshaw. Marshall grew up with a lot of music in the house and was exposed to rock and roll, along with his younger brothers Mitchell, Robert, and John, through Detroit-area AM radio stations like WKNR and CKLW. Marshall's early favorites included the Everly Brothers, Buddy Holly, both solo and with The Crickets, and Eddie Cochran.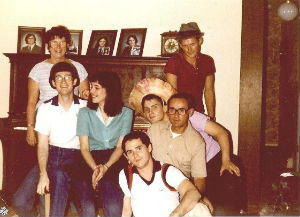 Crenshaw family in Berkely, Michigan
Howard Crenshaw, a hospital administrator at Detroit's Mt. Sinai hospital, and Jeanne, a junior high school English teacher, were both involved in music but it was Marshall's father who was the family's driving force. Howard had sung in the Great Lakes Naval Choir and was a tenor in the Michigan State Choir after that. Although he was a big fan of Hank Williams and would accompany himself on guitar while singing "Kaw-Liga", he wasn't above driving Marshall into Detroit on different occasions to see the Jimi Hendrix Experience, Cream, and the MC5.
Inspired by the Ventures and Duane Eddy, Marshall Crenshaw began playing the guitar in 1963 at the age of ten. The following year, The Beatles made an enormous impact on him and the Censhaw home at 2727 Oakshire eventually became the main rehearsal space for Marshall's first group, Astigafa. The unusual band name is an acronym formed from the lyric "a splendid time is guaranteed for all", taken from the John Lennon's "For The Benefit Of Mr. Kite", one of the songs on the "Sgt. Pepper's Lonely Hearts Club Band" album.
Marshall's younger brother Robert got his first drum set for his ninth birthday and would later form his own band called Rasputin. The junior high school group was composed of some of the other younger brothers of the guys in Asigafa. By the time he was in his teens, Robert Crenshaw had joined the musicians union and had joined an oldies bar band called Danny and the Robots, making $300 a week.
Robert drumming with Danny and The Robots
At the same time, Marshall's band, which he said contained "about a dozen guys and a road crew", was playing five or six nights a week and not making much money. When they broke up, Robert did his older brother a favor and invited him to join Danny and the Robots. The gig money allowed Marshall to be able to move out of his parent's house.
In 1976, Marshall decided to leave Michigan. He had quit the bar band and saved up money to drive out west with a high school friend to join his band. The plan was to live part of the year in LA and spend the rest of the year playing with the band in Alaska. When that fell through, Crenshaw joined and country band out of Elko, Nevada, and went on the road playing a host of little towns in the west.
After the tour with the country band ended, he went back to the Detroit area and married his girlfriend. One day while reading a copy of Rolling Stone magazine, Marshall saw a classified ad for a casting call for the Broadway musical stage review Beatlemania. Because he had wire-rimmed glasses and sang somewhat like John Lennon, he had always been told that he resembled the famous Beatle. Then there was the fact that he idolized the band and Lennon in particular, and he was also very familiar with their music.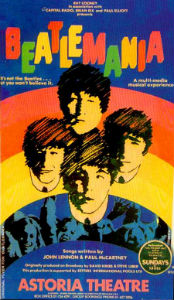 Marshall portrayed John Lennon
Crenshaw made the call to the number listed in the ad and asked if he could send in an audition tape and a picture. He sent the tape to New York and joined the cast of Beatlemania as an understudy for six months. Marshall then took over the lead role as John Lennon in the west coast company for six months, playing Los Angeles and San Francisco, before returning to play the same role in New York for another six months. Beatlemania was a big success in New York, running until late 1979 for a total of 1,006 performances. It was also a life-changing experience for Marshall Crenshaw.
Now based in New York, Crenshaw began to take songwriting seriously. He had dabbled in it all along but started for real in 1979. He was nearly 26 at that time, and things seemed to come together at that point in his life in terms of a personal approach to the art of songwriting. Once that happened and he felt that he knew what he was doing, the floodgates opened and he quickly produced a batch of good songs.
When he was ready to cut some demos of his songs, he called his brother Robert back in Detroit to be his drummer. Robert Crenshaw had first come to New York in 1976 with Stewart Simon, a friend and former band mate, to study recording engineering at the Institute of Audio Research. Their arrival coincided with the emergence of the explosive rock scene in the downtown area focused on CBGB's in the Bowery and the Bottom Line just a few blocks away from their Greenwich Village campus. They were able to see many of the emerging New York bands, but when the course ended the pair returned to Detroit.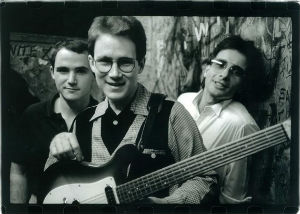 Robert, Marshall, and Chris Donato
With Robert on drums and Chris Donato on bass, Marshall cut some demos in New York and began the process of discovering and the defining the music that was going to lead to a recording career. The group began playing gigs in many of the music venues around lower Manhattan such as CBGB's, The Other End, Folk City, The Mudd Club, and the Lone Star Café.
Early in the 1980's, Marshall caught the ear of Alan Betrock who owned a small label called Shake Records. Marshall cut his first single, "Something's Gonna Happen", with Betrock on Shake. It became a New York hit and got some positive press in many of the magazines and fanzines that had begun to focus on the bands and music that had begun to emerge in the punk rock/New Wave music scenes.
Alan Betrock and Marshall Crenshaw were kindred souls musically. Both grew up rooted in the 60's pop played on AM radio. Betrock had founded New York Rocker magazine in 1976 and was one of the early champions of punk rock groups like Blondie and Television. He also produced one of Blondie's first recordings, an excellent cover of The Shangri-La's "Out In The Street". In 1981, he formed his own independent Shake Records label with the purpose of helping to expose new artists whose roots were in 60's teenage pop and garage rock. Besides Crenshaw, Betrock's label would also introduce The dB's and The Smithereens.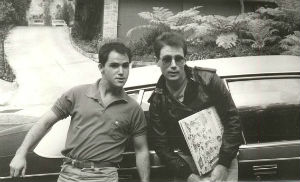 Robert and Marshall in New York
Meanwhile, Crenshaw was continuing to write songs in his New York hotel room. One of these new compositions was called "Someday, Someway". The song was based on the rhythmic grooves of an old favorite Gene Vincent record called "Lotta Lovin'".
Retro rocker Robert Gordon, who was also a Gene Vincent fan, heard the song and recorded a single that reached # 76 on the Billboard Hot 100 in 1981. Crenshaw had been working on a Robert Gordon album at the Record Plant studio in New York City that Richard Gotterher was producing. After that project was scrapped, Gordon and Gotterher recorded "Someday, Someway" and four more Crenshaw compositions at the Power Station studio in New York.
Marshall's songwriting and performing skills attracted interest from major labels, and he signed with Warner Bros. Records in 1982. After he signed the recording contract, he decided to jettison Alan Betrock and produce his debut album on his own at the Power Station. When the sessions bogged down, a decision was made at an A&R meeting with Warner Bros. to bring in Richard Gotterher as the producer.
Gotterher had first hit it big as a songwriter in the 60's ("My Boyfriend's Back" and "I Want Candy") before moving into record production in the 70's. Besides Robert Gordon, he also produced the debut albums of Blondie, the Bongos, and the Go-Go's. Gotterher, engineer Thom Panuzio, and Crenshaw made a good team. They worked well together in the studio and the resulting album is considered a classic of the power pop genre.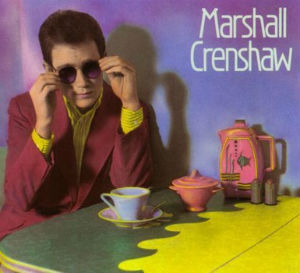 Debut album
The "Marshall Crenshaw" album was released in 1982 amid press and record company hype about Crenshaw being 'Buddy Holly Reborn'. "Someday, Someway" was released as the single and it reached # 36 on Billboard's Hot 100. The album received glowing reviews and spent six months on Billboard's album chart, peaking at # 50 and selling over 400,000 copies. Filled with catchy pop rock songs, "Marshall Crenshaw" has retained its popularity over the years. It was selected as # 72 on Rolling Stone magazine's 100 Best Albums of the 80's.
Despite its critical acclaim and chart success, Crenshaw felt his debut album was a little slick and and maybe too layered. For his all-important follow-up, Crenshaw wanted a something closer to the live sound of his band. Crenshaw selected Steve Lillywhite to produce his second album. He was impressed with the drum sound on Lillywhite productions for Peter Gabriel, the Psychedelic Furs, and U2.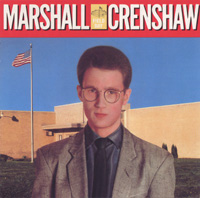 "Field Day" LP
Unfortunately, the music critics seemed to want another album like his debut. Despite containing another batch of great songs, the reviews of "Field Day" blasted Lillywhite's big drum sound and Crenshaw for abandoning his pure pop approach for a heavier mix.
Although many fans loved the record and it still holds up well today, "Field Day" and its excellent lead single "Whenever You're On My Mind" did not have the same impact on the charts as his debuts, and their lack of success seemed to move Crenshaw into a crew of power pop also-rans, all with record sales that failed to match their talents. It was a stellar group that also included the Smithereens, the dB's, Matthew Sweet, the Shoes, and Nick Lowe,
Crenshaw's lack of chart success continued on his next two Warner Bros. releases. 1985's "Downtown" was produced by T-Bone Burnett and was the first record that Marshall recorded that did not feature his brother Robert and Chris Donato. It sounded much like an old fashioned rock and roll record from the 50's or early 60's. Despite having some memorable songs, "Downtown" did not measure up to his first two releases.
1987's "Mary Jean & 9 Others", which featured Robert Crenshaw on drums and Graham Maby on bass, was a return to form with ten hook-filled songs. Again, it was largely ignored by the record-buying public and racked up disappointing sales. On the bright side, during this time "Someday, Someway" was heard on the soundtrack of two films; Night Shift, which was Ron Howard's directorial debut, and Desperately Seeking Susan, featuring Madonna's first starring role.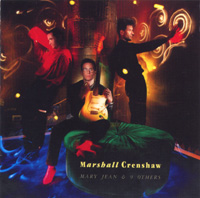 "Mary Jean and 9 Others" LP
Marshall also appeared briefly in Francis Ford Coppola's film Peggy Sue Got Married and portrayed Buddy Holly in La Bamba, the movie about rock and roller Ritchie Valens. Although Crenshaw had initially been nervous and concerned about the comparisons with Buddy Holly, by the time that the role in La Bamba came around, he'd begun to feel good about being compared to a rock and roll legend. While preparing for his role as Holly, Marshall got the chance to meet his widow, Maria Elena. He also met Buddy's brothers and then traveled to Clovis, New Mexico, to see the studio where Holly recorded most of his hits and met Mrs. Norman Petty there.
Crenshaw's final studio album for Warner Bros. was 1989's aptly titled "Good Evening". Possibly because his contract with the label was running out, Crenshaw tried a number of different approaches on the record. Besides using members of the BoDeans and sharing lead guitar with players like James Burton, Sonny Landreth, and David Lindley, "Good Evening" also marked the first time that Crenshaw used other songwriters for the bulk of the material. The album contained songs written by John Hiatt, Bobby Fuller, Richard Thompson, and the Isley Brothers. Marshall's last album for Warner Bros. was a greatest hits collection titled "This Is Easy! – The Best Of Marshall Crenshaw".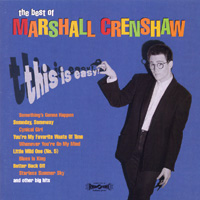 "Best Of" album
James Jamerson, Motown's famous bass player died in 1983, and Crenshaw, having grown up near Detroit, had been asked by Rolling Stone to write his obituary for the magazine. Being a big music fan, Crenshaw knew very well how huge Motown was in the 60's; how its success had contributed to the energy and positive self-image of Detroit. It gave everybody that cared about popular music and their community a sense of pride. He also witnessed it vanish when Motown pulled up stakes and moved its operation to Los Angeles.
A few years later, Crenshaw was contacted by Allan Slustsky. Slutsky was writing a bass guitar instruction book titled Standing In The Shadows Of Motown: The Life and Music of Legendary Bassist James Jamerson, which featured the bass lines of Motown's famous studio musician. Although the two had never met, Slutsky asked if Marshall could help him launch his book project.
Crenshaw and Slutsky became friends during the process and Crenshaw had a role in the beginning of what eventually inspired the hit documentary film, Standing In The Shadows Of Motown. The film gave widespread recognition to Motown's studio band, the Funk Brothers. Crenshaw even got to sing with the surviving Funk Brothers in the Apollo Theatre when the film premiered in New York in 2002.
In 1990, Crenshaw put together a highly regarded compilation album for Capitol Records called "Hillbilly Music…Thank God! Volume 1". Most of the 24 songs were recorded between the late 40's and mid-50's by West Coast artists like Buck Owens, Tennessee Ernie Ford, Rose Maddox, Hank Thompson, Jean Shepard, and Merle Travis, and provide an interesting link to rise of rock and roll.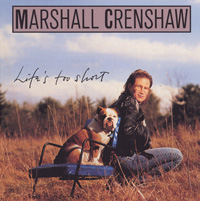 "Life's Too Short" album
Crenshaw's next stop was Geffen Records. The "Life's Too Short" album came out in 1991 and it rocked harder than any of his recent releases. Featuring backing by drummer Kenny Aronoff and bassist Fernando Saunders along with his best collection of songs since "Field Day", it should have rejuvenated his career. Instead, it became yet another commercially unappreciated work and his last major label release.
After leaving Geffen, Crenshaw embarked on an interesting compilation book project titled Hollywood Rock: A Guide to Rock 'n' Roll in the Movies. The book is an irreverent guide to over 850 rock 'n' roll movies of different genres listed in alphabetical order. It covers the time period from Louis Jordan's films from 1946 to 1993 when the book was published. Each movie is described by a writer who has a particular interest in that genre and provides a plot summary, casting and song information, and a rating system for each film. The book was a big hit with reviewers as well as a treasure trove of trivia for rock and film fans alike.
In 1994, Crenshaw signed with Razor & Tie Music, a small Manhattan label, which released "Live…My Truck Is My Home". The album contained 14 live tracks recorded between 1982 and 1994. It included Crenshaw album classics like "There She Goes Again" and "Girls" along with originals that didn't appear on any studio albums, and a host of covers including a cool version of ABBA's "Knowing Me Knowing You".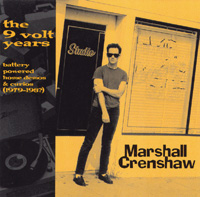 "The 9 Volt Years" album
Pretty much resigned to being a cult artist, it was the beginning of a ten year relationship with Razor & Tie that produced a total of five albums chock full of tuneful, original songs but to an ever decreasing audience.
"Miracle Of Science", a collection of new songs, was released in 1996; "The 9 Volt Years", a batch of home demos and curios from 1979 to 1987 came out in 1998; and "# 447", another impressive collection of new songs, including the should-have-been hits "Television Light", "T.M.D.", and "Right There In Front Of Me", was issued in 1999.
Crenshaw's final album for Razor & Tie was a change of pace release titled "What's In the Bag?". Although still tuneful, the album's themes veered away from the sunny pop of previous releases and the songs took on more adult and, sometimes, somber subject matter.
In 2007, Crenshaw got involved in another movie project by writing the title song to Walk Hard: The Dewey Cox Story, an American music comedy film written by Judd Appatow and Jake Kasdan and starring John C. Reilly. It was bio pic parody that echoed Walk The Line, the 2005 Johnny Cash movie hit. The Walk Hard film was not a box office success, but Marshall Crenshaw earned a Golden Globe nomination for Best Original Song.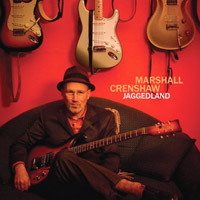 "Jaggedland" albumCrenshaw recorded his last studio album, "Jaggedland" , in 2009 for the SLG label. One of the album's highlights was a guest appearance by Wayne Kramer of the MC5. Crenshaw and Kramer had met back in the early 80's when Marshall was just starting out. They were fans of each other's music and both lived in the East Village at that time. They stayed friends over the years and when Kramer put together a MC5 reunion tour, he invited Crenshaw to play with them. Marshall, who had been an MC5 fan since his teen years in Detroit, toured with the band for four months in the summer of 2004.
Marshall Crenshaw has also branched out into radio. He has his own weekly show, called The Bottomless Pit, on New York station WFUV. Most of the music he programs is from his personal record collection; but sometimes he will explore certain topics such as a particular artist that he's fond of, a special genre of music, or a show devoted to releases from an individual record label.
Although he still records, Marshall's younger brother, Robert, no longer has a full-time music career. Robert works in the automation industry as a highly specialized curriculum writer and robotics instructor. Having another source of income allows him to make records and enjoy the process without having to deal with music critics and record label representatives.
Robert Crenshaw's latest release is titled "Friends, Family, and Neighbors", and it includes contributions from his brothers as well as musician and producer friends he made in the recording industry over the years. Four of Robert's albums and an EP are available on iTunes.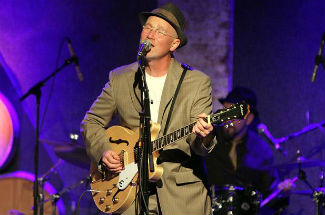 Marshall with The Bottle Rockets
Marshall Crenshaw is also still recording but is no longer interested in making albums. Always interested in trying something new, he launched a KickStarter-funded vinyl EP series; each featuring a new song, a re-recorded classic, a cover, and a bonus cut which might be a live recording. He says he is finished dealing with record labels and making albums as such; but since he is still compelled to make recordings and is interested in getting them to people who want to hear them, he felt a new approach was needed.
The emphasis for the EP series is on vinyl records. Although Crenshaw is on board with digital, he believes that vinyl sounds the best. That being said, his EPs are available for download on iTunes for $5.16. As of this writing, he has released four: "I Don't See You Laughing", "Stranger and Stranger", and "Driving and Dreaming", all in 2013, and "Red Wine" in 2014.
Marshall Crenshaw was voted into the Michigan Rock and Roll Legends online Hall of Fame in June 2014.
MRRL Hall of Fame: https://www.michiganrockandrolllegends.com/mrrl-hall-of-fame
Crenshaw tours regularly as a solo artist and also performs with both the Smithereens and the Bottle Rockets band.
Important Source: Biographical information and Crenshaw family photos were taken from an excellent article on Robert Crenshaw that was written by Steve Karras for the Huffington Post. Read the original Karras article at https://www.huffpost.com/entry/robert-crenshaws-friends-_b_5932104
Video: Watch a great 1982 performance of "Someday, Someway" by Marshall, Robert, and Chris on their network television debut on Late Nite with David Letterman. https://www.youtube.com/watch?v=YKZkhdvSNSI
Dr. J Recommends: There are great songs on all of his albums but my favorites remain his "Marshall Crenshaw" debut and his second album, "Field Day". For those who would prefer a good sampler of his work on the Warner Bros. label, go to "This Is Easy: The Best of Marshall Crenshaw". "Life's Too Short" is my favorite post-Warners album.