MRRL Hall of Fame
TOMMY JAMES AND THE SHONDELLS
Details

Category: Inductees
Created: Friday, 30 September 2011 07:12
Written by Gary Johnson
Tommy James was born Thomas Jackson in Dayton, Ohio in 1947. He was attracted to music at a very early age and his mother bought him a record player and some 78's to play on it when he was just two years old. When he was three, Tommy started to play the ukulele and then made his first stage appearance as a child model at the age of four. By the age of nine, Tommy had got his first guitar and taught himself to play it. He graduated to electric guitar the following year.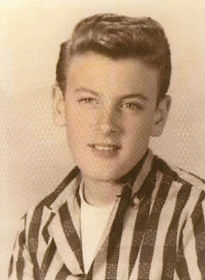 Tommy Jackson a.k.a. James
Tommy's family moved to Niles, Michigan, when he was eleven. It was in Niles, a small town located near the Indiana border and Lake Michigan, that Tommy formed his first rock band. The Tornadoes began playing gigs in and around Niles and developed a sizeable local following. He also got a fun part-time job working at Spin-It Records after school where he got a valuable music business education by reading the trade papers and learning about retailing.
Tommy signed a record deal for the Tornadoes with a small regional label in southeast Michigan and they cut a song called "Long Pony Tail". Five hundred copies of the record were pressed, and it became a local hit as the band sold the records at their gigs.
Performing now as Tom and the Tornadoes, they attracted the attention of Jack Douglas, a disk jockey at local radio station WNIL. Douglas had heard "Long Pony Tail" and had seen Tommy and the band play live. Now he wanted them on the new regional label that he started called Snap Records. He signed Tommy and the rest of the Tornadoes to a recording contract and, in early 1964, brought them into the studio.
The band changed its name to The Shondells and although their first single under their new name flopped, the second one they recorded for Snap included "Hanky Panky". The song had been written by the famous team of Jeff Barry and Ellie Greenwich. In 1963, the pair had written two big hits; "Be My Baby" for the Ronettes and "The Kind Of Boy You Can't Forget" for the Raindrops. The Raindrops were really a studio group made up of Barry and Greenwich. For their follow-up single, Jeff and Ellie wrote two songs: "That Boy John" and "Hanky Panky". Jeff Barry thought "Hanky Panky" was the weaker of the two, so it was issued as the B-side of The Raindrops' next record late in 1963.
Tommy was not aware of the Raindrops' original version of "Hanky Panky" but he had heard a rival band from Niles rev up a crowd with their cover of it. That twist of fate led Tommy and the Shondells to cut a version of the song for Snap. "Hanky Panky" was recorded at the WNIL studios with the entire band playing all at once. The band members urging Tommy on during his guitar solo gave the record a party atmosphere that was irresistible. The band then changed its name to the Shondells and released it as a single. It was a regional smash but Snap, with its limited distribution, was unable to break the song nationally and it quickly faded away.
The original Shondells had broken up by 1965, and Tommy began playing a steady series of club gigs throughout the Midwest with a new band called the Koachmen. It was a grind to be on the road, and the band had settled into a regular gig at a club in South Bend, Indiana. Tommy was able to live at home in nearby Niles with his young wife and new baby. By the end of the year, Tommy was considering giving up music when he got the phone call that changed his life. It was from Jack Douglas who told him that a promoter in Pittsburgh had tracked him down to tell him that "Hanky Panky" had been the # 1 single in the city the past three weeks.
A club deejay in Pittsburgh had found a copy of the Shondells' "Hanky Panky" in a pile of used records. When he played it at one of his dances, the crowd went crazy. That started teens calling Pittsburgh radio stations to request "Hanky Panky", and that led an enterprising promoter named Bob Mack to press thousands of bootleg copies on the Red Fox label.
Failing to get any of the other original Shondells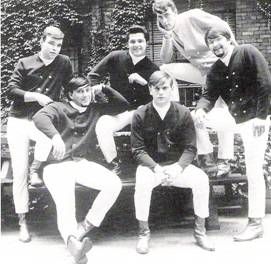 Tommy James (top) and The Shondells or Koachmen to go with him, Tommy went to Pittsburgh to make promotional appearances on radio and TV stations with a band made up of some young musicians from South Bend who agreed to pose as the Shondells for the weekend.
Tommy then took the original master of "Hanky Panky" to New York and sold it to Morris Levy, the notorious music mogul of Roulette Records. He also signed a recording contract with the company and officially changed his name to Tommy James. By June 1966, almost two and a half years after it was first recorded, "Hanky Panky" by Tommy James and The Shondells was the # 1 single in the country.
In order to perform, however, he needed a band. Tommy found a talented quartet called the Raconteurs in a Pittsburgh club, and they agreed to become the "new Shondells". Tommy and The Shondells (guitarist Joe Kessler, bassist Mike Vale, keyboardist Ronnie Rossman, sax player George Magura, and drummer Vinnie Pietropaoli) moved to New York. . Since Roulette wanted an album immediately to capitalize on the single's success, they began working on songs at the Bell Sound Studios. The resulting "Hanky Panky" album was recorded in just two weeks, and the band then went on the road for the first time to promote their big hit.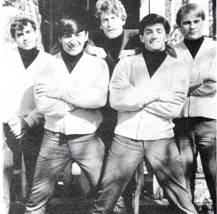 "I Think We're Alone Now"
The follow-up single was a cover of a song originally done by Jimmy Gilmer & The Fireballs called "Say I Am (What I Am)" that reached # 21. The third single, "It's Only Love" had a melody based partially on "This Old Man (The Children's Marching Song)" and peaked at only # 31 on the Billboard charts.
Tommy needed a big hit in 1967 to regain the momentum started by the success of "Hanky Panky", and he began working with producers/songwriters Ritchie Cordell and Bo Gentry at Allegro Studios on Broadway. When Ritchie Cordell's "I Think We're Alone Now" was first played on piano for Tommy, he immediately recognized its potential. Tommy changed the arrangement slightly in the studio, and he was rewarded with a much needed # 4 hit to start off the year.
Unfortunately, the tour that was put together to promote their latest hit also served to fuel a simmering dispute over the band's pay. This disruption resulted in the firing of Kessler, Magura, and Pietropaoli from the Shondells. To pick up the slack, Pete Lucia was brought in on drums, and Eddie Gray on guitar making Tommy James and The Shondells a five-piece guitar-oriented band.
"I Think We're Alone Now" actually produced two hit singles. It happened as a result of Bo Gentry accidentally putting the tape of the song on backwards in the recording studio. After listening to the chord progression in reverse, Ritchie Cordell used it to compose Tommy James and The Shondells' next Top Ten single, "Mirage".
The hits kept coming as the group charted three more singles in 1967: "I Like The Way", "Getting' Together", and "Out Of The Blue". They also released three albums in 1967 with the "I Think We're Alone Now" L.P. being certified as a gold album.
After beginning 1968 with the minor hit "Get Out Now", Tommy was struggling with the words to a catchy dance tune he had already recorded the music for. He intended to release the song as his next single if he could come up with a suitable lyric. While he looked out the window of his New York apartment, Tommy noticed the name of a major insurance company on the side of a building across the way: MONY for Mutual of New York. That kick-started the lyric that, in turn, led to one of the Vietnam Era's greatest party records, "Mony, Mony".
Tommy James and The Shondells did not make political recordings, but they did contribute to the presidential campaign of Hubert Humphrey by performing at numerous campaign stops during the 1968 election. James claims that at one point, Humphrey even asked him if he would be interested in being the President's Advisor on Youth Affairs.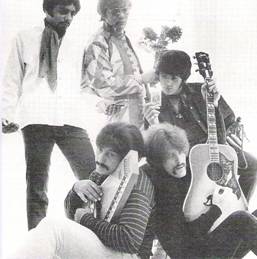 "Crimson & Clover"
\After three months on the road with the Humphrey campaign, Tommy James and The Shondells decided it was time to produce their own records. Their first project was a cover of "Do Something To Me" that had been released a year earlier by ? (Question Mark) & The Mysterians.
The single was also included on the"Crimson And Clover" album that was released in early 1969. The psychedelic pop album went multi-platinum in sales and produced two more hit singles: the title song, "Crimson And Clover", became Tommy James and The Shondells second # 1 hit, and "Crystal Blue Persuasion" reached # 2 several months later.
Simultaneously, the group had been working on a more experimental album called "Cellophane Symphony". It was one of the first rock records to feature the Moog Synthesizer. In addition to the Top Ten single, "Sweet Cherry Wine", the album had lots of psychedelic and experimental tracks that were unusual for a group that had been a staple of AM Top 40 radio until just recently. "Crimson And Clover" and "Cellophane Symphony" no doubt increased the "hip quotient" of Tommy James and The Shondells, but they missed their opportunity to cement their ties to the counterculture by declining an invitation to play Woodstock.
The group then released a "Greatest Hits" album that included their latest hit single, "Ball Of Fire", but Tommy and The Shondells were tired from years of constant studio work and concert tours. The group recorded one more album called "Travelin'" before they took a vacation that ended up turning into a friendly, but permanent, break-up of the band.
After taking some time off, Tommy James came back as a solo artist. Although he did not achieve the level of success as a solo that he did while fronting the Shondells, Tommy did chart thirteen more singles through 1981. His biggest solo hit was "Draggin' the Line" in 1971, and his final Top 40 hit was "Three Times In Love" in 1980. Tommy James has continued to perform over the years, and he headlined a show at Vet's Park in Bay City in 2003.
Tommy James and The Shondells were inducted into Michigan Rock and Roll Legends in 2006. "Crimson & Clover" was voted a Legendary Michigan Song in 2010. That same year, Tommy James was honored by the state legislature as a 'Michigan Favorite Son'. In 2011, three more songs by the group were voted Legendary Michigan Songs: "Hanky Panky", "I Think We're Alone Now", and "Mony Mony". They were joined by "Crystal Blue Persuasion" in 2013.
MRRL Hall of Fame: https://www.michiganrockandrolllegends.com/mrrl-hall-of-fame
Dr. J. Recommends:
Tommy James and The Shondells Anthology.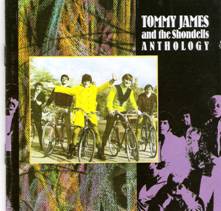 Rhino Records. This is an outstanding collection of 26 of the best recordings of Tommy James and The Shondells. It also contains, as a nice bonus, Tommy's biggest solo hit "Draggin' The Line".
On The Bookshelf:
Me, The Mob, And Music by Tommy James with Martin Fitzpatrick. Scribner, New York, NY. 2010.
This is a highly entertaining account of Tommy James' fascinating career in music and of his relationship with music business mobster Morris Levy. This is a must read for Tommy's many fans and for anyone who loves rock and roll.