MRRL Hall of Fame
WOOLIES
Details

Category: Inductees
Created: Wednesday, 01 June 2016 03:48
Written by Gary Johnson
The Woolies are one of Michigan's most interesting bands. Although they are often lumped into the garage band category, largely because of their hit single "Who Do You Love", band leader Bob Baldori claims that the label is misleading. "We weren't really a garage band," Baldori said, "everyone was a trained musician. We could play like a garage band but we could also read music."
Their musical skills served them well when they became Chuck Berry's backing band of choice in the late 60's. Baldori fondly remembers working with the rock and roll legend: "Chuck was a terrific musician. He could hold up three fingers which meant he was playing in E flat and we knew what he was talking about". The Woolies would go on to build their own studio in the Lansing area and even record a Chuck Berry album there; just some of the highlights in their long and varied career.
Bob Baldori was born in Pennsylvania in 1943 . His father was stationed there during World War II while serving in the Army. Bob's parents met through music. His dad, John Baldori, was a trumpet player, and he met Bob's mother, Lucille, during the 1930's when she was singing in one of the big bands that he played in. After they married, Lucille retired from her singing career to concentrate on raising a family.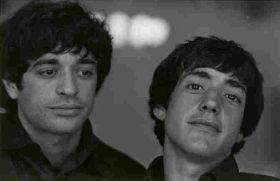 Bob and Jeff Baldori
After John's discharge, the family moved to Dearborn, Michigan, and that's where Bob, the oldest, and Jeff, the youngest, grew up with two other brothers. Their father worked at the Ford Motor Company and their mother, Lucille, was a housewife who raised the four boys. John Baldori was a well-known Detroit union musician, and he supplemented his income by working everything from the Tigers' baseball games to playing in jazz clubs around Detroit.
Bob Baldori's interest in music began early on. His grandfather had a pedal-pushing player piano and when Bob was three-years-old he used to get underneath it and push the pedals. His grandfather had boogie-woogie rolls that young Bob would love to listen to. He started piano lessons when he was five-years-old and before he was ten, he was studying with Matt Michaels. Described by Baldori as "a fabulous piano player and very well-known in Detroit", Michaels would also give piano instruction to Jeff Baldori before going on to become a highly respected and beloved jazz professor at Wayne State University in Detroit.
Bob would later get into rock and roll which was in many ways an extension of boogie-woogie, only with electric guitars. Baldori became a big fan of piano playing rockers like Jerry Lee Lewis and, especially, Fats Domino. He became a record buyer as well, making his purchases mostly at Dearborn Music. The owners were neighbors of the Baldori's. Their son attended Dearborn High with Bob and later went on to become the well-known Detroit and Ann Arbor DJ, Martin Bandyke.
Baldori was also a fan of jazz great Oscar Peterson who would come to Detroit once a year to play Baker's Keyboard Lounge. When he was a kid, Bob said he would sneak in to Baker's to watch Peterson play, and once managed to get to talk to the man that Duke Ellington had called the "Maharaja of the keyboard" and ask him for some career advice.
Bill "Bee" Metros was born in Detroit but grew up in Dearborn about six blocks from the Baldori's. Bill's father, John Metros, immigrated to the United States in 1912 from Greece. He eventually bought a neighborhood tavern in downtown Dearborn called the Aviation Bar. It was in Dearborn that he wed Bill's mother, Bessie, in an arranged marriage. The union was a happy one, however, and they would go on to have three children with Bill being the youngest. His father later sold the Aviation Bar and then worked as a bartender at the Military Inn. His mother, Bessie, was a housewife who raised the kids.
Metros' interest in music was pique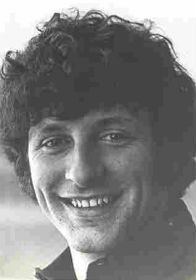 Bill "Bee" Metrosd by the Greek Festivals he attended as a little boy with his family. He started music lessons in the 4th grade at Lindbergh Elementary School in Dearborn. He wanted to play saxophone but his parents vetoed it because he had braces, prompting a switch to drums.
His parents bought him his first drum kit for $290. It was a green Slingerland Pearl set that was a little faded since it had been in the showroom window, resulting in a 20% discount. It included a bass drum, floor tom, and a snare drum. Bill paid for all his cymbals and a matching floor tom with paper routes. Once he had his set, Metros got into the drums in a major way. He practiced so hard in his upstairs room that he put a crack in the ceiling of the downstairs dining room.
He played all through elementary and junior high into high school where Metros was in both the marching and the concert bands. His high school band director was Tony Russo who often played in orchestras with Bob Baldori's father. Metros got turned on the to the early rock and roll of Elvis Presley, Chuck Berry, Little Richard, Jerry Lee Lewis, and LaVern Baker. His favorite drummers are not from rock and roll, however, Bill lists Gene Krupa as his all-time favorite, followed closely by Buddy Rich.
Bill Metros got his "Bee" nickname from his two-year-old nephew in Dearborn who wasn't able to pronounce Bill so it came out "Uncle Bee". His high school friends picked it up on it and teasingly called him "Uncle Bee" until it was shortened to simply Bee. It's remained his nickname for over five decades and counting.
Metros met Bob Baldori when he was 14 years old. They started playing gigs along with Maury Dean in a band they called Maury Dean & the Night Shift. The young group even cut a 45 at Fortune Records in Detroit, "Catch You Later" b/w "I'll Take That Chance", in 1963. "Catch You Later" was written by Dean and featured three female backing vocalists from Dearborn.
Bee Metros said that Maury Dean lived two houses down from the Baldori's and graduated with Bob from Dearborn High. Dean was a big Buddy Holly fan and had traveled to see him perform at Hibbing, Minnesota, on the ill-fated Winter Dance Party Tour in 1959. It was the same show that Bob Dylan attended just a few days before the fatal plane crash that claimed the lives of Holly, Ritchie Valens, and the Big Bopper. As a result of Dean's fixation, Metros and Baldori played a great number of songs from the Buddy Holly songbook while members of the Night Shift.
Dean later wrote a book on the history of rock and roll called The Rock Revolution that was published in 1966 and is considered to be one of the earliest books on the subject. Dean went on to teach English Literature at Suffolk County Community College in Long Island and wrote and published This'll Be The Day: The Life and Legacy of Buddy Holly in 2009.
By 1965, Bob Baldori was playing rock and roll for fraternity parties at Michigan State University when he was contacted in the summer by Bill Armistead who was attempting to put together a folk rock group. Armistead had recruited Bob "Stormy" Rice, a talented singer/guitarist from Corunna, and bassist Bob Hill from Lansing for the band, and he invited Baldori to a few rehearsals. When Baldori discovered that the band needed a drummer, he suggested Bee Metros who was enrolled at Central Michigan University in Mt. Pleasant.
Armistead had a plan to form a folk rock group similar to the Byrds. Baldori said that Armistead had what he called "an odd personality" and wanted t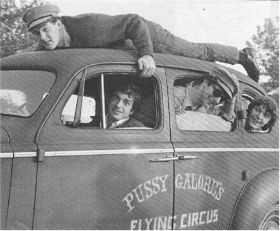 (L to R) Bob Hill, Bob Baldori, Bee Metros, Stormy Riceo employ a very narrow approach to folk and rock, while the rest of the band wanted to go in a more R&B/blues direction. The disagreement resulted in Armistead leaving, and Baldori, Hill, Rice and Metros forming what would become the Woolies.
Baldori wrote of this lineup: "Three hot musicians and a great singer. Hill was a James Brown fan and did a killer version of "Papa's Go A Brand New Bag" and several others. Stormy knew the Robert Johnson book. Bee and I had Motown and Chuck Berry down cold. It became a question of putting it all together."
Shortly thereafter, bassist Bob Hill left the band. Metros claims that he quit because his father would have killed him if he would have grown his hair long. Whatever the reason, Hill stayed in music and went on to play with Doc Watson for years and now lives in Nashville. The Woolies tried a few replacements before bringing Jeff Baldori into the band, but only after they had made their first recording.
The Woolies had to play covers when they were doing parties; but they were also working on original music right from the start, as well as doing songs that few people had heard of at the time, including those of Johnson and other little-known blues greats. With the help of a former college classmate and friend of Stormy's named Marty Grossman, they arranged a recording date at the CBS Studios on McClurg Court in Chicago. Dick Gassen and Frank Freid were the producers and Bill Thompson engineered the session.
Metros remembered that Baldori came up with the name "Woolies" on the way to Chicago, and that it was in some way related to the Beatles. Thinking back 50 years, Bob Baldori recalled that the name "had to do with the way we looked, four boys from Michigan wearing flannel shirts and we all had long curly hair. It just seemed to fit."
Stormy Rice was a major fan of Bob Dylan, who by the end of 1963 had emerged as the leading voice of contemporary folk music. By the middle of 1964, however, Dylan had become disenchanted and felt both manipulated and constrained by the folk and protest movements. His album, "Another Side of Bob Dylan" had a lighter mood and combined humorous ditties ("Motorpsycho Nitemare"), with love songs ("To Ramona"), and songs like ("Black Crow Blues") that suggested the rock and roll direction that Dylan would pursue in 1965 and 1966.
Dylan's "Black Crow Blues", with its boogie-woogie piano, was an inspired choice for the Woolies' first single. The band's version, which was recorded before Jeff Baldori and Ron English joined, rocked harder than the Dylan original and featured Stormy Rice on lead vocal and guitar, Bob Baldori on piano, Bill "Bee" Metros, on drums, and Duane Story, a Chicago folksinger, on harmonica.
The "Black Crow Blues" single, which featured a version of the folk song "Morning Dew" as its flipside, was released on TTP (Triangle Theatrical Productions) Records. It was in-house label of Frank Freid, a concert and theatrical promoter/producer who brought the Beatles to Comiskey Park in Chicago for two shows in 1965.
The 45 got some airplay in Lansing but was only a local hit. With a record under their belt, the Woolies started playing the circuit of the teen clubs that had popped up all around the state during the 1960's. The band did not have a manager at this time and booked their gigs through agents like Paul Potts, Ray Slide, Jerry Patlow, and Mike Quatro.
The Baldori's parents had mixed feelings about their youngest so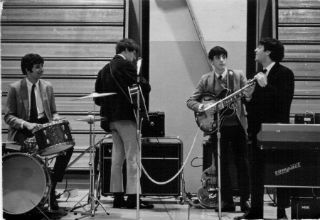 Woolies 1965n being in a rock and roll band because Jeff was only 14 at the time. Dad was concerned because they were sometimes pulling Jeff out of school to play gigs in bars but he eventually got behind it. Jeff played guitar in the Woolies although he was not yet accomplished on the instrument. He knew music theory, however, and could read music like everyone else in the band because had studied piano with Matt Michaels. Jeff's music training helped him learn guitar on his own, although he worked with people like Ron English whose father had a guitar studio in Lansing and was a music teacher.
The band often played in an East Lansing coffeehouse at this time called the Fat Black Pussycat. Stormy Rice was booking a lot of nationally-known folk acts for the venue including Phil Ochs, John Hammond, and Tom Rush. The Woolies saw Rush perform a version of Bo Diddley's "Who Do You Love" with an acoustic guitar. Impressed, the Woolies started doing an electric version of the song soon after.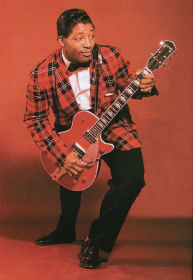 Bo Diddley
Bo Diddley composed "Who Do You Love" and released the single on Checker Records, a Chess subsidiary, in July of 1956. The Woolies recorded their first version of the song with Dave Kalmbach at the Great Lakes Recording Studio in Sparta, Michigan, ten years later. There weren't that many recording studios in Michigan at that time, and the band had heard about the one in Sparta while playing gigs around the state. The band would return several more times to record with Kalmbach.
The Woolies also recorded at Motown's Studio A, probably in 1966. The label was interested in signing some white acts, and the Woolies auditioned there as did the Mynah Birds with both Neil Young and Rick James. Motown eventually signed the Underdogs, a garage band from Grosse Pointe, who had a minor hit with "Love's Gone Bad" on Motown's V.I.P. subsidiary.
Later in 1967, two of the Woolies contributed their talents to "You Haven't Seen My Love" the classic recording by Danny Hernandez and the Ones done at the Great Lakes Studio. Bee Metros drummed on the record and Bob Baldori both produced the track and played its distinctive keyboards. The single was released on both Dave Kalmbach's Fenton label and the Woolies' Spirit label before the group was signed by Motown. "You Haven't Seen My Love" was rereleased on the Motown label in November of 1967, thereby making Baldori the first independent producer ever employed by the storied Detroit label.
The Woolies were just learning the business and the songs they recorded with Kalmbach became part of their demo reel. They had recorded several songs with the idea of releasing an album; and if the band had not hooked up with Lou Adler in California, the Great Lakes material would probably have been released.
The road to California and Lou Adler began with the Vox Band of the Land competition. It was a big promotional contest wherein interested bands signed up for and then competed for prizes, the biggest of which being a recording contract. The first competition among the bands was in Lansing, and the Woolies won that shortly after Jeff Baldori joined the band. The next one was in Dearborn, which was something of a coincidence since that was where several band members were from, and they won there as well.
The finals were held at the State Fairgrounds in Detroit and the concert that followed the competition was headlined by Johnny Rivers and the Lovin' Spoonful. For winning the 1st prize, Vox gave them equipment and flew the Woolies to Los Angeles, California; but the guaranteed record deal did not pan out.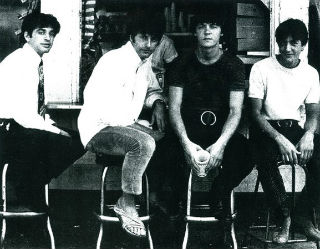 Woolies in California 1966: Bob Baldori, Bee Metros, Stormy Rice, Jeff Baldori
The band was put up for a week at the Roosevelt Hotel, located across the street from Grauman's Chinese Theatre. Simon & Garfunkel were recording their "Parsley, Sage, Rosemary and Thyme" album and were also staying at the Roosevelt. At night they would listen to the others' material.
The Woolies were in California during the auditions for The Monkees TV show, and the band had started to work with Tony Spada, an attorney from Detroit. Spada was a little over his head in the entertainment business, but he was a huge supporter of the Woolies and did his best to act as their manager/agent in California.
The band members were basically on their own, however, and they were aggressive enough to hit the street and visit various labels in L.A. The Woolies had a recording audition at Capitol Records, and a firm offer from Hanna Barbera Records, but they took the offer from Lou Adler at Dunhill Records after they played him their demo.
Lou Adler had founded Dunhill Records in 1964. He had started in the music business as the manager of Jan & Dean but had become the hottest producer in rock music after he signed the Mamas & the Papas to Dunhill and produced six top 5 hits for the group, including "California Dreamin'" and "Monday, Monday". Adler had also been at the helm for Barry McGuire's # 1 single, "Eve of Destruction".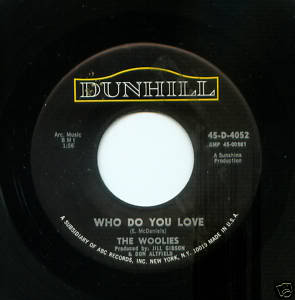 The Woolies recorded a new version of "Who Do You Love" at United Western Studio 3. The Beach Boys, Frank Sinatra, and the Mamas and the Papas also recorded there. Ron English was flown to California from Lansing to play lead guitar on the session. The flipside was "Hey Girl", an original written by Bob Baldori and Stormy Rice. Originally, Dunhill was pushing "Hey Girl", but the DJs liked "Who Do You Love" and played it into becoming a charting single in early 1967. "Who Do You Love" was a monster hit in Michigan and the Midwest but only reached # 95 nationally on the Billboard Hot 100.
The hit led to several TV show appearances on Robin Seymour's Swingin' Time in Detroit and Don Webster's Upbeat in Cleveland where they saw James Brown and his band perform for the first time. Although Dick Clark played "Who Do You Love" a couple of times on American Bandstand, the Woolies never appeared on the show.
The success of "Who Do You Love" also allowed the band to perform in a lot of different venues in the 60's including Olympia, Cobo Hall, the Eastown Theatre, and opening night at Grande Ballroom in Detroit. They played McCormick Place, Wrigley Field and the Apollo theater in Chicago, and in Cincinnati's Riverfront Stadium during their career. Although they headlined in the teen clubs, the Woolies were relegated to the bottom of the bill at the bigger venues where they served as openers for almost all of the Motown acts and a bevy of other recording stars.
The Woolies' 2nd Dunhill single, "Duncan and Brady", was adapted by Bob Baldori and Stormy Rice from an old folksong that Stormy knew. Before the Woolies, Stormy had been very involved with folk music and had performed in a duo called the Beaver Basin Two. His musical partner was Jim Sterba who went on to become a foreign correspondent and write about the Vietnam War for the New York Times. The Beaver Basin Two played at the Fat Black Pussycat a few times before Stormy left to join Bill Armistead's new group which eventually became the Woolies.
"Duncan and Brady" was backed with "Love Words", an original composition by Bob Baldori, Stormy Rice, and Ron English. The single did not chart, however, and it proved to be the band's swansong on Dunhill.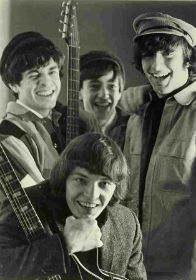 (Top) Bob Baldori, Jeff Baldori, Bee Metros (Bottom) Stormy Rice
Baldori has said that a couple of bad breaks hurt the Woolies at the label. First, the band was from Michigan and Dunhill wanted them to move to California. Unfortunately, Jeff Baldori was too young at just 15 years-old to make the move.
Then the label's owners, Jay Lasker and Lou Adler, had a major falling out, resulting in Adler leaving Dunhill. Adler was the main reason the Woolies had signed with the label, and when he left the band lost its main connection with Dunhill and were stalled during the interim as Lasker and Adler fought over the band and the label.
After Dunhill Records and two of Adler's production companies were sold to ABC-Paramount in 1967, Alder went on to form Ode Records and produce the Monterey Pop Festival. The Woolies eventually asked for their release from Dunhill because they wanted to go with Lou Adler, but by the time they left Dunhill, Stormy decided to move to California. Since the Baldori's needed to stay in Michigan, Rice decided to leave the group to pursue a solo career.
Stormy Rice signed with Lou Adler's new Ode Records label. Adler paired him with a female singer and, as Stormy and Gabbriel, the duo released a cover of "Go Now", the 1965 hit for the Moody Blues, in September of 1968, backed with a Stormy Rice original titled "Comin' Down". The single did not chart, and it would be the first and last Stormy and Gabbriel release on Ode. Stormy Rice soldiered on in the music business, however. He went on to do some DJ work in Wisconsin and continues to perform music today.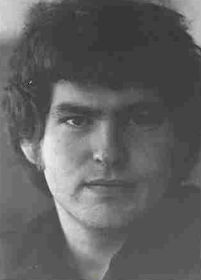 "Zocko" Groendahl
Jeff Baldori took over the lead vocals in the band, but it took nearly a year to find a suitable replacement for Stormy. Rice's spot on rhythm guitar in the Woolies was eventually taken by Jack "Zocko" Groendahl, who was in the same grade at Dearborn High as Jeff Baldori. Bob Baldori said of Groendahl: "We went through a couple other guys before finding Zocko as the permanent replacement for Stormy. He was super talented and played piano, guitar, bass, and drums – he was an amazing musician."
Both the Woolies and another band called Me and Dem Guys played the Coral Gables nightclub in Lansing. It was located just over the line from East Lansing, which was dry city (no alcohol sales) at that time. Owner Tom Johnson was a big fan of Me and Dem Guys, but tried to fire the Woolies, who he didn't like, mostly because they weren't selling enough beer during their week-long engagement.
The Dells, a roadhouse located on Lake Lansing, opened a short time later and became the chief rival of Coral Gables. It was at The Dells that the Woolies first hooked up with Chuck Berry. They had always been big fans and Berry was booked for a week at The Dells. The Woolies went out to see him the first night. It was typical for Chuck Berry to show up with just his guitar while the promoter was expected to provide the backing band. The Dells was run by a friend of the band named Joe Oade and he had hired a psychedelic band called the Scarecrows to back Berry, and the result was a train wreck. Oade saw the Woolies in the audience and asked if they could help him out.
Woolies backing Chuck Berry
The Woolies ended up playing the second set with Berry, and the rock and roll legend was very happy with the results. He liked the Woolies because they had been together for a while and played like a unit. They ended up backing him for the rest of the week, and Berry was even interested in having the Woolies travel with him. He eventually connected the band with the William Morris Agency's Dick Allen, who was booking the star, and instructed Allen to line up the Woolies every time he booked Berry in the Midwest.
Chuck Berry left the Woolies to negotiate their own deal with the agency; and they ended up working hundreds of gigs with Berry because Dick Allen knew that Chuck wasn't going to be happy unless the Woolies were his backing band. They began making very good money as a result of their association. Back 50 years ago, a gig would pay between $300 and $400; but with Berry the Woolies could often make between $1,000 and $1,500 per night.
Joe Oade was very important to the Woolies because of the Chuck Berry connection. Bee Metros said that Chuck taught him a great deal during that week, and it also led to the Woolies backing a great number of other national stars including Martha Reeves & The Vandellas, Del Shannon, Stevie Wonder, Bobby Sherman, Bo Diddley, Gary U.S. Bonds, and many others.
The only problem that week at The Dells was brought on by Tom Johnson, owner of the Coral Gables. Johnson knew that Jeff Baldori was underage, and he disliked Joe Oade because he was a business competitor. To cause problems for his rival, Johnson got the Liquor Control Commission to send a representative to investigate. Fortunately, the four Baldori brothers, who all looked alike, were in attendance that night. Once they got word that the representative was in the club, they hatched a plan for Jeff to use older brother Louis Baldori's ID and he escaped the potential trouble without further incident.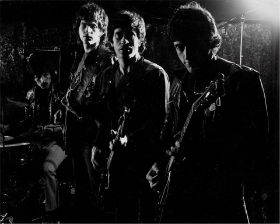 The Woolies
With the Vietnam War raging, the threat of any penalties administered by the Liquor Control Commission to a young man in Michigan paled in comparison to being drafted and sent to fight in an unpopular, and in the opinion of many unjust, war in Southeast Asia. The draft was a big deal for all young men in the 1960's. Most of the band had deferments because they were enrolled in college.
Bob Baldori was a very smart guy and he had carefully read and studied all of the pertinent materials relating to the draft. He knew that a young man could get out of the draft by declaring that he was a conscientious objector. He became draft counselor and helped the others to deal with the draft board. Baldori eventually became so skilled as a draft counselor that the vice president of Motown Records called him up for help with his son.
Like many young men of his age, Bee Metros was against the war in Vietnam. During his physical for draft eligibility in Detroit, he was offended by an Army drill sergeant who told him and the other prospective draftees; "Congratulations guys! You are going to Vietnam and you are going to be able to get a steam and clean." – slang for having sex with a 13-year-old Vietnamese girl.
Fortunately, Metros was dating a woman who had a psychiatrist in Detroit who was writing letters to help young men evade the draft. After a couple of sessions, the psychiatrist wrote Metros a letter saying that he would not function well in the service, but by that time the lottery came out and he had a high number and did not need the letter.
Always having been interested in recording technology, Bob Baldori had constructed a small studio in his basement before building the first Woolies' studio in south Lansing. The new studio was Baldori's baby. This first edition of what was called Lansing Sound was located at 1954 Hamilton Road in a large barn on the back of the property. It was purchased by the band; and Metros, Groendahl, Jeff Baldori, and their roadie, Bill Baker, lived in the house, while Bob Baldori resided in East Lansing.
Bob Baldori played on his first Chuck Berry album in 1970. His harmonica was prominently featured on "Back Home", recorded at the Chess Studios in Chicago. The lead track, "Tulane" was issued as a single, and Baldori's harmonica had a lead role on what was easily the album's best song as well as one of Chuck Berry's lesser-known gems.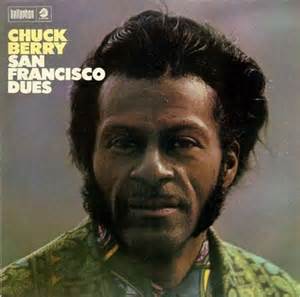 Recorded in Lansing
The band recorded Chuck Berry's "San Francisco Dues" album at their Lansing Sound Studio in 1971. Berry showed up in his Cadillac, armed with his guitar, and they cut the entire album in about a week. Berry's old piano player Johnnie Johnson contributed to one track, but the Woolies played behind Berry on every song on the album.
Berry called Metros "Governor" during the sessions, and it was a big thrill for Bee to drum on the "San Francisco Dues" album. Metros says of Berry: "Chuck is a very, very unusual guy in a lot of respects. As a performer, he has very few peers. Later on, he went through the motions sometimes, but there were some nights, if Chuck wanted to play, there was nobody better."
"We did a show with him at a small bar in Detroit," Metros recalled. "Some guy hired him, this is early on when we first started playing with him, and paid him $3,000 - $5,000 to play three sets. He had never done three sets with the Woolies before, and he went through the whole litany of blues songs that he loved. It gave me chills. There were times when I was playing with him that I just sensed that musically it just didn't get any better! That's what I miss, those moments when we were really cooking. That's the fun of playing music and there were a lot of moments like that with Chuck Berry."
"Basic Rock" was the first Woolies' album recorded at their studio. It was released in 1972 on their own Spirit label. It contains a new version of "Who Do You Love" that was also issued as a single on Spirit. The album contains a cover of Chuck Berry's "Bye Bye Johnny" and features a number of songs clearly influenced by Bo Diddley, another legendary artist that the Woolies backed on many occasions. The LP was pressed at American Record Pressing in Owosso and is an excellent document of the studio sound of the post-Stormy Rice Woolies.
The band's second album, "Live at Lizard's" was recorded in 1973. Lizard's was an East Lansing nightclub on Abbot Road that eventually became Rick's American Café. Gary Reid was the head of the telecommunications department at Michigan State University and had a mobile truck. He brought in an 8-track unit to record the band. Bee Metros felt that the resulting album did an excellent job of capturing the Woolies live in a venue where they often played, but it would be the last album issued by the band for over 30 years.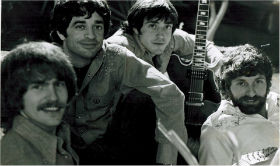 Woolies 1970's
According to Bob Baldori, the Woolies never really broke up during those years. "We never stopped playing", Baldori explained, "we just didn't play as much." Jeff Baldori left the Woolies in the late 70's and formed his own band called Blue Money. The rest of the band mostly stayed together during those years, playing every Sunday night as Boogie Bob at Rick's American Café.
Jeff Baldori's Blue Money band released its first album, "No Money Down" in 1978. The follow-up, "Do Your Duty" was produced by MRRL Hall of Famer Cub Koda and came out in 1980. Baldori recorded in other combinations as well over the years. "Fratelli-de-anima" was the pairing of Baldori with Ron Hernadez recording as the Valentino Brothers. Their album was issued in 2001. Baldori then teamed up with Bob Gardner in 2003 for a CD titled "The Blues". A solo album by Baldori called "I Feel So Good I Want To Boogie" was released in 2005. Later that year, Baldori released a best of album called "Radio Burgers" as a tribute to Cub Koda who had passed away in 2000. Baldori's most recent album, "Boogie Burgers", was done with Mike Skory in 2009. All of the above albums were released on Money Master Records and are available at http://jeffbaldorimusic.com/woolies.htm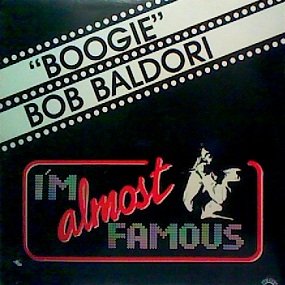 "I'm Almost Famous"
In the early 1980's, Bob Baldori wrote a musical play called I'm Almost Famous with Mike Steinberg, a professor at MSU. The plot was loosely based on the experiences of the Woolies in the music business and on the road in the 60's and 70's. One such event involved a Flap Jack Shack on Grand River Avenue where they were approached by booker who asked them if they wanted to go on road pretending to be The Animals. The rest of the musical comedy dealt with the band's interactions with club owners, record distributors, and other elements of the music business; and each show featured the Woolies doing all the music. I'm Almost Famous played the Apollo Theater in Chicago for six months after playing the Boarshead Theater in Lansing, the Lazy Day Theater in Grand Rapids, and also in Toronto.
After the success of I'm Almost Famous, both Bob Baldori and Bee Metros went on to earn law degrees. Baldori completed his program in two years and today specializes in entertainment law.
When Metros got his degree from MSU in Sociology in 1970, he became the first child in his family to both attend and graduate from college. In 1975, he got his real estate license and sold real estate for the next 12 years as the Woolies were only playing on a limited basis. Bee then went to Knoxville for a couple of years, and after he returned, he earned his law degree in 1989. Metros did a lot of criminal work in the early years but concentrates now on wills, trusts, and estates. He also has taught at Lansing Community College for 30 years.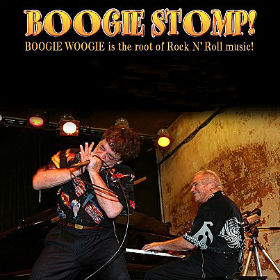 "Boogie Stomp!"
Baldori met Bob Seeley through Johnnie Johnson in 2006. Baldori said of Seeley: "Bob is one of the most amazing, unbelievable piano players I've ever worked with." Seeley had been playing for decades in relative obscurity until he teamed up with Baldori. The pair made a documentary feature called Boogie Stomp! in 2012. It told the story of boogie-woogie, its origins and subsequent history and ongoing development while profiling both Baldori and Seeley. The documentary played the film festival circuit to glowing reviews.
In 2015, Baldori and John Campana, a longtime friend who had served as both producer and cinematographer on the Boogie Stomp! documentary, worked together to turn the film into a musical stage production. Since Seeley was in his 80's and happily living in Florida, the stage production of Boogie Stomp! now stars Baldori and his new partner Arthur Migliazza. The stage production played for six months at the Elektra Theatre in Times Square. Since that time, the musical has played all over the United States and Baldori and Migliazza have played in France, the Netherlands, and Germany, and have even taken the show to Russia on three different occasions. Plans are in the works to bring Boogie Stomp! back to Michigan for an extended run in the near future.
The DVD of the Boogie Stomp! documentary as well as these Woolies's CDs: "Basic Rock" and "Ride Ride Ride" – the 2006 collection of recordings the Woolies made between 1965 and 1974 - can all be purchased at http://spirit-records.com/
All current and former member of the Woolies are alive and well. Metros jokingly calls Baldori's cool new home/studio "Waco" because it's a large compound-like structure composed of wood and metal that contains the music studio, an art studio for his wife, and a huge living area. Baldori is credited with producing and/or engineering over 200 albums over the years. Baldori stays in contact with all the former members of the Woolies. He's a busy man, always on the phone, heavily involved with Boogie Stomp! as well as his many other interests.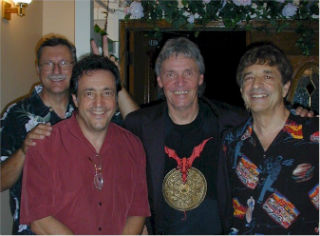 Woolies 2005 (L to R) Bee Metros, Jeff Baldori, Stormy Rice, Bob Baldori
Metros, who has "Who Do You Love" as his ringtone, lives in a rural area outside of Bath, Michigan, surrounded by his three dogs, his large record collection, and lots of golfing gear.
Bee Metros was the main force behind the Woolies' 50th anniversary concert in 2015. Stormy, Jeff, Bob, Bee, Ron English, and even Maury Dean all took the stage at the event. A couple of hundred people attended and everyone had a great time. There might be another one in the future to celebrate the release of "Who Do You Love".
Although Metros had written in his junior high school yearbook that he wanted to be a professional musician, he said that his career in music was "almost an accident." Yet when the opportunity presented itself, his music training and hours of practice left him fully prepared to take advantage of it. Looking back over the years, Metros said he had a lot of fun playing, but it wasn't the big venues that he remembers best. He treasures the smaller parties and clubs where he and the band could truly interact with the audience.
For their many contributions to the legacy of Michigan rock and roll, the Woolies were voted into the Michigan Rock and Roll Legends Internet Hall of Fame in 2016. Their original recording of "Who Do You Love' on Dunhill Records was voted a Legendary Michigan Song in 2008.
MRRL Hall of Fame: https://www.michiganrockandrolllegends.com/mrrl-hall-of-fame
Video: Listen to the Woolies' classic hit "Who Do You Love" and watch a slide show with photos of the band at https://www.youtube.com/watch?v=6AdmLIQcHyI
.