MRRL Hall of Fame
EMINEM
Details

Category: Inductees
Created: Tuesday, 20 October 2020 06:43
Written by Gary Johnson
By Stephen Thomas Erlewine - All Music Guide
Eminem is one of the best-selling artists in music history, easily the biggest crossover success ever seen in rap. He was the first white rapper since the Beatie Boys to garner both sales and critical respect, but his impact has exceeded this confining distinction.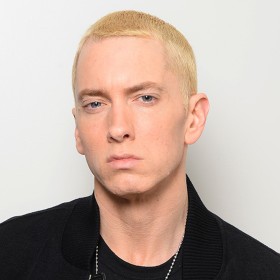 Eminem
On sheer verbal skills, Eminem is one of the greatest MCs of his generation: rapid, fluid, dexterous, and unpredictable, capable of pulling off long-form narratives or withering asides. And thanks to his mentor Dr. Dre, he's had the music to match: thick, muscular loops evoking the terror and paranoia conjured by Eminem's lyrics.
Born Marshall Mathers in the Kansas City, Missouri suburb of St. Joseph, Eminem spent his childhood between Missouri and Michigan, settling in Detroit by his teens. At the age of 14, he began rapping with a high school friend, the two adopting the names 'Mannix' and 'M&M', which soon morphed into Eminem. Under this name Mathers entered battle rapping, a struggle dramatized in the fictionalized 8 Mile movie.
Initially, the predominantly African-American audience didn't embrace Eminem, but soon his skills gained him a reputation, and he was recruited to join several rap groups. The first of these was the New Jacks, and after they disbanded, he joined Soul Intent, who released a single in 1995. This single also featured Proof, and the two rappers broke off on their own to form D-12, a six-member crew that functioned more like a Wu-Tang-styled collective than a regularly performing group.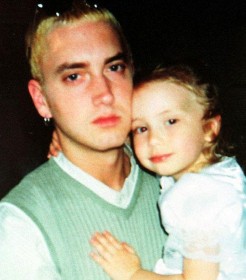 Eminem and Hailey
As he was struggling to establish his career, he and his girlfriend Kim had a daughter, Hailey, forcing him to spend less time rapping and more time providing for his family. During this time, he assembled his first album, "Infinite", which received some underground attention, not all of it positive.
After its release, Eminem developed his Slim Shady alter ego, a persona that enabled him to dig deep into his dark id, something he needed as he faced a number of personal upheavals, beginning with a bad split with Kim, which led him to move in with his mother and increase his use of drugs and alcohol, capped off by an unsuccessful suicide attempt. All this personal drama was channeled into "The Slim Shady EP", which is where he demonstrated many of the quirks that became his trademark, including his twitchy, nasal rhyming and his disturbingly violent imagery.
"The Slim Shady EP" opened many doors, the most notable being a contract with Interscope Records. After Eminem came in second at the 1997 Rap Olympics MC Battle in Los Angeles, Interscope head Jimmy Iovine sought him out, giving the EP to Dr. Dre, who proved eager to work with Eminem. They quickly cut Eminem's Interscope debut in the fall of 1998 – during which time he reconciled with Kim and married her – and "The Slim Shady LP" appeared early in 1999, preceded by the single "My Name Is". Both were instant blockbusters and Eminem turned into a lightning rod for attention.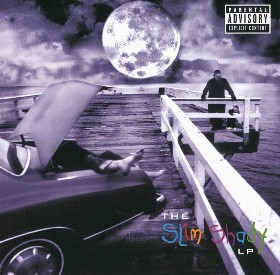 The Slim Shady LP
Eminem quickly became the talk of hip-hop. The video for "My Name Is" became a hit on MTV, and it helped push "The Slim Shady LP" to # 2 on the Billboard 200 in 1999. Eminem won Grammys for Best Rap Song and Best Rap Album. Following the huge success of the album, Eminem and his manager, Paul Rosenberg, founded the Shady Records label.
In 2000, Eminem released his follow-up album, "The Marshall Mathers LP." It sold 1.7 million copies in its first week of release. He was also in the news regarding his tumultuous marriage to Kim, conflicts with his mother on how she was portrayed in his songs and in interviews, and for two highly publicized incidents in Detroit.
Despite the negative publicity, Eminem was nominated for several Grammys at the 2001 ceremony. As the Grammy Awards approached, however, Eminem became the target of protest groups upset with the homophobic lyrics of his songs. Eminem went on to win three more Grammys, however, and he performed his hit single, "Stan", with Elton John at the event. Watch the uncensored video for "Stan" featuring Dido. https://www.youtube.com/watch?v=WU9DzMhdeEo
In 2002, he released "The Eminem Show" earlier than had been intended after the album had been leaked to the Internet and bootleg copies were being sold on the street. The first single, "Without Me", became a # 1 hit, and the video for the song won four MTV Video Awards.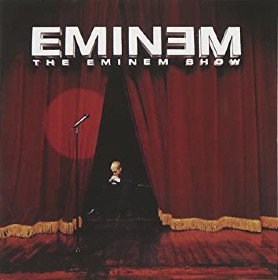 The Eminem Show
2002 also saw Eminem make his movie debut in the critically acclaimed 8 Mile, a film that was loosely based on Eminem's early life. The movie's soundtrack featured three new Eminem songs including the # 1 hit single, "Lose Yourself". The song was written from the point of view of Rabbit, the character that Eminem portrayed in 8 Mile.
Eminem worked on the song in a studio trailer between scenes in the film. "Lose Yourself' used no samples, and it included instruments like woodwinds and horns to provide different sound textures in the recording. Metallica inspired its distinctive heavy rock guitar sound, and its very strong message concerning the power of believing in yourself made it one of Eminem's greatest songs.
"The Eminem Show" was the top-selling album of 2002 with over 7.6 million copies sold. The "8 Mile" soundtrack was the fifth highest-selling album of the year with over 3.5 million copies sold. "Lose Yourself" won a 2003 Academy Award for Best Original Song. In addition, "The Eminem Show" won a Grammy in 2003 for Best Rap Album. Watch the video for "Lose Yourself" https://www.youtube.com/watch?v=7YuAzR2XVAM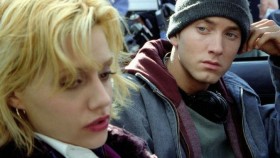 Brittany Murphy and Eminem in 8 Mile
"Encore", released in late 2004, saw Eminem reach into more mature territory, notably on the anti-George W. Bush song "Mosh," but most of the controversy was for behind-the-scenes events: a bus crash followed by cancelled dates and a stint in rehab.
Rumors of retirement flew, and the 2005 appearance of "Curtain Call: The Hits" did nothing to dampen them, nor did the turmoil of 2006, a year that saw him remarry and divorce his wife Kim within a matter of four months, as well as the shooting death of Proof at a Detroit club.
During all this, Eminem did some minor studio work, but he soon dropped off the radar completely, retreating to his Detroit home. He popped up here and there, most notably debuting the hip hop channel Shade 45 for Sirius Satellite Radio in September 2008, but it wasn't until early 2009 that he mounted a comeback with "Relapse". The album, whose very title alluded to Eminem's struggles with prescription drugs, also announced that after an extended absence, Slim Shady was back. While not quite a blockbuster, the album went platinum, and Eminem followed it at the end of the year with an expanded version of "Relapse" (dubbed "Relapse Refill") that added outtakes and new recordings.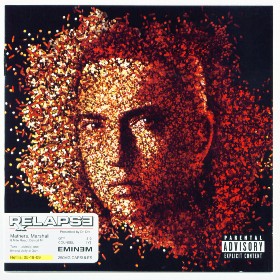 Relapse
"Recovery", initially titled "Relapse 2", was issued in June 2010. The album debuted on top of the Billboard 200 chart, where it remained for five consecutive weeks, while its debut single, "Not Afraid", debuted on top of the magazine's Hot 100 singles chart. In 2010, Eminem also formed a duo with Royce da 5'9" called Bad Meets Evil. The pair released an EP in 2011 called "Hell: The Sequel".
After an intense period of recording, Eminem announced in August 2013 that his next album would be a nostalgically themed set of new material titled "The Marshall Mathers LP 2," which landed in early November. The album featured the singles "Berzerk", "Rap God" and "Survival", plus the chart-topping hit "The Monster" with Rhianna.
In 2014, new tracks landed on the double-disc set "Shady XV" which celebrated the Shady label's 15th anniversary. The single "Phenomenal" and "Kings Never Die" featuring Gwen Stefani arrived a year later, both taken from the Southpaw sountrack.
Eminem resurfaced in 2017 with a free-style anti-Trump rap. The track didn't appear on "The Revival", the December 2017 album that was filled with cameos, including appearances by Beyonce ("Walk On Water"), Ed Sheeran ("River"), and Pink ("Need Me"). It was his seventh straight chart-topper, but it failed to match the sales heights of past efforts, despite the international success of "The River" single.
The next year, without warning, Eminem released his surprise tenth album, "Kamikaze". The set featured appearances by Joyner Lucas, Royce da 5'9", and Jesse Reyez, as well as "Venom" from the film of the same name.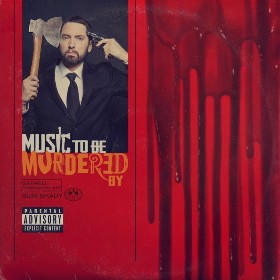 Music To Be Murdered By
In January of 2020, he repeated his surprise-release approach with his 11th studio album, "Music To Be Murdered By." The album featured production by Dr. Dre and cameos from the now-usual host of special guests, this time featuring Q-Tip, Ed Sheeran, Anderson .Paak, and the late Juice Wrld., among many others. The album debuted at # 1 on the Billboard charts.
On December 18, 2020, Eminem provided a deluxe edition of the album, when "Music To Be Murdered By – Side B" was issued. Similar to his previous two albums, it was released without any prior announcement. It contained a bonus disc of sixteen tracks, with guest appearances by Skyler Grey, DJ Premier, Ty Dolla Sign, and Dr. Dre.
Eminem was inducted into the Michigan Rock and Roll Legends Hall of Fame in 2021.