MRRL Hall of Fame
KID ROCK
Details

Category: Inductees
Created: Tuesday, 20 October 2020 06:46
Written by Gary Johnson
By Steve Huey – All Music Guide
One of the unlikeliest success stories in rock at the turn of the millennium, Detroit rap-rocker Kid Rock shot to superstardom with his fourth full-length, 1998's "Devil Without a Cause".
What made it so shocking was that Rock recorded his first demo a full decade before, was booted off major label Jive Records following his Beastie Boys-ish 1990 debut, "Grits Sandwiches for Breakfast", and toiled for most of the decade in obscurity, releasing albums to a small, devoted, mostly local fan base while earning his fair share of ridicule around his home state.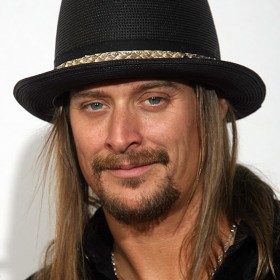 Kid Rock
Nevertheless, Rock persevered, and by the time rap-metal began to attract a substantial audience, he had perfected the outlandish, over-the-top persona that gave "Devil Without a Cause" such a distinctive personality and made it such an infectious party record.
Bob 'Kid Rock' Ritchie (born Robert James Ritchie, January 17, 1971) grew up in Romeo, Michigan, a small rural town north of the Detroit metro area. Finding small-town rural life stiflingly dull, Ritchie immersed himself in rap music, learned to break-dance, and began making the talent-show rounds in Detroit.
Inspired by the Beastie Boys' "Licensed To Ill", Kid Rock recorded his first demos in 1988, and eventually scored an opening slot at a Boogie Down Productions gig. That performance, in turn, led to a contract with Jive Records, which issued Kid Rock's debut album, "Grit Sandwiches for Breakfast" in 1990.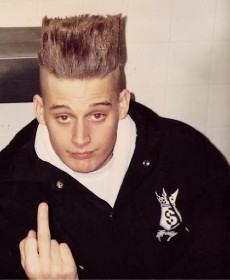 Bob "Kid Rock" Ritchie
Produced by Kid Rock, Too $hort, and D-Nice, the album was heavily derivative of "Licensed To Ill". Rock briefly became notorious when a New York college radio station aired the profanity-laced ode to oral sex, "Yodelin' in the Valley", and was fined over $20,000 (a judgement later rescinded). However, despite a tour with Too $hort and Ice Cube, Jive didn't see much of a future for Kid Rock and dropped him from their roster.
Moving to Brooklyn, Rock hooked up with the small Continuum label, and moved his brand of rap further into hard rock with "The Polyfuze Method", released in 1993. Reviews were mixed, with some critics praising the record's humor and eclecticism while others dismissed it as awkward and forced.
The EP "Fire It Up" followed it up in 1994, appearing on Rock's own Top Dog imprint (which was still distributed by Continuum). Rock eventually returned to the Detroit area and began work on another album; recorded on a shoestring budget, "Early Mornin' Stoned Pimp" was released in 1996.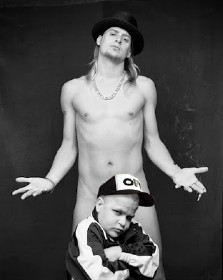 Kid Rock and Joe C.
Although sometimes forced to sell bootleg dubs of his own records to pay the rent, Rock set about forming a full-fledged backing band, which he dubbed Twisted Brown Trucker. While its membership fluctuated early on, rapper Joe C. (born Joseph Calleja) was one of the first to join.
A longtime fan and frequent concert attendee, Calleja caught Rock's eye in 1994, partly because of his diminutive stature (due to a digestive condition known as celiac disease, which required both dialysis and extensive medication) and partly because of his encyclopedic knowledge of Rock's song lyrics.
The rest of the line-up settled around Detroit-area musicians: guitarists Kenny Olson and Jason Krause, keyboardist Jimmy Bones (born Jimmy Trombly, he handles the basslines himself), drummer Stefanie Eulinberg, DJ/turntablist Uncle Cracker (born Matt Shafer, who had been with Rock since the early '90s), and backing vocalists Misty Love and Shirley Hayden.
As rap-metal acts like Korn, Limp Biscuit, and Rage Against The Machine began to dominate the hard rock landscape, Atlantic Records decided to take a chance on signing Rock. "Devil Without a Cause" didn't do much upon its initial release in August 1998, but a big promotional push from the label and MTV helped make the album's second single and video, "Bawitdaba", a nationwide smash.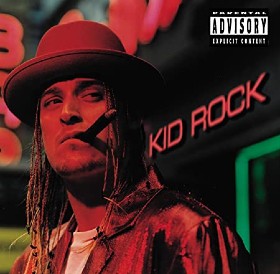 Devil Without a Cause
The follow-up, "Cowboy", achieved similar success, and, suddenly, after a decade of trying, Kid Rock was a superstar with a Top Five, seven-time platinum album and a gig at Woodstock 1999. While pondering how to follow up "Devil", Rock acquired the rights to his indie label recordings and remixed or rerecorded the best material for "The History of Rock" which was released in the summer of 2000 and featured some new songs as well.
Sadly, after being forced to take a break from touring a year earlier because of his medical difficulties, Joe C. passed away in his sleep on November 16, 2000. Despite the tragedy, Rock continued to work on his follow-up to "Devil Without a Cause".
The media, however, focused more on his relationship with actress Pamela Anderson than his musical career, The couple's highly publicized relationship lasted from 2001 to 2006 and involved a separation, marriage, miscarriage, and divorce, all providing a great deal of fodder for the tabloids.
His DJ, Uncle Cracker, had a successful solo career during the spring and summer of 2001, leaving Rock without one of his most frequent collaborators. Still, by the winter of that year he had completed work on his "Cocky" album and had released the "Forever" single to success on rock radio.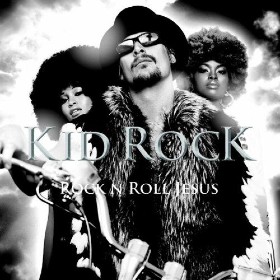 Rock N Roll Jesus
In the fall of 2003, Rock released his self-titled "Kid Rock" album. A cover of Bad Company's "Feel Like Makin' Love' was released as the first single. In 2006, he released the live album, "Live Trucker", with cover art that paid tribute to Bob Seger's "Live Bullet" album.
Just a year later, the studio record "Rock N Roll Jesus" came out, landing at # 1 and selling 172,000 copies in its first week. The album's third single, "All Summer Long", inspired by Bob Seger's "Night Moves", became a worldwide hit. Watch the video for "All Summer Long" https://www.youtube.com/watch?v=aSkFygPCTwE
"Born Free", produced by Rick Rubin and featuring guest appearances by Martina McBride, Trace Atkins, Zac Brown, Sheryl Crow, Bob Seger, James Hetfield and T,I., arrived in 2010. "Born Free" debuted at # 5 on the Billboard charts but didn't generate any hit singles; the title track peaked at # 31 on the rock songs chart and "Collide", featuring Crow and Seger, didn't fare much better on the Country and Adult Contemporary charts.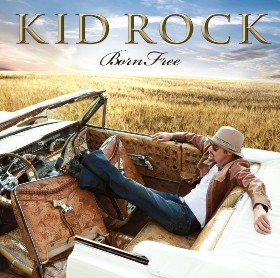 Born Free
Rock toured in 2011, then set about recording his next album, "Rebel Soul", which appeared late in 2012. Entering the Billboard charts at # 5, it eventually went gold but spawned no big hit singles.
In 2013, Rock inaugurated his Best Night Ever tour, where he capped ticket prices at $20. He moved to the Warner Bros. label in 2014, and started work on his next album, the self-produced "First Kiss", which saw release in February 2015.
Kid Rock left Warner Bros. after "First Kiss", signing with the country-oriented label Broken Bow Records. In July of 2017, he released his first two singles for the label – "Po Dunk" and "The Greatest Show on Earth", both released on the same day – but they were overshadowed by rumors that Rock planned to run for the U.S. Senate in his home state of Michigan.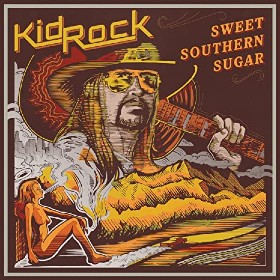 Sweet Southern Sugar
Rock dismissed those rumors on the October 24 episode of the Howard Stern Show, saying his next project was promoting "Sweet Southern Sugar", an album released in 2017. His 11th full-length, the album broke into the Billboard Top Ten, while topping the Top Rock and Independent Albums charts and rising to # 4 on the Top Country list.
Kid Rock released his first greatest hits album, titled "Greatest Hits: You Never Saw Coming", in September 2018. On March 29, 2020, he released his first single under the name 'DJ Bobby Shazam', entitled "Quarantine", which featured an old-school hip hop sound. All proceeds from the single's sales were to go to fight COVID-19.
Kid Rock was inducted into the Michigan Rock and Roll Legends Hall of Fame in 2021.