MRRL Hall of Fame
ALICE COOPER (SOLO)
Details

Category: Inductees
Created: Thursday, 22 July 2021 16:07
Written by Gary Johnson
By Stephen Thomas Erlewine - allmusic.com
The Alice Cooper band achieved its greatest commercial success in 1973 with the release of the "Billion Dollar Babies" album that reached # 1 and produced four singles that charted on Billboard's Hot 100. Following the commercial and critical disappointment of 1973's "Muscle of Love", the Alice Cooper band broke up. Alice went forward as a solo act, delivering a cleaner and more professional variation on the themes of his early '70s hit, while the rest of the band attempted to continue as Billion Dollar Babies.

Having officially changed his name to Alice Cooper, the former Vincent Furnier embarked on a similarly theatrical solo career; the rest of the band released one unsuccessful album under the name Billion Dollar Babies, while Mike Bruce and Neal Smith both recorded solo albums that were never issued. In the fall of 1974, a compilation of the Alice Cooper band's five Warner albums, entitled "Alice Cooper's Greatest Hits," became a Top Ten hit.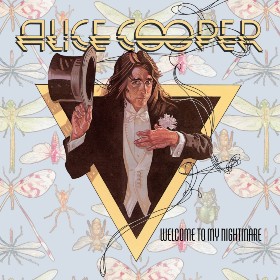 Welcome To My Nightmare LP

For his first solo album, "Welcome To My Nightmare," Cooper hired Lou Reed's backing band from "Rock 'N' Roll Animal" – guitarists Dick Wagner and Steve Hunter, bassist Prakash John, keyboardist Joseph Chrowski, and drummer Penti Glan – as his supporting group. Released in the spring of 1975, the record was similar to his previous work and became a Top Ten hit in America, launching the hit acoustic ballad "Only Women Bleed," co-written with Dick Wagner. Its success put an end to any idea of reconvening Alice Cooper the band.

Its follow-up, 1976's "Alice Cooper Goes To Hell," was another hit, going gold in the U.S. The album featured another hit ballad, I Never Cry," co-written with Wagner, and his shows became even more elaborate as he became a regular fixture on television.

After that album, Cooper's career began to slip, partially due to changing trends and partially due to his alcoholism. 1977's "Lace And Whiskey" failed to reach the Top 40, but its lead single, "You And Me" another ballad co-written by Cooper and Wagner, became a Top Ten hit.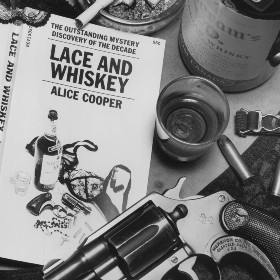 Lace And Whiskey LP

Cooper entered rehab in 1978, writing an album about his treatment called "From The Inside" with Bernie Taupin, Elton John's lyricist. The album produced the hit single, "How You Gonna See Me Now," despite once again failing to reach the Top 40 on Billboard's Top 200 albums chart.

During most of the 1980s, Cooper continued to released albums and tour, yet he was no longer as popular as he was during his early '70s heyday.

After three dud albums in a row, "Constrictor" from 1986, and "Raise Your Fist And Yell" from 1987 started his comeback, sparked by his appearances in horror films and a series pop-metal bands that paid musical homage to his classic early records and concerts, but it was 1989's "Trash" that returned Alice Cooper to the spotlight. Produced by the proven hitmaker Desmond Child, "Trash" featured guest appearances by Jon Bon Jovi, Richie Sambora and most of Aerosmith. The record became a Top Ten hit in Britain and peaked at # 20 in the U.S., going platinum. "Poison", a mid-tempo rocker featured on the album, became Cooper's first Top Ten single since 1977 and the highest charting hit of his solo career, reaching # 7 on the Hot 100.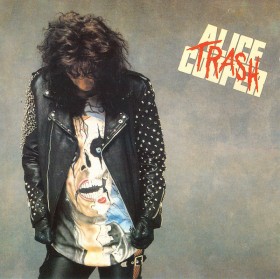 Trash LP

After the release of "Trash," he continued to star in the occasional film, tour, and record, although he wasn't able to retain the audience he'd recaptured." Still, 1991's "Hey Stoopid" and 1994's "The Last Temptation" were generally solid, professional efforts that helped Cooper settle into a comfortable cult status without damaging the goodwill surrounding his '70s output.

After a live album, 1997's "Fistful of Alice," Cooper returned on the smaller Spitfire label in 2000 with "Brutal Planet" and "Dogtown" a year later. "The Eyes Of Alice Cooper" appeared in 2003 and found Cooper and company playing a more stripped-down brand of near-garage rock. "Dirty Diamonds" from 2005 was nearly as raw and hit the street around the same time Cooper premiered his syndicated radio show, Nights with Alice Cooper.

Three years later he returned with "Along Came A Spider," a concept album that told the story of a spider-obsessed serial killer. In 2010, he released the live album "Theatre of Death," along with a download-only EP of redone Cooper classics title "Alice Does Alice."

2010's "Welcome 2 My Nightmare," a sequel to his conceptual classic of the same name (minus the 2), was recorded with longtime co-conspirator Bob Ezrin, and feature 14 brand-new cuts that spanned multiple genres and relied on the talents of previous members of the Alice Cooper band (including Steve Hunter and Dick Wagner) as well as a guest spot from pop superstar Kesha. The same year, he was awarded the Kerrang! Icon Award.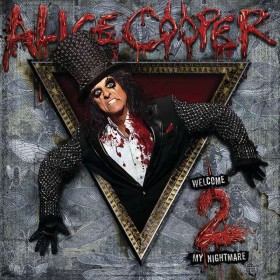 Welcome 2 My Nightmare album

Advancing years didn't prevent Cooper from maintaining a hectic schedule, and by 2012 he was touring with Iron Maiden and headlining Bloodstock Open Air. As an aside from his musical pursuits, he also starred in Tim Burton's adaptation of Dark Shadows, playing himself alongside Helena Bonham Carter, Johnny Depp, and Michelle Pfeiffer. He returned to touring in 2014 as the opening act for Motley Crue's final tour, and the following year he unveiled a new supergroup called Hollywood Vampires, which included Johnny Depp and Joe Perry. They subsequently released an album of rock covers.

Cooper reunited with Ezrin once again for his 27th studio record. "Paranormal," was released in 2017, featuring contributions from ZZ Top's Billy Gibbons, Deep Purple's Roger Glover, and U2's Larry Mullins, alongside original bandmates Smith, Dunaway, and Bruce. The album was also released in a special edition with a bonus disc of live material. Early the following year, an EP was released, centered around the "Paranormal" single "The Sound Of A," which included a handful of live cuts from his 2017 tour. In August 2018, Cooper released "A Paranormal Evening At The Olympia Paris," a live album drawn from his European tour in support of the "Paranormal" album.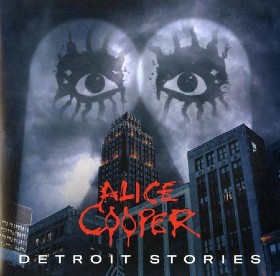 Detroit Stories album

A 2019 EP, "Breadcrumbs," saw Cooper paying tribute to his hometown of Detroit. He continued the Detroit homage on his next full Length, 2021's "Detroit Stories." Produced by Bob Ezrin, the album featured contributions from Detroit music legends including Johnny "Bee" Badanjek, Wayne Kramer, Mark Farner, and Steve Hunter, along with Mike Bruce, Dennis Dunaway, and Neal Smith from the original Alice Cooper band. In addition to many new songs of his own, the album included covers of Bob Seger & The Last Heard, Outrageous Cherry, the MC5, and Detroit featuring Mitch Ryder.

Alice Cooper was inducted into the Michigan Rock and Roll Legends Hall of Fame as a solo artist in 2021.