MRRL Hall of Fame
MARVIN GAYE & TAMMI TERRELL
Details

Category: Inductees
Created: Thursday, 22 July 2021 16:12
Written by Gary Johnson
When Marvin Gaye first signed with Motown in the early 1960s, he wasn't particularly interested in recording R&B music. Although he had broken in professionally singing doo wop with the Marquees and, more importantly, the Moonglows, he preferred the sound of jazzy vocalists such as Nat King Cole and Frank Sinatra. Motown indulged Marvin briefly before nudging him toward more uptempo material like his first R&B hit "Stubborn Kind Of Fellow" in 1962.

Marvin Gaye soon established himself as Motown's top male solo artist, and he proceeded to chart four consecutive R&B hits starting with "Pride And Joy" which crossed over to # 10 on the Hot 100 in 1963. The hits continued in early 1964 when Gaye's recording of "You're A Wonderful One" hit # 3 on the R&B charts and # 15 on the Hot 100.

Motown also saw the potential in Marvin to be half of a powerhouse duet team with Mary Wells, the label's biggest female star who had just had her first # 1 hit with "My Guy." This dream team, in Berry Gordy's mind, would double the potential customer base for both albums and singles.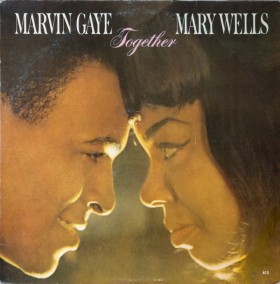 "Together" album

"Together," the first and only studio album released by Marvin Gaye and Mary Wells was released on the Motown label in April of 1964. Containing mostly standards and show tunes, the album reached # 42 on Billboard's Pop Albums chart. The only Motown-penned songs on the album, "What's The Matter With You Baby" and "Once Upon A Time," were released as a single and became a two-sided pop hit for Gaye and Wells with the former reaching # 17 and the latter # 19 on Billboard's Hot 100.

The winning combination of Gaye and Wells was short-lived, however. Mary Wells turned 21 in the spring of 1964 and surprised everyone at Motown when she decided to leave. She had been dissatisfied with the contract she had signed when she was just 17 and sued the label, claiming that her contract was invalid because she was a minor when she signed. Wells won her lawsuit and went on to sign with 20th Century Fox Records in 1965.

Gaye continued to have great success as a solo artist scoring major hits with "How Sweet It Is (To Be Loved By You)," "I'll Be Doggone," and "Ain't That Peculiar". In 1966, he was paired with Kim Weston, wife of songwriter/producer Mickey Stevenson. The duo recorded the Stevenson-produced album titled "Take Two" which contained the hit single, "It Takes Two." The song reached # 14 on the Hot 100 and # 4 on Billboard's R&B chart in early 1967, but both Stevenson and Weston left Motown and signed with MGM Records later that same year.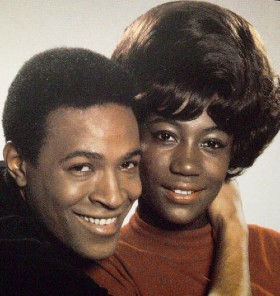 Marvin Gaye and Kim Weston

Stevenson was a bigger loss for Motown than Weston. He had joined the label as the head of its A&R department in 1959, and he was responsible for organizing and establishing the company's in-house band, which later became known as the Funk Brothers. In addition, Stevenson wrote and produced many hit records for Motown, some with co-writer and producer Ivy Jo Hunter. These included "Dancing In The Street," "It Takes Two," "What Becomes Of The Brokenhearted," "Uptight (Everything's Alright)," and "Devil With A Blue Dress On."

In early 1967, Motown paired Marvin Gaye with Tammi Terrell. Born Thomasina Montgomery in 1945, she changed her first name to Tammy after signing with Scepter/Wand Records and releasing her first single in 1961. Shortly thereafter, she spent 9 months as a member of James Brown's Revue. Tammy also recorded for Brown's Try Me label, but she reportedly left Brown after their relationship became abusive.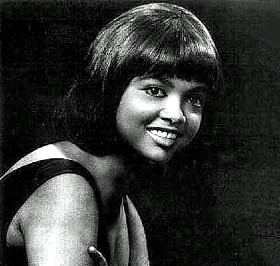 Tammy Montgomery (Tammi Terrell)

Tammy Montgomery went on to sign with Checker Records, but when her lone single failed to chart, she semi-retired from music and enrolled in a pre-med program at the University of Pennsylvania. While still in school, she was asked by Jerry Butler to sing with him in a series of shows in nightclubs. In April of 1965, she was spotted by Berry Gordy Jr. while performing with Butler at the Twenty Grand Club in Detroit. Gordy signed her to Motown on April 29th, her 20th birthday.

Before releasing her first Motown single, Gordy suggested a name change. Thinking that Tammy Montgomery might be too long of a name to put on a 45, Gordy changed her name to Tammi Terrell because he felt that it "screamed sex appeal." Terrell joined the Motortown Revue after releasing her first single, but she didn't have any big hits until pairing with Marvin Gaye.

The duo's first major success was "Ain't No Mountain High Enough," written by Nick Ashford and Valerie Simpson. Producers Harvey Fuqua and Johnny Bristol recorded Terrell and Gaye separately and then remixed their vocals. While putting the vocals together, Fuqua and Bristol ediied out the backing vocals so that the voices of Terrell and Gaye were dominant. It helped the song become a crossover pop hit in the spring of 1967, reaching # 19 on the Billboard Hot 100 and # 3 on the R&B chart, and it made Terrell a star.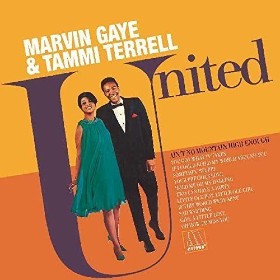 Marvin and Tammi's "United" album

Their follow-up, "Your Precious Love," also written by Ashford and Simpson and produced by Fuqua and Bristol, became an even bigger hit, reaching # 5 on the Hot 100 and # 2 on the R&B chart. At the end of the year, Gaye and Terrell scored another Top Ten pop single with "If I Could Build My Whole World Around You," written and produced by Fuqua and Bristol. All three of the hits were included on Gaye and Terrell's first duet album, "United," released in 1967.

Throughout that year, Gaye and Terrell began performing together on stage, and Terrell became a vocal and performance inspiration for the shy and laid-back Gaye, who hated live performing. The duo performed together on television several times, and were voted the # 1 R&B duo in Cash Box magazine's Annual Year-End Survey.

While Terrell was finally being established as a star, the migraines and headaches she had suffered from childhood were becoming more constant. Even though she complained of pains, she insisted to the people close to her that she was well enough to perform. However, on October 14, 1967, she collapsed into Gaye's arms while performing "Your Precious Love" at Hampden-Sydney College. After returning home, doctors diagnosed a malignant tumor on the right side of her brain. As a result, Terrell underwent brain surgery at Graduate Hospital in Philadelphia on January 13, 1968.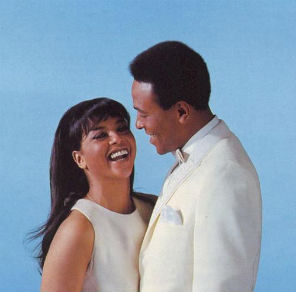 Tammi and Marvin

After recovering from her surgery, Terrell returned to Hitsville studios in Detroit and recorded "Ain't Nothing Like The Real Thing" and "You're All I Need To Get By" with Marvin Gaye. Both songs were written and produced by Nick Ashford and Valerie Simpson. "Ain't Nothing Like The Real Thing" was released first and became a smash hit in early 1968, reaching # 8 on the Hot 100 and # 1 on the R&B chart.

The classic "You're All I Need To Get By", was released as the follow-up and became Gaye and Terrell's biggest hit when it reached # 7 on the Hot 100 and # 1 R&B. Ashford and Simpson, who also sang backing vocals on the recording, later stated how difficult the session was because Terrell was recovering from her brain surgery. Gaye can be heard encouraging Terrell to sing her verses, ad-libbing "Come on Tammi" several times on the recording. The duo's "You're All I Need" album was released in August of 1968, and it became Gaye and Terrell's highest charting LP when in peaked at #4 on the R&B albums chart.

By 1969, Terrell had retired from live performances due to her illness. She continued to record with Gaye, however, even as her health deteriorated. The pair's last Top 40 hit was "Good Lovin' Ain't Easy To Come By" in late 1968. Gaye and Terrell's final album, "Easy" was released in the fall of 1969. Because of Terrell's condition, Gaye's vocals were added to pre-existing Terrell solo recordings to fill out the album.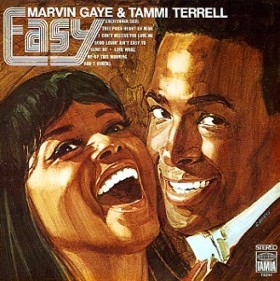 "Easy" the final album

In all, Tammi Terrell endured eight operations, ultimately resulting in loss of memory and partial paralysis. Terrell died in Philadelphia on March 16, 1970. At the time of her death, she was only 24-years-old. "You're All I Need To Get By" was played at her funeral, and Marvin Gaye delivered the final eulogy as the song was playing.

Gaye was so devastated by her decline and eventual passing that he retired from the road for three years. When he was ready to return to work, Marvin would chart a new musical path for Motown in the 1970s, and the loss of Tammi Terrell contributed greatly to the spiritual turmoil which informed Gaye's 1971 masterpiece "What's Going On."

Marvin Gaye and Tammi Terrell, Motown's greatest singing duo, were inducted into the Michigan Rock and Roll Legends Hall of Fame in 2021.