MRRL Hall of Fame
NORMAN WHITFIELD
Details

Category: Inductees
Created: Thursday, 22 July 2021 16:17
Written by Gary Johnson
No producer was more important to Motown's industry domination after the departure of Holland-Dozier-Holland than Norman Whitfield. In addition to writing some of the company's most monumental hits, including "I Heard It Through The Grapevine," "Cloud Nine," "War," "Smiling Faces Sometimes," and "Papa Was A Rollin' Stone," with partner Barrett Strong, his imaginative productions injected a heady blast of funk into Hitsville during the late '60s and early '70s.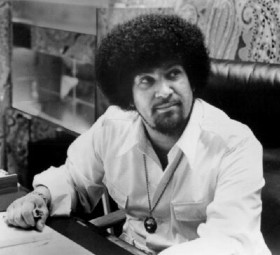 Norman Whitfield

Whitfield was a native of Brooklyn, New York, and spent much of his teen years in local pool halls. In his late teens his family moved to Detroit, Michigan so that his father could join his sister and work in her husband's chain of drug stores, and Norman began attending Northwestern High School.

As he matured, Whitfield became as cunningly adept with a pool cue as with the tambourine he wielded with Richard "Popcorn" Wylie & The Mohawks. Soon he was wedging his foot in the Hitsville door. "He would sit around listening and listening. Wouldn't say a word for almost a year. When he first came to Motown, he wouldn't say a word to nobody," Hank Cosby said.

At 19, Whitfield began frequenting Motown's Hitsville USA offices for a chance to work for the growing label. "He was really, really young, and kind of more of a hang-arounder," remembered Janie Bradford, "And he refused for them to run him away. He kept hanging around until his first hit." Founder Berry Gordy Jr. was impressed with Whitfield's persistence and hired him for the company's quality control department, which determined which songs would or would not be released.

For a time he was also in charge of auditioning amateur hopefuls, but Whitfield then joined Motown's in-house songwriting staff, co-writing the Marvin Gaye hit "Pride & Joy." The Supremes' "He Means The World To Me" and the Velvelettes' "Needle In A Haystack" were two of his early production efforts. He enjoyed his first top 40 hit with the Marvelettes' "Too Many Fish In The Sea" in 1964, but he got his big break when he took over Smokey Robinson's role as the main producer for the Temptations in 1966 after his "Ain't Too Proud To Beg" performed better than Robinson's "Get Ready" on the pop charts.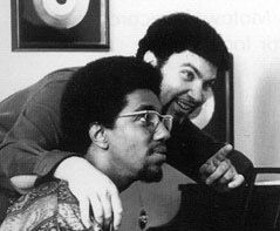 Barrett Strong and Norman Whitfield 1960s

From 1966 to 1974, Whitfield produced virtually all of the Temptations' music, experimenting with sound effects and other production techniques. He found a songwriting collaborator in lyricist Barrett Strong, the performer on one of Motown's earliest hits, "Money (That's What I Want)." They wrote material for the Temptations and other Motown artists such as Marvin Gaye and Gladys Knight & The Pips, both of whom recorded Whitfield-produced hit versions of the Whitfield/Strong composition "I Heard It Through The Grapevine."

After Temptations' lead singer David Ruffin was replaced by Dennis Edwards in 1968, Whitfield moved the group into a harder, darker sound that featured a blend of psychedelic rock and funk heavily inspired by the work of Sly & The Family Stone and Funkadelic. He added contemporary song topics, moving from love songs to the social issues of the time such as war, poverty, and politics.

"We were having fun. We took a different turn," said Strong. "We came and just really went real funk: Sly, then you have George Clinton – you have a lot of people. There are a lot of influences there – Ray Charles and what have you." The two split the lyrical and musical contributions down the middle, "It was an equal thing, total collaboration."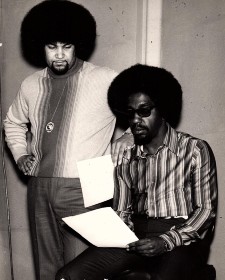 Whitfield and Strong 1970s

The psychedelic soul records Whitfield produced for the Temptations and other artists such as Edwin Starr and the Undisputed Truth experimented with and updated the Motown sound for the late 1960s. "He'd come up with ideas but Whitfield didn't really play," said Tempts' guitarist Cornelius Grant. "He tinkled around on the piano a bit, but he didn't play an instrument."

Longer songs, distorted guitars, often provided by Dennis Coffey, along with multitracked drums and inventive vocal arrangements became landmarks of Whitfield's productions. "He was the first one to come out with a 12 and 14-minute record. He was willing to take the chance, that shot at it. But something has to happen within the limit of time," said Funk Brother Jack Ashford. "He would give me the autonomy to do different things and experiment with things, like a press roll on the side of a cowbell with a stick. Little patterns that he would have me playing on the triangle. He just gave me that type of freedom because he was certain of the fact that I would add something instead of just playing."

The first Temptations' single to feature this new psychedelic soul style was "Cloud Nine" in late 1968, which earned Motown its first Grammy Award for Best Rhythm & Blues Performance by a Duo or Group, Vocal or Instrumental. In 1969, Whitfield won three BMI Awards for the songs: "I Heard It Through The Grapevine." "I Wish It Would Rain," and "You're My Everything."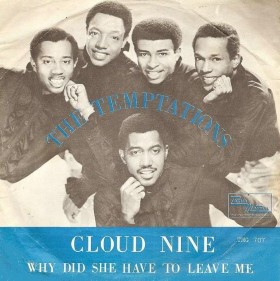 Cloud Nine 45

A second Grammy Award for Best R&B Vocal Performance by a Duo or Group for Whitfield and the Temptations came in 1973 with "Papa Was A Rollin' Stone." The single's instrumental B-side earned Whitfield and arranger Paul Riser a Grammy Award for Best R&B Instrumental Performance, and Whitfield and Strong shared the songwriter's award for Best Rhythm and Blues Song.

Whitfield often recorded notably different versions of songs with different artists in search of a hit, and he did so successfully in the cases of Edwin Starr with "War" in 1970, which was originally recorded by the Temptations. The Undisputed Truth's 1971 hit "Smiling Faces Sometimes" was also originally record by the Temptations, while the Temptations' big 1972 hit "Papa Was A Rollin' Stone" was originally recorded by the Undisputed Truth.

Over the years, however, friction and antagonism grew between Whitfield and the Temptations. The group hated how Whitfield put more emphasis on the instrumentation instead of their vocals, and that he was writing fewer romantic ballads for them.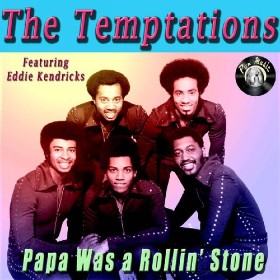 Papa Was A Rollin' Stone 45
In 1975, Whitfield left Motown to form his own label, Whitfield Records. His first act was the Undisputed Truth, who he convinced to leave Motown. They were followed by Rose Royce, Willie Hutch, Yvonne Fair, Nytro, Mammatapee, and Junior Walker. The Undisputed Truth scored their second biggest hit in 1978 with the disco song, "You + Me = Love," their first single on Whitfield Records. Norman Whitfield also had an international smash hit in 1976 with Rose Royce's "Car Wash," issued on MCA Records.

Rose Royce, whose members were originally Edwin Starr's backing band at Motown, went on to record three more popular albums, and they had two huge UK hits with "Wishing On A Star" in 1977 and "Love Don't Live Here Anymore" in 1978. They never could top the success of "Car Wash," however, which served as the theme song to the 1976 motion picture Car Wash. The "Car Wash" soundtrack won Whitfield a Grammy Award for Best Original Score Album Written for a Motion Picture or a Television Special. He also composed the theme song for the 1977 motion picture Which Way Is Up?, performed by Stargard.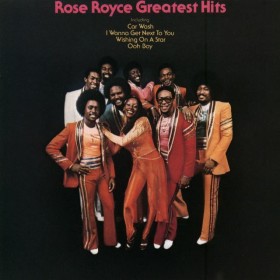 Rose Royce

On January 18, 2005, Whitfield pleaded guilty for failing to report royalty income he earned from 1995 to 1999 to the Internal Revenue Service. Facing charges of tax evasion on more than $2 million worth of income, he was sentenced to six months of house confinement and a $25,000 fine. He was not imprisoned because of his health problems.

During his last months alive, Whitfield was bed-ridden at the Los Angeles Cedars-Sinai Medical Center, where he underwent treatment for diabetes and other ailments. Whitfield fell into a coma, briefly improved, but eventually succumbed to diabetic complications on September 16, 2008.

Norman Whitfield was inducted into the Michigan Rock and Roll Legends Hall of Fame in 2021.