MRRL Hall of Fame
SAVAGE GRACE
Details

Category: Inductees
Created: Thursday, 22 July 2021 16:21
Written by Gary Johnson
Savage Grace was one of the most interesting bands to emerge from Detroit in the late 1960s. Michigan Roll and Roll Legends Hall of Fame inductee Cub Koda wrote this about the band in the All Music Guide: "They were Detroit's progressive rock band of the late '60s. With chops galore and a background rooted in jazz and R&B (with some good old-fashioned Detroit rock & roll thrown in for good measure), Savage Grace stood out from the rest of the Michigan bands as something special and as something quite eclectic."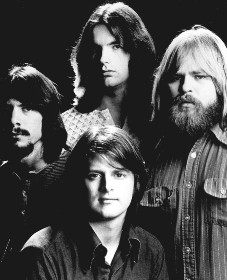 Savage Grace (Clockwise from left) Larry Zack, Al Jacquez, Ron Koss, John Seanor

Savage Grace's origins trace to the east side of Detroit in the late 1960s. Session guitarist Ron Koss, a self-taught musician, was born in the Motor City in 1946. He had been playing since 1962, and had played locally and recorded with Wilson Pickett, Marv Johnson, and Hank Ballard. Koss had done some session work for Motown as well. Besides that, Koss did a commercial work at the Artie Fields Studio in Detroit for Kowalski and Eckrich meat companies.In addition, Koss had been in a band called the Lazy Eggs, and then the Group which later morphed into the Scarlet Letter. According to Al Jacquez, Larry Zack also did session work before Savage Grace.

John Seanor was born in Chicago in 1944, and he became interested in classical music at an early age. Piano remained his avocation as he earned a B. A. in history at Denison University, and then became his major as he went on to study music at Boston University. Seanor was a fan of Bill Evans, and he developed into a jazz pianist, gigging along the East Coast for a time before coming to Detroit to join Ron Koss and Larry Zack in the Scarlet Letter.

In 1968, Scarlet Letter signed with Mainstream Records, an independent label that had been founded by producer Bob Shad in 1964. Although Mainstream's early releases had been focused primarily on jazz artists and soundtrack LPs, the label started signing rock acts in 1967, including the early releases of Big Brother and the Holding Company and Fever Tree.
By 1968, Mainstream had signed the Amboy Dukes and enjoyed some success on the Billboard charts with the band's first two singles, "Baby Please Don't Go" and, more importantly, "Journey To The Center Of The Mind" which reached # 16 on the Hot 100.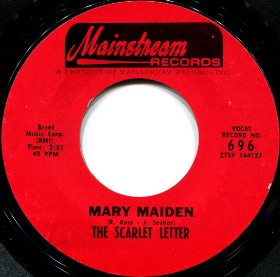 The Scarlet Letter was the second Michigan band signed to Mainstream. The band released their first single, "Outside Woman Blues" backed by "Macaroni Mountain," in late 1968. Their follow-up single, "Mary Maiden"/Timekeeper," was released the following year. Neither single sold, however, and the band decided on a new direction after being dropped by the label in 1969.

Koss, Seanor, and Zack were looking for looking for a bass player who could also sing, and that led to Al Jacquez joining the band. Jacquez was born in in New York City in 1951, but both of his parents had been born in France. His father was a doctor who did cancer research and His mother was a buyer for Macey's in New York City before she quit to give birth to the first of four children.
The Jacquez family lived in the borough of Queens, and there was a great deal of music around the house – recordings of Broadway musicals, classical composers, opera, and contemporary singers like Ella Fitzgerald and Frank Sinatra. Al, the eldest child, liked listening to Elvis Presley and other pop music artists while he was growing up but he didn't buy any records until the Beatles broke big in America in 1964.

By that time, his family had moved to Ann Arbor where his father was offered a cancer research lab at the University of Michigan along with a professorship. He eventually became the Dean of the School of Public Health.

Inspired by the Beatles, Jacquez started playing guitar in Ann Arbor in the 7th grade and took lessons at the Herb David guitar Studio on State Street with Jeff Jones, a junior high friend and future bandmate. Herb David was an Ann Arbor fixture, a luthier who had come out of the beat movement of the 1950s.

Their first band was called the Hideaways and, in high school, Jacquez and Jones continued to take lessons together at the Herb David Studio. One of the instructors they had for a short time was Dan Erlewine, guitarist for the Prime Movers, Ann Arbor's top blues band.
"We asked him to teach us some Beatles and other British Invasion songs," Jacquez recalled in a recent interview. "Dan Erlewine was important. He impressed on us the need to listen to the original artists like Muddy Waters, Smokey Robinson, Little Richard, and B. B. King – the artists who inspired the British bands and whose recordings they covered."

The Hideaways played many campus fraternity parties, performing covers of Ray Charles, Sam & Dave, Otis Redding, the Animals, the Beatles and the Stones. They even performed at the Grande after it first opened and also got to open for The Who and the Jimi Hendrix Experience at the Fifth Dimension in Ann Arbor. "Hendrix was hard to describe," Jacquez said. "He dressed unlike anyone we had ever seen, taking the blues to places no one ever had before; but he was very relaxed on stage, very pleasant and not ego-driven. We were in high school and it was incredible."

Before forming the Hideaways with Jones, Jacquez was involved in a youth theater group called Junior Light Opera. It wasn't opera per se, but rather performances of musicals like Oliver and Take Me Along. His younger brother Nicholas was also involved. After the Hideaways broke up, Jacquez enrolled in a theater program at the University of Michigan and was in classes with Gilda Radner. It was during this time that he got a call from Jeff Jones who said that a guy he knew was working with a band called Scarlet Letter, and they looking for a guy who plays bass and sings.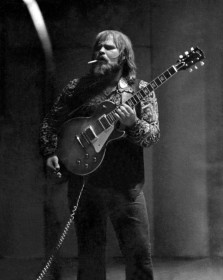 Ron Koss

Although Jacquez was really a guitarist, he got a bass and auditioned. "Even though I wasn't a great player, I had studied music theory in school and understood how a bass line could move through a series of chord changes, especially some that were classically based, like some of the Scarlet Letter's songs," Jacquez explained. "The guys in the band, especially Ron Koss who was an incredible guitar player and a good teacher, helped me learn the instrument, and I quit school at that point."

Jerry Lubin was a DJ at WABX and one of the original Air Aces. "He was the group's manager for a while, and he came up with the new band name," Jacquez recalled. "John Seanor's living room was our main rehearsal space. His mom was very supportive, and he had a great piano there. After listening to several songs at a rehearsal, Lubin said 'this is savage grace.' It immediately became our band name from that point on."
The band performed at the Grande, the Grande Riviera, and throughout the Midwest in clubs, ballrooms, colleges, high schools, and pop festivals. Jacquez recalled that they opened for Procol Harum at the Wampus Lake Pavilion, and at one festival, Yes, Soft Machine, and Alice Cooper opened for Savage Grace. "The Michigan scene was really cool back in those days," Jacquez said. "You could play all the time. We played college gigs as well as teen clubs all over the state – three gigs a weekend."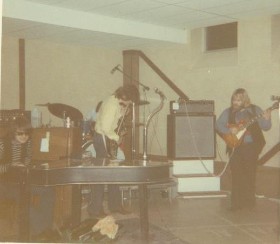 January 1970: Seanor, Zack (hidden), Jacquez, and Koss.
"We got our record deal through an A&R guy from Warner Bros. who knew Jerry Lubin," Jacquez said. "The key was a concert at Olympia Stadium in Detroit featuring Savage Grace, the Box Tops, the James Gang, and CCR. We got a standing ovation after our set at that show, and we were signed after that."
"Mo Ostin, who had worked with Frank Sinatra, was the president of Reprise, a Warner subsidiary, and he came to Detroit and negotiated with us face-to-face. We had originally done some recording at Artie Field's studio in Detroit. We started the album there and cut "Come On Down," and then we went out to L.A. They put us up in a hotel, and we completed the album at Sun West Recorders with Joe Wissert producing and Gary Brandt engineering," Jacquez recalled.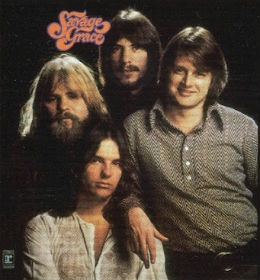 "Savage Grace" debut album

Joe Wissert had started working at Cameo-Parkway in the 1960s, and then moved the California where he produced several hits for the Turtles, including their # 11 hit, "Happy Together", before joining Warner Bros. "I don't think he got us but he was a nice man," Jacquez said of Wissert. The band's self-titled debut, "Savage Grace," was released in late 1969.

"Recording the first record was tough for me because I hadn't had a lot of experience in the studio. I hadn't mastered the medium yet. The band was very enthusiastic during the sessions at Sun West, and any of the issues we had were put on the back burner. We were playing a lot, and it was important for the group to be working."

"We had been playing all of the songs live before recording the album. "All Along The Watchtower" always closed our shows. John Seanor was a big fan of Bill Evans, and he played piano all the time. He was the one who suggested adding Bach to "All Along The Watchtower," Jacquez said. "It was # 1 in San Jose but Reprise never pushed the song. As a result, it was never officially released as a single even though it got a great deal of play in the Midwest and especially in Michigan.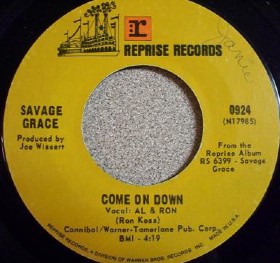 "Come On Down" was the official single off their self-titled debut album, and it charted on both WKNR and CKLW. The song also just missed reaching the Hot 100 during the summer of 1970 when it peaked at # 104 on Billboard's Bubbling Under chart. Listen to "Come On Down" https://www.youtube.com/watch?v=z13Iy5BA-sg
Most of Savage Grace's original songs were written by Koss and Seanor. According the Jacquez, Ron Koss was a disciplined writer who worked on it all the time.
"We played Goose Lake in August, and we relocated to California soon after. Reprise and Bob Cavallo suggested we move there. Savage Grace was the last band signed to the label that was moved out to Los Angeles to be groomed by them. I lived in Tarzana with John Seanor and three roadies in a nice house with a swimming pool," Jacquez said.

"We would then drive into Burbank and rehearse on one of the soundstages on the back lot at Warner Bros. It was pretty cool. We rehearsed on the film set of Hotel and Little Feat rehearsed there too. They were also being managed by the guys, Bob Cavallo and Joe Ruffalo, who were handling us. Linda Ronstadt may have rehearsed there as well. I used to drive through the back lots on my motorcycle with Judy, my girlfriend who later became my wife."

"The second album was recorded at Sunset Studios," Jacquez stated. "We started the album at Village Recorders with Wissert. It didn't work, however, so John Haney, who had worked with the Beau Brummels and Judy Collins, took over the sessions. One day Led Zeppelin came in as they were recording their third album there. The Doors had also recorded at Sunset. It was a cool place."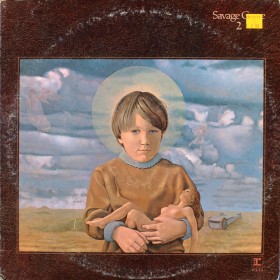 "Savage Grace 2" album

"When we did the second record differences began to appear," Jacquez recalled. "We had stopped working to move out to L.A. During the recording there were a lot of upbeat, heady times. Haney was a good producer, and he was willing to try things that the band wanted to do like using a pump organ, and Jeff Jones was working on different guitar sounds for Ron."

Sadly, the conflicts that existed within the band started to become more obvious as the sessions progressed. "It was during the second album that Cavallo and Ruffalo decided to pull Koss and Seanor out of the band and leave me and Larry Zack in the lurch, which is what happened from my perspective."

The band's second album, "Savage Grace 2" was released in May 1971. "Bob Cavallo, who is now big at Disney, had been John Sebastian's road manager and we toured with Sebastian on the East Coast after the second album was released," Jacquez recalled. "It was a weird combination, I was wearing a loincloth and we were playing hard rock and Sebastian, who is the nicest man, played a folk-based style that was very different from us. Savage Grace also opened some dates for Jimi Hendrix shortly before he died, but performance opportunities for us soon began to dwindle."

"The band fell apart after the second album was released. Reprise may have given up on the band. Our manager might have convinced Mo Ostin that Koss and Seanor was a better direction than Savage Grace. They saw Seanor and Koss as the songwriters," Jacquez said.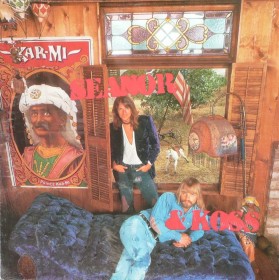 "Seanor & Koss" LP
After the breakup of Savage Grace, John Seanor and Ron Koss released the "Seanor and Koss" album in 1972 with the help of King Errisson on congas and percussion, Kenny Altman on bass, and John Seiter on drums. It was produced by Shel Talmy who at been at the helm of several early hits in the 1960s by the Kinks, the Who, the Easybeats, and Chad & Jeremy. John Sebastian, who had gone from the Lovin' Spoonful to a successful solo career, played harmonica on three of the songs.

Jeff Jones left before Savage Grace officially broke up and started playing guitar back in Michigan. He replaced Wayne "Tex" Gabriel, who went on to join Elephant's Memory, and joined with former Rationals Scott Morgan and Terry Trabandt, along with David Morgan, in Guardian Angel. "Jeff called me and said I should move back and join Guardian Angel," Jacquez stated. "After I came back to Michigan, I joined the band and we now had two lead singers."

"The band name was changed to Lightnin' in late 1972 mainly because John Sinclair and Peter Andrews, who were handling the band at the time, felt it was necessary. The name change was announced in the December edition of the Ann Arbor Sun. The article also stated that the band's cover of Johnnie Taylor's "Highjackin' Love" would be released locally as a single on Rainbow Records, a division of Rainbow Multi-Media which also managed the band. "Hijackin' Love" was recorded live at the very last of the Tribal Stomps at Otis Spann Field in Ann Arbor. The B-side was a studio version of "The First Time I Saw You Baby." Listen to "Hijackin' Love" https://www.youtube.com/watch?v=Nmz9rk0R580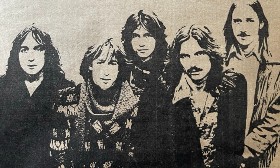 Lightnin' photo from the Ann Arbor Sun

According to Jacquez, Scott Morgan didn't like the two-lead singer approach, and he and Terry Trabandt left the band soon after the single was released. They were replaced by Tim McCoy and Mark Gougeon.
Lightnin' stayed together for a while and issued an EP that is now a collector's item. The group toured the South and played with Wet Willie, and the New Riders of the Purple Sage, along with doing some festival work. This version of the band with Jacquez, Jones, Morgan, Gougeon, and McCoy went on to play at the New Fillmore East for the head of Elektra Records, but their manager was kicked out of the office during a heated discussion over a proposed record contract.

After Lightnin' ground to a halt, Jacques spent the following years in a number of different bands including Custom Eyes, the Suspects, Burning Circle, and Measured Chaos. During the same time, Ron Koss did session work and played guitar on albums by John Sebastian, Dion, and Lowell George. Larry Zack also stayed active in the music business and played drums on recordings by Jackson Browne, Warren Zevon, Robby Krieger, and Bobby Womack. Zack is currently working with Dallas Hodge.

Savage Grace reunited in the 1990s with Al Jacquez and Ron Koss. Seanor and Zack weren't involved primarily because they were on the West Coast. Jacquez and Koss offered to pay air fare to Michigan, but it seemed that they weren't that interested. Jeff Jones played some guitar and produced the sessions that also included bassist Mark Gougeon, keyboardist Jim Claire, and drummer Bill Gordon. They only recorded on Sundays in Jeff Jones' studio. It was economical, but took a lot of time and Jacquez said it was difficult to keep together.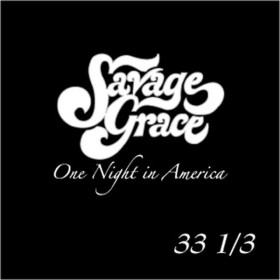 Savage Grace 3 "One Night In America"

The band produced enough songs for the Savage Grace 3 album, officially titled "One Night In America." The album, which contains 16 tracks, is available on iTunes. The new version of Savage Grace stayed together until Ron Koss passed away in 2004 of a heart attack at his home. Koss was only 58, but the fact that he never quit smoking and was overweight probably contributed to his untimely demise.

Al Jacquez continues to perform music. His recent activities include performing original music as well as selected covers with guitarist Drew Abbott in a duo called Abbott & Jacquez. He also does some solo performances in a variety of venues as well as gospel singing with a trio called OneAchord.

Savage Grace was inducted into the Michigan Rock and Roll Legends Hall of Fame in 2021. The band's version of "All Along The Watchtower" was voted a Legendary Michigan Song in 2017. Listen to "All Along The Watchtower" https://www.youtube.com/watch?v=WoJYA844C4A