Bay City's Madonna Tour
Bay City is a great place to grow up and live. It is relatively quiet and safe and provides numerous recreational activities. There are a respectable number of good restaurants and bars in town, although there is a noticeable lack of live music options. Unlike many Michigan cities, the downtown area of Bay City seems pretty healthy. Sports have always played an important role in the city and there are ample opportunities for citizens from children to adults to participate in a wide variety of athletic activities. The Rail Trail and Riverwalk are stellar additions to the community that encourage a healthier lifestyle. The public school system is in fairly decent shape and the town has both a junior college and university nearby to provide higher education at a reasonable price.
The big economic news is that Uptown at River's Edge project has finally gotten off the ground. The former 43-acre industrial site along Bay City's riverfront is now the home of Dow Corning and will soon include McLaren Bay Region, Chemical Bank, a new hotel, and a number of new restaurants and shops. It's hoped that 500 new jobs will be created, and in the words of former mayor Chris Shannon: "It's not just the jobs; it's the intangible...that, after decades of economic decline and jobs loss, this brings a level of confidence that investment in Bay City has returned." So where does Madonna fit into all of this?
Bay City has still has some of the same problems in 2015 as other cities of comparable size. Although there is justifiable excitement over what is happening at Uptown, one sees quite a few vacant buildings and empty storefronts in the business districts on both sides of the river. In addition, the Bay City Mall lost two of its anchor stores (Sears and Target) at the start of 2015, and the former Holiday Inn (now called the Bay City Inn) that greets visitors coming into town seems to be hanging on by its fingernails.
If Bay City can't support existing businesses, what is going to enable the new enterprises at Uptown to be successful? One idea that could bring a large number of people to Bay City on a consistant basis has been ignored or cast aside for nearly 30 years - taking advantage of Bay City's connection to Madonna.
Granted, some Bay Cityans find Madonna's brand of in-your-face feminism, her use of religious iconography, and her openess about human sexuality offensive or even threatening; but like her or not, she is a worldwide musical icon - on par with both Elvis Presley and The Beatles.
Madonna has many positive things in her favor. According to the Guinness Book of World Records, she is the most successful female recording artist of all time and has sold over 300 million recordings worldwide. In her 32-year career Madonna has won or earned over 230 music-related awards. In addition, her work in the field of music videos has set a standard of excellence that no other artist has been able to match, including the late Michael Jackson.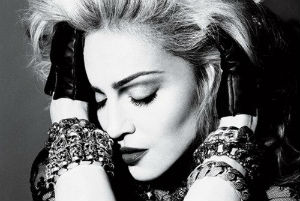 Madonna 2014
Although Madonna's film career has not achieved the level of success of that of her recordings and videos, she has earned good reviews in several of her movies and won a Golden Globe for Best Actress in a Musical or Comedy for her performance in Evita. In addition, her song "Masterpiece", from W.E., a film she directed, won a Golden Globe for Best Original Song.
Madonna is also a highly intelligent and savvy business woman. In 2013, at the age of 55, she topped the Forbes List of the Top Earning Celebrities. Her Maverick record label is the most successful artist-run label in music history, earning over $1 billion dollars for its distributor, Warner Bros. Records, and far outperforming the labels formed by other rock superstars including The Beatles, The Rolling Stones, Led Zeppelin, and Elton John.
Millions of dollars are earned each year through Madonna's Material Girl clothing and shoe lines, her MDNA skin care products, her Hard Candy chain of gyms, and her promotion deal with Live Nation. Madonna's net worth is estimated to be between $700 and $800 billion dollars.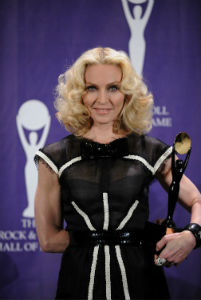 Madonna at the Rock and Roll Hall of Fame in 2008
She has been very generous with her wealth and has donated millions of dollars to a wide variety of causes. These include her Raising Malawi organization which has built ten schools in the impoverished African country that, so far, has educated nearly 5,000 children. In 2014, Madonna agreed to help fund three organizations in Detroit that help to eliminate poverty in the city.
Among the dozens of other organizations that she has helped support over the years are: the American Foundation for AIDS Research, Afghanistan Relief Organization, Children in Need, Amnesty International, Greenpeace, Make-A-Wish Foundation, MusiCares, Special Olympics, and UNICEF.
It's not necessary to like Madonna's music, performing style, political stances, or charitible donations to take advantage of the fact that Bay City is the only place on earth that can that can rightfully claim to be her birthplace.
Tupelo, Mississippi, is the birthplace of Elvis Presley and has almost the same population (35,000) as Bay City. No one, not even Madonna, was as controversial as Elvis was when he first gained popularity in 1956. His sideburns, swiveling hips, and the rock and roll music he performed were denounced in church pulpits, newspapers, and magazines across the country as lightning rods that would transform the nation's youth into juvenile delinquents.
Despite that early criticism, Tupelo has since taken advantage of the fact that it is Elvis Presley's birthplace. I'm sure that Presely had his critics there, but the powers that be were wise enough not to listen to the negative voices and to embrace the big picture.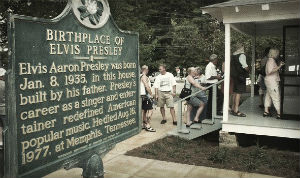 Tupelo's investment in Presley was not that great. To attract fans and interested parties from all over the world, Tupelo commissioned two statues; one of Elvis as a twelve-year-old boy growing up there, and one of Elvis the rock and roll star. They also have the small two-room home that the Presley's lived in for three years, a replica of the 1939 Plymouth that the family drove to their new home in Memphis in 1948, a small gift shop, a memorial chapel, Elvis' childhood church, and a small Elvis Presley museum. In addition, they offer an Elvis Driving Tour that takes you to the sites of ten significant points of interest in Presley's early years.
The attractions in Tupelo are small potatoes compared to what Graceland in Memphis can offer; but what they have generates millions of tourist dollars each year. Although some officials in Bay City would have us believe that it would be a stretch to think that the city's failure to take advantage of Madonna's celebrity would have had any impact on the city's economy, Tupelo's relationhip with Elvis gives us a much better perspective of what could have been and still could be.
Madonna became the first person from Bay City to be inducted into the Rock and Roll Hall of Fame on Monday, March 10, 2008. Inductees were honored with a video montage leading up to their induction, and listed below Madonna's name was Bay City, Michigan. It was certainly no accident that Bay City was placed under Madonna's name. Madonna could have listed either Pontiac or Rochester Hills. She lived and went to school in both cities. She was undoubtedly behind this gigantic shout-out to Bay City, but the question is why? Madonna is by far the most famous and successful person to have ever been born in Bay City, yet she gets very little love or respect from the city of her birth.
To be fair, there have been some attempts. Former Mayor, and current State Representative, Charles Brunner was the first elected Bay City official to try undo the damage done by ex-Mayor Tim Sullivan's foolish decision to renege on his offer to present Madonna with the key to the city in 1985.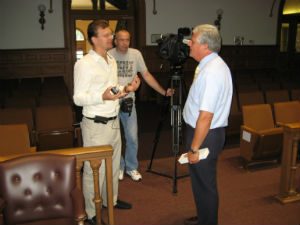 Former Mayor Charles Brunner (far right) being questioned about Madonna at City Hall by a Ukrainian video team
Brunner's idea was to reach out to Madonna through her father, Tony Ciccone, who was sometimes in Bay City to promote the wines produced at his Ciccone Vinyard & Winery located in Suttons Bay, north of Traverse City. Brunner wrote a letter to Madonna early in 2008, and her father promised to get to her. It carried the important message: "We are proud of you in Bay City" and included an invitation to come to town to be presented with the key to the city. An important part of his proposal was to let Madonna decide exactly how and when this could be done.
It's not known when Brunner's letter got to Madonna but 2008 was a busy time for the singer. Madonna was completing her new "Hard Candy" album that was released in the spring. She was inducted into the Rock and Roll Hall of Fame in March, and was also putting the finishing touches on I Am Because We Are, her documentary about the impoverished African country of Malawi. Madonna was also deeply involved in the planning and rehearsals for her upcoming Sticky & Sweet Tour which included shows in both Europe and the U.S.A.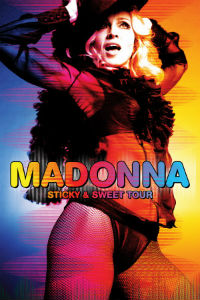 Madonna did eventually get back to Brunner. Her representative called to tell him that there were two tickets for Madonna's sold-out show at Ford Field in Detroit waiting for him. Unfortunately, Brunner was out of town and did not get the message. Thus, his opportunity to possibly meet and present the key to Madonna was lost.
Although Mayor Chris Shannon did nothing to follow up on Brunner's efforts, City Commissioner Chris Girard made an attempt in 2014. Girard put together the Material World Fundraiser that was planned as both a tribute to Madonna and a benefit for Do-All/Do-Care's Material Assistance Program which helps support families facing financial hardship or crisis with basic needs such as household goods, furniture and clothing. Although the event was blessed with a beautiful day on May 31, 2014, and featured a number of interesting events, the Material World Fundraiser ended up losing money.
Girard also seemed interested in putting "Birthplace of Madonna" on the Welcome to Bay City signs, but there seemed to be very little interest on the part of other leaders at City Hall in either contacting the Michigan Department of Transportations or spending tax dollars to change the exisiting signs. Girard did get the City Commission to support the idea of installing a sign on private property by using donated funds; but as of now there seems to be nothing happening with the proposed site at the Bradley House or with the contest that was to be run to create the design of the proposed Madonna sign.
The fact that Bay City has not been willing or able to recognize one of the most prominent women in the world in any official way or take advantage of her fame, has caused many people around the world to shake their heads in disbelief. Unfortunately, this failure has probably cost Bay City hundreds of millions of tourist dollars over the years, not to mention an untold amount of economic investment that would have been tied to Madonna. But it could still happen.
Some Bay Cityans stubbornly opposing recognition have reasoned that Madonna may have been born here but grew up in Southeast Michigan, making her connection to Bay City tentative at best. This is the typical of the misinformation about Madonna that is wrongly accepted as fact and is often repeated in negative comments that appear on MLive or on the Memories of Bay City Facebook page.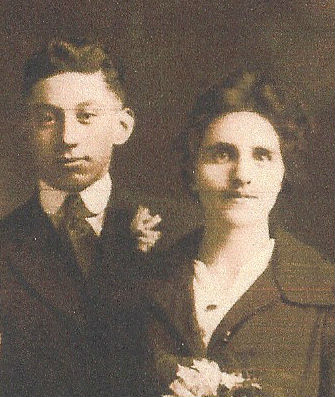 Wiilard and Elsie Fortin on their wedding day in 1929
If one looks closely at Madonna's family history, however, her roots on her mother's side run deep in Bay City. The families of both her grandparents, Elsie and Willard Fortin, were French-Canadian farmers and lumberjacks who immigrated to Michigan from Quebec, Canada in the 19th century. Elsie was born in Standish, and she married Bay City native Willard Fortin, a railroad worker and lumber merchant, in 1929 in Bay City.
Although Madonna never resided in Bay City, she spent a great deal of time here during holidays and summer vacations from her birth in 1958 to around her sophomore year in high school in 1973. After Elsie was widowed in 1959, Madonna and her siblings would visit and stay with their beloved grandmother at her home on Smith Street in the Banks area on Bay City's West Side. Elsie Fortin was the most important woman in Madonna's early life, especially after she lost her mother to breast cancer in 1963 at the age of 30. Both mother and daughter shared the exact same name, Madonna Louise Ciccone.
The Madonna Tour of Bay City was originally set up as one of the activities for the Material World Fundraiser. The tour takes you to some places that were important to Madonna on her many visits here as well as some that were important to her mother, Madonna Fortin. Unfortunately, many of the places and things that were significant parts of Bay City to both Madonnas have changed or are gone entirely. In 1987, Madonna told Jane Pauley that she had "great affection for Bay City." The 18 stops on the tour show and help explain some of the reasons why she felt that way.
1.) The Fortin home at 87 State Park Drive.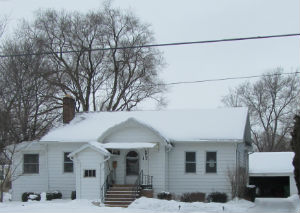 87 State Park Drive– After their marriage in 1929, Willard and Elsie Fortin lived in rented houses in Bay City until Willard completed construction of their first home in 1932. The couple's first daughter, Madonna Louise Fortin, was born there in 1933, and the family lived at this location until Willard built their second home in 1947.
Geraldine "Chickie" Sanders lived across the street from the Fortins at 98 State Park Drive and was the same age as Madonna Fortin. The two girls became best friends and went on to become classmates all the way through grade school and high school. Chickie still resides in Bay City and currently lives next door to the house where she grew up.
2.) The Second Fortin Home at 1022 N. Birney. – In 1947, Willard Fortin completed construction of a new home located at the corner of Third Street and N. Birney. It was the same year that his daughter, Madonna, started 9th grade at St. Joseph High School. The house was located just blocks away from both St. Joseph's Church and was easy walking distance to and from the high school.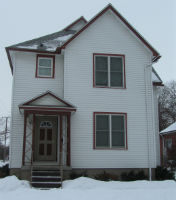 The former Fortin house at 1022 N. Birney
Roy "Jay" Crete, current owner of the Ideal Party Store, met Madonna Fortin during their freshman year. Jay claims that Madonna Fortin was his first high school date. He remembers playing pool in the Fortin basement and, since he lived nearby on Fifth Street, he regularly walked to school with Madonna and other friends.
3.) St. Joseph High School. – The parking lot on the corner of Second Street and N. Grant is the former site of St. Joseph High School. St. Joseph's was the first Catholic church in the Saginaw Valley when it opened in 1850. The parish school was started in 1880, and the building that Madonna Fortin attended was built in 1918. The high school closed in 1968 when students from St. Joseph, St. James, and St. Stanislaus high schools combined to form Bay City All Saints. The old St. Joseph High School building was razed in the 1970's.
Madonna's mother, Madonna Fortin, attended St. Joseph High for four years and graduated in 1951. Two additional classrooms and a gymnasium were completed in time for her senior year and the 1951 Torch yearbook shows Madonna Fortin as one of the cheerleaders in the new gym. Those structures are still standing at the corner of Second and N. Farragut.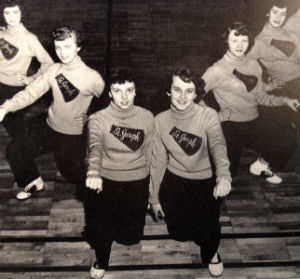 Madonna Fortin (front right) in St. Joseph's Gym 1951
Her friends say that Madonna Fortin attended Mass and took communion every day. They also recall that she wasn't overly pious and loved to sing and to attend dances and parties. She was an excellent student and very active in school. Madonna Fortin served on the Torch yearbook staff, was a member of the Glee Club all four years of high school, served as a school librarian, and was the class secretary.
Another important spot for Madonna Fortin and her friends during the years they attended St. Joseph High School was Stevens Dairy. Located west of the school on Third Street between N. Grant and N. Van Buren, Stevens was a popular spot during lunch hours for ice cream cones, malts, hamburgers, french fries, or just a bag of potato chips. Stevens was a major hangout for St. Joe students before and after dances and basketball games. The juke box had the latest hits, and the dairy was also a handy hideout for students who were skipping Mass.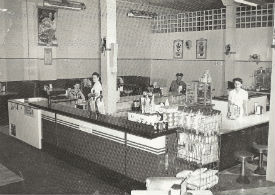 Stevens Dairy in 1950
Madonna the singer must have stopped at Stevens when she and her siblings or Bay City friends walked down Third Street to get to the downtown area. I've often thought that the retro 50's style of her music video for "True Blue" might have have been something of a tribute to her mother and the many fun hours that she spent at Stevens Dairy. The photo shows Stevens as it looked in 1950 when Madonna Fortin attended St. Joseph High. Stevens closed in the 1970's and the building was replaced by units of a low income housing project.
4.) The Fortin Home at 1204 Smith Street. – Willard Fortin, who was the office manager of Hirschfield's Lumber, built his third home in 1951 during Madonna Fortin's senior year at St. Joseph High. This is the house that Madonna the singer would visit as a youngster during summers, weekends, and on holidays. Her grandfather Willard died in 1959, so her memories of the house revolve around her beloved grandmother, Elsie Fortin.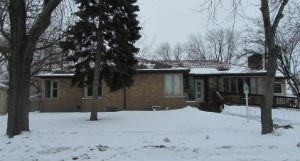 The house at 1204 Smith Street
The home is located just west of Patterson Road, the former site of Dow Chemical's petrochemical and cracking plants that dispensed an unpleasant smell and air pollutants to the homes nearby. This is the odor that Madonna and her brothers and sisters encountered when they visited their grandmother in Bay City. Many people today think of Monitor Sugar when someone brings up the "smelly little town" comment, but Madonna was referring to the Dow plants.
Besides the unpleasant odor and air pollution, the Dow plants were identified in a 1974 National Environmental Report as being one of the main polluters of the Saginaw River. Dow used the cracking process to produce gasoline that was sold under the Bay brand. Dow Chemical used to advertise Bay gasoline with the slogan "Dow Know-How in Every Drop". The plants were later closed and disassembled when Dow Chemical got out of the gasoline business.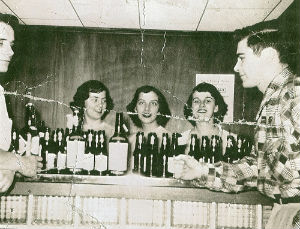 St. Joseph party in the Smith St. basement in 1951. (L to R) Tom Trelewski, Katie Noonan, Chickie Sanders, Madonna Fortin, and Ed McAllister
Madonna and her brothers and sisters played across the street at the playground on the swings and monkey bars, and she befriended some of the other neighborhood children during her stays at Smith Street. Madonna became close friends with the former Lee Ann Trepanier on her visits to Bay City. She lived down the block from Elsie Fortin. Linda and Madonna first met at the playground.
It is thought that Madonna's song "This Used To Be My Playground" was inspired in part by these experiences. Lee Ann and Madonna would often go to the former Beson's City Dairy on Marquette Street, a few blocks south of Smith Street. In the winter they would go ice skating at a make-shift rink that would be flooded each winter in Defoe Park, also located on Marquette.
Elsie sold the home in the 1970's and moved to a smaller house on N. Dean St. The house had three different owners since then and it has been remodeled at least twice. The current owners are Larry and Micelle Campau. They are licensed to serve 6 adult foster care patients in the home.
In 2003, Madonna stopped by the house unannounced and politely asked the home's staff if she could peek around the yard. No one on the staff knew it was Madonna until a story appeared in the Bay City Times the following day saying she had been in Bay City. It was probably the first time in almost 30 years that she had visited the Smith St. house.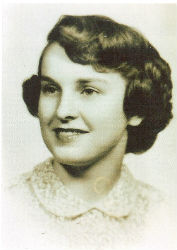 Madonna Fortin in 1953
If Bay City would have been on the ball, the Smith St. house could have been purchased for a very reasonable price and converted into a Madonna museum much like Tupelo, Mississippi, did with the house that Elvis Presley's family lived in for several years.
5.) Our Lady of the Visitation Church. – The church, located at 1106 State Street, first opened in 1910 and Elsie and Willard Fortin were members of the parish. Their daughter, Madonna Fortin, was baptized at Visitation and attended the grade school through the 8th grade. She transferred to St. Joseph in 1947 because Visitation did not have a high school at that time.
Madonna Fortin and Silvio (Tony) Ciccone were married at the Visitation Church in Bay City on July 2, 1955. They had met in Texas when Madonna attended the marriage of her brother Dale who was in the Air Force. Tony Ciccone was an Air Force buddy who served as the Best Man. Madonna Fortin told her friends that it was love at first sight.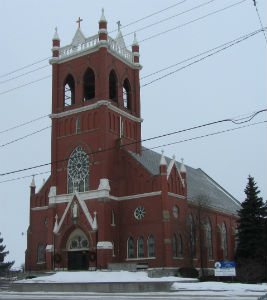 Our Lady of the Visitation Church
While she waited for him to complete his military obligations, Madonna attended Bay City Junior College for two years and worked in the office of a Bay City radiologist. She worked with x-rays in the office, and it is entirely possible that the exposure may have contributed to the breast cancer that took her life in 1963.
After his discharge, Tony got a job in the defense industry designing firing systems and laser optics for the Chrysler Defense company. The couple bought a house on Thors Street in Pontiac, several blocks away from what would become the site of the Pontiac Silverdome, so that Tony could be closer to his work.
Our Lady of the Visitation is the church that the singer Madonna and her family would attend when visiting Elsie in Bay City. When her mother died in 1963, the funeral mass was held at Visitation, and she was buried at the Calvary Cemetery in nearby Kawkawlin.
6.) Mercy Hospital. – Madonna Louise Ciccone was born in Mercy Hospital at 7:05 a.m. on August 16, 1958, in the Maternity Ward on the 4th floor. She was the first daughter born to Madonna and Silvio (Tony) Ciconne and was given the exact same name as her mother.
The physician who brought Madonna into this world was Dr. Abraham Jacoby. Dr. Jacoby's office was in his home located on the corner of Ninth Street and Cornell in a part of Bay City known locally as "college town". Dr. Jacoby was on the staff of Mercy Hospital.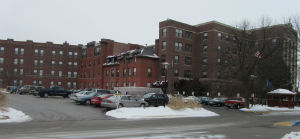 The Bradley House at 100 15th Street is the former site of Mercy Hospital
Bay City's Mercy Hospital was established in 1888 by the Sisters of Mercy. The original building was the previous mansion of Nathan Bradley, Bay City's first mayor, a congressman, and a successful salt and lumber manufacturer. An annex was added in 1905. The original Bradley home was demolished in 1956 and a new hospital addition opened in 1958, the same year Madonna was born there.
The hospital building has since been converted into a senior high-rise living facility called the Bradley House. The Bradley House has been in operation since 1981. A sign announcing that this was the site where Madonna the singer was born in Bay City is reportedly being considered for the site in the near future.
7.) Calvary Cemetery. – Located at 2977 Old Kawkawlin Road in Kawkawlin Township, Calvary Cemetery is the only place on the Madonna Tour that is outside the Bay City limits. The Calvary Cemetery performed its first burial on November 28, 1899. Madonna's grandfather Willard was buried here in 1959 and her mother in December of 1963 after she passed away in the Pontiac General Hospital – a victim of breast cancer.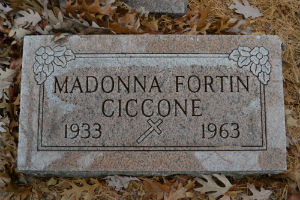 The gravestone of Madonna's mother at the Calvary Cemetery
Madonna's mother was diagnosed with breast cancer in the early 1960's. By that time she had given birth to five children and was pregnant with her sixth. Madonna has spoken of her mother on many occasions and has very distinct memories of her, even at the age of five. As her mother's cancer progressed, Madonna remembered that her mother strove to put a brave face on her suffering. She never betrayed her pain to her children even while spending much of 1963 in a hospital bed.
Words can't express how devastating the loss of their mother was to all of the Ciccone children, especially the older ones who knew her best. Madonna has returned to Bay City on several occasions to visit her mother's grave. Calvary Cemetery is the only place in the Bay City area where Madonna has been filmed. The sequence was part of the 1991 Madonna documentary film, Truth or Dare.
The sequence, which also features her younger brother Christopher standing nearby, shows Madonna walking to the gravesite, placing flowers on her mother's gravestone. She then lays alongside her mother's grave and kisses the stone. The bouquet that Madonna laid on her mother's grave was purchased from Paul's Flowers on Lafayette Avenue in Bay City. Madonna addressed her mother's death in the songs and the accompanying videos for both "Oh Father" and "Promise To Try". The latter song was used in the Truth or Dare documentary over the footage of Madonna shot at her mother's gravesite in the Calvary Cemetery.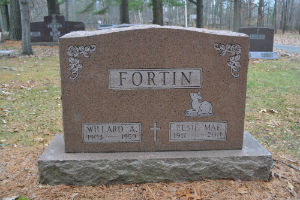 The final resting place of Willard and Elsie Fortin at the Calvary Cemetery in Kawkawlin
Although Christopher Ciccone was critical of his sister filming her visit to their mother's grave in his tell-all book, Life With My Sister Madonna, most people found the footage very moving. Willard and Elsie Fortin are both buried at Calvary, as is Madonna's uncle, Dale Fortin. Willard and Elsie had eight children, and because she lived to be 99 years-old, Elsie suffered the loss not only of her husband, but also three sons and a daughter during her long life.
8.) Bay City State Park, and the former sites of Tony's Amusement Park, Putt Tee Golf, and Roll-Air on State Park Drive. - According to Madonna's older brother Martin, during their summer visits the Ciccone kids fished off the Detroit & Mackinac railroad bridge and even jumped off it to swim in the Kawkawkin River.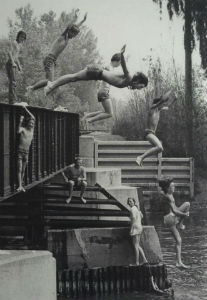 Jumping off the Detroit & Mackinac railroad bridge into the Kawkawlin RiverMadonna and her brothers and sisters also loved to go to Bay City State Park to swim and enjoy family picnics. The beaches were clean during those years and not plagued by the algae and rampant plant growth that has spoiled the swimming area the last few decades.
No trip to the State Park area would be complete without stopping at Tony's Amusement Park. The park was founded by Anthony Giffel, a resident of Essexville, in 1942. Giffel was the owner of a vending machine company and kept the arcade stocked with shooting games, pinball machines, and fortune-telling games. Although the arcade appealed to older kids, the rides at Tony's Park were targeted at those 10 and under.
There was a variety of kiddie rides, but the unquestioned highlights were the carousel and the miniature train that ran on a set of steel tracks, complete with a long wooden tunnel located at the rear of the park. There was also an animal house that featured bears, raccoons, and porcupines along with the ever popular monkey house.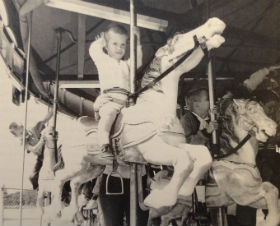 The carousel at Tony's Park
The Giffel family sold the park in 1968 to four Bay City-area public school educators; Octavian and Chris Gavrilla and Bob and Ilene Darbee. After the Darbees dropped out of the business in 1976, the Gavrillas ran Tony's Park until they sold it to Mussell Beach Amusements in 1984. The new owners added large slides and pitching machines; but they went out of business in 1990 and the park reverted back to the Gavrillas. The Gavrillas sold it to the State of Michigan that same year. The carousel was purchased by Deer Acres and some of the other rides by the Bay County Fair Association.
The Gavrillas and Darbees had purchased the Roll-Air outdoor skating rink and the Putt Tee miniature golf businesses located across the street from Tony's Park in 1963. Madonna and her siblings loved to skate on the 70 by 210 foot concrete surface using the rink's rented skates. They also loved to play miniature golf. It was a big treat to go here, and the Ciccone kids would beg the grandmother to take them to Tony's Park and Roll-Air.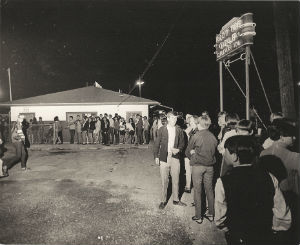 Crowd lined up at Roll-Air for the Battle of the Bands
Madonna would have been too young to go out to Roll-Air on Tuesday nights in the 60's and early 70's for the Battle of the Bands competitions. As many as 2,000 teens from the surrounding areas would converge and pay 25 cents to watch area bands compete in the events that were hosted by popular WKNX-AM DJs, Bob Dyer and Dick Fabian. ? and The Mysterians competed in one of the early Battle of the Bands competitions before they made their first record.
Later on, Roll-Air expanded to what were called Super Tuesdays and booked many of the bigger name Detroit bands including the Bob Seger System, Alice Cooper, Frijid Pink, the Amboy Dukes, the MC5, and The Rationals. The property was also sold to the State of Michigan in the 90's and now there is no trace of either the original Tony's Park or the Roll-Air and Putt Tee Golf businesses that were located across the street from each other near the corner of N. Euclid and State Park Drive.
9.) Caris' Red Lion. – When Elsie Fortin would bring Madonna and her siblings on trips to Downtown Bay City, they would often stop for a lunch of hot dogs with Coney sauce at Caris Red Lion located at 201 Center Avenue. The restaurant was a Bay City landmark; and brothers William and Samuel Caris started business at the corner of Saginaw and Center in 1924.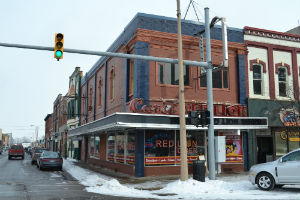 The former home of Caris' Red Lion is now called Rudy's Red Lion, but it no longer serves those classic Coney dogs
Elderly Bay Cityans remember that the hot dogs cost 5 cents in the 1920's. The Coney dogs at the Red Lion were second to none. They were cooked on an open grill and served with Caris' special Coney sauce, onions, mustard, and dill pickle slice. The food was served cafeteria style – you would get a tray at the south end of the counter and slide in down the metal rails as you selected your food items.
Customers would then pay at the cash register located at the north end of the restaurant and eat lunch in the booths along the windows facing both Saginaw Street and Center Ave. When Madonna ate there, the Wenonah Hotel, which burned on December 10, 1977, was located where the Delta Planetarium now stands at the corner of Center and Water Street.
10). The Former Belinda Street Bridge. - During the years that Madonna Fortin lived in Bay City and the many times her daughter Madonna visited and stayed with her grandmother, they would have crossed the Saginaw River to Downtown Bay City using the old Belinda Street Bridge. It was originally built in 1889 and then re-built in 1938.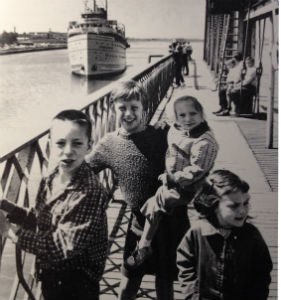 Kids ride the bridge span as a ship passes through
Both Madonna as a child, and her mother before her, knew it as a swinging span bridge like the old Third Street Bridge. Both children and adults used to ride the center span of the bridge when it swung open to allow boats to enter into Bay City or to leave and sail out into Saginaw Bay. The Belinda Street Bridge was replaced the by the new Independence Bridge in 1976, the same year the Third Street Bridge collapsed into the Saginaw River.
11.) St. Laurent Brothers. – The business was started in 1904 by brothers Alex and Joseph St. Laurent at First and Water Streets roasting peanuts and making peanut butter. They soon expanded to include other nut meats and candies. The business moved to its current location at Third and Water in 1917. In 1985, the business was sold to partners Steve Frye and Keith Whitney, and they continued St. Laurent Brothers' delightful nut and candy traditions. Sadly, Keith Whitney passed away in 2014.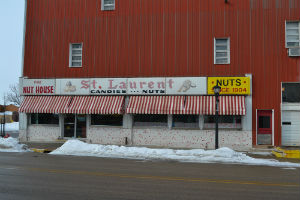 St. Laurent Brothers Nut House at 1101 N. Water Street
Madonna loved to go to St. Laurent Bros. when she was visiting Bay City. Going to the shop was a highlight of any trip to the downtown. In 2003, she stopped by the store with her then-husband, film director Guy Ritchie, while in Bay City to visit Grandmother Elsie and her mother's grave. Clerks say that Madonna purchased $7.83 worth of candy, including a cellophane bag of Red-Hot Dollars - a gummy raspberry-flavored candy, and salt water taffy.
12.) Former site of Bell, Book & Candle. – The Bell, Book & Candle was one of Madonna's favorite shops in downtown Bay City. The gift shop opened at 1015 Washington Avenue in 1962 and its ad in the Yellow pages proclaimed: "Imported gifts and candles from around the world. Complete selection of paperbacks."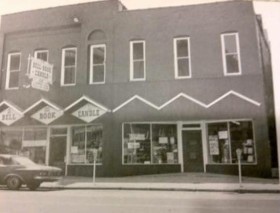 Bell, Book & Candle (on left)
In a Bay City Times' interview in 2008, the former Lee Ann Trepanier stated that both Madonna's and her birthdays were only a few days apart in August; and that they would walk to Bell, Book & Candle to buy gifts for one another. Often it was stationary and envelopes so that they could write each other during the school year. Unfortunately, Lee Ann didn't keep the letters she received from Madonna, but she remembered that Madonna had written her about making the cheerleading squad and getting the lead in a school play.
The building was torn down several years after the Bell, Book & Candle went out of business. It is now a parking lot for the law offices of Seward,Talley & Piggott P.C.
13.) City Hall. – Located at 301 Washington Avenue, City Hall is Bay City's most impressive structure. Construction started in 1894 and was completed in 1897. The historic building was badly damaged by a fire in October of 2010 caused by sparks from a grinder being used on the building's re-roofing project. The fire was quickly contained but most of the damage was done by the 20,000 gallons of water sprayed from City Hall's fire-suppression sprinklers.
The building reopened in December of 2013. The total cost of restoration and improvements on the building over the three years totaled $10.5 million. This building was also home to the office of Bay City's former Mayor Timothy G. Sullivan, who in 1985 became notorious for refusing Madonna a key to the city.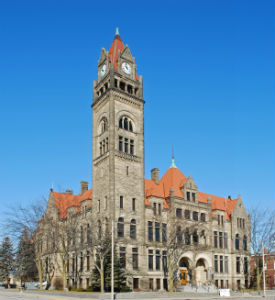 City Hall is located at 301 Washington Avenue
That summer, Bay City Mayor Tim Sullivan announced his plan to invite Madonna to perform a free concert in Bay City and to honor the popular singer with the key to the city. Elsie Fortin claimed in a Bay City Times story that Sullivan called her 7 or 8 times to help him get Madonna to come to Bay City.
Shortly thereafter, the first serious bump in the upward trajectory of Madonna's career came with the July press announcements that nude photographs of Madonna, taken years earlier when she was still a struggling artist, had been sold to two of the world's most popular men's magazines, Playboy and Penthouse.
It's important to note that Madonna did not pose for either of these men's magazines. While pursuing a career as a dancer in New York she made very little money. Madonna earned extra money by posing nude in art classes and as a nude model for art photographers. The images were not pornographic, but she was completely nude. After she became famous, the nude photos suddenly became valuable. Madonna did not want them in either of the men's magazines but had signed a standard model release form and could not prevent their sale six or seven years later.
After the nude photos story hit the press, Sullivan did a quick about face. According to the Bay City Times' front page story of July 9th, "When Mayor Timothy G. Sullivan heard the bare facts about Madonna's unveiling in Penthouse magazine, he did what he could to enforce moral standards - he reneged on his offer to give her the key to the city".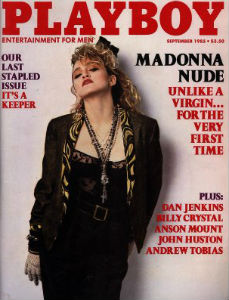 Madonna's 1985 Playboy cover
The mayor's quotes spread his name throughout the country via newspapers, radio stations, and the national television networks. Riding the wave of national publicity, Sullivan had a new quote prepared at City Hall on July 10th. "We have a nice gold pin to present to Madonna if she returns - the second highest accolade awarded by the city. Of course the gold pin requires that she have something to pin it onto."
Madonna's key to the city also became an issue in the upcoming mayoral election. Sullivan noted that he had recently presented a key to a nun from the St. Stanislaus Parish - and that it just wouldn't do to give the same token to Madonna. Sullivan said that "he doesn't condone the exploitation of women by pornography and that the mayor's office has a moral responsibility not to support exploitive maneuvers". Of course this is exactly what Sullivan was doing – exploiting Madonna for political ends by wrongly linking her photos to pornography. It seems to have worked since Sullivan was re-elected in the fall.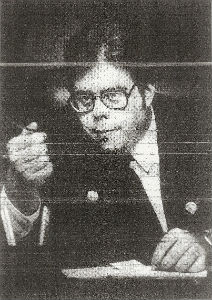 Former Bay City Mayor Tim Sullivan
Although Madonna never commented publicly about the key to the city controversy, her relatives in Bay City were undoubtedly hurt and angered by Sullivan's actions and by the negative letters sent by to the Peoples Forum in the Bay City Times. This event was the beginning of the rift between Madonna and Bay City that been going on for 29 years.
For all his media pronouncements about the key representing the city's highest honor, it was later discovered that Sullivan had not bothered to record the names of any of the citizens onto whom he bestowed the key during that tenure in office, including the nun from St. Stanislaus Parish. Unfortunately, the key to the city issue became the first of two events that served to divide public opinion in Bay City regarding Madonna.
14.) Former Bay City Times Building.– This historic building on the corner of Fifth Street and Adams was home to the Bay City Times from 1910 to 2014. In April of 2014, the drastically scaled-down newspaper moved to new offices on Water St. in the northwest corner of the Mill End Lofts building across from Wenonah Park. The current asking price for this building is $675,000. Like most print newspapers, the Bay City Times has fallen on hard times; but back in the 1980's it was the main source of news for Bay City and the surrounding northern counties.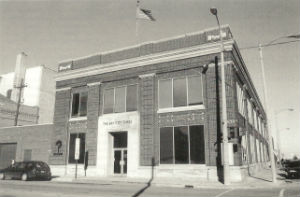 The former home of the Bay City Times at 311 Fifth Street
Pat Hunt, the editorial writer for the Bay City Times in 1987, directly contributed to the second Madonna controversy. It came as a result of Madonna's comments that were spoken to Jane Pauley when questioned about the city of her birth. Madonna did a 43-minute interview on the Today Show on August 5, 1987 to promote her new movie, Who's That Girl. This was the interview that produced the 6 words that most people in Bay City have associated with Madonna for the past 27 years.
The vast majority of citizens learned that Madonna had described Bay City as a "smelly little town in Northern Michigan" from Hunt's misleading front page editorial in the Bay City Times on August 5,, 1987, that took her words out of context. Titled That's Cold, Madonna, the first paragraph of the story jumped to the conclusion that Madonna characterized her birthplace as "smelly" on national TV because the mayor didn't give her the key to the city; despite the fact that neither Sullivan nor the key were ever mentioned in the interview.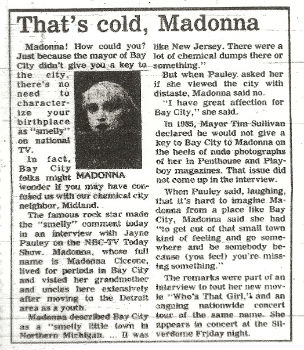 The slanted front page editorial in the Bay City Times that took Madonna's words out of context and caused a controversy
Based solely on the editorial, many community leaders and private citizens in Bay City angrily called the newspaper, radio talk shows, and television stations to express their outrage over Madonna's comments. She was alerted to the firestorm her words were causing in Bay City by family members who attended Madonna's Pontiac Silverdome concert with 42,000 other fans on August 7th.
Madonna stopped the show six songs in and apologized from the stage, saying that she didn't mean that the people of Bay City were stinky and that she was referring to the refinery operated by Dow Chemical that was located near her grandmother's house. The apology appeared in the paper on August 8th, but the damage had been done, and Bay Cityans were not about to forget what they believed was an insult, apology or no.
Three weeks later on August 30th, the Bay City Times published a story that included interviews with several members of the Fortin family who defended Madonna by saying that she was referring to the air pollution from the Dow Chemical plants. They also revealed that the "smelly little town" phrase actually came from a standing joke between Tony Ciccone and Elsie Fortin over whose town had the worst smells; Bay City with its petrochemical and cracking plant or Tony's birthplace of Aliquippa, Pennsylvania, with its large steel mill. As a child, Madonna had heard the joke every time they visited Bay City.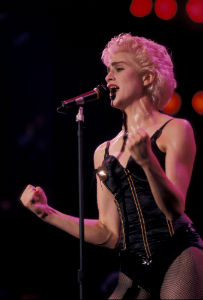 Madonna performing at the Silverdome on August 7, 1987
The entire interview with Madonna and Jane Pauley is now available on YouTube. If one watches with an open mind, you will discover that there was certainly was no anger in Madonna's voice and also no mention whatsoever of Sullivan and the key. If Madonna was guilty of anything, it was that she used a poor choice of words in attempting to answer an interview question about the town where she was born, while saying something about the chemical smell that always greeted her when she visited her grandmother's home on Smith Street.
Pauley then asked her "So do you say smelly little town with some affection or complete distaste?" Madonna answered: "No, no, no; I have great affection for Bay City". That was really the most important thing she said, but it got lost in the furor over what almost everyone in town wrongly thought was a put-down of Bay City.
Unfortunately, the comment is still repeated by people around town who bring it up whenever they want to discredit Madonna, or by other Bay Cityans who simply don't know the facts surrounding the controversy. For going on 28 years, you cannot mention Madonna's name among a group of people in Bay City without someone bringing up the infamous "smelly little town" comment. Sadly, this prime bit of misinformation can still be found on Bay City's Wikipedia page.
15.) Elsie Fortin's home at 404 N. Dean St. – After Elsie Fortin sold the Smith Street home in the 1970's, she purchased a small house at 404 N. Dean Street. She would live at this address for well over three decades until her death in 2011.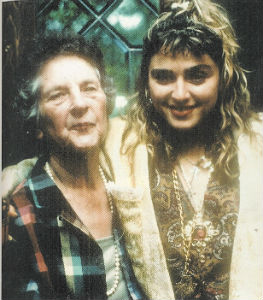 Elsie and Madonna in Detroit in 1985
Once Madonna became famous, she paid for Elsie's living expenses and for the caregivers who would help look after her grandmother. These were people who were Elsie's friends or were related in some way to the Fortin family.
Madonna would have gladly paid for more luxurious housing, but her grandmother liked to live simply and was happy at her N. Dean home. Elsie had joined the nearby St. Mary's Parish, enjoyed her longtime friends and neighbors, and had the Nate Doan Park across the street when grandchildren and great-grandchildren visited her. Elsie Fortin died at her home on March 9, 2011, surrounded by close friends and family. Madonna's younger sister, Paula, was one of the family members with Elsie at the time of her death.
16.) Gephart Funeral Home 201 West Midland Street. – The business was established in the 1920's by the Covey family and was known then as the Covey Funeral Home. The firm was purchased in 1945 by Harold and Wilfred Gephart. They owned the business until 1976 when it was purchased by Gerald Luczak. Today, Gephart's is run by Gerald's two sons, Doug and David Luczak.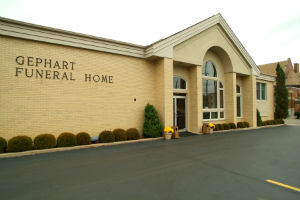 Madonna's last visit to Bay City was to attend the vigil for Elsie Fortin at the Gephart Funeral Home
Gephart's handled the funeral arrangements for Elsie Fortin. Madonna attended the Vigil for the Deceased at 8:00 p.m. Friday, March 11th. She was accompanied by her daughter Lourdes and her son Rocco along with her two adopted children, Mercy and David. They arrived unannounced after dark in a black SUV so as not to cause a commotion.
Lourdes did a reading of a poem in French at the vigil to honor Elsie's French-Canadian heritage. One of the funeral directors later commented on how gracious Madonna was. She took the time to personally thank every person on the Gephart staff for all they had done for Elsie.
Madonna and her children did not attend the funeral service on Saturday, March 12, at St. Mary of the Assumption Church as their presence would have taken attention away from her beloved grandmother. Her father Tony Ciccone, who had remained close to Elsie over the years, read Scripture at the service.
17.) Gypsies. – Now closed, Gypsies was located at 510 Third Street and was owned by Marianna Mularz. It was one of only two commercial establishments in Bay City that celebrated the most famous person ever born here. Gypsies featured Madonna's astrological chart, a special Madonna Latte coffee drink named in her honor, and a special blend of Kahlua, Caramel, and Vanilla coffee beans humorously called "Smelly Little Town".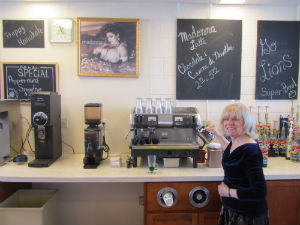 Marianna Mularz prepares a Madonna Latte at Gypsies
Mariana told fortunes in her shop, sold crystals for spiritual enhancement, rings, and essential oils – natural scents for healing. She also carried some clothing items such as sarongs, belly-dancing apparel and coin belts.
18.) Scotty's Sandbar & MRRL Hall of Fame at 1201 Evergreen Drive. – The idea for a Michigan Rock and Roll Hall of Fame was originally proposed to be part of the Uptown at River's Edge development in Bay City. When city leaders rejected the idea, a website was developed and the idea was turned into the Michigan Rock and Roll Legends Online Hall of Fame. Eligible artists were inducted by a computerized voting system open to anyone who had an interest in Michigan's rich rock and roll legacy. Visit the MRRL website at www.michiganrockandrolllegends.com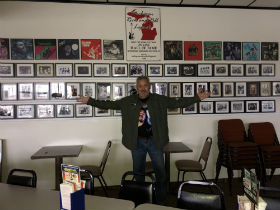 Images of Madonna are part of Gary Johnson's Michigan Rock and Roll Legends Hall of Fame display at Scotty's Sandbar
The MRRL Hall of Fame was originally displayed at the Bay City Motor Company but after the business closed in 2019, it moved to Scotty's Sandbar, a popular music venue on the banks of the Saginaw River in Bay City.
Madonna is one of the 120 artists, bands, and individuals who have been inducted into the Michigan Rock and Roll Legends Internet Hall of Fame since 2005. Madonna was voted into the online hall in 2006 – two years before she was inducted into the Rock and Roll Hall of Fame in Cleveland.