MRRL Hall of Fame
96.) Rock 'N Roll - Detroit featuring Mitch Ryder
Artist Name:

Detroit featuring Mitch Ryder

Year Inducted:

2015
Details

Category: Legendary Songs
Created: Tuesday, 19 May 2020 08:56
Written by J McCallum
"Rock 'N Roll" (L. Reed) – Detroit featuring Mitch Ryder; Paramount label, # 107 Billboard Bubbling Under – 1972. Inducted in 2015.
"Rock 'N Roll" was written by Lou Reed and included on "Loaded", his last studio album with the Velvet Underground. Mitch Ryder's version of the song with his band Detroit was kicked off with a big guitar riff by Steve Hunter and prominent cowbell compliments of former Detroit Wheels' drummer Johnny Badanjek. Lou Reed was impressed by the powerful performance and was quoted as saying that was how the song was supposed to sound. After Detroit broke up, Reed recruited Hunter to for his Rock N Roll Animal tour and two live albums.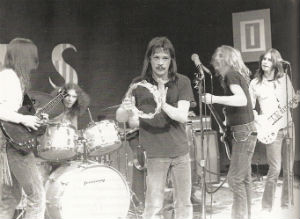 Following a nasty parting of the ways with Bob Crewe, Mitch Ryder returned to Detroit and took on Barry Kramer, publisher of Creem magazine, as his manager. Kramer's plan was to reunite the Detroit Wheels but he was only able to recruit Badanjek and guitarist Joey Kubert. The band then changed gears and morphed into Detroit but was plagued with numerous personnel changes, disagreements, and rampant drug abuse.
Somehow the band managed to produce an excellent album titled "Detroit", but it fell through the cracks along with its two great singles, "Long Neck Goose" and especially the radio friendly "Rock 'N Roll'. Despite sounding like a major hit, "Rock 'N Roll" never found its audience and failed to reach the Hot 100, peaking at # 107 in early 1972.
Embittered by his experiences, Mitch Ryder would leave the music scene and head to Denver. There he worked a day job for five years while working on his songwriting skills at night before returning to Detroit and resuming his music career.
YouTube Video:

https://www.youtube.com/watch?v=Mag6jxiHXXk