Dr. J's Rock and Roll Classes
Details

Category: About The MRRL
In order to keep Michigan Rock and Roll Legends advertisement-free, both the website and the Hall of Fame display at Scotty's Sandbar in Bay City have been completely funded by the rock and roll history classes that I teach through the Osher Lifelong Learning Institute at Saginaw Vallley State University in Michigan and Rutgers University in New Jersey. Rock and roll classes have also been presented in the past at Sunrise Side Lifelong Learning in Tawas City. These noncredit courses are open to the general public and offer discounted class fees for OLLI members.
Presented in September 2020 at Saginaw Valley State University
Michigan Rock and Roll History - Part 2: The 1960s
The course will survey Michigan's most interesting musical decade - one that saw the emergence of a literal galaxy of stars including Del Shannon, Marvin Gaye, The Supremes, Aretha Franklin, Stevie Wonder, and Bob Seger. The garage rock movement, the growth of teen night clubs across the state, Detroit rock and the Grande Ballroom, the popularity of music festivals, and Motown developing into "The Sound of Young America" are just some of the topics covered in this fascinating time capsule.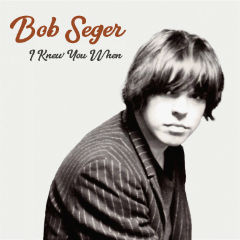 The course will be presented either by video through SVSU's Zoom account or in person with a reduced class size to accomodate social distancing in Room 129 in Curtiss Hall More information will be available soon. Class dates: September 2, 9, 16, 23, and 30. Class time: 1:00 – 3:00 p.m.
Presented in February 2020 at Saginaw Valley State University
Michigan Rock and Roll – Part 1: Roots, Rockabilly, and the Birth of Motown
Beginning with a series of important events that include the growth of the automobile industry, the Great Depression, and World War II, the course will examine the factors that helped make Michigan one of the leading centers of the rock and roll movement. Drawing from blues, country, gospel, R&B, jazz, Latin, and pop influences, the state became a melting pot in which these disparate genres came together to form a distinctive new musical style.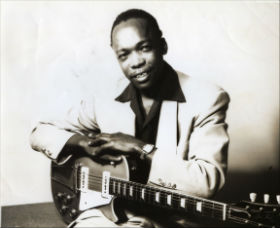 John Lee Hooker
The class examined the Michigan-based record labels and important songs that came about during this early period, as well as the lives and careers of a wide variety of artists including: John Lee Hooker, Bill Haley, Aretha Franklin, Jackie Wilson, Hank Ballard, Jack Scott, Johnny & The Hurricanes, Marv Johnson, Little Willie John, and Smokey Robinson.
The course will be presented in four sessions running from 1:00 to 3:00 p.m. om Wednesday afternoons on February 5, 12, 19, and 26 in Rm. 129 in Curtiss Hall. Instructor is Gary (Dr. J) Johnson
Presented September to October 2019 at SVSU
Roy Orbison and Brenda Lee
The five-week course examines the parallel careers of two of rock and roll's greatest vocalists. Using dozens of vintage performances, along with hundreds of photos, the class will be a musical journey from their humble beginnings to international stardom. The course delves into the peaks and valleys of both Roy's and Brenda's recordings and personal lives, culminating with the many honors bestowed on both artists, including their inductions into the Rock and Roll Hall of Fame.
The classes will run on Wednesday afternoons from 1:00 P.M. to 3:00 P.M. on September 4th, 11th, 18th, 25th, and October 2nd in Room 129 in Curtiss Hall. Instructor is Gary (Dr. J) Johnson
Presented in May 2018 at Saginaw Valley State University in Michigan and in October 2018 at Rutgers University OLLI in New Jersey
The Everly Brothers - Heartaches and Harmonies (Revised)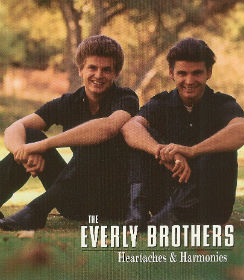 The Everly BrothersAmong the first ten inductees into the Rock and Roll Hall of Fame, the Everly Brothers were the artists most closely associated with country music. The Kentucky-bred duo grew up performing on the family country radio show all over the South and Midwest in the 1940's before becoming early rock and roll stars in 1957 with their classic recordings on the Cadence label. Don and Phil Everly's main musical contribution was their keening, knife-like harmonies that would become important models for later harmony-based rock and roll acts such as Simon and Garfunkel, the Beatles, the Bee Gees, and the Hollies.
This fun and informative four-session course will use a wealth of vintage video, photos, and even some early radio broadcasts to examine the amazing career of Don and Phil Everly. The class will also examine the rise of country music in America during the 20th century and its impact on the Everly Brothers, one of the most important country-based recording artists in the history of rock and roll.
Instructor is Gary (Dr. J) Johnson. It will meet in the OLLI classroom at Brookdale Junior College in Freehold on Thursday afternoons from 1:00 to 2:30 P.M. on October 4th, 11th, 18th, 25th, and November 1st.
Presented during the 2019 Winter Session at Saginaw Valley State University in Michigan
Bob Dylan: American Poet
Bob Dylan made a seismic impact on international pop culture as he fused folk tradition, rock and roll rebellion, political insight and poetic ability into a personalized, myth-making style that still resonates today. Much of his most celebrated work dates from the 1960s, when he became a reluctant "voice of a generation" with songs such as "Blowin' In The Wind" and "The Times They Are A-Changin'" which became anthems for the Civil Rights Movement and anti-war protests.
Dylan has been scrutinized, acclaimed, assailed and debated by critics, detractors, defenders, and fans with more fervor and attention that any other post-war musician. Although his later work has not affected pop culture as much as his material from the 1960s, most of it amounts to a resourceful body of music that is often beautiful and daring.
This entertaining and music-filled course will employ dozens of performance clips and music videos, along with hundreds of photos to illuminate the entirety of Bob Dylan's life and career from his boyhood in Minnesota through his most recent "uncovering" of the classic American Songbook.
The Bob Dylan course will be presented by Gary (Dr. J) Johnson on Wednesday afternoons from 1:00 to 3:00 p.m. in Curtiss Hall - Room C129. Class dates are January 30, February 6, February 13, and February 20.
Previous Courses
Rock and Roll Songwriters: Songwriting Teams of the Brill Building Era
Elvis Presley: The King of Rock and Roll
Motown: Hitsville U.S.A.
Doo Wop: Life Is But A Dream
The Beach Boys: Endless Summers
Johnny Cash: The Man in Black
Ricky Nelson: They Called Him A Teenage idol
Buddy Holly: Not Fade Away
Michigan's Rock and Roll History Pt. 1: Roots, Rockabilly, and the Birth of Motown
Michigan's Rock and Roll History Pt. 2: The 1960's
Women in Rock Pt. 1: This Little Girl's Gone Rockin'
Women in Rock Pt. 2: These Boots Are Made For Walkin'
The 50s: Before the Beatles
The 60's: The Golden Years
Bruce Springsteen: Thunder Road
The Everly Brothers: Heartaches and Harmonies
Michigan and the Paul McCartney Death Rumor of 1969
The Rolling Stones: Paint it Black - The First Decade
Elvis in the 50s
Madonna: Rebel Heart
Bob Dylan: American Poet
Presentations
Michigan Rock and Roll Legends
96 Tears and the Art Schiell Recording Studio
Bay City's Fake Zombies Scandal
The Battle of Mickey's Big Bop
The Madonna Controversy in Bay City
The Million Dollar Quartet
The Boy Who Shot Buddy Holly (In Color)
JFK, The Beatles, and Michigan
So You Want To Be A Rock and Roll Teacher