"5,000 Ways" Revisits Detroit's Glory Days
Details

Category: Dr. J's Blog
Published: Saturday, 28 October 2017 14:20
Written by Gary Johnson
Although I confess that I wasn't born in Detroit and I haven't read many books about the city, I find it hard to believe that there could be a more beautiful and interesting publication on the market than 5,000 Ways You Know You're From Detroit by Chris Edwards and Elaine Weeks. Subtitled Recollections & Images From The Baby Boomer Years, the 480-page coffee table book focuses on a 50-year period from roughly 1930 to 1980 when Detroit was thriving as one of the nation's most important cities.
Both Edwards and Weeks are baby boomers who grew up in Windsor, Ontario, the Canadian city that you might not realize is located south of the Motor City. Although separated by the Detroit River, the border was easily crossed by way of the Ambassador Bridge or the Detroit-Windsor Tunnel, enabling Edwards and Meeks to visit the Motor City on countless occasions to, among other things, shop at J.L. Hudson's, visit the Detroit Zoo, attend sporting events and concerts, or stroll through the Detroit Institute of Arts. The couple even had their first date in Detroit at the Pontchartrain Hotel's PJazz Festival in 1980.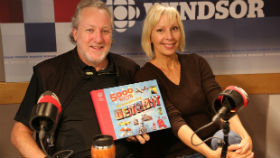 Authors Chris Edwards and Elaine Weeks
The music connection between Detroit and Windsor ran deep. CKLW -800 AM radio, located in Windsor, featured a 50,000 Watt clear-channel frequency that carried its signal over large parts of the country, and it quickly became the dominant and most influential Top 40 station in Detroit during the 1960s and 1970s. Rosalie Trombley was the station's storied music director who had the knack for programming songs that appealed to both black and white audiences. Her set lists were very important in elevating the careers of Motown's large roster of artists as well as a host of other Michigan luminaries including Bob Seger, who immortalized Trombley in 1972 with his song "Rosalie".
CKLW-TV was also very important to Michigan rock and roll. The station started broadcasting Teen Town in the 1960s. Hosted by influential DJ Robin Seymour, it was a local dance-party show similar to American Bandstand, that ran six days a week, and each program highlighted a different Detroit-area high school, featuring 50 to 75 kids live on set. This evolved into Seymour's Swinging Time, another dance party show that featured national and local recording acts lip-synching their latest singles. Swinging Time quickly became an important promotional vehicle for many up-and-coming artists including Motown artists: the Supremes, Stevie Wonder, the Marvelettes, and Martha & The Vandellas, and rockers: MC5, SRC, Mitch Ryder & The Detroit Wheels, and the Rationals.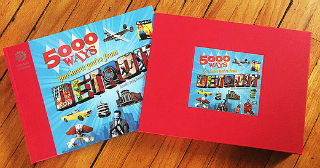 5,000 Ways You Know You're From Detroit does a nice job of touching on the other important Detroit stations, radio personalities, venues and recording artists that helped make the city such a force in music. I'm very proud that I was listed as a contributing writer for the book which also includes, on page 209, the list of the 110 Legendary Michigan Songs that were compiled via online voting on the MRRL site from 2007 through 2016. But 5,000 Ways... is about much more than the city's cool music scene.
Unfortunately, over the years Detroit has become a major subject for people documenting the urban decay found in large industrialized cities across the nation. Ruins photography, also known as 'ruin porn', focuses on abandoned, vandalized, and destroyed buildings left in the wake of the loss of manufacturing jobs in industrialized cities and the impact on the economy. Detroit became the poster boy for ruin porn with the publication of The Ruins of Detroit by Yves Marchand and Romain Meffre in 2014, a photographic book that starkly displays the disintegration that has taken place in Detroit over the past thirty-plus years.
Despite staging a comeback in recent years, Detroit's reputation as an urban wasteland has continued. In 2017, 24/7 Wall St. came out with their latest listing of 50 Worst Cites to Live In. Detroit was # 1, ahead of Flint, Michigan, (# 3) which has not only a higher crime rate but also a major drinking water problem. In addition, the EscapeHere site listed Detroit as # 1 in its 2017 list of the 10 Worst Cities to Visit in the United States.
Although Edwards and Weeks' book doesn't address Detroit's ruin porn image beyond one small paragraph, it serves as a much needed antidote to its tarnished reputation by devoting all of its pages and photographs to the city's glory days, from developing into the "Arsenal of Democracy" during World War II through its post-war years when its bright, automotive-based future seemed endless.
This is accomplished with over 1,400 fascinating photographic images that take the reader through Detroit's war effort, its post-war boom and the rise of teen culture. The book also gives ample space to the city's incredible automotive industry with its movers and shakers, enormous production facilities, along with all those classic makes and models, not to mention the architectural marvels that had people around the world at one time calling Detroit the "Paris of the Midwest".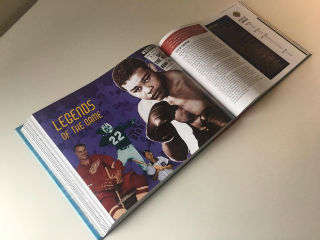 With Detroit being a major sports town, it's probably no surprise that two dozen pages would be devoted to the city's professional championships in hockey, boxing, baseball, football, and basketball along with segments on its many sports heroes including Gordie Howe, Al Kaline, Joe Louis, Mark "The Bird" Fidrych, Bobby Layne and many more.
But it's not just the pictures that tell the story. The authors weave a great deal of history along with the images in an interesting and breezy manner that compliments the photos on every page. The twenty-page spread on the J.L. Hudson store is an excellent example of their perfectly balanced blend of photographs and text. Their approach not only celebrates what Detroit once was, but also gives the reader a sense of what the city could be again.
My introduction to Detroit came through my father. Following his discharge from the Army in 1945 after the surrenders of both Germany and Japan ended World War II, he returned to live and start a family in Bay City, Michigan. He and my mother had married in 1943 in Atlanta, Georgia, where he was stationed before being shipped to Europe shortly after D-Day in 1943. I was born in Bay City in 1946, putting me among the first batch of "baby boomers".
As part of his training for the Internal Revenue Service, my father was required to take a three-week course in Detroit. He stayed in the city during the week and drove home on weekends. This gave him the opportunity to learn about the city, and as soon as I got a little older, we began to take trips to the Detroit Zoo, Red Wing games at Olympia, Tigers and Lions games at the old Briggs Stadium, the newly-open Northland Mall, the Michigan State Fair, and magical shopping trips during the Christmas season at J.L. Hudson's.
When I was old enough to drive, there were many more trips to Detroit for sporting events, boat rides to Boblo Island, and concerts at Olympia, Cobo Hall, Masonic Auditorium, Joe Louis, the Eastown, and the Michigan Theatre to see major acts including the Rolling Stones, Prince, Led Zeppelin, the Who, Madonna, David Bowie, and the Grateful Dead. Those were fun and exciting days.
Even though I was an infrequent visitor to the city, I found 5,000 Ways You Know You're From Detroit completely engrossing from start to finish, bringing back many memories of the times I spent there. I would think that anyone of a certain age that grew up in or around Detroit during its glory days would find it absolutely fascinating. If you are searching for a great gift for a friend or loved one, look no further.