City of Smooth Jazz: Michigan CD Focus
Details

Category: Dr. J's Blog
Published: Saturday, 01 December 2012 23:33
Written by Gary Johnson
The Robert Lee Revue's new CD, "City of Smooth Jazz" was selected by MRRL as one of 2012's Noteworthy Michigan Albums. Its two founding members hope that their unique brand of smooth jazz will eventually be heard and recognized around the world. They have achieved that lofty goal once before while in a rock and roll band and recording for a major label; but will they be able to grab that elusive brass ring a second time as independent artists?
Bobby Balderrama and Frank Rodriguez have experienced both the highs and lows of the music business during their nearly five decades of playing together. The highs came very early. As teenaged members of ? (Question Mark) and The Mysterians, they enjoyed a # 1 hit in 1966 with "96 Tears", and then placed four more singles on the Billboard charts before the Cameo-Parkway record label went out of business in late 1967. Things went downhill in a hurry from that point, as the band recorded with little success on a number of other labels, and got some poor business advice that cost them the rights to their original Cameo-Parkway recordings.
Both Balderrama and Rodriguez would eventually leave the Mysterians and move to Texas. There, Balderrama played guitar with Joe King Carraso and worked for an oil company in the Gulf of Mexico before returning to Michigan with Rodriguez in 1990 to reunite the original lineup of Question Mark and The Mysterians. The revised band recorded some new material and played sporadically. To help make ends meet, Bobby and Frank formed a bar band version of The Mysterians, sans Question Mark, and played regularly in the dwindling number of taverns that offered live music in mid-Michigan.
A couple of years ago, Rodriguez and Balderrama drew upon their mutual love of smooth jazz to embark on a totally new musical project called the Robert Lee Revue. "For the Love of Smooth Jazz" was the title of the band's first independently produced CD. Recorded, produced, and distributed by Balderrama, the promising Latin-flavored debut featured ten tunes - eight instrumentals and two with guest vocals.
In 2012, the Robert Lee Revue released their second album, "City of Smooth Jazz", an excellent all-instrumental offering of ten original tunes written by Balderrama and Rodriguez. Recorded in Balderrama's small home studio, the new album has improved sound quality but retains the distinctive Latin touches of the debut.
MRRL sat down with Robert Lee "Bobby" Balderrama recently to discuss the band's new "City of Smooth Jazz" CD.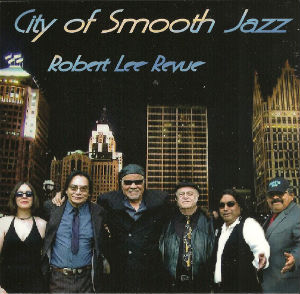 (L. to R.) Amy Lynn, Bobby Balderrama, Jack Nash, Tom Barsheff, Rudy Levarlo, and Frank Rodriguez
Balderrama told MRRL that he started recording the album in 2011, but he lost everything when his hard drive crashed. Using newly purchased PreSonus recording software, he completely redid the album in his home studio in early 2012, and completed the final mixes in late summer.
He described himself as a perfectionist and a stickler for quality in his recordings. Throughout his career, Balderrama told us he paid close attention to the techniques used by producers and engineers in various recording studios, and applied what he learned to his projects with the Robert Lee Revue.
He said that Frank Rodriguez is his musical soul brother. They became close friends immediately in the Mysterians; they were both around the same age and roomed together on the road. Balderrama lived in Monitor Township near Auburn at that time, while Frank lived in nearby Bangor Township in Bay City.
Balderrama claimed that he and Rodriguez operate on what he described as "a wavelength" on which they almost instinctively know where the other is going musically. While Balderrama is basically self-taught on his instrument, Rodriguez was classically trained and can play all styles of music. Balderrama said of his musical partner; "Frank is very good with chords. He adds some things to my songs and I do the same to his".
He also revealed that the idea for a smooth jazz project came while they were covering classic rock songs in the bars, as well as playing gigs and occasionally recording with Question Mark and The Mysterians. Balderrama disclosed that they have very little input to Question Mark's compositions, and this is one of the main reasons that they wanted to do their own music with the Robert Lee Revue.
Balderrama's introduction to elements of jazz guitar came early. As a young man, he cited Wes Montgomery, Chet Atkins, and Grant Green as early influences. In the 70's, it was Carlos Santana and George Benson. He would practice those styles on his guitar for hours. For the new album, Bobby said that Santana was the inspiration for the Latin ingredients, while he drew on Benson for the beautiful low tones on his guitar.
Another key member of the Robert Lee Revue is saxophonist Tom Barsheff. He was playing in the G.T. Jam Band when he joined the bar band version of the Mysterians. Not only is Barsheff's sax one of the signature elements of the band's sound, he is also in Balderrama's words "a great guy to work with"; and "he came up with a lot of new styles to incorporate into the songs".
The drum seat is now occupied by Rudy Levarlo, who played percussion on the first album. He replaced Robert Martinez on drums after the latter got a shift change and was no longer able to play gigs with the band. A veteran of several Tejano bands, Levarlo has proven himself to be an excellent jazz drummer both on the new recording and in live performances.
Jack Nash played bass on one song on the band's debut, but his outstanding bass lines can be heard on the entire "City of Smooth Jazz" album. Before joining the band, Nash played in a Saginaw combo called Jazz Fusion. He and Balderrama had been friends since they attended Webber Junior High in Saginaw during the 60's, and Bobby describes him as "a very precise player who, along with Levarlo, keeps the bottom rock steady".
When asked, Balderrama replied that it was a great deal of fun having his lovely wife Amy Lynn in the band. Although he describes her as being "very shy", she plays maracas and other percussion instruments both on stage and on the album. Amy Lynn also contributed vocals to the band's new seasonal song called "Wishing You A Merry Christmas".
Since Balderrama's home recording studio is small, each band member's part was recorded individually on the "City of Smooth Jazz" album. Rodriguez usually came in first and laid down the keyboard bass with his left hand and played the chords to the song with his right while Rudy played the drums to a click track. Being the album's producer, Balderrama said he was most concerned with getting the drums right since they are the foundation upon which the rest of the song is built. Once the drums were set, Jack Nash came in to add the bass lines. Bobby then played his guitar parts and Tom his sax solos until the song blossomed into what became the final mix.
Besides being an all-instrumental album, "City of Smooth Jazz" differs from their debut CD in the use of both Spanish and English language song titles. Not only is this fitting considering the strong Latin elements running throughout, but there was a commercial consideration as well. Trying not to leave any stone unturned, Balderrama explained that the use of Spanish titles was an attempt to appeal to the vast Latin American market.
The Robert Lee Revue has produced an album that will appeal not only to fans of the genre, but also to those pop and rock music fans that might turn up their nose at the thought of smooth jazz. The music is very accessible; it can be enjoyed when you are concentrating fully on the recording, but it also works equally well as background music.
Balderrama's composition of "Cuartos Latina/Latin Quarters" kicks off the CD. Frank Rodriguez came up with the chords for the gentle into, but once the song kicks into gear, Bobby's guitar proficiency and his mastery of the classic Santana style is on full display.
It's followed by the atmospheric "Callejon/Back Street". This was one of the last songs written by Rodriguez for the album. Balderrama's guitar, Barsheff's sax, and Rodriguez's understated keyboard conjure up the ambience of dark urban streets on rainy nights on this, the album's funkiest cut.
The romantic and lush "Pare Los Dos/For The Two Of Us" was inspired by Balderrama's relationship with his wife Amy Lynn. Bobby's fluid guitar lines and Barsheff's dreamy mid-song sax solo add just the right touches to one of the album's highlights.
Balderrama claims that he loves to drive to smooth jazz, and "Woodward Avenida/Woodward Avenue" was composed following a gig the band played at the annual Woodward Dream Cruise in Detroit. The song was not only inspired by all the people and classic cars at event, but also from Balderrama's memories of the Motor City's most famous street back in the days when Question Mark and The Mysterians were topping the charts, and their songs could be heard on car radios driving north and south on what was once Detroit's main drag.
"Frankie Lagrimas/Frankie Teardrops" is a song that emerged from a jam in E minor at a gig. The title might be a sly reference to the fact that, although he writes much of the band's material, Rodriguez has fewer leads than either Balderrama or Barsheff. Inspired in part by the organ of Jimmy Smith, Rodriguez is the main instrumentalist on the cut, which features an unusual guitar part by Balderrama that was borrowed from the 80's hit, "She Blinded Me With Science".
Rodriguez wrote "Suave Navegar/Smooth Sailing" especially for Tom Barsheff. Barsheff has a boat, and he loves to go sailing, but Balderrama said that Tom brought a lot of original ideas to the basic tune, and his sax brings to mind a bright, sunny day on one of Michigan's beautiful waterways.
"Parque De La Cuidad/Park In the City" was inspired by Central Park in New York City. Question Mark and The Mysterians played a gig there a few years back as part of the Summer Stage concert series. Balderrama recalled he had enjoyed both walking around Central Park and sitting on a bench and watching the people. The result was a beautiful composition that reflects his love of the Big Apple and its citizens.
"El Camino Rio" is the name of a famous road in San Francisco. The title was partially suggested by Bay City guitarist Darin Scott. This song has a definite Santana feel, but Balderrama claims that it was also based on an old song from Bachman-Turner Overdrive called "Blue Collar".
Darin Scott contributed guitar and John Serantos guested on the Native American flute on the album's ninth song, "Bahia De Los Grande Lagos/Great Lakes Bay".
The final song on the album is "Grito Finada/Last Call". Rodriguez penned the closer which nicely blends the blues with smooth jazz. Ron James, who played with Rare Earth, shared guitar duties on the song with Balderrama. "Grito Finado" also features another Barsheff sax solo and some tasty piano by Rodriguez.
Once the recordings were completed, the CD was manufactured by Disc Makers in Pennsylvania, and the band ordered 1,000 copies to sell at gigs and for promotion. Because the biggest disadvantage of being an independent artist is the lack of promotion dollars, Balderrama has looked to do things differently. He feels the internet is good for the independent artist; and he has invested a great deal of time and effort in using online resources such as MySpace Radio, iTunes, Airplay Direct, Spotify, Reverb Nation, Facebook, Amazon, YouTube, and CD Baby to get the word out about the Robert Lee Revue and to promote and sell the CD. Bobby has hopes that these internet tools will eventually introduce the band and its music around the world.
His goal is to get out of the bar scene completely and concentrate on promoting the Robert Lee Revue full time. The band has played several showcases for promoters in order to generate interest around the state, and have generated a very positive response.
Knowing that there is some snobbery among jazz buffs regarding rock and roll, MRRL asked Balderrama whether his past success was a help or a hindrance in opening doors to the smooth jazz arena. Bobby claimed that those accomplishments in rock and roll have helped generate interest in the Robert Lee Revue, and that he is never going to distance himself from what he achieved as a member of Question Mark and The Mysterians.
As we concluded the interview, Balderrama stated that his 50-years of playing guitar have all been worth it. He loves music, and he's working hard to promote the Robert Lee Revue every day. He firmly believes that the "City of Smooth Jazz" is the record that is going to take the band to the next level.
Watch a video for "El Camino Rio" https://www.youtube.com/watch?v=f3U4_kMDUqU