96 Tears and Art Schiell's Recording Studio
Details

Category: Dr. J's Blog
Published: Thursday, 30 August 2012 18:39
Written by Gary Johnson
On Saturday, October 1, 1966, ? (Question Mark) and The Mysterians made their network television debut on American Bandstand with host Dick Clark. The band performed its hit single, "96 Tears". Ten days later, on October 11th, ? and The Mysterians would perform "96 Tears" on another Dick Clark production, ABC-TV's 4:30 to 5:00 p.m. daily pop music show, Where The Action Is. The group also performed the song that fall on Swingin' Time, Detroit's popular teen music program hosted by Robin Seymour.

By the end of the month, the song would reach # 1 on the Billboard Hot 100. Very few viewers on either of those days knew that "96 Tears" had been recorded in Art Schiell's small studio, located in the back of his home on Bay City's West Side. Watch ? and The Mysterians perform "96 Tears" on Swingin' Time in 1966. https://www.youtube.com/watch?v=xS7qvxm3FbM

Looking at the small house at 405 Raymond Street in Bay City, Michigan, it's hard to imagine that it was once the home of the Schiell Recording Studio or that a hit record was made there. Although it's largely forgotten in Bay City and mistakes about it are found in most of the rock and roll historical accounts concerning the # 1 song "96 Tears", Art Schiell's studio represented an important first step to completing a seemingly improbable quest for the young musicians who recorded it there.
It would have been exciting enough in 1966 to make a record and just get it played on a local radio station. But to have that record reach the # 1 position on the Billboard Hot 100, a recording that was made in a small studio inside an average looking home on a typical city street - who in their wildest dreams could have conceived of it actually happening?
You might think it a little unusual that so few people in Bay City know the location where "96 Tears" was recorded, especially considering that many, if not most, of its citizens are familiar with the song. There are still a few folks in town who remember the name Art Schiell, but that's primarily because of his successful beauty salon. Many of those familiar with his salon don't know that Schiell also operated a small recording studio.
The archives of the Bay City Times had no stories about Schiell or his accomplishments, although he and his studio were credited in a single sentence in a Times story on October 28, 1966, about Bay City native and Mysterian keyboardist Frankie Rodriguez when "96 Tears" reached # 1. The studio was also mentioned in the newspaper's 1983 obituary for Art. It stated that he operated the Schiell's Recording Studio, but it failed to mention his involvement with "96 Tears".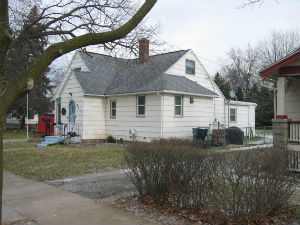 Former Schiell home at 405 Raymond StreetBecause of the enduring popularity of "96 Tears", surely the printed materials regarding the song would give proper credit to Schiell and his studio. Or would they?
In 2005, the release of "The Best Of ? And The Mysterians: Cameo Parkway 1966-1967" made the original recordings of the band available on CD in this country for the first time. In the liner notes, the recording of the group's most famous song is covered in just this one sentence: "In March of 1966, ? (Question Mark) and The Mysterians shuffled into a makeshift studio in Bay City, Michigan, and cut "96 Tears" and its B-side, "Midnight Hour".
The band's Wikipedia page wrongly states that their most famous song was recorded "on a house porch". To add insult to injury, the location for the band's first two recordings in the information given for each track at the end of the CD booklet is misspelled as the "Schields" Recording Studio, Bay City, Michigan.
It's even misspelled in the band biography on the official MySpace page of Question Mark and The Mysterians in the statement, "The legendary recording session which netted their hit came on March 13, 1966 at Art Schield's "studio" at 405 Raymond Street in Bay City, Michigan." Furthermore, the quotation marks that surround "studio" imply to the reader that it wasn't much of a recording facility.
The same spelling mistake was made in David A. Carson's otherwise excellent 2005 book on the history of rock and roll in Michigan, Grit, Noise, And Revolution, when he wrote on page 85 about the "session at Art Schield's studio".
A bigger error, however, is found on page 210 of The Billboard Book of Number 1 Hits by Fred Bronson. The author states that "96 Tears" was recorded in the living room of Question Mark and The Mysterians' manager, Lilly Gonzales. This account not only fails to give Schiell credit, but also mistakenly puts the location of the recording in Saginaw rather than Bay City.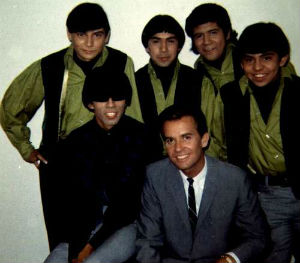 Dick Clark and ? and The Mysterians on American Bandstand
One would think that The Rolling Stone Encyclopedia of Rock & Roll would get the facts straight, but its entry for ? (Question Mark) and the Mysterians is full of errors. There is no mention of Bay City, Saginaw, or Art Schiell. It states that the band members were born in Mexico and moved to Detroit. It also wrongly claims that that band first became local favorites in the Detroit area, and that "96 Tears" was cut for a small Flint, Michigan, record company.
Who was this man who has been the subject of erroneous information in rock and roll histories and seems to have been overlooked by the community in which he lived and worked for over 50 years? What exactly did he record in his studio on Raymond Street that was his second business?
Although many of the details of Art Schiell's life and recording career have been lost over time, I have made every effort through both interviews and research to uncover and document the facts that are available. I am hopeful that this research will correct the many errors and misconceptions regarding the recording of "96 Tears", and eventually lead to an official recognition of the site by the city of Bay City, and possibly a historical designation of 405 Raymond Street by the state of Michigan.
Art and Mildred Schiell
The only relative still living in Bay City who was acquainted with Art is Geraldine Schiell. The former Geraldine Koscielski married Art's nephew, Girard Schiell, on May 20, 1950. Girard was the son of Art's younger brother William (Oscar) Schiell.
During several interviews with Geraldine, she explained that she didn't know Art that well, but she had been over to his home at 405 Raymond Street on several occasions. Geraldine had a photograph of Art and his second wife Mildred that she kindly let me use for this story.
Geraldine was also in possession of a family tree that sheds some light on Art's early life. The document had been given to her some years before by a member of the Yonke family. The Yonkes were also Russian immigrants and were related to the Schiells through the marriage of Art's parents, Daniel Schiell and Augusta Yonke.
I was later contacted by Art Schiell's grandson, Richard Nelson, who found one of my stories about Art on the Internet. Nelson, who was a son of Art's daughter Lorraine, had been close to his grandfather, and he provided me with a wealth of information and family photos that were a great help in putting together this story.
Nelson also put me in touch with DaWilla Bridgewater, Art Schiell's niece through his second marriage to the former Mildred Werkhauser. DaWilla provided important details and photos concerning her side of the family, and the relationship between Art and and her Aunt Mildred. Richard Nelson then helped me contact his cousins Paula Utecht and Karen Judge, Art's granddaughters from his son Kenneth, both of whom also provided me with important family details.
According to Geraldine Schiell's family tree, Art Schiell was born in Polin, Russia, on Sept. 7, 1901. Like many immigrants, Art first arrived in the United States at Ellis Island as an infant in 1903. He lived with his family in Munson, Pennsylvania, and later moved with them to Philadelphia. Richard Nelson stated that Art worked in the Pennsylvania coal fields as a teenager.
Art became a naturalized citizen in Bay County in 1916 after his family moved here. DaWilla Bridgewater sent me a copy of the Certificate of Naturalization. It lists the entire Schiell family; Daniel and his wife Augusta along with their seven children: Romanus 16, Arthur 15, Annie 13, Oscar 10, Alma 8, Margaret 5, and Elizabeth 3. At that time the family lived at 211 South Birney in Bay City.
Art Schiell married his first wife, Antoinette Granger, in Bay City on February 22, 1921. Art was 19 and Antoinette was 17. They had two children, Lorraine who was born in 1922, and Kenneth who was born in 1924.
Lorraine went on to marry Clarence Nelson in 1941. The couple had two sons, Kenneth Nelson born in 1942 and Richard in 1946. Both boys graduated from T. L. Handy High School and served in the U.S. Navy. Kenneth Nelson worked for the Bay City Police Department for ten years after his discharge. He is retired and living in Florida. Richard Nelson moved to Phoenix, Arizona, following his discharge. He married his wife Sara, and they had two daughters. He is also retired and lives near his older brother in Florida. Lorraine (Schiell) Nelson passed away in 1971 from leukemia. Her husband, Clarence, died in 1986.
Art's son, Kenneth Schiell, served in the U.S. Army during the World War II where he was wounded and spent time as a P.O.W. He was awarded the Purple Heart for his heroism during that conflict. He re-enlisted after the war, served in Korea and two tours of duty in Vietnam, and then spent a large part of his military career stationed in Germany and Ethiopia. Kenneth and his wife Donna had four daughters; Linda (who is deceased), Debra, Karen, and Paula. Kenneth Schiells passed away in 1976 and his widow Donna passed in 2008.
Using the Bay City Directories at the Bay County Historical Museum, I was able to trace Art's business history in Bay City. In 1926, Art opened a barber shop/beauty salon with his wife at their home at 506 N. Warner Street, located near T.L. Handy High School. Together they ran the business they called Antoinette's Beauty Parlor there, until they relocated the shop to 503 E. Midland Street in 1931. They lived above the shop with their two children, but Antoinette's increased dependency on alcohol caused an irreparable rift in the marriage.
Art and Antoinette divorced in 1934. Art had begun specializing in styling women's hair prior to the divorce, and in 1935; he opened the Art Schiell Beauty Salon at 314 E. Midland Street. He rented the building and lived in a residence at 605 E. Ohio. Antoinette continued to run the beauty shop at 503 E. Midland and use it as her residence. Antoinette Schiell married George Smallwood on November 12, 1938. She remained the proprietor of Antoinette's Beauty Parlor until 1942. Antoinette passed away on June 19, 1944.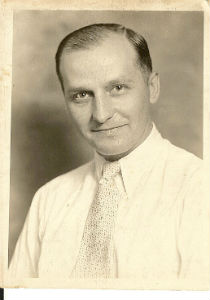 Art Schiell in the 1930's
Art Schiell soon became known as one of the top hairstylists in Bay City. Specializing in permanents, his client list included women from some of the wealthiest and most politically influential families in town. Art was a successful businessman, specializing in hair care in Bay City, for 43 years.
Schiell was also a deeply religious man, and he loved singing in church choirs and listening to sacred music. He even sold 78 rpm gospel music records at his beauty salon. Did his love of music lead to his idea to start a second business? It seems likely, and Art's first attempts at recording were done at a small provisional studio in the rear of his beauty shop.
The recording device that Art used in the 1950's was a Recordio 1C10 from the Wilcox-Gay Corporation of Charlotte, Michigan. The Recordio was a unique device developed by Wilcox-Gay during the late 1940's. The 1C10 was orginally intended for music students, but it was equally functional for use by touring professional musicians or in the home. It was different from the other devices of the day that recorded audio directly to disc.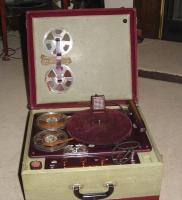 The Recordio 1C10
The Recordio 1C10 could record to tape first and then be transferred to a 10-inch, 78 rpm "hard disc". The discs were either hard wax or lacquer phonograph records. The tape could be erased and re-used, but it was also possible to make and edit a tape recording before committing it to a disc, all inside one machine.
The Recordio could also produce 6 ½ inch discs made of a thin cardboard that could be played on any standard phonograph and could be mailed without fear of breakage to clients or prospective customers. I was given one of these cardboard discs by former Bay Cityan Nancy McFadyen on which Art Schiell recorded an audio commercial for his recording studio in 1958.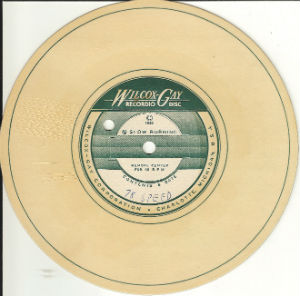 The Wilcox-Gay Recordio 6 ½ inch disc used by Art Schiell in 1958 to advertise his recording studio
Art eventually moved his beauty salon across the street to 309 E. Midland Street, next door to Ted Lemke's barber shop. Both Schiell and Lemke rented the spaces for their businesses. Art regularly got his hair cut at Lemke's during the 1960's by the shop's young barber, Tom Rivard.
I interviewed Rivard at his shop, and he remembered Schiell as being a pleasant man who did not talk much about his businesses or his accomplishments. Although Rivard was quite knowledgeable in regards to Art's salon and his reputation as a top hairdresser, he said that he knew nothing about the Schiell Recording Studio. After Ted Lemke's death in 1970, Rivard purchased the barber shop and has kept the Lemke name for his business to this day.
Art's second wife was the former Mildred Werkhauser. Mildred's family was originally from New York. Her father went into the Ministry during the Great Depression, and Mildred and her two sisters traveled with him, performing as a gospel trio during the 1930's. The family eventually settled in Peoria, Illinois. Mildred probably met Art after her sister Willa married Daniel Ramseyer, the minister of the Midland Street Baptist Church (now called the Peoples Baptist Church) in Bay City.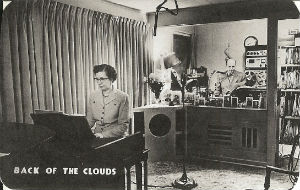 Mildred and Art during a Back Of The Clouds broadcast
Art and Mildred were married in Danville, Illlinois, in 1940. They did not have any children during their 43 years of marriage, but they shared a passion for gospel music and enjoyed a long and loving relationship. Art had been the choir director at the Madison Avenue Methodist Church and the West Baptist Church in Bay City before taking over the position at the Midland Street Baptist Church.
After his marriage to Mildred, Schiell sponsored a Sunday morning religious musical radio program called Sunlight On The Cross on WBCM for 14 years. Geraldine Schiell's family tree mentioned another religious radio program that Art was involved with called Back Of The Clouds that was broadcast from a studio that Art put together at the Midland Street Baptist Church, but it gave no station affiliation.
In 1949, Art purchased property at 405 Raymond Street and had a house built. His new home afforded him the space to indulge his passion for flowers. Schiell turned the empty lot north of his house into a large flower garden shortly after he and Mildred had moved into their new dwelling. According to his obituary in the Bay City Times, Art became known for the thousands of award-winning dahlias that he raised annually in his Raymond Street garden.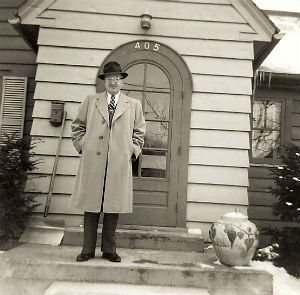 Art Schiell at 405 Raymond St
Based on the information on one of his original business cards, Art operated the Schiell Recording Studio out of his new home at 405 Raymond. A different address, however, was listed for the studio in the Bay City Yellow Pages from 1956 to 1969. The address in the Yellow Pages was the same as the Art Schiell Beauty Salon. The explanation for this discrepancy is that Art most likely arranged all the dates and times for the recording sessions while he was working at his salon.
The original recording studio was located in the basement of his residence. Sometime during the early 1960's, Schiell enclosed the patio located at the rear of dwelling, thereby adding an additional room at the back of the house. Schiell then moved his recording operation upstairs. Art constructed a small control room with glass windows that contained his Ampex two-track reel-to-reel tape recorder along with a sound board.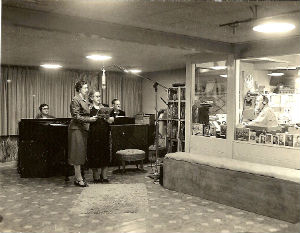 Art in the control booth of his studio at 405 RaymondThe room where the studio was located was comfortably furnished, and the outside windows and the double French doors leading into the Schiell's dining room made the space inviting. In addition, Schiell installed tiles on the walls and ceiling to improve the room's sound quality.
Contrary to the inaccurate reports describing the Schiell facility as tiny or makeshift, its 528 square feet provided a fairly large amount of space for recording. Although its footage was a little less, Art's recording space was comparable to that of Sam Phillips' famous Sun Studio in Memphis (680 sq.ft.) where Elvis Presley, Johnny Cash, and Jerry Lee Lewis first recorded. Therefore, it seems apparent that Schiell could easily accomodate most of the small groups, including rock and roll bands, that recorded there.
Although his studio was not as large as those in bigger cities, Art was intent on producing the best recordings possible. He had purchased a Magnecord stereo tape recorder, the first model made in the United States, to produce stereophonic recordings at his studio.
By the 1960's, Schiell was using individual microphones for each instrument at a session. Art also had a primitive home disc recorder at his small studio to cut and press lacquer-coated recordings called acetates. For a fee, a customer could record a song or speech and get a 78 rpm or 45 rpm acetate of their performance.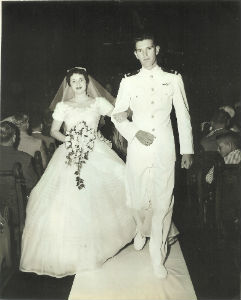 Nancy and John McFadyen's wedding photoArt Schiell's non-musical recordings were varied. The earliest I was able to locate was a recording he made of the August 23, 1958, wedding of the former Nancy Feinauer to John McFadyen. I spoke with Nancy several times, but she couldn't remember much about Schiell.
Because of the excitement of her wedding day, Nancy said that she really didn't pay attention to the methods Art used to record the actual ceremony. Knowing that Schiell employed a Recordio 1C10, however, we can surmise that the recording of the wedding ceremony would not have been overly difficult for him. The device weighed 27 pounds, so it was somewhat small and portable. Therefore, it would have been relatively easy to position his Recordio near where John and Nancy stood in the church so that its microphone could record the exchange of their vows.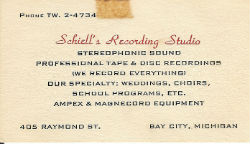 Art Schiell's business card
John and Nancy kept a copy of Art's business card all these years along with the "Our Wedding Day" recording he made for them. Nancy related to me in one of our phone interviews that she and John played the 33 1/3 rpm recording of their wedding ceremony every year on their anniversary for 50 years.
The McFadyens then kindly donated the above materials to the Bay County Historical Museum. They also donated the 6 ½ inch disc, that Art gave them, advertising his professional recording of weddings for a fee of $25. The disc features Art's voice along with a sampling of organ music and singing from a wedding that Schiell had previously recorded.
Besides being a priceless historical relic, featuring the only known recording of Art's voice, it also turned out to be a valuable clue. Without the disc, I would not have been able to uncover the fact that Schiell used a portable Wilcox-Gay Recordio for much of his early recording work.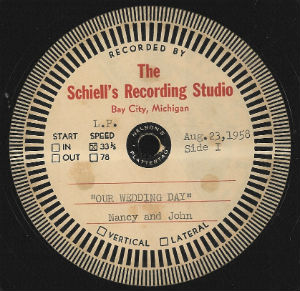 Nancy and John's "Our Wedding Day" album
Retired Bay City educator Leon Katzinger has possession of a spoken word record done for him at 405 Raymond Street. It is a 78 rpm recording made at Schiell's studio in 1959 by Rabbi Kratzenstein of the Temple Abraham Synagogue, located at that time on N. Jackson Street in Bay City.
The 78 rpm record was given to Leon as a learning tool for use at his home. The record contained Rabbi Kratzenstein's oral reading of the portion of the Torah that Katzinger had to learn and read for his Bar Mitzvah in September of that year.
Schiell also helped the Handy High School Synchronized Swim Club, the Sea Nymphs, with the music for their annual spring water shows during the 1950's and 1960's. Both Karol (Brown) Walker and Joan (White) Pergande were members of the Sea Nymphs, and each had the opportunity to watch Art at work in his studio when it was still located in the basement on Raymond Street.
Karol and Joan both stated in phone interviews that he would use his reel-to-reel tape recorder to record two copies of a song that the girls would need to have extended for a particular routine. Art then spliced portions of the tapes together to produce a longer re-edited version of the song that would match the time needed for their swimming performance. He also spliced two different songs together in the same manner if that is what they desired for a particular routine.
Schiell would then cut a disc on his Recordio 1C10 that could be used for both practice and the final show. This re-editing technique that Art used for the Sea Nymphs would prove to be very similar to the method used in the production of extended dance mixes in disco music almost fifteen years later.
Early musical recordings done at Art's upstairs studio included religious songs, the polka music that was well-liked in Bay City, a popular nightclub act, some Hispanic 'conjunto' artists (a Spanish term describing an early form of accordion-based Tejano music played by small groups), and several teenage rock and roll bands.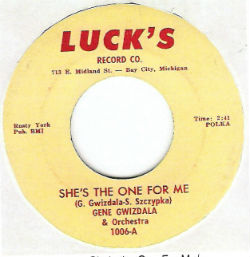 Gene Gwizdala 45
One of the polka musicians who recorded at 405 Raymond was the late Gene Gwizdala. During one of my interviews with Gene, he related that he first heard about Schiell's Recording Studio from other musician friends, and that he booked the first session for his orchestra in 1964. They recorded the single "Grandma's Oberek" b/w "She's The One For Me" at that first session. The resulting 45 rpm single was released locally on the Luck's label that was operated by Frank "Lucky" Peplinski, the owner of Lucky's Record Shop at 713 E. Midland Street.
Gene and his group returned to Art's studio for several more sessions until they had enough material recorded for an album. The L.P. was titled "Grandma's Oberek", and it contains all the songs Gene Gwizdala and His Orchestra recorded with Schiell.
The album was released in October of 1964, also on the Luck's label. Gwizdala recalls that Art charged by the hour for the use of his studio, and he offered a special reduced rate if you recorded enough songs to produce an album. Gene stated that Art Schiell let him (Gene) run the sessions. Art would then give his opinion of each take, and offer suggestions for improving the recording if they were needed. Gwizdala remembers Art as being "a pleasure to work with".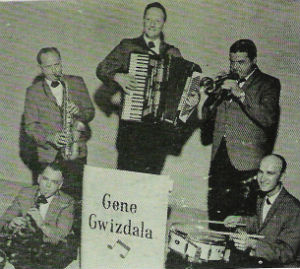 Gene Gwizdala (with accordian) and His Orchestra
Schiell also recorded an entire album's worth of songs with a Canadian band called Roy Hockley & The Chessmen in one marathon session on November 23, 1964. The Chessmen, who featured female vocalist Joie Jaye, were a popular attraction at the Empire Show Bar in Bay City and other area night spots for several years during the 1960's.
According to Bay City resident Tom "Benny" McGee, the Chessmen were a "show band" that played a variety of material. This is apparent in the recordings they made at Schiell's studio which included a mix of standards, country music, pop songs, and some rock and roll.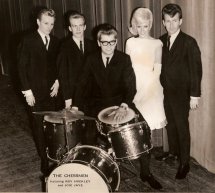 Roy Hockley & The Chessmen featuring Joie Jaye
After the Chessmen disbanded in the late 60's, Hockley formed a new band and began playing regularly in the Tri-Cities as Sebastian Shane. He released a couple of singles during that time on Lucky Eleven, the same Flint-based label that had put out early singles by The Bossmen and Terry Knight & The Pack. None of the Sebastian Shane songs were recorded with Schiell, however.
Joie Jaye also returned to Bay City, where she was a popular performer at a number of nightclubs and bars around town before moving to Branson, Missouri.
Schiell's Recording Studio was also the site for the only recordings made by the Estyles, a popular Saginaw-based show band that played in a wide variety of venues in the mid-Michigan area including the Fordney Hotel Lounge, the Horseshoe, and the Ace of Clubs in Saginaw, along with the Empire Show Bar and the Sand Bar in Bay City.
I learned through several interviews with Question Mark and The Mysterians' original guitarist Bobby Balderrama that Schiell's Hispanic recordings included some musicians from South Texas who were booked in Saginaw by promoter Jose 'Pato' Gonzales to perform on what was then called the 'Chicano circuit'. Gonzales was a partner with a popular Latino performer named Paulino Bernal in a San Antonio-based label called Bego Records. Bernal's group, Conjunto Bernal, was booked to play dances at the G.I. Forum located on the East Side of Saginaw on several occasions by Gonzales.
Other popular Hispanic acts brought to Saginaw at that time by Gonzales included Carlos Guzman, Los Fabulosos Cuatros, and Rudy 'Tee' Gonzales and The Reno Bops. Before they became famous, Question Mark and The Mysterians served as the opening act for some of these artists.
Bobby Balderrama stated during our interviews that both Los Fabulosos Cuatros and Rudy Gonzales worked with Art, and that some of the music that they recorded at Schiell's studio may have been released on the Bego label. Unfortunately, the written records that Art Schiell must have kept of the Tejano artists and the song titles they recorded at his studio have been lost over time.
Both Jose Gonzales and his wife Lilly have also passed away, and any records they kept of the bands they may have sent to the Schiell Recording Studio have yet to turn up. It is known, however, that Carlos Guzman, Conjunto Bernal, Rudy and The Reno Bops, and Los Fabulosos Cuatros are all highly regarded Hispanic artists, and that they were among the first inductees into the Tejano Roots Music Hall of Fame established in Alice, Texas, in 2000.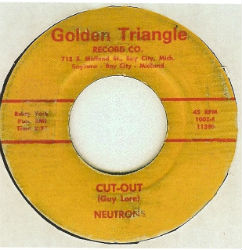 Neutrons 45The first band to record rock and roll songs with Art Schiell was The Neutrons. The Bay City trio formed in 1963, and was composed of two students from T.L. Handy High School; trumpeter Guy Lore and guitarist Frank Flores, along with Albert Lopez on bass. The Neutrons first heard about Schiell's studio from Frank Peplinski who, after hearing them play, asked the band if they would be interested in making a recording. Guy Lore had written two original songs that would make up the 45. Peplinski called Schiell, who in turn contacted Lore and set up the session in late 1963, several weeks after John F. Kennedy had been assassinated.
The Neutrons recorded two instrumentals at that first session, "Julie" and "Cut-Out". Guy Lore recalls that it cost $150 for both the session and 200 copies of the 45, and it was released on Peplinski's other record label, Golden Triangle, in early 1964. Lore stated that he and the other band members looked up to Schiell as being a "big time guy" who knew how to make great-sounding records.
Lore stated that their single got some airplay on WXOX-AM from DJ Walt Bauer. Bauer was the regular DJ for the dances held at the Bay City Armory where the Neutrons were often booked. He was impressed with the young band's versatility, and unlike most teen bands, they were comfortable playing country music, adult contemporary songs, rock and roll, and even the old standards. Listen to the Neutrons perform "Cut-Out" at https://www.youtube.com/watch?v=uJqoc_o5CtA
The Neutrons soon added two more musicians, John Petoskey on drums and Marshall "Red" Hartley on rhythm guitar. Irene Banas and Carol Digby, the girlfriends of Lore and Flores, sometimes traveled with the band and provided backing vocals. The Neutrons won the first Battle of the Bands at Daniel's Den, and then finished behind The Del Raes, another Bay City band, during the first season of the Roll-Air Battle of the Bands in Bay City.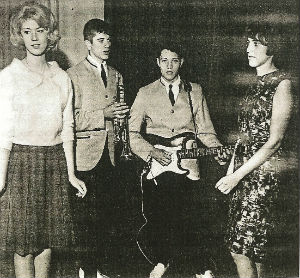 Irene Banas, Guy Lore, Frank Flores, Carol Digby
The Neutrons had one more session at the Schiell studio in 1964. They recorded a song called "Just For You", but it was never released. With the Vietnam War starting to escalate, Lore, Flores, and Hartley all went into the Service during the summer of 1964; and The Neutrons broke up before another song could be recorded for a second single.
In 1966, the Schiell Recording Studio advertised Tape-Disc recordings for weddings, orchestras, personal recordings, and sales & service in the Bay City Yellow Pages. It was during this time that several other young rock and roll bands from the area recorded at Art's studio. Included among these were two groups from Saginaw; The Bells of Rhymny (later renamed The Cherry Slush) and Count and The Colony.
The Bells of Rhymny was composed of five high school teens; Dick Coughlin, Dan Parsons, Mark Burdick, Gene Bruce, and Art Hauffe. Their name was taken from a Pete Seeger song that been reinterpreted by The Byrds on their first album. Shortly after getting their first big break by being selected as the opening act at Daniel's Den for Terry Knight and The Pack, The Bells of Rhymny were booked for a recording session with Art Schiell at his studio in Bay City.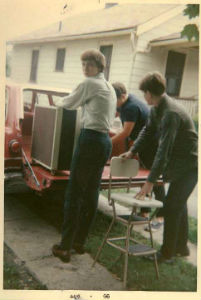 Art Hauffe unloading amp at Schiell's Studio
It's not known if the band's manager, Mrs.Vivian Bruce, had heard that ? and The Mysterians' fast-rising local hit "96 Tears" was done with Schiell, or if she heard about Art's work from another source; but she booked a session at the Raymond Street studio for The Bells of Rhymny several weeks after The Mysterians had made their now-famous recording.
It would be the first of two, or possibly three, sessions with Schiell at which the band recorded four songs: "Rich Man's Woman", "Now I'm Free", "Don't Walk Away", and "She'll Be Back". Art Hauffe remembered Art Schiell as "a real nice older guy with gray hair". Hauffe said it was "like he turned his living room into a studio" when he described Schiell's recording space in a recent interview. The band took photos during one of the sessions, and in them you can see house plants, a couch, and several windows.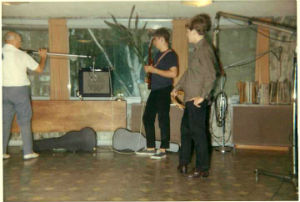 Schiell seting up a mike at a Bells of Rhymny session in 1966
Schiell gave the band acetates of each of the finished recordings, but none of them were pressed into 45s. Instead, the band sought out the opinion of Dick Wagner, the leader of The Bossmen and the man who had written the lion's share of their local hit singles.
Wagner suggested some improvements that included tacking on a fuzztone guitar to "She'll Be Back" as well as changing a few lyrics and adding a bridge to "Don't Walk Away". Wagner also offered to work with the band on the changes, but he wanted to record them at United Sound in Detroit rather than at Schiell's small studio.
The second version of "She'll Be Back" backed with a Dick Wagner composition titled "Wicked Old Witch" were both arranged and produced by Wagner in Detroit and released on his Dicto record label. A year or so later, featuring a slightly different lineup, the band changed its name to The Cherry Slush and once again selected Wagner to write, produce, and arrange their next single. "I Cannot Stop You" was first issued on Coconut Groove Records out of Mt. Morris in 1968.
The flipside of "I Cannot Stop You" was a new version of "Don't Walk Away", a song first recorded with Art Schiell in 1966. According to drummer Dick Coughlin, The Cherry Slush decided to re-record the song at the Raymond Street studio, but this time with Dick Wagner serving as producer. The 45 became the band's biggest hit after it was picked up by U.S.A. Records in Chicago for national distribution, peaking at # 119 in Billboard in early 1968. Listen to "Don't Walk Away" at https://www.youtube.com/watch?v=Z7mMqf1C7Wk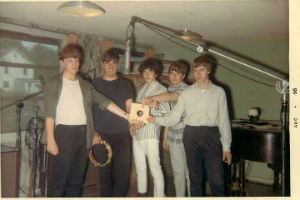 (l. to r.) Dan Parsons, Mark Burdick, Dick Coughlin, Gene Bruce, and Art Hauffe with a Schiell Studio acetate
Count and The Colony was another Saginaw teen band that recorded with Art at his studio in late 1966 or early 1967. The group was composed of instrumentalists Larry Wheatley, Fred Bingham, Don Hales, and Dick Brown, along with lead singer Butch Burden. The band wore stage uniforms, purchased in Detroit, that were inspired by the Revolutionary War outfits of Paul Revere and The Raiders.
Just 17 at the time, Burden remembers Schiell as a friendly man who provided pop and chips for the teen band during the session. During two phone interviews, Burden related that Art knew the sound he wanted, and he guided the young band through the recording of two songs, "Can't You See" and "That's The Way". He said that Art had set up a partition to separate the drums from the other instruments in what Burden described as "a sun room or patio off of the living room". Butch also remembered that Schiell had a window built into his control room so that he could see what was transpiring in the studio during the recording process.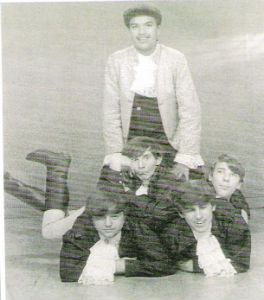 Count and The Colony. (Top) Butch Burden (Middle L - R) Don Hales, Larry Wheatley (Front L - R) Fred Bingham, Dick Brown
Burden was unsure of the cost of the session because it was paid for by the group's manager Lilly Gonzales. It was also Gonzales who decided to re-record the two songs done with Schiell at United Sound Studios in Detroit before issuing them on the Pa-Go-Go label in 1967.
Unfortunately, a large number of the Pa-Go-Go 45s were being stored in a warehouse in Detroit that was destroyed along with many other buildings during the summer riots which had a large part of the city in lockdown. Burden claimed that did not know what happened to the original tapes of the recordings done by Count and The Colony at the Raymond Street studio.
In 1968 a band called the Popcorn Blizzard recorded "Once Upon A Time" and "Hello" with Art Schiell at his Raymond Street studio. The session is significant because the group's lead singer was Marvin Lee Aday, more commonly known as Meat Loaf. The songs were released on tiny Magenda Records out of Freeland, Michigan, later in the year. The recordings represent the vinyl debut of the singer who would become internationally famous eight years later with the release of his "Bat Out Of Hell" album, done in collaboration with Jim Steinman. Listen to "Once Upon A Time" at https://www.youtube.com/watch?v=vuFYw5LWT5Q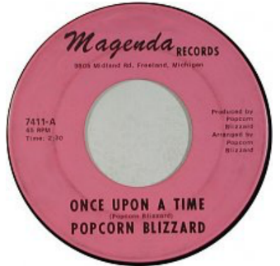 Meat Loaf's first recording
In his online memoir, Meat Loaf and Me, former Popcorn Blizzard bassist Rick Bozzo described the session at the Schiell studio. Bozzo stated that Schiell had difficulty setting the recording levels because he had never worked with a vocalist as loud as Meat Loaf.
Because of the sheer volume of his voice, Schiell was forced to position the mike across the room from the singer, separated by a 4 X 4 foot baffle. Bozzo went on to recall that Schiell then instructed Meat Loaf to sing toward the ceiling so that his vocal would bounce off the wall on the other side of the room and hit the mike which was hidden behind the baffle.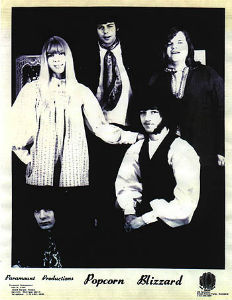 Popcorn Blizzard: (Bottom) Rick Bozzo. (Top L to R) Susie Kaine, Michael Jean, Pete Woodman, and Meat Loaf
By far, the most successful band that recorded at the studio was ? (Question Mark) and The Mysterians. After two of the original Mysterians (Robert Martinez and Larry Borjas) had enlisted in the Army early in 1966, the group was composed of singer Rudy Martinez, drummer Eddie Serrato, and guitarist Bobby Balderrama, all from Saginaw, along with keyboardist Frank Rodriguez from Bay City.
The young Mexican-American band was also managed by Lilly Gonzales, and it was she who booked the recording session at the Schiell Recording Studio in the spring of 1966. Her brother-in-law, Rudy 'Tee' Gonzales, was appearing in Saginaw at this time with his Texas band, Rudy & The Reno Bops, and Lilly's husband Jose Gonzales arranged for Rudy to produce the session with The Mysterians.
If fate had not intervened earlier, however, Question Mark and The Mysterians might not have written their most famous song nor even had a recording session with Art Schiell. In February of 1966, the band auditioned for a Latino nightclub operator who owned a small recording company in Detroit with the hope of making their first record. He was impressed enough with the young band to take them into his studio that month and produce two of the group's original songs, "(Hey Little Girl) Are You For Real?" and "I'll Be Back". Unfortunately, the nightclub owner was killed soon after the session, resulting in the loss of the master tapes and the scrapping of the planned record release.
Faced with that tragic event as well as the loss of two original members to the Army, Rudy Martinez, Frank Rodriguez, Bobby Balderrama began working on some new material in the basement of the Rodriguez family home on Wheeler Road in Bay City. In his interview, Balderrama said that as he and Rodriguez jammed in the basement, Frank came up with the now-classic organ riff. Martinez then began to sing the words to a song he claimed to have written several years before called "Too Many Teardrops".
It was the birth of what would soon become "96 Tears". Eddie Serrato, the band's recently added drummer, suggested that they change the title of their new composition to a certain number of teardrops. After first considering Eddie's idea of "69 Tears", the band wisely reversed the numbers in order to avoid the sexual connotation and thereby give the song a better chance of getting played on the radio.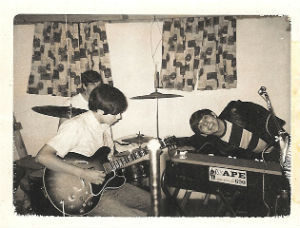 Bobby Balderrama (left) and Frank Rodriguez (right) rehearsing in the Rodriguez basement in the 1960's. The drummer is former Bay City Mayor and State Representative Charles Brunner who played briefly with the band in the 60's
Question Mark and The Mysterians brought in "96 Tears" to Schiell's Recording Studio on April 15, 1966, along with another original song that they had put together at the Rodriguez family home called "Midnight Hour". Since the band didn't have a permanent bass player for the session, producer Rudy Gonzales used Fernando Aguilar, bassist of the Reno Bops, as a stand-in. Aguilar, who like Gonzales was from San Antonio, was paid $10 to play on the now-famous recording. Art Schiell recorded the original versions of both "96 Tears" and "Midnight Hour" at 405 Raymond Street with this line-up.
The band did nine or ten takes of "96 Tears" before Gonzales felt they nailed the song. Bobby Balderrama stated in his interview that one of the problems with the earlier takes was a reoccurring buzz in his Fender amp. Art, whose roles during the session also included being an audio technician, tried adjusting the tubes and the wiring in Bobby's amp before finally solving the problem. Schiell simply turned Balderrama's amp upside down, thereby ending the buzz and saving the session.
An even more serious problem occurred when Frank Rodriguez's Farfisa organ went on the blink. The Farfisa was a compact electric organ that was first manufactured in Italy in 1964. The instrument was made popular by Domingo Samudio, better known as Sam the Sham, when he played it with his group, the Pharoahs , on their first big hit "Wooly Bully" in the summer of 1965.
When the Mysterians couldn't solve the problem with Frank's organ, Schiell suggested they use the Thomas organ in his studio that was used to play religious music on his Sunday morning radio program. Thomas organs were manufactured in California; and they were found in homes across the country. The popular instrument also received a heavy celebrity endorsement each week on The Lawrence Welk Show because the show's organist, Bob Ralston, played a Thomas. It's mindblowing that the unique organ riff that Frank Rodriguez made famous on the recording of "96 Tears" came from an instrument that had so little connection with rock and roll.
Rudy Gonzales stated in an interview in 1999 that the songs were recorded on Art's two-track recorder live to tape in a little more than an hour. Bobby Balderrama recalls that Schiell charged $30 an hour, so it is probable that both "96 Tears" and "Midnight Hour" were recorded for under $60.
According to a 1999 newspaper story in the San Antonio Express-News, Jose 'Pato' Gonzales invested $1,000 to start the Pa-Go-Go record label with Rudy 'Tee' Gonzales and Manuel 'Big Red' Gonzales in 1966 in San Antonio, Texas. The label was formed with the intention of releasing the music of young Latino rock and roll artists like Question Mark and The Mysterians. The Pa-Go-Go name was a combination of the first two letters of 'Pato' and those of the last names of Rudy and Manuel Gonzales. Paulino Bernal would later become a partner in Pa-Go-Go.
The master tapes of the two recordings completed by Question Mark and The Mysterians at Schiell's studio were first released as a single on Pa-Go-Go # 102. Despite the contributions of the other band members, the songwriting credits for both "96 Tears" and "Midnight Hour" were assigned to the group's lead singer, Rudy Martinez (a.k.a. Question Mark).
Shortly after Frank Lugo had joined the band as its permanent bass player in 1966, "96 Tears" became a big summer hit in the Saginaw Valley as the result of heavy airplay on local Top 40 radio stations like WKNX and WSAM. Eventually the song reached the # 1 spot on Flint's WTAC, and then spread to Detroit's WKNR and Windsor's fifty-thousand-watt AM giant, CKLW.
Although the small Pa-Go-Go label could have handled a regional success, the distribution of a national hit record was beyond its capability. The masters of Question Mark and the Mysterians' single were eventually leased to Cameo-Parkway Records for an advance of $2,500 after "96 Tears" hit big in the Detroit market and then started to break nationally. In a move designed to garner more airplay for "96 Tears", Cameo-Parkway faded the song out after 2 minutes and 38 seconds. The complete version on Pa-Go-Go ran 2 minutes and 57 seconds and included Question Mark's two falsetto cries of the song's title during the ending.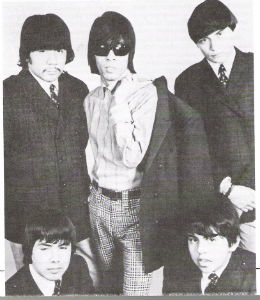 ? (Question Mark) and The Mysterians: Top row (L to R) Eddie Serrato, ? (Rudy Martinez), Bobby Balderrama. Bottom row (L to R) Frank Lugo, Frank Rodriguez
"96 Tears" began a steady climb up the national charts, debuting at # 75 on the Billboard Hot 100 on September 3, 1966. Two weeks later, it had shot into the Top 40 at # 25. The song spent two weeks at # 3 and one at # 2 before it finally reached the # 1 spot in the nation on October 29, 1966, ending the two-week reign of the Four Tops' "Reach Out I'll Be There". "96 Tears" was a gigantic hit, spending nine weeks in the Top Ten and a total of fifteen weeks in the Hot 100. Question Mark and The Mysterians' # 1 hit single of "96 Tears" is the only song ever recorded in Bay City, Michigan, to achieve that distinction.
A better perspective of just how big a hit came when Billboard magazine released its year-end chart. "96 Tears" was the No. 2 song of 1966, finishing behind only "California Dreamin'" by The Mamas and the Papas, which had spent 17 weeks on the Hot 100. The single recorded at 405 Raymond outperformed hits that year by The Beatles, The Monkees, The Supremes, and The Rolling Stones!
After signing with the Cameo-Parkway label, all the subsequent recordings for the band's first album, titled "96 Tears", were done at the Allegro Sound Studios in New York City. Interestingly, the complete 2 minute and 57 second version of "96 Tears" done with Art was issued on that Cameo-Parkway album instead of the edited hit single version.
The fact that Cameo-Parkway used both of the original masters that were done with Schiell on the "96 Tears" album speaks volumes about the quality of those recordings. Question Mark and The Mysterians never again recorded at the Schiell Recording Studio in Bay City, however, nor did they have the occasion to ever speak to Art again after that memorable day in his studio at 405 Raymond Street.
"96 Tears" has maintained its incredible popularity over the past 43 years. Considered a garage-rock classic not only in the United States but also around the world, its only equal in the genre might be "Louie, Louie" by the Kingsmen. In addition, historians point to the song as being culturally important in Hispanic music as one of the early examples of the fusion of rock and roll and more traditional Mexican music. Called 'Tex-Mex' or 'Chicano Soul', the song's use of an organ as a lead instrument rather than the traditional accordion gave Question Mark and The Mysterians a unique sound that would also provide a blueprint for many future recordings in this style.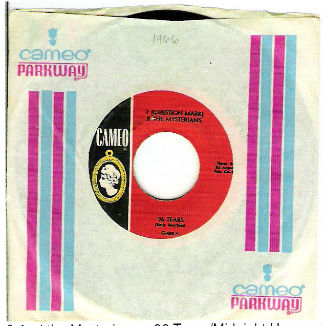 "96 Tears" on Cameo Records"96 Tears" was voted the 4th greatest Legendary Michigan Song in 2007 at the Michigan Rock and Roll Legends online Hall of Fame. Only Del Shannon's "Runaway", "Rock Around The Clock" by Bill Haley and His Comets, and Aretha Franklin's "Respect" earned more votes.
"96 Tears" also holds the distinction, along with The Shondells' "Hanky Panky", of being the only singles in the 'garage rock' genre to ever reach # 1 on Billboard's Hot 100. In addition, "96 Tears" was selected by the Rock and Roll Hall of Fame as one of the '500 Songs That Shaped Rock', and it was honored by Rolling Stone magazine as one of the '500 Greatest Songs Of All Time' in 2004.
It is also important to note that "96 Tears" was recorded at a time when deejays had the freedom of selecting the songs they would play on their programs. They were the people who hosted the record hops, took listener requests, and interviewed both national and local bands. WKNX deejays Bob Dyer and Dick Fabian along with Bob Dell of WTAC all played important roles in pushing "96 Tears" to the top of the charts. Unfortunately, this type of creativity in AM radio began a slow fade by the end of the 1960's. Station general managers began to effectively stifle deejays by ordering station program directors to control the playlists.
Rather than playing new songs from local artists, program directors only wanted songs that were already proven hits. Playlists were now based on national charts like those printed in Billboard magazine. The practice was considered a safe business decision, but its reliance on the national charts prohibited local and regional artists from gaining a foothold in a larger market, and also served to hurt the business of small independents like the Schiell Recording Studio. Just three years after the recording of "96 Tears", it would have been nearly impossible for another locally made recording to reach the top of the Hot 100.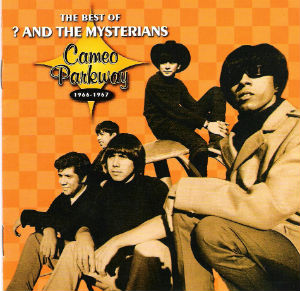 One more possible connection of Art Schiell's studio to "96 Tears" came to light with the aforementioned "The Best Of ? And The Mysterians: Cameo Parkway 1966–1967". The CD gave fans access to the long out-of-print songs the band recorded for the label, including the original versions of "96 Tears" and "Midnight Hour" that were done with Art Schiell.
It also included two previously unreleased tracks, early versions of "96 Tears" and "Midnight Hour", with the only notation being that they were recorded in March of 1966, in Michigan. This would have been approximately one month before the April session at Schiell's studio. Listen to "Midnight Hour" at https://www.youtube.com/watch?v=Yc_fEPz8um4
I played the tracks for Bobby Balderrama, but he said he could not remember recording them, let alone where they were recorded. During one of my phone interviews with Question Mark (Rudy Martinez), he stated that the unreleased versions were recorded at Art Schiell's studio a month before the April session. He also claimed that the March session was interrupted because Art had to deal with a family emergency. Before the session was aborted, however, Question Mark said that Schiell and the band had recorded early run-throughs of the songs, and that these were the two unreleased versions that appeared on the 2005 CD.
I interviewed Bobby Balderrama again after speaking to Question Mark. Balderrama continued to insist that the Mysterians only recorded with Art Schiell once, in April, 1966. Bobby said that he thought that the unreleased songs were most likely early versions recorded in the basement of the family home of Frank Rodriguez; as it was the principal rehearsal space for the band in their early days.
These differing accounts by two band members, who were both important parts of the actual recording, pinpoint the difficulty in getting the whole story of the Art Schiell Recording Studio. Without access to the written documents that Schiell undoubtedly kept, indicating who and what was recorded there along with the dates those recordings were made, the complete narrative of all that Art accomplished will remain a mystery. Unfortunately, that written documentation appears to have been lost over time.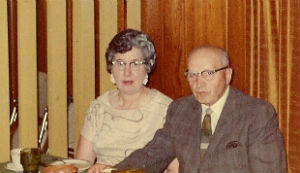 Mildred and Art Schiell in 1968
Art continued to live and run his recording business at the Raymond Street address until 1969. He sold his house and recording studio to local musician John B. Lipinski in 1970. Art then sold Schiell's Beauty Salon to Barbara Rivet and moved to Arizona. She kept the business in operation under that name until the late 1970's. The 1977-1978 Bay City Directory contained the last listing for Schiell's Beauty Salon. Today, the space is occupied by a business called Hourglass Tattoo.
John Lipinski renamed Art's old studio the JBL Recording Studio (Voice and Sound). It did business out of the house at 405 Raymond Street from 1970 to 1972. Lipinski then moved the recording equipment he purchased from Schiell to a music room/studio he built in his home at 291 Donahue Beach, located near Saginaw Bay in Bangor Township.
Lipinski was a musician of some renown in Bay City. He had been playing the clarinet since the age of eight, and over the years he had become one of the leading advocates of polka music in the Saginaw Valley through his hosting of radio shows on WBCM, WWBC, and WXOX. In 1956, Lipinski hosted a polka music television show on WNEM TV; and the following year, his John Lipinski Orchestra became the first Bay City band to record for a major polka label when he began releasing singles on the Musicale label of Toledo, Ohio.
After being drafted into the Army in 1958, Lipinski went through basic training along with Elvis Presley at Ft. Hood, Texas. Presley's family rented a house in the nearby town of Killeen, and Elvis was allowed to live off-base with them after he completed basic training. Lipinski, who also played saxophone, had the unique opportunity to participate in a jam session with Presley and some other soldiers at the rented home after their duties were completed.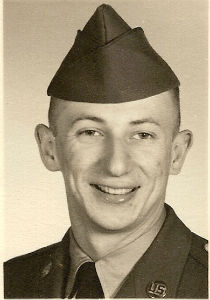 John Lipinski at Ft. Hood, Texas, in 1958
On his return to Bay City in 1960, Lipinski continued to broadcast, record, and play polka music in the area. He was also one of the founders of the Bay Concert Band and later formed a popular big band called the Satin Brass. Lipinski was inducted into the State of Michigan Polka Music Hall of Fame in 1985.
Sadly, he lost his home and his music room/studio on Donahue Beach to taxes in 1994. By that time all of the recording equipment he had purchased from Art Schiell had either been sold or disposed of. John Lipinski continued to be active in music until he passed away in April of 2004.
The house at 405 Raymond Street was sold in 1973. The following year it was purchased by James and Suzanne Scheddel, and it was used as a rental for the next five years. In 1979, the house was sold to a young couple named Russell and Wendy Augustyniak, who would live and raise two daughters at that address until 1991.
The Augustyniaks did a lot of work on the house. They completely renovated the upstairs and installed a custom-made spiral staircase. They also remodeled the bathroom, put in a new driveway, and landscaped the backyard before selling the house, and building a new home in Essexville. The house changed hands a few times since then, and as of 1999, it has been occupied by Charlene and Eduardo Cotto.
The Cottos had never heard of Art Schiell when they purchased the house. Some of their new neighbors on Raymond Street revealed to them that it had once been a recording studio. When I visited the Cottos in their home, it was difficult to picture exactly how the studio was set up in the 1960's amidst all the changes that have been made in the house over the years. Like the written documents Art must have kept of his recordings at 405 Raymond Street, any semblance of the Schiell Recording Studio has disappeared from the inside of the home.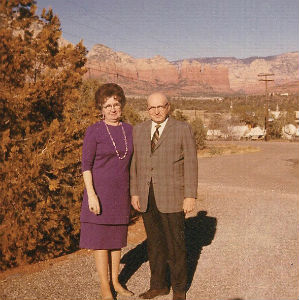 Mildred and Art outside their home in Sedona, Arizona
After he sold his businesses, Art and Mildred Schiell moved to scenic Sedona, Arizona. They enjoyed the climate and took delight in the beautiful mountain landscape outside their windows with its unique formations that glowed in brilliant orange and red when illuminated by the rising or setting sun.
The couple also relished the periodic visits from family members including their six grandchildren. In his spare time Art took up fishing and rock collecting. He constructed his own rock polishing apparatus as part of his hobby. Art also kept his hand in music by directing the choir of the First Baptist Church in Sedona until he passed away on June 12, 1983. Schiell had served as a choir director at churches in both Bay City and Sedona for a total of 40 years.
After Art's death, Mildred continued to live in Sedona until her health began to fail and she returned to Michigan to be nearer her family. During my interview with Russell Augustyniak, he told me that Mildred Schiell had called him while he and his family still lived at 405 Raymond, and asked if she could come over and see the house again. She said that it reminded her of the happy years she and Art had spent in Bay City.
Mildred lived her final years in the state before finally passing away in a nursing home in Tawas, Michigan, in 1999. The family arranged for Mildred's casket to be sent back to Arizona so that she could be buried next to Art in Sedona.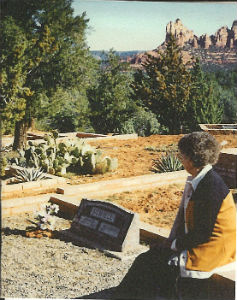 Mildred visiting Art's grave in Sedona
Besides his contnuing role as the guitarist in ? and the Mysterians, Bobby Balderama has launched a second band with Frank Rodriguez called the Robert Lee Revue. The group has already recorded two excellent instrumental albums of Latin-flavored smooth jazz; and thanks to the Internet, they are currently making a name for themselves in jazz circles around the world.
Reflecting back 47 years, Balderrama said he remembers Art Schiell as a very nice man whose recording studio provided a golden opportunity for a band of young Mexican-Americans. Art took their music seriously and recorded it with skill. Balderrama claimed that he is still thankful for Art Schiell because without his small studio, Question Mark and The Mysterians might not have recorded their classic hit version of "96 Tears".
Although the absence of studio logs documenting his recording activities make it doubtful, I am hopeful that this examination of Art Schiell's career, his involvement in recording early examples of Tejano music, local polka and rock and roll bands, and especially his immortal recording of "96 Tears" will lead to the designation of the former home of Schiell's Recording Studio at 405 Raymond Street as a historical site by Michigan's State Historic Preservation Office.
At the very least, I believe some sort of official recognition by his hometown of Bay City is long overdue. Either or both of these acknowledgments would be a giant step toward correcting the misinformation surrounding the recording of "96 Tears" and give Art Schiell some belated credit for his cultural contributions to Bay City, the state of Michigan, and to the world of music.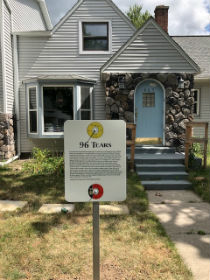 MRRL's "96 Tears" sign at 405 Raymond St
Update 1: On August 14, 2014, "96 Tears" was proclaimed Bay City's Official Rock and Roll Song by Mayor Chris Shannon in an event at Old City Hall that included a performance by the surviving members of ? (Question Mark) and The Mysterians.
Update 2: Five Years later, on August 22, 2019, the Michigan Rock and Roll Legends Hall of Fame donated and installed a historical sign at the former site of the Schiell Recording Studio at 405 Raymond Street. The marker honors both Art Schiell and the classic recording of "96 Tears" by ? (Question Mark) and The Mysterians.
*Author's Note: William R. Holtzapple's unique book, Music Makers From Mid Michigan and Surrounding Areas, was a valuable resource for record labels, recording information, photos, and interviews for this project.
A special thanks go out to Richard Nelson, DaWilla Bridgewater, Nancy and John McFadyen, Art Hauffe, Bobby Balderrama, Laura (Lipinski) Schwerin, and Russell and Wendy Augustyniak for providing information, photographs, and documents that were extremely important in helping me uncover the history of both Art Schiell and his recording studio.