Band Canyon 3 "Lost Bands"
Details

Category: Dr. J's Blog
Published: Saturday, 18 January 2020 01:17
Written by Gary Johnson
The emergence of The Beatles and the other British Invasion bands prompted the formation of countless young bands in Bay City and in other communities all across the state. Band Canyon and the other teen clubs that sprouted up in Michigan around the same time provided an opportunity for these fledgling groups to play in front of large gatherings of their peers.
Forming a band and then keeping it together were two entirely different chores, however, and many of these young bands faded away almost as quickly as they had come together. The reasons were varied. They included lack of musical ability, getting drafted, going away to college, having a full-time job, girlfriend/boyfriend relationship issues, lack of money, an unexpected pregnancy, an unwillingness to fully commit to the band lifestyle, or the often cited musical differences.
A few of the teen bands that played at Band Canyon recorded singles before they broke up. These were usually released on small, local independent labels in the hope of garnering some radio airplay on AM radio stations in the Tri-City area or to sell at their gigs. Most did not however, leaving no audio record of their existence and becoming one of the countless lost bands of the 1960s, living on in old photos, faded clippings, and in the memories of those who saw them play.
The Vibrations
The Vibrations had the distinction of being the first Bay City band to play at Band Canyon in the summer of 1965. Based on their local reputation, which included a number of gigs at Daniel's Den in Saginaw, the band was hired to back national recording star Freddy Cannon during his performances during Band Canyon's grand opening weekend on July 2nd and 3rd. The band had recently changed its name from The Counterpoints to The Vibrations, and had performed for the first time under their new moniker at a Memorial Day dance at the Caseville Roller Rink with another area band called ? and the Mysterians.
Cannon had first gained fame in 1959 with his Top Ten hit "Tallahassee Lassie" on Swan Records. Dick Clark, who was part-owner of the Philadelphia label, promoted the song heavily on American Bandstand and brought Cannon to Detroit for the first time later that summer as one of the artists performing on Dick Clark's Caravan of Stars at the Michigan State Fair.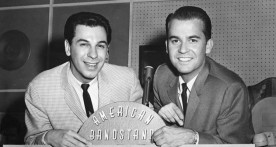 Freddy Cannon and Dick Clark
Freddy Cannon's appearances at Band Canyon in 1965 were timely. Now signed to Warner Bros. Records, his latest single, "Action", was the theme song for Dick Clark's new music-based TV show Where The Action Is. The program had debuted on the ABC network on June 27th at 4:30 on weekday afternoons, and its popularity would help drive "Action" to # 13 on the Hot 100 later that summer.
Although it sounded like a dream gig for The Vibrations, drummer Bruce Sherbeck recalled in a recent interview that the experience of playing behind Cannon was not that enjoyable. "He was very demanding," Sherbeck said. "He kept telling me to keep the beat on the 2 and the 4, and he instructed the rest of the band to keep things simple and not to do anything fancy on stage." According to Sherbeck, lead guitarist Dave Garcia did not like to be told how to play, and that led to arguments and disagreements with the star during his appearances.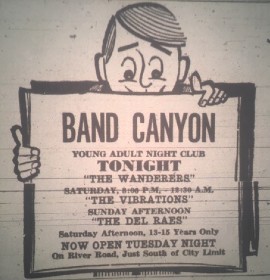 Bay City Times ad
Sherbeck, who was born in 1948, grew up on Sixth Street in Bay City, near Washington School. He started playing drums in the school band in the 5th grade at Thomas Jefferson Grade School. Sandy Nelson was his early drum hero, and he would later go on to play "Teen Beat" and some of Nelson's other hits. His grandfather bought him his first drum kit in 1962 – an old fashioned set with a forest scene on the bass drum with a light inside.
In the fall of 1963, his older brother Carl told him that there were a couple of guys, Bob Delaney and Al Hill, playing at a house party and that Bruce should bring his drum kit. "This was the start of The Counterpoints," Sherbeck said. "We wanted a musical name and counterpoint is a musical term. We were an instrumental band at that point, playing the hits of The Ventures and other popular instrumentals of the day," he recalled. Some early gigs included playing a twist dance for a Delta College fraternity at the upstairs Colonial Hall in Essexville, a benefit at the old Saginaw Auditorium, and at a number of parties.
Vocals became part of the equation when singer/guitarist Dave Garcia joined the band in 1964. Garcia was a good front man for the band, playing guitar behind his head and adding a bunch of new songs to their repertoire including "What'd I Say", "Peppermint Twist", "Long Tall Sally", "Hard Headed Woman", and "La Bamba".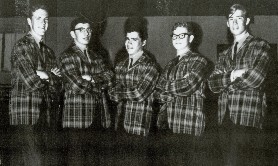 (L to R) Fritz Chapin, Fred Schultz, Dave Garcia, Bruce Sherbeck, Bill Burton
Now managed by Sherbeck's brother Carl, The Counterpoints were one of the early bands to play at Saginaw's Daniel's Den in 1964, and they competed in that summer's Battle of the Bands at the Roll-Air skating rink in Bay City. The winner was determined by popular votes cast on paper ballots given to teens upon admission. "My friends Barb Perkins and Diane Duncan went around collecting ballots and marking them to help us win," Sherbeck remembered.
The band regularly rehearsed at Al Hill's brother's house, but a conflict arose between Hill and Garcia, who both played lead guitar, and it resulted in Hill leaving The Counterpoints to join The Epics. The group had gone through a number of other lineup changes and was now composed of Sherbeck and Garcia, along with Fritz Chapin, Fred Schultz, and Bill Burton.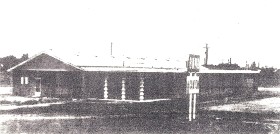 Band Canyon in the summer of 1965
Although the band wasn't making the money required to buy high quality equipment, Sherbeck earned enough, along with his part-time job, to buy Ron Cunningham's old drum kit. Cunningham had been a senior at Bay City Central High School and the star drummer in the high school band when Sherbeck was a freshman. Cunningham was also a founding member of The Fallouts, one of Bay City's first high school rock bands. Originally an instrumental group, The Fallouts added a vocalist and morphed into The Del Raes, a hugely popular ensemble who won the very first Roll-Air Battle of the Bands.
The Counterpoints were the subject of a Bay City Times story, including a group photograph, after their appearance at the Bay County Fair's Hootenanny show in August. Although Bruce Sherbeck appeared in the photo, he missed the actual performance because he was on a family vacation and was replaced on drums by John Stringer.
The band was a popular attraction, and they continued to play on weekends during the school year at area teen clubs and dances. Sherbeck recalled the year end ceremony at Bay City Central when he received his letter for high school band. It was the same ceremony at which the football players got their letters. "I was shocked when they called my name and the cheers were as loud as those for the football team," he laughed; "the prestige of being in a rock and roll band."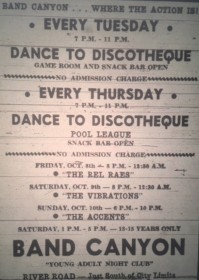 Vibrations finale
The end of the band came rather quickly. Just four months after changing their name to The Vibrations, and three months after playing with Freddy Cannon at Band Canyon's Grand Opening, it was all over. The band played its final gig at Band Canyon in early October of 1965 and then broke up after their appearance at the Bay City Central Homecoming Dance shortly thereafter.
The Vibrations' lead singer got his draft notice, the bass player got his girlfriend pregnant, and the band was over in what seemed like a flash. Several months after it had ended, Sherbeck said that he was contacted to drum with ? and the Mysterians shortly before they recorded "96 Tears". Drummer Eddie Serrato had left the band for fear of losing his steady job in Saginaw.
"I never looked at playing in a band as a lifestyle and turned the offer down," Sherbeck said. Future Bay City mayor Charlie Brunner was then recruited for the drum seat, but lost out on the historic session at the Schiell Recording Studio when Serrato decided to return to The Mysterians.
The Mustangs
The Mustangs came together in Bay City's South End. The band's main claim to local fame came when they finished second at the Battle of the Bands State Finals at Roll-Air in August of 1965. Bassist Pat Williams remembered the event vividly in a recent interview: "The Motor City Bonnevilles finished first, The Mustangs second, and ? and the Mysterians came in third."
"We didn't have to audition to play at the Battle of the Bands," he recalled. "The bands played for free, and if you won one of the rounds you were invited back the next week to perform again for free, but you qualified for the finals and the chance to win cash prizes."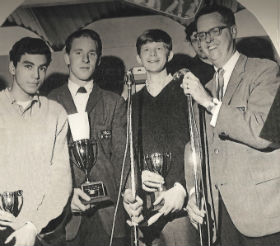 Battle of The Bands 1965: ( L to R) Larry Borjas of the Mysterians, a Motor City Bonneville, Charlie Kazmierski of the Mustangs, and Bob Dyer of WNKX
"The finals were voted on by the crowd and The Mustangs got as many of our high school friends from St. Stanislaus and Bay City Central to come and vote for us," Williams said. "That enabled us to finish in front of ? and the Mysterians, who were better but suffered from lack of audience support. The winners were not announced until the next morning at the WKNX studios where the ballots were officially counted, and the bands had to show up for the count."
Although they didn't win the competition, The Mustangs gained a valuable ally in Bob Dyer, the WKNX DJ who hosted the band battles at Roll-Air with fellow DJ Dick Fabian. "Bob Dyer was a big supporter," Williams said. "He gave us moral support and encouragement and hired us for a number of gigs at school dances and even for playing a private party."
A few weeks after their second place finish, the band was interviewed by teen reporters Deb & Jo for a feature story in their weekly music column for the Saginaw News. Although the article was brief, the Saturday, September 11th article with Mustangs in the headline was the band's biggest publicity moment.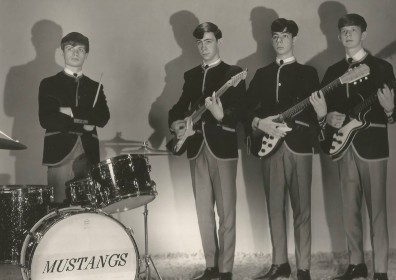 (L to R) Tom Dominowski, Pat Williams, John Williams, Charlie Kazmierski
The roots of the band go back to 1963 when lead guitarist John Williams (Pat's older brother), Charlie Kazmierski, Glen Covaleski, and Tom Sullivan formed a band called The Countdowns. Inspired by The Fallouts, they were strictly and instrumental band; but that approach seemed old fashioned after the arrival of The Beatles and the other British Invasion bands in 1964. When Covaleski and Sullivan left to join an early version of The Epics, Pat Williams and Tom Dominowski were recruited to play bass and drums respectively.
Pat Williams recalled how the band came up with its new name: "Tom Dominowski's father suggested the name 'Mustangs'. He was a great guy, and he let us practice in his garage. Mr. Dominowski first suggested 'The Freefalls', but when we didn't like it, he suggested 'Mustangs' – the horse not the car."
The first time the newly-named Mustangs played in public was at a student assembly at St. Stanislaus High School. "We opened with "I Saw Her Standing There" on the gym stage," Williams recalled. "I was in 10th grade and the other three were starting their senior year. We also played "Sleep Walk" – which went over well with the nuns who liked slower songs. The kids were impressed, our popularity soared, and I went from being a classroom nerd, focused on his grades, to someone that the girls wanted to hang out with. It was the cool thing about being in a band."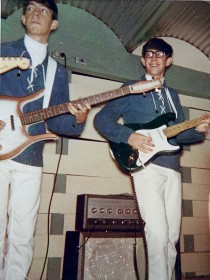 Pat and John Williams at Roll-Air
The Saginaw News column mentioned that The Mustangs wanted to project an image of being different but cool. "That meant that we wanted to be exactly like The Beatles," Pat Williams laughed. "We bought Beatles-styled collarless jackets, combed our hair forward into bangs, and covered Beatles' songs. Paul Kuszmiercz worked at May's clothing store, and he advised us on how to dress and got us discounts on band outfits."
The Williams brothers' interest in the guitar came from their father who was born in Missouri and, according to Pat, "played hillbilly music." John and Pat shared a paper route and grew up in South Bay City's predominantly Polish area where the Catholic Church played an important role in daily life and conservative attitudes among its inhabitants were the order of the day.
"Adult criticism was constant," Williams recalled. "The music is too loud; it isn't music – it's noise; or its nigger music" were taunts that the young band had to endure. "The most painful criticism came from our neighbor who thought we were 'queer' because of our hairstyles and heeled Beatle boots," Williams recalled. "He had a serious talk with our dad and urged him to turn his boys straight."
Despite the flak, the band soldiered on. "We went to Band Canyon the summer my sophomore year ended," Williams said. "I remember that the venue had good sound, was very crowded, and it was very popular. It had a sunken dancefloor, a game room, and you felt bad if you weren't there," he recalled. "The gossip room in the back was where people made out, and it seemed that everybody smoked."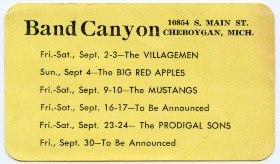 Cheboygan Band Canyon
"There was a stage that was elevated several feet above the sunken dancefloor with a seated area and tables that surrounded it on three sides. There was a lot of dancing going on – kids did not just sit or stand and watch," Williams remembered. "It seemed very big back in the day." Williams also said that The Mustangs often went over to the teen club to rehearse on Saturday afternoons when the venue was open for kids 13 to 15.
All four Mustangs generally went to Band Canyon together in one car; and they saw The Byrds perform there in late July. It was the same when they went to gigs – all of the band and their instruments would be packed into one car. Pat remembers holding drums on his lap in the back seat. The car belonged to Tom Dominowski's father, who had high hopes for the band, and he would let them use the family car to travel to gigs.
Williams also recalled that The Mustangs were hired by Willard Kehoe to play at the Band Canyon in Cheboygan in early September of 1965. The gig was for the weekend and, because of the long trip, they were put up in a cheap room on the lake. The Cheboygan Band Canyon was housed in an old warehouse located next to a swimming area at Frances Grove Beach, and Williams said that the band had "the time of our lives."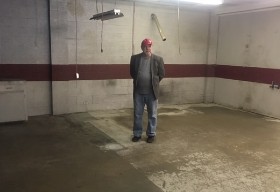 2019 - Pat Williams looking at what used to be Band Canyon's game room
As the summer drew to an end, The Mustangs were practicing a folk-rock version of Bob Dylan's "It's All Over Now, Baby Blue". They had impressed a DJ at a gig north of Bay City who was willing to back a recording of the song but, before it happened, the band broke up.
John Williams and Charlie Kazmierski left town for college in the fall and Tom Dominowski went into the Air Force, leaving Pat Williams at the start of his junior year at St. Stanislaus High School, without a band and thinking that they should have kept it going, at least on a part-time basis. Looking back more than five decades later, Williams still harbors feelings of regret. "Breaking up was the worst mistake we ever made," he said.
The Intruders
The Roll-Air Battle of the Bands had become a very big local event by 1966. As a result, The Intruders, the Bay City band that won that year's competition was photographed and featured in a story in the Bay City Times. The group was composed of lead singer Chuck Ozark, lead guitarist Bill Beaudin, rhythm guitarist Michael Cook, bassist Selby Hargett, and drummer Jim Kramer.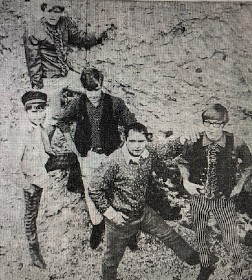 Intruders (L to R) Selby Hargett, Bill Beaudin, Jim Kramer, Chuck Ozark, Mike Cook
Although it was nice to get some recognition in the local newspaper, the article was more than a little condescending in its coverage of the band, especially in its portrayal of Ozark, who at 21, was several years older than the other band members who all attended Bay City Central High School. Describing him as "the self-styled spokesman who resembles a truck driver more than a lead vocalist", the Bay City Times writer also went on to write: "the balding Ozark, who spends most of his day selling sportswear at Sears and Roebuck Co., bumps and grinds as he belts out a song (a la Mick Jagger) using his microphone stand as an oar to paddle through a bevy of rock and blues tunes."
Despite the unflattering newspaper description of the band's lead singer, Michael Cook, in a recent phone interview, put things in perspective. "It was a big deal to get an article in the Bay City Times along with a photo," he said. "Chuck was a great singer and showman. Even though he was six years older than Selby and me, it worked. Chuck wasn't a weirdo to us or anything like that. He was just really into music."
Cook was born in Middleton, Michigan, and moved to Bay City at the age of five. He started playing guitar around the age of thirteen after The Beatles hit big in the United States. After taking a few lessons, he basically taught himself to play along with Selby Hargett, his close friend since kindergarten. They got to know the other guys in The Intruders after they joined the band near the end of 1965. "Selby was hired first to play bass," Cook recalled, "and he suggested me when the group was looking for another guitar player.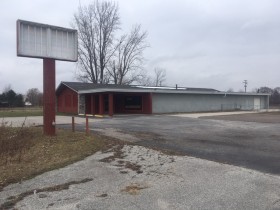 The former home of Band Canyon
The Intruders mostly rehearsed in the Cook basement. "My parents, especially my mother who was a musician herself, were very supportive," Cook said. "She sang and saw music ability in me and encouraged it; and my dad bought all of my guitars."
"I think our first gigs were in the Thumb, playing dances with DJ Ted LaFave," Cook recalled. "We traveled to gigs in Chuck Ozark's big car. We didn't have an agent or manager, but Chuck quickly became the spokesman and booker for the band."
"Our sets included several hits by The Animals including "House Of The Rising Sun". Chuck could sing those very well. We also covered songs by The Beatles, and "Shout" by the Isley Brothers was our signature song," Cook said. "Chuck made it visually interesting which made The Intruders one of the few area bands that incorporated an elaborate stage show. Selby and I were big fans of Paul Revere and the Raiders' stage moves on Where The Action Is and we incorporated them into our performances. The fact that we were visually interesting was an important factor in our winning the Battle of the Bands."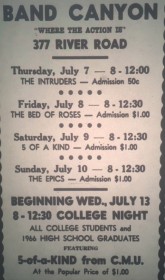 Bay City Times ad
The Intruders won $500, a private audition with Columbia Records, and $1,000 worth of gigs, mostly with Bob Dyer and Dick Fabian. Cook said that they went out most often with Dyer, who would spin records during the breaks between the band's sets. They also played Daniel's Den, Dyer and Fabian's Y A-Go-Go dance in Saginaw, as well as the Blue Light in Midland. He estimated that he might have made about $50 per week - good money for a teen in 1966 and 1967.
The Intruders played Band Canyon on August 25, 1966, just days after winning the Battle of the Bands. It was a big night for the band, and Cook recalled that the crowd cheered when they came on and treated them like rock stars. Cook also stated that the band members reached a different social plateau at Bay City Central after their big victory. "People would come up to congratulate us, or just come up wanting to talk or be around us," he remembered. "It was a heady experience. I wasn't as popular as the starting quarterback but it was getting close!"
Cook stated that he went to Band Canyon a lot. He was there for the music and got a chance to see artists like Bob Seger and the Last Heard, the Amboy Dukes, and the MC5 before they became famous. "Band Canyon had a cool vibe, and I always had a good feeling about the place," he said. "The stage was to the left, and that arrangement made for a good sound. In 1967, the stage was moved to the far end for shows with the Amboy Dukes and the MC5."
"Band Canyon had started to change in 1967 and into 1968," Cook recalled. It became a little more of a hippie scene with less dancing and more sitting on the floor and watching the show. I thought there was some marijuana smoke during the MC5 show."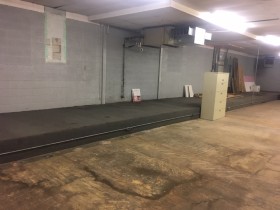 Band Canyon's former stage and sunken dancefloor
The Bay City Times article mentioned that the band was searching for the sound that would set them apart. "I guess we were trying to approximate a lot of different things, but we never got to the point where we found something that was uniquely us other than our performances," Cook stated. "We didn't develop our own music, but we tried to replicate the hits as closely as possible."
By 1968, the teen club scene had changed, many had closed, and all of the band members had graduated. Because they didn't have any original material, the audition with Columbia Records never happened; and like so many young groups that played at Band Canyon, The Intruders ended up not making a recording before they broke up later that year.
The Trespassers
The Trespassers were one of the younger bands to play Band Canyon. Founding member Jay Bosco had been taking guitar lessons for almost four years when he first saw film clips of The Beatles on the Jack Parr Program on January 4, 1964. "My older brother, Tony, called me to come down and see them on our family TV," Bosco recalled. "I was very inspired by The Beatles," he said. "I was mesmerized watching them, and I remember how skinny they looked."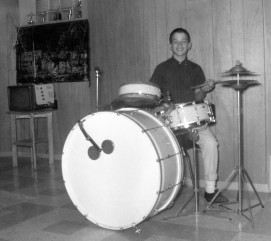 Jay Bosco in his basement
It was interesting to discover that Jay Bosco was related to Sonny Bono. His grandmother and Bono's grandmother were sisters, making Jay's mother and Sonny's mother first cousins and Jay Bosco and Sonny Bono second cousins. "I have photographs of them together," Bosco stated. The two women were close and often visited, but Sonny Bono had left Michigan to pursue a career in the music business in the early 1950s.
The first step in forming a band came when Terry Anderson moved two doors down in 1964. Anderson and Bosco were both Boy Scouts and they quickly became friends. They soon discovered that they both played acoustic guitar and started jamming together.
Bosco revealed that his motivation for forming a band actually came from seeing a male mannequin wearing an ascot in a store window while riding his bike in downtown Bay City. "I thought, wouldn't it be neat to have a band and wear these ascots," he recalled. "Weird, I know. I guess it was the 'look' before the music."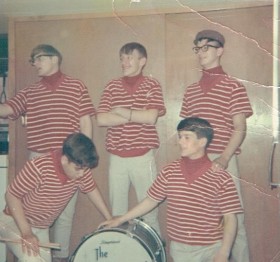 Later Trespassers' lineup: Top - (L to R) Wayne Wescott, Terry Anderson, Bill Nordstrom. Bottom - (L to R) Mark Mason, Jay Bosco
When it came to putting an actual band together, they recruited a neighborhood friend, Jim Goodwin, as the drummer despite the fact he had never played drums. Bosco, who probably should have been the drummer, had a set of drums and played in both the St. Joseph Grade School Band and in the Boy Scout Drum and Bugle Corps, but he wanted to play guitar. His plan was to teach Goodwin how to play in the basement of the Bosco home while they looked for a bass player.
Unable to find one, they recruited a guitar player who mimicked the bass at early gigs by tuning his guitar down an octave. It was at this point that they decided on the band name 'Trespassers'. "I remember it took us several days, and it was painstaking," Bosco recalled. "We would sit on Terry's porch and someone had a pen and paper, and we would feed potential names to write down and then eliminate or add more as we thought of them. Finally, 'Trespassers' was the name that stuck around the longest."
After a bad gig at the Visitation Homecoming Dance where they discovered that their guitar amplifiers and PA system were too small and weak to fill a gymnasium with sound, Anderson and Bosco convinced their parents to buy them better equipment.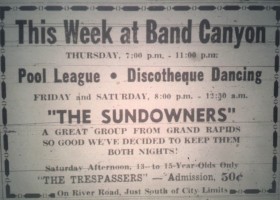 They also made some important lineup changes when Bill Nordstrom, a schoolmate of Bosco's, brought his friend Ritchie Schultz over as a possible bass player for the band. In return for his services, however, Schultz demanded that Nordstrom come on as the drummer. Bosco and Anderson decided to go with it because Nordstrom was a better drummer than Goodwin, but they would have to cut a good friend from the band. "I didn't have the heart to tell him," Bosco confessed. "Terry stepped up to the plate and told him on his own. It's something I still feel badly about, but Jim took it well and he remained a friend with both of us."
After playing a few times with their new lineup, The Trespassers were hired at Band Canyon to do the Saturday matinees that catered to the 13 to 15-year-olds that were too young to attend the teen nightclub in the evening. "We were regulars at the matinees and played dozens of times there," Bosco stated. "I think we may have been paid $20 total, which was $5 for each of us per performance. Typical songs included "Wipe Out", "Walk Don't Run", "Louie, Louie", "Hang On Sloopy"; along with several Beatles' songs including "Ticket to Ride", "Nowhere Man", "Day Tripper", and even Sonny Bono's "Laugh At Me"," Bosco remembered.
They also played the Sunday Battle of the Bands at Daniel's Den in Saginaw. These events were for bands too young to play at the venue or attend in the evenings. Although they didn't win, it was a great learning experience for the band and they got to talk to Bobby Rigg and The Chevelles, the house band for Daniel's Den at the time. "I remember talking to the announcer before we went on and, in an attempt to garner some sympathy votes, told him that Ritchie Schultz was in the 8th grade," Bosco recalled. "They announced it before the band came on and it got a good response from the girls in attendance."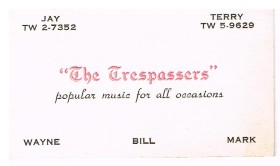 Trespassers business card In the early days, the band was driven to gigs by their parents. Ritchie Schultz's mother, Bernadine, would drive the band and help out at the gigs. Bosco's father would also drive the band. During this time, they regularly rehearsed in the remodeled Bosco basement. Mrs. Bosco had a beauty shop in a separate basement room and often requested that they turn down the volume.
The band underwent another major shift when Ritchie Schultz decided to quit and join another band. Selby Hargett filled in on bass for a gig or two, but he soon left to join The Intruders. Wayne Wescott, who was a little older than the rest of the band and had a car, then took over on bass. Mark Mason replaced Nordstrom on drums shortly thereafter.
The new combination went on to play the Roll-Air Battle of the Bands after being mentored by members of The Mustangs. They were invited to watch a Mustangs' rehearsal at the home of John and Pat Williams. "They shared some advice and let us use their instruments to play the set we had prepared for Roll-Air," Bosco recalled. "I remember one of them saying, 'I think you're ready!'. It was very gracious of them," he said.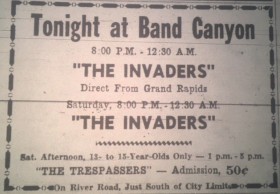 Although The Trespassers failed to win at Roll-Air, they continued to play at Band Canyon and also went on to score gigs at the Blue Light in Midland, the Blue Blazer in Sandusky, along with several dates in the Thumb at dances with DJ Ted LaFave. Bosco doesn't remember exactly why the band came to an end, but mentioned that a contributing reason was the fact that he didn't want to play at a credit union affair that Wayne Wescott's brother was organizing. "I felt I wasn't that good, and I didn't want to embarrass myself and the band in front of a group of adults who probably wouldn't appreciate the music we were playing," Bosco recalled. He said the band fell apart shortly thereafter.
Whatever the reason for their untimely demise, The Trespassers remain somewhat significant in that they are part of one of Michigan rock and roll's interesting "what if" questions. "One day during a rehearsal at Terry Anderson's house, Frank Rodriguez and his sister, who lived a block away, biked over," Bosco recalled. "He offered to join the band but only if his sister could play drums. We turned him down," Bosco said. "We didn't want to have a girl in the band and we already had a drummer."
A short time later, Rodriguez joined ? and The Mysterians. He played a major role in composing the music to "96 Tears", and his keyboards became not only the most important instrumental component of the classic recording but also the most recognizable element of the band's overall sound. But what if The Trespassers had accepted Rodriguez and his sister? Would "96 Tears" have been a # 1 hit without him?