Band Canyon 2 "The Byrds"
Details

Category: Dr. J's Blog
Published: Tuesday, 15 January 2019 08:15
Written by Gary Johnson
The most important historical performance at Band Canyon occurred less than three weeks after the teen nightclub opened in July of 1965. During the previous month, The Byrds' "Mr. Tambourine Man" single gave birth to the folk-rock genre and had the distinction of topping the popular music charts in both the United States and England. As a result, the young California-based group was vaulted into the rarefied position of being referred to as "America's answer to The Beatles".

The band's appearance in Bay City was part of their first national tour, a 26-day series of gigs in mostly Midwestern states including Minnesota, Illinois, Indiana, Missouri, and Ohio. The Byrds' arrival at Band Canyon on July 22nd was noteworthy as well because it was the band's first and only show in Michigan on their inaugural tour.
Although it might have seemed that The Byrds were overnight sensations who were new to the music scene, this was not really the case. Four of the five members of the band were experienced performers in the folk music arena and had already made professional recordings and appeared on television.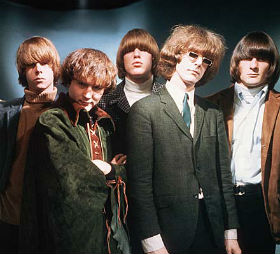 The Byrds (L to R) Chris Hillman, David Crosby, Michael Clarke, Jim McGuinn, Gene Clark
Lead guitarist Jim McGuinn played and recorded with both The Limeliters and The Chad Mitchell Trio, and later served as the accompanist on the folk song segment in Bobby Darin's nightclub act. Gene Clark sang and recorded with The New Christy Minstrels, and David Crosby did the same in The Lex Baxter Balladeers. Bassist Chris Hillman's background was in bluegrass music, and he played mandolin and recorded with The Scottsville Squirrel Barkers and The Golden State Boys. Drummer Michael Clarke was the only member who did not have professional experience before joining the band.
The genesis of The Byrds began in early 1964 when Jim McGuinn, inspired by the The Beatles, began performing folk songs with a Beatle beat. Gene Clark saw one of McGuinn's solo performances at The Troubadour in Los Angeles, and they formed a duo loosely model after the successful British twosome, Peter & Gordon. Things really came together when David Crosby added his harmonies to the mix. They knew immediately that they had something special, but it took producer Jim Dickson to bring it to fruition.
The beginning - Crosby, Clark, and McGuinn in 1964
Dickson had an arrangement with the owner of World Pacific Studios in Los Angeles that gave him free access to the studio after hours to rehearse his acts or record demo sessions in return for his services. He brought Crosby, McGuinn, and Clark, who had come up with The Jet Set as their group name, to rehearse and record at World Pacific.
Free studio time provided the trio with a unique opportunity where they could record rehearsals and listen to and analyze playbacks right away. This was a luxury in an age where recording tape was expensive, and the idea of a high-quality home studio belonged to a distant future. In addition, it allowed them to develop their sound much faster than if they had been practicing in a garage or trying to put it together on the road.
In August, McGuinn, Clark, and Crosby went together to see A Hard Day's Night and were completely blown away by the film and impressed by The Beatles' hair, clothes, boots, attitude, sense of fun, and sex appeal. It also made them realize that they needed a bassist and a drummer if they were truly going to become a band.
The fact that George Harrison was shown playing an electric 12-string guitar in A Hard Day's Night was also an eye-opener for McGuinn. He had played an acoustic 12-string, but the guitar that Harrison played in the film was a prototype Rickenbacker guitar. McGuinn was soon able to purchase his own Rickenbacker electric 12-string, and it would soon become the signature sound of The Byrds.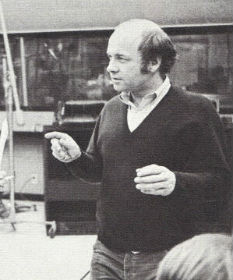 Producer Jim Dickson
In July of 1964, Dickson attended the Newport Folk Festival and heard Bob Dylan perform a new acoustic song called "Mr. Tambourine Man". Through various connections, Dickson later managed to obtain a tape recording of the Dylan song, and he gave it to the Jet Set after Michael Clarke and Chris Hillman joined the band.
The Jet Set continued to record at World Pacific with their new lineup. By the end of 1964, they had put together a demo tape that included an early electric version of "Mr. Tambourine Man" along with a number of original songs, mostly written by Gene Clark, that Dickson felt was good enough to shop to major record labels.
No one was enamored with the 'Jet Set' name, however, and a discussion of a change during a group dinner led to the suggestion of 'The Birds'. Vetoed because 'birds' was English slang for girls, it gained favor when someone suggested spelling it 'Byrds' instead. The 'y' made all the difference. Everyone liked the fact that the new name had the magic 'B' connection, as in Beatles and Beach Boys, and that 'Byrds' conjured up visions of aviation and power.*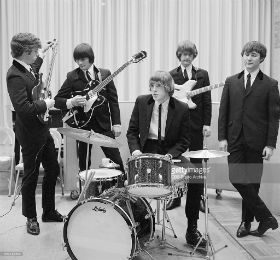 The Byrds' first publicity photo: (L to R) C. Hillman, G. Clark, M. Clarke, J. McGuinn, D. Crosby
Jim Dickson's connections in the music business helped get The Byrds signed with Columbia Records in early 1965, and "Mr. Tambourine Man" was chosen for the band's first single. While rehearsing for their session, they were visited in the studio by Bob Dylan who watched them run through a dozen takes of the song and gave them his blessing. Jim McGuinn recalled Dylan's reaction in an interview in Record Mirror in 1965, "So Bob eventually said: 'They do it well,' - which is like a million-word work of praise coming from him."*
Their first Columbia recording session took place on January 20, 1965. Terry Melcher, the son of Doris Day, was assigned the producer's job. Melcher had some previous success as a recording artist, along with Bruce Johnston, as both The Rip Chords and Bruce and Terry, and he turned out to be a good choice for The Byrds.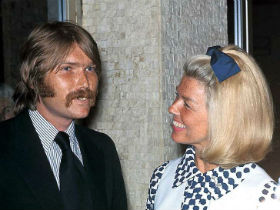 Terry Melcher and Doris Day
Because Melcher wasn't confident of the band's ability in the recording studio, he brought in members of the famed studio band, The Wrecking Crew, to play along with McGuinn's 12-string guitar. McGuinn sang lead on "Mr. Tambourine Man" with Crosby and Clark singing harmonies. Gene Clark's "I Knew I'd Want You" was chosen as the B-side, and it featured the same lineup except Clark did the lead vocal with Crosby and McGuinn adding the harmonies.
The Byrds started work on their first Columbia album six weeks later. This time there were no session musicians and the band played on all of the new recordings. There was already a buzz about The Byrds even though nothing had yet been released, and Derek Taylor, who was already representing The Beau Brummels and Paul Revere & The Raiders, signed on as their publicist. While The Byrds were working on their debut album, Bob Dylan released his acoustic version of "Mr. Tambourine Man" on his "Bringing it All Back Home" album on March 22nd.
The band had played several gigs around Los Angeles before they took up a residency at Ciro's Le Disc on Sunset Boulevard in Hollywood at the end of March. Ciro's had once been a hotspot for movie stars in the 40s and 50s, but it had fallen on hard times and was booking rock acts to try and draw customers. The club had one of Hollywood's best dance floors and it attracted a dance-happy crowd, led by Carl Franzoni, that added a great deal of excitement during the band's sets and was crucial to The Byrds' early success as a live act.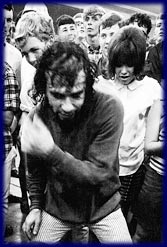 Carl Franzoni dancing at Ciro's Le Disc
The Byrds played five sets per night at Ciro's and had to perform a lot of party-friendly music to keep the dancers on the floor, including covers of Motown songs ("Money"), Beatles covers ("Things We Said Today"), blues tunes like "Got My Mojo Working" by Muddy Waters, along with some new Dylan covers including "Maggie's Farm" and "It's All Over Now, Baby Blue".
Bob Dylan and his entourage visited Ciro's on March 26th, and Dylan stepped on stage briefly to blow harmonica on their cover of Jimmy Reed's "Baby What You Want Me To Do". By the next week, it was standing room only in the club with the dance floor packed and lines outside the door. The Byrds are credited by many people to be the catalyst for the freaky Sunset Strip music scene, and on any given night during their residency like-minded celebrities like Jack Nicholson, Peter Fonda, Sonny Bono, Cher, Barry McGuire, Buffy Sainte-Marie, Kim Fowley, and even comedian Lenny Bruce could be seen dancing or just hanging out at Ciro's Le Disc.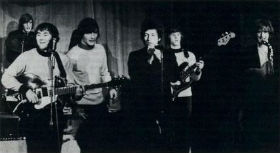 (L to R) Clarke, Crosby, Clark, Dylan, Hillman, and McGuinn on stage at Ciro's
The Byrds' "Mr. Tambourine Man" single was released on April 12th while they were playing at Ciro's. The excitement surrounding the band resulted in newspaper stories and appearances on the Los Angeles-based television music programs Shivaree and The Lloyd Thaxton Show. In May, The Byrds were flown to New York to appear on NBC's musical variety show, Hullabaloo. With the single climbing the charts, The Byrds were signed on as an opening act for The Rolling Stones for a week's worth of concerts in California during the Stones' third North American tour.
Columbia released the second Byrds' single on June 14th. Using the same formula as their previous hit, a cover of Bob Dylan's "All I Really Want To Do", with McGuinn singing lead, was issued as the A-side, and Gene Clark's excellent "I'll Feel A Whole Lot Better", with Clark singing lead, was selected for the B-side. Five days later, on June 19th, "Mr. Tambourine Man" reached # 1 in England.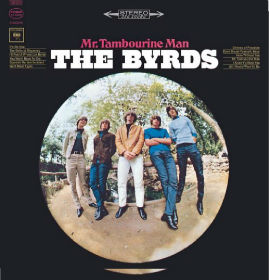 The Byrds' debut album, titled "Mr. Tambourine Man" after their hit single, was released on June 21st. Featuring a groovy fisheye-lens photo of the band, the album collected the A- and B-sides of the first two singles, plus eight more numbers. Five songs were by Gene Clark, either solo or with Jim McGuinn, and of the other seven cover songs, four were written by Bob Dylan. The album eventually peaked at # 6 in England and # 7 in the U.S. – making it the highest charting album of The Byrds' entire career.
The Byrds' "Mr. Tambourine" single reached # 1 on the Billboard Hot 100 on June 26th. One week later, the single hit # 1 on the Cash Box record chart. Watch The Byrds perform "Mr. Tambourine Man" https://www.youtube.com/watch?v=gYLKlgalHMs
Following a prestigious gig at Jane Fonda's lavish Malibu home for her annual 4th of July bash, The Byrds, along with Carl Fanzoni and a half dozen of his dancers, flew to Denver where they kicked off their first tour. From there, they boarded a bus to various Midwestern cities for gigs throughout the month of July. There were no Michigan appearances scheduled on the original itinerary, but there was one open date on July 22nd.
Willard "Bill" Kehoe was the Vice President of Band Canyon and owner of Delta Promotions in Bay City. His partner, A. J. LaMarre, was the President and served as the on-site manager of the teen club while Kehoe lined up the entertainment for the venue. Two things worked in Kehoe's favor in booking The Byrds for an appearance on the July 22nd open date. First of all, it made sense from a transportation angle. The Byrds had four shows scheduled in Ohio from July 18th to the 21st, including a side trip to Cleveland for a taping of The Mike Douglas Show. In addition, their final appearance in Ohio was at Cedar Point, which made a four-hour bus trip for a show in Bay City the next day very workable.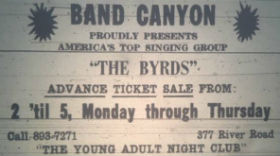 Bay City Times ad
Secondly, rock and roll was not yet the big business it would soon become. The Byrds' fees at that time reportedly ranged between $550 and $850 for an engagement. This was relatively low and a bargain for a group that just had a # 1 hit. As a result, smaller venues like Band Canyon could book the group with a reasonable expectation of turning a profit by selling tickets for $2.00. This would all change within a few years, however, as rising prices for bands resulted in the need to play larger venues and contributed to the closing of teen dance clubs across the state.
Band Canyon placed ads in the Bay City Times indicating that the box office would be open from 2:00pm to 5:00pm on July 19, 20, 21, and 22 for advance tickets for The Byrds' performance. Fred Reif drove from Saginaw to get his ticket. Reif had graduated from Saginaw High in June of 1965, and he was a big music fan growing up. "I used to go to Daniel's Den almost every weekend in 1964," he said in a recent interview, "and when Band Canyon opened in 1965, I used to check and see who was playing there as well".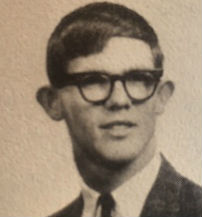 Fred Reif 1965
Looking back over 50 years, Reif said he was surprised that he recalled quite a few details regarding The Byrds' appearance at Band Canyon. "I remember that when The Byrds came, they traveled by bus and they brought a group of hangers-on or groupies (Carl Franzoni and his dancers) with them. They were, to me anyways, the first real hippies I ever saw. They had sandals on and looked kind of dirty compared to the clean-cut kids from Michigan in the audience. They all danced kind of weird and psychedelic; and although I didn't have any experience with marijuana at that time, they looked to me like they might have been on something," he laughed.
"When The Byrds played, I remember thinking Holy Shit! They sound exactly like their records," Reif exclaimed. "They were my favorite American band at that time. The whole band blew me away instrumentally and their harmonies were great. I don't remember all the songs they played, but they were really good." Watch The Byrds perform "I'll Feel A Whole Lot Better" https://www.youtube.com/watch?v=KeKGPhcSPHk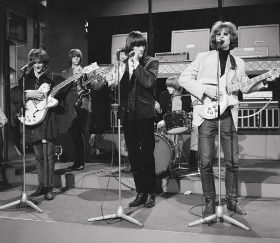 The Byrds on stage
Reif went on to say that The Byrds played two sets at Band Canyon and, between their performances, some members of the band interacted with the audience. Reif recalled that an acquaintance of his got into an altercation with drummer Michael Clarke over a pool game in the Vegas Room that caused a scene during the evening.
Pat Williams and the members of his teen band, The Mustangs, also attended the show. The Mustangs had formed at St. Stanislaus High School and were competing that summer in the Battle of the Bands competition at Roll-Air in Bay City.
Williams went to Band Canyon quite often during 1965, and his band played there as well. "It had good sound, and it was very popular and always crowded", he recalled. "They had a gossip room in the back where people made out, and it seemed that everybody smoked. There was a stage that was elevated a couple of feet above the sunken dance floor that was surrounded on three sides by a seating area and tables. There was a lot of dancing going on – the kids didn't just sit or stand and watch."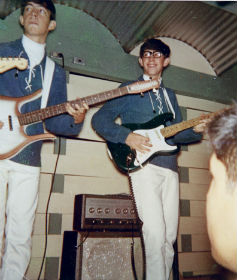 Pat Williams (L) and brother Mike at Roll-Air
The thing he remembered most about The Byrds, over 50 years later, was Chris Hillman's bass. Williams played that instrument in his band, and he was greatly impressed by the volume of Hillman's Fender Precision bass played through a blonde Bassman amp with a separate speaker cabinet.
Jim Kramer attended Bay City Central High School, and he was the drummer for a popular Bay City band called The Intruders. He attended the show at Band Canyon and recalled that he didn't like the fact that some members of The Byrds flicked their cigarettes into the crowd while they were on stage.
Paul Wolf was also at the show. He attended St. James High School in Bay City, and he and four other classmates had formed a band called The Classified Section. "The Byrds were great at Band Canyon", he recalled. "I thought that Michael Clarke drummed well and that the guitars were great, especially McGuinn. I was a big fan and thought they were fabulous!"
Wolf was not bashful, and he approached them after their second set. "I talked to Chris Hillman and told him I was learning to play bass by listening to the Byrds' records", Wolf remembered. "Hillman said he learned by listening to Paul McCartney on slow speed." He also spoke briefly to Gene Clark, who Wolf described as "humble and shy". Wolf had worn a floral print shirt to the Byrds show, and he said that Jim McGuinn complimented him on it. Wolf told him he had purchased it a Norman's clothing store in Bay City and that he would meet them there the next morning since they were staying in town.
The next day, several of The Byrds showed up at Normans, looked around the store, and someone in the group made a purchase, but Wolf has forgotten who it was. In 1965, no males in Bay City had long hair, and the sight of the Byrds walking around Bay City's downtown area probably caused a reaction among the locals something akin to a flying saucer landing in Wenonah Park.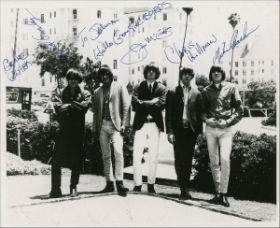 Were those White Levis purchased in Bay City?
When The Byrds asked Wolf where they might purchase some White Levis, he directed them to the Sears store nearby, and told them to ask for his mother, Mary Wolf, who was a salesperson there. Wolf said that his mother came home that night, excited about waiting on the young men from Los Angeles. "She said they were very nice and polite, except for one guy (David Crosby) who was wearing a cape and was constantly flipping his hair out of his face and seemed very sure of himself," Wolf recounted.
Shortly thereafter, The Byrds and their dance troupe boarded a bus for the band's last series of concerts scheduled in the Chicago area. On Sunday, August 1st, the five band members and publicist Derek Taylor boarded a plane to London, England, for their first U.K. tour. The Byrds would never again return to Bay City.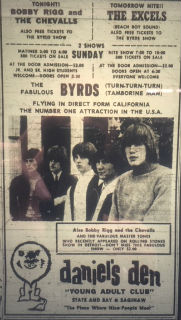 Saginaw News ad
The Byrds did visit nearby Saginaw a little more than four months later when they played two sold-out shows at Daniel's Den on Sunday, December 5, 1965. The group's "Turn! Turn! Turn!" was in the midst of a three-week stay at #1 on the Billboard Hot 100 when they appeared at the Den, and their new album also titled "Turn! Turn! Turn!", was released on the day after their Saginaw shows. Deb & Jo, teen reporters for the Saginaw News, interviewed The Byrds for their weekly column and also managed to get all five of their autographs.
This original version of the band was short-lived, however. Gene Clark left The Byrds in early 1966 primarily because of problems associated with his anxiety over airplane travel, and the group continued as a quartet until late 1967. By the end of 1968, David Crosby, Michael Clarke, and Chris Hillman had all departed the band, leaving McGuinn as the only original member when the final lineup of the Byrds disbanded in 1973.
After Paul Wolf graduated from high school he was drafted, like so many young men from that era, and served in Vietnam. Following his discharge, he attended Delta College and, after a few more years, Michigan State University. In the late 70s, long after The Byrds had broken up, Gene Clark and McGuinn, now using Roger as his first name, were touring as an acoustic duo. Wolf saw them perform at MSU and spoke briefly with them after the show. "Neither could remember anything about shopping in Bay City", Wolf reminisced, "but they did recall playing at a place named Band Canyon."
* So You Want To Be A Rock 'N' Roll Star: The Byrds Day-By-Day 1965-1973 by Christopher Hjort, 2008 Outline Press, was my major source of information on The Byrds.