Best Albums Of 2012 And More: Two Views
Details

Category: Dr. J's Blog
Published: Friday, 30 November 2012 06:47
Written by Gary Johnson
What are the best bets if you're planning to give someone the gift of music? We're here to help. For the third consecutive year, my friend and fellow music fanatic Larry Van Cleve and I have put together our lists of what we feel were the best CDs of 2012. We put the lists together independently of each other, and since there are no record companies that are sending us free albums to review, our choices are made up of what we have bought, and sometimes, borrowed and burned. We've also each included a Blast From The Past section that deals with some older material we've listened to during the past year that we think is worthy of comment.
Best CDs of 2012 by Larry Van Cleve
Have a solid top 10 mostly made up of many of the usual suspects who all had albums this year. A few surprises…some others to check out at the end. No ranking order here, I'll go by release date.
1.) "El Camino" – Black Keys. Lonely Boys, indeed. After the Keys' breakthrough album "Brothers" they have officially become an Arena act and that added special importance to the next album. Starting off with the T-Rex inspired "Lonely Boys" the Keys lay the groundwork for an album that harkens back to their previous efforts...you know, the ones that turned you onto the band originally and you felt you were the only one that was into them and that was special. Not so special was the "Brothers" album where you felt they were really trying to reach out to the mainstream and everyone else would start liking them (even though it was a great album).
No fear. "El Camino" calls up the best of "Brothers" and their early efforts. I wasn't so sure about "Little Black Submarine". Isn't the Led Zeppelin acoustic-beginning-into-electric-ending one of the biggest rock cliches around? But damn, it works. Credit some of that to Danger Mouse. He seems a good match for Dan and Patrick. This album rocks.
2.) "LA Friday '75" – Rolling Stones. Jann Wenner writing in Rolling Stone about the final 1975 L.A concert of the Rolling Stones: "At the end of each number I was screaming at the person in the next seat: 'We're seeing the best show of the tour!'...I was convinced that I had seen not only the best show of this tour but possibly the best Stones concert ever."
You can now make up your own mind with the third official Stones Archive concert release of the June 13th 1975 Rolling Stones show at the Forum. (Only available online at StonesArchive.com).
Based on this release the concert is in the argument for best ever. The opening salvo of "Honky Tonk Woman" establishes this as one of the strongest Stones live recordings out there. Not just with the performance but also due to the incredible re-mastered sound. Strong stuff indeed and it doesn't let up from there.
If you're at all a Stones fan this is one to get. The only letdown for some may be the two Billy Preston numbers but, hey, that was part of the deal with this incredible tour. If you saw Jagger swinging out over the arena holding onto a rope using only his hands and feet (and I'm talking waaaaaay out there) you'd realize they laid it all on the line on this tour (the first with Ron Wood).
3.) "Wrecking Ball" – Bruce Springsteen. Once again answering the clarion call of current times, "Wrecking Ball" looks at working class America post 2008. They are the same persons that populated his earlier work albeit 40 years later. Then they were concerned with parents, street racing, relationships and facing the future. Well, the future is here and, at this juncture, is rather bleak. Is the answer rallying together for change or striking out in anger? It's all in the make-up of this album.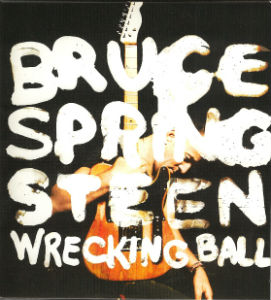 The music? With very little E-Street band involvement it still contains the essence of their sound. This album does take chances, it's certainly not a straight ahead E-Street album. Some of the production has been criticized as a mistaken try to remain "current". That does Bruce very little credit. He's turned into a master in the studio and this one reflects that. There's a lot of variety in the music and the particular sound of each track stands on its own. As with any artist's efforts, some parts do work better than others, but the effort is sincere.
The bottom line is how often you come back to a particular album. I seem to be going back to this one quite a bit. Will that last? Time will tell. My past Springsteen listening seems to center on "Tracks", "The Promise (Darkness outtakes)" and the early stuff up to, and including, "Born in the USA". "The Rising" is admittedly a great album, but I have to say it's not where I go when I want to hear Bruce.
4.) "Blunderbuss" – Jack White. Many of the tunes on Jack White's first solo effort could fit on a new White Stripes, Raconteurs or Dead Weather album but would probably end up sounding very different. White is a first rate collaborator who brings the sound of the whole to the fore yet retains that unique Jack White quality. The sound on this album is all his.
And what a sound it is. His lyrical cadences are intact along with the diverse instrumentation. Fiddles, clarinets, pedal steels, upright basses and mandolins show up with the guitars, keyboards and drums. Yes, the crunchy guitar is there ("Sixteen Saltines") and it does show up sometimes where not expected. It's reported that he prefers old cheap department store electric guitars and given the sounds he wrenches out of those poor souls that is probably preferable. More keyboard heavy tunes are prevalent but they certainly don't wimp out. This is a strong album.
The roots of the songs are all over the rock and roll map. One could probably spend a long time writing a track-by-track treatise on those influences. But what the hell, just enjoy.

5.) "Americana" / "Psychedelic Pill" – Neil Young & Crazy Horse. OK, a little cheating here. Young and the Horse had two releases this year with "Americana" being a warm-up to "Psychedelic Pill". Not that they're of a piece…they are actually quite different.
As for "Americana", it contains melodies you've known since childhood ("Oh Susanna","Tom Dooley", "Clementine" et al) and seems a startling contrast to the Neil Young & Crazy Horse guitar crunch and indeed they are. Disconcerting at first, after repeated listening I'll be damned if it all doesn't work memorably well. "Get A Job"? Yep, it somehow fits. I expected "This Land Is Your Land" to work in this musical environment (and it does) but the others are a real pleasant surprise. Kudos also for the great booklet notes on each song. The only cooler thing I can think of is incorporating the Pistols version into their take of "God Save The Queen". I'll bet it probably did occur to them.
As for "Psychedelic Pill" it's all here friends: the chunky, chewy jams unfettered by time constraints ("Driftin' Back" 27:58, "Ramada Inn" 16:38, "Walk LIke A Giant"16:35) and the somewhat tighter loping tunes typical of Young and the Horse ("Born In Ontario", "Twisted Road"). There are even two versions of the title tune, one as mixed with all the mid-sixties acid whooshing effects and the other more straight ahead.
Whether you like this or not is based on your tolerance for the longer jams (which are surprisingly more melodic and trance-like than in the past). I love this stuff. And it all fits in very nicely with Neil's autobiography "Waging Heavy Peace" of which there are varied opinions (I both loved and was frustrated with it).
Lengthy or not, the songs themselves seem to be in step with the Young canon. Take a listen to the early Young-Horse albums...there's quite a connection.
6.) "Banga" - Patti Smith. Her first album of new material in eight years , "Banga" is well worth the wait. For Patti Smith fans it's all here...the spoken word delivery flowing into melodic phrases ("Amerigo", "Seneca", "This Is The Girl"), great rhythms (Jay Dee Daugherty, Tony Shanahan), sudden guitar blasts and lyric inventions (Lenny Kaye, Tom Verlaine). There's pop and folk and rock and epic presentations (the 10 minute "Constantines Dream" stands out). It all ends with a wistful version of Neil Young's "After the Gold Rush" made all the poignant with her signature delivery and a children's chorus. As expected the lyrics are as good as it gets. Here is the work of a true artist for your consideration.
7.) "Celebration Rock" – Japandroids. A Vancouver based guitar/drums duo that play hook laden garage rock. On this their second full album they go for a much larger sound than their first album. The title "Celebration Rock" says it all folks. Full of sing-along hooks this album is short and snappy. Big crowd pleaser here. Think of the anthemic best of the Clash and Green Day. This is true '.fun' punk rock n' roll.
8.) "Kenny Tudrick" – Kenny Tudrick. As the former substance abusing Kid Rock guitarist and drummer for garage rockers Detroit Cobras and Sub Pop darlings King Tuff, I had a preconceived idea of what kind of solo album Kenny Tudrick would put together. Expecting a raucous balls-to-the-wall kind of sound (not a bad thing mind you) what Kenny put out was a very pleasant surprise indeed.
Leaning more towards the folk rock, 70s Laurel Canyon sound this is one tasty creation. The production is sparse but impeccable. Bursts of electic guitars, drums, keyboards and backing vocals come and go as needed. The instruments are mostly Kenny with keyboard help and the occasional guest guitarist (Patti Smith's son is one).
Kenny's vocals are another surprise. Plaintive, weary and drawling at times it is definitely a pleasant sound. He's been places and done things and it shows.
The songs? There's a double albums worth and not a bad one in the bunch. Experiences evoked by his vocal style match perfectly with the lyrics. He's been around and understands how a song works. Each song has a quality that drags you into it. Once familiar with the tunes you anticipate each track as it begins.
I can't praise this album enough.

(For a really good article on Kenny go to Google and enter "Kenny Tudrick Metro Times")
9.) "Handwritten" – Gaslight Anthem. Yeah, I know all the talk about this band being a Springsteen clone (and a Jersey band to boot). Sure the Boss has played with them in the past and some of their previous albums sound like Bruce wannabes but really, this is a band that has worn its influences on its sleeve (and they are not all Springsteen based) but there is an evolution going on here.
"Handwritten" is a merging of all these things into something that is distinctly Gaslight Anthem. This is a solid rock album with tastes of Jersey rock, punk and what-have-you. The songwriting is first rate and the playing is solid. Anticipation of what these guys will do in the future is promising.
All that said, if you're a Springsteen fan you'll love this album.
10.) "Tempest" - Bob Dylan. Yeah, I know his voice is shot and his playing can be sloppy but that isn't the point here. It comes down to what appears on the tracks and here he continues his quest started with "Time Out Of Mind" in 1997. He's exploring, dissecting and reassembling American music like no one else. Be it blues, jazz, rockabilly, folk or country, Bob Dylan is all over it. The music is as authentic sounding as he can make it (check out "Duquense Whistle"). Many times he uses already existing material as the basis of a track ("Early Roman Kings") but adds that Dylan twist be it musical or lyrical. "Tempest" continues his quest mostly successfully with some top drawer material ("Soon After Midnight", "Pay In Blood", "Narrow Way").
Late period Dylan has become quite the journey. We should be thankful that we are along for the ride. Hold on, it may be bumpy at times, but the rewards are many. It's no understatement to say that Dylan is one of the musical touchstones of our era.
Albums from 2012 to look into: "Who's Feeling Young Now?" – Punch Brothers (the future of bluegrass?), "Nocturne" – Wild Nothing (a combo of 80s dream pop and 90s shoegazing), "Lonerism" – Tame Impala (late 60s psych guitars with synths), "I Bet On Sky" – Dinosaur Jr. (he's baaack), "Celebration Day" – Led Zeppelin (the final concert?).
[Check out my site at http://rock-the-good-stuff.blogspot.com. That's where I write about the latest releases that could be contenders for this list]
Larry's Blasts From The Past
1.) "Parachute" – Pretty Things (1970). This is my "go to" album if I can't decide what I want to listen to. It seems to have connected directly to the music pleasure center in my brain.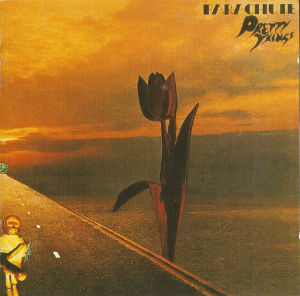 The original Pretty Things were Rolling Stones contemporaries. The guitarist Dick Taylor played in an early version of the Stones. Initially they were heavily into r&b and blues and made a move into a more "psychedelic" sound around 1967. In 1968 they released the first ever rock opera ("P.F Sorrow"). Dick Taylor left shortly after this (followed by the drummer Twink) and the band continued on in the progressive mode with a new drummer and guitarist. Original member Phil May and the bassist Wally Allen took over the writing chores and the result was "Parachute".
The acoustic guitar intro will impress anyone if listened to on a halfway decent sound system. From there you are thrust into a collection of songs that thematically contrast urban living (harder rock) with a rural life (softer, more melodic). LaDeDah. The obvious that pops to mind when listening to this diverse collection of tunes is late-era Beatles. "Parachute" was recorded at Abbey Road with former Beatles engineer Norman Smith producing and Wally Allen's vocals do have a definite John Lennon quality. Ok, a lot of the songs are strung together Abbey Road style. This is where my pleasure center comes into the picture. It all just sounds so damn good (even if it isn't that original). Never could get enough of that late Beatles sound. Guilty pleasure anyone?
And, ahem, it was Rolling Stone's album of the year.
2.) The Early Years - Neil Young & Crazy Horse (1969–1975) Reading Neil Young's autobiography and listening to the two Young & Horse 2012 collaborations fueled a need to go back and listen to when these guys first got together. It's an interesting journey.
While recording his first album, Neil Young hooked up with a band called the Rockets, renamed them Crazy Horse and used them for his second album in 1969 ("Everybody Knows This Is Nowhere"). In contrast to his first effort this album established Young (and Crazy Horse) as a force to be reckoned with. Long jams on "Down By The River" and "Cowgirl In The Sand" became FM staples (and "Cinnamon Girl" didn't hurt either). Young seemed to really connect with guitarist Danny Whitten.
For his next album in 1970 ("After The Gold Rush") Young also used Crazy Horse but not in the same manner as on "Everybody". Nils Lofgren, Greg Reeves, Jack Nitzsche and Steven Stills were also in attendance. Many of the songs leaned in the folk and country direction. "Southern Man" and "When You Dance" utilized Crazy Horse more as on the previous album. Young became a major star by the time of this album (CSN&Y helped this also).
Young went in a new direction in the studio after this (with different sidemen) but did tour extensively with Crazy Horse. This period is well represented on the excellent live recording released in 2006 "Neil Young & Crazy Horse Live At The Fillmore East March 5 & 7 1970". The centerpieces are, of course, "Down By The River" and "Cowgirl In The Sand". These are powerful recordings.
Through all this, Danny Whitten carried a heavy addiction to heroin. Neil tried to add Danny to his touring band behind "Harvest" but during rehearsals had to let him go. In 1972 Danny died of an overdose. Six months later longtime Young & CSNY roadie Bruce Berry (turned onto smack by Whitten) also died. To deal with all this Young gathered what was left of Crazy Horse and some of the others who also worked on "After The Gold Rush" and recorded the album "Tonight's The Night" in 1973. A very uncompromising album, it also featured a Danny Whitten vocal on "Come On Baby Let's Go Downtown." Whether WB rejected the album at the time or Young withdrew it (or a combination of the two), the album wasn't released until 1975 and is today considered a classic.
The reconstituted Crazy Horse reunited with Young in the mid and late 70's with "Zuma" and "Live Rust" but it's this early period with Danny Whitten (and the direct aftermath) that rewards with some close re-listening.
Dr. J's Best 2012 Albums
My opinion on which of these is my favorite album seems to change on a weekly (and sometimes daily) basis, so rather than rank them in an order that I would probably soon be unhappy with, I decided to just put what I thought were the best CDs of 2012 in the alphabetical order of the artists' names.
01. Alabama Shakes – "Boys & Girls". This sounds like Carla Thomas backed by Booker T. & The MGs at the Stax Studio in Memphis in 1967. What a wonderfully soulful debut. The iTunes version of the album has a bonus track called "Heavy Chevy" that also should not be missed.
02. The Allah-La's – "Allah-La's". The Beau Brummels meet The Seeds with a little help from The Byrds and Dick Dale on this impressive debut from LA's hottest retro band, the Allah-La's. This is a solid collection of original songs that have the classic California 60's garage rock guitar sound down cold.
03. Beach Boys – "That's Why God Made The Radio". After years of putting up with a vastly underwhelming Mike Love-led version of the band, Brian Wilson returns to the fold for the Beach Boys' 50th anniversary and writes and produces an album that is actually worthy of their storied legacy. Who would have thought it could still happen?
04. Best Coast – "The Only Place". My favorite summer album of 2012 brings to mind the classic girl group sounds of the 60's without ever sounding dated, even as lead singer Bethany Cosentino perfectly channels her inner Lesley Gore.
05. Black Keys – "El Camino". No duds here; this is a great rock and roll album from start to finish. The Akron duo expanded their sound with superior results on this, their finest and most consistent release by far. They are now alternative rock's most important band.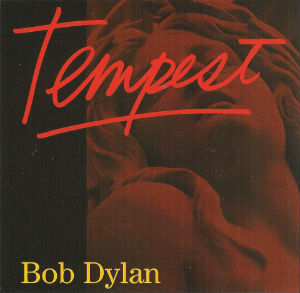 06. Bob Dylan – "Tempest". It's marvelous that Dylan continues to consistently produce albums of this quality at 71. His voice is a little ragged, but his band is top-notch and the tales he spins with his sly delivery continue to captivate. He's a national treasure of the highest order.
07. Bruce Springsteen – "Wrecking Ball". A big musical statement needed to be made going into the 2012 presidential election, and who better to deliver a ringing anthem for the American working class than The Boss. Some songs are a bit folky for my taste, but "We Take Care Of Our Own" and "Land Of Hope And Dreams" stand with anything he's done.
08. Civil Wars – "Barton Hollow" – What gorgeous harmonies; it's the chill-out album of the year! While today's mainstream country music sounds like pseudo rock and roll, this duo reverses the trend and goes back to the genre's original roots in folk music.
09. Dwight Yoakam – "Three Pears". Of all modern country artists, Yoakam has stayed truest to the sound and vision of early heroes like Hank Williams and Buck Owens. Although he has stated that the new songs were heavily influenced by the Beatles, they are subtle and you have to listen carefully to pick them out on his best album in at least a decade.
10. Gaslight Anthem – "Handwritten". Their third album is Gaslight Anthem's major label debut, and it's a tour-de-force of powerful guitar-driven songs by a band that proudly wears it heart on its collective sleeve. These guys are the 21st century's version of The Replacements.
11. Jack White – "Blunderbuss". There doesn't seem to be a great deal of variety on most albums today, even from established artists. Jack White's solo album, however, is full of surprises. There are some great guitar-driven tunes, but he also expands things by bringing in other genres and instrumentation, including keyboards. It's the best album by a Michigan artist in 2012.
12. Justin Townes Earle – "Nothing's Gonna Change The Way You Feel About Me Now". Steve's son scores big time by employing the same silky Memphis soul grooves conjured up by producer Willie Mitchell on Al Green's greatest recordings.
13. Kathleen Edwards – "Voyageur". Edwards' newest album features glossy production values including backup singers and a bigger instrumental sound. The good news is that her heartfelt songs fit as comfortably in this new setting as her earlier material did with minimal backing.
14. Neil Young & Crazy Horse – "Psychedelic Pill". Neil Young is at his best when paired with Crazy Horse, and this is the album we've all been waiting for since 1990's classic "Ragged Glory". It's a nearly 90-minute grunge-fest, featuring just eight songs. The album's killer opener, "Driftin' Back", clocks in at over 27 minutes and is a feast of tuneful guitar crunch.
15. Shoes – "Ignition". Ear candy alert! The Midwest's greatest power pop band returns with their first collection of new material since the early 90's. Fifteen melodic tunes, each running between 3 and 4 minutes, with ringing guitars and great harmonies.
16. Ty Seagall & White Fence – "Hair". If there's a genre out there called psychedelic punk, this album would fit in quite nicely. With demented tributes to Syd's Pink Floyd, T-Rex, Kinks, Move, Who, and Yardbirds, this one-time combination of two different artists brings to mind the long-lost Deviants.
17. War On Drugs – "Slave Ambient". If Bob Dylan had joined the Velvet Underground in 1966, the combination might have sounded something like this. It's a big dose of modern psychedelic rock from Philadelphia, of all places.
Honorable Mention:
Shins – "Port Of Morrow". James Mercer put together a new band lineup for the latest Shins' album; a nice collection of catchy songs featuring one of alternative rock's most distinctive voices.
Wooden Birds – "Two Matchsticks". A terrific all-acoustic album featuring Matt Pond and Leslie Sisson of Matt Pond PA along with main songwriter/singer Kenny Austin.
Bats – "Free All The Monsters". This is a cool folk rock album that sounds very much like Gene Clark of The Byrds singing lead with backing vocals by The Seekers.
2012 Noteworthy Michigan Albums:
Madonna – "MDNA". Not everything works on her new album, but Madonna is not afraid to take chances and she clearly demonstrates on "MDNA" that she still reigns as the queen of dance music.
Tokyo Morose – "Sequence of Steps". The second independently produced album by this young Grand Rapids band is both dark and melodic. They have a sound all their own and a compelling lead vocalist in Erin Lenau.
Kid Rock – "Rebel Soul". This is his best rock and roll album. "Detroit, Michigan" is a tribute to the legends of the Motor City, and "Let's Ride" is a powerful ode to American soldiers serving overseas.
Robert Lee Revue – "City of Smooth Jazz". Original Mysterians Bobby Balderrama and Frank Rodriguez have put together an impressive independently produced smooth jazz project featuring ten melodic new tunes with a pronounced Latin flavor.
Mitch Ryder - "The Promise (a.k.a. Detroit Ain't Dead Yet)". This is the first Mitch Ryder
CD to be released in the U.S. in over two decades. The Don Was production shows that Mitch is still in top form.
Dr. J's Blasts From The Past:
I've been buying music for going on six decades, so I've managed to amass a large number of recordings over those years. It's always fun to rediscover an artist that you haven't listened to in a while, and one that I played a lot in 2012 was Mink DeVille. I had first seen the band and its lead singer Willy DeVille in 1977 at the Royal Oak Music Theater when they were touring the country with Elvis Costello & The Attractions along with Nick Lowe and Rockpile.
Although the band was originally lumped together with a host of New York punk rock bands emanating from CGGB's in the 70's, their music seemed to me to be more closely related to Bruce Springsteen. Both produced music rooted in East Coast Top 40 rock and roll of the early 60's – tales of city streets, warm nights, and stolen kisses; touches of Phil Spector, doo wop, and the romantic Spanish soul heard in the songs of Doc Pomus and on the recordings of Ben E. King and The Drifters. In fact, it was while listening to Springsteen's incredible 2 CD "The Promise", (the 2010 release of the lost sessions for his "Darkness On The Edge of Town" LP), that Willy DeVille and his band came to mind.
I proceeded to dig out their excellent debut LP "Cabretta" as well as the three-song EP of the songs that appeared in the then-controversial 1980 Al Pacino film, Cruising. The other early Mink DeVille albums, "Return To Magenta", "Le Chat Bleu", and "Coup de Grace" all contain wonderful songs and vocal performances, and hearing them again convinced me that Willy DeVille is indeed one of rock and roll's all-time great unsung soul singers.
In 1987, Willy DeVille started recording under his own name. He continued to produced high quality albums including "Victory Mixture", featuring many New Orleans R&B greats, "Backstreets Of Desire", and on the more recent releases, "Crow Jane Alley" and "Pistola". Producer Jack Nitzsche called Willy DeVille the best singer he ever worked with.
Sadly, DeVille died in 2009 of pancreatic cancer, but his impressive recorded legacy lives on – most of it easily available oniTunes.
The biggest thrill for me at the 1999 New Orleans Jazz & Heritage Festival was meeting and spending some quality time with Ernie K-Doe, one of the Big Easy's most colorful entertainers. I started listening again to my collection of his recordings after I had purchased Ben Sandmel's excellent biography, Ernie K-Doe: The R&B Emperor of New Orleans. Sandmel did a masterful job of capturing the essence of one of rock and roll's true originals in his book.
Back in 1999, Lynn-J, myself and our friends had spent one very memorable afternoon with K-Doe and his wife Antoinette at their Mother-In-Law Lounge, located in the crime-ridden Treme neighborhood of New Orleans. We passed several glorious hours drinking beer and playing Ernie's hits on the jukebox with K-Doe singing along on the bar microphone and telling stories about his career. At that time, the area was so dangerous that the door to the bar was always locked – even in daytime. Patrons would only be admitted if they appeared like they were not a threat to rob the place; and the door was locked again after you entered.
Two nights later, we decided to return for K-Doe's scheduled performance at the lounge. Our taxi driver, who looked like former football player and actor Fred "The Hammer" Williamson, said he would only take us to the Mother-In-Law Lounge if we promised him we would call a cab after the show and not, under any circumstances, attempt to walk back to the hotel late at night.
Unfortunately, we couldn't get a cab to come to the Mother-In-Law Lounge after midnight. When he learned of our plight, K-Doe walked outside the bar, (still in his stage outfit with rings on every finger and wearing his shoulder-length black wig), and tried to wave down a cab to take us back to the hotel. I will never forget that sight of him standing outside the bar on Claiborne Avenue, but even Ernie K-Doe could not hail us a ride. Luckily, an off-duty cabbie was at the show and offered to let the eight of us squeeze into his vehicle so he could deliver us safely to our hotel. It would be the last time I would see Ernie K-Doe. He died of cancer a little over two years later in 2001.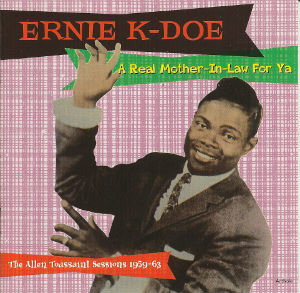 Most people only know Ernie K-Doe for his 1961 # 1 hit, "Mother-In-Law". I had purchased the Minit Records single, backed with the killer "Wanted $10,000.00 Reward", at Lucky's Record Shop in Bay City during my freshman year in high school. It remains one of my all-time favorite 45s, but there is much more to Ernie K-Doe than just his biggest hit. He recorded 13 great singles and one memorable album with producer/songwriter Allen Toussaint from 1959 through 1963 including the classic songs: "Te-Ta-Te-Ta-Ta", "I Cried My Last Tear", "A Certain Girl", "Popeye Joe", "T'aint It the Truth", and "Make You Love Me". In 1970, he would reunite with Toussaint for another highly regarded album called "Here Come the Girls".
My favorite CD of his songs is "Ernie K-Doe: A Real Mother-In Law For Ya". This has 29 songs recorded with Allen Toussaint from 1959-63, and includes 3 alternate takes. The 1970 album and a collection of 24 of K-Doe's greatest recordings from the early 60's, called "Burn! K-Doe! Burn!", can be purchased on iTunes.
Shortly before his death, K-Doe was featured in an independent film shot in New Orleans called Happy Here and Now. It included scenes shot in the Mother-In-Law Lounge and some K-Doe performance footage. He even had a few lines in what sadly turned out to be a less-than-memorable movie. In the scene K-Doe was his typical cocky, jiving self, proclaiming that he had never made a dud record and that his next big hit was just around the corner. The film also captured him regaling two of the characters with one of his favorite boasts: "There are three great stars that I know in the rhythm and blues. That's Ernie K-Doe, James Brown, and Ernie K-Doe". I guess that explains why he was billing himself as the "Emperor of the Universe" during the last years of his life. K-Doe was a unique and much-loved part of the musical history of New Orleans, and the city is much poorer for his passing.