Best Albums of 2015: Two Views
Details

Category: Dr. J's Blog
Published: Wednesday, 02 December 2015 10:09
Written by Gary Johnson
Stop the presses! MRRL's annual listing of the Best of 2015 once again features the informed and unbiased opinions of Mid-Michigan's Dr. J and Metro Detroit's Larry Van Cleve.
Dr. J's Best Albums of the Year (in alphabetical order)
Allison Moorer – "Down To Believing". I find it amazing that Moorer isn't a bigger star on either the Country music or Americana scenes. She's got it all; great voice, talented songwriter and musician, not to mention drop-dead gorgeous. This is her best album since 2006's "Getting Somewhere".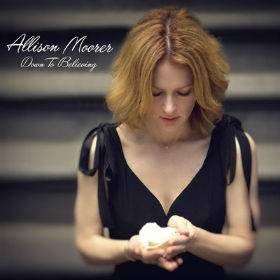 Down To Believing
Bob Dylan – "The Best Of The Cutting Edge 1965-1966". 36 alternate takes, rehearsals, and acoustic versions of songs recorded during the sessions for three of Dylan's most important and creative albums: "Bringing It All Back Home", "Highway 61 Revisited", and "Blonde On Blonde". All of the collections in Dylan's Bootleg Series have been great, but this is the best yet.
Chris Isaak – "First Comes The Night (Deluxe Edition)". Recorded in Nashville, Isaak's latest album might be a tribute to the recordings that Elvis Presley and Roy Orbison made in RCA's famous Studio B in the 60s, but it still sounds current. The Deluxe Edition on iTunes has five extra songs for just $2 more.
Dawes – "All Your Favorite Bands". Dawes is the finest purveyor of the Southern California sound made famous in the 70s by Jackson Browne and The Eagles. Their latest album is filled with great songs that feature memorable lyrics, excellent vocals, and top notch instrumentation. I've been playing this one a lot.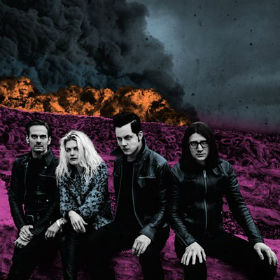 Dodge And Burn
The Dead Weather – "Dodge and Burn". This is the best hard rock album of the year by a wide margin. Although Jack White's vocals are only featured on two songs, his guitar is riveting throughout the album. In addition, lead singer Alison Mosshart is probably the most powerful female vocalist working in the genre, and the band's rhythm section of Dan Fertita and Jack Lawrence is rock solid.
Dwight Yoakam – "Second Hand Heart". Yoakam returns to the big guitar sound of his earlier albums with impressive results. This rocks harder than any of his of his recent releases, and is definitely his best sounding album in at least a decade.
Keith Richards– "Crosseyed Heart". Keith's first solo studio album in 23 years has been worth the wait. It's not only the best of his three solo albums but also the most varied, containing some rockers, old-time country, blues, funk, ballads, reggae, and even a duet among its 15 tracks - a classic collection of songs from a rock icon.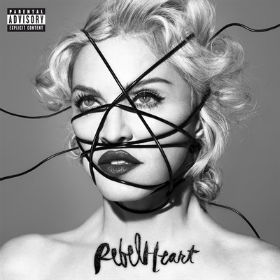 Rebel Heart
Madonna – "Rebel Heart". Madonna's latest is her most diverse and adventurous album since "Ray Of Light". It took a couple of listens to get into her new sound since there is only one track, "Living For Love", that is in the same vein as her past dance floor hits. The new album also contains some terrific ballads. I was impressed with how many of her new songs (at least 12) were included in her spectacular Rebel Heart tour.
The Mantles – "All Odds End". This has been my favorite new album of the past few months. The band is from the Oakland-San Francisco area, but has an East Coast sound reminiscent of the post-John Cale Velvet Underground and the early Talking Heads.
Rocky Votolato – "Hospital Handshakes". Votolato's latest album, which was produced by Chris Walla (formerly of Death Cab For Cutie), includes musicians from a variety of current Seattle bands. It not only sounds great, but also contains a powerful collection of original rocking songs that deal with a variety of somewhat unusual topics like healing from trauma, dealing with depression, and finding true meaning in life.
The Rolling Stones – "Sticky Fingers" (Deluxe 2 CDs). Disc 1 is a remix of one of the band's classic albums, but the big attraction for hardcore fans is Disc 2 which includes alternate versions of five "Sticky Fingers" tracks as well as five live gems recorded at The Roundhouse in 1971.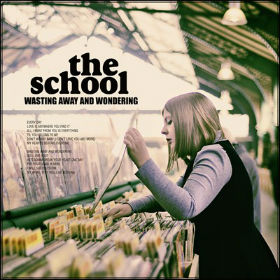 Wasting Away And Wondering
The School – "Wasting Away And Wondering". Lesley Gore lives! This Welsh band is rooted in the glorious American girl group records of the 60s including The Shangri-Las, The Shirelles, The Ronettes and countless others. The group manages to capture the catchiness and innocence of those classic recordings in their original songs without ever sounding like it's an exercise in kitsch or nostalgia.
Tommy Keene – "Laugh In The Dark". Keene's new album is the best power pop guitar album of the year. The five opening songs flow together as well as anything released in the genre, and the album's closer is an excellent tribute to The Beatles' psychedelic era.
Turbo Fruits – "No Control". The Nashville band combines the sounds of 60s garage rock, 70s punk and new wave, and 80s power pop into something all its own. This has been one of my most-played albums of 2015, and I would easily nominate "Don't Change" from the album as my choice for the song of the year.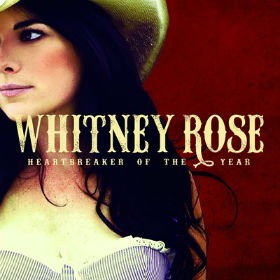 Heartbreaker Of The Year
Whitney Rose – "Heartbreaker Of The Year". Rose's appealing, sex-kitten voice is matched with Raul Malo, lead singer of The Mavericks, who not only produces the album with a 50s-noir sound, but also sings backing vocals and duets with Rose on a nice cover of "Be My Baby". It's a cool sounding album that's a little different from current country releases.
Wilco – "Star Wars". It was a very pleasant surprise when Wilco's latest appeared as a free download. Without really sounding that much like The Beatles, the vibe in "Star Wars" brings to my mind and ears the playful looseness found in many of the songs on the Fab Four's "White Album" and "Let It Be".
Honorable Mention:
Beach House – "Thank Your Lucky Stars". The better of the two albums the duo released this year.
Beach Slang – "The Things We Do To Find People Who Feel Like Us". Guitar band's sound includes a very large helping of The Replacements and a dash of Gaslight Anthem.
Giorgio Moroder – "Déjà Vu". Fun dance album featuring a number of different vocalists, including Kylie Minogue and Sia.
JD McPherson – "Let The Good Times Roll". The album captures the authentic sound of rock and roll, R&B, and rockabilly from the 50s.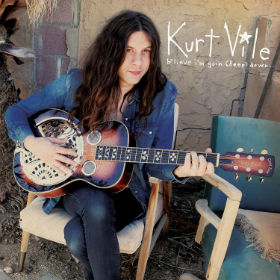 B'lieve I'm Goin' Down
Kurt Vile – "B'lieve I'm Goin' Down". Another laid back and hypnotic album from the guitar whiz.
Matt Pond PA – "The State Of Gold". Indie guitar pop band uses synthesizers for the first time.
Nathaniel Rateliff & The Night Sweats – The band's funky, self-titled debut channels the blue-eyed soul bands of the 60s with 11 original songs.
Steve Earle & The Dukes – "Terraplane". A solid album highlighting Earle's love of Texas blues.
Special Recognition:
The Beatles – "1+". This is an incredible package for fans of The Beatles. The CD is a remixed version of the "1" album, originally released in 2000. The first DVD or Blu-Ray contains the 27 promo videos for the songs on the CD. The second disc has an additional 23 videos, including alternate versions and classic songs, such as "Strawberry Fields Forever", which did not reach # 1.
Best CDs of 2015 by Larry Van Cleve
With the popularity of streaming services on the rise, the ability to actually hear entire albums upon release has greatly enhanced my listening experience. Using Spotify (in combination with several websites specializing in new releases like "AllMusic") I found myself exposed to a wide breadth of rock music I probably wouldn't have heard before. Honestly, being able to listen to the entire album vs. short snippets gives one a much better feel for the work. The debate on streaming goes on concerning sound quality, artist compensation, etc. and truly, most reading this would want to have the music in hand to be able to do with it what they want. When trying to figure out the "best of the year", streaming is a valuable tool though. There's a ton of new music out there. Onward with the list…
1.) "Cross Eyed Heart" – Keith Richards. If ever a solo album by a rock icon felt like a lifetime summation of his influences and creations it's this one. It's all here and it's in that casual groove (the roll over the rock) that encapsulates the rarified air that Keef exists in. This is his world and, yes, you're welcome to drop in. There's a casual off-the-cuff feeling to these tracks. "Let's just drop in the studio and see what happens." That effortless feeling is one that rock star wannabes would kill for. Don't be fooled though, the tracks are solid and I can't wait to hear what he does with them in concert. Essential.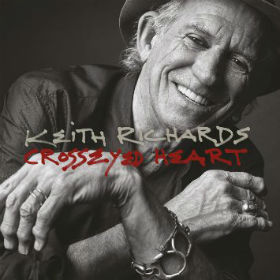 Cross Eyed Heart
2.) "Star Wars" - Wilco. A band that never stands still. On first listen I wondered what the heck was going on. Repeated listening clarified things greatly. This is a good album with solid tunes that I'd love to hear them do live. There are surprises at every turn. Seems as if they had a lot of fun putting this together and there's a loose yet sure-handed feel to the performances. Can't praise this album highly enough.
3.) "No Cities To Love" - Sleater-Kinney. After a ten year hiatus (they never said they were broken up), Sleater Kinney comes back as if they never left. Not that this means "No Cities To Love" is just a retread of their older stuff. All the elements are there with melodic punk tunes, quirky musical changes and in-your-face vocals, yet the sound reflects modern day rock and an evolution of their influential sound. And whoa, do they rock out on this album. If you were a fan before then you'll be very satisfied. If not a fan…well hopefully this will make you go back and hear what you missed. Or not.
4.) "Tomorrow Is My Turn" – Rhiannon Giddens. Solely based on number of plays this is probably my favorite album of the year. Her version of Patsy Cline's "She's Got You" is easily the track of the year. I've yet to not get goose bumps each time I listen to this song (try restraining singing the refrain along with her). While this is the highlight there are multiple similar moments along the way. An exposure to her work with the folky, bluesy, bluegrass group Caroline Chocolate Drops validates some of the song choices. T-Bone Burnett's production is a big plus also. May be my favorite female singer at a time where there are several major contenders.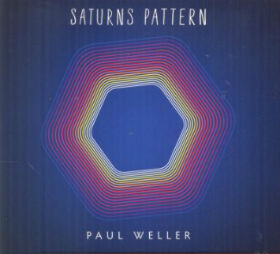 Saturn's Patterns
5.) "Saturn's Patterns" – Paul Weller. Approximately 14 solo albums into his career, the former front man of the Jam and Style Council has brought all his influences to the fore on "Saturn's Patterns". The Who-like rock of the Jam and the soul styling of his other band are there as usual but in a more transitory vein. His previous solo outings seemed to me to lean too much in the Style Council direction. "Saturn's Patterns" takes the best of that direction and combines it with the bombast and pure fun of rock…and that includes the ballads. His best solo effort yet and an encouraging direction for an artist who is scarily talented.
6.) "Policy" – Will Butler. Will is the younger brother (and band mate) of Arcade Fire's Win Butler. That's all well and good but does he have something to say beyond his role in that band? Based on his first solo release I would say a resounding "yes". A bit lighter than the places his other band would go, "Policy" tracks are short and snappy with a distinct knowledge of song craft. The music is varied…soft or rocky when it needs to be and quirky if it feels right. "Policy" is a solid listen and another nod to the future.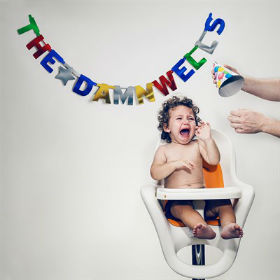 The Damnwells
7.) "The Damnwells" – The Damnwells. Enjoy the Tom Petty, Replacements, Wilco approach to rock? If so give The Damnwells a try. A Brooklyn based band formed in 2001 that went through several iterations, the original group reformed to record this album (including Whiskeytown's drummer Steve Terry, talk about cred). As good as singer/songwriter Alex Dezen is, having the original cast results in an album that really sounds like a band as opposed to a solo effort with backup musicians. Memorable, hooky rock tunes. Great vocals. Give it a try.
8.) "Dodge And Burn" - The Dead Weather. Anything Jack White touches lately seems to possess a particular magic. This, their third album, may be their best. Challenging at times, this is music that sticks with you and may change the way you listen to rock in the future. The Kills Allison Mosshart is the perfect vocalist for this stuff (though Jack White does sing on several tracks) and The Queens of Stone Age guitarist Dean Fertita really stands out. If you're already a fan this will be a real treat. Otherwise, dive in please…head first. ("Boom, boom, boom" indeed.)
9.) "This Is The Sonics" – The Sonics. Ok, 49 years between albums is unusual. Even more unusual, with the original singer, guitarist and sax player, they haven't missed a beat. Back in 1966 in the Northwest these guys released some seminal music on two albums that were way ahead of the curve in defining garage rock. "Psycho" and "The Witch" are tracks that have survived the test of time. Now the Sonics are back and the sound is just as heavy and dirty. Originals and classics are on the menu here and they still can teach the kids about the music. Amazing.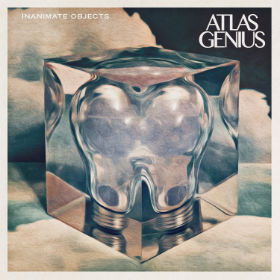 Inanimate Objects
10.) "Inanimate Objects" - Atlas Genius. Synth rock, heavy on the synth and heavy on the rock. Extremely well produced (this album jumps from the speakers) this Aussie band, consisting of two brothers and a friend, should have a future. I'd be surprised if they don't eventually hit the single charts. While the sound is very commercial (is that a bad thing?) there is a sense of continuity in their sophomore album that shows they understand what makes an album something one keeps going back to for repeated listening.
11.) "Moonlight" - Hanni El Khatib. Former skater boy, Hanni's debut album was raw and showed an emerging bluesy, alternative back alley sound. His second album in 2013 was produced by Dan Auerbach and exhibited an expected but not surprising Black Keys influence to his sound that he wore rather well. "Moonlight" continues in the same vein (adding some Jack White like hooks) with a more distinctive sound is coming to the fore. His songwriting has improved quite a bit and his nasty guitar sound keeps one coming back for more. Keep an eye on this guy folks.
12.) "Outsiders"/ "New York Before The War" - Jesse Malin. Mailin is a former member of hard rockers D Generation. Since 2003 he has gone the solo route with more of an emphasis on rootsy ballad rock. Not so much in 2015. After a D Generation reunion he went back in the studio and brought out more of his rock and roll side. "New York Before The War" was released early in 2015, "Outsiders" followed seven months later. "Outsiders" is a bit harder and looser but the other has its moments. Both are worth listening to and Malin is a talent to be reckoned with. He's retained his skillful introspective side but definitely brought out his rock n roll heart.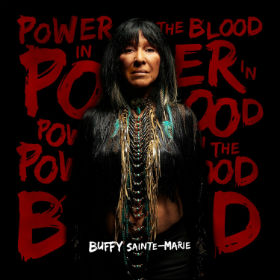 Power In The Blood
13.) "Power In The Blood" – Buffy Sainte-Marie. Not your sixties Buffy. Another album I kept coming back to. "Power In The Blood" is a musically strong release with rocking guitars, heavy percussion plus an inventive electronic perspective. It's also lyrically solid and determined and political. That we could all be so creative, open and committed in our mid-seventies.
14.) "Yours, Dreamily" – The Arcs. This is Black Keys Dan Auerbach's side project. Might take a while to get into but it pays off big time. This band understands psychedelic music in a way that dozens of poseur "psychedelic bands" don't. "Yours, Dreamily" has great tunes and memorable pacing.
Further albums from 2015 to check out:
Alabama Shakes– "Sound And Color". Not quite the impact of their first album but a must for fans. Brittany Howard is a major star.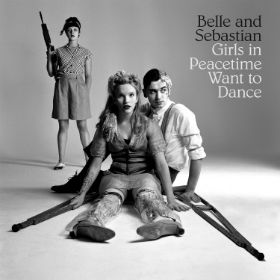 Girls In The Peacetime Want To Dance
Belle & Sebastian – "Girls In Peacetime Want To Dance". Dance indeed, that's exactly what the group does on this album. Imagine that.
Dwight Yoakum – "Second Hand Heart". This is a solid album that covers a lot of musical bases through a Bakersfield filter. "She" has a Keef riff that's as authentic as can be. Great listen. Good guitars.
Low Cut Connie – "Hi Honey". Like being at a live rock n roll party. Connie understands the importance of keyboards in your basic rock n roll band.
Richard Thompson – "Still". Thompson is as strong a singer, writer, guitarist as ever. Probably should have been on the Best Of list above…
*Last Note for 2015: Bob Dylan's "1965-1966 The Cutting Edge" is another in a series of historically important Bootleg Series releases (volume 12). Covers the sessions that resulted in "Bringing It All Back Home", "Highway 61 Revisited" and "Blonde On Blonde"…as influential a trilogy of albums as ever created. There is an 18 disk set that has everything (probably sold out by now) and a 6 disk set that is a bit more reasonable. That set is also distilled into a 2 disk "Best Of" release (which I bought). The one you purchase is up to you but this is a real must for any collector. Some great surprises here…especially the New York sessions for "Blonde On Blonde" (which was eventually recorded in Nashville).