Best Albums Of 2016: Two Views
Details

Category: Dr. J's Blog
Published: Saturday, 17 December 2016 02:59
Written by Gary Johnson
Two music aficionados, with roughly 120 years of rock and roll fandom under our belts, select the past year's best albums/CDs for the 8th consecutive year. This is the first time we've included links to songs from the selected albums. We hope you enjoy them, and we encourage you to support your favorite artists by purchasing their recordings.
Best Albums of 2016 – Gary (Dr. J) Johnson
25. Doug Tuttle – It Calls On Me. I'm a fan of retro albums if they're done well. I was considering three for my 2016 list, including the throwback psychedelic pop rock of Dead Gaze's Easy Travels and the 80's synth pop of Island's Taste album; but I decided that Doug Tuttle's 60's folk rock homage was the best of the bunch. It Calls On Me is a hook-laden album that harkens back to 1965-66; a time when bands like The Searchers, The Byrds, The Turtles, The Beau Brummels, and The Left Banke were mainstays on AM Top 40 radio. Tuttle's original songs are ear candy of the first order and capture the folk rock era perfectly, including its first tentative steps into psychedelia. Listen to "Falling To Believe" at https://www.youtube.com/watch?v=hLAL7C1bCPE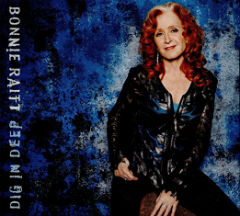 Dig In Deep24. Bonnie Raitt – Dig In Deep. Bonnie Raitt has been releasing quality albums since 1971, and Dig In Deep is no exception. Produced by Raitt and Joe Henry, her new album offers no surprises - just consistently great singing and bottleneck-style guitar play, ably backed by her longtime band. Raitt is fine on the ballads but the highlights are the bluesy rockers like "Unintended Consequence of Love", "Shakin' Shakin' Shakes", "Gypsy In Me", and her sultry cover of the INXS classic "Need You Tonight". Watch a live version of "Need You Tonight" at https://www.youtube.com/watch?v=gxG8WcGM_hc
23. Pretenders – Alone. On this release, The Pretenders is just Chrissie Hynde backed by producer Dan Auerbach and his side-project band, The Arcs. Hynde's previous solo album, Stockholm, embraced a more modern sound, but with the exception of "Holy Commotion", the dancefloor-ready final track, Alone sounds like classic Pretenders with strong rockers ("Alone", "Gotta Wait", and "Never Be Together") along with some interesting ballads ("Let's Get Lost" and "The Man You Are"). Watch a live version of "Alone" at https://www.youtube.com/watch?v=aFhk9csCy04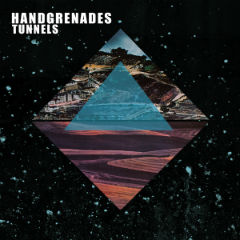 Tunnels22. Handgrenades – Tunnels. The Handgrenades is an impressive young indie-rock band from Detroit. Tunnels exhibits not only excellent songwriting and musicianship but also stellar singing ability, including some great backing vocals. The five-piece Handgrenades have displayed their considerable instrumental chops at several events for the Hell's Half Mile Film & Music Festival, giving me several opportunities to see the band live. The songs on Tunnels are strong from start to finish but personal favorites include "Daily Routine", "Denial", "Suffocating", and the previously released bonus song "Green Eyes". Watch the video for "Daily Routine" at https://www.youtube.com/watch?v=X6UHQa4KLrY
21. Reckless Kelly – Sunset Motel. The band has been around for 20 years, but I only discovered them this year with the release of their latest album. Reckless Kelly remind me instrumentally of the Long Ryders with a lead vocalist that sounds like a young Steve Earle. Sunset Motel has lots of good songs that straddle the line between alt and contemporary country, although daring to write a song about climate change ("Volcano") probably dooms them for getting airplay on most country stations. "How Can You Love Him (You Don't Even Like Him)" has got hit written all over it, as does "Buckaroo" and "Give It Up". Listen to "How Can You Love Him (You Don't Even Like Him)" at https://www.youtube.com/watch?v=ROINUyA24zI
20. Wire – Nocturnal Koreans. It's hard to believe it's been nearly 40 years since Wire unleashed their classic punk rock debut, Pink Flag. Elements of Wire's past remain in the eight songs that make up this 30-minute mini-album, but they have been re-invented with the more modern sound that the band displayed on its two previous releases: 2013's Change Becomes Us and 2015's Wire. Highlights on Nocturnal Koreans include its killer title track, along with "Internal Exile", and "Still". Listen to "Noctural Koreans" at https://www.youtube.com/watch?v=CWyij_m08U0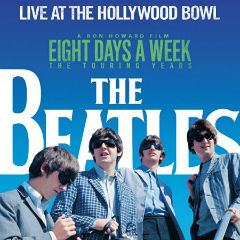 Live At The Hollywood Bowl
19. The Beatles – Live At The Hollywood Bowl. The original vinyl release in 1977 was easily the worst sounding Beatles' album because, with the primitive recording equipment of the day, the band was basically overwhelmed by the screams of the 17,000 fans. George Martin's son, Giles, used a sonic advance called demix technology, along with newly discovered three-track tapes of the concerts, to greatly improve the clarity of the band on the reissue. This along with four bonus songs make Live At The Hollywood Bowl an essential document of The Beatles in concert at the height of Beatlemania. Watch a short promo clip for the album at https://www.youtube.com/watch?v=l8dUWiUboqU
18. Willie Nile – World War Willie. A great example of a cult artist, Willie Nile emerged from the New York late 70's rock scene. Although his recording career was hampered by legal problems in the 80's, he has released eight highly regarded albums since, including his latest World War Willie. A dynamic performer with some serious Keith Richards swagger, Nile combines Springsteen-like anthems ("Forever Wild", "Trouble Down In Diamond Town", and "Runaway Girl"), with social commentary ("Let's All Come Together", and "Citibank Nile") and balls to wall rockers ("Bad Boy", "Hell Yeah", and Lou Reed's "Sweet Jane") on his most engaging album yet. Watch the video for "Forever Wild" at https://www.youtube.com/watch?v=Hd86Lyv9lZ8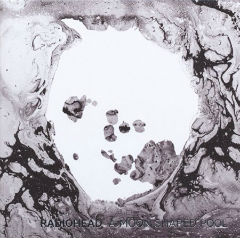 A Moon Shaped Pool
17. Radiohead – A Moon Shaped Pool. When I first head "Burn The Witch" I thought that Radiohead might be returning to the more rock-centered approach of their first two albums. Instead, after that dynamic opening number, A Moon Shaped Pool turns into a beautiful collection of haunting songs and melodies that have an almost trance-like effect on the listener. Many might rate this album much higher, but I find that I have to be in a certain mood to listen and enjoy it. Watch the video for "Burn The Witch" at https://www.youtube.com/watch?v=yI2oS2hoL0k
16. David Bowie – Blackstar. I have been a fan of David Bowie since discovering Hunky Dory in 1971, and I rejoiced with the release of his comeback album, The Next Day, in 2013. The release of Blackstar earlier this year elicited the same kind of excitement only to be followed by the crushing news of his death shortly thereafter. Although I have only the greatest respect for what Bowie achieved on his final album, like the Radiohead's latest release, I find that I have to be in the right mood to enjoy it. How many times I listen to an album plays a large role in where I place it, which may explain why what many will no doubt deem the # 1 album of the year, is listed where it is. Watch the video for "Lazarus" at https://www.youtube.com/watch?v=y-JqH1M4Ya8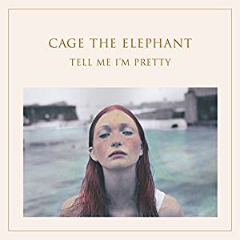 Tell Me I'm Pretty
15. Cage The Elephant – Tell Me I'm Pretty. With Dan Auerbach of the Black Keys producing, Cage The Elephant's new album veers away from the sound of their earlier albums into a more stripped-down, almost 60's-sounding collection of songs. This was my first album purchase of the new year and it has sustained my interest for the past 12 months. The two opening tracks, "Cry Baby" and "Mess Around" pretty much set the stage for what follows on the band's fourth and, in my opinion, best album yet. Other highlights include "Sweetie Little Jean", "Cold Cold Cold" and "Portugese Knife Fight". Watch the video for "Mess Around" at https://www.youtube.com/watch?v=Wl7cF9bwNHE
14. Mudcrutch – 2. The second Mudcrutch album sounds much more like The Heartbreakers than the 2008 debut. Although some of the other band members contributed songs and lead vocals, the highlights on 2 are all Tom Petty's. The album kicks off in fine form with "Trailer" and "Dreams Of Flying", a couple of Petty numbers highlighted by Mike Campbell's sterling lead guitar. 2 never quite musters up that kind of power on the next nine songs, but it's the closest thing out there to another new Tom Petty & The Heartbreakers album. Listen to "Dreams Of Flying" at https://www.youtube.com/watch?v=Bvp8GDffxGI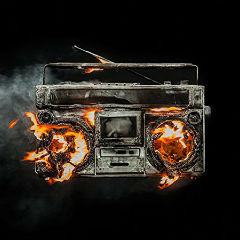 Revolution Radio
13. Green Day – Revolution Radio. Green Day's new album is filled with great hook-filled songs. Am I the only one who finds Billie Joe Armstrong's songwriting comparable to the great material that Pete Townshend churned out for The Who during the 60's and 70's? There is a wealth of strong songs on Revolution Radio including the Who-like opener, "Somewhere Now", several blasts of the band's patented punk rock ("Bang Bang", "Revolution Radio", "Youngblood", and "Too Dumb To Die"), social commentary ("Troubled Times") and a great power ballad ("Outlaws") to boot. Watch the video for "Revolution Radio" at https://www.youtube.com/watch?v=LHPKOy3dtqQ
12. Parquet Courts – Human Performance. Although it received some good reviews, I thought Parquet Courts' previous album, Light Up Gold, lacked memorable songs and was kind of a dud. The songs on Human Performance, however, are much better constructed and do so without losing the band's unusual, minimalist, and angular sound. The Velvet Underground, early Talking Heads, and even Devo come to mind on highlights like "Dust", "Human Performance", "Outside", "One Man No City" and "Berlin Got Blurry". Watch the video for "Berlin Got Blurry" at https://www.youtube.com/watch?v=hv0bBjMc6FY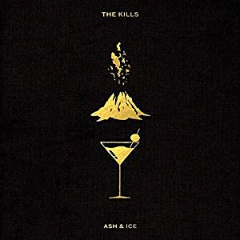 Ash & Ice
11. The Kills – Ash & Ice. It's been five years since the last Kills' album, Blood Pressures and, in the interim, the duo of Alison Mosshart and Jamie Hince have incorporated synthesizers into the mix on Ash & Ice. The slightly newer sound compliments Mosshart's fiery vocals in a big way; and she has emerged as the most dynamic frontwoman in rock over the past few years as the result of her work with both The Kills and Dead Weather. "Doing It To Death", "Bitter Fruit", "Siberian Nights", "Impossible Tracks" and "Whirling Eye" are standout cuts. Watch the video for "Impossible Tracks" at https://www.youtube.com/watch?v=haEqhj76z3I
10. Sturgill Simpson – A Sailor's Guide To Earth. One wouldn't expect to find many surprises on a country music album, but A Sailor's Guide To Earth is full of them. Simpson turns the most conservative of music genres on its ear by incorporating Stax-styled horns, Southern rock, and Seattle grunge, in the form of his cover of Nirvana's "In Bloom", into his own vision of country. One of the most adventurous listens of the year, it deserves to win all kinds of country music awards; but I'm pretty sure it won't. Watch the video for "In Bloom" at https://www.youtube.com/watch?v=NpDYfkymaSE
Paging Mr. Proust
09. The Jayhawks – Paging Mr. Proust. This marks the welcome return of the Gary Louris-led Jayhawks following another split with co-founder Mark Olson in the aftermath of 2011's reunion album, Mockingbird Time. Co-produced by R.E.M.'s Peter Buck, Paging Mr. Proust features more guitar jangle than previous releases as evidenced the album's great opening number, "Quiet Corners & Empty Spaces". Other terrific tracks include "Pretty Roses In Your Hair", "Leaving The Monsters Behind", "Comeback Kids", and "The Dust From Long-Dead Stars". Watch a live performance of "Quiet Corners & Empty Spaces" at https://www.youtube.com/watch?v=ed3Iir6c0Xc
08. Car Seat Headrest – Teens Of Denial. Will Toledo is the driving force behind Car Seat Headrest. Teens Of Denial is his major label debut of new material after producing a host of self-made albums that were released on the internet. It is also Toledo's first album using an actual band and the results are startling. Teens Of Denial is full of left turns with great, guitar-driven songs that are immediately appealing with their often quirky lyrics, delivered in Toledo's laconic vocal style. With his somewhat nerdy appearance, black horn-rimmed glasses, and obvious songwriting talent, it's tempting to call him the new Buddy Holly. Check out "Fill In The Blank", "Destroyed by Hippie Powers", "Drunk Drivers/Killer Whales", "Unforgiving Girl (She's Not An)" and the epic "The Battle Of Costa Concordia". Watch a live performance of "Drunk Drivers/Killer Whales" at https://www.youtube.com/watch?v=EX00R_-Eh0I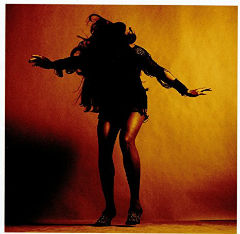 Everything You've Come To Expect
07. The Last Shadow Puppets – Everything You've Come To Expect. This is the second album collaboration between Alex Turner of the Arctic Monkeys and Miles Kane of the Rascals. The strings on Everything You've Come To Expect are very effective, and help give the album a different and more pleasing sound than their debut. The entire album has a cinematic, lounge lizard vibe combined with an almost David Bowie/Roxy Music-like approach to the pop songs that are the duo's forte. Album highlights include "Miracle Aligner", "Sweet Dreams, TN", "Used To Be My Girl", and "The Dream Synopsis". Watch the video for "Miracle Aligner" at https://www.youtube.com/watch?v=VPsyynjHpbY
06. Adult Books – Running From The Blows. This is the first album from Adult Books, a post-punk trio from California. I really liked a couple of songs from their self-titled 2012 EP, but the band's punk rock sound has changed somewhat since. Although they keep their punky edge, Running From The Blows features some keyboards and the songs have taken on a quality that reminds me a little of early New Order, especially on "Casual Wrecks" the album's first cut. Consistently excellent from start to finish, other favorites include "Suburban Girlfriend", Nihilism For Beginners", and "Firewalking". Watch the video for "Suburban Girlfriend" at https://www.youtube.com/watch?v=4XVSSEX5sYg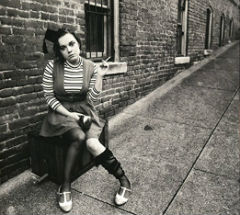 Real
05. Lydia Loveless – Real. Lydia Loveless is currently my favorite female artist. Real is a departure from her previous releases in that it doesn't rock quite as hard and it has a more polished guitar sound. The songs and Lydia's vocals are as great as ever, however, and maybe the more mainstream approach will help give her more much-deserved commercial success. All the songs on the album are strong, but I was most impressed with "Same To You", "Longer", "More Than Ever", and "European". Watch the video for "Longer" at https://www.youtube.com/watch?v=LmnBTd3qcKg
04. Alejandro Escovedo – Burn Something Beautiful. Escovedo's latest album was co-produced by R.E.M.'s Peter Buck, who also co-wrote the songs and played guitar. Although it sounds basically like another great Escovedo record, Buck's involvement gives some added guitar drive that helps make Burn Something Beautiful one of his all-time best releases. I especially liked "Horizontal", "Heartbeat Smile", "Shave the Cat", "Johnny Volume", and "Luna de Miel". Listen to "Shave The Cat" at https://www.youtube.com/watch?v=xcnTOZPHvO4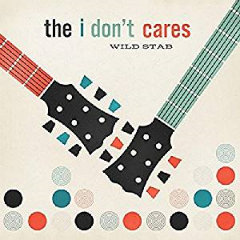 Wild Stab
03. The I Don't Cares – Wild Stab. I remain a major fan of the late great Replacements, but the closest I can now hope to get is a new Paul Westerberg album. The I Don't Cares teams Westerberg with Juliana Hatfield and is reportedly composed of Westerberg demos that he never completed until Hatfield got involved. Westerberg sings lead on the majority of the songs on Wild Stab, but Hatfield's backing vocals add just the right touch of sweetness to bring them truly alive. Highlights abound: "Back", "Wear Me Out Loud", "Outta My System", and the stone classic "King Of America" come immediately to mind. Things conclude with "Hands Together", the kind of unbelievably great song that only Westerberg seems to be able to write. Watch the video for "King of America" at https://www.youtube.com/watch?v=BWb-BcSkq9A
02. The Rolling Stones – Lonesome & Blue. The Stones get lowdown and dirty from start to finish as they return to their roots with their first album of all blues covers. The band is obviously in its element and is raw and vital throughout; and not enough could possibly be said about Mick Jagger on vocals and harp – way beyond outstanding. Every song is a highlight; but I especially loved "Commit A Crime", "I Gotta Go", "Hate To See You Go", and "I Can't Quit You Baby". Watch the video for "Hate To See You Go" at https://www.youtube.com/watch?v=lrIjMzBr-ck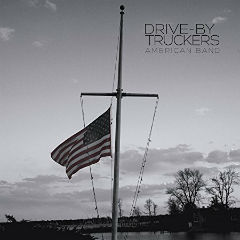 American Band
01. Drive By Truckers – American Band. This is the bravest rock and roll release of 2016. With the country sharply divided in an election year, Drive By Truckers laid it all on the line by putting out an album with songs about their native South that dealt with hot-button issues of the day including racism, gun violence, censorship, and flying the Confederate flag. The fact that their well- written songs express concern rather than pointing fingers seems to have been lost on a good portion of their audience, 25% of which trolled the album with one-star reviews on iTunes. Unfortunately, this narrowmindedness also probably resulted in reduced album sales, radio play, and lower attendance for their Darkened Flags tour despite the fact that American Band contained some of the band's best music. Album highlights include "Ramon Casiano", "Surrender Under Protest", "Filthy And Fried", and "What It Means". Watch a live performance of "Ramon Casiano" at https://www.youtube.com/watch?v=MtoAunyUaFU
Special Mention: Bruce Springsteen – The Ties That Bind The River Collection. This grand-scale look into the creation of Bruce Springsteen's first two-LP set, The River, is the reissue of the year (The box came out in December of 2015 after I had posted my Best of 2015 list, so it belongs in 2016 as far as I'm concerned). The Ties That Bind The River Collection contains a newly remastered version of the original double album along with a bonus disc of outtakes (mostly unreleased), and an early single LP version of The River that contains a couple of songs that were cut from the final release. The set also includes a DVD on the making of the album as well as a full concert DVD with the E Street Band that was filmed in 1980. If that is not enough, there is also a beautiful hard cover photo book featuring images from the era as well as a replica of Springsteen's lyric book for songs from that time frame. An amazing package that is a must for any Springsteen fan.
Best CDs of 2016 by Larry Van Cleve
I sat down with my listing of music that caught my attention in 2016 and did an initial scrubbing to narrow down the top CDs of the year. Usually I can get it down to 20 or so. This year I had over 40 albums I felt should or could make the list. Yeesh. I had to make some difficult choices for what would make the final list or, at the very least, be mentioned in the recommendations section. I got creative with some numbered choices but there's still a ton of music that should have made the cut but didn't. Who said rock is dead? The list is in no particular order (that would be really tough this year).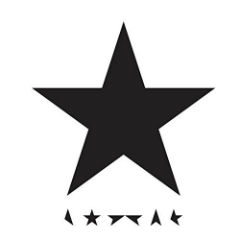 Blackstar
1.) "Blackstar" – David Bowie. It's been a sad year for Rock what with so many major figures passing. In Bowie's case he knew the end was near. This was an opportunity for a summation of his work and his life. The artist comes to the fore here. The combination of music and words are a meaningful amalgam of his vision. As he did his entire career, this album challenges the listener. Dark moods, minor keys, somber paces and memorable, lovely melodies. The foreboding is palpable. An important work. (Also check out Leonard Cohen's "You Want It Darker". Most of what I just wrote fits there also.) Watch the video for "Black Star" at https://www.youtube.com/watch?v=kszLwBaC4Sw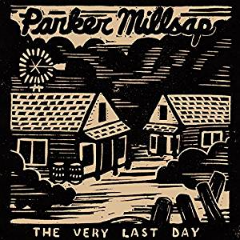 The Very Last Day
2.) "The Very Last Day" - Parker Milsap. The second album from this dawning American musical presence is superb. There is a contagious toe tapping, loping beat throughout drawing on all kinds of influences from rockabilly to country and beyond. We are looking at the early years of a major new star. Get aboard for an enjoyable listen. Watch a live performance of "Heaven Sent" at https://www.youtube.com/watch?v=ytL0OBltspc&list=RDytL0OBltspc
3.) "2" - Mudcrutch. I go through a lot of the year listening to all kinds of new music hoping for memorable possibilities for this list. Then along comes the latest involving Tom Petty and you just throw up your hands. He makes it seem so effortless to produce classic track after classic track. This is a second strong outing with his old group. Mike Campbell's presence is as strong as usual. The first two tracks set up the rest of the affair. Best CD contention here. Listen to "Trailer" at https://www.youtube.com/watch?v=YAWvlDOn0uY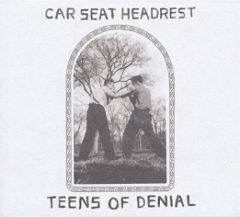 Teens Of Denial4.) "Teens of Denial" – Car Seat Headrest. The Who's "My Generation", Richard Hell's "Blank Generation" and Green Day's "Dookie" all incisively summed up their particular time in the teenage wasteland. "Teens of Denial" does the same for its generation. Will Toledo sums it all up in not such a pretty package (the antithesis of slick). This is indie rock at its very best. Uncompromising and headstrong, the music is shouted at you in an imperfect voice and the guitars are loud and snaky. Surprisingly the pace is not speedy and frantic at all. These are good, solid tracks. Each song tells a particular tale very explicitly with a sense of wit and snicker. No argument calling this CD of the year. Listen to "Fill In The Blank" at https://www.youtube.com/watch?v=s_a1hPwXiWw
5.) "Schmilco" – Wilco. I thought this was the first time in a long while that Wilcos latest release wouldn't appear on my list. Simply produced and performed, I kept listening to it hoping it would catch fire at some point. It took awhile but, wow, these are some great tunes. I got to the point where I anticipated tracks as they were coming up (sure sign of a good album). Very low key but also very addictive…give it a chance folks. Watch the video for "Someone to Lose" at https://www.youtube.com/watch?v=G5RrWCRsSYA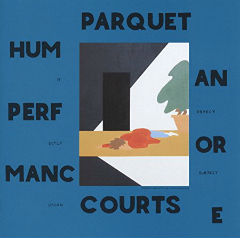 Human Performance6.) "Human Performance" – Parquet Courts. Another album that took a while to get into. Parquet Courts have a deep understanding of taking the elements of what makes up good rock tracks and retool them in very creative (and sometimes maddening) ways. Like Car Seat Headrest this is indie rock at its best. It's also not the easiest CD to get into. Stick with it. Hopefully, at a point it all makes sense and you'll keep coming back. The kind of band that gets a real cult following on one hand but leaves others scratching their heads. Watch the video for "Human Performance" at https://www.youtube.com/watch?v=1D6-8eXlMV4
7.) "California" – Blink-182. Sometimes you just want to sit back and let the classic guitars and melodies wash over you and transport you back to when you didn't give a damn what anybody says…you liked this shit! Entertainment Weekly put it with "The Worst Albums of the Year". That's quite a recommendation. Watch the video for "She's Out Of Heer Mind" at https://www.youtube.com/watch?v=krpm0v_486k
8.) "A Sailor's Guide To The Earth" - Sturgill Simpson. A major release. The breadth of styles and the quality of production, writing and performing are of the highest order. Sure there's a country background here but it goes way beyond that. Simpson is not restrained or restricted to any particular genre. Rewarding. Watch the the video for "Brace For Impact (Live A Little)" at https://www.youtube.com/watch?v=BlOk5wV0DRo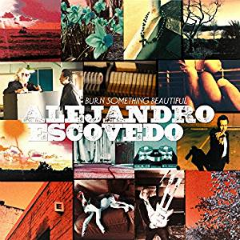 Burn Something Beautiful9.) "Burn Something Beautiful" – Alejandro Escovedo. His best since "Real Animal". Solid rock n' roll throughout. Alejandro has always excelled in the well structured tune. Experience wins out here…not a throwaway track evident. Listen to "Heartbeat Smile" at https://www.youtube.com/watch?v=unFDlvDlGc4
10.) "American Band" - Drive By Truckers. Always a dependable rock n' rolling band, on this their eleventh album, the Truckers take a strong editorial stance. It doesn't get in the way of the quality of these tracks at all. Kind of what we need in these times and you can rock out with it also! Watch the video for "Filthy And Fried" at https://www.youtube.com/watch?v=zAwTRex0vmY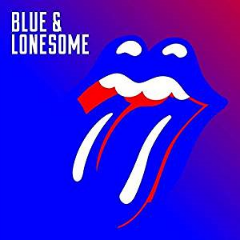 Blue & Lonesome11.) "Blue & Lonesome" - Rolling Stones. Ok, you have the Stones covering deep electric blues tracks from mostly the 50s and early 60s. Jagger shines on vocals and, especially, harmonica. Ron Wood's guitar leads blaze. Throw in Eric Clapton for a few tracks. Essential stuff here folks. Don't get much better. Watch the video for "Ride 'Em On Down' at https://www.youtube.com/watch?v=qEuV82GqQnE
12.) "Tell Me I'm Pretty" - Cage the Elephant. "Alone" – The Pretenders. Why are these two albums sharing the same number? The Black Key's Dan Auerbach is the answer. Producer of both albums, the Auerbach touch and influence is evident. The amazing thing is that the distinctive sound of both bands is not interfered with. Cage the Elephant has been one of the better alt rock bands around and this may be their hookiest work to date. Chrissie Hynde's Pretenders already have a firm place in rock history and this is a welcome addition. Essentially a Hynde solo album, it remains true to the Pretenders sound with some nice modern (and retro) touches. Watch the video for Cage The Elephant's "Trouble" at https://www.youtube.com/watch?v=lA-gGl6qihQ Listen to The Pretenders' "One More Day" at https://www.youtube.com/watch?v=O44S1j0yho8
13.) "Ash and Ice" – The Kills. My favorite rock duo since the late White Stripes. As usual they lean towards the dark side. This album may be their most consistently listenable release. Allison Mosshart, also of Jack White's Dead Weather, fronts the band with her extraordinary vocals on full display. The foreboding guitar music propels the album and the production is flawless. Watch the video for "Doing It To Death" at https://www.youtube.com/watch?v=498zUzNGQxY
14.) "Wolves of Want" – Bent Shapes. Boston indie band with a very distinctive amalgam of Gang of Four jagged guitar rock chocolate with a pop center. Their songs propel along with a certain tuneful joy. A fun, bouncy listen. Listen to "New Starts In Old Dominion" at https://www.youtube.com/watch?v=5cPKkHkQi6g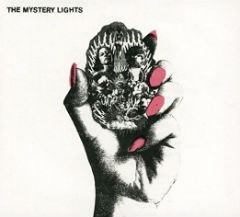 The Mystery Lights
15.) "The Mystery Lights" – The Mystery Lights. Loves me some garage rock. And these guys have it in spades. Sassy vocals, organs, jangling rhythm guitars, fuzzy sitar like leads. Yeah, it's all there so put on your shades, turn on your black light and mirrorball and enjoy. Brooklyn authentic. Watch the video for "Melt" at https://www.youtube.com/watch?v=otzsrUx5IPM
16.) "Yellowcard" – Yellowcard. Tenth and final album from a group known for an evolving balance between pop punk and emo, they have a sound that's distinctively their own. A perfect summation of their career. All the elements that their fans loved are represented here. Fine tunes with the proper crunch and the occasional violin (and other traditional acoustic instrumentation). Worth a listen as tribute. Watch the video for "The Hurt Is Gone" at https://www.youtube.com/watch?v=9m5Br9Jg50A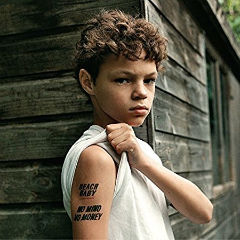 No Mind No Money
17.) "No Mind No Money" – Beach Baby. Meld Brit Rock with Post Punk, add solid song craftsmanship, a ton of hooks and you have this very listenable British band. If they keep this up they could have quite a future. Watch the video for "No Mind No Money" at https://www.youtube.com/watch?v=-umRkWTZcco
18.) Alt Rock Guitar Groups. This year I seemed to run across a number of really good young bands that were very alt rock guitar oriented. A welcome trend methinks. Here's a summation of the best. Give 'em a try.
"Running from the Blows"

– Adult Books. Think of the Smiths crossed with the Fall. Solid debut.

"Arrow Pierce My Heart"

– The Bonnevilles. Northern Ireland duo with heavy fuzz garage roots and interestingly paced tunes.

"Turn to Gold"

– Diarrhea Planet. Horrible name. Four guitars a blazing. Classic rock structure. Hooky.

"Boronia"

– Hockey Dad. Australian rock. Crunchy guitars. Fun tunes. A good time.

"Positive Thinking" – The Pack A.D. Canadian band originally more blues rock now moving into grunge with a modern take. Been around for awhile but if alt head banging is your thing…
Further recommended albums from 2016:
The Jayhawks – "Paging Mr. Proust" A little more rocky and that's ok.
Viola Beach – "Viola Beach" Alas, the British band was killed in a car accident in Sweden in February of 2016. The album contains everything they recorded in the studio. Promising indie Brit Rock sound. Sigh.
Moby – "These Systems Are Failing". Moby's first real strong song oriented album in quite a while. Any yes, it rocks out!
Dion – "New York Is My Home". Yeah, that Dion. Still doing it as well as anyone. Late Dion is very underrated.
Luther Dickenson – "Blues and Ballads (A Folksinger's Songbook) Vol 1 & 2" This is here because Luther is one of my favorite artists and it's hardly left my sound system. Maybe a bit too long, the opening tunes are addictive. Give it a try.
*Last Notes for 2016:
Bob Dylan's "The Real Royal Albert Hall 1966 Concert" is part of the massive release of his entire 1966 acoustic/electric tour box set. Sold separately, it's a stunner. Volume 4 of the Bootleg Series was the mislabeled Royal Albert Hall concert that actually took place in Manchester ("Judas!"). This is the actual concert. The electric set is on fire…especially amazing for 1966. Plus it may be the best sounding of the recorded shows. (NOTE: The set list for each show on this tour was exactly the same for the entire tour.)
The Beatles "Live At the Hollywood Bowl" is a superbly remastered full version of the boys live back in the day. Even if you have the original release, this one sounds so good you've got to get it.