Big Man's Bash 2018
Details

Category: Dr. J's Blog
Published: Monday, 08 January 2018 15:24
Written by Gary Johnson
Clarence Clemons may be gone, but he is certainly not forgotten. The Big Man, who passed away on June 18, 2011, at the age of 69, was the most significant member of Bruce Springsteen's E Street Band. This was made abundantly clear in Springsteen's book, Born To Run, where an entire chapter was devoted to Clemons. Their friendship is also celebrated during each performance of Springsteen on Broadway when a nightly cheer for Clemons rocks the rafters at the Walter Kerr Theatre as Springsteen talks about his late bandmate and performs an acoustic version of "Tenth Avenue Freeze-Out", the song that immortalized the Big Man's importance to the E Street Band.
"Nobody captured my audience's imagination like Clarence," says Springsteen, at the piano during the Broadway show. "Standing side by side, we were badass, on any given night, two of the baddest asses on the planet. Clarence was as figure out of a rock 'n' roll storybook and together we told a story bigger than any of the ones I had written. A story where not only did Scooter and Big Man bust the city in half, but we remade the city of Asbury Park. We remade the city, shaping it into the kind of place where our friendship would not be such a strange thing," Springsteen says. "I still carry that story, the one the Big Man whispered in my ear, and I still carry the Big Man in my heart every night I walk out on stage."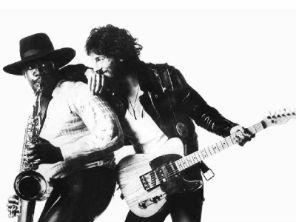 Clarence Clemons and Bruce Springsteen
Springsteen also wrote in his memoir that Clarence Clemons was elemental in his life and that losing him was like losing the rain. The Big Man had always been on the front line to Springsteen's right for over 30 years. Together, their friendship told a story that transcended those he had written in his songs and in his music. It was about the power of rock and roll, and the story about the possibilities of an interracial friendship in a country where racism still raised its ugly head.
Although Clemons was born in Virginia, he found fame in Asbury Park as a member of the E Street Band; and to honor his contributions to the state's musical landscape, his birthday of January 11th is now recognized as Clarence Clemons Day in the state of New Jersey. But that is just one of his honors.
For the last six years, Clemons' memory has been celebrated by the annual Big Man's Bash, a musical event featuring a host of New Jersey bands and artists. This year's gathering on Saturday, January 6th, was at the legendary Stone Pony, located just off the boardwalk in Asbury Park. I was invited to tag along with my friend Dave "G-Man" Gonos, a terrific sax player who Lynn-J and I got to know at his regular Friday night gig with pianist/singer Jim Nuzzo in the lounge at Luciano's Ristorante in Rahway, New Jersey, the city that is our home away from Michigan.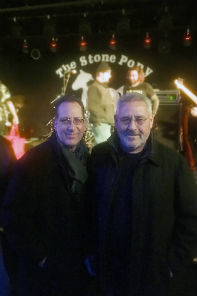 G-Man was playing sax in a set with his old band, JoBonnano & the Godsons of Soul, and I was excited to see him perform on the legendary Stone Pony stage. There was also that slim possibility that Springsteen would show up and play a few surprise numbers. He had done so in the past, but it seemed doubtful this year because he was in the midst of his Broadway run.
Dave "G-Man" Gonos and I at the Big Man's Bash.
I had been in the Stone Pony two years earlier during the summer, but that show, featuring Southside Johnny & the Asbury Jukes and John Cafferty & the Beaver Brown Band, was held on the Pony's outside stage to accommodate the large crowd. This year's Big Man's Bash, however, was inside on the very stage where Bruce Springsteen, Clarence Clemons, and the rest of the E Street Band first made their mark.
Both JoBonanno and Dave "G-Man" Gonos have a long history playing music on and around the Jersey Shore, and both have had the opportunity to share the stage with Springsteen over the years. G-Man was a former member of JoBonanno's band, but now only sits in on special occasions. Because of the large number of acts, performers were limited to four numbers – making the event similar to the old rock and roll revues run by Alan Freed and Dick Clark that featured multiple acts and used to barnstorm around the country in the 50s and 60s.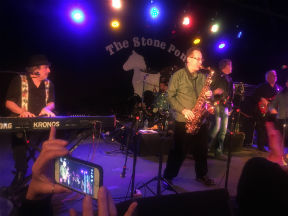 G-Man's solo on "Prove It All Night"
JoBonanno opened with a smoking version of Springsteen's "Prove It All Night", and the Stone Pony crowd roared in recognition and approval after the first few notes. The highlight of the set, however, was their performance of "You're A Friend Of Mine", the Big Man's hit single from 1985 that originally featured a duet with Jackson Browne. JoBonanno invited Clarence's sons, Nick and Jarod, to sing along with him on the number, and the G-Man provided sax work that would have made the Big Man proud.
Watch a video of the performance of "You're A Friend Of Mine" from the 2018 Big Man's Bash: https://www.youtube.com/watch?v=SJPwJd6XrAk
It was all over much too soon, but afterwards G-Man and I shared a couple of beers, and I got to go backstage with him. There was a strong herbal smell in the dressing room that would have probably freaked out Jeff Sessions; but the people back there were cool and friendly, whether they were partaking or not, and everyone was having an enjoyable time. G-Man was passing out copies of his new album, "Sax Machine", which features a tribute to the Big Man, and I got a chance to meet Clarence's son, Nick Clemons, who was hosting this year's event. I also had the opportunity to meet and have my photo taken with the great New Jersey soul singer, J. T. Bowen.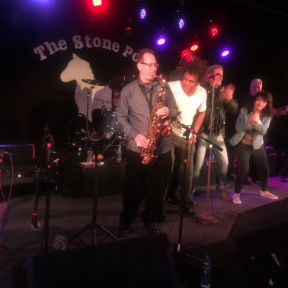 Dave "G-Man" Gonos and Jarod Clemons
Bowen, who was honored during the evening as The Big Man New Jersey Musician of the Year, had been the lead singer for Clemons' solo project, Clarence Clemons & the Red Bank Rockers. The band released a 1983 album called "Rescue" and often played at Big Man's West, a nightclub that Clemons owned during the early 80s in Red Bank, New Jersey.
Bowen gave us a copy of his latest album, "Out Of The Shadows", that had been produced by Marc Ribler, a New Jersey guitarist/songwriter and a friend of G-Man's. We enjoyed listening to J. T.'s album, which has kind of an Otis Redding/Stax/Memphis vibe, on our way home.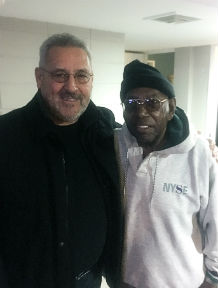 Dr. J and J.T. Bowen
Besides honoring its namesake, the proceeds from the Big Man's Bash went to benefit something that had always been close to Clarence Clemons' heart, an organization that works with kids. "We were looking at some of the public service announcements my father did and one of his first was about bullying," Nick Clemons told reporter Chris Jordan. "Also, we're very impressed with the work the Kickin' It Kids Center is doing." The organization is located in Englishtown, New Jersey, and according to its website, "works with kids to balance self-confidence, to be held accountable for their actions and to positively intervene to help one another."
Putting kids in a positive place was a lifelong pursuit for Clarence Clemons, who was a counselor for troubled children at the New Jersey Training School for Boys in Jamesburg from 1962 to 1970. His first wife, Jacqueline Clemons, Nick's mom, was also a counselor there. She passed away in 2014 at the age of 73.
"It's funny, both of my parents were leaders in their own right," Nick Clemons said. "They led by example. Things that people take for granted today, they did it before – they practiced what they preached."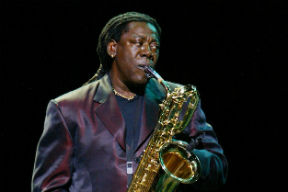 The Big Man
Nick Clemons and a team are preparing to honor the legacy of his father on a site that will soon be a portal for Clarence Clemons' history and Clemons-related products like the upcoming Big Man's Brew and other charity endeavors. "Fans can go there and inquire about the company and the ideas we have to recognize my father's legacy," Clemons told Jordan. "You'll be able to connect with his history, what he did and how he lived."
For all those things and more, January 11th, his birthday, is now Clarence Clemons Day in the state of New Jersey; and each year around that same time there will be a Big Man's Bash to honor his memory with the music he loved.
Sources:
Born To Run by Bruce Springsteen, Simon & Schuster 2016.
Big Man Bash: The Legacy of Clarence Clemons Day by Chris Jordan @ChrisFHJordan, Jan. 5, 2017.
Big Man's Bash: Clarence Clemons from Broadway to Asbury Park by Chris Jordan @ChrisFHJordan, Jan. 4, 2018.