Bobby Rydell - Teen Idol On The Rocks
Details

Category: Dr. J's Blog
Published: Monday, 30 May 2016 14:28
Written by Gary Johnson
Growing up, I was a big fan of Dick Clark and American Bandstand. I've always liked Clark's famous quote: "Music is the soundtrack of your life". From the start of 8th grade all the way through my senior year at St. Joseph High School, Bobby Rydell was an important part of my soundtrack. During that time period, Rydell charted 28 songs on the Billboard Hot 100, 19 of which were Top 40 hits. Smashes like "We Got Love", "Wild One", "Swingin' School", "Volare", "Good Time Baby", and "Forget Him" were constantly played at school dances, house parties, and on the transistor radios tuned to the local AM radio stations that spun the hits of the day.
I saw Bobby Rydell lip-synching his first hit, "Kissin' Time", on Bandstand in the summer of 1959 and then I got a chance to see him sing it live just a few weeks later as one of the opening acts on Dick Clark's Caravan of Stars in September at the Michigan State Fair in Detroit. It was my first rock and roll show, and it included some big names like Freddy Cannon, the Coasters, Jan & Dean, LaVern Baker, Jack Scott, Duane Eddy, and headliner Frankie Avalon. This was Bobby Rydell's first performance with the Caravan of Stars – two weeks before the full tour booked by GAC and headlined by Paul Anka that is mentioned in Rydell's autobiography.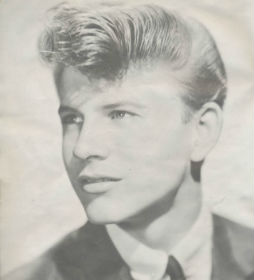 Bobby Rydell 1959
Although my tastes in rock and roll changed over the years and I hadn't listened to a Bobby Rydell record in decades, I was very interested in reading his new autobiography, Teen Idol On The Rocks. Other than the fact that he was from Philadelphia, I knew very little about Rydell's life and career, especially the last 50 years when he was no longer a presence on the music charts. I was also intrigued by the fact that the book was written with Allan Slutsky.
Slutsky, as any true fan of Michigan rock and roll knows, wrote the book Standing in the Shadows of Motown: The Life and Music of Legendary Bassist James Jamerson. It won the Rolling Stone BMI Ralph J. Gleason music book of the year in 1989.
Thirteen years later, inspired by his book, Slutsky produced the sensational documentary Standing in the Shadows Of Motown. The film told the story of the Funk Brothers, the uncredited and largely unheralded studio musicians who performed and recorded the Motown hits from 1959 to 1972, when the label was still based in Detroit. The documentary went on to win the Best Non-Fiction Film Award from both the National Society of Film Critics and the New York Film Critics Circle. In addition, Standing in the Shadows Of Motown won a Grammy Award in 2003 for Best Compilation Soundtrack Recording for a Motion Picture, Television, or Other Visual Media.
The good news is that Rydell and Slutsky have combined their talents to produce an entirely enjoyable account of the life and career one of rock and roll's early teen idols. The book is written in a breezy style that makes it almost seem that Rydell is telling us his story over a leisurely dinner at an Italian restaurant in South Philadelphia.
Another plus factor is the ample use of photos in the autobiography. I also liked that they were inserted in the text so that you can often see a photograph of an important individual as you are reading about them. This is much preferable to the usual practice of having photo sections in the middle of the book.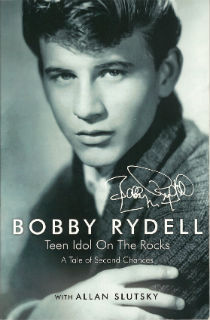 The autobiography begins with Rydell on a hospital gurney being wheeled into a double organ transplant surgery. It then flashes back to his birth and early life in South Philly. His parents lived in the same home as Rydell's grandparents – an arrangement that he continued, despite its drawbacks, after he became a successful singing star. Rydell makes a point of crediting his father for recognizing his son's talent early on, being a positive force in his life, and doing everything in his power to help him break into the entertainment business. Rydell's first big break came when he landed a role on Paul Whiteman's TV Teen Club. It was also the place where his last name was changed from Ridarelli to his stage name of Rydell.
I found the sections dealing with his early interest in drumming, his friends and the street life near his home, and some incidents from his years in Catholic schools to be particularly strong.
I was a little disappointed that there was not a great deal of factual information and minutiae about his teen idol years, however. This is the period that most of the people who grew up during Rydell's heyday are most interested in and, I would think, are the main target audience for his autobiography. It would have been nice to have more behind-the-scenes information about his performing on Bandstand, the Caravan tours, the Steel Pier concerts, as well as the wide variety of television shows he appeared on during the 60s.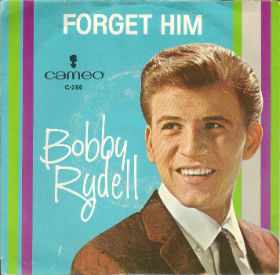 My favorite Bobby Rydell 45
"Forget Him" is my favorite Bobby Rydell recording, but until I read the book I didn't realize that it had been written and produced by England's Tony Hatch under the pseudonym of Mark Anthony. Cameo-Parkway apparently wasn't wild about releasing the record in the states because they would not get the publishing revenues; but when they did, it became Rydell's last big hit.
The following year, Hatch would have a string of successes with songs recorded by Petula Clark in particular, but also the Searchers and the Vogues. Like most of America's teen idols, Rydell was a victim of the British Invasion. It makes you wonder how his recording career might have been changed had Cameo-Parkway encouraged the songwriting relationship with Hatch.
The last half of the book deals with Rydell's post-teen idol years. These included the non-hit stints on the Capitol and Reprise labels and the decades performing mainly in nightclubs, casinos, and on cruise ships. Rydell reveals his difficult relationship with his mother, his first wife's battle with cancer, as well as the struggles with alcohol that nearly destroyed his career.
Bobby Rydell has led a charmed life in many ways. He has had his setbacks but has also had the good fortune to be presented with second chances of which he has taken full advantage. I would recommend picking up a copy of Bobby Rydell – Teen Idol On The Rocks. I think you will find it to be an interesting and informative read.