Crossing Borders with Roy Hockley
Details

Category: Dr. J's Blog
Published: Monday, 09 June 2014 13:14
Written by Gary Johnson
For a ten-year period from 1958 through 1967, the top nightspot in Bay City, Michigan, was Art Narlock's Empire Show Bar. The biggest attraction at the club during the 1960's was a Canadian rock and roll band billed as Roy Hockley and The Chessmen featuring Joie Jaye. Playing six nights per week, the band routinely packed the house at the Show Bar before Narlock's business began to crumble due to financial difficulties that were rumored to be the result of gambling debts caused by heavy losses at Las Vegas casinos.
Narlock, a self-made businessman who had first got involved in show business through his Broadway Show Bar in South Bay City, had discovered a pipeline to top-notch Canadian talent through the Larry Sparks agency in Saginaw, Michigan. Sparks had provided Narlock with the popular Max Falcon in the early 60's, and then really hit the jackpot when he combined Roy Hockley and the Chessmen with Joie Jaye, a solo singer that Sparks also represented. Hockley, the members of his band, and Jaye were all from the Toronto area. Fifty years ago, during those pre-9/11 days, it was much easier for Canadian artists to cross the border and work in the United States than is possible today.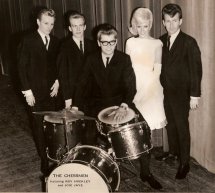 The Chessmen in 1964: (L to R) Eric Jensen, Johnny Lodge, Rusty Gilbert, Joie Jaye, and Roy Hockley.
Leslie William Roy Hockley was born in Southend-On-Sea, Essex, England, on January 28, 1940. The seaside resort town is located on the Thames Estuary about 40 miles from London on the coast of the North Sea. Roy and his mother immigrated to Canada in 1948 on the RMS Aquitania. It was the last voyage of the famous ocean liner that had been in service for 36 years, including both World Wars. His father had come over in 1947, two years after serving in the British military during WW II.
Roy spent the rest of his youth in Canada, living first in the city of Toronto before moving to the suburb of New Toronto. Roy enjoyed growing up in the Toronto area and life there was much easier than it would have been in post-war Britain. Hockley first became interested in music through his father who always had the country music stations on around the house.
His dad had played the accordion and the concertina when Roy was a child in England, but stopped after the family moved to Canada. Roy's mother wanted Roy to play the accordion but he gravitated to the guitar because he shared his father's love of Hank Williams, Lefty Frizzell, and Porter Wagoner.
Hockley first got serious about music at the age of 13. He was self-taught on the guitar, and although he didn't consider himself a great musician, he loved to sing. Hockley first performed in public at the age of 15 in a talent show in high school; and by the next year he started appearing as a solo artist on country music shows in Canada, singing and playing guitar with the house bands.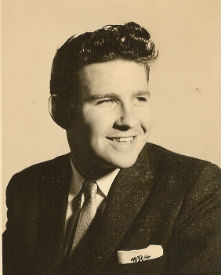 Roy Hockley 1957
It wasn't long before he discovered that he could make better money playing music than having a regular job. Back in the 1950's, a young man could get work as a performer without having an agent or manager. An important early step in Hockley's professional career involved singing at three or four Toronto movie houses on Saturdays where they would show films and also have live entertainment. Roy could make $4 for every theatre he played. Hockley would typically do two songs and then be driven to another theatre where he would also perform between the features. If there was time, he would continue on to a third or fourth theatre. That was big money back in the day when compared to the 25 cents an hour he was making as a carry-out and bagger at a grocery store.
After Hockley graduated from high school, he started attending what was commonly called a tech school in Canada, where trades like auto mechanics and welding were taught. Since Roy didn't have a great deal of interest in those subjects, he set up a meeting with his parents at which he expressed his desire to pursue a career in music instead. His parents had saved $5,000 for his post-high school education but they were wise enough to give him a choice. Either he could take the money now and put it into his music, or he could take it and continue to go to school and learn a trade. Hockley took a couple of days to think it over, and decided to cast his fate with music. He then used the money his parents had saved to buy a blonde Gibson cut-away guitar, an amplifier, and a microphone and stage clothes.
Starting out as a solo act in 1956, Hockley would do the country hits of the day and then some Elvis Presley tunes. Roy still considered himself a country music artist when he got his first big break. He had developed a name locally and began playing at Toronto's famed Palace Pier, a huge concert hall that regularly booked the top country music artists of the day. One of the biggest acts he played with was the Everly Brothers. He got to meet brothers Don and Phil as well as many of the other country music stars. They often gave him tips as to who to go see in order to advance his career.
That's how Roy got booked on the Johnny Cash tour. Cash was appearing at the Palace Pier and about to do a Canadian tour. He had just had a big hit with "Ballad Of A Teenage Queen", and he was looking for an opening act. Cash told Hockley that he had to have a group to go on tour, so Roy put his first band together and named them the Westeen Brothers.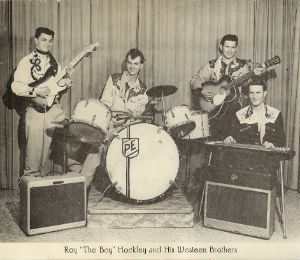 Hockley (2nd from R) with Westeen Bros.
Roy knew some of the guys in the band but had never played with them before the tour. Billed as Roy "The Boy" Hockley and The Westeen Brothers, the line-up included Phil "Little Caesar" Exton on drums, Billy Hokow on steel guitar, Dave Newberry on lead guitar, while Roy played rhythm. The band members had met doing country TV shows in Canada sponsored by a soup company. Roy was 17 at the time. Since he was not yet 18, he had to get written papers to perform in clubs/bars where alcohol was sold.
The Westeen Brothers got a baptism of fire as Cash's opening act. They soon learned that you had to have thick skin to be an opener because halfway through your set the audience was yelling for the star performer. Roy said sometimes they booed, and sometimes they threw things at the stage. Although some of the gigs were rough, Johnny Cash was impressed enough that he asked them to come back to the U.S. with him and continue the tour, but the band's work papers didn't come through in time so they missed out.
It was easy for Canadian artists to work in the U.S. at this time. To apply to get a U.S. work permit, the band had to go to Immigration and Naturalization office on the Canadian side of the border. The applications had to come from a sponsor in the United States. The sponsor was responsible for anything the artist did after crossing the border, and most of the time sponsors would be the booking agents. If the Canadian artist already had a signed paper from their sponsor, the Immigration and Naturalization authorities would check out the sponsor to make sure he was legitimate. It took about two weeks to get the original, but once that was done they could be renewed with a phone call from your sponsor. These permits did not cost anything back in the 50's and 60's.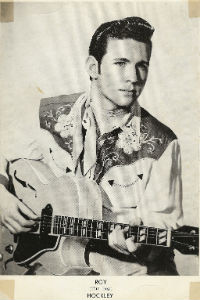 Roy "The Boy"
Once an entertainer had his work permit, it was easy to cross the border back in the day. A picture I.D. was not required. According to Hockley, the bar and night club owners never checked for papers, and because there was more work in the U.S. than in Canada for rock and roll bands, quite a few played in the United States.
Ronnie Hawkins and his backing band, The Hawks, were probably the most famous of these. After leaving Hawkins, the Hawks backed Bob Dylan on his first tour featuring electronic instruments, and, after changing their name to The Band, became Hall of Fame recording artists in their own right.
The only time Roy Hockley had a serious problem at the border was when he was 17-years-old. Although the officials were somewhat lenient, there were rules that had to be followed. When a musician crossed the border, he had to declare the instruments and equipment he was carrying. The border officials would make out a declaration form and the musician would simply show it when he returned to prove he had not purchased the items while out of the country.
Hockley was late for a show in Buffalo, NY, and didn't bother to tell the border guard about his guitar and amp in the trunk of his car. When he returned at 3:00 AM he was stopped and asked if he had anything to declare. After he was required to open his trunk, his guitar and amp were confiscated because he didn't have the required declaration form. When he objected to his instruments being confiscated, Hockley was confined overnight in a cell at the border. The next morning he had to call the music store in Toronto to verify that his equipment was purchased in Canada before he could be released.
Despite missing out on the Johnny Cash tour when it returned to the United States, the Westeen Brothers stayed together for three years, eventually changing their name to Roy Hockley and the Chessmen and changing over to rockabilly and then full-time rock and roll. The band did no professional recordings; but a pair of duets featuring Hockley and Dave Newberry doing Everly Brothers' hits on a Canadian TV show has been preserved on vinyl.
The band played regularly in Toronto at the Brass Rail, the Zansabar, and other places on the strip. That's where they first met Ronnie Hawkins and The Hawks. They were playing just down the street at a club called Le Coq D'or. Roy Hockley and The Chessmen also traveled to gigs in Hamilton, Ontario, and to Quebec for dates in Montreal and Quebec City where they had to learn enough French to announce the songs in both languages.
At the end of three years, drummer Phil Exton was the only holdover from the Westeens, but he was soon replaced by Rusty Gilbert. By this time, Hockley was on his way to turning the Chessmen into what he called "show band". The concept was to play a combination of rock and roll, pop, country, and even comedy skits that combined costume changes with sets where patrons danced.
The band first tried out this new approach at McVan's Nite Club and Show Bar in Buffalo, New York. They did three dance sets and two floor shows nightly with showgirls from New York City, an M.C./comedian, along with featured dancers and singers.
The Chessmen were signed as a rock and roll ba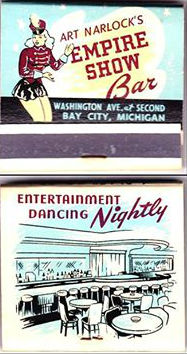 nd, however, when they started playing at Art Narlock's Show Bar in Bay City. They got the gig through their first agent, Larry Sparks Enterprises out of Saginaw. Sparks was also representing a female singer named Joie Jaye. He booked the Chessmen for two weeks at the Show Bar but they had to take on Joie as part of the deal. The band had never worked with a girl singer before. The five of them rehearsed for a couple of days and then played their two-week engagement. They were so popular that they were booked regularly at the Show Bar for the next few years.
Art Narlock had established himself as the kingpin of Bay City's entertainment scene by the early 1960's. He had purchased the vacant lot between First and Second Streets at the north end of Washington Avenue in 1942. He broke ground on what was to become his Empire entertainment complex in 1946.
\The first to open was Narlock Lanes, the largest bowling alley in Bay City, featuring 24 lanes and a small grille. It was followed by the Empire Theatre – the biggest movie house in town which opened in 1948. By the end of the next decade Narlock had expanded to add a two story structure containing the Empire Steak House and an upstairs banquet room seating 400 people that he named the Sky Room.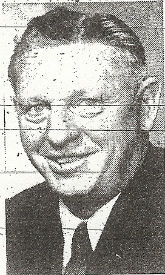 Art Narlock.
Narlock also had dreams of turning the Empire Show Bar into a venue that presented Las Vegas-styled entertainment. It was at this point that he started flying out to Las Vegas to scout possible acts for the Show Bar and, while there, reportedly started to rack up a sizeable gambling debt to the kind of people one does not want to owe money to.
Joie Jaye was born in Oshawa, Ontario, located about 30 miles east of Toronto in 1942. She grew up singing in church with her mother. They were part of a trio that performed gospel music. Her first solo experience was singing pop music in an underground club in Kitchener, Ontario, roughly 60 miles west of Toronto in a band called Larry Lee & The Leisures. She later sang with Junior Danko, the older brother of Rick Danko of The Band. It was Junior Danko who connected Joie with Larry Sparks. She was like a daughter to Sparks, and Joie lived with Sparks and his wife and daughter, Mickey, in Saginaw while performing in Bay City.
Brenda Lee was an early influence. A little later on Joie performed songs from other powerful female singers including Aretha Franklin's "Respect" and "Running Out Of Fools", as well as hits from The Supremes and Dusty Springfield. Earlier in 1963, Sparks had placed her in another band that was performing in Drayton Plains, just northwest of Pontiac, Michigan. Joie Jaye had been performing with them for about 8 months before Sparks found her a better fit with Roy Hockley and The Chessmen.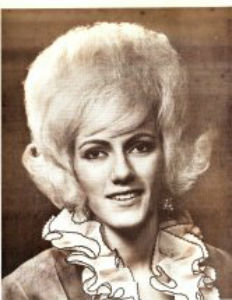 Joie Jaye 1960's
Billed as Roy Hockley and the Chessmen featuring Joie Jaye, the band was an immediate hit in Bay City. When Art Narlock extended their stay at the Show Bar, it caused a disruption with the other bands in the circuit that now had to be booked around them. Although they enjoyed the steady gig, the only person they didn't get along with in Bay City was Show Bar owner Art Narlock. In a recent interview, Hockley described him as "not the nicest guy to work for" and even referred to him as a "swindler".
The band was in the Local 149 musician's union out of Toronto, so Narlock had to pay the band a certain wage. Hockley claimed that Narlock did that reluctantly. There was also a union steward who used to come to Bay City every payday to collect the dues. The band was paid $900 to start, split among five; and that was raised to $1,100 for six-days a week. The Show Bar was closed on Sundays. Roy recalled that Narlock would cash the band's check on pay night and then give him the cash so that he could split it up with the band. He claimed that he always had to recount with Narlock. Roy said it was always short $20 to $100 dollars. Narlock would always make it up, but you had to count it or lose it.
The band had a regular circuit, playing usually for two weeks and then moving on to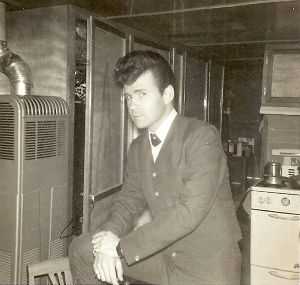 Hockley in Bay City apartmentanother bar for a two-week engagement and so on. Their circuit was from Fargo, ND to Clearwater, FL and everywhere in between including Dearborn MI, Indianapolis, IN, Toledo and Cincinnati OH, Bowling Green, KY, Minneapolis – St. Paul, MN, and Milwaukee, WI.
If they played at a hotel, they were given rooms there. When playing in Bay City, the band stayed in apartments in town – one was a large home on N. Van Buren Street with four apartments – Joie lived in Saginaw with the family of their agent Larry Sparks (a.k.a. Sparky).
Although Roy Hockley and the Chessmen made no major label recordings, the band did record 14 songs at the Art Schiell Recording Studio located in the back room of Schiell's home on Raymond Street on Bay City's West Side. The existing vinyl LP contains a variety of material that displays the group's evolution into a show band. The recording contains a duet with Roy and Joie on the Everlys'"Let It Be Me", Joie's version of Cilla Black's "You're My World", a little country with "Just Out Of Reach" (Of My Two Empty Arms)", rock and roll with "High Blood Pressure", oldies like "Goody Goody" and "Without Love (There Is Nothing)", show tunes like "A Foggy Day (In London Town)", and blues with "I've Got My Mojo Working".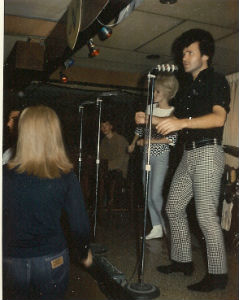 Joie and Roy at Northway Bar
During the three years or so that the band played in Bay City, Sparks Enterprises also got them regular summer gigs at the Argonaut and the Northway Bar in Houghton Lake. The Northway was a combination bowling alley and night club with a large dance floor. It has since burned down, but they played the Northway for at least three years from 1964-66.
Larry Sparks kept the band working steadily and kept their work permits up to date. His daughter Mickey was married to Chessmen drummer Rusty Gilbert. Hockley recalls Sparks as a very nice man to work for, and that he and his wife often invited the band over to their home for dinner. But when Larry Sparks passed away unexpectedly, it seemed to signal a change in fortune for Roy Hockley and the Chessmen.
The first blow was the death of Johnny Lodge, the band's organ player, who was killed in an auto accident. The band was celebrating his birthday at the Show Bar. His girlfriend Brenda Lebourdais drove a Volkswagen, but for some reason she took his keys to Lodge's Buick and left. He had been drinking a lot but decided to drive her Volkswagen home. He was killed near the intersection of Salzburg and S. Euclid in Bay City in the early morning hours on his way to Saginaw.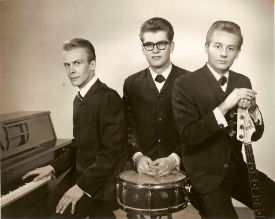 (L to R) Johnny Lodge, Rusty Gilbert, and Eric Jensen of the Chessmen.
After Larry Sparks died, they worked for some other booking agencies that didn't do nearly as good a job. The band was playing in Fargo, ND, and their work permits were about to run out. They called their new agent in Cleveland, and he told them he had taken care of everything – at that time a work permit was good for 90 days. It was winter in Fargo when their papers ran out and the new ones didn't arrive.
A few days later, the band was taken off the stage by F.B.I agents, escorted to the border, and deported for not having up-to-date work permits. Luckily, Joie Jaye was not with the band at the time as she had to go back to Canada because of a family emergency. There was no fine or imprisonment, but the F.B.I. informed them that there would be severe penalties if they tried to re-enter the U.S. without updated papers.
According to Hockley, the end of their involvement with Art Narlock and the Empire Show Bar was the result of a construction company out of Detroit that was working in Bay City and would often come to the Show Bar after work. They raved about the band to their boss, Louie Dettorre, who had rumored Mafia ties and was described by Hockley as "the biggest gangster in Detroit at that time".
Dettorre came to a show, liked what he saw, and told Hockley that the band was going to come to Detroit and play at a new club he was opening there. When Hockley explained that they were already booked at the Show Bar, Dettorre told him "not to worry about the contract". It's entirely possible that Dettorre was also in town to put the squeeze on Art Narlock over his gambling debts, and this was his way of showing him who was really in charge.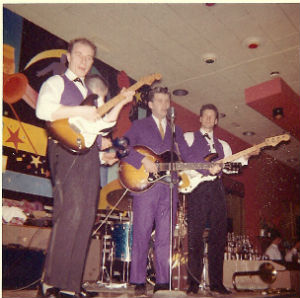 Performing at the Empire Show Bar
The next weekend, one of Dettorre's construction crew came to the Show Bar with an envelope containing $2,000 and the message from Louie that he was serious about having the band come and work for him. Once Dettorre finished remodeling The Playhouse, located on Livernois and 8 Mile, the Chessmen went there. The band's association with Narlock ended for good after they signed with Dettorre and cut their engagement at the Show Bar short.
Joie started out performing at The Playhouse with the band. Louie arranged for her to be taken to one of Detroit's fashionable stores, and he bought her five evening gowns with the trademark long gloves that she liked to wear. In a recent interview, Joie said that she remembers Louie Detorre well. She recalled that Louie's guys liked her and were very protective. The Playhouse was located near Baker's Keyboard Lounge and Joie had the opportunity to jam with B.B. King when he was playing at Baker's.
She was appearing at the Playhouse in Detroit when a member of Mitch Ryder's band discovered her there and took her to Toledo, OH, to audition for the Big Beats, Trini Lopez's former backing band who were looking for a female singer for a gig in Las Vegas. Joie passed the audition on the spot, then went back to Detroit and packed her bags.
Unfortunately, Joie left without giving notice to either Roy or Louie Dettorre. Roy said he was called up into the office after the next show and was threatened – "that if he had anything to do with her leaving, he was a dead man". Hockley says he doesn't blame Joie for taking the job in Vegas, but the way she went about it got the band in trouble.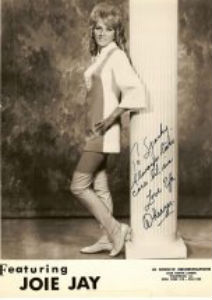 Joie 1970's
In a recent interview, Joie Jaye said she performed regularly with the Big Beats for the next twelve years. The Big Beats, who were based in Dallas, played all around the country, and were featured in Las Vegas, Reno, and Lake Tahoe. She returned to Bay City during times off from the Big Beats and performed at Mike Revette's Black Hawk Lounge, located at the foot of the old Third Street Bridge.
The Big Beats even helped Joie put together her next band, The Funk Family, which was composed of studio musicians from Los Angeles and other parts of the country. She also performed on Ronnie Prophet's television show which was # 1 in Canada in the 70's. Prophet was a popular country music performer in Canada as was his wife, Glory-Anne Carriere. Returning once again to Michigan, Joie played with the Dynamic Incredibles, a band played that gigged regularly in Flint.
Joie later appeared with her new band, Saddle Tramp, in the Bay City area. She opened the Saddle Horn nightclub, and also appeared regularly at Madame Shelly's, Washington After Dark, the Sabre Room, and the Lion's Den in Bay City during the 1980's.
Joie and her husband, former Bay Cityan Jerry Christensen, moved to Branson, Missouri, in 1990. She started specializing in gospel music in Branson, Missouri, in 2004. The pastor in her church is Gary McSpadden, a former member of the Gaither Trio and the New Gaither Vocal Band. She currently does a gospel show at Treasure Lake once a month along with singing at various churches and weddings.
Joie says her voice is still strong. She currently lives in Rockaway Beach near Branson. Sadly, Joie's husband passed away in 2014 following a battle with cancer. She has kept in contact with Mrs. Hockley, Roy's mother, over the years. Joie still loves Bay City and is happy to hear that the city is finally taking steps to acknowledge Madonna in some official way.
The Chessmen came to an end after Roy developed nodes on his vocal chords. He was told by his doctor that he might not be able to sing again after the surgery. That didn't happen, but he did lose his ability to sing in falsetto. Looking back, Hockley says that he came back a little too soon, but he had developed a name stage name (Sabastian Shane) and put together a new five-piece band (The Sinners), and they weren't making any money with him sitting at home.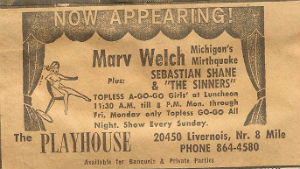 Shortly after Sabastian Shane and The Sinners opened at The Playhouse, there was a shooting at the the club while the band was onstage. It resulted in the death of a man who tried to make a move on one of the wives or girlfriends of Louie's gangster buddies. Hockley remembers that the club was destroyed in an explosion and fire just three or four days after the band completed its gig, and that Louie Dettorre died shortly thereafter.
Roy also got his first recording contract as Sabastian Shane. He signed with the Lucky Eleven label out of Flint. The label owner's family had made a lot of money in elevators (Otis Elevators). During the 1960's, Lucky Eleven had enjoyed success with a series of recordings by Terry Knight & The Pack, and had also had local hits with The Bossmen, and The Fabulous Pack after Knight had left the group.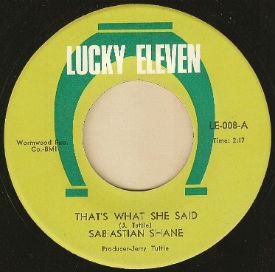 That's What She Said 45
Hockley waxed two singles for Lucky Eleven as Sabastian Shane. "Hey Everybody" b/w "That's What She Said" and then "Your Money Then Your Clothes b/w Love Button". Roy recorded with Jerry Tuttle in Nashville. Unfortunately, neither of the Sabastian Shane records got much airplay in Michigan.
"Your Money Then Your Clothes" was supposed to be the B-side of his second 45. The song was popular in the South but didn't chart nationally. Strangely enough, it was picked up by several black radio stations which apparently thought Sabastian was a black artist because of his stage name and the fact that the recording was done in a James Brown style.
In coming up with his new stage name, Hockley was inspired to use name "Shane" from one of his favorite films, the 50's movie Western starring Alan Ladd. He was going to go with just the single name until he saw the TV sitcom Family Affair starring Sebastian Cabot and incorporated it as his first name, purposely changing the "e" in Sebastian to "a".
After Roy recorded the Lucky Eleven 45s in Nashville, he got involved in the Toys For Tots tour and played at the original Ryman Auditorium. He shared the stage with B.J. Thomas, Billy Joe Royal, Bobby Goldsboro, and Percy Sledge, who had just released "When A Man Loves A Woman". All of the performing artists were backed by the Nashville Brass.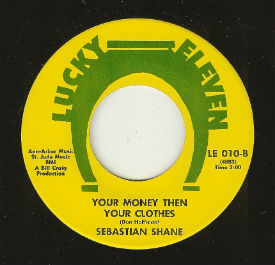 Following the tour, Hockley had his own Saturday morning television show called Sound Format with Sabastian Shane. The short-lived series was aimed at teenagers and was broadcast out of Bowling Green, Kentucky.
Hockley returned to Bay City to perform as Sabastian Shane and The Sinns at the end of the 1960's. By this time, Art Narlock was in financial trouble and his entire Empire complex was up for sale. The Show Bar was a shadow of its former glory and the hot entertainment spots in town were now the Sand Bar, located on the middle grounds on the Saginaw River and run by Bernie Ploechl, and the Sabre Room, located inside Bay Lanes on Euclid Avenue and run by Jack Bullis. It was a great time for live music in the Bay City area and Sabastian Shane and The Sinns were a popular attraction wherever they were booked.
During this period it was still easy to get work permits, and in 1965 Hockley got his alien residence card, commonly known as his green card. This meant that he was still a Canadian citizen but was subject to all the laws, rules, regulations, and taxes that applied in the U.S. Hockley had his green card until 1993 when he became a U.S. citizen.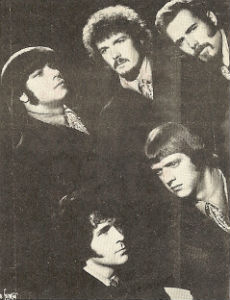 Publicity photo for Sabastian Shane and The Sinns.
Problems at the border would sometimes arise after the band returned to Canada for vacation and then had to re-enter the United States. Because they were a rock and roll band with longer hair, they would often be pulled in and searched at border crossings. One border story Hockley shared involved his sax player Joe Ceffilo. Ceffilo's last name was somewhat similar to a man on the Ten Most Wanted List in Canada, but he looked nothing like him.
Nevertheless, the band members were strip-searched and the van torn apart during a four-hour ordeal that the border authorities called "a case of mistaken identity". It seems more likely, judging from the flimsy evidence, that the long-haired rock and rollers were being "taught a little lesson" at the border.
In 1976, Hockley decided to retire from the music business. After 21 years on the road the business had changed. He had played as Sabastian Shane for a longer time than he had with the Chessmen. But too many musicians were into alcohol and drugs, and it had got to the point where when he didn't partake, he was treated as an outcast. He never thought he would ever quit music because it was the only thing he ever wanted to do. Hockley had seen the high price paid by several musicians because of their involvement with booze and drugs, however, and he felt he was faced with the choice of joining them in the drug scene or getting out of music.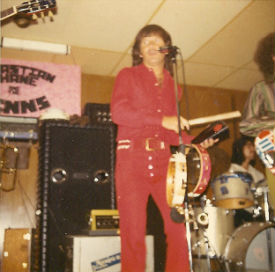 Sabastian Shane at the Northway Bar
Fortunately, he had met enough people during his career to enable him to get a job and make the transition from music into regular work. He started working for a cement company, pouring cement. Hockley then got a job as a maintenance manager at a facility for severely handicapped and special needs children in Mt. Clemens. Roy stayed for four years at the facility.
He wanted to come back to the Bay City area after a painful divorce, and he found a government job with the Mid-Michigan Community Action agency. He worked on a crew at weatherizing and fixing up homes of elderly, handicapped, or low income families. He moved from foreman to government inspector at the agency, and worked there for five years.
After the agency decided to go with private contractors, Roy studied and got his builders license. He then formed Star Builders and worked in the construction business with the agency for the next 30 years. He retired when his mother fell and broke her hip. He married his current wife, Nancy, in 1984.
During the 80's, Hockley made a brief musical comeback with brothers Sam and Dave Garcia. They played at Uncle Dunkle's, located in the Eastland Lanes in Essexville, and at the Ace Of Clubs on Bay Road, north of Saginaw. After the band broke up, Hockley hung up his rock and roll shoes for the last time.
Roy hasn't seen Joie Jaye in many years, but Joie still communicates with his mother in letters and cards. Hockley stopped playing guitar after his mother's fall. He still has a number of instruments around the house in case someone stops by, and his wife also plays and writes music. Roy lives in Linwood and Nancy in Pinconing. Roy is the full-time caretaker for both his and Nancy's mother, and Roy's mother recently celebrated her 100th birthday. Mrs. Hockley loves to go to the casino in Standish. She is still very sharp, but needs a walker to get around. Roy said that once in a while someone will recognize him from his days performing in Bay City in the 60's and 70's – mostly at the casino.
Although Hockley is no longer a Canadian citizen, his mother still is. She is only allowed to stay in the U.S. for a certain amount of time, so Roy has to drive her back to Canada four times per year for short visits of at least 48 hrs. Mrs. Hockley also has to maintain a Canadian address. Those requirements must be met so that she can return to the U.S. If she didn't, Mrs. Hockley would lose all her Canadian health care benefits which are considerably better than those in the U.S.
As a result, Roy Hockley is still crossing the border on a regular basis, but these days even a driver's license and photo ID are not enough. In our post-9/11 world, a valid passport is now required to travel from Michigan into Canada and back. It kind of makes you yearn for those innocent days of the 1960's.
Postscript: Sadly, both Mrs. Hockley and Roy have passed away since this article was written. Roy Hockley had requested that there be no formal funeral memorial or showing after his death. He wanted his fans and acquaintances to remember him as he was when he was one of the area's top entertainers.