Elvis: In The Beginning...
Details

Category: Dr. J's Blog
Published: Sunday, 23 March 2014 17:16
Written by Gary Johnson
On July 5, 2014, rock and roll music celebrated its 60th birthday. Why was that date selected as the birth of rock and roll? Most rock music historians would undoubtedly claim that the much-disputed first rock and roll song was recorded well before that date.
The reason is Elvis Presley. It was on that day in July that Presley, along with guitarist Scotty Moore, bassist Bill Black and Sun Records owner Sam Phillips, recorded "That's All Right" in Memphis. This event turned out to be the "big bang" of rock and roll and hailed the emergence of the artist who would define this new genre of music like no other.
It was his voice that grabbed you right off the bat. Was he white or black? It was an important distinction in pre-Civil Rights era Memphis in 1954, but it was difficult to tell. He had a unique sound, of that there was no doubt. When he first appeared at the Sun Studios the previous summer, he was interviewed by Sam Phillips' assistant, Marion Keisker who asked him, "What kind of singer are you?' Elvis replied, "I sing all kinds." She said, "Who do you sound like?" He said, "I don't sound like nobody."
Elvis Sun Records
Presley's seemingly improbable self-description turned out to be closer to the truth than anyone could have possibly imagined. His voice is easily the most recognizable and representative of rock and roll among all the great artists who have recorded in the genre over the past six decades.
Then there's the visual element. Watching Elvis perform on early television programs like the Dorsey brothers' Stage Show, along with appearances on shows hosted by Milton Berle, Steve Allen, and Ed Sullivan, one is impressed by the power and playful sexuality of his live performances captured in those back and white images. No rock and roll artist has been able to top them - not the Beatles, Rolling Stones, Michael Jackson, Madonna, James Brown, or Bruce Springsteen. They remained unsurpassed, and they are as powerful in 2014 as they were in 1956.
In recent years, it has become fashionable in some quarters to claim that Elvis became rich and famous by stealing the black man's music. Nothing could be further from the truth. All one has to do is to listen closely to Presley's Sun recordings to see that his music was a combination of many influences. Country music is just as important as R&B in those early Sun sides. Then throw in his interest in both white and black gospel groups, rural folk music, along with the pop hits of the day, and you have the basic ingredients of his music.
Elvis was a song interpreter, not a songwriter. It's in his interpretations where his true greatness lies. He had the uncanny ability to cover a song in such a way as to make it his own. No easy task when improving upon original recordings by Ray Charles, Carl Perkins, Lloyd Price, Big Mama Thornton, Big Joe Turner, as well as groups like Clyde McPhatter & The Drifters and the Ink Spots.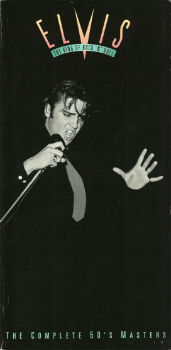 "The King of Rock 'n' Roll" box set
Unfortunately, Presley's golden era of the 1950's was ended by his induction into the U.S. Army. After his discharge, Elvis' manager, Col. Tom Parker, made sure that he no longer performed live and locked him into a seemingly unending parade of weak Hollywood musicals with tacky soundtracks. Elvis' recordings from the 1960's and 1970's would only match his 50's output on very rare occasions
Luckily, RCA put together a great box set in 1992 called "Elvis: The King Of Rock'N' Roll – The Complete 50's Masters". This has all the studio masters of his work on both Sun and RCA during the 1950's. It was the first Elvis box set put out by RCA and it remains the best by far.
When the Rock and Roll Trio (John Len, Ron Witucki, and I) decided to discuss Elvis in the 50's at our latest meeting, we used the "Elvis: The King Of Rock'N' Roll" box as our common ground when coming up with his Top 30 songs from the 50's. After writing this, I decided that 30 songs just weren't enough when dealing with Presley's most important recording period, so the last 20 on the list below are all mine.
01. "Jailhouse Rock" – Scotty Moore's guitar and D. J. Fontana's big drum beats kick off the most badass of all Elvis singles. No one has ever been able to touch Presley's vocal on this, one of Jerry Leiber and Mike Stoller's most memorable songs.
"Jailhouse Rock"
02. "Don't Be Cruel" – The perfect merger of Elvis' Sun rockabilly and the straight rock and roll of his RCA 50's recordings. His playful sexuality is on full display on this, his biggest single of the decade.
03. "Hound Dog" – The flipside of rock and roll's greatest two-sided hit single takes Big Mama Thornton's country blues and transforms it into a rock and roll classic. "Hound Dog" b/w "Don't Be Cruel" spent 10 weeks at # 1 in 1956.
04. "One Night" – The released version cleans up the lyrics of Smiley Lewis' original, but Elvis also recorded a version with the original lyrics that is on the box set. Both versions are great, but the "clean" version might be a little more powerful.
05. "Too Much" – Elvis' rocking follow-up to "Love Me Tender" spent three weeks at # 1 in early 1957. "Too Much" was originally recorded by a Memphis artist named Bernard Hardison. Elvis flubbed a lyric when performing "Too Much" on his third Ed Sullivan appearance.
06. "Heartbreak Hotel" – his first # 1 hit for RCA in early 1956 was a big departure from his Sun singles. It spent 8 weeks at the top of the charts. Songwriters Mae Axton and Tommy Durden penned the song after reading a news article about a suicide and a note that read "I walk a lonely street."
07. "Love Me" – Another classic song written by Leiber and Stoller, the original version was recorded by Willie and Ruth in 1954. "Love Me" reached # 2 in early 1957 as part of the four-song EP "Elvis, Vol. 1" after Presley performed it on his second Ed Sullivan appearance.
08. "I Was The One" – This great doo-wop styled ballad was the flipside of "Heartbreak Hotel". "I Was The One" reached #19 on the Hot 100 in 1956. This was one of Elvis' favorite recordings.
09. "All Shook Up" – Elvis' third-biggest single was written by Otis Blackwell. As with "Don't Be Cruel", Blackwell also gave half of his songwriting credit to Elvis. The song's main beat is Elvis slapping the back of his guitar. "All Shook Up" was a popular 50's catchphrase, and it spent 9 weeks at # 1 in 1957.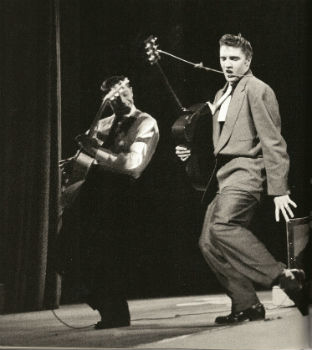 Scotty Moore and Elvis 1956
10. "I Beg Of You" – The Jordanaires provide some very memorable backing to Elvis' rocking flipside to "Don't" from early 1958. "I Beg of You" peaked at # 8 of the Hot 100.
11. "Mystery Train" – Sam Phillips called this the greatest recording that Elvis Presley made at Sun Records, and rightly so. The original version was done by Little Junior's Blue Flames in 1953 on Sun, but Elvis' version tops it by far.
12. "That's All Right" – The song that started it all was originally recorded in 1946 by bluesman Arthur "Big Boy' Crudup. Presley's version was an early example of what became commonly known as rockabilly.
13. "(Now And Then There's) A Fool Such As I" – Elvis' first big hit of 1959 was a cover of Hank Snow's country hit from 1953. Great backing vocals from the Jordanaires and some distinctive rhythm guitar from Chet Atkins help make this one special.
14. "Is It So Strange" – It was written by country music star Faron Young who had toured on several early shows with Elvis. The song had potential for a hit single but ended up being released in 1957 on the "Just For You" four-song EP.
15. "Lawdy Miss Clawdy" – An excellent example of how Elvis could take a classic song by another artist and make it his very own via his unique interpretive skills. Lloyd Price's original was recorded in New Orleans in 1952 with Fats Domino on piano. Shorty Long plays the keyboards on Presley's dynamic cover, first issued on the "Elvis Presley" EP in 1956.
16. "Don't" – One of Elvis' greatest ballads was written specifically for him by Leiber and Stoller in 1958. Featuring a bare bones arrangement and an incredibly sincere vocal performance, "Don't" perfectly fit the teenage mood of 1958 when it spent 5 weeks at # 1.
17. "Trying To Get To You" – This was the last completed master recorded by Elvis at Sun before his contract was sold to RCA by Sam Phillips. It's safe to assume his cover of the Eagles' "Trying To Get To You" would have been one side of his 6th single at Sun. The master instead was sold to RCA along with Elvis and appeared on his first album for his new company in 1956.

18. "Treat Me Nice" – Elvis loved this Leber and Stoller song that ended up as the flipside to "Jailhouse Rock". Only Elvis could convincingly deliver a line like "When I walk through that door – Baby, be polite. You're gonna make me sore – If you don't greet me right. Never kiss me once, kiss me twice. Treat me nice."
19. "(Let Me Be Your) Teddy Bear" – Picking up on Elvis' fondness for teddy bears, this Karl Mann/ Bernie Lowe tune became a featured song and lead single for Elvis' first color film, Loving You, in 1957. The song also became his 6th biggest single, spending 7 weeks at # 1.
20. "I Want You, I Need You, I Love You" – Elvis first performed his follow-up # 1 hit to "Heartbreak Hotel" on The Steve Allen Show in July of 1956. It was during the same appearance that Allen had him perform "Hound Dog" to a basset hound while wearing a tuxedo.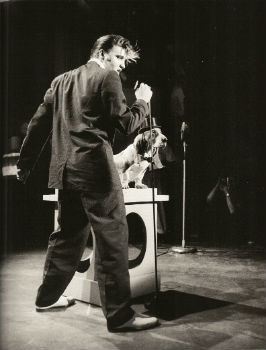 Elvis on The Steve Allen Show
21. "Anyway You Want Me" – Another of Elvis' top 50's ballads was the flipside of "Love Me Tender". Co-written by Aaron Schoeder and Clyde Otis, it reached # 20 in late 1956.
22. "Hard Headed Woman" – Elvis was facing the draft as he tried to complete the soundtrack for King Creole. The sessions opened with "Hard Headed Woman". It written by Claude DeMetrius and boasted a catchy, horn-driven arrangement that captured the spirit of New Orleans. The song spent 2 weeks at # 1 in the summer of 1958.
23. "Money Honey" – "Money Honey" was a song that Elvis and his band had been performing live for over a year before his first RCA session in January of 1956. The original had been done by Clyde McPhatter & The Drifters in 1953, but Elvis completely recast it as a classic slice of 50's rockabilly.
24. "Mean Woman Blues" – Roy Orbison covered this song for a hit in 1963, but that version doesn't even come close to Elvis' original 1957 recording of the Claude DeMetrius song. It was used in Loving You in the scene where Elvis performs it in a cafe and then gets into his first movie fistfight.
25. "Baby Let's Play House" – One of Elvis' greatest Sun recordings, from his hiccupping vocals to Bill Black's slapping bass, and Scotty Moore's driving rhythm guitar. John Lennon loved this song and would quote the lyric "I'd rather see you dead, little girl, than to be with another man" a decade later. This would be the only one of his Sun singles that Elvis performed on television.
26. "Love Me Tender" – With a melody based on a Civil War-era folk tune called "Aura Lee", the widespread appeal of the tender ballad would cause producers to change the title of Elvis' debut movie. "Love Me Tender" would spend 5 weeks at # 1 in late 1956.
27. "Blue Suede Shoes" – Early in 1956, some folks at RCA thought they might have signed the wrong artist after Carl Perkins' "Blue Suede Shoes" started up the charts. Elvis covered it at his second RCA session, and his version rocked harder than Perkins'. Elvis performed the song on some of his early television appearances, but did not want to cut into his friend's hit by releasing it as a single. RCA did release it as part of a four-song "Elvis Presley" EP in 1956, however, and it reached # 20.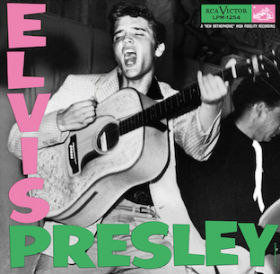 The first RCA album 1956
28. "Good Rockin' Tonight" – Elvis' second Sun single was a rockabilly version of the Wynonie Harris R&B hit from 1948 that captured the total rhythm feel that Sam Phillips was looking for. The flipside was a rockabilly workout on the old Dean Martin hit, "I Don't Care If The Sun Don't Shine".
29. "Ain't That Loving You Baby" – Recorded during Elvis' last RCA session in June 1958 before he shipped out to Germany, this classic song, co-written by Clyde Otis and Ivory Joe Hunter, remained in the can during the time Elvis was overseas. It wasn't released as a single until the fall of 1964 when it reached # 16 as the flipside to "Ask Me".
30. "That's When Your Heartaches Begin" – The Ink Spots original version from 1941 was topped by Elvis and the Jordanaires as the flipside to "All Shook Up" in 1957. Elvis shines on the song's recitation.
31. "My Baby Left Me" – D. J. Fontana's drumming stands out on this outstanding cover of
Arthur Crudup's "My Baby Left Me". Issued as the flipside to "I Want You, I Need You, I Love You", Elvis' band employs a groove similar to that on "Mystery Train". It charted at # 31 in 1956 but should have been much higher.
32. "(You're So Square) Baby I Don't Care" - This cool Leiber and Stoller track from Jailhouse Rock was a leftover from the film's original recording session in New York. When Bill Black had trouble recording the song's bubbly opening on his new electric bass, Elvis picked it up and played it on the finished take.
33. "I'm Left, You're Right, She's Gone" – Written by Stan Kesler, a young guitarist who had been hanging around Sun, the song was first recorded as a slow blues. Not satisfied, Sam Phillips brought in teenage drummer Jimmy Lott to provide percussion for the first time on one of Elvis' recordings. The resulting final take was more country-influenced and the perfect flipside for the rocking "Baby Let's Play House" in 1955.
34. "Blue Moon" – This was one of Elvis' most unusual recordings at Sun, and was done a month after he recorded "That's All Right". Elvis employs a falsetto for the only time in his career as he transformed the pop classic into an eerie 16-bar blues. It was a fascinating mix of musical styles, but Sam Phillips did not consider it for a single. This version appeared on "Elvis Presley", his RCA debut album, and it charted at # 55 on the Hot 100 in 1956 as part of a 4-song EP from the album.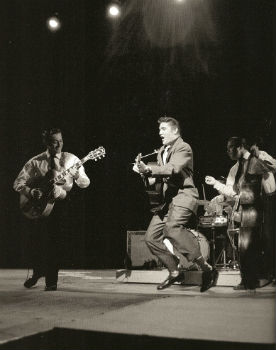 Scotty Moore, Elvis, Bill Black
35. "Milkcow Blues Boogie" – What a classic! Elvis starts the song as a slow blues before halting the proceedings and telling the band that it doesn't move him. He then exhorts Scotty and Bill with "Let's get real, real gone for a change" and blasts into a double-time reading of the song. It's hard to believe that airplay in the South was limited because DJs thought it sounded "too black".
36. "I Got A Woman" – Elvis and his band completely transformed Ray Charles' gospel-based "I Got A Woman" into a driving rockabilly song for Elvis' first RCA album. This was a staple of his live shows throughout 1955 and 1956. Elvis reprised the song's big ending on the lightweight "Rock-A-Hula Baby" in 1961.
37. "Trouble" – This was one of the cool Leiber-Stoller songs from the King Creole soundtrack. Elvis was a great blues singer, and "Trouble" was a Muddy Waters-style stop-time blues with a classic opening lyric. "If you're looking for trouble, you've come to the right place" was perfect for the rebellious Danny Fisher character that Elvis portrayed in the film.
38. "Big Hunk O' Love" – Neither Scotty Moore nor Bill Black played on Elvis' last 1958 Nashville session before shipping out to Germany. With Chet Atkins and Hank "Sugarfoot" Garland on guitars, Elvis cranked out one of his hardest-driving and sexiest singles; " "I ain't greedy baby – all I want is all you've got." "Big Hunk O' Love" was Elvis' last # 1 single of the 50's.
39. "Santa Claus Is Back In Town" – Elvis recorded several traditional holiday tunes for his first Christmas album, but leave it to Leiber and Stoller to come up with something more to Presley's taste. "Santa Claus Is Back In Town" is a low-down blues with some double entendre humor that set it apart from anything else on the album. "Hang up your pretty stocking and turn off the lights, Santa Claus is coming down your chimney tonight". Yes indeed!
40. "Blue Moon Of Kentucky" - For the flipside of his first Sun single, Elvis converted the waltz tempo of Bill Monroe's classic bluegrass number into something completely new, resembling R&B but with a distinct country influence. Its pairing with "That's All Right" represented the true birth of rockabilly.
41. "Party" – Jessie Mae Robinson's "Party" was the first song recorded for the Loving You soundtrack, and its lyrics were a good match for the movie's storyline which was loosely based on Elvis' life. "Some people like to rock. Some people like to roll. But movin' and a-groovin' gonna satisfy my soul. Let's have a party!" Wanda Jackson, Elvis' former girlfriend, covered it for a Top 40 hit in 1960.
42. "Shake, Rattle And Roll" – Recorded at Elvis' second RCA session in early 1956, the released version of "Shake, Rattle And Roll" deleted the somewhat suggestive line from the Big Joe Turner original; "You're wearing them dresses, the sun come shining through", and also a cool piano solo by Shorty Long. I give the nod to the unreleased version available on the "King Of Rock'N' Roll" box set.
43. "(There'll Be) Peace In The Valley (For Me)" – Elvis' performance of "Peace In the Valley" during his final Ed Sullivan appearance may have been a conscious attempt to improve his image, but it sprang from his lifelong, fundamental love of church music. Originally a country hit for Red Foley in 1951, Elvis's version charted at # 25 in the spring of 1957 as part of his "Peace In The Valley" four-gospel song EP.
44. "I Forgot To Remember To Forget" – Co-written by Stan Kesler and Charlie Feathers, it became Elvis' first # 1 country music hit after he signed with RCA. The company repressed the original Sun single and started promoting it heavily to start getting a return on its $35,000 investment.
45. "So Glad You're Mine" – Recorded at the same session as "My Baby Left Me", Elvis covered yet another Arthur Crudup blues number. The song is driven by Shorty Long's piano, Scotty Moore's guitar and a great bluesy vocal by Elvis. "So Glad You're Mine" appeared on his 2nd RCA LP, "Elvis", released in the fall of 1956.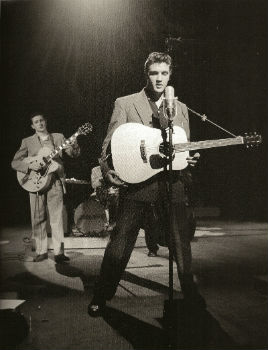 46. "Ready Teddy" – Elvis covered Little Richard three times. The best of the bunch was "Ready Teddy", the original b-side of Little Richard's hit "Rip It Up". Elvis' version of "Ready Teddy" not only rocked harder than Little Richard's, but Elvis also performed it live on his first appearance on the Ed Sullivan Show in 1956.
47. "Doncha' Think It's Time" – Elvis reportedly did 48 takes of "Doncha' Think It's Time" in a February 1958 session with the Army hanging over his head. Although he didn't quite get what he was looking for, it's an interesting failure, reaching # 15. It was superior to "Wear My Ring Around Your Neck", recorded at the same time and issued as the a-side of the single.
48. "I Got Stung" – Recorded while on furlough, Elvis completed "I Got Stung" in his Army uniform between 2:00 a.m. and 5:00 a.m. on June 10, 1958. Featuring Floyd Cramer on piano and Hank Garland on guitar, it was Elvis Presley's last recording of the 1950's. Released as the b-side of "One Night", it peaked at # 8 in the fall of 1958.
49. "Got A Lot O' Livin' To Do" – Written especially for Elvis and the Loving You film, this rocker features a terrific vocal performance. It was used during the film's final performance sequence and featured glimpses of Elvis' parents, Gladys and Vernon, who were used as extras in the audience.
50. "Anyplace Is Paradise" – Recorded at the same session as "Too Much" in the fall of 1956, "Any Place Is Paradise" is the kind of jaunty, upbeat, blues number that Elvis always excelled at. The song appeared on his second RCA album, "Elvis", released in the fall of 1956.