Guy Mitchell Was Second Only To Elvis In 1956
Details

Category: Dr. J's Blog
Published: Wednesday, 05 October 2011 00:10
Written by Gary Johnson
Guy Mitchell's name does not come immediately to mind when you think about Michigan rock and roll. But the popular singer had more # 1 hit singles during the first decade of rock and roll than a host of early Michigan Rock and Roll Legends inductees including Bill Haley And His Comets, Jackie Wilson, Del Shannon, The Marvelettes, Jack Scott, Hank Ballard & The Midnighters, and Mary Wells.
Mitchell was born Albert Cernik in Detroit, Michigan, on February 27, 1927, the son of Yugoslavian immigrants. After his family had moved to California in 1938, young Cernik successfully auditioned for Warner Brothers who looked at him as a possible child star. After that failed to materialize, his family moved to San Francisco, and Cernik began singing on Dude Martin's country music radio program.
After serving two years in the U.S. Navy, Cernik was hired to sing in Carmen Cavallaro's big band and made his first recordings in 1947. He then moved to New York, and won as a singer on the Arthur Godfrey Talent Scouts radio program in 1949.
His success on Godfrey's show brought him to the attention of Mitch Miller, who was in charge of talent at Columbia Records. Cernik signed with the label in 1950, and he changed his name to Guy Mitchell on Miller's urging.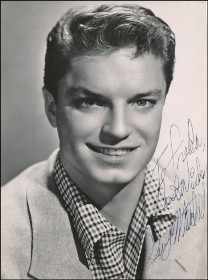 Guy Mitchell
The big band era was ending at the dawn of the 50's and the rage was now directed toward solo singers like Perry Como, Rosemary Clooney, Teresa Brewer, and Eddie Fisher. Mitchell got his first big hits on Columbia with two novelty songs that had been turned down by Frank Sinatra, "My Heart Cries For You" and "The Roving Kind". From that point on, Guy Mitchell became a fixture on the pop charts of the pre-rock and roll era.
Mitchell's success as a recording artist resulted in starring roles in two Hollywood movies; a 3-D musical titled Those Redheads From Seattle in 1953, and Red Garters in 1954.
Like future rock and roll stars Buddy Holly and Del Shannon, Mitchell was even more popular in England than in the United States. In 1952, he sold out a two-week engagement at the London Palladium in less than 24 hours. Two years later, he was invited to sing for Queen Elizabeth II at the Royal Command Performance. So great was his popularity, Mitchell had two # 1 hits in the U.K. before he had his first in this country. He was also honored with his own one-hour British TV special as the result of his three whirlwind tours of England.
Guy Mitchell's decline on the pop charts in the United States in the mid-50's coincided with the rise of rock and roll. Looking for a much-needed hit in 1956, Mitchell heard a song that had already been recorded by another Columbia artist named Marty Robbins. The song was called "Singing The Blues", and it had been written in 1954 by Melvin Endsley, a 20-year-old songwriter from Arkansas. It was the first successful composition for Endsley, who had contracted polio at the age of three and was confined to a wheelchair. Mitchell asked Mitch Miller if he could record "Singing The Blues" too. Miller allowed it, figuring that Robbins' version could be marketed on country radio and Mitchell's cover on pop stations.
1956 had been Elvis Presley's breakout year. He dominated the pop charts with five different # 1 hits, and no one could have imagined that a single by Guy Mitchell, of all people, would turn out to be the second-biggest record released that year.
But Mitchell's "Singing The Blues" replaced Elvis' "Love Me Tender" at # 1 the week of December 8, 1956, and would not surrender it for the next ten weeks. It was finally bumped off the top spot by Presley's next single, "Too Much", the week of February 9, 1957. Its ten-week run at # 1 made "Singing The Blues" the second-ranking single of 1956, trailing only Elvis Presley's two-sided smash of "Don't Be Cruel/Hound Dog", which had an eleven-week run at # 1. Mitchell's mark of ten weeks at # 1 would not be matched until Debby Boone tied it twenty years later in 1977 with her hit single, "You Light Up My Life".
Mitchell recorded two more successful rock and roll singles in 1957, "Knee Deep In The Blues" and "Rock-A-Billy", as follow-ups to "Singing The Blues". He then embarked on a television career with The Guy Mitchell Show, a half-hour variety series on ABC.
Being more of a crooner than a rock and roll singer, Mitchell disappeared from the charts until late 1959 when he covered a mid-tempo country hit by Ray Price called "Heartaches By The Number". The song spent two weeks at # 1 in December of 1959.
Mitchell's last appearance in the Hot 100 was in 1960. He then returned to television and appeared as Detective George Romack in Whispering Smith, an NBC series starring Audie Murphy in 1961.
Mitchell long relationship with Columbia Records ended when he was dropped from the label in 1962. He released some singles on the Joy label and then recorded briefly for Reprise before signing with Starday Records in Nashville. When that label folded, he released a couple of singles on his own GMI label.
During the next three decades Guy Mitchell continued to perform, but he suffered from poor health and alcohol problems. In 1997, he was diagnosed with leukemia and started a course of treatment. Mitchell died in Las Vegas in 1999, at the age of 72, from complications from cancer surgery.
Guy Mitchell is remembered as a Michigan native who became an international singing star. He sold over 44 million records in his career including six million-selling singles. Mitchell was inducted into the Hit Parade Hall of Fame in 2008.