Jack Scott: 50 Years After and Ten Cool Tunes
Details

Category: Dr. J's Blog
Published: Friday, 07 October 2011 16:05
Written by Gary Johnson
The first time I ever saw Jack Scott perform was at the Michigan State Fair in Detroit in the summer of 1959. Jack was a hot recording artist at the time with four Top 40 hits under his belt. He was appearing as part of Dick Clark's Caravan of Stars along with a bevy of other popular artists of the late 50's.
I was a big fan of Dick Clark and a dedicated watcher of American Bandstand after school each day and during the summer. Dick had the latest records of all the artists on the '59 Caravan in heavy rotation, and he had been promoting it nonstop on his show. When I learned that Clark was bringing his bus tour to Michigan, I convinced my parents to drive me to the State Fair in Detroit (I was just 12) so that I could see the show. It was my first-ever rock and roll concert.
The seating was all general admission, and there was an air of excitement in the exposition hall at the Detroit fairgrounds that I had never experienced before. I got there early and found a good seat. A boy about my age asked me to save the seat next to me while he went off somewhere.
After he left, a pretty young lady a year or two older asked if the seat was taken. I couldn't seem to tell her that it was, so she sat next to me for the entire show. I felt guilty when the boy came back and found his seat was occupied, but I was finding out that pretty girls will sometimes cause you to make some questionable decisions.
The package show started with the lesser-known acts like Rusty York ("Sugaree") and Ray Sharpe ("Linda Lu"), who performed just one song each. Bobby Rydell, who had just charted his first hit, delivered "Kissin' Time".
LaVern Baker had recently returned to the Top 40 with her ballad "I Cried A Tear". She sang that song along with "Jim Dandy", her smash hit from 1957. Jan & Dean also performed two songs; "Jenny Lee" and their new release "Baby Talk".
The acts that I really wanted to see came on in the second half of the show. The Coasters performed three of their songs; "Yakey Yak", "Charlie Brown", and their latest hit "Along Came Jones".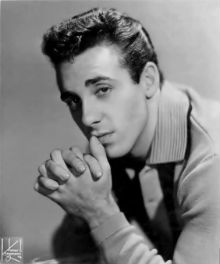 Jack Scott
I didn't know Jack Scott was from Michigan when I saw him at the State Fair. I was a big fan and had four of his 45s in my record collection. He sang three of my favorites; "Leroy", My True Love", and "Goodbye Baby".
Duane Eddy And The Rebels were on next to last, and they played three instrumentals; "Rebel Rouser", "The Lonely One" and their latest hit, "Forty Miles Of Bad Road".
Headliner Frankie Avalon was at the peak of his popularity, and he closed the show with four songs ("Venus", "Ginger Bread", "A Boy Without A Girl", and "Just Ask Your Heart"). There was an incredible amount of screaming from the teenage girls in attendance during Avalon's performance, including the girl next to me who was standing on her chair at that point screaming Frankie's name.
I was replaying that 1959 show in my head as Ron Witucki, Wayne Przybylski, and I drove to Fraser, Michigan, on September 25, to see a benefit show Jack Scott was doing for the Fraser Department of Public Safety's Honor Guard. Incidentally, the Fraser department has some of the most attractive female officers I've ever seen. I had a great time handing out my Michigan Rock and Roll Legends pins to all of them.
We got there early enough to watch the sound check. Bass singer Jack Grenier of the Chantones, the vocal group that backed Scott on all of his hits, had a mike and was singing his memorable parts along with Jack and his band. It was fun talking with Grenier after the sound check and asking him about his career experiences.
I also got a chance to talk with Jack briefly. I'd had the pleasure of speaking with him on several occasions, but not since he was voted into Michigan Rock and Roll Legends in 2007. I wanted to let him know that he was inducted and give him a MRRL pin. A plaque would have been nicer, but I operate on a pretty small budget.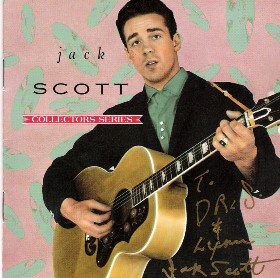 Jack autographed my CD booklet
Jack played for nearly two hours at the benefit. If you closed your eyes you would never know that Scott is seventy-three years-old. His distinctive voice sounds just like it did 50 years ago! Jack played all his hits plus several of the lesser-known tunes from his distinguished career. Scott started out as a country singer so he included some tunes made famous by Hank Williams and Bob Wills. He also sounded great covering some classic rock and roll oldies like "Shake Rattle & Roll" and "It's Only Make Believe"
Jack's original guitarist from the 50's, Al Allen, played with the band for the entire set and blasted out those familiar solos from Scott's early recordings. During the show, Jack paused to talk about each number and share some amusing anecdotes about his career. His story about being requested to recite the lyrics to "Geraldine" by a radio personality who was anti-rock and roll is classic.
It was a great night, and on the way home we discussed the fact that Jack Scott is not in the Rock and Roll Hall of Fame. He has to be one of the most underappreciated of the early rockers. It would seem that Jack should be an obvious choice. He had 19 charting hits, and like Buddy Holly, Scott wrote most of the material he recorded. Jack also had a very distinctive sound. His voice is instantly recognizable, he recorded with a great band, and the Chantones provided outstanding backing vocals.
Originally, the "rock and roll trio" of John Len, Ron, and yours truly, were planning to go to the show and then meet to put together a list of Ten Cool Tunes for Jack Scott. Unfortunately, John had one of those 'senior moments' and could not attend. He forgot the date of the Jack's show and bought tickets for John and his wife to a Shakespeare production in Bay City. Oh, the shame!
Despite John's faux pas, Ron and I met with him the following week to put together our second list of great songs by a Michigan artist. In reverse order, and with some disagreements, these are our choices for Ten Cool Tunes by Jack Scott:
10. (Tie) "With Your Love" and "Good Deal Lucille". Although I didn't have either of these songs on my final list, I can't argue with them. The ballad "With Your Love" was Jack's third straight Top 40 hit, but I thought it was a little too much Like "My True Love" to make my final cut. "Good Deal Lucille" is a cool, lesser-known little rocker from 1959 with a great sax solo and a snappy "C'est si bon" refrain by the Chantones.
09. "Burning Bridges". This was Scott's highest charting single, but the mawkish country ballad was never a favorite of mine. "Geraldine", "Strange Desire", "Go Wild Little Sadie", "Wiggle On Out", "Cry, Cry, Cry", "If Only", "Baby, Baby", or "I Never Felt Like This" are among just a few of Jack's songs that, in my opinion, are much more worthy of being on this list than "Burning Bridges".
08. "Save My Soul". This was the flipside of "Goodbye Baby", but an absolutely great track in its own right. Jack charted both the A & B sides of his first three singles. That's pretty exclusive territory; as only Elvis, Ricky Nelson, and the Everly Brothers were consistently charting both sides of their singles in the late 50's. "Save My Soul" is a rock and roll spiritual that literally jumps out of the speakers. It features a passionate vocal by Jack and outstanding backing vocals by the Chantones.
07. "Baby She's Gone". Jack's first record on ABC Paramount in 1957 still stands up as one of his best. Jack gives an Elvis-like performance featuring great lead guitar by Al Allen. Even though this early recording is missing the trademark sax and Chantones backing, it's a outstanding example of early Michigan rockabilly. Scott often kicks off his sets with this great song.
06. "What In The World's Come Over You". In my opinion, this is Jack Scott's second-greatest ballad. It was a # 5 hit for him in 1960, and I saw him perform it on television when Jack was a guest on Dick Clark's Saturday Night Beechnut Show. The Chantones shine on this, his first recording for the Top Rank label.
05. "My True Love". This is Jack's greatest ballad by far. I can still remember flipping over "Leroy" in 1958 and finding this gem on the other side. "My True Love" features classic background singing by the Chantones and a great lead vocal by Scott. He even delivers a nice recitation in the middle; it's one of the great slow dance songs of the 50's.
04. "Oh, Little One". How the treacly "Burning Bridges" ever charted higher than its far-superior flipside, "Oh Little One", will never cease to amaze me. This is one of Jack's finest recordings. "Oh Little One" has it all – a great guitar sound, terrific lead vocal, and superb backing vocals. A Jack Scott classic!
03. "Leroy/Greaseball". "Greaseball" was the original title of the rock and roll classic, "Leroy". Ron voted for the "Greaseball" version and John and I for the "Leroy" version. Ron thinks there's a difference but I don't hear anything significant. This great early rock and roll song contains hot guitar, smoking sax, and a killer Jack vocal. The Stones even copped parts of this tune for their unreleased song "Claudine".
02. "The Way I Walk". This was the # 1 song on my list. This is Jack's sexiest song, very lowdown and insinuating. I love the Chantones backing vocals, and it features both great sax and guitar solos. This rockabilly classic may have been a little too risqué for 1959 radio as it peaked at only # 35. Jack's 1964 recording of "Wiggle On Out" borrows heavily from "The Way I Walk".
01. "Goodbye Baby". Jack still uses a stand-up bass in his band. If you listen closely to all of his great tunes, you'll hear that the slap bass plays a prominent part in the songs. Our number one choice is a good example. The bass drives this deceptively simple song. At first listen it seems repetitive, but its repetition is addictive as the song slowly builds. "Goodbye Baby" again features a terrific Scott vocal and great backing by the Chantones. "Goodbye Baby" was used over the end credits of the charming coming-of-age film, Diner.
Watch a slide show video of Jack's classic recording of "Oh, Little One"