Meat Loaf a la Michigan
Details

Category: Dr. J's Blog
Published: Sunday, 19 April 2015 09:36
Written by Gary Johnson
The singer Meat Loaf is best known for his Bat Out Of Hell album trilogy consisting of "Bat Out Of Hell", "Bat Out Of Hell 2: Back To Hell", and "Bat Out Of Hell 3: The Monster Is Loose". The overwhelming success of the trilogy is the primary reason that Meat Loaf is one of the biggest-selling artists of all time, with worldwide sales of over 80 million records. He has also appeared in over 50 movies and television shows, most memorably for his role as Eddie in The Rocky Horror Picture Show.
Many of his fans may not realize the importance that Michigan and its artists played in the early years of Meat Loaf's career. His first recordings were done in the state, and he is represented on the MRRL Hall of Fame ballot for his work in both the Popcorn Blizzard (a.k.a. Floating Circus) and the duo of Stoney & Meatloaf. In 1999, he published Meat Loaf - To Hell and Back: An Autobiography, a humorous look at his life and career that included some priceless anecdotes about his Michigan connections.
Meat Loaf was born Marvin Lee Aday, the only child of a school teacher and an alcoholic police officer in 1947 in Dallas, Texas. Blessed with a strong voice, his introduction to performing came via stage productions of The Music Man and Where's Charley? at Thomas Jefferson High School in Dallas. After graduation, he attended Lubbock Christian College and then North Texas State University before buying a car and driving to California.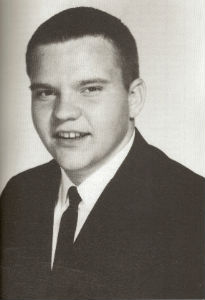 Marvin "Meat Loaf" Aday. Class of 1965 Thomas Jefferson High School in Dallas, Texas.
He formed his first band, Meat Loaf Soul, in Southern California after meeting bassist Rick Bozzo in Encino. Two of the other original members, drummer Pete Woodman and his wife Susie Kaine on flute and keyboards, were both from Michigan. Woodman, who was born without fingers, had overcome his disability and gained renown as a member of The Bossmen, one of Mid-Michigan's most popular bands from 1964 to 1967. The Bossmen's leader and most important member was Dick Wagner; but Woodman's flamboyant drumming, which included a collection of masks, crazy hats, and many different sized bats that he used to pummel his drum kit, made him an important asset in the success of the band.
After recording three unreleased songs at the famous Gold Star Recording Studio in Hollywood and adding guitarist Frankie Montoya, Meat Loaf Soul needed to play regularly to pay the bills. The band managed to book a prestigious gig opening for Van Morrison and ? and The Mysterians at a club called The Cave. They also opened for Taj Mahal along with Big Brother and The Holding Company featuring Janis Joplin at California State University.
In order to get more jobs, Pete Woodman suggested that the band relocate to Michigan. Woodman felt that he could use his Bossmen connection to get gigs there and that he might be able to find a sponsor to buy new equipment for the band. True to his word, Woodman was able to convince Mrs. Jayne Gerstacker, the first wife of Carl Gerstacker the chairman of Dow Chemical in Midland, to foot the bill for not only for new equipment, including new Sunn amplifiers, speakers, and PA system, but also new clothes and publicity pictures for the band.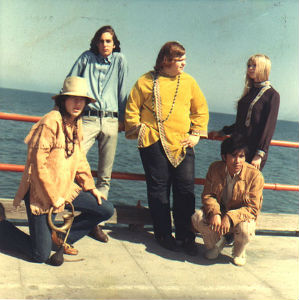 Popcorn Blizzard - (Standing L to R) Rick Bozzo, Meat Loaf, Susie Kaine, (Kneeling) Pete Woodman, Frank Montoya.
Shortly after arriving in Michigan, Montoya quit the band to join ? and the Mysterians as the replacement for original guitarist Bobby Balderrama. Montoya's spot was filled by Bill Hodges, just one of what became a parade of lead guitarists that would pass through the group. Changing its name to the Popcorn Blizzard, the band recorded its first single, "Once Upon A Time"/"Hello" on Magenda Records, located in Freeland, Michigan.
According to Rick Bozzo, Popcorn Blizzard recorded the songs in 1968 at the tiny Art Schiell Recording Studio located in the rear of Schiell's home on Raymond Street in Bay City. It was the same studio where ? and the Mysterians recorded "96 Tears" two years earlier. Schiell, who both produced and engineered the session, had never worked with a vocalist as loud as Meat Loaf, however, and Bozzo recalled what happened next: "The engineer had set all his recording levels to accommodate his concept of what a hit recording should sound like. So when Meat Loaf steps up to the mike, the guy says 'Son let's hear what you got. Stand six inches from the mike, sing into it, and try not to move.' Meat bellowed out an incredibly loud note that sounded like Paul Bunyan: WOOHOOAOOHOOO!!!!"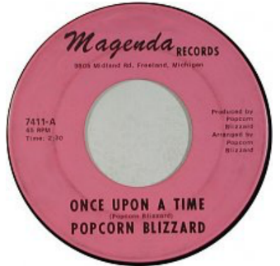 "You could see the sound man (Schiell) cringe. He was the owner of the studio. Schiell was afraid his power amps were going to blow. He then made the comment, 'Where did you learn to sing son? Step back a few feet and try it again.' Now Meat was determined to be heard so he sang twice as loud, and the speakers reflected that. Schiell and Meat positioned the mike where he was standing until the mike ended up across the room separated by a 4 X 4 foot baffle. Schiell told him to sing towards the ceiling, bounce off the wall on the other side of the room and hit the mike, which was hidden behind the baffle. It sounded like it was recorded in the Holland Tunnel." **
After lining up Mike Quatro (Suzi's older brother) as their booking agent, the band opened for a number of national acts at the Grande Ballroom including The Who, Dr. John, The Fugs, Pink Floyd, and The Faces. Popcorn Blizzard also shared bills with a great number of emerging Michigan bands in the late 60's including the Bob Seger System, the MC5, The Stooges, Amboy Dukes, The Frost, Brownsville Station, and the newly relocated Alice Cooper.
At the Gerstacker home at 1018 W. Main St. in Midland. (L to R) Meat Loaf, Susie Kaine, Rick Bozzo, Bill Hodges, and Pete Woodman.
In his autobiography, Meat Loaf shared several anecdotes about playing at the Grande. On December 1, 1968, Popcorn Blizzard opened for the Grateful Dead. The night before, the Dead's equipment had been snowed in, so they asked Popcorn Blizzard if they could borrow theirs for the gig. It wasn't uncommon at this time for members of the Dead's entourage to spike containers of apple cider or coffee urns with Owsley Stanley's pharmaceutical quality LSD and send the unsuspecting on a surprise acid trip.
Was he "dosed" by someone associated with the band? You be the judge. According to Meat Loaf, the Grateful Dead went on to perform a set that lasted four and a half hours. In addition, he went on to describe the unusual scene: "They had all these hogs running around the building. Real hogs running around the Grande Ballroom. The Hog Farm followed the Dead around in those days."
"The Technicolor swine were rampaging through the Grande like hairy Huns sacking Rome. They knocked over the monitors and chewed on the Naugahyde couches. Egging them on was Wavy Gravy himself in a stars-and-stripes suit, riding a fine six-hundred-pound pig, and singing "The Battle Hynm of the Republic." *
Another less colorful but interesting tale of equipment borrowing came at a festival in Pontiac. The headlining act was the Grease Band, an act that Meat Loaf had never heard of. After Meat and the band played their set, he was approached by an Englishman who Meat assumed was the Grease Band's roadie. In a very thick accent, the roadie complimented him on the band's performance and asked if the Grease Band could borrow their Hammond organ for their set since they were having problems with their keyboard. Meat Loaf helped him set it up, and when the Grease Band takes the stage, none other than Leon Russell sat behind the organ. They played one song and then the singer came out. It was the guy that Meat thought was a roadie, the soon-to-be-very-famous Joe Cocker.
By 1969, Meat Loaf's band changed its name from Popcorn Blizzard to the Floating Circus. The group had gone through quite a few lead guitarists by this time and decided to forge ahead and back Meat Loaf's lead vocals as a power trio consisting of organ, bass, and drums. They had an eye-catching stage presence featuring Meat Loaf dressed as a ringmaster, barefoot in a tuxedo with a red cummerbund; Rick Bozzo dressed like an American Indian with head band, beaded vest, and buckskin chaps; Pete Woodman portraying the clown behind his drum set; and the very attractive Susie Kaine looking like a white swan on the organ, flute, and backing vocals. The Floating Circus was a popular act, getting good reviews at their shows, and making pretty good money.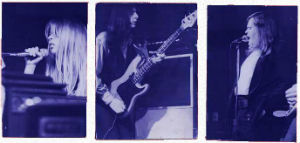 The Floating Circus 1969. (L to R) Susie Kaine, Rick Bozzo, and Meat Loaf.
It was at this point that Rick Bozzo got a call from Mark Farner and Don Brewer to play bass in a new power trio that they were putting together. Farner and Brewer had just disbanded The Pack after a disastrous series of gigs on the East Coast opening for Gary Puckett and the Union Gap. Bozzo was unsure what to do and asked Meat Loaf for advice: "I said, 'Rick we're doing really good right now. We're making good money. We're finally able to breathe a little."
"Before we only had one car between all of us. Now he had a car, I had a car. I just bought a Mustang. We were able to move out into our own places instead of all living together. I had an apartment, he had an apartment. I said, 'We're right on the verge – I know we're going to get a record deal. Look, I know how great Mark Farner is, but these guys aren't going to do anything. Look what happened to The Pack – they broke up."
"The long and short of it is that I talked Rick Bozzo out of joining Grand Funk Railroad. I still cringe every time I think of it. The only thing Rick ever said to me about it was after the Floating Circus had broken up. Rick and I were in California, and we were putting together another band. One day we were riding down Sunset Boulevard, and there was this giant billboard of Mark Farner, Donny Brewer, and the bass player, Mel Schacher. Just giant heads of these guys, the size of Mount Rushmore. I'm driving and we come up on this thing, and I say, 'Wow, look at that.' And Rick just looks at me, and he goes, 'Could of been me.' That was the only thing he ever said about it." *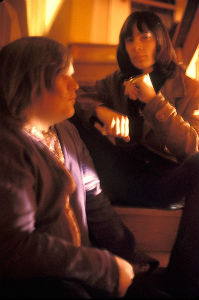 Unfortunately, it was the Floating Circus that broke up after failing to get a record deal amidst growing discord among band members. According to Rick Bozzo: "Just when things couldn't look brighter, egos started getting out of control. Musical directions started to diverge, and by late 1969, the Floating Circus was ready to call it quits. The band's very last gig was a benefit to free political prisoner John Sinclair (manager of the MC5)." **
Meat Loaf and Rick Bozzo.
After the band broke up, Pete Woodman and Susie Kaine joined a Michigan artist named Ted Lucas in a band called the Horny Toads while Meat Loaf and Rick Bozzo went back to California. Meat Loaf had a strange Michigan encounter on the West Coast while trying to put together another band and trying to find ways to make a little cash. He recounted this unusual tale in a chapter of his autobiography titled 96 Tears.
"Basically, I was just hanging out in L.A. I don't have a clue what I was doing for money. Still had a little left over from the band, I guess. And I had a lot of odd jobs, but definitely the weirdest was looking after Question Mark. ? and the Mysterians had had a monster hit with "96 Tears" in 1966. A cult classic. What they'd been doing for the last three years, however, was something of a mystery. Question Mark was a bit of a mystery himself.
"He and the rest of the Mysterians came from that same area of Michigan that I had just left; Midland, Bay City, and Saginaw. The Popcorn Blizzard actually cut a couple songs in the same studio where they had recorded "96 Tears". The organ player was like twelve-years-old. And Question Mark, at that time in the 60's, was around thirty-six-years old, at least. He looked ancient."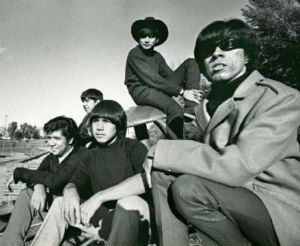 ? and the Mysterians in 1966. (L to R) Eddie Serrato, Frank Rodriguez, Frank Lugo, Bobby Balderrama, and Question Mark.
"Pete Woodman was friends with these guys and he knew Question Mark was a real handful. So when they came to L.A. they wanted to keep him from getting unhinged. They hired me for the two and a half weeks to be Question Mark's bodyguard. To be his minder. They saw how big I was and figured I could control him. Wrong."
"According to sources around the band, he sniffed glue. I never personally saw him do it, but he had a lot of it. You know that airplane glue that came in tan tubes? Well, let's just say he had lots of tubes of glue and no model airplanes. They tried to keep him under control but said he'd sneak out of the hotel and go buy that darn airplane glue. Then go back to the hotel to trash rooms, break beds and TVs, and throw things out the window."
"They put me in a room right next to him. I never got any sleep. I was up twenty-four hours a day with this guy. He was fine during the day when everybody was moving around and stuff was going on. And on days of the shows he seemed to be okay. He never said anything. Basically he was just led around from place to place in his wraparound sunglasses. I don't remember ever having a conversation with him. If he did talk, he spoke Spanish. So that was another reason I didn't understand him."
"I had a key to his room and at night I would listen at his door every hour on the hour just to make sure there was nothing going on. One night I heard strange noises coming from Question Mark's room. I unlocked the door and went in. He was prowling the room and muttering curses at some unseen demon. Broken chair, broken lamp. I grabbed him and took him in my room. He'd gone completely feral – he tried to bite me. I threw him on the bed and called the Mysterians and together we succeeded in subduing him. Kinda. I mean, he tried smoking pot to calm himself down but only succeeded in throwing up. He was a mess. I thought I was a mess. It's a weird kinda self-help cure. Take care of someone in worse shape than you are." *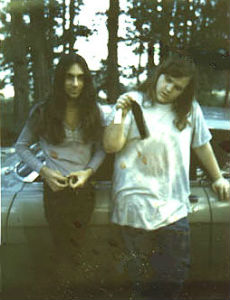 Rick Bozzo and Meat Loaf in Detroit 1970.
Following his Question Mark experience, Meat Loaf caught a big break when he took a parking lot job at a theater in L.A. that was holding auditions for the play Hair. Because of both his size and singing ability, he was invited to audition after meeting one of the show's producers in the parking lot. Since Meat Loaf was well-acquainted with the Motor City and its music scene, he was selected to be part of the newly formed Detroit company of Hair.
Asked if he knew any Detroit girls who could really sing, Meat Loaf recommended Shaun "Stoney" Murphy who sang with a band called the Wilson Mower Pursuit. The show's producers tracked her down and hired her to play Sheila, the female lead in Hair. Both Meat Loaf and Stoney did well in their roles in Hair and, as a result, Motown offered them a contract to record one album as a duo on the company's Rare Earth subsidiary.
The ensuing LP, "Stoney and Meatloaf", was recorded in Detroit in 1971, the final year that Motown was in the city before pulling up stakes and moving the company to California. Meat Loaf described his Motown experience in his autobiography To Hell and Back.
"This is how Motown worked. These guys, producers Mike Valvano and Russ Terrana, would cut a track, then call us up and have us come in and do the vocals. Stoney was a great singer, much better than me, and she popped that vocal to "What You See Is What You Get" in no time flat. But it takes me a while. I'm really having trouble with it. They're threatening us with the Jackson Five. 'If you don't get this vocal we're giving the song to the Jacksons.' Life at Motown was on fast forward. Everything was Now! Now! Now!"
"There were all these amazing people coming and going. Stevie Wonder would be in the same studio right before us. He was working on the "Talking Book" album. All that great stuff, I'd never heard anything like it. I'm listening through the door thinking that is unbelievable. Stevie actually came in and played on one of the "Stoney and Meatloaf" tracks.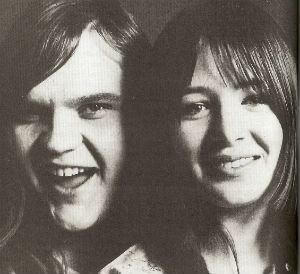 Meat Loaf and Stoney.
"Bob Babbitt and James Jamerson, two Motown bass players, played on our record. The Motown session guys were all over this thing – they did the horn arrangements too. They were going to put out "What You See Is What You Get" (as the single), but they didn't want anybody to know we were white."
"Motown took out a full-page as in Billboard, which was pretty astounding. We were in silhouette and it read, '417 pounds of soul – Stoney and Meat Loaf.' Stoney weighed 117 and I weighed 300. The headline was all in red and black. But they wouldn't show any pictures of us. It was then that I said to them, 'Listen, let's film me and Stoney doing this, and they looked at me like I was nuts. Like why in the world would we want to do a thing like that?"
"Even in 1971, all I wanted was a video. I kept preaching this stuff. I kept saying, 'Man you gotta do this' and they would say, 'What's the point? You just ruin the live show.' 'No you don't.' I'd say. 'It's just giving them more images. More images is better!" * The "What You See Is What You Get" single was a minor hit, reaching # 71 on the Billboard Hot 100 and # 36 on the Billboard R&B chart.
"When R&B stations found out we were white, we were dropped like a stone. Then we recorded "Who Is The Leader Of The People?" It was a great song. It sounded like one of those Temptations things, and it was rockin'. But Motown said they didn't want Stoney & Meatloaf putting out this song. They wanted Edwin Starr – he'd had big hits with "War" and "Stop The War Now". Motown wanted "Who Is The Leader Of The People" to go to him. So he releases it, and on the track you hear my and Stoney's vocals, all the background parts. They just took our lead off and stuck his on."
"I went in and demanded to see Berry Gordy, the head of Motown. He wasn't available but I went into this boardroom of people. I wanted to be very dramatic about this whole thing and tell them I thought it was bullshit, so I took my shoe off and banged it on the desk. Like Khrushchev. But nothing changed, excepted that we never recorded for Motown again." * (Starr's version of the song did not chart when it was released in early 1972.
Stoney & Meatloaf did a short tour to support their album, backed by a local Detroit band called Jake Wade and the Soul Searchers. They were all black except for Stoney's boyfriend, the lead guitar player. They backed Aretha Franklin and other black stars when they came to the Motor City. Stoney and Meatloaf were the opening act for Rare Earth, who was riding high behind three Top 10 singles: "Get Ready", "(I Know) I'm Losing You", and "I Just Want To Celebrate".
The duo broke up after the tour when Meat Loaf was offered a prime role in the New York cast of Hair. He also went on to appear in the theatrical productions of More Than You Deserve, As You Like it, and The Rocky Horror Show. It was during this time in New York that he met his future collaborator Jim Steinman. Steinman and Meat Loaf started work on "Bat Out Of Hell" during the filming of The Rocky Horror Picture Show.
Shaun "Stoney" Murphy would go on to a very successful singing career as Bob Seger's backing vocalist and as a singer in Little Feat. She has also released five albums under her own name that are available on iTunes. Rick Bozzo replaced Gordy Garris in the Frost shortly before Dick Wagner left to form Ursa Major. After the Frost broke up, Bozzo returned to California. He worked in a variety of bands including Brass Knuckles, Sabu, and Angel/Giuffria. Bozzo has also been involved in a wide variety of musical projects, including both films and television, since that time.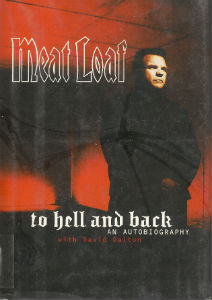 But that's not all. Here's one more little tidbit of related trivia. Carl Gerstacker, chairman of the Dow Chemical Company from 1960 to 1978, died in 1995. As stated above, it was his money that financed the Popcorn Blizzard after the band moved to Michigan in 1968, largely due to the generosity of his first wife, Jayne Gerstacker.
Meat Loaf's 1999 autobiography.
Following his divorce from Jayne, Carl Gerstacker married Esther Schuette. Her son from a previous marriage, Bill Schuette, went on to graduate from Herbert Henry Dow High School in Midland. As Carl Gerstacker's stepson, Bill Schuette used his family's wealth to launch his political career in 1984. He won a seat in the United States House of Representatives as a Republican from Michigan's 10th congressional district. He was elected Michigan's Attorney General in 2010, and he has been a major opponent of both gay marriage and legalization of marijuana during his time in office.
Sources for quotes and photos:
* Meat Loaf – To Hell and Back: An Autobiography by Meat Loaf and David Dalton. 1999.
** Meat Loaf and Me by Rick Bozzo.
Listen to "Once Upon A Time" by the Popcorn Blizzard at https://www.youtube.com/watch?v=vuFYw5LWT5Q