Mitch Ryder Rocked the Pig Gig
Details

Category: Dr. J's Blog
Published: Friday, 07 October 2011 16:23
Written by Gary Johnson
One of the nice things about all of the summer activities in Bay City (Fireworks Festival, Pig Gig, River Roar etc.) is the fact that quite a few well-known Michigan artists have performed here as part of the festivities. In the past few years, we've had the opportunity to see Tommy James & The Shondells, Mark Farner, ? And The Mysterians, and Ted Nugent on Bay City stages.
It was especially great that the legendary Mitch Ryder was chosen to close the 2009 Pig Gig with a Sunday night concert at Veteran's Memorial Park. Backed by a hot young band featuring alternating lead guitars, keyboards, bass and drums, Ryder interspersed the hits that made him famous with original tunes – some of which were brand new and will soon appear on his upcoming CD produced by fellow Michigander Don Was.
With his famous voice as strong as ever, Mitch kicked off the show with "Rock 'N Roll", his 1972 Michigan hit with the short-lived band Detroit. This pretty much set the pattern for the rest of the show as Ryder eschewed the ballads and rocked the crowd from start to finish. Long-time fans were treated to high energy versions of all of his hits with the Detroit Wheels: "Jenny Take A Ride", "Sock It To Me-Baby!", "Little Latin Lupe Lu", as well as the set closer, "Devil With A Blue Dress On & Good Golly Miss Molly".
I was also very impressed with the new songs that Mitch and the band performed. He introduced each one, but I don't remember the exact titles. I can best describe them as having kind of a Rolling Stones feel; and I thought it was pretty cool that he would choose to play some of his new material rather than just perform the oldies. In fact, that is what I respect most about Mitch Ryder. Instead of just resting on his laurels, he has continued to create and record new music for the last thirty-plus years.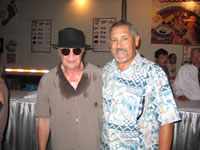 Mitch and Dr. J
Most of Mitch's new material has been recorded for German-based labels and has not been readily available in the United States. During the last thirty years, Ryder recorded a dozen albums in Europe where he is a much bigger star than in his own country.
Unfortunately, this situation is the rule rather than the exception in the case of so many great American artists. They are appreciated much more overseas than they are in their homeland. It seems that there is a sad but continuing situation in the United States wherein record companies, radio stations, and the listening public opt to ignore our own rich musical legacy in favor of the latest "American Idol" or other pop flavor of the week.