Remembering John Lennon
Details

Category: Dr. J's Blog
Published: Wednesday, 05 October 2011 00:41
Written by Gary Johnson
On a recent visit to New York City, Lynn-J and I had an opportunity to visit Central Park on a warm and sunny Sunday afternoon in late September. Our main objective was to find Strawberry Fields, a 2.5 acre area in the park that was dedicated to the memory of John Lennon in 1985 and named after one of his most famous songs, "Strawberry Fields Forever".
John had written the song in 1966 while in Spain working on the film How I Won The War, in which he had a small role as Private Gripweed. "Strawberry Fields Forever" was based on Lennon's boyhood memories of growing up with his Aunt Mimi and Uncle George Smith in Woolton, a suburb of Liverpool. Strawberry Field was the name of a gothic mansion near John's home that had been converted into a refuge for orphan girls run by the Salvation Army.
As a youth, John and three of his buddies called themselves "The Outlaws", a gang that was really a play group of ten-year-olds who would roam the fields and wooded areas around Woolton playing Cowboys and Indians or getting into mischief after-school, on weekends, and holidays. One of their favorite spots to play was the grounds surrounding the Strawberry Field mansion.
When The Beatles reconvened in late 1966 to work on their next album, one of the first songs recorded was John's "Strawberry Fields Forever". Paul McCartney was also inspired to write a song harking back to his childhood. It was called "Penny Lane", for a thoroughfare in Liverpool containing a parade of shops and commercial buildings where he and the other Beatles, in years past, had shopped and changed buses with regularity. At this early juncture, the idea was that The Beatles' next release would be a concept album with all the songs relating to their years growing up in Liverpool.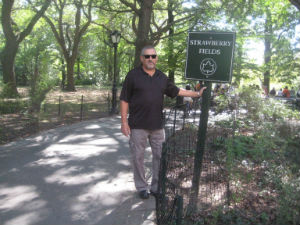 Dr. J in Strawberry Fields
The entrance to the Strawberry Fields memorial in New York is located on Central Park West at West 72nd Street, directly across from the Dakota Apartments where John lived for several years and was murdered by a deranged fan in 1980. It was inaugurated on what would have been Lennon's 45th birthday, October 9th 1985, by his widow Yoko Ono, who had underwritten the project.
Lennon's memorial is a triangular piece of land made up of shaded glades of lawn and glacier-carved rock outcroppings surrounded by wooded slopes containing mature trees and shrubs that suggest parts of the original Strawberry Field grounds in Liverpool. Its focal point is a circular path containing a mosaic of inlaid stones made by Portuguese craftsmen, a gift from the city of Lisbon. In the center of the mosaic is a single word, the title of John's most famous song as a solo artist; "Imagine".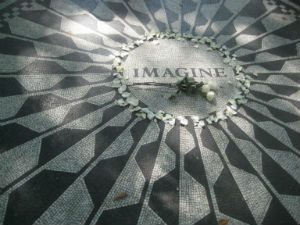 Imagine mosaicStrawberry Fields is one of the designated "quiet zones" in Central Park, and on the day of our visit there were roughly three dozen people at the site sitting on benches, taking photographs, and standing silently in front of the mosaic. It was a moving experience to be there, and in that setting, one could not help thinking back on John Lennon's amazing career as both a musician and a social activist.
It seemed that almost everyone who was a teenager in the 1960's had a favorite Beatle. Mine was always John Lennon. I admired his wit and the songs that he wrote for the group, and I loved his singing voice. I still consider him one of the greatest vocalists in the history of rock and roll.
I clearly remember the first time I saw The Beatles perform in prime time on television. A group of St. Joseph High seniors were having a party at Tom Karnath's house on Friday night, January 3, 1964. Everyone at the party had heard about The Beatles – I think "I Want To Hold Your Hand" had just been released – and the band was going to appear on The Jack Paar Show that very night. This was five weeks prior to their first live television performance on The Ed Sullivan Show on February 9th.
We kept the TV on with the volume down in the Karnath living room while we danced to records and ate snacks. When The Beatles came on, everything stopped as the whole party gathered around the black and white set to watch a film clip of them performing before a screaming crowd in England.
From that point on, I had to have every single and album released by the band. I thought it was impossible for any artist to replace Elvis Presley as my # 1, but The Beatles just blew me away. The Lennon/McCartney songs of which John was the principal writer and singer were my personal favorites of all the Beatle tunes that I purchased, and remain so to this day.
The Beatles were the most important rock and roll artists during my college years as well. By that time I was seeing a lot less of my high school friends. Some had married, some had gone to other schools, and others were serving in Vietnam. As I sat in Strawberry Fields, I also thought back to the excitement among my campus friends at Central Michigan University about the news that the Beatles would be presenting the television premier of their new double A-side single, "Strawberry Fields Forever" and "Penny Lane" on a late February weekend in 1967.
Since all of us lived in campus dorms at this time, the typical weekend party procedure was for one of us to reserve a room at the local Holiday Inn located on M-20 just east of Mt. Pleasant. All of us underage kids would chip in for the room so we could drink, and maybe later make out with our girlfriends on one of those vibrating beds that required a quarter for a ten-minute ride. There was a strict midnight curfew at the co-ed dorms at CMU at this time, but the guy who reserved the room would usually arrange to have his girlfriend "sign out to go home" so they could stay the night.
Lynn-J and I were both enrolled at CMU, and we had been going together for nearly two years. I don't remember some of the details of that evening such as the name of the program that presented the two promotional films directed by Peter Goldmann, but I seem to remember that they were introduced by Dick Clark. I do clearly recall that everything stopped at the Holiday Inn party when the Beatle films came on, just like it had at Tom Karnath's house three years before.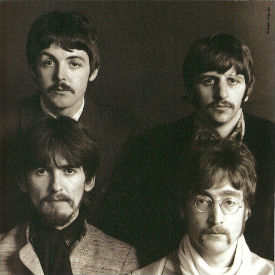 Paul McCartney, Ringo Starr, George Harrison, John Lennon
Everyone was shocked to see that all four of the Beatles were sporting mustaches and that John was wearing glasses. The two films were different from any of the promotional videos the band had done before, especially "Strawberry Fields Forever" which was very dream-like and psychedelic. I wasn't even sure that John was singing lead on the song, as his voice had been artificially lowered in the recording studio.
The room television was black and white so the films, which had been shot in color, didn't have the impact they would have had with a color set. Even with this drawback, the songs and the films made quite an impression, and they were the main topic of discussion for the rest of the party.
Since the Beatles' record company was clamoring for a new release, the Beatles producer George Martin issued "Strawberry Fields Forever" and "Penny Lane" as a double A-side single. Martin has since called his decision "the biggest mistake of my professional life". Because the Beatles generally kept their single releases separate from their albums, neither of the songs would appear on their upcoming LP as originally planned. Both songs would eventually appear with several other non-album singles on side two of the "Magical Mystery Tour" LP, released in December, 1967.
It was in June of 1967 that I first heard a song from the just-released "Sgt. Pepper's Lonely Hearts Club Band". I was driving back to Bay City after my last semester final exam and "When I'm Sixty-Four" came on my car radio. At that time, I couldn't conceive of what it would be like to be "that old". After learning it was a song from the new Beatles album, I immediately drove to Lucky's Record Shop and bought the "Sgt. Pepper's" LP before crossing the old Third Street Bridge on the final leg of my journey home.

Sgt. Pepper's outtakeWhat a package it was! Besides the incredible cover, it was the first album to have printed song lyrics. There were a number of Sgt. Pepper cut-outs on the inside of the gatefold cover which featured photos of the Beatles in brightly colored satin military uniforms.
It was also the first Beatles album to have an identical track listing in both America and England. On previous releases, Capitol Records in the U.S. had removed 3 or 4 songs from each British LP, which typically contained 13 or 14 cuts, and then pieced them together with various singles and EP tracks in order to put additional albums on the market. This somewhat despicable, yet profitable, practice resulted in three additional # 1 albums for the company; "The Beatles Second Album", "Beatles VI", and "Yesterday…And Today".
The "Sgt. Pepper's" album continued the music experimentation the Beatles exhibited on the "Strawberry Fields Forever" and "Penny Lane" single. Making use of orchestras, hired musicians, and innovative production techniques, the songs incorporated musical elements from a variety of genres including rock and roll, music hall, classical, psychedelic, and traditional Indian music. My favorite "Sgt. Pepper's" cuts were both John Lennon songs; "Lucy In The Sky With Diamonds" and the fantastic closing number, "A Day In The Life".
"Sgt. Pepper's Lonely Hearts Club Band" was the most important recording of the summer of 1967. It spent 15 weeks at # 1 on the Billboard Album chart and an incredible 27 weeks at # 1 on the UK Album chart. It became the first rock album to win a Grammy for Album of the Year, and also won awards in the categories of Best Album Cover, Best Engineered Album, and Best Contemporary Album.
Many considered it the first 'concept album' because there appeared to be a definite beginning and end, and all of the songs seemed to be linked together. Although the lyrics deal with several themes including childhood, aging, everyday routine, death, and life in postwar Britain, the concept is, at best, very loose.
Over the years various interviews revealed that after the idea for a group of songs concerning their childhoods in Liverpool was dropped, there was talk about doing an album with the Beatles pretending to be Sgt. Pepper's band and playing in the atmosphere of a circus big top containing excited spectators. This idea also fell by the wayside even though the "Sgt. Pepper's Lonely Hearts Club Band (Reprise)" near the album's end seemed to indicate a thematic continuity.
John Lennon claimed that none of the songs he wrote for the album had anything to do with the "Sgt. Pepper's" concept, and further noted that none of the other songs did either; stating "Every song could have been on any other album". Ringo Starr supported Lennon's claims; saying "A bunch of songs and you stick two bits of 'Pepper' on it and it's a concept, it worked because we said it worked."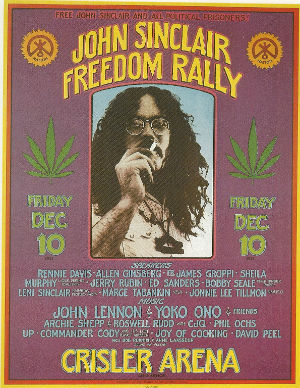 John Sinclair Freedom Rally poster
I was amazed at how many memories were dredged up by our visit to Strawberry Fields. I thought back to the one time we saw John Lennon perform live. It was on December 10, 1971, as part of a "Free John Sinclair" benefit concert at Crisler Arena on the University of Michigan campus. Lynn-J, who was seven months pregnant, and I sat through hours of speeches interspersed with some great musical talent (Stevie Wonder, Bob Seger with Teegarden and Van Winkle, and Commander Cody and The Lost Planet Airmen) to see John Lennon. Finally at 3:00 A.M., John and Yoko took the stage and played a twenty-minute acoustic set.
After visiting Strawberry Fields, we walked across the street to look at the Dakota building where Lennon lived and was murdered on Monday night, December 8, 1980. I remember what night it was because I was watching Monday Night Football back in Essexville when commentator Howard Cosell interrupted the broadcast to announce the shocking news that "John Lennon has been shot to death in New York City!"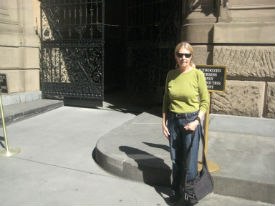 Lynn-J at The DakotaAfter we returned home, I read John Lennon: The Life, the 2008 book by Philip Norman that is considered to be the definitive biography of Lennon. As I read through the section of the book that dealt with the writing and recording of both "Strawberry Fields Forever" and "Penny Lane", I couldn't help thinking that both should have been part of the "Sgt. Pepper's Lonely Hearts Club Band" album, and I decided to try a little musical experiment.
One of the many fun things that computers enable us to do is to create your own albums and burn them to a disk. I downloaded the entire "Sgt. Pepper's" album into a new iTunes playlist, and added "Strawberry Fields Forever" and "Penny Lane" from "Magical Mystery Tour" to it. From there I could click and drag the two songs anywhere in my new playlist and see where they would best fit.
It wouldn't do to just stick the two songs at the beginning or end of the album since "Sgt. Pepper's" already has perfect opening and closing numbers. Therefore, I studied the track listings on all of the previous Beatle albums and noticed that, on all of them, there was an attempt to alternate the songs written and sung by Lennon with the songs written and sung by McCartney. With this in mind, I tried to find the best two spots to insert "Strawberry Fields Forever" and "Penny Lane".
I found the ideal location for "Strawberry Fields Forever" quite quickly. I placed it between "Getting Better" and "Fixing A Hole", the first two of three consecutive Paul songs on the original album. "Penny Lane" was a little more difficult, but after a few tries, I found the perfect spot for it between John's "Being For The Benefit Of Mr. Kite" and George Harrison's "Within You Without You". The track line-up on this re-imagined version of "Sgt. Pepper's Lonely Hearts Club Band" looks like this:
01. Sgt. Pepper's Lonely Hearts Club Band
02. With A Little Help From My Friends
03. Lucy In The Sky With Diamonds
04. Getting Better
05. Strawberry Fields Forever
06. Fixing A Hole
07. She's Leaving Home
08. Being For The Benefit Of Mr. Kite
09. Penny Lane
10. Within You Without You
11. When I'm Sixty-Four
12. Lovely Rita
13. Good Morning Good Morning
14. Sgt. Pepper's Lonely Hearts Club Band (Reprise)
15. A Day In The Life
The original "Sgt. Pepper's Lonely Hearts Club Band" is considered to be one of the most influential rock and roll albums. In 2003, Rolling Stone magazine ranked it # 1 among the '500 Greatest Albums Of All Time'. Although it's difficult to improve on a classic, one must keep in mind that not only are "Strawberry Fields Forever" and "Penny Lane" outstanding songs, but both were also originally intended to be part of the album.
If you put this together on your computer, you will be amazed at how well the two songs fit in with the flow of the original album. Does it actually improve the "Sgt. Pepper's" listening experience? Try it and see for yourself. You won't be disappointed.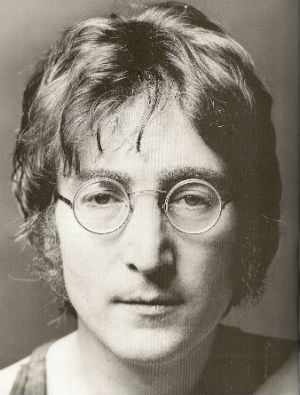 John LennonJohn Lennon was in the news quite a bit recently since 2010 would have been his 70th birthday. That year also marked the 30th anniversary of his tragic death. All of the Beatles recordings were re-mastered in 2009, and Lennon's solo work was also given the deluxe treatment in 2010.
In addition, 2010 saw the U.S. release of the film Nowhere Boy, a British-Canadian production that dealt with John Lennon's teenage years, the formation of his first band, The Quarrymen, and its evolution into The Beatles. The biopic also examined the impact on his early life and personality of the two dominant women in his childhood – his Aunt Mimi, and his mother, Julia.
If you would like to read more about John Lennon's life, I would highly recommend the Philip Norman biography mentioned above. 2005's The Beatles: The Biography written by Bob Spitz is also an outstanding look at Lennon's life as well as the other three Beatles.
Trivia: The guitar used in the original Michigan Rock and Roll Legends logo was the double-cutaway Rickenbacker Capri 325 that John Lennon bought in Hamburg, Germany, in 1960 and played throughout the years with The Beatles.