Rick Nelson Pt. 1: "Rockabilly Ricky"
Details

Category: Dr. J's Blog
Published: Sunday, 09 April 2017 20:03
Written by Gary Johnson
When rock and roll critics and historians first began looking back at the history of the genre in the late 1960's and early 1970's, Rick Nelson's talents as a rock and roller were greatly undervalued. Influential Village Voice critic Robert Christgau called him "An inspired fake" and the first edition of the Rolling Stone Illustrated History of Rock & Roll relegated him to the Teen Idols chapter instead of the Rockabilly chapter where he rightly belonged.
Today, the early teen idol era is often thought of as consisting of shallow, deriviative songs with little or no lasting value. Nelson was stung by being lumped into that category more than all of the negative reviews he ever received put together. He was distressed when he saw his photo surrounded by singers who were recorded more because of their looks and hairstyles rather than talent. In a 1972 interview with the New York Times, Rick had this to say: "A lot of people try to equate me with guys like Frankie Avalon and Fabian, but in the old days I sold a lot of records over a period of time, and you can't sustain that by being just another pretty face."
The facts certainly bear this out. This is a list of the number of Top 40 hits from 1957, when Rick made his first record, through 1963 and the start of the British Invasion for artists who have been inducted into the Rock and Roll Hall of Fame and also recorded during that same seven-year period.
Rick Nelson
1. Elvis Presley – 47
2. Rick Nelson – 33
3. Fats Domino – 31
4. Everly Brothers – 24
5. Brenda Lee – 23
6. Sam Cooke – 22
7. Ray Charles – 20
8. Dion (solo and with the Belmonts) – 20
9. Jackie Wilson – 19
10. Bobby Darin - 19
11. Roy Orbison – 15
It is also important to note that the term "teen idol" has been misused over the years. Although often portrayed negatively, Elvis Presley, Buddy Holly, the Rolling Stones, the Beatles and many other Hall of Fame artists were teen idols in their own right during rock and roll's early years. Even though Nelson's good looks served as a model for the "manufactured" teen idols of the 50's and early 60's, Rick, for the most part, selected his own material, made records that were exceptionally tough and exciting, and put together one of the best bands of rock and roll's first decade.
There is no doubt that Ricky Nelson had some advantages over the other artists on the above list. He was born into a wealthy family and both of his parents enjoyed successful show business careers and were very supportive of his. He was also a star on both radio and television before he even made his first record. But it is also true that during his 28-year career, Nelson recorded a very large number of singles and albums that still hold up decades after they were released; a testament to his talent, his taste in material, and the musicians he chose to play with.
Ozzie Nelson was the leader of a popular orchestra during the 1930's that featured vocalist Harriet Hilliard. They married in 1935, and Harriet gave birth to the couple's first son, David, in late 1936. Their second son, Eric (Ricky), was born in the spring of 1940. By this time, Ozzie and Harriet Nelson had moved into radio, first on a program with comedian Red Skelton and then with their own show, The Adventures of Ozzie and Harriet, in 1944.
The show was a big hit and the Nelsons moved permanently to California into a beautiful 14-room Cape Cod Colonial home located on a wide dead end street above Hollywood Boulevard. It would soon become the "Most Televised Home in America" as a shot of the house was used at the beginning of every episode of The Adventures Of Ozzie & Harriet TV show.
Ozzie Nelson was the head writer for the program, and the focus became pleasantly humorous scripts that were somewhat inspired by real events at the Nelson home - especially the antics of David and Ricky who often clashed because of their different personalities. The roles of the two brothers were first played by young actors, but in February of 1949, David and Ricky debuted as themselves. This was quite a novelty having an entire family playing itself on the air. It was a radio first and a ratings winner.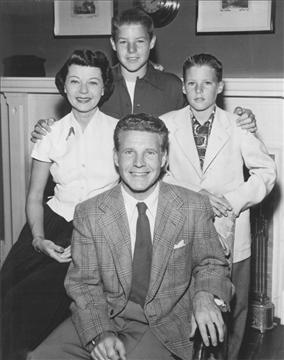 The Nelson Family
Young Ricky turned out to be a natural. He came across as very funny immediately and, as a result, usually got the best lines in each episode. His trademark saying: "I don't mess around, boy" practically became a national catchphrase. He didn't try to be funny, but he was a cute little kid with a very believable personality. Introduced as the "irrepressible Ricky", he quickly became the show's undisputed star and was the one the writers went to when they wanted a laugh.
In the summer of 1949, ABC gave The Adventures of Ozzie & Harriet the first non-cancellable, guaranteed ten-year contract in show business history. Included was a TV option that Ozzie demanded. Television was beginning to supplant radio at this time with 1,000 sets being installed in American homes daily.
Before embarking on a TV show, Ozzie decided to test market his family's visual appeal in a film. Here Comes the Nelsons was directed by Fred DeCordova a veteran of movies and television. It co-starred Rock Hudson, who had recently changed his name from Roy Fitzgerald; but it was Ricky, a wisecracking, skinny 11-year-old with a brush cut and braces who stole the show.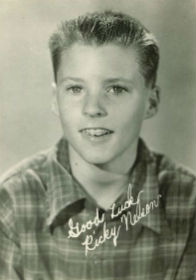 Ricky early 50's
The film did very well at the box office despite low studio expectations, and ABC reserved an evening slot for the TV series for the upcoming 1952 fall season. The show debuted on Friday Oct 3, at 8:00 PM. The Adventures Of Ozzie & Harriet presented a predictable, warm, and unassuming picture of family life. It was an idealized dream of what American families should be, because by the 1950's one-third of marriages ended in divorce and 25% of mothers worked outside the home.
David and Ricky were typical brothers and, although they fought over everything, were very close and protective of each other. Their growth shaped the program, providing new situations for the four principals. There were many similarities between the TV show and real life events. Birthdays and anniversaries were celebrated on and off camera. In addition, the house set was almost an exact replica of the Nelson's real home.
Ozzie Nelson eventually did everything on the show – writing, directing, producing, editing, and acting. His colleagues on the set nicknamed him the "Wizard of Oz" for his many abilities. His on-screen character as an amiable guy was in sharp contrast to his tenacious negotiating style, toughened by his study of law after graduating from Rutgers University. Ozzie owned 60% of the TV show and full creative decision making at a time when sponsors exercised almost total control over ABC's programs.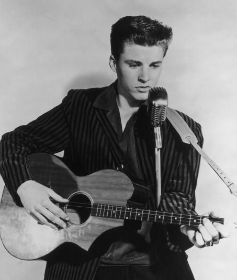 Rick 1957
Ricky's love of music began at a young age. Ozzie remembered him lying on the floor next to a heater listening to classical music from a large console radio. At age eight, he got a set of drums and took lessons for a while from jazz great Louis Bellson and practiced by playing along to the recordings of Erroll Garner. At the age of 16, the record that turned Ricky into a rock and roll fan was "Blue Suede Shoes" by Carl Perkins. He also became a major fan of Elvis Presley, as well as the other Sun rockabilly artists including Johnny Cash, Jerry Lee Lewis, Roy Orbison, Billy Riley, and Sonny Burgess.
Although he had been playing the guitar for two years, he kept his thoughts about becoming a rock and roller to himself for another year. Ricky's first recording was made to impress a date from Hollywood High who was a major Elvis fan. He had got Ozzie to accept rock and roll by playing him some of his records and then asked for his father's help in making one of his own.
Ozzie shot a film of Ricky singing Fats Domino's latest hit "I'm Walkin'" in early 1957. His agent then shopped it to numerous record labels, but only Verve Records showed great interest. They signed Ricky to a one-record deal with an option for a second single. Ricky recorded three songs on March 26, 1957, with some top musicians – including Earl Palmer on drums, Merle Travis on guitar, and Plas Johnson on sax. Ozzie then constructed a television episode in April, 1957, on which Ricky sings "I'm Walkin'". Watch the TV performance of "I'm Walkin'": https://www.youtube.com/watch?v=0y-kQ2JZYyE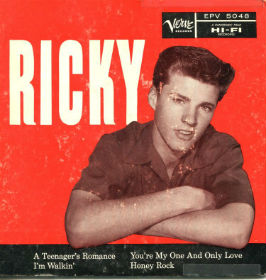 Verve EP
At this point in time, rock and roll music was being criticized by politicians, teachers, religious leaders, and parents as being a bad influence on teenagers and one of the main causes of juvenile delinquency. There were many letters sent in following the broadcast that were critical of the Nelsons' endorsement of rock and roll, and even sponsor Kodak registered disapproval. Although Ozzie wasn't really a fan, he rose to the defense of teens and their music by telling Look magazine: "Anyone who connects rock and roll with juvenile delinquency is out of his mind or doesn't know anything about it."
Ozzie then wrote a segment for the show that not only answered his detractors but also served as an intro to the flipside of Rick's record, a ballad called "A Teenager's Romance". Two weeks later, Verve released the single; and it quickly became a two-sided hit with "I'm Walkin" reaching # 4 and "A Teenager's Romance" peaking at # 2. Rick's ballad was kept out of # 1 by Pat Boone's "Love Letters In The Sand" – a song Ozzie's band had recorded in 1931.
Following his hit single, Rick went along with his friends in the Four Preps to play some high school assemblies causing pandemonium among the female fans. That summer, he and the Four Preps played a series of state fairs that caused near rioting from screaming girls. As a result of his two-sided hit and sold out appearances, Ozzie felt Rick deserved a bigger record company. He was unhappy that Verve underestimated the demand for Ricky's single and then was slow to account and release the record's royalties. Things fell apart when Verve declared they would not pay the royalties unless Ricky recorded an album.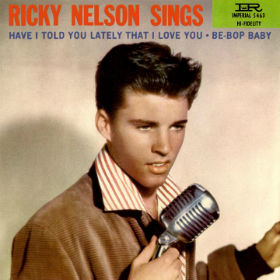 First Imperial 45
Ozzie and Rick chose Imperial Records which had offices in Hollywood and was also Fats Domino's label. Ozzie negotiated a very good five-year deal with owner Lew Chudd in which he and Ricky would have full approval on song selection, artwork, production, and publicity. Verve sued and released the other song Ricky had recorded, a lackluster ballad called "You're My One And Only Love". Since Verve did not have a fourth song, it was backed with an instrumental by bandleader Barney Kessel. Ricky's final song on Verve peaked at # 14 in September of 1957.
His first Imperial single, "Be Bop Baby" b/w "Have I Told You Lately That I Love You" was released in October. Both songs were performed on the TV show, and "Be Bop Baby" became Ricky's third Top Ten single when it reached # 3. "Have I Told You Lately That I Love You", which peaked at # 29, had previously been a hit for Gene Autry in 1946 and Bing Crosby & the Andrews Sisters in 1950. Rick, however, based his approach on Elvis Presley's version which had been released earlier in 1957 on his "Loving You" LP. Like all of Rick's subsequent Imperial singles, both sides of the record were presented on episodes of The Adventures of Ozzie and Harriet. Watch Rick's performance of "Have I Told You Lately That I Love You" with the Four Preps.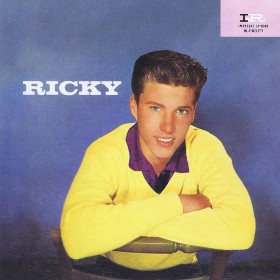 1st Imperial album
November saw the release of "Ricky", his first album for Imperial. Besides the two songs on his first single, the # 1 album contained two Carl Perkins' songs, "Boppin' The Blues" and "Your True Love" along with a cover of Jerry Lee Lewis' first big hit, "Whole Lotta Shakin' Goin' On". Ozzie's influence could be felt by the inclusion of two old chestnuts guaranteed to appeal only to an old audience, Bing Crosby's "True Love" and "Am I Blue", a song from the 1920's.
Rick then put together his own band. He first heard guitarist James Burton and bassist James Kirkland at a Bob Luman session at the Imperial studios. Burton had played guitar on Dale Hawkins' classic recording of "Susie-Q" earlier in 1957. Burton played guitar on both sides of Ricks' next two-sided hit single. "Stood Up" peaked at # 2 – kept out of # 1 by Danny & The Juniors' "At The Hop", while its flip, "Waitin' In School" reached # 18.
By recording "Waitin' In School", Rick gave Johnny and Dorsey Burnette their big break as songwriters in California. The brothers had grown up in Memphis and knew Elvis Presley from playing impromptu guitar concerts at the Lauderdale Courts where Elvis and his family lived before he started recording at Sun.
The Burnette Brothers and fellow Memphis native Paul Burlison formed a band called the Rock 'n' Roll Trio in Memphis. They recorded some classic rockabilly songs for Coral Records in 1956 with little success despite having appeared several times on the Ted Mack Original Amateur Hour TV show. In 1957, they decided to move to California and try their luck as songwriters after the band broke up.
Johnny and Dorsey bought a Hollywood map of the stars' homes to find out where Rick lived. They waited until he arrived and sang "Waitin' In School" to him in his driveway. The song was inspired by Chuck Berry's "School Day" and vividly evokes the frustration of clock watching in school followed by the euphoria of the bell ringing. Rick's recording features two short, but classic, solos featuring Joe Maphis, who played on "Be Bop Baby" and Rick's first LP, and James Burton. Burton got his special tone by using banjo strings on his Fender Telecaster.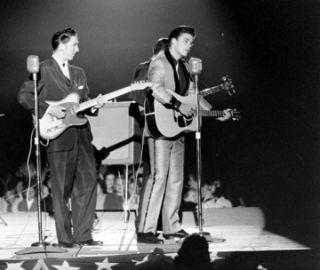 James Burton and Rick on stage
James Burton, who got his special tone by using banjo strings on his Fender Telecaster, moved into the Nelson house for two years following the recording session. Rick's band was then filled out by James Kirkland on bass, drummer Richie Frost, and pianist Gene Garf. According to Rick's biographer Philip Bashe, he had secretly auditioned Elvis' band of Scotty Moore, Bill Black, and D.J. Fontana. They were unhappy with their salaries as well as the way they were treated by Elvis' manager, Col. Tom Parker. Rick, however, had already decided to form a band with Burton and Kirkland and was probably a little reluctant to infringe on Presley, one of his music idols.
Rick and his girlfriend Marianne Gaba had met Elvis for the first time in late October of 1957, following Presley's show at Hollywood's Pan-Pacific Auditorium. Rick was shocked when Elvis hugged him and told him that he was a big fan of both the TV show and "Be Bop Baby".
His Elvis connection ran deep. Besides being one of his main rockabilly inspirations, Rick had also sung a snatch of "Love Me Tender" on an Ozzie & Harriet episode that preceded his "I'm Walkin'" performance. In 1958, Rick would start using the Jordanaires to do the backing vocals on his records. Elvis, who had used the Jordanaires on his RCA recordings, agreed as long as the group was not listed on the labels of Rick's records. Rick would also go on to cover several of Presley's Sun 45's over the course his career, including versions of "Good Rockin' Tonight", "That's All Right", "Mystery Train", "Milk Cow Blues" and "Trying To Get to You".
Rick's most interesting girlfriend during the 50's was Lorrie Collins. They met in 1957 when Rick was 17 and Lorrie was 15. She was originally from Oklahoma and she and her younger brother Larry performed as the Collins Kids on the Town Hall Party and then Tex Ritter's Ranch Party television show.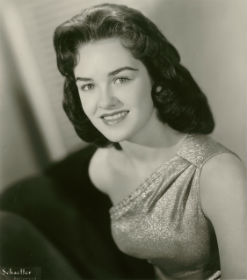 Lorrie Collins
Rick was a fan of country music and saw Lorrie Collins for the first time on the Ranch Party show. Lorrie was very attractive and looked older than her years. Johnny Cash, who appeared regularly on the program, had a very big crush on Lorrie, but there was growing concern about a potentially scandalous relationship in light of the negative effect that Jerry Lee Lewis' marriage to his 13-year-old second cousin had on his career. Johnny was married at the time to his first wife Vivian, mother to singer Rosanne Cash, and was reportedly upset when he learned that Lorrie had started dating Rick.
Rick had arranged to meet Lorrie for the first time on the set of Ranch Party, and it was there that she introduced him to guitarist Joe Maphis. Maphis, who played a double-neck Mosrite guitar, was a regular on the program and also the mentor of Larry Collins. Maphis would go one to play lead guitar on Rick's first two Imperial singles as well as on his debut album.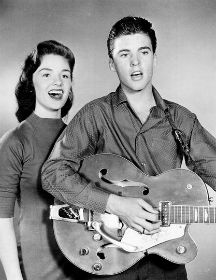 Lorrie and Rick
Lorrie and Rick were both shy, and music formed the basis of their relationship. They even started writing some songs together, which in turn inspired Ricky to compose his first song. Their romance soon turned serious, but Ricky and Lorrie's relationship provoked concern from both sets of parents. Despite Ozzie's misgivings over her effect on his son, Lorrie appeared in an episode of Ozzie & Harriet playing both Ricky's girlfriend and an identical twin. She and Ricky performed a duet on "Just Because" in the episode – a song that Elvis recorded at Sun. Watch Lorrie and Rick perform "Just Because": https://www.youtube.com/watch?v=IuP9UczTIT4
Although they loved each other and even talked about marriage, their relationship ended shockingly when, at 17, Lorrie secretly eloped to Las Vegas with Johnny Cash's manager, Stu Carnall – a man almost twice her age. Carnall had belittled Rick to Lorrie by making fun of his shyness and somehow won her over. Her wedding to Carnall was an impetuous act, possibly brought on by the loneliness experienced by child stars, but it caused a scandal that hurt the career of the Collins Kids. Ricky, as well as Lorrie's family, read about it in a gossip column in a newspaper. Rick and Lorrie spoke on the phone after her marriage, and all he could say to her was "I can't believe it". Lorrie realized her mistake, but they would not see each other again for 20 years.
Like Elvis Presley, Rick preferred to record late at night because he felt his voice "was looser". Also, like Elvis, he basically ran his own recording sessions. Ozzie often attended the sessions, offering suggestions that were sometimes not appreciated, but usually accepted by Rick. If his father, who refrained from both drinking and smoking, came to a session, however, all traces of cigarettes and beer had to be hidden.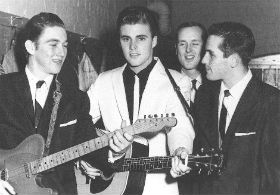 James Burton, Rick, Richie Frost, James Kirkland
Rick liked songs that told a story, and he chose nearly all of his new material from demo acetates; but his cover versions often came from his own record collection. His complete band played on his next single in 1958. "Believe What You Say", written by Johnny and Dorsey Burnette, was the big hit, featuring another great James Burton guitar solo. It peaked at # 4 on the Hot 100.
The flipside, "My Bucket's Got A Hole In It" was a cover of one of Rick's Sun 45's. Sonny Burgess, a wild rockabilly artist from Arkansas, had released his rocked up version of the old Hank Williams' hit in 1957. In what was probably a concession to radio play as well as his teenage audience, Rick's version changed the original lyrics of "won't hold no beer" to a more radio-friendly - "don't work no more". It became his 4th two-sided hit when "My Bucket's Got A Hole In It" reached # 18. Watch Rick's performance of "My Bucket's Got A Hole In It": https://www.youtube.com/watch?v=KGsEBP3tpxM
Sharon Sheeley wrote Ricky's first # 1 single in 1958. Still a teenager, she had met Don Everly in Hollywood and became romantically involved with the singer. She took a bus all the way to San Francisco to watch the Everly Brothers perform, and it was there that brother Phil revealed to her that Don was married. On the long bus ride home, Sharon wrote "Poor Little Fool" to express her heartbreak.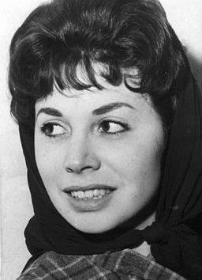 Sharon Sheeley
Back at her home in Hollywood, she put a tune to her poem and then devised an elaborate plan to meet Ricky Nelson and pitch him her song. Sharon and her sister discovered the Nelsons' weekend home in Laguna Beach and got to meet Rick when they pretended to have car problems on the street outside the home. She got his attention when she told him that she had recently met Elvis Presley, and he had invited her and her sister into his hotel room for Cokes. Sharon and Rick ended up talking for hours about music, and she made up a story that her father was a songwriter. She told Rick that he had penned a song called "Poor Little Fool" for Elvis, but that Presley's plans to record it were thwarted by his being drafted.
Rick listened to the song but didn't like it until James Burton suggested slowing the tempo into a soft shuffle; and the pieces began to fall into place. By that time, Sharon had confessed that she was the songwriter, and Rick recorded it for his second LP, titled "Ricky Nelson". The Jordanaires had begun working with Ricky on his second album and were prominently featured on "Poor Little Fool".
A four-song EP containing "Poor Little Fool" was released a month before the album, and the song got a lot of airplay in both Cleveland and Detroit along with demands for a single release. Imperial convinced Ozzie, who agreed over Rick's objection, to issue "Poor Little Fool" as a 45 rpm. Inspite of Rick's misgivings, the single sold over 2 million copies in the summer of 1958, spending 2 weeks at # 1. At 18 years of age, Sharon Sheeley became the youngest woman to ever write a # 1 hit in the United States. Listen to "Poor Little Fool": https://www.youtube.com/watch?v=9hrwJvdPtwI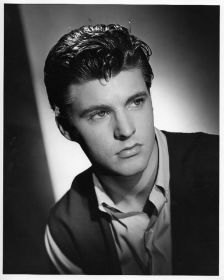 Teen idol
By the fall of 1958, Ricky Nelson was getting thousands of fan letters that were handled by a staff of six, and he was already second to only Elvis Presley among 50's rock and roll stars. There were countless requests for Ricky to appear on television programs outside of The Adventures Of Ozzie & Harriet, but Ozzie declined them all. He knew Rick was the key to the TV show's success, and Rick would not appear on another television program until after the series came to an end in 1966.
Ricks' first tour with his own band was the summer of '58. Like Elvis, his supporting acts were non-rock. He had to employ 4 bodyguards to keep the girls away but, even with protection, he was mauled with his clothes torn and chunks of hair pulled out. Fans also became a problem at the Nelson home with the doorbell being rung at all hours, fans trying to get into the house, and the hubcaps from Rick's car stolen. He responded by withdrawing into himself. He was no longer the wisecracking, irrepressible Ricky. He began to feel that everyone wanted a piece of him or that people only liked him because he was a recording star.
Back home, Rick now hung out with other young musicians: Gene Vincent, Robin Luke, Johnny and Dorsey Burnette, the Everly Brothers, and Eddie Cochran. He also liked to spend time with his friend Sharon Sheeley at her spacious new Hollywood duplex purchased with her "Poor Little Fool" earnings and her job as a staff writer for Liberty Records. Sharon was dating Eddie Cochran who had a big hit with "Summertime Blues" for Liberty Records in the summer of 1958. Sharon had written "Love Again", the flipside of the hit, and Rick was a fan of Cochran's style of urban rockabilly.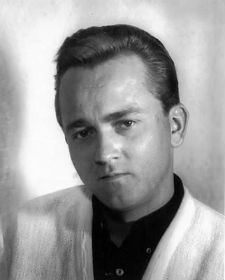 Baker Knight
It was Sharon Sheeley who introduced him to Baker Knight, a musician and songwriter, who provided Rick with both songs on his next two-sided hit 45 in the fall of 1958. Knight was a tragic figure. He suffered from agoraphobia, the fear of going outside. His condition caused him to be something of an outcast and he attempted suicide several times.
Knight's "I Got A Feeling" was a great up-tempo rockabilly song that peaked at # 10. The bigger hit, however, was his plaintive ballad "Lonesome Town", which featured Rick's vocal accompanied by just an acoustic guitar. Watch the TV performance of "Lonesome Town": https://www.youtube.com/watch?v=-4iBMbwdxPQ
In late 1958, Rick was offered the role of Colorado, a young gunslinger, in Rio Bravo a Hollywood Western directed by Howard Hawks and starring John Wayne, Dean Martin, and Walter Brennan. The movie was shot in four weeks in Arizona and released in 1959. Rick received a Golden Globe nomination for "Most Promising Male Newcomer" for his performance in the film.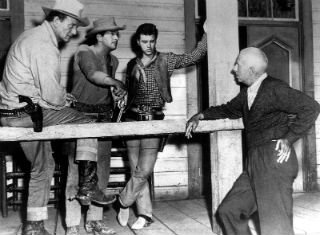 John Wayne, Dean Martin, Rick, Howard Hawks
Rick was supposed to sing two Western tunes in the film: "My Rifle, My Pony and Me" and "Cindy". Rick hated both songs and wanted to perform the Johnny Cash song "Restless Kid" instead.
Rick had originally been introduced to Cash by Lorrie Collins. Rick ran into Cash at a Hollywood party a year later and told him that he was looking for a song for his new movie. Cash wrote a song that very night that fit the storyline. Although he film's music director, Dimitri Tiompkin, along with Ozzie , rejected it for the movie, "Restless Kid" ended up being included on Rick's third album, "Ricky Sings Again" , issued later in the year. Listen to "Restless Kid": https://www.youtube.com/watch?v=9quUOi_2NzY
Rick's first big record of 1959 was another two-sided hit: "It's Late" and "Never Be Anyone Else But You". "It's Late", which reached # 9, was a rockabilly song written by Johnny and Dorsey Burnette and inspired by the Everly Brothers' hit, "Wake Up Little Susie". It featured an impressive solo by James Burton, one of rock and roll's great guitarists. He was completely self-taught on the instrument, and his solos were always highlights of Rick's records. Watch a TV performance of "It's Late": https://www.youtube.com/watch?v=nBnhQ_wjkP8
The flipside of "It's Late" was "Never Be Anyone Else But You", a mid-tempo ballad written by Baker Knight. It was the bigger hit, peaking at # 6 on the Hot 100. They represented Ricky's 9th and 10th Top Ten singles in a little less than two years. He was just 18-years-old.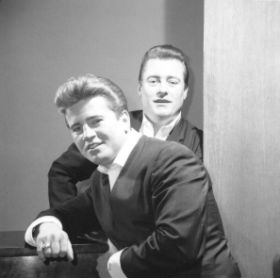 Johnny and Dorsey Burnette
Ricky's next 45, released in the summer of 1959, produced two more Top Ten hits. "Sweeter Than You" was a pretty ballad written by Baker Knight that reached # 9. "Just A Little Too Much", which also reached # 9, represented the last rockabilly song that Johnny Burnette wrote for Rick. Watch a video of "Just A Little Too Much" https://www.youtube.com/watch?v=SOJHJQBe39Q
Sources for the four-part series on Rick Nelson include these two interesting biographies: Teenage Idol, Travelin' Man by Phillip Bashe - 1992 and Ricky Nelson Idol For A Nation by Joel Selvin - 1990
Rick Nelson Pt 2: "The Pop Years" https://michiganrockandrolllegends.com/index.php/blog/251-rick-nelson-pt-2-the-pop-years