Rick Nelson Pt. 2: "The Pop Years"
Details

Category: Dr. J's Blog
Published: Thursday, 13 April 2017 17:27
Written by Gary Johnson
In 1960, Rick Nelson was signed to co-star in a World War II-era comedy adventure film called The Wackiest Ship in the Army with Jack Lemmon that was filmed in Hawaii. The plot involved Lemmon having to take a dilapidated sailing ship into enemy waters on a secret mission. Because he was already signed to do the film, Rick had to turn down John Wayne's offer to appear in The Alamo. Rick's part went to Frankie Avalon.
Rick played Ensign Tommy Hanson, the only member of the motley crew, besides Lemmon, who knows anything about working a ship with sails. Ozzie insisted that the script provide an opportunity for Rick to sing a 1940's song in a scene at the Officer's Club in Pearl Harbor. Rick performed "Do You Know What It Means to Miss New Orleans", a song that was first made popular by Billie Holiday and Louis Armstrong in 1947. Watch Rick's performance of the song in a clip from the film: https://www.youtube.com/watch?v=lZ1GvbjpV-s
As rock and roll moved into a new decade, the music landscape had changed and critics of rock and roll believed that the 20th century's biggest sound explosion was nearing its end. Clouds had first started to form in the fall of 1957 when Little Richard, one of the most exciting and original performers in rock and roll, suddenly quit the business and enrolled in Bible college. More importantly, Elvis Presley had received his draft notice in December of 1957. Although he was given a brief deferment in order to complete the film King Creole, Presley was inducted into the Army in March of 1958.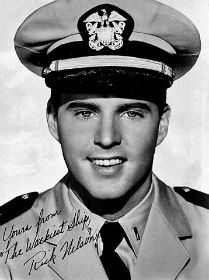 Rick in The Wackiest Ship In The Army
A serious blow to rock and roll's reputation occurred shortly thereafter as Jerry Lee Lewis began his first tour of Great Britain. A British reporter learned that Lewis' third wife was Myra Gale Brown, his 13-year-old second cousin. The uproar from the negative publicity caused the tour to be cancelled after only three concerts. The scandal followed Lewis back to the States, and as a result, he was blacklisted from television and many radio stations, thereby ending his run as a chart-topping artist.
The shocking death of Buddy Holly, at the age of 22, was by far the most stunning event that seemed to draw the curtain on the golden period of rock and roll's first decade. Following a show in Clear Lake, Iowa, Holly chartered a private plane to the next stop on the tour, Moorhead, Minnesota. Two other performers, Ritchie Valens age 17, and the Big Bopper (J.P. Richardson) age 28, joined him. Their plane left the Mason City, Iowa, airport at one in the morning on February 3, 1959, and crashed in a cornfield a few minutes later, killing all aboard.
Later in 1959, Chuck Berry, one of rock and roll's greatest songwriters and guitarists, was arrested for violating the Mann Act. He was charged with bringing a 14-year-old Apache waitress across state lines for immoral purposes while working as a hat check girl at his club. Berry was initially convicted by a biased judge and all-white jury, fined $5,000, and sentenced to a jail term of five years. Although his first conviction was overturned on appeal, Berry would eventually serve 18 months in prison.
The Payola Scandal of 1959 and 1960 had also sent shock waves through the music business. In the wake of the Quiz Show Scandals of the late 50's, ASCAP (American Society of Composers, Authors, and Publishers) urged congress to investigate payola. ASCAP, which represented the traditional Tin Pan Alley songwriters and companies, were trying to make the case that the BMI (Broadcast Music Inc.) licensed rock and roll songs that were dominating the charts were only hits because they were paying deejays and radio stations to play them. How else, they argued, would such awful music get on the air?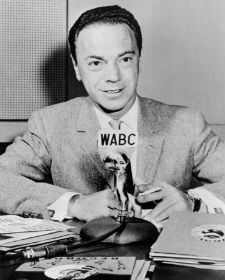 Alan Freed
Throw in the belief in some quarters that rock and roll was the main cause of juvenile delinquency and the moral corruption of the nation's youth; and there was soon an investigation by the House Oversight Committee in Congress. The ensuing panic over the congressional hearings led to the firing of several popular disc jockeys from major market cities for taking money; while the record company executives, distributors, and promoters who doled it out went unpunished.
The investigation quickly focused on the two big names: Alan Freed and Dick Clark. Alan Freed became a villain in the eyes of many racist adults when his Big Beat TV show was cancelled in 1957 after Frankie Lymon was seen dancing with a white girl. Freed was also charged with inciting a riot in 1958 during an incident at one of his rock and roll shows in Boston. When Freed refused to sign an affidavit denying involvement, he lost his radio job in New York on WABC.
Dick Clark, who had more to lose with American Bandstand, quickly gave up all his music interests when ordered to by ABC-TV. When Clark was called to testify, he admitted that he had a 27% interest in the songs that he played on Bandstand the past 28 months. It was also revealed that he had made a $11,900 profit from a $125 investment. The committee discovered that Jamie Records had paid out $15,000 in payola, but Clark denied taking any.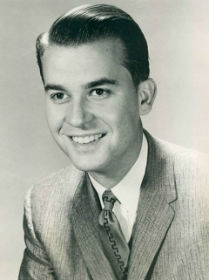 Dick Clark
While Dick Clark received a slap on the wrist and was called "a fine young man" by Committee Chairman Oren Harris, Alan Freed was not so lucky. Although he would only receive a small fine and six-month suspended sentence, his career was destroyed. No longer able to be employed at any prestigious radio station, Freed worked at small stations in both Florida and California before dying of at the age of 43 in Palm Springs of uremia and cirrhosis brought on by alcoholism.
These events gave credence to the critics' predictions that rock and roll was going to die out. Ozzie seemed to believe this, and he urged Rick to turn his back on rock and roll and concentrate on ballads. The new decade would mark the beginning of what has become known as Rick's "Pop Years" at Imperial, during which he started to move away from rockabilly.
It began with the release of a somewhat sappy and string-laden ballad called "Young Emotions", written by Tin Pan Alley and Hollywood movie songwriters Mack Dabvid and Jerry Livingston. It was a far cry from his previous rock and roll hits, and Rick felt the song wasn't suited to his style. Ozzie talked him into recording it, however, and bolstered by Rick's star power, it reached # 12 in the spring. Watch Rick's television performance of "Young Emotions" https://www.youtube.com/watch?v=by7s9i9rKQc
In April of 1960, Sharon Sheeley, Eddie Cochran, and Gene Vincent were in a terrible auto accident on the way to a London airport. The crash resulted in Eddie Cochran's death and serious injuries to both Sheeley and Vincent. Rick was devastated when he learned what had happened to his friends. After Sheeley recovered from a broken pelvis, Rick went to visit her. She was still deep in mourning and wearing Eddie Cochran's ring around her neck.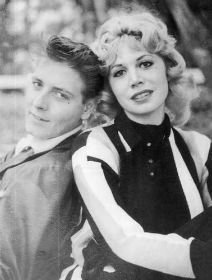 Eddie and Sharon
Sheeley had co-written "Something Else", Cochran's last charting single before the fatal crash. Sharon eventually recovered and went on to team up with Jackie DeShannon to co-write the hits "Dum Dum" and "Heart In Hand" for Brenda Lee, "The Great Imposter" for the Fleetwoods, and "Breakaway" for Irma Thomas. In 1961, Sharon married LA disc jockey Jimmy O'Neill; and together they developed the hit TV music series Shindig, which O'Neill hosted.
Ozzie had played a big role in Rick's music, and although he still relied on his father's advice, he had begun to somewhat resent his Ozzie's continued involvement now that he had turned 20. Ozzie continued to advise Rick to distance himself from rock and roll; and his follow-up single was another syrupy ballad, "I'm Not Afraid", from the dreadful pop-oriented "More Songs by Ricky" album released in late summer. "I'm Not Afraid" peaked at #27 in the fall – Rick's lowest charting a-side. The flipside, "Yes Sir, That's My Baby", was an unconvincing rock and roll version of a hit song from 1925 that Ozzie's orchestra used to play. Watch Rick's TV performance of "I'm Not Afraid" at https://www.youtube.com/watch?v=SQXH2mco-Fw
David Nelson also had problems with Ozzie's need to be continually in charge. David wanted to be a television and film director, and he tried directing several episodes of The Adventures of Ozzie and Harriet; but Ozzie, unable to give up control, could not help meddling. In attempts to separate himself from the family business, David raced midget cars under the pseudonym of Mike Sullivan and also appeared in some major films, including the 1957 hit Peyton Place starring Lana Turner and Diane Varsi.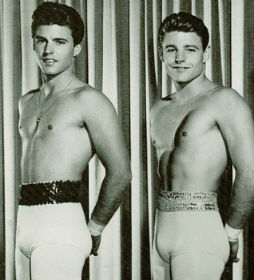 Rick and David's trapeze act
In one of his other movie roles, he portrayed Tommy Gordon, a trapeze acrobat who catches the flyer, in the Big Circus with Victor Mature, Rhonda Fleming, and Red Buttons. David worked with the Flying Viennas trapeze troupe to prepare for his movie role and became skilled enough to later perform with them for five years. David also got Rick involved in the act, and they performed together in fairs and arenas with Rick as the flyer despite the fact that at 6 feet, he was much bigger in stature than all professional flyers. Never one to pass up a story idea, Ozzie worked the brothers' act into the plot of one of the episodes of the TV series.
Getting involved with the trapeze was indicative of Rick's daredevil spirit. He was an excellent athlete, loved to race cars, and once barely escaped serious injury in an accident while participating in a demolition derby while on location for Rio Bravo. He also got involved in bullfighting, was an accomplished horseback rider, and earned a black belt in karate.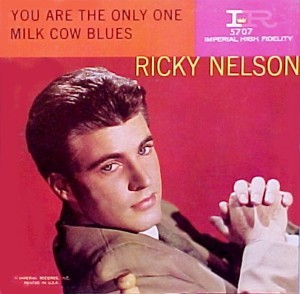 "You Are The Only One" 45
Baker Knight wrote the a-side of Rick's next single, "You Are The Only One", that peaked at # 25 in early 1961. Far more interesting was the b-side, a rousing cover of Elvis' third Sun single, "Milk Cow Blues". It featured some of James Burton's finest guitar work and also showed that Rick hadn't completely forsaken his rockabilly roots. Rick's vocal strained to keep pace with the band; and although it may have been ahead of its time for early 60's radio, "Milk Cow Blues" influenced many young guitar players across the United States, including Michigan's Cub Koda and Glenn Frey.
Many of England's most important guitarists were influenced by Rick's records as well. Keith Richards, George Harrison, and Dave Davies of the Kinks, were all fans of James Burton's playing; and it was Richards who gave Burton's induction speech at the Rock and Roll Hall of Fame in 2005. Listen to "Milk Cow Blues at https://www.youtube.com/watch?v=nuiYUTI59Uk
Rick's next single would become his biggest hit of the decade; but his recording of "Travelin' Man" was the result of pure happenstance. The song was written in Los Angeles by a Texas-born singer/songwriter named Jerry Fuller for Sam Cooke. Fuller made a demo of "Travelin' Man" with a young guitarist named Glen Campbell and brought it to the office of J.W. Alexander, Cooke's manager. Alexander promised Fuller that he would play the demo, which he did after Fuller left his office.
Joe Osborn, who had joined Rick's band as the bassist in 1960, happened to be in the office next door and heard Fuller's demo through the wall. He stopped by Alexander's office a short time later and asked him about the "Travelin' Man" song he heard; and Alexander pulled the demo out of the waste basket by his desk and told him he could have it. Osborn brought the discarded demo to Rick who loved the song. It would be the first of several hits Fuller would write for Rick.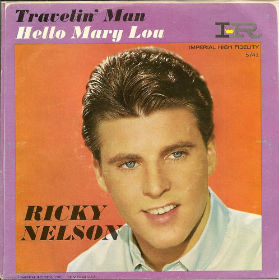 2nd # 1 hit
"Travelin' Man" became Rick's second # 1 in early summer. It sold over 6 million copies and was a smash hit all over the world – reaching # 1 in twenty-two countries. Rick performed the song twice on The Adventures of Ozzie and Harriet; the second time Ozzie superimposed travelogue footage of some of the song's various locales over Rick's performance, thereby creating one of the first conceptual rock videos. Watch Rick's first performace of "Travelin' Man" man on TV: https://www.youtube.com/watch?v=0janfcZ8LUw
The flipside, "Hello Mary Lou" was also a Top Ten hit, peaking at # 9. The song was composed by Gene Pitney who had written Bobby Vee's hit single, "Rubber Ball", and made his first appearance in the Top 40 as a solo artist earlier in 1961 with "(I Wanna) Love My Life Away". "Hello Mary Lou", with its distinctive drum and cowbell opening, effectively married rockabilly with country music and rock and roll.
It was a big influence on John Fogarty who was in high school in California and playing with his brother's band, Tommy Fogerty and the Blue Velvets. After that band evolved into Creedence Clearwater Revival in the late 60's, John Fogerty would go on to write numerous hits in the same vein for his hall of fame group. Both songs were contained on the "Rick is 21" album, released in May and the first to credit his first name as 'Rick'. All previous albums and singles were credited to Ricky Nelson. Watch Rick's TV performance of "Hello Mary Lou": https://www.youtube.com/watch?v=zLkCWT2neuI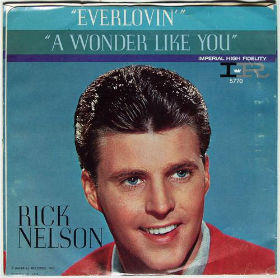 Another two-sided hit single
In what was typical record company fashion, Rick's follow-up 45 in the fall was a Jerry Fuller-penned sound-alike copy of "Travelin' Man" called "A Wonder Like You" that reached # 11. The flipside, "Everlovin'", was a a great rock and roll song and a # 16 hit in its own right.
"Everlovin'" was written by Dave Burgess who had played lead guitar on the # 1 instrumental hit "Tequila" by the Champs in 1958. It was Burgess and Fuller who discovered Glen Campbell playing in a club in Albuquerque, New Mexico, and convinced him to come to California. Watch the televison performace of "Everlovin'": https://www.youtube.com/watch?v=viEQn3qpAFk
Campbell played acoustic guitar on the "Everlovin'" session and became good friends with Rick. In 1962, Campbell, Fuller, Burgess, with Rick singing bass, formed a makeshift vocal group and cut two rare 45s as a lark for Challenge Records, the label that Burgess recorded for with the Champs.
In order to disguise their identities, they issued the records under two different names: the Fleas and the Trophies. Although Rick's distinctive voice was unrecognizable doing the bass parts, the 45s were pulled off the market after Lew Chudd, head of Imperial, learned of Rick's involvement and threatened to sue. Listen to Rick sing the bass part on "Scratchin'": https://www.youtube.com/watch?v=Lobdmhspz4E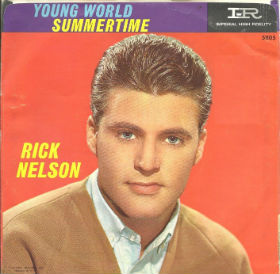 "Young World" 45
Jerry Fuller also wrote Rick's next hit, "Young World" which hit # 5 in early 1962. Although it was a pleasant ballad, its flipside was far more interesting. Rick's rocking cover of "Summertime" was very influential and ahead of its time.
Rick's version of "Summertime" was only a minor hit, reaching just # 89 on the Hot 100, but it featured a classic bass riff. The riff was lifted note for note by the Blues Magoos, a psychedelic rock group from New York City, for their 1967 hit "We Ain't Got Nothing Yet". Watch Rick's TV performance of "Summertime": https://www.youtube.com/watch?v=NSngzjqMF38
Ozzie and Harriet were friends with former University of Michigan football star and war hero Tom Harmon and his wife, the former actress Elyse Knox; and this is how Rick first met the Harmon's oldest daughter Kris. She was the "black sheep" of the Harmon family, very strong-willed and independent, and she'd had a crush on Rick since age 11. Rick escorted her to her senior prom, and their relationship was encouraged by both sets of parents.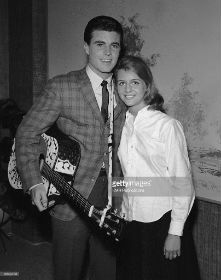 Rick and Kris Harmon
Lew Chudd and Ozzie Nelson did not get along, and Ozzie was already looking at other labels a year before Rick's Imperial contract was up. Rick only recorded four songs for Imperial in 1962, and two of them were Top Ten hits. The first was a song called "Teenage Idol" that Rick actually disliked. He felt the self-pitying lyrics made him sound egotistical. Ozzie insisted he record it, however, and it became another Top Ten single when it reached # 5 during the late summer. Watch Rick's TV performance of "Teenage Idol": https://www.youtube.com/watch?v=q2xeL2_eSUY
Rick's last hit for Imperial was "It's Up to You", the fifth and final hit written for him by Jerry Fuller. Released in December, it would peak at # 6 in early 1963 after Rick had already signed a new recording contract with Decca Records.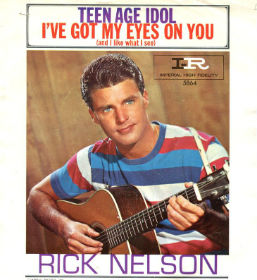 # 5 hit in 1962
Ozzie negotiated a contract that guaranteed Rick $1,000 per week against royalties for 20 years. He sought a long-term deal for both tax purposes and because he still doubted rock and roll's longevity. Lew Chudd was angry that Rick signed with Decca and to get back at him he released all $750,000 in Rick's excess royalties, most of which went to Uncle Sam in taxes.
Rick and Kris Harmon married in April of 1963. She was three months pregnant. Ozzie and Tom Harmon did their best to try and hide the fact that Rick and Kris had actually had sex before marriage from the public, but his shotgun marriage was a common rumor among Rick's fans. Their daughter, Tracy, was born in October.
In another attempt to get back at the Nelson's, Chudd started releasing new Imperial singles using Rick's old album tracks around the same time as his new Decca singles. Things started off badly for Rick at Decca when neither of the songs on his first single, "You Don't Love Me Anymore" and his cover of Ray Charles' "I Got A Woman" made the Top 40. The single was taken from his first Decca album, "For Your Sweet Love" which charted at # 20 in 1963.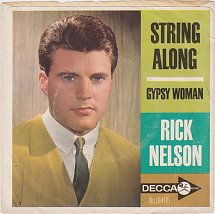 2nd Decca 45
His second single, "String Along", put him back in the Top 40 in the early summer when it reached # 25. One of the most important aspects of rock and roll singing is the expressiveness in the artist's voice. This, more than technical skill, conveys a realness to what we're hearing in a rock and roll song. How believable an artist sounds and how deeply they inhabit a song make the difference between a mediocre and a classic record; and this is the reason that Rick's cover of "String Along" is superior in every way to Fabian's original 1960 recording. Watch Rick's TV performance of "String Along": https://www.youtube.com/watch?v=dDhM1kppt6Q
Rick followed up "String Along" in the fall with an up-tempo cover of "Fools Rush In" which had been a hit for Glenn Miller back in 1940. Rick's version of the song charted at # 12.The flipside was "Down Home", a song composed by the songwriting team of Carole King and Gerry Goffin.
Rick's last big hit of the 60's was a bouncy version of "For You", a song that was a hit for Glen Gray back in 1933. It reached # 6 just prior to the Beatles' first appearance on the Ed Sullivan Show in early 1964. The "For You" LP, which also contained "Fools Rush In", became his biggest hit album in almost three years when it peaked at # 14. Watch Rick's TV performance of "Fools Rush In": https://www.youtube.com/watch?v=kyU2pGWA6Jc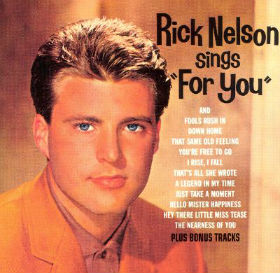 "For You" album
With the arrival of the Beatles and the other artists of the British Invasion, almost all of the recording stars of rock and roll's first decade, including even Elvis, saw their record sales plummet. Rick managed one more Top 40 single in the spring of 1964 with his cover of "The Very Thought Of You" which peaked at # 26. It had originally been a hit for Ray Noble in 1934, and the reworking of old songs from Ozzie's era seemed tired and out-of-step with modern artists like the Beatles who were writing their own material.
In 1965, Rick and Kris co-starred in a musical comedy called Love & Kisses. Ozzie wrote and directed the film which was based on a stage play. It had 25-year-old Rick playing a high school graduate who tries to emancipate himself from his middle-class parents by getting married to his sweetheart who is still in school.
The mildly entertaining film featured two songs, "Love and Kisses" and "Say You Love Me" that were written by Sonny Curtis of the Crickets. Rick released them as a single and performed them on Shindig in November to promote the film and the new record. Unfortunately, the single failed to chart and the film only did modest business at the box office. Watch Rick and his band perform "Love and Kisses": https://www.youtube.com/watch?v=BmPtAhAiqdU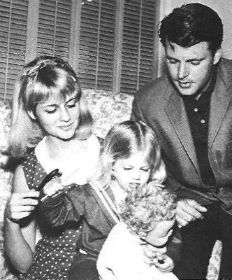 Kris, Tracy, and Rick
Rick floundered badly on the charts for the next 5 years. None of his next 14 singles reached the Top 40 and 11 of them did not even chart in the Hot 100. None of his Decca albums from that period charted in the Top 40 either. 1966 would also mark the final episodes of The Adventures of Ozzie & Harriet, as the show was cancelled after 14 years on the air.
Rick later admitted that he was stale during that time and got caught up in doing the same thing over and over again. As a result, he sounded somewhat lost and even bored on most of those recordings. Rick appeared in the musical How to Succeed in Business Without Really Trying, but he seemed unsure of his place in the ever-evolving music scene of the mid-1960s. Even his first television appearance on the Ed Sullivan Show in 1966, performing his promising new single, "Your Kind Of Loving", could not reverse the downward spiral as it also failed to chart.
In an attempt to recapture old glories, Rick toured the Far East in April of 1966. Despite his diminishing appeal in the U.S., his appearances in Japan, Taiwan, Hong Kong, and the Philippines caused Beatlemania-like pandemonium. Glen Campbell played bass on the tour, along with James Burton on guitar and Richie Frost on drums.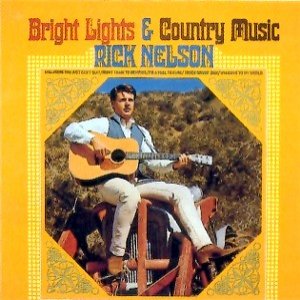 Rick's first country music album
The same group of musicians, along with pianist Glen D. Hardin and guitarist Clarence White, joined Rick when he recorded the first of two country & western albums. "Bright Lights and Country Music" was released during the psychedelic summer of 1966, competing against groundbreaking albums like "Pet Sounds" by the Beach Boys, "Revolver" by the Beatles, "Blonde On Blonde" by Bob Dylan, and "Aftermath" by the Rolling Stones.
It was a difficult time for Rick. He was just twenty-six but found himself now on the outside of the music establishment. "Louisiana Man", written by Doug Kershaw, was the album's first single. It was paired with his first composition in eight years, "You Just Can't Quit", a song that expressed his feelings about staying the course despite the setbacks. Although the single did not chart, it was the first in a series of nakedly autobiographical songs that Rick would write and record. Watch a Rick Nelson and Glen Campbell duet on "Louisiana Man":https://www.youtube.com/watch?v=GA-7TjMLjVY
Rick returned to television in December of 1966 playing Carlos O'Connor in a futuristic musical comedy on ABC called On The Flip Side. It was about an erstwhile teen idol's conflict over pressures to conform to the latest fad. His co-star was Joanie Sommers of "Johnny Get Angry" fame.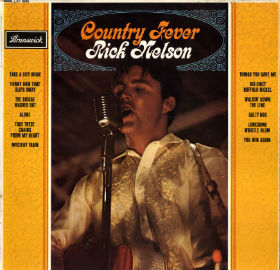 "Country Fever" LP
Rick's "Country Fever" album was released in the spring of 1967, just a month and a half before the Beatles' "Sgt. Pepper's Lonely Hearts Club Band" shook the foundations of rock and roll. It was also the same year the Monterey Pop Festival unveiled a host of new stars including Jimi Hendrix, Janis Joplin, Jefferson Airplane, and the Grateful Dead.
Rick Nelson's embrace of country music was ahead of its time. Although some of Rick's fans were shocked, they shouldn't have been. He had always been a fan of country music, and the rockabilly records he made in the 50s, as well as the Sun records he loved, were deeply rooted in country music. Rock and roll would not turn its attention to country-influenced roots music, however, until after Bob Dylan released his "John Wesley Harding" album in late 1967, and the
Band's "Music from Big Pink" and the Byrds' "Sweetheart of the Rodeo" were issued in the summer of 1968.
Rick no longer seemed to know what was right for his career in 1967. He stopped performing regularly with his band, and hosted a summer-replacement pop music program called Malibu U that was produced by Dick Clark. One of the show's guests was The Doors, performing their first big hit "Light My Fire". Rick's starring role as the dean of the fictional college only served to remind viewers of how far removed from the rock and roll mainstream he had become in just three years.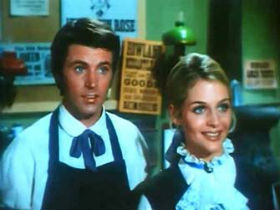 Rick and Kris in "The Over The Hill Gang"
He also appeared with Kris in The Over The Hill Gang, a TV movie western starring Walter Brennan. Rick portrayed a young newspaper editor in the Old West comedy who is conducting a campaign to unseat the town's tinhorn mayor. Kris was cast as Rick's love interest. Kris was not supportive of his music and urged him to go into motion pictures and television and help her get established as an actress.
Rick and Kris celebrated the birth of their twin boys, Matthew and Gunnar, in September of 1967. Rick spent most of his time collecting a fleet of sports cars, studying karate, and hanging around the house he, Kris and the children shared on Zorada Drive in Los Angeles.
Ozzie had a hard time adjusting to semi-retirement after the cancellation of the television series. He found it difficult not having something to constantly work on, so he and Harriet appeared on TV shows like Love, American Style and toured the Midwest with two plays, State Fair and The Impossible Years. David Nelson also struggled during this time. After the series was cancelled, he had a difficult time finding work, possibly because Ozzie had made some enemies over the years because of his tough negotiating style.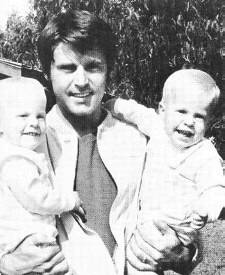 Matthew and Gunnar
In the late 60's Rick became enamored with singer/songwriters, including Bob Dylan, Tim Hardin, Randy Newman, Paul Simon, and Eric Andersen. He had reverence for that kind of writing, the ability to express oneself in song. Dylan's "Nashville Skyline" album hit Rick with the same force as Carl Perkins' "Blue Suede Shoes" did back in 1956. He loved the country-flavored songs that were lyrically romantic and direct. He also began to realize that he missed the camaraderie of a band.
Rick would have loved to partner up again with James Burton, but Burton was about to join Elvis Presley on his return to live performing. Instead, Rick started hanging out at the Troubadour, a 350-seat West Hollywood music venue, looking for musicians. The country rock of the Flying Burrito Brothers, the Byrds, and Poco was making waves at the club; and it was where Rick first saw Randy Meisner perform and was impressed with his remarkable vocal range.
End of Part 2
Rick Nelson Part 3: "Stone Canyon Days" https://michiganrockandrolllegends.com/index.php/blog/252-rick-nelson-pt-3-stone-canyon-days