Rick Nelson Pt. 3: "Stone Canyon Days"
Details

Category: Dr. J's Blog
Published: Thursday, 20 April 2017 13:06
Written by Gary Johnson
It's difficult to pinpoint exactly when the genre known as country rock began. During rock and roll's first decade, recordings by country artists including Johnny Cash, Patsy Cline, and Marty Robbins, to name just a few, were regularly found on Billboard's Hot 100. That seemed to change somewhat after the British Invasion, but the Beatles had recorded a number of country covers including Carl Perkins' "Honey Don't" and Buck Owens' "Act Naturally", as well as original compositions like "I'll Cry Instead", and "I Don't Want To Spoil The Party" as early as 1964. In 1966, the Rolling Stones included their first country song, "High and Dry", on the Aftermath album. That same year, Bob Dylan recorded almost the entire Blonde on Blonde album in Nashville, using some of country music's top studio musicians.
Rick Nelson's two country music albums, Bright Lights and Country Music from 1966 and Country Fever from 1967 would seem to have put him at the cutting edge, but that was not the case. Rick was no longer part of the music mainstream, and neither of the albums charted. His only glimpse of success from his country music experiment was his cover of Doug Kershaw's "Louisiana Man". The single reached # 76 on Billboard's Country Music Chart, but the credit for being one of the originators of country rock would, for the most part, go to others.
Gram Parsons was a very important figure in the rise of country rock. His Safe at Home album with the International Submarine Band, which included the use of a pedal steel guitar, is often cited as the first true example of the genre. Parsons then brought the concept he called "Cosmic American Music" to the Byrds; and he was the driving force behind their influential 1968 album, Sweetheart of the Rodeo. As a result of that landmark album, the Byrds became the very first rock band to appear on the Grand Ole Opry at the Ryman Auditorium in Nashville.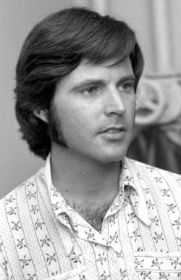 Rick 1969
Following a performance by the Byrds at the Royal Albert Hall in London, Parsons left the band. He had formed a close friendship with Keith Richards, and undoubtedly had some influence on the country music songs that were composed by Richards and Mick Jagger for the Rolling Stones' next four albums: Beggars Banquet, Let It Bleed, Sticky Fingers, and Exile on Main St.
In late 1968, Parsons formed the Flying Burrito Brothers with former Byrd Chris Hillman. The band's first album, The Gilded Palace of Sin, was released in 1969 and featured pedal steel guitarist Sneaky Pete Kleinow. Although the album was critically acclaimed and is now considered a country rock classic, it was not a big seller. Parsons and the Flying Burrito Brothers closed out the year by appearing as one of the opening acts for the Rolling Stones at the infamous free outdoor concert at the Altamont Speedway in California.
Buffalo Springfield was in the process of disbanding during the recording of their Last Time Around album; and lead singers Stephen Stills, Neil Young, and Richie Furay each recorded songs without the other members present. Furay's country-influenced "Kind Woman" featured Rusty Young on pedal steel guitar. After the breakup of Buffalo Springfield, Fury, Young, and Jim Messina decided to form a band called Poco and play a blend of country and rock music. Randy Meisner was added on vocals and bass, and the band recorded its first album, Pickin' Up the Pieces, in 1969.
Meisner left Poco after recording the first album over a disagreement with Furay. As a result, his lead vocals were replaced in the final mix and his photo was removed from the album cover. Rick, who was looking to form a new band, approached Meisner about joining him in April of 1969. Meisner suggested that they try jamming with some of his former bandmates in the Poor, the band he was with before joining Poco. Rick and the former members of the Poor started rehearsing in a home on Stone Canyon Drive in Sherman Oaks, California. As a result of how well the rehearsals had gone, Rick named his new group the Stone Canyon Band.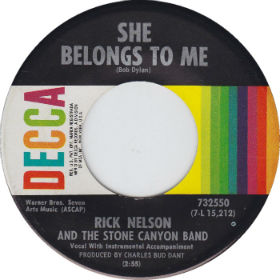 "She Belongs To Me" 45
The band played four or five days a week, working on Rick's original songs and jamming on some of his selected tunes from the past, knowing that the public would demand at least some of his old hits. Rick was a little reluctant about reliving a past that he'd unfairly been made to believe he had to live down. How to deal with his old hits would be something that he would battle to a certain extent for the remainder of his career. Watch Rick's performance of "She Belongs To Me". https://www.youtube.com/watch?v=UqYxTg-0aTo
The Stone Canyon Band's musical signature would be its prominent use of Tom Brumley's pedal steel guitar, an instrument still relatively exotic to rock and roll. Rick's new band made its concert debut at the Troubadour, a West Hollywood nightclub, and won over its opening night audience and received a glowing review in Rolling Stone magazine. The opening act at the Troubadour that night was a young stand-up comedian just starting out named Steve Martin.
Plans were then made to record a live album at the Troubadour in late 1969. Rick's new single, a cover of Bob Dylan's "She Belongs To Me", was just breaking into the Top 40 when Rick Nelson In Concert was recorded. His newest hit, which featured great backing vocals from Randy Meisner, peaked at # 33. It was included on the live album along with new arrangements of some of Rick's past hits: "Hello Mary Lou", "I'm Walkin'" and "Believe What You Say". Although the live album was not a monster hit, it reached # 54 on Billboard's Top Albums chart in early 1970. It got very positive reviews, despite a set list that contained only and handful of his big hits, and it positioned Rick and the Stone Canyon Band as one of the forerunners of country rock. Listen to Rick's performance of "Hello Mary Lou" from the Troubadour show. https://www.youtube.com/watch?v=pOSmwQAYYFA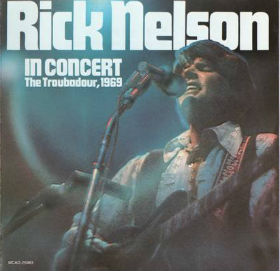 "Rick Nelson In Concert" LP
Rick now had to re-establish himself and the Stone Canyon Band as a concert draw in a new era. Most of the early gigs were in nightclubs like Mr. Kelly's in Chicago, the Bitter End in New York, the Cellar Door in Washington D.C., and the Unicorn in Boston. It amounted to a lot of travel without much pay.
Part of the problem was Rick's desire to distance himself from the hits of his early years. A big part of rock music was, and continues to be, in its value as escapist entertainment. Bruce Springsteen once said: "It's a house of dreams, of illusions, of role-playing and artist-audience transference. You serve at the behest of your audience's imagination. It's a very personal place, and once you've left your fingerprints there, crossing that imagination can have grave consequences. These can include disillusionment and loss of record and ticket sales".
Although it was understandable that Rick and the band wanted to play their new material, audiences came expecting to hear the big hits that they associated with him and were disappointed when they weren't included in the show. What made it more frustrating to fans was the fact that most of those early hits, especially his rockabilly recordings, would have fit easily into country rock arrangements.
Rick's next single, "Easy To Be Free" was a song that he wrote and was taken from the live album. The song, which reached # 48 on the Hot 100, was about the search for self and was inspired by two of his favorite books: The Prophet and Siddhartha. A third single made up of two of the other Bob Dylan songs he covered at the Troubadour, "I Shall Be Released" and "If You Gotta Go, Go Now", was released from the live album but it only reached # 102. Watch a live performance of "Easy To Be Free": https://www.youtube.com/watch?v=BHba1rkTEH8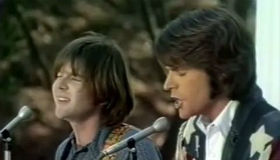 Randy Meisner and Rick
In what turned out to be a terrible mistake, Rick and the Stone Canyon Band were booked to do a tour of U.S. Army bases in Europe in 1970. Country rock may have been big in parts of the States, but not so much to the GIs overseas who heckled the band over their long hair and their new music. It was so bad that Randy Meisner quit the band after the disastrous tour.
Meisner would go on to become a founding member of the Eagles in 1971; and his vocals and songs were important ingredients to the band that came to symbolize country rock in the 1970's. Although he became a vital component of the Eagles, the loss of Randy Meisner was a major blow to the sound of the Stone Canyon Band.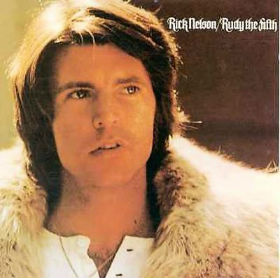 "Rudy the Fifth" album
In the fall of 1970, Rick released his 18th studio album titled "Rick Sings Nelson". It was made up entirely of his own compositions. Despite good reviews, it sold poorly and only reached # 196 on the Billboard Top Albums chart. Two singles were released from the album, but neither of the a-sides, "We Got Such A Long Way To Go" and "How Long", charted.
Trying to regain his momentum, Rick recorded another album, mostly made up of his own compositions, called "Rudy the Fifth". The songs evoked James Taylor's plain-spoken style but despite favorable reviews it only reached # 204 on the album chart. "Life", one of the songs Rick composed, peaked at # 109 when it was released as a single, but neither of the other two singles issued from the album charted, including his cover of Dylan's "Love Minus Zero/No Limit". Listen To Rick perform "Life": https://www.youtube.com/watch?v=epCRXV7dFBY
In order to promote the "Rudy the Fifth" album, Rick agreed to take part in a Madison Square Garden Rock & Roll Revival concert on Oct. 15, 1971. He had never performed on a packaged rock & roll show before and was releuctant to be labeled an "oldie". Rick agreed to do the show if it was rebilled as the Rock & Roll Spectacular instead of Rock & Roll Revival. The bill included Bobby Rydell, Bo Diddley, the Shirelles, the Coasters, Gary U.S. Bonds, and headliner Chuck Berry in front of an audience of roughly 20,000.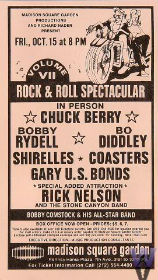 Special Added Attraction
Rick was listed as the "Special Added Attraction". Rick realized his mistake when he took the stage and saw the audience decked out poodle skirts, saddle shoes, and other 50's regalia. Rick and the Stone Canyon Band with their long hair, bell bottoms, denim shirts and cowboy boots looked strangely out of place.
The first part of the band's set that featured Rick's old hits brought screams of recognition; but when they went into "She Belongs To Me" and then a cover of the Stones' "Honky Tonk Women", the booing started and continued until the band played "Travelin' Man" for their encore.
In a 1972 interview in Rolling Stone magazine, Rick recounted the experience. "They kept looking at me and my long hair as if they couldn't believe I was the same person. But I couldn't have done it any differently, except by getting my hair cut and putting braces on my teeth."
During the spring of 1972, Rick composed a song about the events at Madison Square Garden titled "Garden Party". The single was released in the summer and became a major hit, peaking at # 6 on the Hot 100. It would also prove to be Rick's final Top Ten hit. Watch Rick perform "Garden Party": https://www.youtube.com/watch?v=uAHR7_VZdRw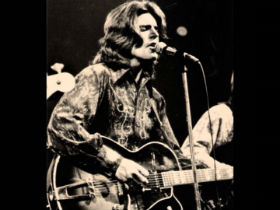 Rick at Madison Square Garden
The lyrics of the song provide a detailed account of what happened that fateful evening and listeners had fun figuring out who or what was being mentioned in the song. Some were pretty obvious. "My old friends" refers to the other artists: Bo Diddley, Bobby Rydell, the Coasters etc. who were also on the bill. "Yoko brought her walrus" was a nod to Yoko Ono and John Lennon ("I Am The Walrus") who were at the concert. "I said Hello To Mary Lou, She Belongs To Me" were two of the songs he performed that night. "I sang a song a about a honky tonk" dealt with "Honky Tonk Women", one of the covers he performed at the show. "Out stepped Johnny B. Goode" was a a reference to headliner Chuck Berry, as was "Playing guitar like ringing a bell", a line from Berry's classic autobiographical hit from 1958.
The lyric that stumped everyone, however, was: "Mr. Hughes hid in Dylan's shoes". Many thought Rick was referring to Howard Hughes, but it was really his friend George Harrison, who used to register in hotels under the name "Hughes" and attended the show in disguise along with Bob Dylan.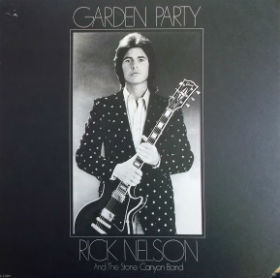 "Garden Party" album
Rick's next album, released later in 1972, was titled Garden Party to take advantage of the single's success. It featured a stunning photo of Rick in a velvet jacket, gripping a black Gibson Les Paul guitar. Rick composed 6 of the album's ten songs, and one of the covers was a Chuck Berry Song, "I'm Talking About You". The album reached # 32. It would be Rick's last Top 40 album and also his last for the Decca label.
Decca would soon combine with the Kapp and Uni labels to become part of the newly formed MCA record label. After the success of the "Garden Party" single and album, Rick made a triumphant return to New York City for a concert at Carnegie Hall in March of 1973. He wasn't the only one making a comeback, however. The night of his Carnegie Hall show, his parents were appearing at a New Jersey theater in the play The Marriage-Go-Round.
Later in the year, Ozzie Nelson published his autobiography which coincided with his and Harriet's return to weekly television with a new series called Ozzie's Girls. The show featured the Nelsons as themselves who rent David and Rick's old room to two college coeds. Several old cast members from The Adventures of Ozzie and Harriet appeared on the new show, but the easygoing charm of the old series was missing and Ozzie's Girls seemed forced and somewhat old-fashioned. The series was discontinued after Ozzie fell ill.
In 1974, Ozzie was diagnosed with terminal liver cancer shortly after Kris Nelson gave birth to his 6th grandchild, Sam Hilliard Nelson. Ozzie handled his illness in characteristic fashion. He started writing a second autobiography that was never published and put his financial affairs in order. He also tried to spare family and friends, but the disease extracted 70 pounds from his frame and he eventually refused all visitors except for the immediate family. Rick curtailed concert dates to be with his father, and David, who visited Ozzie daily, was with him when he passed peacefully in 1975.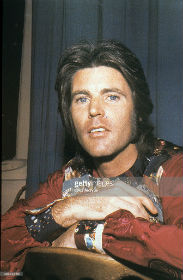 Rick 1974
The brothers were affected by Ozzie's death differently. As much as David missed his father, he was now free to be his own man. Rick, on the other hand, felt lost and his life started unraveling. Rick's follow-up single to "Garden Party" was "Palace Guard", another one of his compositions taken from the Garden Party album. It was his first under the MCA label but was only a minor hit, peaking at # 65. It would turn out to be his last single to reach the Hot 100. Listen to Rick's recording of "Palace Guard": https://www.youtube.com/watch?v=jowVGIPQyq8
Instead of capitalizing on his remarkable comeback, however, Rick went into a creative funk. Maybe it was partly the after effect of Ozzie's death, but it seemed almost like he felt that he couldn't top the success he enjoyed with "Garden Party" and lost his creative momentum. He composed only two songs for "Windfall", the title of his first MCA album; and he displayed little motivation in getting to the studio on time and taking charge of his new LP.
Not surprisingly, considering the circumstances, the "Windfall" album failed to chart and was a complete sales dud, as were the three lackluster singles issued from the album. MCA was concerned since they sank $60,000 into the project and got very little in return. The label bluntly told Rick that he needed a producer, but Rick wouldn't listen and Ozzie was no longer there to advise him.
Rick released two non-album singles on MCA in 1974,"Try (To Fall in Love)" and "Rock and Roll Lady", but neither charted. Part of the problem was that MCA continued to market him as the same singles artist that Decca signed in 1963, despite the fact that the record business had been changing from a singles to an albums market since the late 60's. Things eventually deteriorated to the point that Rick accepted MCA's offer to buy out the remainder of his $1 million twenty-year contract in late 1975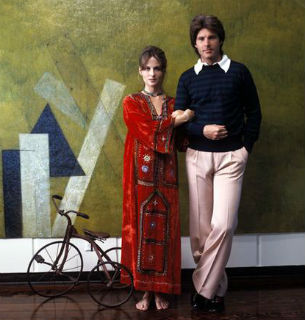 Kris and Rick
Rick and Kris' marriage was also in trouble. It may have started as early as 1966 with the cancellation of the TV series, in which Kris had been featured, and Rick's decline in popularity. In addition, they were both unfaithful when Rick was on the road.
Kris wanted Rick to give up music and concentrate on acting. Although she was a talented painter, Kris had gotten the acting bug through her work on the TV series as well as the Love & Kisses film, and she wanted to continue to work in the field. Kris felt that Rick would find greater success in acting than in music and believed his involvement in acting would help her career as well.
Although he had toured only intermittently during the last ten years, Kris objected to Rick spending time on the road with his band which led to constant fights. She even went so far as to forbidding him to bring his guitar into the house because, to Kris, it symbolized everything that was wrong with their life.
End of Part 3
Rick Nelson Part 4: "The Crash" https://michiganrockandrolllegends.com/index.php/blog/253-rick-nelson-pt-4-the-crash