Rick Nelson Pt. 4: "The Crash"
Details

Category: Dr. J's Blog
Published: Sunday, 23 April 2017 06:48
Written by Gary Johnson
In 1976 Rick Nelson's new manager, Greg McDonald, landed him a new recording contract with Epic Records. He also learned from the Nelson family's longtime representatives that Rick was in financial trouble. McDonald discovered that Rick's music career with the Stone Canyon Band had actually lost money over the years and he was nearly broke.
Despite not earning, Rick's family had an extravagant lifestyle: enjoying expensive vacations, buying sports cars, extensive renovations to homes, and reckless spending by both Rick and Kris. Neither had much financial sense, purchases were always paid for by business managers. Rick didn't even write a check until he was in his 40's.
With their relationship in tatters, Kris filed for divorce in 1977; and Rick began a nonstop touring schedule to try and improve his financial situation. The problem he faced while touring was the fact that he had enjoyed no real chart success since "Garden Party" in 1972. He was now considered a soft draw and had to take some dates in bars and supper clubs. Colleges were his best gigs during this period – places where he could reach new and younger audience. A big part of the problem was that for years he had downplayed his early hits, playing just one or two in his sets. Not only did he not want to be tied to his past, but Kris had also helped convince him that playing songs like "Lonesome Town" dated him.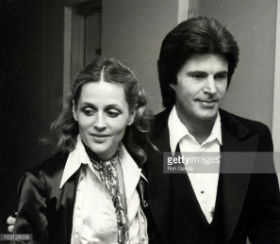 Kris and Rick Nelson
Rick was also comfortable on the road where he was free from Kris and family responsibilities. One of the benefits of touring over the years was the large group of willing women at every show; and Rick took full advantage of the situation. He once estimated that he had slept with over 1,000 women.
Kris had slept around as well including, at age 30, taking the virginity of teenaged Ronald Reagan Jr. in his parents' bed. His father, then Governor of California, was reportedly relieved after learning of the affair from his security people – he had thought his son might be gay; but Nancy exploded and warned Harriet to keep her lecherous daughter-in-law away from young Ronnie.
In the meantime, Rick's first album at Epic, tilted "Intakes", was a sales flop as were the two singles released from it. The country rock that he had helped spearhead with the Stone Canyon Band had started to fade; and even genre leaders like the Eagles, Linda Ronstadt, and Jackson Browne had adopted a harder rocking sound by the end of the decade.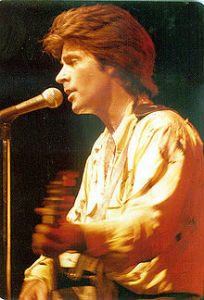 Rick at the Roxy Theater
After a second album produced by Al Kooper was rejected by Epic for "not sounding like Rick", he returned to playing his big hits from the 50's and early 60's at a show at the Roxy Theater in Los Angeles. The tremendous audience reaction prompted his return to rockabilly.
In early 1979, Rick traveled to Memphis to record his next album. Known as the Memphis sessions, the first thing he recorded was "That's All Right", Elvis' first hit at Sun. He also recorded a cover of Buddy Holly's "Rave On", and a slowed down version of the Bobby Darin hit "Dream Lover". Watch a live performance of "That's All Right": https://www.youtube.com/watch?v=YvPti9htohs
Shortly thereafter in February, Rick got a chance to host Saturday Night Live. Instead of an opening monologue, Rick performed a medley of his past hits: "Hello Mary Lou", "Travelin' Man", and "Fools Rush In". He did a nice job in several of the show's comedy skits. The highlight was a Twilight Zone segment, presented in black and white, in which Ricky Nelson mistakenly enters the kitchens of other domestic comedy families that were popular on television during Rick's heyday in the 50's and 60's. Dan Aykroyd played Rod Serling; while Jane Curtin, John Belushi, Bill Murray, Laraine Newman, Gilda Radner and Garrett Morris portrayed characters from Leave It To Beaver, Father Knows Best, Make Room For Daddy, and I Love Lucy, as young Ricky wandered from kitchen to identical kitchen, trying in vain to find his home with Ozzie and Harriet.
Rick also performed "Dream Lover" on the show, but Epic failed to put out the single immediately following his very popular appearance on SNL. The label then scrapped the Memphis rockabilly album because the label felt "it didn't fit with the new wave acts that were currently dominating the charts". Rick and Epic parted ways soon after. Watch a live performance of "Dream Lover": https://www.youtube.com/watch?v=bG4DjDGM3Vw
Shortly thereafter, Rick and Kris reconciled and bought Errol Flynn's former home above Mulholland Drive for $750,000. They loved the house, but it was not financially wise considering the couple's reckless spending habits. Rick's career, which meant being on the road for nine months or more, still caused problems; but he had to play 250 dates per year just to stay solvent.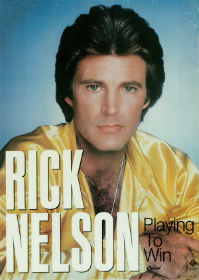 "Playing To Win" LP
After leaving Epic, Rick signed with Capitol Records. Nelson had charted 18 Top 40 hits in England during the 50's and early 60's, and Paul McCartney was a fan. Paul offered to produce, play bass, and sing harmonies on a rockabilly album for Rick at Sun Studios in Memphis, but Capitol surprised everyone when they nixed the idea, possibly because McCartney had recently left the label for Columbia Records.
Instead, Capitol brought in Jack Nitzsche to produce Rick's next album, titled Playing to Win. It was a minor success, reaching # 153, thereby making Rick the first artist to chart albums in the 50's, 60's, 70's, and 80's. Two singles were released from the album, including a remake of his 1958 hit "Believe What You Say" but after neither charted, Rick was dropped from the label.
Unfortunately, Rick's absences from home caused more fighting, and Kris continued to insist that he quit music and go into films, despite the fact that no film offers were coming in. Rick did appear in a number of television talk shows during this time and took acting parts in episodes of McCloud and The Hardy Boys Mysteries. To escape the constant battling at home, Rick found refuge by going out on the road. Kris found hers in the bottle.
Kris left Rick for good in late 1980. Rick was passive in the relationship and probably would never have made the move himself. The extremely messy divorce proceedings dragged out for almost two years, and both sides accused the other of drug use. Over $1 million was spent on attorneys and Rick ended up being responsible for both his and his wife's legal fees.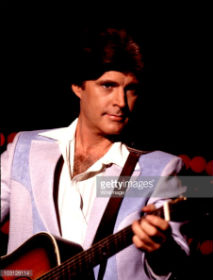 Rick 1982
Things got a little worse in 1981, when Rick had a paternity suit filed against him by a married woman named Georgeann Crewe. She had met him at a Playboy Resort in New Jersey where Rick and his band were playing. Blood tests substantiated that Rick was the father of the boy, born Eric Jude Crewe. Rick agreed to pay $400 monthly support but wanted nothing to do with the woman or the child. After Rick's death, mother and son unsuccessfully battled his estate for money for over a decade.
By 1982, Rick was overdrawn at all his banks and juggling creditors. He fell behind on his sons' tuitions at private school and had to borrow $50,000 from Harriet. Rick's financial consultants advised declaring bankruptcy but Rick refused. Kris, in the meantime, made his life increasingly difficult by having her lawyers serve him with depositions for court appearances while he was on tour.
The four kids were trapped in the middle, and Kris put lots of restrictions on Rick's visitations. During this time, their youngest son Sam was placed in the custody of Tom and Elyse Harmon because of Kris' alcohol abuse and unpredictable behavior. At 17, daughter Tracy was old enough to move in with Rick, but twins Matthew and Gunnar often had to sneak out to visit their father.
Harriet tried not to take sides and was still having difficulty dealing with Ozzie's death. She finally sold the original California house after 38 years and moved to Laguna Beach where she spent quality time with her six grandchildren. Harriet took a few television roles and stayed very close to oldest son David.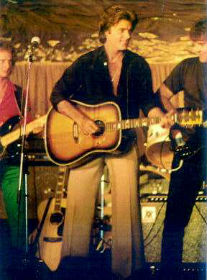 Rick on tour
David Nelson was furious with Kris over her treatment of Rick, but the two brothers had become estranged over the money Rick was borrowing from Harriet. By the early 1980's, they only saw each other at their mother's home on holidays since Rick was constantly touring.
During this time, Rick was making between $7,500 and $10,000 per night on weekends, but he might only clear half of that after expenses. On weeknights, he'd take gigs where he barely broke even; but given the choice, he preferred to play rather than sit idle. Unlike Chuck Berry, and most others performing on the "oldies" circuit, Rick never relied on house bands or hastily recruited local backing groups. Throughout his career, even when in dire financial straits, he always toured with his own band of top musicians.
By the early 80's, rockabilly had regained its popularity with the emergence of the Stray Cats who were topping the charts in both England and the United States. Because of the renewed interest in the genre, Rick was performing his old hits again, and had finally began to accept his rightful place in rock and roll history. In 1983, he even started billing himself as 'Ricky' again, and he headlined a concert called the Garden Party Reunion in New York with the original line-up of stars, minus Gary U.S. Bonds. Rick got a standing ovation when he took the stage with the Jordanaires, and he closed his set of big hits with "Garden Party". Watch Rick and his band perform a medley of "Stood Up" and "Waitin' In School": https://www.youtube.com/watch?v=1s2X2gQp2IM
During Rick's difficult divorce proceedings, he became a recluse of sorts. This became even more pronounced when he met Helen Blair, 16 years his junior. She would become the source of divided opinions from family and friends over her effect on Rick and the nature of their relationship for the years they were together.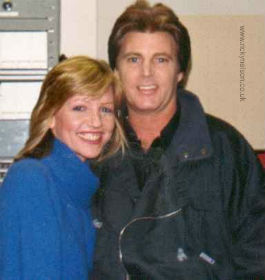 Helen Blair and Rick
Helen was born in South Orange, New Jersey, and had a difficult childhood. After high school, she fled her very strict parents to California where she worked as a model and animal trainer. She met Rick after a show in Las Vegas in 1980. Helen quickly became Rick's road companion, and she helped out by organizing his day and acting as a fan club liaison at his shows. She moved in with him in 1982.
Helen came with some baggage. She was a cocaine user and may have contributed to Rick's use of the drug. She was also said to be a chronic shoplifter which led to some embarrassing incidents; but Rick always defended her, citing her difficult childhood. Rick had always been attracted to women with personal problems; and Helen adapted to his unusual lifestyle of sleeping during the day, staying awake at night, and not socializing much or going to movies or restaurants.
Rick bought Helen an engagement ring in 1984, despite both Harriet and David disapproving of the relationship. When Harriet learned of the engagement, she threatened to write Rick out of her will. On the positive side, some friends claimed that Helen helped Rick become less reclusive – shopping downtown during the day, being freer with his emotions, and wanting a family life again.
Possibly because of his relationship with Helen, he seemed to better accept growing older by his 45th birthday. This was a big step for Rick, who because of astigmatism, could not read without glasses but was too vain to wear them. It was also a closely guarded secret that his hair was snow white by his 40's and that he dyed it; or that Rick was so conscious of his appearance that he refused to go out in public without being cleanly shaved and wearing some pancake makeup.
Rick's last taped performances was on a split bill with Fats Domino in 1985. The tour lasted three weeks. Fats traveled with a ten-piece band and insisted that Rick duet with him each night on "I'm Walkin'". Although Rick was the headliner, he often let Fats close the show. He almost always deferred to musicians he respected. Watch Rick and Fats Domino duet on "I'm Walkin'": https://www.youtube.com/watch?v=qWfsJx1ycY0
Rick performed each night with the Jordanaires and his great final band: Pat Woodward on bass, drummer Ricky Intveld, pianist Andy Chapin, and lead guitarist Bobby Neal. Neal was a great talent, comparable to James Burton, and was Rick's best friend on the road.
Earlier in the year, Rick had come up with the idea of re-recording his old hits. The double-record set of 22 songs was released by Silver Eagle Records, a Canadian firm that specialized in advertising on late-night television and selling through mail order. All My Best, as the set was titled, sold in substantial quantities. The only new song in the collection was a song called "You Know What I Mean", written by veteran British rocker Mickey Jupp; and a live performance of the song by Rick and his band got airplay on MTV. Watch Rick, his band, and the Jordanaires perform "You Know What I Mean": https://www.youtube.com/watch?v=9H7d1pjNAFI
When Matthew and Gunnar turned 18, they moved in with Rick. Younger brother Sam was still living with Tom and Elyse Harmon. Tracy Nelson had gotten her big break three years earlier in 1982, playing the part of a "valley girl" Jennifer DeNuccio on the cult TV comedy Square Pegs with Sarah Jessica Parker.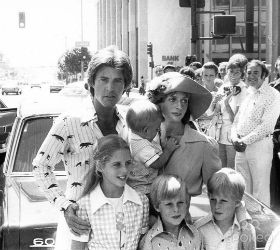 Rick, Kris, and their children
Matthew and Gunnar formed a band and took the stage for the first time, opening for Rick at the Magic Mountain amusement park in Los Angeles. Billed simply as Nelson, they would eventually follow their grandfather and father to become the first third generation act to have a # 1 hit with "(Can't Live Without Your) Love and Affection" in 1990. Ozzie's orchestra had a # 1 hit with "And Then Some" in 1935, and Rick reached # 1 twice with "Poor Little Fool" in 1958 and "Travelin' Man" in 1961.
By the fall of 1985, Rick had gotten his financial problems under some degree of control. He wanted to cut back on the extensive touring and maybe line up a television series. He taped several pilots but nothing was picked up by the networks. He joked to friends that he'd "done more pilots than a TWA stewardess".
The 1980's saw America in the grip of cultural nostalgia aimed at Baby Boomers. Jerry Lee Lewis, Ritchie Valens, and Chuck Berry all became the subjects of major motion pictures during the decade, and artists of the 50's and 60's were in demand again. Rick was earning $12,500 per night; and if he'd lived, his fee would have doubled by 1990.
In May, Rick sang backing vocals on the John Fogerty song "Big Train from Memphis" at a session for the Class of '55 album featuring Johnny Cash, Roy Orbison, Jerry Lee Lewis, and Carl Perkins. Rick shared a microphone with Carl Perkins. It was the first time he had the opportunity to meet Perkins who, along with Elvis, had inspired Rick's rock and roll journey.
Rick was also excited about recording a new album with Jimmie Haskell, who had worked in the studio with him on all his hit singles and albums in the 50's and 60's for Imperial Records. Ten tracks were in varying stages of completion before Rick left for a short tour in December.
He enjoyed a nice Christmas at home with his four children, Harriet, David and his wife, and Helen and her sister. The day after Christmas, Rick went back into the studio to record Buddy Holly's "True Love Ways". Where Holly's version, issued after his death in 1959, was drenched in strings and used a saxophone, Rick interpreted the song intimately with just acoustic guitar and bass. Eerily, the Holly song would be Rick's last recording. Listen to Rick's version of "True Love Ways": https://www.youtube.com/watch?v=s7xosIQIphA
Rick and the band were flying in a Douglas DC-3 which had a reputation as one of the most dependable aircraft in aviation history. Despite his fear of flying, Rick had always refused to travel by bus. After years of leasing private jets and flying commercial, he bought the 1944 DC-3, formerly owned by the DuPont family and then Jerry Lee Lewis.
The plane had some mechanical issues following the Class of '55 recording session, causing Rick to miss playing in the first Farm Aid Concert in Champaign, Illinois, organized by Willie Nelson and John Cougar Mellencamp. Rick didn't really want to leave for the tour in late December, but he had just gotten a letter from Kris' attorney saying he owed her money.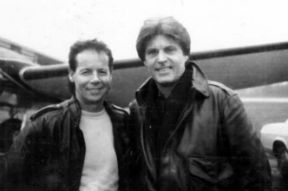 Pat Upton, Rick and the DC-3
The itinerary included a show in Orlando, and then several dates in Gunterville, Alabama, at a club called P.J.'s Alley. It was owned by Pat Upton, a former member of Rick's band, and he was playing the dates for no fee as a favor to Upton. Rick took just a percentage of the door to pay his band.
Rick did two shows on Saturday at the club. Admission was $12. There was no show on Sunday since the club was closed. He did one final show on Monday night, Dec. 30th, and closed the performance with Buddy Holly's "Rave On".
Because of mechanical problems, the plane didn't take off until the afternoon of Dec. 31st for that night's show in Dallas at the Park Suite luxury hotel. A 25-foot stage had been erected in the center of the tower-like building so that guests could drink champagne and watch from their balconies. All 250 suites had sold out at $170, and 500 patrons had paid for seats on the floor.
There were two pilots and seven passengers on the flight: Rick, Helen, his four band members (Pat Woodward, Rick Intveld, Andy Chapin, and Bobby Neal) and Rick's road manager, Donald Clark Russell. The pilots first radioed problems at around 5:00 PM when they requested clearance to land at an airport on the Texas/Arkansas border, 20 miles to the east. One minute later, they radioed they were going to have to make an emergency landing because they couldn't keep the DC-3 aloft.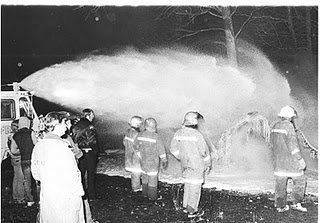 Fire crews at the crash scene
The plane crashed in a wooded area near a farmhouse in DeKalb, Texas. The two pilots, Ken Ferguson and Brad Rank, were able to escape through the cockpit windows; but the plane was a fiery inferno, killing all seven passengers, including Rick.
Harriet was notified of the crash by Rick's manager, Greg McDonald, who didn't yet know any information about the survivors. She hoped that Rick and Helen might have taken a commercial flight, but before Harriet received official confirmation, she heard Rick's death reported on a TV news broadcast. Matthew Nelson also heard the news through the media. He had turned on his car radio and was listening to "Garden Party" when the announcer intoned that it was "a tribute to Rick Nelson who was killed in a plane crash earlier today."
The standing Nelson family joke over the years was that "It's Late" should have been Rick's theme song because he was always tardy. His constant lateness came to be referred to as "Nelson Standard Time". In a strange twist of fate, Rick's remains were lost in transit from Texas to California; and he would have probably found it funny that he was late for his own funeral.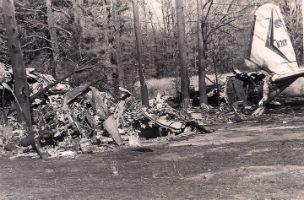 The next morning
Before the funeral service, Kris had hurt the already distraught family by threatening to sue for part of Rick's life insurance money. According to an agreement reached after the divorce, it was supposed to go to the four children. Rick's last will and testament, drawn up four months before his death, bequeathed his entire estate to his four children, failing to provide for his ex-wife, illegitimate son, and Helen Blair who also died in the crash. As a result, Kris then tried to wrest control of the estate from David who was named administrator in Rick's will, causing great tension at the funeral which was held at Hollywood's Forest Lawn Cemetery.
Matthew and Gunnar performed Rick's composition of "Easy To Be Free", and the Jordanaires performed "Peace In The Valley" at the family's request. The funeral ended on a bizarre note when Kris and Tracy got into an argument over Kris' plan to sue for life-insurance money, and Kris threw Tracy to the ground and began hitting her with her purse. Helen Blair was not mentioned at the funeral. Her parents had refused to bury her remains and brought a $2 million-dollar wrongful death suit against Rick's estate.
Although Rick had managed to avoid controversy during his life, his death generated a great deal of it. Two weeks after the crash, the Washington Post published front page story titled "Drug-Related Fire Suspected In Rick Nelson Plane Crash". The less sensational story under the headline indicated that it was "one of several possibilities" that federal investigators were looking into.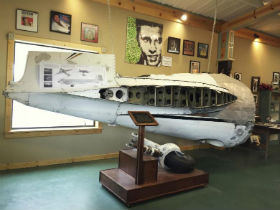 Tail of the DC-3 at the Williams House Museum in Texas
One rumor that spread widely speculated that one or more passengers were freebasing cocaine, a process in which the drug is mixed with other chemicals, heated, and then drawn deeply into the lungs using a pipe. Richard Pryor, who was burned badly while freebasing in 1980, was an example of the danger involved. Although freebasing was never mentioned, the drug accusations filed by Kris' lawyer during their divorce were most likely the source of the drug-related fire rumor. Watch a news report following the publication of the freebasing rumor: https://www.youtube.com/watch?v=ywLX4z-Pats
It took the National Transportation Safety Board a year and a half to complete its investigation. They were impeded by the lack of physical evidence due to the plane's near-total destruction. Although the reports revealed a small amount of cocaine in Rick's and two other passengers' bodies, there was no evidence of freebasing; and in 1986 when the NTSB made public the toxicology reports, they had discounted the freebase theory altogether. The damage to Rick's reputation had already been done, however, even though the NTSB report blamed a faultily repaired gasoline heater for causing the plane's fire.
According to Rick's friends and former bandmates, he was never a heavy user of drugs. They had always been part of the rock and roll scene, however, just as they were in other music genres including blues, jazz, big band, pop, and country music. Rick had occasionally used cocaine, if it was available, but he might have increased his intake during his five years with Helen Blair, who was known to be a heavy user.
The Nelson family's reputation was further tarnished in 1987 by a highly-publicized trial in which Mark Harmon and his new wife, Pam Dawber, took Kris to court to gain custody of Sam, who had been living with them while his mother was in drug rehab. The Harmons dropped the case, however, after Kris' lawyer suggested that Dawber used cocaine on the set of the TV comedy Mork & Mindy. It was the same tactic that Kris used in her divorce battles with Rick.
On January 21, 1987, Rick Nelson was inducted into the Rock and Roll Hall of Fame along with former Sun artists and musical inspirations Carl Perkins and Roy Orbison. John Fogerty, formerly of Creedence Clearwater Revival and a big Rick Nelson fan, gave his induction speech. He cited Rick as not only a musical inspiration but also as a personal role model, someone who remained classy and human while enjoying great success. He also spoke passionately about Rick's commitment to rock and roll, calling him a pioneer who made some of the greatest rockabilly records of all time. Fogerty was joined on stage by Tracy, Matthew, and Gunnar who all read tributes to their father.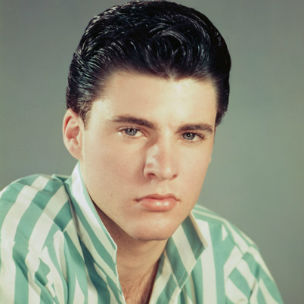 The late, great Rick Nelson
Later in 1987, just a month after she got married, Tracy Nelson was diagnosed with Hodgkin's lymphoma. Harriet came out of seclusion to live near and support her granddaughter. Tracy went into remission after surgery, chemotherapy, and radiation treatments. Several years later, she was diagnosed with breast cancer and then thyroid cancer. Tracy survived both and became active in cancer research advocacy and a spokesperson for the Lymphoma Research Foundation of America.
Matthew and Gunnar Nelson have continued with their successful music careers. Both are married, and they perform together in a variety of combinations, including a touring show tribute to their father called Ricky Nelson Remembered. Younger brother Sam has also pursued a career in music and has his own band.
Kris Nelson remarried in 1988 and divorced in 2000. She has continued to paint and examples of her work were the basis of her autobiography titled, Out Of My Mind.
Harriet Nelson never remarried. She died of congestive heart failure in October of 1994. She is interred with Ozzie and Rick at the Forest Lawn Cemetery.
In 1987, David directed and starred in a moving one-hour tribute to Rick called Rick Nelson: A Brother Remembers for the Disney channel. It contained previously unseen footage of the Nelson family. David Nelson passed away in January of 2011 from complications of colon cancer.
End of Part 4
These two excellent biographies were the sources of much of the information for the Rick Nelson series:
Teenage Idol, Travelin' Man - The Complete Biography of Rick Nelson by Philip Bashe
Ricky Nelson - Idol For A Generation by Joel Selvin