Rock and Roll in the Movies Pt. 1: The 50's
Details

Category: Dr. J's Blog
Published: Thursday, 11 April 2013 15:01
Written by Gary Johnson
It's been 61 years since rock and roll music made its first appearance in a motion picture; but it was almost an accident that it was included in the soundtrack. The song, which was recorded by a Michigan-born artist, caused a sensation when matched with the images in the film, and its box office success spawned a rash of other rock and roll-related movies by filmmakers anxious to capitalize on this latest trend.
At the dawn of rock and roll in the 1950's, the movie industry in the United States was running scared. Movie attendance was declining. During the post-war years, from 1946 to 1949, weekly theater attendance had topped 90 million. By 1955 that total had fallen to 45 million. The biggest reason for this decline was the development of television. In 1950 there were only 4 million sets in use, but by the end of the decade the figure had grown to 50 million. At one particular point in 1956, televisions were being sold at the rate of 20,000 per day. People were staying home to watch the tube rather than going out to the movies.
Rock, Rock, Rock!
The motion picture industry tried to buck the trend with a number of gimmicks including Widescreen, Cinemascope, VistaVision, Smell-O-Vision and 3-D. Although some of these technological gimmicks brought people back into the theaters, they were not the cure-alls that the industry was searching for.
Coming into full bloom in the 1950's, it would be the rise of the post-war teenage culture that served to turn the tide. During the decade the nation's youth would enjoy lives with more leisure time and money to spend than any previous generation. A study made during this time proclaimed that fifty-two percent of those who went to theaters once a week or more were between the ages of ten and nineteen. Another saving grace was the rise of drive-in theaters, from a little over a thousand in 1949, to almost five thousand by the end of 1959.
The movie studios looked to lure this new audience, with significant amounts of money to spend each week, to productions that would speak to their interests. Generally termed exploitation movies, the films generally centered on the lives of teenagers, fantasies of teenagers, or trends, fads, or problems of teenagers, and most often included the newest teenage music craze – rock and roll.
It all started with two motion pictures that were patronized by both adults and teenagers, Blackboard Jungle and Rebel Without A Cause. Dealing with the subjects of juvenile delinquency and confused youth, the films were artistic and commercial successes. But more important was the fact that the huge group of the nation's teenagers were beginning to get serious attention. All of a sudden, not only were teens perceived as an important social force, but advertisers and promoters began to see them as a massive economic power as well.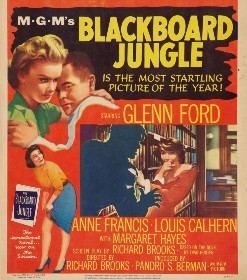 Blackboard Jungle
Blackboard Jungle was the first of these two influential films to be released in March of 1955. Based on the best-selling novel of the same name by Evan Hunter, Glenn Ford starred as a dedicated teacher at an inter-city school where many of its students (including Sidney Poitier in an early role) engage in anti-social behavior. Ford's character and his wife (portrayed by Anne Francis) are threatened by a young thug at the school, played by Vic Morrow in his movie debut. It was also the first film to feature a rock and roll song.
Although MGM is credited with bringing Hollywood into the rock and roll era with the film, it might not have happened without the record collection of Glenn Ford's teenaged son. Turner Classic Movies described the influence and the impact of the song supplied by young Peter Ford. "In search of the kind of music teens like the potential delinquents in the film were listening to, director Richard Brooks borrowed a few records from Glenn Ford's son Peter. When he heard Bill Haley and his Comets perform 'Rock Around The Clock', he found the perfect theme song – the first rock song used in a Hollywood feature. Teens flocked to the film, dancing in the aisles as the song played over the opening credits."
Haley, who was born in Highland Park, Michigan, had released the song the previous year as the B-side to "Thirteen Women (And Only One Man in Town)". After the film came out, 'Rock Around The Clock' was re-released and became the first rock and roll song to hit #1 on Billboard, spending 8 weeks at the top of the chart in the summer of 1955.
Rebel Without A Cause was released in October of 1955, just weeks after its star, James Dean, was tragically killed in an auto accident. The film was different from Blackboard Jungle in that it portrayed alienated and confused middle-class teenagers, and by the fact that there was no rock and roll used in the soundtrack. James Dean stars as Jim Stark, a troubled teen with dysfunctional parents who arrives at a new high school and is attracted to Judy (portrayed by Natalie Wood), a girl who is rebelling against her father's lack of affection by hanging out with the school's leather-jacketed tough guys. Dean's smoldering yet tender performance was the epitome of cool, and became an image blueprint for future 50's rock and rollers.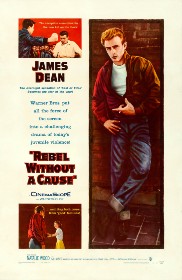 Rebel Without A Cause
Warner Brothers originally considered Rebel Without A Cause a B-movie project and used black and white film stock at the start of the shoot. After seeing Dean's performance in East of Eden, studio head Jack Warner realized that he was a hot property and rising star; and filming was switched to color and several early scenes had to be reshot. The famous knife fight and chicken run scenes caused a sensation among teens, and Dean's most famous role made him a cultural icon.
Rebel Without A Cause also received some professional accolades. Natalie Wood and Sal Mineo, who played a younger boy who idolized Dean's character, were both nominated for Academy Awards in the Best Supporting Actress and Actor categories for their performances. In addition, the film's director Nicholas Ray was nominated in the category of Best Writing for a Motion Picture Story.
Elvis Presley, who signed with RCA in late 1955 and replaced Bill Haley as rock and roll's biggest star the following year, was a big fan of Rebel Without A Cause and reportedly memorized every one of Dean's lines. When Elvis had the opportunity to go into films, he had hopes of following in James Dean's footprints; but despite possessing some of the same qualities the 'Rebel' star projected on the screen, Presley's popularity as a singer would harness him to musicals and eventually stifle any ambitions he had to be a serious actor in the movies.
Rock Around The Clock
Correctly sensing that there was money to be made by producing films with rock and roll specifically targeted at the growing teen audience, small companies like American International Pictures began putting product into theaters. Sometimes referred to as exploitation movies, these films, for the most part, were cheaply made with paper-thin plots and advertising campaigns that promised more than the movies delivered.
The first of these, Rock Around the Clock, came out in 1956. Shot in black and white and clearly trying to take advantage of the popularity of the title song, the film tells the fictionalized story of the rise of Bill Haley and his Comets who supposedly discover the new rockin' beat in a mountain village and are brought to the attention of New York deejay Alan Freed. Haley was no actor, but the movie is redeemed somewhat by his performances with the Comets, along with those of the Platters and Freddie Bell and his Bellboys.
Freed, at the peak of his popularity in 1956, was also featured in Rock, Rock, Rock. This one has a cringe-inducing plot that has thirteen-year-old Tuesday Weld devising a money-lending scheme to earn cash for a prom dress after her dad takes away her charge account. The film is saved by a stellar line-up of performers including LaVern Baker, the Moonglows, the Flamingos, Chuck Berry, and the only film appearance of the Johnny Burnette Trio. The undisputed highlight is the performance of Frankie Lymon and The Teenagers who sing two songs. In an interesting bit of trivia, Tuesday Weld's singing voice in the movie was dubbed in by a then-unknown Connie Francis.
Not to be outdone by small independent studios, 20th Century-Fox got into the rock and roll movie cash hunt in 1956 with a big budget musical comedy that featured some well-known acting talent and a host of top hit-makers. The Girl Can't Help It starred Edmond O'Brien as a gangster who forces press agent Tom Ewell to make sexpot Jayne Mansfield a singing star.
The Girl Can't Help It
The buxom Mansfield was fitted out in a succession of bras that made her breasts resemble the artillery shell-shaped styling elements found on the front bumpers of several models of the decade's cars. The prominent chrome appendages, nicknamed "Dagmars" in the 50's, were displayed on Cadillacs, Buicks, Lincolns, and Mercurys. Just in case you didn't catch the breast-car connection, there was also a scene showing Mansfield walking into an apartment clutching two quarts of milk to her chest. That symbolism was not lost on any of the teenaged boys who saw the film, including four young rock and rollers from Liverpool who loved the film and would later name themselves The Beatles.
The Girl Can't Help It was one of the best of the 50's rock and roll movies. The sexy comedy not only depicted the influence of organized crime on the music industry, but also included a bevy of classic rock and roll performances including "Be-Bop-A-Lula" by Gene Vincent and his Blue Caps, "Ready Teddy" by Little Richard, "Blue Monday" by Fats Domino, "You'll Never, Never Know" by the Platters, and "Twenty-Flight Rock" by Eddie Cochran.
Universal studios put out their first rock and roll movie in 1957. The Big Beat pales in comparison with The Girl Can't Help It, however. The trite storyline of a record company executive who lets his son start a subsidiary label and becomes upset when it starts putting out rock and roll records generates little interest. The film does have some good performances by Fats Domino, the Diamonds, and the Del-Vikings; but with its cheap production values, the only thing that separates it from the exploitation flicks of the small independent studios is that it was shot in color.
Don't Knock The Rock
Bill Haley and his Comets' second film was 1957's Don't Knock The Rock. Alan Dale, looking even older than Bill Haley, is woefully miscast as a singing idol that puts on a rock and roll show in his hometown to prove that the new music is not sinful. The movie is made palatable by the performances of the several musical acts. The highlights include Haley's performance of "Hot Dog Buddy Buddy" and the two songs by Little Richard and his band. Although his performances were toned down considerably by the film's producers, it's fun to watch Richard blast through his two early hits, "Tutti Frutti" and "Long Tall Sally".
Alan Freed was also back in 1957, starring in Mister Rock And Roll. Freed is tipped by a local record store owner that white kids are buying "race" records, and he ends up battling a magazine editor who is bound and determined to slander rock and roll music. The music is the only reason to watch the film; and the performances from early rock stars like Chuck Berry, Little Richard, Frankie Lymon and The Teenagers, LaVern Baker, the Moonglows, Clyde McPhatter, and Brook Benton are all top-notch.
Warner Brothers released Jamboree in 1957. The film's ads boasted "17 great recording stars! 21 hit tunes!"; and the music performances were the only highlights in this low budget flick. The plot involved two unattractive talent agents who had divorced and were now getting back together. As they attempted to make stars out of their young clients, they brought them to various deejays, including Detroit's Robin Seymour, who introduced them to the next performer.
Jamboree
Highlights include Jerry Lee Lewis doing "Great Balls of Fire", Carl Perkins performing "Glad All Over", and Fats Domino with "Wait And See". Buddy Knox, Frankie Avalon, Charlie Gracie, Slim Whitman, and Joe Williams with the Count Basie Orchestra are among the other acts.
Elvis Presley made his screen debut in late 1956. When Presley signed a seven-year contract with producer Hal Wallis and Paramount, Wallis promised Elvis that he would look for dramatic roles to let the singer take his acting career seriously. His first chance was in a post-Civil War western called The Reno Brothers. Presley recorded "Love Me Tender" for the film, adapted from a Civil War ballad called "Aura Lee". He liked the song and didn't mind doing it, but was upset when several others were added that he considered "garbage". So much for promises made. When advanced sales of the "Love Me Tender" single hit # 1, the title of the movie was changed to Love Me Tender to capitalize on the song's popularity.
The film starred Richard Egan as he older brother who was thought to be killed in the war and Debra Paget as the girl that he and his younger brother, played by Elvis, both love. The movie was generally panned by the critics, but because of Presley's involvement, it recouped its production costs in just three days and became one of the highest grossing films of the year.
Loving You
Presley's second film, Loving You, was really his first rock and roll movie. Shot in color, the 1957 production is loosely biographical with Elvis starring as a young truck driver who also sings. He's persuaded by a clever press agent, played by Lisabeth Scott, to join the struggling country music band of her ex-husband, portrayed by Wendell Corey.
Elvis' dynamic singing and Scott's publicity stunts make him a star and win him the love of his co-star, played by Delores Hart in her movie debut. Presley sings the title song along with his # 1 hit "(Let Me Be Your) Teddy Bear". The film's soundtrack also includes some other strong performances by Elvis including "(Let's Have A) Party", "Mean Woman Blues", "Hot Dog" and "Got A Lot O' Livin' To Do", all of which make Loving You the first of the three great Presley rock and roll movies of the 50's.
The second was Jailhouse Rock. Also released in 1957, Elvis plays a badass version of himself in this fictional account of a rock star named Vince Everett who was sent to prison after accidentally killing a man in a bar fight while defending a lady in distress. Only in a Hollywood movie could Vince then be discovered while performing in a televised talent show from the state prison.
After his release, Elvis (Vince) meets a sharp young agent (played by Judy Tyler) who has him record an independent single. Her deejay friend, portrayed by Dean Jones, plugs the record and Vince becomes a sensation. Now a star, he goes to Hollywood and performs the famous "Jailhouse Rock" dance scene in a special on national television. Flush with success, Vince gets a big head, treats his friends badly, and nearly loses his voice before the predictable happy ending.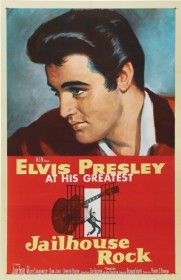 Jailhouse Rock
Hall of Fame songwriters Jerry Leiber and Mike Stoller, who had provided the title track for Loving You, wrote four songs for the feature. Besides the title song that was a # 1 hit for Elvis, they also penned "Treat Me Nice", "I Wanna Be Free", and the classic "(You're So Square) Baby I Don't Care". Sadly, his co-star Judy Tyler was killed along with her husband in a car crash just two weeks after Jailhouse Rock was completed. Elvis was so upset by her untimely death that he did not attend the film premiere.
Presley's best rock and roll movie was the last one he made before going into the Army in 1958. King Creole was based on the Harold Robbins novel A Stone For Danny Fisher; and stars Elvis as Danny, a 19-year-old busboy at a Bourbon Street nightclub. He gets involved with an older woman, played by Carolyn Jones, who is the mistress of a gangster portrayed by Walter Matthau.
Danny has problems at home with his father, drops out of school, and joins up with a group of young thugs led by Vic Morrow. In the meantime, he causes a sensation by singing at the nightclub where he works, and falls in love with a nice girl he meets (Delores Hart) while helping his hoodlum friends shoplift goods at the department store where she is employed. Hart went on to star in eight more films, including Where The Boys Are, before leaving Hollywood in 1963 to become a Roman Catholic nun.
King Creole
Blessed with a good director in Michael Curtiz and buoyed by an excellent supporting cast, King Creole was Presley's finest performance. The film's terrific soundtrack combined traditional New Orleans jazz and blues elements with rock and roll, and featured three more songs by Leiber and Stoller along with the # 1 hit "Hard Headed Woman", written by Claude Demetrius who had penned "Mean Woman Blues" for Loving You.
Elvis, who lost fifteen pounds and shaved off his trademark sideburns for the film, considered his role as Danny in King Creole the favorite of all his movies. Presley's induction into the Army was deferred from January to March 1958 so that he could complete work on the project. He got his best reviews for his performance in King Creole, but he would not return to the screen until his discharge in 1960. By then, however, the rock and roll rebel who emulated James Dean was long gone, and soundtracks full of "garbage" songs would become the order of the day.
Elvis Presley was the undisputed king of rock and roll movies in the 50's, but the queen just might have been Mamie Van Doren, the platinum-haired leading lady of several of the decade's most entertaining exploitation movies. Although usually relegated to third place in the blonde bombshell rankings behind Marilyn Monroe and Jayne Mansfield, Van Doren was the only true female star who appeared in more than one of the rock and roll movies made during the decade.
Untamed Youth
Mamie was in her mid-to-late 20's and a Hollywood veteran when she played these teenage roles, but she looked younger than her years, and she threw herself into the parts with abandon. Her acting skills may not have won any awards but she had a screen charisma that helped her steal every scene she was in. Van Doren's rock and roll films were funny, campy, racy, silly, melodramatic, and sexy all wrapped together.
The first of Mamie's rock and roll-related movies was 1957's Untamed Youth. She plays the younger of two sisters who are sentenced for hitchhiking to a corrupt juvenile prison farm run by a very sleazy John Russell. The ads blared: "Youth turned rock n' roll wild and the punishment farm that makes them wilder…Starring the girl built like a platinum powerhouse – Mamie Van Doren". Mamie has some great lines and sings several rock and roll numbers, including the show-stopper dressed only in a slip. Eddie Cochran is featured as one of the teen inmates and performs a song called "Cotton Picker".
The New York Times reviewed the film: "Miss Van Doren sings to a variety of torrid gyrations that are guaranteed to keep any red-blooded American boy awake. Nothing else in this picture can make that claim."
High School Confidential
Next up was 1958's High School Confidential. This exploitation classic dealing with a narcotics ring involving high school students blasts off with Jerry Lee Lewis singing the title song on the back of a flatbed truck. In what amounts to an all-star cast for this type of movie, Russ Tamblyn stars as the teen that infiltrates the dope ring. He lives with his sexy "aunt", memorably played by Van Doren, who is always trying to seduce him while his uncle is away.
The film also features drug parties and a hot rod race, and the cast includes Michael Landon, Jan Sterling, and Diane Varsi. The head pushers are played by popular bandleader Ray Anthony and former child star Jackie Coogan. John Drew Barrymore (actress Drew Barrymore's father) portrays one of the jive-talking teens, and has a great scene in which he gets up in front of his class when the teacher is out of the room and gives a hilarious hipster version of an American history lesson.
Jerry Lee Lewis' fabulous recording of "High School Confidential" was heading toward the top of the pop chart when his career was derailed by the revelation that he had married Myra Brown, his thirteen-year-old second cousin. The scandal resulted in one of rock and roll's biggest stars being blackballed by both radio and television. It would take ten years and a move into country music for Lewis to get his career back on track.
Mamie Van Doren's final rock and roll movie of the decade was 1959's Girls Town. The blurb on the theatre poster stated: "Anything goes in Girls Town – last stop on the road to nowhere", and asked the thought provoking question: "What happens when youthful rebels go bad?" Van Doren stars as a tough girl named Silver, framed for a crime she didn't commit and sent to Girls Town, a reformatory for teenaged girls run by Roman Catholic nuns. She's uncooperative with the nuns, gets into a fight with some of the other inmates, and sneaks out of the institution to find the real culprit.
Girls Town
The film is a camp classic and features Mel Torme as the leader of a gang of rich kids, Elinor Donahue of Father Knows Best fame as Mamie's sister, along with Cathy Crosby, Gloria Talbot, and Ray Anthony. Teen idol Paul Anka has a big role in the movie playing a goody-two-shoes singing star who tries to help the nuns deal with the wayward teen girls. He performs his big hit "Lonely Boy", but his nose loomed so large on the screen that he underwent rhinoplastic surgery to reshape it following the filming.
The Platters also performed in what is the movie's most unintentionally hilarious sequence. Before filming began, lead singer Tony Williams left the group in the wake of a scandal. He and the other three male members of the popular singing group were arrested on drug and prostitution charges in Cincinnati. Although Williams' lead vocal was on the song used in the movie, the director tried to hide the fact that he was no longer in the group by filming the back of his stand-in's head and hiding his face behind some of the nightclub's décor when the Platters were shown performing from the front.
Mamie Van Doren had a shower scene that was ultimately cut from Girls Town. Shot behind a translucent shower door, it's pretty tame by today's standards but was considered much too racy for 1959 audiences. Mamie has stated that she shot the scene while completely nude as a thank you to the men who worked on the set. As her autobiography Playing the Field made very clear, Van Doren lived a free-spirit life without embarrassment. That quality seemed to come through on the big screen, and it helped make her the biggest female star of teen rock and roll films.
There were two other interesting rock and roll films released in the 50's. The first of these, Hot Rod Gang, came out in 1958. Shot in black and white and cheaply made, it starred James Dean-wannabe John Ashley as a young man who uses his singing talents to finance hot-car projects while waiting for his inheritance. The film's ads promised "Crazy kids living to a wild rock'n roll beat!" but Ashley was a total dud as a rock singer.
The movie's saving grace was the performances of Gene Vincent and his Blue Caps. Vincent had a small acting part, and he and his band never looked better during their renditions of "Dance To The Bop", "Baby Blue" and "Dance In The Street". Vincent, one of early rock and roll's most underappreciated stars, was joined by an unbilled Eddie Cochran on the numbers.
Go Johnny Go
Alan Freed's final rock and roll film was 1959's Go Johnny Go. By the time of the movie's release, Freed had been replaced by Dick Clark as the nation's # 1 deejay. His 1958 Big Beat Show, featuring 17 rock and roll acts, had been disrupted when Freed was arrested and charged with inciting a riot in Boston. In addition, his popular television show had been cancelled after a public outcry over Frankie Lymon dancing with a white girl on the program. Worse yet, Freed was one of the main targets in the congressional hearings involving the payments to deejays to promote records, commonly known as the payola scandal.
Like Freed's other pictures, Go Johnny Go, featured some top rock and roll talent. The plot involved the fictional rise of a poor orphan boy named Johnny Melody (played by pop singer Jimmy Clanton) who is helped to rock and roll stardom by Alan Freed and Chuck Berry, both playing themselves. There are some great performance sequences by Berry, the Flamingos, the Cadillacs, Jackie Wilson, and Eddie Cochran; but in hindsight it seemed like the film was snakebit.
Shot in late 1958, Go Johnny Go featured the only film role of Ritchie Valens. By the time of its release, Valens had already been killed in the tragic plane crash that also claimed Buddy Holly and the Big Bopper. Chuck Berry, whose hit song "Johnny B. Goode" had inspired the film's title, was arrested later in the year on charges that he violated the Mann Act by transporting a 14-year-old girl over state line for immoral purposes. The next several years were tied up in legal proceedings, and Berry ended up serving one and one half years in prison. Eddie Cochran, who performed his hit "Sittin' In The Balcony" in the film, would die a few months later in an auto accident in England that also severely injured his friend and touring partner, Gene Vincent.
With Elvis in the Army, Little Richard in the ministry, Freed's career on the skids, and many of the other original rock and rollers either dead, in jail, or banished by scandal, decade's end saw a shift away from sensationalized exploitation films. To clean up their image, ward off complaints from parents, and soften the impact of the payola scandal, the music business and teen publications began to promote a parade of safe, cute, and less interesting artists, records, and rock and roll movies. Fortunately, this period also saw the rise of surf music, the girl group sound, Motown, and eventually the British Invasion to help usher rock and roll into its next ten years; a decade that would provide new and exciting ideas for using the music in films.