Rock and Roll Roots: Chuck Berry and Little Richard
Details

Category: Dr. J's Blog
Published: Monday, 17 June 2013 21:54
Written by Gary Johnson
Chuck Berry and Little Richard were among the first ten inductees voted into the Rock and Roll Hall of Fame. In addition, they have been inducted into the Songwriters Hall of Fame, and several of their recordings have been listed among Rolling Stone magazine's 500 Greatest Songs of All Time, as well as the Rock and Roll Hall of Fame's list of the 500 Songs That Shaped Rock. Both artists were also very important to me at the beginning of my going-on-sixty-year love affair with rock and roll music. If you were me and had to select the Top 15 songs for both Chuck Berry and Little Richard, which recordings would you choose?
I was eleven-years-old when I bought my first Chuck Berry record at Lucky's Record Shop on the West Side of Bay City. At the time, my record player was a small Victrola that only played 78 r.p.m. records. It had a tiny speaker about the size of a silver dollar and a heavy tone arm with a steel needle that looked like a minature spike; but it was all I had and it played the handful of 78's of my early rock and roll favorites: Elvis Presley, Ricky Nelson, Jerry Lee Lewis, The Everly Brothers, and Buddy Holly.
At that time, I had no use for ballads, even if they were sung by Elvis. On one of my record shopping trips to Lucky's in the fall of 1957, I told record shop owner Frank "Lucky" Peplinski that I was looking for a "fast" 78 record to buy, and he recommended "Rock & Roll Music" by Chuck Berry. I had never heard of Berry or the song, but I liked the title and bought it solely on his recommendation.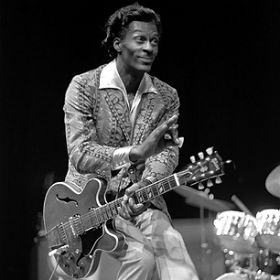 Chuck Berry
I didn't know anything about the famous Chess Records label back then, and while listening to Berry's vocal for the first time, I distinctly remember that I thought he was a white singer. I learned much later that Berry grew up a fan of early country music legends Jimmie Rodgers and Bill Monroe, and that the diction in his vocals reflected these white influences.
In 1957, I had not yet been exposed to R&B music. As far as I can remember, the dairies in Bay City where my friends and I would sometimes hang out to listen to the songs that the older kids played on jukeboxes did not have any Chuck Berry, Little Richard, or Ray Charles records to select. Since those artists had already scored a number of hits, I suspect that their exclusion had a lot to do with limiting the exposure of white youth to what many adults derisively referred to as 'jungle music'.
There was no blatant racial prejudice in my home, and the only time I ever heard the word "nigger" was at Christmas time when at my mother would put out a bowl of mixed nuts that were still in their shells. One had to use a metal nutcracker to open the walnuts, almonds, hazelnuts, and the 'nigger toes', as my mother called the hardest nuts to open. I didn't find out that they were really called Brazil nuts until several holidays later.
My parents never verbally objected to any of the records by black artists that I brought home, however, and my mother eventually became a fan of Fats Domino. Some of my other relatives were not as tolerant, however. I remember one summer evening riding through Saginaw in a car with my uncle; and I asked him if I could have an ice cream cone. We must have been in the black section of town, because my Uncle Jim advised me that I didn't want "a big buck scooping my ice cream." I was too young to completely understand his insensitive comment or to articulate that it didn't really make any difference to me. I knew what I liked, be it ice cream or rock and roll, and the skin color of the person who served it up didn't matter.
In early 1958, Chuck Berry released "Sweet Little Sixteen. By then I was the proud owner of a 45 r.p.m. record player that I had received as a Christmas present. Since I had yet to see a photo of Berry, I recall being surprised to find out he was a black rock and roller when he appeared on American Bandstand to lip-synch his newest hit. Dick Clark's daily teen dance program had no color barriers for the artists who appeared on the show; and I give him a lot of credit for first exposing me to the music of some of the other great early black rock and roll artists including The Coasters, LaVern Baker, Sam Cooke, and Jackie Wilson.
"Johnny B. Goode" 45
From that point on, I bought all of Chuck Berry's 45's right up until 1960 when he got into his legal woes involving a violation of the Mann Act and stopped releasing singles shortly thereafter. Prior to that I had scoured the discount bins to find some of his older hit 45's that I had missed out on, and I managed to find "Maybellene", "Roll Over Beethoven", and "School Day". I didn't know anything about his court case, however, and I didn't find out why he was not putting out any new hits until well after the fact.
The Beatles, The Beach Boys, and especially The Rolling Stones were all influenced by Chuck Berry, and their popularity no doubt helped Berry mount an impressive comeback in 1964 after he had been released from prison. He charted three Top 40 hits that year: "Nadine", "No Particular Place To Go", and "You Never Can Tell". In fact, it was a Chuck Berry song that helped me decide to buy my first Rolling Stones album.
I was browsing the record department of the S.S. Kresge store on the corner of Center and Washington in Bay City, when I spotted the "England's Newest Hitmakers" LP. I noticed that the album contained both of their charting singles, "Not Fade Away" and "Tell Me", as well as a cover of "Carol", my all-time favorite Chuck Berry song. That sealed the deal; and when I got home I discovered that the Stones could do "Carol" as well, if not better than, Berry himself.
In 1992, Keith Richards told an interviewer, "Chuck was my man. He was the one who made me say 'I want to play guitar'. Suddenly I knew what I wanted to do." The Stones covered many Chuck Berry tunes over the years; and the first time I saw the band play live in 1969 at Olympia Stadium in Detroit, they included "Carol" and "Little Queenie" in their set.
Chuck Berry returned to live performances in late 1963. He was embittered by the questionable verdict that was issued by a racially biased court and his resulting incarceration. Berry's behavior was reportedly erratic and moody; and he demanded strict, non-negotiable contracts from concert promoters and then often delivered underwhelming performances backed by unrehearsed local bands, hired when he got into town.
One can understand his anger at the legal system, but the real victims of his wrath were the fans who paid their hard-earned dollars to see a rock and roll legend put on a lackluster show. Then again, Chuck Berry has never been accused of being a nice man. His long-time piano player and mentor, Johnnie Johnson, was not given composer credit for helping Berry put together many of his biggest hits, and then there was the creepy affair in 1990 that involved his placing hidden video cameras inside the stalls of the female restroom in his restaurant in Missouri.
Berry signed with Mercury Records in 1966 and released several uninspired recordings for the label for the next four years before returning to Chess in 1970. In 1971, he had his first # 1 hit with the novelty tune, "My Ding-A-Ling". Although it is probably the worst recording of his career, the blatant sexual innuendo of the song helped propel it to the top of the charts.
I've never seen Chuck Berry live, and I missed my greatest opportunity in 1973 when I passed up the opportunity to see him at the nearby Midland County Fair. My fastpitch softball team, sponsored by the Spinning Wheel bar, had a game scheduled that same night. What makes me regret it even more was the fact that the opening act was a young guy from New Jersey named Bruce Springsteen who was on tour with his E Street Band in support of his debut LP, "Greetings From Asbury Park". Springsteen opened for Berry several other times that summer, and he and the E Street Band also backed the headliner when he played his set. Forty years later, I still feel badly about missing that pairing.
I've seen Little Richard in concert on three occasions. The first time was by far the best. Little Richard played two great sets at an outdoor festival in the early 90's in East Lansing, MI. He was in great voice, and he performed almost all of his landmark Specialty recordings from the 1950's.
The other two shows in Green Bay, WI, and Mt. Pleasant, MI, were only mediocre. Richard talked more than he played, and on both nights descended into the role of the campy queen with his patented "shut-up" and "I'm so pretty" catchphrases. It was the shtick that made him a frequent guest on late night talk shows in the 70's and 80's; but I went to the shows expecting him to assume his rightful position as one of the early titans of rock and roll and perform the tremendous songs that made him so.
"Here's Little Richard" LP
Although I had seen his photo on the cover of his debut LP, "Here's Little Richard", the first song that I heard him sing was "Good Golly Miss Molly". Like "Hound Dog" by Elvis Presley or "Great Balls Of Fire" by Jerry Lee Lewis, you knew it was a classic just a few seconds into the song. I bought the single, which had a picture sleeve, at Lucky's and was a fan from that point on.
The cool thing about the sleeve was that it listed all of Little Richard's earlier singles and albums on the back. I was familiar with several of the songs, "Tutti-Frutti", "Rip It Up", and "Ready Teddy", from Presley's cover versions, but this was the complete list including both the a-sides and b-sides. I immediately set to work on trying to track down a copy of every one of those black, yellow, and white Specialty singles.
Little Richard's secret weapon was The Upsetters, the great band that backed him on his 50's recordings. Supporting Little Richard's great vocal and piano was the drumming of Earl Palmer and the saxes of both Lee Allen and Alvin "Red" Tyler. They, and the others in the band, helped make those classic Little Richard singles sound unlike anything else issued during the decade.
I didn't know that Little Richard had already left rock and roll to become an ordained minister by the time I had purchased "Good Golly Miss Molly". Specialty kept releasing singles from what was left in the can, and I kept buying them. Later 45's like "Baby Face" and "She Knows How To Rock" were far beneath the quality of Little Richard's earlier works, but I was totally ignorant of the fact that he was no longer recording, and that these records were the leftovers that weren't originally considered good enough to release as singles.
My first Little Richard 45
It was his classic hits, however, that inspired the next generation of rockers including the Beatles, the Stones, and future Michigan legends Mitch Ryder and Bob Seger. The Beatles opened for Little Richard in 1962, both in England and at the Star Club in Hamburg, Germany. He was friendly to the group, advising them on how to perform his songs and teaching Paul McCartney his trademark vocalizations. The Beatles would later record two Little Richard numbers, "Long Tall Sally" and "Kansas City/Hey-Hey-Hey-Hey".
Little Richard continued to fluctuate between the ministry and rock and roll for years. Although he recorded for many different labels after leaving Specialty, he only charted five minor hits from 1964 to 1986. He was a very successful live performer, however, focusing mostly on casinos and resorts.
I think that most rock and roll music fans would agree that the finest recordings of both Little Richard and Chuck Berry were done during the early period of their long careers. Which of these are the best? That's a matter of opinion, of course, and everyone who loves these artists has their favorite songs. I've always thought it more interesting to include more than just one point of view when putting together a list of an artist's top songs. This approach involves some compromise, however, since not all of your favorites might make the final listing or be in the order that you would most like.
The Rock and Roll Trio, made up of John Len, Ron Witucki, and yours truly, love the songs of rock and roll's first decade. We recently got together and discussed Chuck Berry and Little Richard at two of our regular meetings. We came to each get-together armed with our own lists of favorite songs for both of the artists, and then used our patented grading system to come up with the 15 best songs for each.
Top 15 Songs of Chuck Berry
01. Johnny B. Goode – It's the song Chuck Berry will always be remembered for. He changed the original lyric of "little colored boy" to "little country boy" because of the racial attitudes in much of America in the 1950's. For musicians, this is Electric Guitar 101
02. Sweet Little Sixteen – One of the first songs about groupies and one of the first to mention American Bandstand. The Beach Boys copied this song for their first big hit, "Surfin' U.S.A.".
03. School Day – I spent 35 years in the classroom, and I was amazed at how well this 1957 song's description of a typical day in a public school held up over the years. Berry's ringing guitar does the rest.
04. Reelin' And Rockin' – This great tune was the b-side to "Sweet Little Sixteen"; and a cover version of it was a big hit for the Dave Clark Five in 1965. Berry charted with a live version in 1973, but this 1958 recording is the classic.
05. Back In The U.S.A. – The terrific backing vocals are done by The Moonglows on what would be Berry's last Top 40 hit of the 50's. Berry's lyrics describe why it's great to live in the U.S.A., but he must have had second thoughts during his trial and prison sentence in the 1960's.
06. Roll Over Beethoven – Berry's second top 40 hit was written when classical composers' works were called "long hair music". The Beatles and Stones put an end to that in 1964.
07. Sweet Little Rock And Roll – Another rocking ode to a young female rock and roll fan; but this great tune did not make the Top 40, reaching only # 47 in late 1958.
08. Carol – My favorite Chuck Berry record rocks like crazy and has a great storyline involving a dance club and a guy who has got to learn to dance if he's going to keep his girl. "Climb into my machine so we can cruise on out, I know a swingin' little joint where we can jump and shout".
09. Almost Grown – This was the first Berry song to feature The Moonglows on backing vocals. A very cool tune about a teenager growing up; "I don't run around with no mob, got myself a little job. I'm gonna buy me a little car, drive my girl in the park."
10. Maybellene – His first hit and one of the great early car songs. Berry showed his country music roots by adapting "Maybellene" from an old Bob Wills song called "Ida Red".
11. Rock & Roll Music – I have the 78 r.p.m. record of my introduction to Chuck Berry framed on my living room wall. The Beatles did a great cover of this song on their "Beatles '65" LP.
12. Let It Rock – Believe it or not, Berry's first great single of the 60's was a lesser hit than the flipside "Too Pooped to Pop". Maybe 'poop' was the magic word, but guess which of the two songs was played live by the Rolling Stones, MC5 and Bob Seger?
13. Little Queenie – The flip of "Almost Grown" is my favorite of the wonderful two-sided hit. "There she is again standing over by the record machine, looking like a model on the cover of a magazine". Oh yeah.
14. You Never Can Tell – The best of Berry's comeback hits of 1964, this song got new life when used in the dance sequence with John Travolta and Uma Thurman in Pulp Fiction.
15. Thirty Days – Chuck Berry's excellent follow-up to "Maybellene" was a # 2 Billboard R&B hit but failed to make the Pop charts in 1955.
Top 15 Songs of Little Richard
01. Good Golly Miss Molly – Little Richard recorded some great songs but none rocked like this one. The Swinging Blue Jeans had an inferior cover in 1964, but Mitch Ryder & the Detroit Wheels got it right in 1966.
02. Keep A-Knockin' – This relentless rocker prominently featured the drums of Earl Palmer. It was a # 8 hit on the Hot 100 and # 2 on Billboard's R&B chart in 1957.
03. Long Tall Sally – Little Richard's biggest single; it reached # 6 on the Hot 100 and spent 8 weeks at # 1 on the R&B chart. It's the only song that was covered by both The Beatles and Elvis Presley.
04. Lucille – Although it was a # 1 R&B hit, it only reached # 21 on the Hot 100. The song spent 21 weeks on the chart, however, – the longest of any Little Richard single. He and The Upsetters turned in a great performance of "Lucille" on the 1957 Alan Freed film, Mister Rock 'n' Roll.
05. Tutti-Frutti – Little Richard's first hit in 1956 was beaten on the Hot 100 by an atrocious cover version by Pat Boone, who also tortured "Long Tall Sally" later that year. Little Richard's "Tutti-Frutti" was a # 2 R&B hit. Not surprisingly, neither of Boone's Little Richard covers made it on the R&B chart.
06. Ready Teddy – Although it charted lower than its flip, "Rip It Up", on both the Hot 100 and the R&B charts, "Ready Teddy" was featured in a great Little Richard performance in the 1956 film The Girl Can't Help It. Elvis also performed the song on his Ed Sullivan debut in 1956.
07. Rip it Up – Both "Rip It Up" and "Ready Teddy" charted in the Hot 100 and both were Top 10 R&B hits. When Elvis Presley recorded the two songs in 1956 for his second RCA album, it marked the only time in his career that he covered both sides of another artist's single. Such was the power of Little Richard.
08. Jenny Jenny – Little Richard goes full throttle on this rocking hit from 1957 and then runs out of gas near the end. The fact that this take was used says it all about why I love early rock and roll records. Mitch Ryder used this great song for the medley on "Jenny Take A Ride!", his first hit with the Detroit Wheels.
09. Miss Ann – This cool mid-tempo song was the flipside of "Jenny Jenny". Little Richard had five singles from 1956 to 1958 on which both sides charted on the Hot 100. No mean feat for a black artist in the 50's.
10. Slippin' And Slidin' – I love this song even more than its flip, "Long Tall Sally". Little Richard's piano intro is a stone killer and the sax work is brilliant. One of the greatest two-sided hit singles.
11. Send Me Some Lovin' – Little Richard was a great ballad singer if he had the right song. This was the flipside of "Lucille", and it also charted on both the Hot 100 and R&B charts. Buddy Holly did a nice cover on The Crickets' debut album.
12. Ooh! My Soul – It was Little Richard's last good single of the 50's. Released in the summer of 1958, it had the frantic energy of his earlier hits. Everything released from this point on was leftovers.
13. Can't Believe You Wanna Leave – A great pleading ballad that was the b-side of the "Keep A-Knockin'" single. Although it's one of his best slow songs, it was the first flipside since "Tutti-Frutti's" not to chart.
14. Heeby-Jeebies – This was Little Richard's 4th single, but neither it nor its b-side, "She's Got It", made the Hot 100. Both of these rocking sides charted in the R&B Top 10, however.
15. The Girl Can't Help It – The title song of the first rock and roll movie shot in color. It was a # 7 R&B hit, but only reached # 49 on the Hot 100.