Springsteen Pt. 2 - Greetings From Asbury Park
Details

Category: Dr. J's Blog
Published: Saturday, 06 October 2018 11:14
Written by Gary Johnson
Bruce Springsteen's road to recording his first album had many twists and turns. He had met Virgil "Tinker" West, owner of the Eastern Challenger Surfboard Company at The Upstage. Tinker started managing Child, and after moving out of the old family home in Freehold, Bruce began living at the surfboard factory in Asbury Park and using it as a rehearsal space for the band. Child was basically a bar band that played some original music along with covers.
When they discovered that another group had registered the name 'Child', the band adopted Vinnie Lopez's suggestion of 'Steel Mill', a name similar to Led Zeppelin in that it implied heavy music with loud guitars, Steel Mill quickly became a big draw on the East Coast, playing concerts at colleges and opening for big name acts including Grand Funk Railroad, Chicago, and Ike & Tina Turner.
The problem was that they became victims of their own success. Steel Mill became too big for the bar scene but could not play too many East Coast concerts in order to keep interest up. This resulted in lengthy periods where they rehearsed but didn't play shows. The band thought a possible solution might be to go to the West Coast, where the new music was, home of the Byrds, Jefferson Airplane, and the Grateful Dead.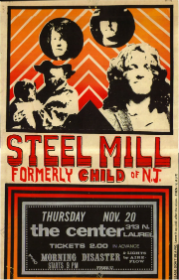 Steel Mill ad
Springsteen had never learned to drive while growing up. This became a big issue when the equipment truck, containing just Bruce and Tinker West, became separated from Danny Federici's car in Nashville. In order to spell West on the long drive, Springsteen was forced to take turns behind the wheel and operate the gear shifts on the truck. This resulted in the pair having to switch seats as the vehicle was moving because Springsteen couldn't get it going from a dead stop. After a few harrowing experiences on the road, they eventually made it to California and stayed for a time in the apartment of Bruce's parents.
While in California, Steel Mill got a gig at the Matrix club in San Francisco and also played for Bill Graham's organization at the Fillmore West. They were impressive enough to get a rave review in a San Francisco paper and an offer to do a demo recording session at Graham's recording studio for Fillmore Records. Steel Mill recorded three songs at the session but did not get a deal. Needing money, Springsteen headed back to the East Coast with the realization that some changes were going to have to be made if he was to take the next step in the music business. Listen to "He's Guilty (The Judge Song)" demo for Fillmore Records at https://www.youtube.com/watch?v=8bcFwoMd8wc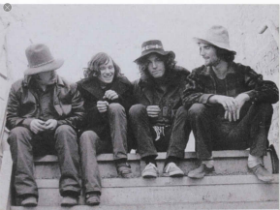 Steel Mill: D. Federici, V. Roslin, Bruce, V. Lopez
The first change involved replacing bassist Vinnie Roslin with Bruce's friend Steven Van Zandt. Although he was an excellent guitarist, Van Zandt agreed to play bass and also add some needed vocal harmonies to the band. Meanwhile, Springsteen's song writing had veered away from hard rock and back into his soul music roots. He now envisioned a rock and soul band with horns and backing singers.
After black keyboardist David Sancious joined the group, Steel Mill was renamed the Bruce Springsteen Band to indicate the new direction. Meanwhile, Bruce continued to live at Tinker West's surf shop, and he spent the summer learning to surf in the water and waves along the Jersey Shore. Springsteen put away his board and concentrated on music, however, after nearly drowning in dangerous hurricane surf conditions.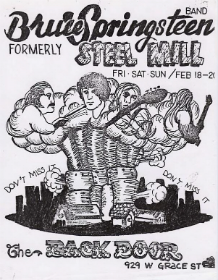 New band name
While auditioning backing singers, he met high school-aged Patti Scialfa but advised her that it was a traveling gig and that it would be best for a young lady to stay in school. The Bruce Springsteen Band lasted for only about a dozen shows. They no longer had the drawing power of the Steel Mill name and, since the band operated like a loose democracy, Springsteen found it difficult to keep everyone together. Because they weren't making much money, Steven Van Zandt left the group at this time and spent the next two years working in road construction.
At this point, Springsteen made a very important decision. In the future, he was going to call all the shots. It seemed only right since he was leading the band, playing lead guitar, singing, and also writing the songs. He would truly be "The Boss" from this point onward.
The band was renamed at this juncture as well. They were now billed as the E Street Band, a name taken from the street in Belmar, New Jersey, where David Sancious' mother lived. She allowed the band to rehearse in the garage located next to her house at 1107 E Street.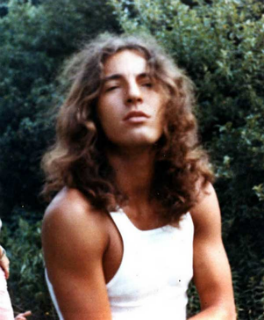 Bruce 1970
In his new role, Springsteen relieved Tinker West as the band's manager and added Garry Tallent as Van Zandt's replacement on bass. Springsteen's new direction, a combination of good songwriting mixed with soul and R&B influenced rock music, would eventually be the basis for the sound of his first two albums, "Greeetings From Asbury Park" and "The Wild, The Innocent and the E Street Shuffle". He was now living in the site of the now-closed Upstage club, and it was there that he wrote the songs for what would become his first album.
Desperate for money, Springsteen and the band made a deal with the owner of The Student Prince bar in Asbury Park to play for no pay. The agreement allowed them to charge a $1.00 cover at the door and play the music they wanted. They eventually started to build a fan base for their original music and expanded to three nights a week. Springsteen was playing at The Student Prince on the weekend of August 15, 1969, the same time as the Woodstock Festival in Bethel, New York.
Drawing from the records of Gary U.S. Bonds, Jr. Walker, and Wilson Pickett, Springsteen was looking for the perfect rock and Roll sax player. Garry Tallent knew a guy named Clarence Clemons and, as luck would have it, he showed up at a Springsteen gig with his sax. There was immediate chemistry, but Clemons already had a steady job with a local soul band called Little Melvin and the Invaders.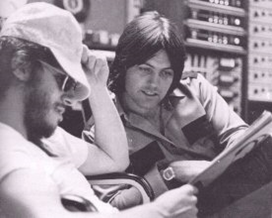 Bruce and Mike Appel
Meanwhile, Springsteen had begun to write some new songs on acoustic guitar, and a friend introduced him to Mike Appel, who worked for a music publishing company on Fifth Avenue in New York City. Springsteen played Appel some of the songs that would later appear on "Greetings From Asbury Park".
Appel expressed interest, but Springsteen, following two heartbreak love affairs, had decided to head out West and try his luck again. He spent several weeks looking for a paying gig, sitting in with a couple of bands while staying with his parents. Somewhat discouraged, he headed back East. He realized that it was the only place that could sustain his budding music career.
Inspired by early Bob Dylan albums, Springsteen continued to concentrate on writing songs and called Mike Appel to play him some of his new compositions. Appel was enthusiastic and had Springsteen sign a contract with his company, Laurel Canyon Productions.
As per the agreement, Laurel Canyon would produce his records and sell them to a major label. Springsteen would receive his writer's half of the royalties but none of the publishing revenues. Everything would be split 50-50, but all expenses would come out of Springsteen's half. It was a bad deal, but Springsteen signed it to get his foot in the door. He didn't realize how great his mistake was until much later, and then it was too late.
Appel set up Springsteen's first audition at Atlantic Records, but the storied label wasn't interested. His next was with the legendary John Hammond at Columbia, the man who had discovered Dylan, Aretha Franklin, and Billie Holiday. Springsteen had a borrowed acoustic guitar with no case and sang "It's Hard To Be A Saint In The City" and "Growin' Up" at the audition. Hammond liked what he heard but said the final say was up to head man Clive Davis. Listen to the album version of "Growin' Up" at https://www.youtube.com/watch?v=g3Cs-bZ2YX0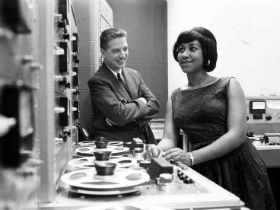 John Hammond with Aretha Franklin
Because Hammond wanted to see him perform live, Bruce and Appel got a slot at an open mic night in a club in Greenwich Village and the label executive was delighted by the performance. A few weeks later, Springsteen played for Clive Davis in his office and was signed to Columbia Records.
While he waited for his recording advance, Springsteen was semi-supported by a couple of girlfriends. He slept on the floor of a friend's small apartment and made a few bucks opening for folksinger Dave Van Ronk in New York. He also performed at Max's Kansas City, where he impressed a visiting David Bowie, as well as the Bitter End where he met and sat in with Jackson Browne who was on tour for his first album.
Springsteen's debut album, "Greetings From Asbury Park", was recorded in Brooks Arthur's studio in Blauvelt, New York. Although Hammond and Davis thought they had signed a solo folksinger, Springsteen wanted to record with a band. He brought in Vinnie Lopez, Garry Tallent, and David Sancious and they cut the whole record in three weeks. Most of the songs were twisted autobiographies, but when Springsteen turned it in to Clive Davis, he handed it back telling him "there were no hits".
Springsteen went home and wrote two new songs, "Spirit In The Night" and "Blinded by the Light", and recruited Clarence Clemons to play sax on them in the recording studio. Having Clemons on board made a big difference and both songs were issued as singles, although neither of Springsteen's original versions charted when they were released in 1973. Four years later, however, Manfred Mann's Earth Band would score a # 1 hit with their cover of "Blinded by the Light". Listen to Springsteen's original version of "Blinded by the Light" at https://www.youtube.com/watch?v=7Iaca30QbOo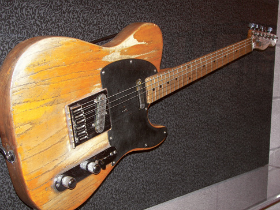 Springsteen's iconic guitar
It was shortly after the release of the album that Springsteen bought his iconic Fender guitar for $185. He described it in his Born To Run memoir as "a 1950's mutt with a Telecaster body and Esquire neck. It would be the guitar I would play for the next 40 years and the best deal of my life." The guitar would be featured prominently on the covers of four of Springsteen's future albums: "Born To Run", "Live 1975 – 1985", "Born In The U.S.A." and "Wrecking Ball".
The "Greetings From Asbury Park" album got good reviews, and many music critics initially compared him to Bob Dylan. Springsteen and the band then took to the road to support the album, almost always serving as the opening act. The first gig was as the opener for Cheech and Chong, and then they opened and then backed up Chuck Berry at the Midland County Fair in Michigan. These were followed by slots opening for Chicago, Bob Marley, the Eagles, Jackson Browne, Lou Reed, Brownsville Station, Jerry Lee Lewis, Sha Na Na and many others.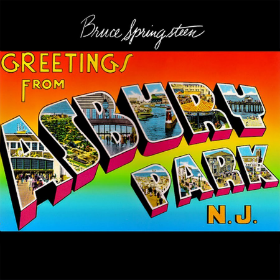 Springsteen's debut album
Touring conditions were spartan at best. The entire band traveled in Vinnie Lopez's junker car, and they slept where they could – cheap motels, promoter's houses, and girlfriends' places in a variety of cities. The deal was that they would be paid $35 per week and they had their rent and bills paid. Welcome to the big time.
Springsteen's Columbia contract called for one new album every six months. The schedule was a holdover from the 50s and 60s when singles ruled and albums were just collections of singles along with some filler songs.
As a result, Springsteen's second album, "The Wild, the Innocent and the E Street Shuffle" was recorded while the band continued to tour. The songs on the album reflected his life in Asbury Park before he signed with Columbia. The lead single, "4th of July, Asbury Park (Sandy)" was a goodbye to his adopted hometown, and 'Sandy' was a composite of some of the girls he'd known along the Jersey Shore. "The E Street Shuffle" mixed Soul, Blues, and R&B and described a dance that reflected the people and neighborhood life in Asbury Park. Listen to "4th of July, Asbury Park (Sandy)" at https://www.youtube.com/watch?v=KgFHM8HMbWQ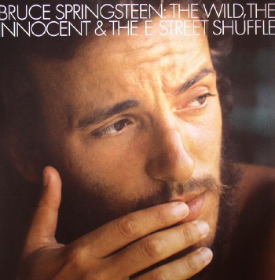 2nd Columbia LP
"Rosalita", "Thundercrack", and "Kitty's Back" were lengthy songs inspired by the finales of the great soul revues and would eventually become important parts of the live show. "Incident on 57th Street" and "New York City Serenade" were romantic stories of New York, the place that had been his gateway out of New Jersey.
Unfortunately, by the time of the album's release, both John Hammond and Clive Davis had left Columbia; and the new powers at the label didn't like the new album and did very little to promote it. Despite the label's lack of support, Springsteen and the band soldiered on. They had little choice; they were men without homes and any practical skills or talents that could bring in a reliable paycheck in the straight world. They were musicians, and there was no going back.
Read Springsteen Pt. 3 - Born To Run at: https://michiganrockandrolllegends.com/index.php/blog/264-springsteen-pt-3-born-to-run