Springsteen Pt. 3 - Born To Run
Details

Category: Dr. J's Blog
Published: Monday, 15 October 2018 11:24
Written by Gary Johnson
Although sales of "The Wild, the Innocent & the E Street Shuffle" album remained slow, Bruce Springsteen and the E Street Band continued to perform live to great reviews. Music critic Jon Landau wrote a highly influential review after seeing a performance at the Harvard Square Theater in Boston, and it included this soon-to-be-famous quote: "I saw rock and roll's future, and its name is Bruce Springsteen. On a night when I needed to feel young, he made me feel like I was hearing music for the first time".
The combination of Landau's Future of Rock 'n' Roll review, the great word-of-mouth about his live shows, and a meeting with the new president of Columbia Records put the record company back in Springsteen's corner. More ads were placed in music magazines to promote his first two albums; but sales had been below expectations, and Springsteen's contract with Columbia guaranteed just three albums. There was a lot riding on his third album. Could he move beyond being a cult artist and attract a larger audience?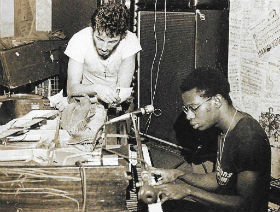 Bruce with David Sancious
A big change came as the result of the tour. The highly combustible Vinnie Lopez was replaced on drums in 1974 after getting in another band dust-up, this time with Clarence Clemons. David Sancious suggested his friend Ernest "Boom" Carter to replace Lopez.
Springsteen had written one song for his third album. It started with a guitar riff, and then the words: Tramps like us, baby we were born to run. He called it "Born To Run"; and he had written it after he had bought his first car (a 1957 Chevy Bel Air convertible) and was living in a rented cottage in Long Branch, New Jersey. Springsteen came up with the title and the start of a melody in the midst of a crash tutorial in 50s and early 60s rock and roll. He had been listening to a collection of albums with the songs that had been hits during rock and roll's first decade.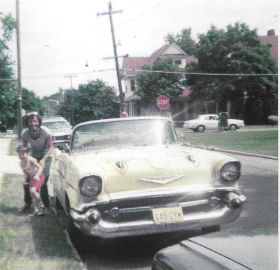 Bruce with his first car
Those classic songs spoke to him in a way that current music didn't – their darkly romantic visions were in tune with his own sense of romance. They featured great voices, great arrangements, and excellent musicianship, mixed with studio genius and breathless passion. From Duane Eddy came the twangy guitar, from Roy Orbison came the operatic vocal tone of someone trying to emulate his hero, and from Phil Spector came Springsteen's attempt to produce his own "wall of sound".
From this point on, Springsteen's writing undergoes a major change. His songs have now become more cinematic, even the titles like "Thunder Road" and "Born To Run" evoke images of black and white films, and the comparisons to Bob Dylan begin to disappear. Springsteen and the E Street Band emerged as a force steeped in the history of rock and roll, yet the songs, more and more began to focus on identity issues, what constitutes adulthood, and what it means to be an American.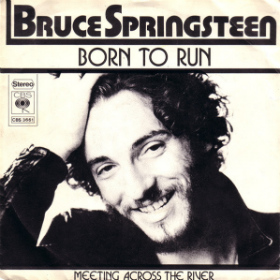 "Born To Run" picture sleeve
According to Springsteen's autobiography, "Born To Run" wasn't an easy song to write. It took him six months of trial and tribulation to finish. He used all the classic rock and roll images: the road, the car, and the girl. It was a language enshrined by Chuck Berry, the Beach Boys, Hank Williams, and many others. But to make them matter in the mid-70s, he would have to shape them into something that transcended nostalgia, sentiment and familiarity. Listen to "Born To Run" at: https://www.youtube.com/watch?v=f3t9SfrfDZM
Springsteen was a child of Vietnam-era America and the assassinations of the Kennedys and Martin Luther King. The country no longer felt like to innocent place it was said to be in the Eisenhower 50s, and that had to be touched on in the lyrics.
Both "Boom" Carter and David Sancious left during the recording of the album to form a jazz group called Tone. Springsteen and the rest of the band auditioned 30 drummers and 30 keyboard players before he selected Max Weinberg from South Orange, New Jersey, on drums and Roy Bittan from Rockaway Beach, New Jersey, on keys. They would bring a new professionalism to both the stage and the studio.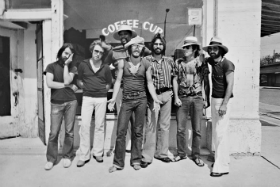 E Street Band (L to R) G. Tallent, D. Federici, C. Clemons, B. Springsteen, M. Weinberg, S. Van Zandt, R. Bittan
It was during these sessions that Steven Van Zandt visited the studio just in time to help Springsteen organize the horn section on "Tenth Avenue Freeze-Out". Van Zandt, who would soon join the E Street Band, was a longtime friend of Springsteen, understood where he was coming from, and helped him translate some of the sounds Springsteen was hearing in his head.
Inspired by the classic Stax/Volt recordings of Sam & Dave and Otis Redding along with the 60s hits of Wilson Pickett, "Tenth Avenue Freeze-Out" more or less tells the story of the E Street Band. 'Bad Scooter' was a pseudonym for Springsteen himself and 'Big Man' was the nickname of saxophone player Clarence Clemons. Even though "Tenth Avenue Freeze-Out" was only a minor hit when released as a single, it remains one of Springsteen's most popular songs in concert. Watch a live performance of "Tenth Avenue Freeze-Out" at: https://www.youtube.com/watch?v=4R35bw9N0vI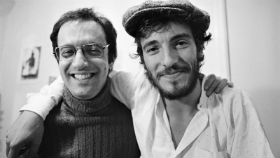 Jon Landau and Bruce
When things got bogged down in the studio during the crucial sessions for the third album, Springsteen invited Jon Landau in to help out. They had become friends after Landau moved to New York and the pair had begun hanging out, talking music, and listening to records. Landau helped him to strip down the songs and streamline the arrangements on the album's tracks.
"Thunder Road" opens the album, introducing the characters and its central proposition: Do you want to take a chance on us and on life? You're then led through the band bio of "Tenth Avenue Freeze-Out", the broken friendships of "Backstreets", out into the open with "Born To Run", and finally into the dark city and spiritual battleground of "Jungleland". Few of the album's songs were written on guitar. The orchestral sound of the "Born To Run" album came from most of the songs being composed on piano. Nowhere is that more apparent than on "Thunder Road". Listen to "Thunder Road" at: https://www.youtube.com/watch?v=YdhkaPZtQF4
Although Springsteen was initially unhappy with the sound of the "Born To Run" album when it was released in the fall of 1975, it became his first major success as a recording artist when it reached # 3 and spent 12 weeks in the Top 40 of the Billboard Top Albums chart. In addition, the title song became his first hit on the Billboard Hot 100 when it peaked at # 23.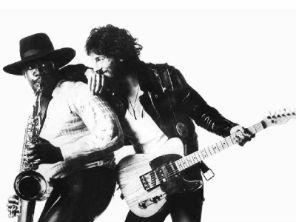 "Born To Run" album cover photo
Although everyone in the E Street Band was equally important to the overall sound, there was only one Big Man in the group, as the double-wide photo used for the cover of the "Born To Run" album made clear. Springsteen used the cover, designed by Columbia's art director John Berg, to present the two of them, their friendship and partnership on an epic scale. The photo conveyed the subtle mystery of race and a mischievous sense of fun and power promising to be unleashed. The stage show changed as well, with the Big Man now playing a more important visual role. From this point on, Clarence Clemons becomes the most iconic member of the E Street Band. Watch a live performance of "Jungleland" at: https://www.youtube.com/watch?v=AjeiWVXBxqI
Springsteen also had the distinction of appearing on the covers of both Time and Newsweek during the same week on October 27, 1975. Shortly thereafter, Bruce and the band flew across the Atlantic to make their first appearance in England, home of the Beatles and two of Springsteen's other big influences, the Rolling Stones and the Animals. His Born To Run Tour was his biggest yet, and it included shows in London, Stockholm, and Amsterdam. It was fed not only by the success of the album and the dynamic live shows, but also, increased radio play, and massive coverage in music publications.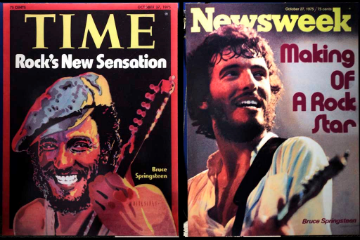 Time and Newsweek covers
The sudden fame was difficult for Springsteen to handle and resulted in some severe mood swings and tantrums. It helped that he was surrounded by his E Street Band, men that he had chosen to travel with, and their camaraderie along with the enthusiasm of the audiences helped things real while in the whirlwind of sudden fame.
It was also important that Springsteen believed and still believes in the power of a rock and roll band and what can occur when musicians of similar background come together in a gumbo that mixes into something greater than the sum of its parts. Springsteen stated it best when he said: "People don't come to rock shows to learn something. They come to be reminded of something they already know and feel deep down in their heart. It's that feeling of the world at its best, when we are at our best, and when life feels fullest." It's what Springsteen and the E Street Band tried to conjure up on stage each night, the essential equation of love, art, and rock and roll.
By the end of 1975, Springsteen had a year remaining on his five-year contract with Mike Appel. With the success of "Born To Run", the problems with the contract he signed without legal representation began to become apparent. As the first serious money came in, it was deposited straight into Appel's accounts as stipulated by the contract Springsteen had signed. He received no independent funds or royalties of his own. It all came through Appel, filtered through the production, publishing, and management agreements Springsteen had signed four years ago.
Mike Appel's idol was Colonel Tom Parker, Elvis Presley's manager. Springsteen was determined not to become what Elvis had descended into, however, and he was motivated by powerful, internal forces to determine the direction of his work and the certainty of being firmly in control. After months of haggling, friendly negotiations with Appel broke down. Springsteen wanted to return to the studio with Jon Landau as producer, but that was blocked by Appel and the agreements Springsteen had signed, effectively stopping his career in its tracks at the time he needed to follow up on his big hit.
Read Springsteen Pt. 4 - Darkness & The River at: https://michiganrockandrolllegends.com/index.php/blog/265-springsteen-pt-4-darkness-the-river