Springsteen Pt. 4 - Darkness & The River
Details

Category: Dr. J's Blog
Published: Friday, 19 October 2018 12:37
Written by Gary Johnson
While the depositions, motions, and hearings over his contract with Mike Appel dragged on for well over a year, Bruce Springsteen continued to write new songs. After seeing Elvis Presley perform at the Spectrum in Philadelphia in the spring of 1977, he wrote "Fire" for his first rock and roll idol. Sadly, Elvis died that summer before Springsteen could send him the demo. Instead, the song was given to neo-rockabilly singer Robert Gordon after Springsteen saw him perform at a gig with Link Wray.
During the legal battle, Springsteen kept the E Street Band together by touring extensively across the country. A settlement with Appel was finally reached in late 1977. The divorce cost Springsteen a great deal of money, but the music was primarily his and he could now choose his career path unobstructed. Springsteen and Appel had been musical brothers and, after the war was over and a good deal of time passed, he and Appel reconnected. Eventually, Appel would sell back to Springsteen every piece of his music that he owned.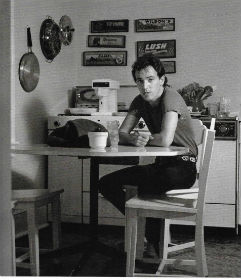 Writing songs in Holmdel, N.J.
Now free to return to the recording studio after a nearly three-year absence, Springsteen had written over 70 songs during that period. Only 10 would be used on next album, and several of the unused cuts became hits for other artists. Patti Smith had the only hit single of her career with "Because the Night", and Gary U.S. Bonds had his biggest hit in 19 years with "This Little Girl". In addition, "Fire" was covered by the Pointer Sisters 11 months after Robert Gordon, and they scored a Top ten hit with their version.
For his new album, "Darkness On The Edge Of Town", Springsteen wanted to write about life in the close confines of the small towns he grew up in. During 1977, he was living on a farm in Holmdel, New Jersey, and this is where he wrote the songs that appeared on the album. He was influenced by the Animal's hits "It's My Life" and "We Gotta Get Out of this Place", examples of pop songs infused with class consciousness. He also discovered Hank Williams and admired his songs that dealt with adult topics. Those influences, along with his own experience of witnessing the stress and tension of his parents' lives that came with trying to make ends meet, had an effect on his songwriting.
"Darkness On The Edge Of Town" was released in June of 1978, and although the reviews were overwhelmingly positive, it was not quite as big a hit as "Born To Run", and it peaked two notches lower at # 5. The songs were leaner and less grand than its predecessor, and the album did not produce any major hit singles although "Prove It All Night" made the Top 40 at # 33. Listen to "Prove it All Night" at: https://www.youtube.com/watch?v=4DXlOHUSnAw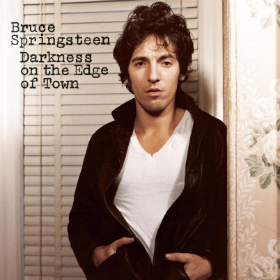 "Darkness on the Edge of Town" LP
Springsteen has said that the songs were difficult to write because he wanted the characters to feel weathered and older, but not beaten. He tried to steer away from any sense of escapism and set his characters down in the middle of a community under siege. "Adam Raised A Cain" used Biblical images to summon up the love and bitterness between a father and son. The title cut, "Darkness at the Edge of Town", dealt with the idea that the setting for personal transformation is often found at the end of your rope.
The first song on the album was "Badlands". Springsteen was initially inspired by the guitar riff on the Animals' hit, "Don't Let Me Be Misunderstood". From there Springsteen composed the chorus but it required hours for him to come up with a single verse. Although "Badlands" was not a big hit, only reaching # 42 when released as the album's second single, it has remained a favorite of Springsteen and his fans over the years, and is remains a staple of his concert performances. In Bruce: His 100 Greatest Songs, published by the editors of Rolling Stone magazine in 2013, "Badlands" was listed as Springsteen's second greatest song, behind only "Born To Run". Watch a live performance of "Badlands" at: https://www.youtube.com/watch?v=FFV3RZW94BI
Springsteen and the rest of the band had basically lived off the grid for years, not making much money and not paying any taxes. That all changed with the success of "Born To Run". He was immediately hit for back taxes and also had to pay the back taxes for the E Street Band members since they were all broke. Combined with the legal fees racked up battling Mike Appel, he basically played for someone else the entire tour to promote "Darkness On The Edge Of Town".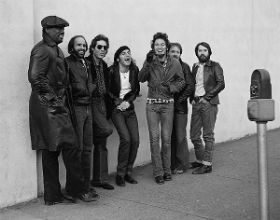 1980 (L to R) C. Clemons, R. Bittan, M. Weinberg, S. Van Zandt, B. Springsteen, D. Federici, G. Tallent
Starting with the songs on the "Darkness" album, Springsteen's music also began to have more political implications. He tried to find ways to put his work into service as he read and studied to become a better, more effective writer. The "Darkness" shows were the first performances he played where the night was split by a brief intermission into two halves. There is always some danger involved at a large concert, however, and at the final show of the tour in in Cleveland on New Year's Eve, Springsteen narrowly escaped serious injury when an inebriated fan threw an exploding firecracker on stage and opened up a small slash underneath his eye.
In September 1979, Springsteen and the E Street Band joined the Musicians United for Safe Energy anti-nuclear power collective at Madison Square Garden. MUSE was an activist group founded by Jackson Browne, Graham Nash, Bonnie Raitt and others. The group advocated against the use of nuclear energy, and formed shortly after the Three Mile Island nuclear accident in March of that same year.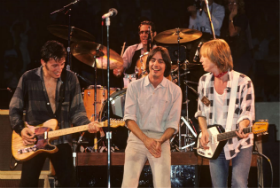 No Nukes" with Jackson Browne & Tom Petty
Springsteen and the band appeared for two nights, playing an abbreviated set while premiering a song based on events in the life of his sister Virginia. The subsequent "No Nukes" live album, as well as the following summer's No Nukes documentary film, represented the first official recordings and footage of Springsteen's fabled live act, as well as Springsteen's first tentative dip into political involvement.
Springsteen's sister Virginia had become pregnant at seventeen; and Springsteen wrote in his memoir that no one in the family realized it until she was six months along. She dropped out of school during her senior year, was tutored at home, and married her boyfriend and father of her child. Her husband worked in construction, but suffered through the recession of the late 70's and lost his job. He later took a job as a school janitor and Virginia worked at a K-Mart in order to keep their family of three kids going strong. They were the inspiration for Springsteen's song "The River" which he wrote in in their honor. When his sister first heard it at the No Nukes concert, she came backstage, gave him a hug and said, "That's my life". Watch footage from the No Nukes documentary including the live performance of "The River" at: https://www.youtube.com/watch?v=utVR3EgQkHs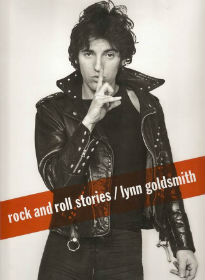 As Springsteen approached his 30th birthday, he had gone through many relationships, but nothing had lasted. It seemed that he was only comfortable when he was recording or performing on stage. Photographer Lynn Goldsmith, originally from Michigan, was one of the many girlfriends that he cared for and who cared for him, but his emotional insecurities and fears of commitment would always bring things to a halt. As soon as he got close to exploring his own frailties and the deep-seated anger and depression that he inherited from his father, he was gone.
Even though he seemed afraid of commitment, his next album, titled "The River", would be the one where love, accountability, and family would cautiously move to center stage. Besides the title song, which described the difficulties in his sister's marriage, he had also written a rocker called "The Ties That Bind" that focused on real world commitments. After the tightly controlled sound of the "Darkness On The Edge Of Town" album, Springsteen wanted his new record to have the roughness and spontaneity of the live show and also steer clear of the smooth sound of the popular California-based groups of the 70's.
Springsteen completed what was thought to be the album in October of 1979. It contained ten great songs but as he spent time listening to it, he felt that it just wasn't enough. Besides the seriousness of many of the songs, he also wanted to include the playfulness and bar band spirit of the E Street Band in concert and the sound of early rock and roll records into the mix. As a result, "The River" evolved into a double album when it was finally released in 1980.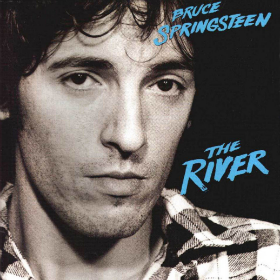 "The River" album
By that time, Springsteen had exhausted his recording budget and poured a great deal of his own money into the 20-song double album that finally met his exacting standards. This allowed for the addition of "Sherry Darling" and "Two Hearts", songs that sounded perfect for the Stone Pony in Asbury Park, and some classic rockabilly in the form of new compositions like "Ramrod" and "Cadillac Ranch". The latter song got its name from an unusual public art installation and sculpture in Texas that displays ten Cadillac automobiles with their hoods buried in the ground. Listen to "Cadillac Ranch" at: https://www.youtube.com/watch?v=sG54tahGUXY
"The River" LP was a big hit. It became Springsteen's first # 1 album, spending four weeks at the top and a total of 22 weeks in the Top 40 on Billboard's Top Albums chart.
The album also provided Springsteen with his first Top Ten single, "Hungry Heart". The song came about after Springsteen met Joey Ramone in Asbury Park and was asked to write a song for the Ramones. Springsteen wrote "Hungry Heart" later that night but Jon Landau convinced him to keep the song for himself. The song peaked at # 5 on the Hot 100 in the fall of 1980. The 45's picture sleeve shows Springsteen in front of the Empress Hotel, one of Asbury Park's fading landmarks. Watch a live performance of "Hungry Heart" from the 1980 tour at: https://www.youtube.com/watch?v=ZsADQpw-dD8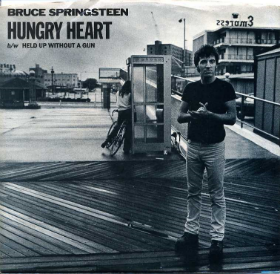 "Hungry Heart" single
The extremely successful River Tour lasted a year, and included a European leg that presented shows in England, Germany, Switzerland, France, Spain, Belgium, the Netherlands, Sweden, Denmark, and Scotland. Springsteen has said that the shows in Europe changed the band and filled them with new commitment and confidence. The 1981 European tour turned Springsteen and the E Street Band into an international act.
Back in America for the final leg of the tour, Springsteen stopped in a small drugstore outside of Phoenix and bought a paperback copy of Born on the Fourth of July, a memoir written by Vietnam vet, Ron Kovic. Two weeks later, he experienced the coincidence of meeting the wheelchair-bound, long-haired author poolside at the Sunset Marquis in Los Angeles.
They struck up a friendship, and Kovic took him to a veterans' center in Los Angeles. Springsteen met some men there who were homeless, had drug problems, and were dealing were post-traumatic stress or life-changing physical injuries. After being introduced to Bobby Muller, a wounded vet who had formed an organization called the Vietnam Veterans of America, Springsteen played a benefit concert for the organization at the Los Angeles Memorial Sports Arena on August 20, 1981. It would be the next step in Springsteen putting some piece of what he did into pragmatic political action.
Read Springsteen Pt. 5 - Born In The USA at: https://michiganrockandrolllegends.com/index.php/blog/266-springsteen-pt-5-born-in-the-usa