Springsteen Pt. 5 - Born In The USA
Details

Category: Dr. J's Blog
Published: Wednesday, 10 May 2017 08:04
Written by Gary Johnson
During the year-long River Tour, Bruce Springsteen had become very interested in America's history; a subject that he said bored him in school. He read several acclaimed books on the topic that seemed to hold some of the essential pieces to a question he was posing in some of his songs; what does it mean to be an American?
He also became more interested in the history of American music before the dawn of rock and roll. Springsteen had begun listening to Hank Williams and the early blues artists – music that gave voice to adult lives under stress and seeking transcendence. He also read a biography of Woody Guthrie that opened his eyes and ears to Bob Dylan's early inspiration. He immersed himself in Guthrie's subtle writing, raw honesty, humor and empathy in songs about American life told with toughness, wit, and common wisdom.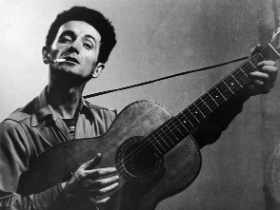 Woody Guthrie
As a result of his interest in Guthrie, Springsteen and the band began performing the folksinger's classic "This Land Is Your Land" in concert; and his next batch of songs would give voice to stories that, in Reagan's 1980s, American rock and roll wasn't often telling.
In order to stay true to his roots and tell the stories he still felt were his to tell; Springsteen stayed away from the distractions and seductions of fame and success, at least until he was sure he could handle them. He didn't want to become yet another good life that had lost focus because of fortune's distorting powers. With that in mind, his new songs and album would begin mapping the distance between the American dream and American reality.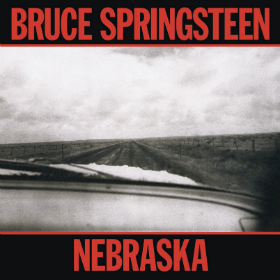 "Nebraska" LP
His "Nebraska" album began as a meditation on his childhood and its mysteries. He had no conscious political agenda or social theme. Springsteen was after a feeling or tone in his songs that felt like the world he'd known in Freehold and still carried with him. Some of the songs, such as "My Father's House", and "Used Cars", were stories that came out of his experiences with his family and were written quickly. Each took just three or four takes to record, as he was only making demos on a 4-track cassette recorder at his home. A couple of others, "Highway Patrolman" and "State Trooper", were only recorded once each.
When Springsteen brought the songs to the band in the studio and re-recorded and remixed everything, however, he and producer Jon Landau discovered that the songs sounded cleaner and more hi-fi, but not nearly as atmospheric or authentic as the demos. The decision was then made to release ten of the demos as the new album in the fall of 1982. Although it did not achieve the sales of "The River", "Nebraska" got glowing reviews and reached # 3 on Billboard's Top Albums chart while selling over one million copies.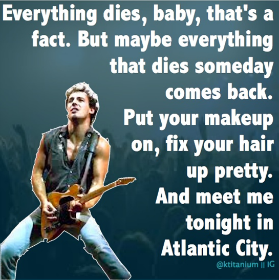 "Atlantic City" lyrics
The title song, "Nebraska", was inspired by the film Badlands, andwas Springsteen's retelling of the Charles Starkweather and Caril Fugate 1950s' murder spree. "Atlantic City" depicts a young couple's escape to Atlantic City, New Jersey, but it also wrestles with the decision the young man makes to take a job in organized crime upon arriving.
The opening lines of "Atlantic City" refer to real-life mob violence in nearby Philadelphia in 1981 when Mafia boss Philip Testa (a.k.a. "The Chicken Man") was killed by a bomb planted at his Philadelphia house. The song also evoked the widespread uncertainty regarding legalized gambling during its early years, and its promises to resurrect Atlantic City. Listen to "Atlantic City" at: https://www.youtube.com/watch?v=M3eu1gW-bQ8
Springsteen chose not to tour behind "Nebraska", and instead took a road trip with his buddy to California and the new house he had purchased there. It was the former home of Charlie Chan actor Sidney Toler.
On the journey West, Springsteen experienced a bout of severe depression – something he had managed to keep under wraps for years with a wide variety of defense mechanisms. Jon Landau advised professional help, and Springsteen began a three-decade journey to confront and try to conquer his inner demons.
After spending the winter in California, Springsteen returned to the studio to work on his next electric album with the E Street Band. The first song that was completed was one of the "Nebraska" songs he had demoed the previous year. It would become one of the greatest and most misunderstood pieces of music in his career. The song, "Born In The USA", was a protest over the treatment of Vietnam veterans and was inspired by the experiences of both Ron Kovic and Bobby Muller.
Springsteen got the song's title from movie script that was sent to him by diector/screenwriter Paul Schrader about the trials and tribulations of a bar band in Cleveland, Ohio. The film was later released as Light of Day starring Michael J. Fox and Joan Jett. Springsteen wrote the film's title song to pay back Schader for inadvertently providing him with the "Born In The USA" song title. Joan Jett and the Barbusters released "Light Of Day" as a single, and it became a Top 40 hit when it was released in 1987.
Although the lyrics of "Born In The USA" seem pretty clear when listened to, the rock anthem arrangement of the released version and the title of the song made it hard, from politicians to everyday people, to truly get the lyrics. The song's chorus came to be interpreted in a number of different ways, and "Born In The USA" actually became something of an issue in the 1984 presidential election when it was referenced by Ronald Reagan in a campaign speech, much to the displeasure of Springsteen. Listen to "Born In The USA" at: https://www.youtube.com/watch?v=lZD4ezDbbu4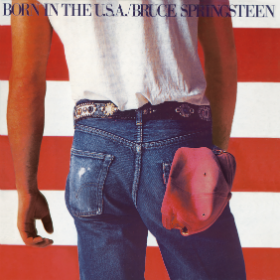 "Born In The U.S.A." album
Later on, Springsteen began performing the song using just an acoustic guitar to make its meaning more explicitly clear. Despite the misinterpretation of the lyrics, "Born In The USA" made a huge political impact, as he was advocating for the rights of the common working-class man. Besides being the title of Springsteen's new album, it became a Top Ten hit when released as a single and a rousing addition to his concerts with the E Street Band.
Springsteen composed what would become his biggest hit, however, after he thought the "Born In The USA" album was completed. Producer Jon Landau told him that he didn't think they had a great single, one that would really kick up interest in the album. That night Springsteen wrote "Dancing In the Dark", a song about his own alienation, and fatigue. It also touched on his desire to get out from inside the studio, his room, the record, and his own head and live a more normal life.
Released as a single prior to the album's release, "Dancing In The Dark" spent 4 weeks at # 2 on the Hot 100, and it became the song that would take him farthest into the pop mainstream. The recording won Springsteen his first Grammy for Best Rock Vocal Performance and was named Single of the Year in the 1984 Reader's Poll in Rolling Stone magazine.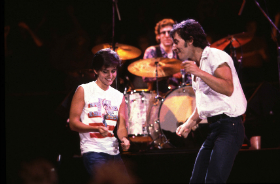 Courtney Cox in "Dancing In The Dark" video
With MTV at the height of its popularity, "Dancing In The Dark" was made into a video directed by Brian De Palma, best known for his popular films: Scarface, The Untouchables, and Dressed To Kill. It was shot at the Saint Paul Civic Center in Minnesota, and it included scenes from the opening date on the Born In The USA Tour. Springsteen did not play guitar in the clip so that he could invite a young lady, performed by Courtney Cox in her first big break, up on stage to dance with him near the end. The popular video won a MTV Video Music Award for Best Stage Performance. Watch the video for "Dancing In The Dark": https://www.youtube.com/watch?v=129kuDCQtHs
Shortly before the release of the "Born In The USA" album, Steven Van Zandt left the E Street band. Besides working closely with Springsteen, Van Zandt had developed his skills as a songwriter and producer, working with Southside Johnny and the Asbury Jukes and Gary U.S. Bonds. He had also been performing with his own band, Little Steven and the Disciples of Soul, and got his own recording deal. Van Zandt was a political activist and that was reflected in his solo albums. He was replaced in the E Street Band by guitarist Nils Lofgren.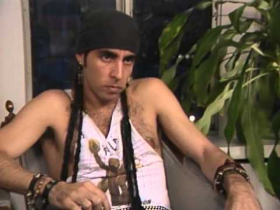 Steven Van Zandt
Continuing his involvement in the issues of the day, in 1985, Van Zandt created the music-industry activist group Artists Against Apartheid as an action against the Sun City resort in South Africa. Forty-nine artists, including Springsteen, U2, Bob Dylan, and Tom Petty collaborated on a song called "Sun City" in which they pledged never to perform at the resort.
Van Zandt would later go on to much acclaim for his role as Silvio Dante in HBO's The Sopranos. He got the role after series creator David Chase saw his humorous speech inducting The Rascals into the Rock and Roll Hall of Fame. Van Zandt would rejoin Springsteen and the E Street Band in 1995.
With Van Zandt leaving the band, Springsteen felt he needed to shore up the band's harmony singing. Impressed by a Patti Scialfa performance at the Stone Pony in Asbury Park, he invited her to audition. She became the first female member of the E Street Band just three days before the Born In The USA tour began.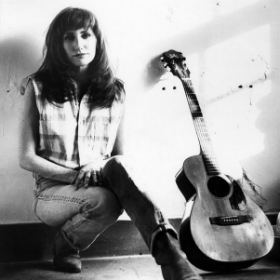 Patti Scialfa
Buoyed by the success of the "Dancing In The Dark" single and the tour, the "Born In The USA" album became the biggest of Springsteen's career, spending 7 weeks at # 1 and 96 weeks in the Top 40 of Billboard's Albums chart. In addition, seven of the album's songs were released as singles and each became a Top Ten hit.
The fourth single issued from the album was "I'm On Fire". A moody number that mixed a soft rockabilly beat with lyrics that dealt with sexual tension, the song peaked at # 6 in 1985. Recorded before "Dancing In The Dark", "I'm On Fire" was one of the first times that Springsteen used a synthesizer on one of his songs.
The video for "I'm On Fire" was directed by filmmaker John Sayles. Unlike other videos from the album it was not a performance clip, but rather a dramatic interpretation of the song's themes. Springsteen plays a working-class auto mechanic. An attractive, married, well-to-do, and mostly unseen female customer brings her vintage Ford Thunderbird in for frequent servicing, always requesting that he does the work. She leaves a small bunch of keys with him when she drops off the car. "I'm On Fire" won an MTV Video Music Award for Best Male Video later in the year. Watch the video for "I'm On Fire": https://www.youtube.com/watch?v=lrpXArn3hII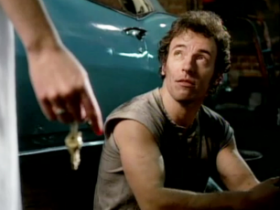 "I'm On Fire" video
"Glory Days" was the next Top Ten single released from the album. The song was a light-hearted tale of a man, a baseball fan and father of two young boys, who looks back on his so-called 'glory days' and the people he knew in high school. The first verse was inspired by an encounter that Springsteen had with an old acquaintance from his Little League days in Freehold, New Jersey.
The video, again directed by John Sayles, took Springsteen back to his bar band roots. It was shot at various locations in New Jersey and the performance footage was filmed at Maxwell's, a popular bar in Hoboken. Even though he had left the band, Steven Van Zandt was invited to perform in the video along with newcomers Nils Lofgren and backing vocalist Patti Scialfa. Springsteen's wife in the video, who is only seen briefly at the end, was portrayed by Julianne Phillips, the girl he married a month before "Glory Days" was released as a single. Watch the "Glory Days" video: https://www.youtube.com/watch?v=6vQpW9XRiyM
Springsteen, who at 34 was looking for a serious relationship, met 24 year-old actress Julianne Phillips in Los Angeles. Six months into their dating, Springsteen proposed on the balcony of his cottage in Laurel Canyon. They were married in the spring of 1985 in Lake Oswego, Oregon, where Julianne grew up.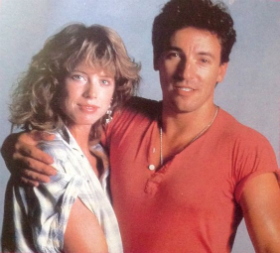 Julianne and Bruce
Things started off well enough but Springsteen had a history of commitment issues. Following the wedding, he was struck with a series of severe anxiety attacks that he kept hidden from his wife. In his memoir, Springsteen wrote that he was sliding back toward the chasm where rage, fear, distrust, insecurity, and a family-patented misogyny ruled. It was fear of having something, allowing someone into his life, someone loving, that set off a fierce reaction and would eventually doom his first marriage.
Julianne accompanied him on most of the Born In The USA Tour and they were plagued by paparazzi everywhere they went. Upon ending the tour, she resumed working on her acting career while he returned to recording.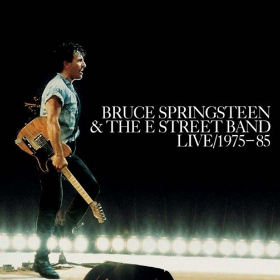 "Live/1975-85" LP box
The follow-up to "Born In The USA" was a 5 LP collection called "Live 1975-85", a summary of his live shows with the E Street Band over the preceding ten years. Containing 40 songs, it was another enormous hit, spending 7 weeks at # 1. A cover of Edwin Starr's 1970 Vietnam War protest song, "War", was taken from the live collection and released as a single in the fall of 1986. It became his 8th consecutive Top Ten single when it reached # 8. Listen to "War" at: https://www.youtube.com/watch?v=UJAIVsIK_IE
After the release of "Live 1975-85", Springsteen felt that he had said what he wanted to say and did what recorded work he could with the band for the moment. He would turn back into more reflective songwriting for his next album.
Read Springsteen Pt. 6 - The Ties That Bind: https://michiganrockandrolllegends.com/index.php/blog/267-springsteen-pt-6-the-ties-that-bind