Springsteen Pt. 6 - The Ties That Bind
Details

Category: Dr. J's Blog
Published: Monday, 29 October 2018 11:39
Written by Gary Johnson
Bruce Springsteen felt that trying to keep the kind of success he had with "Born In The USA" for his next studio album would have been a losing game, and that trying to depend on a large audience could distort what he did and who he was. His plan was to produce a more reflective work and reintroduce himself to his fans as a songwriter. To this end, he set up his recording equipment at his New Jersey home and started writing about something he'd never written about in depth before; the relationships of men and women.
The songs for his solo album, "Tunnel of Love", came out of a single place in a short period of time. Most of the recording took place over the course of three weeks. He claims that the writing was not painful, and although some thought so, not literally autobiographical. Instead, it uncovered an inner life and unresolved feelings that he had carried inside of him for a long time. Like him, the characters in his new songs were no longer kids, and there was the possibility of life passing them by along with the love and home that they needed.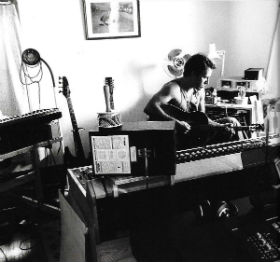 Writing "Tunnel of Love" album
The central song on the album is "Brilliant Disguise". It's about trust being a fragile thing that requires allowing others to see as much of ourselves as we have the courage to reveal. But you drop one mask and find another behind it, until you begin to doubt your own feelings about who you are. The song is much in the style of Roy Orbison, one of Springsteen's main inspirations.
"Brilliant Disguise" was the first single issued from "Tunnel of Love", and its video was directed by Meiert Avis, famous for his work with U2. Because he and Julianne Phillips would divorce in 1988, the analogies to his personal life seem very evident in the song's lyrics, and the references to marital problems, which may or may not have emerged at that time, are quite direct. The video, shot in black and white in the kitchen of a modest home, effectively reflects the song's emotions and Springsteen's very personal performance can be difficult to watch. View the video for "Brilliant Diaguise": https://www.youtube.com/watch?v=idnJnjV_8rg
The "Tunnel of Love" album reached #1 when released in the fall of 1987. It produced three hit singles: "Brilliant Disguise" at # 5, the title song at # 9, and "One Step Up" at # 13. Like several of the songs on the album, "One Step Up" tells the story of a man whose inner sense of self is in doubt. This song was not recorded in Springsteen's home studio, however. It was done in Los Angeles with future wife Patti Scialfa on backing vocals and Springsteen playing all the instruments.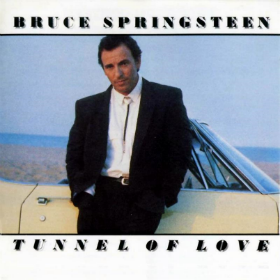 "Tunnel Of Love" LP
The lyrics of "One Step Up" use the broken furnace, the car that won't start, and the church bells that don't ring for a new bride as metaphors for the couple's relationship which is referred to as their "dirty little war". The song has a very bare arrangement that is fitting with its personal nature but also features a memorable melody. The video, again directed by Meiert Avis, is very effective and combines scenes of Springsteen performing the song with images that reflect the song's narrative. Watch the video for "One Step Up": https://www.youtube.com/watch?v=MkFQHScyti0
Springsteen wanted the Tunnel Of Love Tour to be different because it was a solo album. He shifted the positions of the band and brought Patti Scialfa to the front of the stage to provide a sexy female foil that he could play off of to underscore the album's themes. The stage design was carnival-like to frame the action and play off his main metaphor of love being a scary amusement park ride. The highlight of the tour was a concert before 300,000 fans on July 19, 1988, in East Germany. Journalist Eric Kirschbaum called it "the most important rock concert ever, anywhere," and credited its effect as being a major contributor to the fall of the Berlin Wall the following year.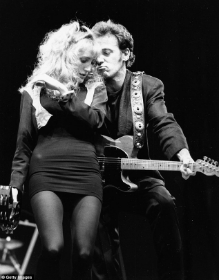 Patti Scialfa and Bruce
During the tour, his friendship with Sciafa developed into something more serious. After he confessed his feelings to Julianne, the couple separated. Springsteen insisted it remain a private affair, and as a result, they didn't release a press statement. But when Springsteen was photographed in Rome in his underwear with Patti on a balcony, it turned into a scandal that deeply hurt and embarrassed Julianne. The couple divorced in 1988, and Springsteen wrote in his autobiography that he deeply regreted how he handled things and the pain he caused.
Following the Tunnel Of Love Tour, Springsteen and the band joined Sting, Peter Gabriel, and Tracy Chapman for a six-week run on the Human Rights Now! Tour. The eight-hour shows played in places all over the world including Zimbabwe, Japan, Hungary, Canada, Brazil, India, Argentina, and the United States.
After the tour, Bruce and Patti moved in together. She came into the relationship with a knowing eye, having seen Springsteen on the road in his many guises. She was also a musician and was very feisty. As a result, they fought a lot which turned out to be a good thing since Springsteen had never argued much in most of his relationships. Like his father, he was passively agressive – denial and intimidation, rather than direct confrontation, was his style.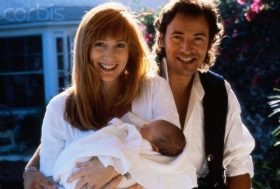 Patti, Bruce, and Baby Evan
The couple moved to California after first trying to settle in New York City and then New Jersey. It was there that Patti announced that she was pregnant. The baby would be born Evan James Springsteen in July of 1990 in Los Angeles. The couple married in June of 1991, and their second child, Jessica Rae Springsteen, was born six months later.
Earlier, Springsteen had made a momentous musical decision when he decided to put the E Street Band on hiatus. He wanted to experiment with other musicians. It was a painful parting, but everyone accepted it graciously even though all the band members were disappointed with his decision. The E Street Band would go on to find second lives and second careers as musicians, record producers, TV stars and actors, but they all retained their long friendship with Springsteen.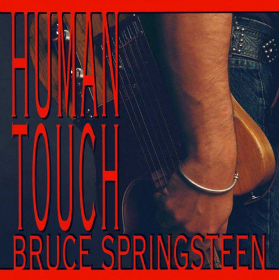 "Human Touch" album
Springsteen's next album, "Human Touch", began as an exercise to get back into writing and recording. He wrote a variety of songs in music genres he had always liked: soul, rock, pop, and R&B. He also worked for the first time with musicians other than the E Street Band, although Roy Bittan would become an important collaborator on the new album. Springsteen and Bittan played most of the new songs together in Springsteen's home studio and then brought in musicians to play along with what they had already recorded, or they'd play with them and record the songs live.
In the title song, "Human Touch", a person is searching to find some emotional contact, some physical and sexual connection. But to receive what love delivers, people have to surrender themselves to each other and accept fate. That is the tension at the heart of the entire "Human Touch" album. Watch the video for "Human Touch": https://www.youtube.com/watch?v=85cNRQo1m3A
Completing the album opened the floodgates, and over the next three weeks Springsteen recorded another entirely new album called "Lucky Town". "Better Days", which was issued as the B-side to the "Human Touch" single, was a song about second chances. The characters in it return from broken love affairs and self-doubt and find the tempered optimism to take another shot.
"Lucky Town" album
Both albums were released on the same day – March 31, 1992. "Human Touch" reached # 2 on the Billboard Top Albums chart and, although it generally got better reviews, "Lucky Town" peaked at # 3. Meanwhile, the "Human Touch/Better Days" single hit # 16 on the Hot 100, and Springsteen appeared in videos for both songs. His 1992-93 world tour to support the two albums became known to his die-hard fans as the Other Band Tour since it was his first without the E Street Band. Watch the video for "Better Days": https://www.youtube.com/watch?v=VmwJQ62Cs_o
In early 1993, director Jonathan Demme asked Springsteen to write a song for a film he was working on. After the tour was completed, Springsteen wrote "Streets of Philadelphia" and recorded a version with him supplying almost all of the instrumentation. Demme had requested a rock song to use for the film's opening scenes, but the lyrics Springsteen had written seemed to resist being put to rock music. When he slowed the rhythm down, however, the lyrics fell into place, and the voice he was looking for came forward in the final recording.
Demme loved the song, and his film, Philadelphia, starring Tom Hanks and Denzel Washington, was one of the first major motion pictures that dealt with HIV/AIDS, homosexuality, and homophobia. Both the film and Springsteen's song were critical successes, and Springsteen released "Streets of Philadelphia" as a single in early 1994, shortly after the birth of his third child, Sam Ryan Springsteen.
The song was a sizeable hit in the U.S., reaching # 9, but was an even greater success around the world where it became his biggest single in England, and hit # 1 in several countries including France, Germany and Ireland. "Streets of Philadelphia" received many honors as well, including the Academy Award for Best Original Song, and 4 Grammy Awards including Song of The Year, Best Rock Song, Best Rock Vocal Performance (Solo), and Best Song Written Specifically for a Motion Picture or Television.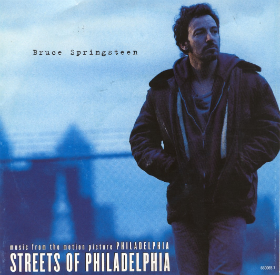 Academy Award for Best Original Song
Jonathan Demme and his nephew Ted Demme directed the music video for the song which shows Springsteen walking along desolate city streets interspersed with scenes from the film. Springsteen's vocal track, using a hidden microphone, was recorded live during the shooting to a pre-recorded instrumental track. This technique, which was appropriate for emotionally intense songs for which conventionally used lip-synching would seem especially false, was first used by Springsteen in his "Brilliant Disguise" video. Watch the video for "Streets of Philadelphia: https://www.youtube.com/watch?v=4z2DtNW79sQ
Springsteen and his family were thoroughly shaken by the devastating Northridge earthquake of January 1994 in California. The experience led to the decision to move the family back to New Jersey. There, with the help of his therapist and the support of his wife, Springsteen was able to start to come to terms with the issues that torpedoed past relationships.
He also tried to build strongrelationships with his children, something his father had not done when he was a child. He started putting his children before his music, and it began by establishing a ritual of him making breakfast for them each day. Tours were now booked around school schedules, his children's events, and their birthdays.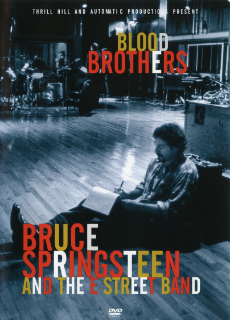 "Blood Brothers" DVD
In 1995, Springsteen reconvened the E Street Band to record some new songs and rev up the publicity for his first compilation album, "Greatest Hits". All of the band members from the 80's, including Steven Van Zandt, came and played on the four new songs in the package. They also appeared in Blood Brothers, the documentary film about the band getting back together to record again.
"Greatest Hits" was a gigantic world-wide success in 1995, reaching # 1 in the United States and countries all over the world. The songs were tracks recorded between 1974 and 1995 and included "Streets Of Philadelphia" which had not been available before on a Springsteen album. The album's 18 songs contained 14 previously released favorites along with the four new songs recorded with the E Street Band earlier in the year for the project.
Reviews for the album were much less enthusiastic, however. Some of the reviews noted that 11 Springsteen songs that had charted in the Hot 100 were not on the album, including several such as "Cover Me", "I'm On Fire", "War", "Tunnel of Love", "One Step Up", "Fade Away", and "I'm Going Down" that were substantial hits. Others mentioned that the set ignored the singles from his first two albums and songs like "Tenth Avenue Freeze-Out", "Prove It All Night", and "Fire" that not only charted but were concert favorites as well.
A 2 CD collection would probably have silenced any critics; and Springsteen's recorded legacy was certainly deserving of a more deluxe treatment. One of the new songs, "Secret Garden" was released as a single in 1995 but only reached # 63 on the Hot 100. After the song was used in Jerry Maguire, the 1997 Tom Cruise movie, "Secret Garden" was re-released and became a Top 20 hit.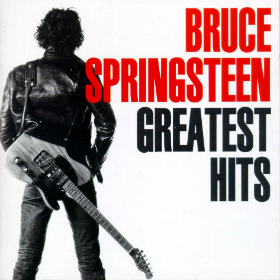 "Greatest Hits" album
One of the other new songs, "Murder Inc.", was actually an unused song from the "Born In The USA" sessions in the early 1980's. Although Springsteen got the title from a 1930's New York crime group, the song dealt with what he felt was the paranoia and compounded violence of modern life in America. The lyrics addressed gated communities, the loss of freedom, and mistrust of your own neighbor as the price that is paid for writing off generations of young people to poverty, drug dependency, and severely limited hopes and dreams. Watch the video for "Murder Incorporated": https://www.youtube.com/watch?v=Jj7hvKQ6Uhc
Instead of following up "Greatest Hits" with an E Street Band tour, Springsteen decided to go in a different direction. Since the overwhelming success of "Born In The USA" and his accompanying wealth, he had been having a decade-long inner debate with himself that centered on questions that included: Where does a rich man belong? and What is the work for us to do in our short time on earth? Those questions led to a new acoustic album, a record that picked up where he had left off with his "Nebraska" album 13 years before.
Read Springsteen Pt. 7 - The Rising: https://michiganrockandrolllegends.com/index.php/blog/268-springsteen-pt-7-the-rising