Springsteen Pt. 8 - On Broadway
Details

Category: Dr. J's Blog
Published: Wednesday, 07 November 2018 08:46
Written by Gary Johnson
Bruce Springsteen had played benefits over the years for causes he believed in such as Vietnam Veterans, Amnesty International and opposition to nuclear energy, but he had always refrained from endorsing candidates for political office. This changed in 2004 when he became involved in the Vote for Change Tour with John Mellencamp, the Dixie Chicks, Pearl Jam, the Dave Matthews Band, John Fogerty, and Jackson Browne.
His song "No Surrender"became the main campaign theme song for John Kerry's unsuccessful presidential run, and he performed acoustic versions of his songs at Kerry rallies in the last days of the campaign.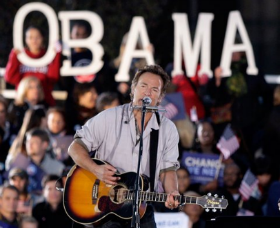 Campaigning for ObamaSpringsteen also went on to support Barack Obama's 2008 presidential campaign. He announced his endorsement of the candidate in April 2008; and he appeared at several his rallies and performed solo acoustic sets in support of Obama's campaign. Springsteen's song "The Rising" was the first song played over the loudspeakers after Obama's victory speech in Chicago's Grant Park on November 4th, and he was the musical opener for the Obama Inaugural Celebration on January 18, 2009, which was attended by over 400,000 people.
In January of 2009, Springsteen won a Golden Globe for Best Song for his composition of "The Wrestler" from the film of the same name. Springsteen wrote the song, and let it be used for free in the film after receiving a heartfelt letter from lead actor Mickey Rourke. Rourke's memorable performance in the film won a Golden Globe for Best Actor Motion Picture Drama. Watch the video for "The Wrestler": https://www.youtube.com/watch?v=uRUEKJIcvbo
On February 1, 2009, Springsteen and the E Street Band performed the halftime show at Super Bowl 43 between the Pittsburgh Steelers and the Arizona Cardinals in Tampa, Florida. They played four songs during their 12 minute-45 second set: "Tenth Avenue Freeze-Out", "Born To Run", "Land Of Hope and Dreams", and a version of "Glory Days" in which the lyrics were changed from baseball to football references.
Shortly thereafter, Springsteen was recognized by the Kennedy Center Honors for his lifetime contributions to American culture. John Mellencamp, Sting, Melissa Ethridge, and Eddie Vedder of Pearl Jam all performed Springsteen songs at the tribute.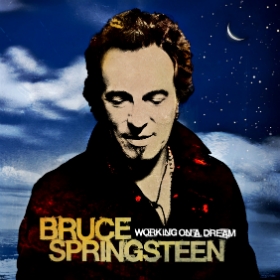 "Working On A Dream" album
The rest of 2009 was taken up with the release of the band's "Working On A Dream" album and tour. The album, which is one of Springsteen's most stylishly diverse releases, is filled with 1960s' production flourishes that borrow from the Wall of Sound, the British Invasion, and the pop rock of the Beach Boys and Roy Orbison. The Working On A Dream Tour began in April and concluded seven months later in November. Max Weinberg had to miss several shows because of his commitment to the Conan O'Brien Show, and his seat on the drums was filled ably in his absence by his son, Jay Weinberg.
Of greater concern was the physical condition of Clarence Clemons. The Big Man's knees and hips were deteriorating, resulting in a portable elevator being built to assist him getting on and off the stage. Clemons traveled with a trainer and someone who monitored his medical condition, but he still had to sit through much of every show on the tour.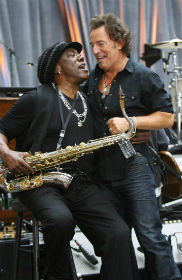 Clarence Clemons
The "Working On A Dream" album, which was dedicated to the late Danny Federici, featured a deluxe package with both a CD and a DVD that included a 38-minute documentary with segments of Springsteen and the band recording tracks in the studio. "The Last Carnival", a song that Springsteen wrote in memory of his departed bandmate, used the image of a traveling carnival as a metaphor for Federici and the E Street Band on tour. Watch the video for "Working On A Dream": https://www.youtube.com/watch?v=R3ZMfPXgd_M
November of 2010 saw Springsteen release a 2 CD collection called "The Promise". The album was a collection of previously unreleased songs recorded during the "Darkness On The Edge Of Town" sessions with modern vocals and additional instrumentation recorded in 2010. The collection of 22 great songs, that had been left in the can for over 30 years, also featured one of the last appearances of Clarence Clemons on a Springsteen recording. "The Promise" peaked at # 16 on the Billboard 200.
Springsteen and Patti were celebrating their wedding anniversary with a trip to Paris when they were notified that Clarence Clemons had suffered a massive stroke and had been hospitalized in Florida. The Springsteens immediately flew back to the U.S. to be with their friend, but the Big Man never regained consciousness and passed away a week later.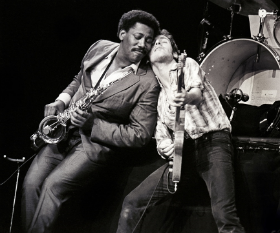 The Big Man & The Boss
Clarence Clemons was the most iconic member of the E Street Band and an inspiration to sax players all over the world. Where Danny Federici was more in the background, the Big Man had always been on the front line to Springsteen's right for over 30 years. Together, their friendship told a story that transcended those he had written in his songs and in his music. It was about the power of rock and roll, and the story about the possibilities of an interracial friendship in a country where racism still raised its ugly head. Springsteen wrote in his memoir that Clarence Clemons was elemental in his life and that "losing him was like losing the rain." Listen to "Big Man", a tribute to Clarence Clemons, by New Jersey saxman Dave 'G-Man' Gonos: https://www.youtube.com/watch?v=-kPQz6RSqik
Springsteen's 17th studio album, "Wrecking Ball", was released in March of 2012. The title song and several others on the album were inspired by Springsteen's anger at what had been done by a handful of Wall Street trading companies that had led to the Crash of 2008; and the injustice that continued and widened with deregulation and capitalism gone wild at the expense of the middle class and hardworking Americans all across the land.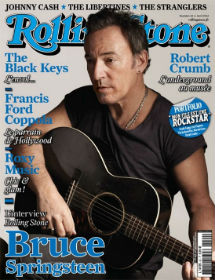 Rolling Stone 2012
Although "Wrecking Ball" became Springsteen's 10th # 1 album, it was received with a lot less fanfare than he thought it would earn despite interviews in Rolling Stone and other publications. Although he believed it was his best and most accessible album since "Born In The USA", he began to realize that the presentation of those ideas in that form had a powerful but limited interest to a reasonably large, but still select, group of people, especially in the United States.
In his memoir, Springsteen stated that he doesn't want to be pigeonholed as a protest singer, and that he still believes that people fundamentally come to music to be entertained. "Songs can address peoples' daily concerns and political topics", he wrote, "but music is mostly an affair of the heart, and people want you to go deeper than politics. They want you to reach inside to their most personal selves and deepest struggles in their daily lives and reach that place. That's the place that I continue to try to reach in my music."
Following the release of the album, Springsteen and the E Street Band announced plans for the Wrecking Ball Tour that began in March of 2012. The biggest issue facing Springsteen before it started was how to deal with the loss of Clarence Clemons. He could never be replaced, but someone had to be enlisted to play his parts in the band. Many months went by before Springsteen finally settled on the Big Man's nephew, Jake Clemons. But Jake would mostly play as part of the E Street horn section at the rear of the stage during the tour, and the Big Man's place on Springsteen's right would remain vacant.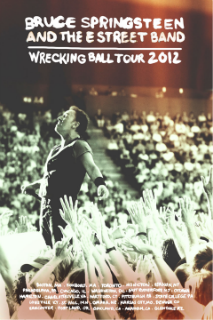 Wrecking Ball Tour
Despite saying he would sit out the 2012 presidential election, Springsteen campaigned for President Barack Obama's re-election in Ohio, Iowa, Virginia, Pennsylvania, and Wisconsin. At the rallies, he briefly spoke to the audience and performed a short acoustic set that included a newly written song called "Forward". With Springsteen's blessing, Obama also used "We Take Care of Our Own" from the "Wrecking Ball" album as one of his top campaign songs.
On Oct. 29, 2012, the New Jersey area was hit hard by Hurricane Sandy. Two days later, Springsteen dedicated his performance in Rochester, New York, to those affected by the storm and those helping in recovery effort.
Springsteen and the E Street Band performed "Land Of Hope And Dreams" at a one-hour televised telethon called Hurricane Sandy: Coming Together two days later on November 2nd. All money was donated to the American Red Cross. A month later, he and the band, along with many of the top names in the music industry, including Jon Bon Jovi and the Rolling Stones, performed at Madison Square Garden for 12-12-12: The Concert For Sandy Relief. Watch the live performance of "Wrecking Ball" at 12-12-12: The Concert For Sandy Relief: https://www.youtube.com/watch?v=UObsO7KbmLg
In December, Springsteen was invited to join the Rolling Stones on stage at New Jersey's Prudential Center for the last show of their 50 and Counting Tour, helping to celebrate the legendary band's 50th anniversary. Springsteen had been a major Stones fan ever since he purchased their "Not Fade Away" 45 in 1964 at Britt's Department Store, located in Freehold's first strip mall. He had used the single to learn his very first guitar solo.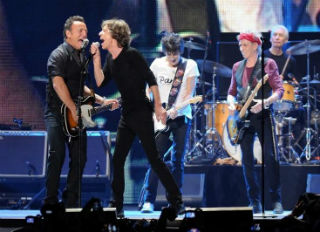 Springsteen, Jagger, Woods, Richards, and Watts
Mick Jagger called Springsteen and invited him to rehearse "Tumbling Dice" at a small New York recording studio. He ran through the song just once, trading lines in the modestly sized room with Jagger while Keith Richards, Charlie Watts, and Ronnie Wood played behind them. The next night they did it for 20,000 thunderstruck fans in Newark, New Jersey.
In his memoir, Springsteen wrote that it was a thrill to be on stage with his musical idols in such a big venue, but it wasn't as important to him as the night before when he got to sit in with the four Stones in a small room with no fancy pedals, no mountains of speakers, just the barebones equipment for making rock music, pure and unchanged.
The annual year-end poll in Rolling Stone magazine named "Wrecking Ball" the top album of 2012. At the 2013 Grammy Awards, "Wrecking Ball" was nominated as Best Rock Album, and "We Take Care Of Our Own" was nominated in the Best Rock Song and Best Rock Performance categories. Watch the video for "We Take Care Of Our Own": https://www.youtube.com/watch?v=-x8zBzxCwsM
In July of 2013, producer Ridley Scott and director Baillie Walsh released an interesting film titled Springsteen & I that documented the life and career of Bruce Springsteen through the eyes and insights of his fans throughout the world.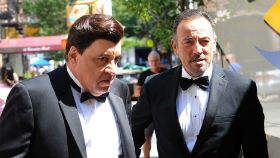 Van Zandt, Springsteen in Lilyhammer
In 2014, Springsteen made his acting debut on the final episode of Lilyhammer, the Norwegian-American television series starring Steven Van Zandt. Springsteen played Guiseppe "Joey the Undertaker" Tagliano, a semi-retired hitman and the older brother of Van Zandt's character, Frank "The Fixer" Tagliano.
Earlier that same year, Springsteen released his 18th studio album, "High Hopes". Rather than a collection of new songs, it was the first Springsteen studio album in which all the songs were either covers, newly recorded outtakes from previous records, or newly recorded versions of songs that were previously released. It included a new recording of "American Skin (41 Shots)" and rock arrangement of "The Ghost Of Tom Joad".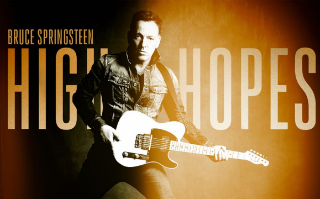 "High Hopes" album
"High Hopes" also featured songs that were originally written for other albums, such as "Harry's Place", a song written in 2001 and intended originally for "The Rising" album. "The Wall", which Springsteen wrote in 1998, told the story of Springsteen's visit to the Vietnam Veterans Memorial in Washington D.C. and his memories of Walter Cichon, a New Jersey musician who was one of Springsteen's mentors when he first started playing. Cichon did not return home from the Vietnam War. Watch the video for "The Wall": https://www.youtube.com/watch?v=GR7liJUaZ3A
In April of 2014, the E Street Band was inducted into the Rock and Roll Hall of Fame in the ceremony held at the Barclays Center in Brooklyn, New York. The E Street Band was inducted under the Award for Musical Excellence category, and Bruce Springsteen gave the band's induction speech. Roy Bittan, Nils Lofgren, Vini Lopez, Patti Scialfa, David Sancious, Garry Tallent, Max Weinberg, and Steven Van Zandt, along with deceased members Danny Federici and Clarence Clemons were inducted and each given time to speak, with the family/widows of Federici and Clemons representing their loved ones. Following the induction, Springsteen and the E Street Band members who were present performed a three-song set of "The E Street Shuffle", "The River" and "Kitty's Back".
While everything looked rosy in Springsteen's life and his career continued to scale new heights, he wrote in his autobiography that all was not well on the inside. Shortly after his 60th birthday, he slipped into a state of depression worse than anything he had experienced during the past 30 years. He managed to keep it hidden from everyone except his wife Patti, who quickly recognized the changes in his behavior. He had been in therapy and taking antidepressants for the past 12 to 15 years. They had helped him maintain a normal life, but the medication he had been taking seemed to have stopped working.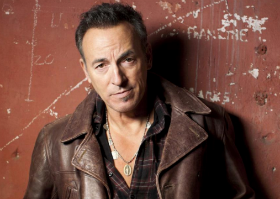 Dark clouds gather
He and his doctor together decided to stop the medication and see what would happen. The depression worsened, but Springsteen managed to hide the severity from most of the folks around him except for his tears. He found himself crying over even mundane daily events like misplacing his keys or watching a TV drama as the dark clouds continued to gather. He tried to fight it off with extreme physical exertion – hitting the weights relentlessly and paddle-boarding for miles on end. Springsteen's trustiest form of self-medication over the years, touring, was not at hand, however. He'd taken the last year and a half off the road to stay close to family and home.
He finally admitted to his doctor what he was experiencing and that he could not live like that. He was put on a new medication that turned things around almost immediately, but Springsteen's condition is something that he will have to closely monitor for the rest of his life.
Of equal concern was a cervical disc problem on the left side of his neck that was pinching and numbing the nerves on his left side and affecting his ability to play guitar on the High Hopes Tour. Springsteen wrote in his Born To Run memoir that he underwent a delicate surgery in which his vocal chords were tied off so that the doctors could use bone from his hip to build new discs in his neck. The surgery caused him to lose his voice for two nerve-racking months, but he came through it fine and was able to return to the tour three months later.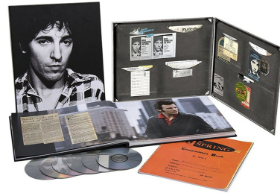 "The Ties That Bind: The River Collection"
On October 16, to celebrate the 35th anniversary of "The River" album, Springsteen announced "The Ties That Bind: The River Collection" box set. The incredible package contained four CDs, including many previously unreleased songs, three DVDs, and a 148-page coffee table book. Watch a live performance of "The Ties That Bind" on SNL: https://www.youtube.com/watch?v=KHMIIKK8oMM
The River Tour 2016 began in January in support of the box set. All of the first-leg shows in North America included an in-sequence performance of the entire "The River" album along with other songs from Springsteen's catalog. All of the dates were recorded and made available for purchase. More concerts were eventually announced, expanding the original three-month tour with shows in Europe and another North American leg starting in August and ending the following month. At a show in Philadelphia in September, Springsteen and the E Street Band played for four hours and four minutes – the longest show he has ever played in the United States.
On September 23, 2016, Springsteen released an album called "Chapter & Verse", a compilation from throughout his career going back to 1966. Five of the album's eighteen tracks had not been previously released. The album included Springsteen's earliest recording with the Castiles from 1966, along with songs from his tenure in early 1970s bands including Steel Mill and The Bruce Springsteen Band. Those songs were joined by a track from each studio album of his long and storied career.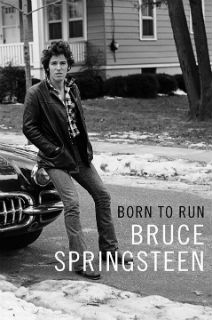 Autobiography/Memoir
Born to Run, the autobiography/memoir of Bruce Springsteen, was published four days later on September 27th. The audiobook, which is narrated by Springsteen, was released on December 6th. The title was named after Springsteen's iconic album and song, and it is a companion piece to the "Chapter & Verse" album. On the day of the book's release, Springsteen embarked on a nine-date book tour in the United States. The tickets, which sold out in minutes, were free but all attendees were required to purchase a pre-signed copy of Springsteen's book.
Born to Run has received universal praise and is probably the most open and honest autobiography of a famous musician that has ever been published. It quickly rose to the top of the New York Times Best Sellers List and was named one of the Top Music Books of 2016 by Rolling Stone.
Springsteen supported Hillary Clinton's 2016 presidential campaign by performing an acoustic set of "Thunder Road", "Long Walk Home", and "Dancing In The Dark" at a rally in Philadelphia on November 7, 2016.
Two weeks later, Springsteen was presented, along with twenty other recipients, the Presidential Medal of Freedom by Barack Obama. The award is the highest honor for a civilian to receive and is "presented to individuals who have made especially meritorious contributions to the security or national interests of the United States, to world peace, or to cultural or other significant public or private endeavors".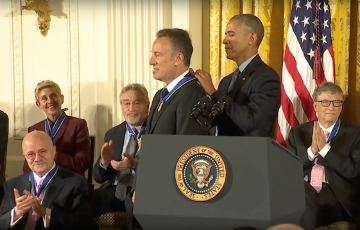 Presented the Medal of Freedom by President Obama
On January 12, 2017, Springsteen along with his wife, Patti Scialfa, performed a special 15-song acoustic set for President Barack Obama and Michelle Obama and their staff at the White House's East Room two days before the president gave his farewell address to the nation. It was this performance that gave Springsteen the idea of presenting this type of intimate show in another setting.
On June 16, 2017, it was reported that Springsteen would be performing an eight-week run on Broadway in New York City at the 939 seat Walter Kerr Theatre in the fall of 2017. The performances, now dubbed Springsteen on Broadway, were officially confirmed with the opening set for October 12 and running through November 26th. Preview performances began on October 3rd.
In addition to his music, the show featured Springsteen reading excerpts from his Born To Run autobiography as well as performing other new spoken reminiscences written for the show. In an interview, Springsteen said this: "My show is just me, the guitar, the piano and words and music. Some of the show is spoken, some of it is sung. It loosely follows the arc of my life and my work." Although Springsteen is on stage alone for almost all of the over two-hour show, he is joined by his wife Patti for two songs: "Brilliant Disguise" and "Tougher Than The Rest".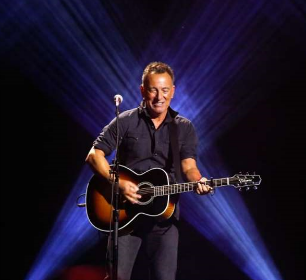 Opening night on Broadway
Springsteen opened his debut preview performance of Springsteen on Broadway on October 3rd with a heartfelt tribute to his friend Tom Petty, who had died unexpectedly at age 66 the previous day. According to the New York Daily News, he dedicated the first of his solo acoustic storyteller shows to the late singer-songwriter, along with Petty's family and his Heartbreakers bandmates.
Audience members reported that Springsteen opened the show with "Growin' Up", the second track from his debut LP, 1973's "Greetings From Asbury Park, NJ", and closed with the iconic title track to 1975's "Born To Run". The 15-song set focused primarily on classics like "Dancing In The Dark", "Thunder Road", and "Born In The U.S.A.", along with a few deeper cuts, including "The Gift" and "My Father's House". The reviews were ecstatic. The New York Times said of the show, "As portraits of artists go, there may never have been anything as real – and beautiful – on Broadway". Rolling Stone magazine called it "an intimate triumph".
In a New York Times interview dealing with the show, Springsteen said this: "I've played "Born To Run" many, many times. But the key is, you have to approach it not as repetition but as a renewal. And to do that your spirit has got to be 100% present. It's a new audience every night. There're new faces; there're new opportunities. Those songs have been very good to me over the years and, in return, I try to be good to them. You have a chance of renewing the emotion and the spirit in that music on a nightly basis."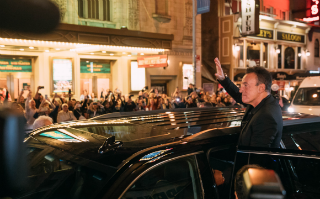 Outside the Walter Kerr Theatre
"That's the place I work to get to every night when I'm on stage," he continued. "I think that if the foundation of what you've built is built well, you'll be able to inhabit it on a nightly basis and your audience will come in and it will feel like they're seeing it for the first time. That's my plan, anyway."
Due to the high demand for tickets, Springsteen announced that he had extended his Broadway run until December 15, 2018. It was the third time that the show had been extended since its initial 8-week run. My wife, Lynn, and I had been unsuccessful in acquiring tickets earlier, but our names were chosen in a fan club lottery after the latest extension, and we were able to see the show on October 24th.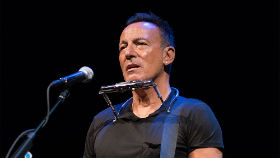 Springsteen on Broadway
Filmmaker Michael Moore and musicians Tom Morello and Lars Ulrich of Metallica were also in the audience with us that night. Seeing Springsteen in such an intimate setting, playing solo on guitar, piano, and harmonica and telling stories for over two hours, was a rock and roll experience that I will never forget.
Billboard magazine described Springsteen's show as "one of the most fascinating, invigorating and emotionally nuanced entries in his creative catalogue." It was all that and more. Based largely on his Born to Run memoir, Springsteen proved to be a master storyteller; and his performance was in equal parts hilarious, heartfelt, and inspiring.
The final show in December will mark the 236th performance of Springsteen on Broadway with a filmed version going up on Netflix that night. The "Springsteen on Broadway" album will be released the day before on December 14th. It will comprise 16 songs, making it one song longer than the show's typical 15-song set. "Land of Hope and Dreams" was released as a single in advance of the album, a subtle reminder of what our country once was, and could still be again, if we don't let our democratic ideals continue to slip through our fingers. Listen to "Land of Hope and Dreams" from Springsteen on Broadway: https://www.youtube.com/watch?v=oPPeJgJAXqk
The primary source for the eight-part Bruce Springsteen series was Springsteen's excellent 2016 autobiography, Born To Run.