The Bay City Boy Who Shot Buddy Holly (in color)
Details

Category: Dr. J's Blog
Published: Wednesday, 25 January 2012 14:33
Written by Gary Johnson
"That'll be the day, when I die" – B. Holly
You won't find Tom Cederberg's name listed in any of the biographies or documentaries concerned with the life and career of Buddy Holly, but in the spring of 1958, the thirteen-year-old Michigander accomplished something unique in regards to Holly's storied career. Just months before his tragic death, Cederberg shot the only known color movie footage of Buddy and the Crickets performing on stage in the United States.
Tom was born on July 9, 1944 in Bay City, Michigan; the first of two children born to Elford and Arlene Cederberg. Tom's father, Elford "Al" Cederberg, participated in the Normandy invasion, and fought in France and Germany during World War II. He was decorated with five campaign battle stars and the Bronze Star while in the Service.
Following the war, Al Cederberg entered politics. He was elected mayor of Bay City in 1949, and held the position until he was elected to the U.S. House of Representatives in Michigan's 10th congressional district in 1952. He would go on to win twelve consecutive elections and serve in the Congress until 1978.
From 1952 on, Al Cederberg spent a great deal of his time in Washington D.C. Absence did not make their hearts grow fonder, and the Cederberg marriage ended in divorce in 1957. The family home was located near the corner of 19th Street and Garfield in the mostly Polish section of Bay City known as the South End. From that point on, Arlene Cederberg ran the home as a single mother, taking care of Tom and his younger sister Marilyn, going to all his Little League games, and driving Tom across the Third Street Bridge to Lucky's Record Shop on Midland Street.
After Tom became interested in rock and roll music, he got the ultimate gift for his twelfth birthday - a phonograph. It had a four-speed turntable (16, 33, 45, and 78), a detachable adaptor for stacking and playing 45 rpm singles, and featured a cover that also functioned as a second speaker. Cool was inadequate to describe it. He was in teenage heaven a year early!
By the time that Tom was in the eighth grade at MacGregor School, he was a regular customer at Lucky's. He would do odd jobs around the house to earn money for records, but his mother was always a soft touch if he really wanted something. Records also made great gifts for his birthday or at Christmas.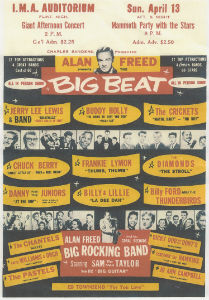 It was on one of the buying trips to Lucky's where he first saw the handbill for Alan Freed's Big Beat show at the I.M.A. auditorium in Flint, Michigan, on April 13, 1958. What a line-up! The show featured 17 top attractions, including some of rock and roll's biggest stars: Jerry Lee Lewis, Chuck Berry, The Diamonds, Frankie Lymon, and the Crickets featuring Buddy Holly.
It didn't take a great deal of convincing to get Arlene Cederberg on board to buy three tickets at $2.25 each and to drive Tom and his sister to see the first of two scheduled shows at the I.M.A. Besides always being supportive of her kids, Tom's mother also loved music, had a collection of old 78's, and played the piano. Arlene even grew to like some of the rock and roll records that Tom brought home, including some of the hits of Buddy Holly and the Crickets.
Buddy Holly was born on September 7, 1936, in Lubbock, Texas. He learned to play guitar, piano, and fiddle at an early age. In junior high school, Buddy met Bob Montgomery. Both shared a love of music and soon began performing bluegrass and country and western tunes together as Buddy and Bob. The duo soon began appearing regularly on local radio station KDAV's Sunday live music broadcast and became local stars.
Buddy's music began to change after he saw Elvis Presley perform in Lubbock in 1955. He started to incorporate rockabilly into performances, and after adding a bassist to the group, opened for Presley the next time he came through town. This performance, along with a later gig opening for Bill Haley And His Comets, led to Holly signing a recording contract with Decca Records in 1956.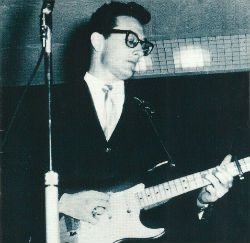 Buddy Holly
Holly participated in three recording sessions in Nashville with producer Owen Bradley. Decca issued two singles during 1956, "Blue Days, Black Nights" and "Modern Don Juan". Neither charted, and Buddy was notified that his contract would not be renewed by the label in January of 1957.
On February 25, 1957, Holly and a revised band lineup, now dubbed the Crickets, recorded "That'll Be The Day" at the Clovis, New Mexico, studio of producer Norman Petty. The upbeat rocker won the group a contract with the Coral and Brunswick labels. That summer, it became a # 1 hit on Billboard's Hot 100 and even rose to # 2 on Billboard's R&B chart.
The terms of Holly's arrangement with his record labels, negotiated by his producer/manager Petty, were unusual. Releases alternated on Coral and Brunswick, with those on the former label credited to Buddy Holly and the latter to the Crickets.
Tom Cederberg had Holly's hits on Coral and Brunswick, as well as records from many of the other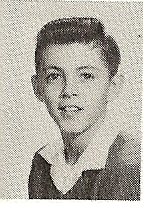 Tom Cederberg artists on the bill for Alan Freed's Big Beat show. It was his very first rock and roll concert and that made him even more excited to attend. In order to preserve the experience, he planned to take the family 8mm camera and two reels of film along to the show.
The Cederbergs owned a Kodak Brownie Turret 8mm movie camera that had three lens. Cameras in the 50's had no sound, and Tom was the only one in the family who knew how to operate it. He already had quite a bit of experience using the camera for family movies, and he had learned the basic elements of panning and keeping it steady.
He was also skilled at loading film into the camera, no easy feat when it had to be fed into the device and then wound up. If he wound too tight – it would speed up the action. Tom also had to make sure that the film was threaded correctly; so he would have to run it a little with the camera to his ear to listen if it was buzzing, or if the film had caught and was running properly. All this was complicated by the fact that reels only lasted four or five minutes, and he was going to have to change film reels in the dark.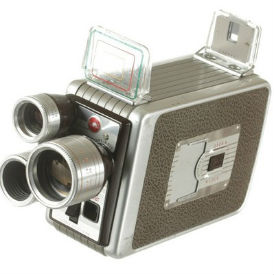 Cederberg's Kodak 8mm camera
The Cederberg family caught a break in that their seats were in the first row of the balcony, about fifteen rows back from the stage. That gave Tom a great angle from which to shoot the action, a railing to help keep the camera steady, and no one in front of him.
Cederberg shot two rolls of color film that day containing a total of about eight minutes of concert footage. The Buddy Holly section was just 49 seconds in length.
Tom was trying to shoot all of the performers so the footage of each was brief, never thinking that the Holly footage he took that day would be that significant.
He doesn't remember the songs that Holly and the Crickets did in Flint, but according to Ellis Amburn's 1995 biography Buddy Holly, "Rave On" and "Not Fade Away" were played at every performance on the tour.
Following the show, Tom showed his film to both his family and friends. Among his buddies, he was the undisputed rock and roll guy. He had the most records of any of them, and the Cederberg house was the main gathering place for the neighborhood boys. Although everyone enjoyed watching the footage of Buddy Holly and the other stars, no one including Tom, thought it was anything out of the ordinary. After a few more showings, the film was tucked away for the next twenty-five years.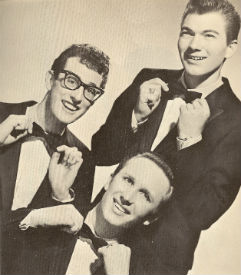 The Crickets in 1958. (L - R) Buddy Holly, Joe B. Mauldin, Jerry Allison
The appearance of Buddy Holly and The Crickets in Flint on April 13th marked the end of a very successful ten and a half months for the young musicians. During that time, they had released six new singles on both the Brunswick and Coral labels.
Recording as the Crickets on Brunswick, they had burst on the scene in 1957 with "That'll Be The Day", and followed it with two more Top 40 smashes, "Oh Boy!" in late 1957 and "Maybe Baby" early in 1958.
On Coral, Buddy Holly had a # 3 hit in the fall of 1957 with "Peggy Sue", and would release his newest Top 40 single, "Rave On", the week after the Flint performance. Just prior to joining the Alan Freed show, Buddy and the Crickets had completed successful tours of Australia and Great Britain.
The thought that one of rock and roll's brightest new stars would have less than nine months to live would not have entered anyone's mind in the early spring of 1958; nor would anybody have realized that the first half of rock and roll's initial decade was about to come to an end through a series of unfortunate events.
Clouds had first started to form in the fall of 1957 when Little Richard, one of the most exciting and original performers in rock and roll, suddenly quit the business and enrolled in Bible college. Little Richard would record and perform only gospel music for the next few years, and despite making a comeback in the 1960's, would never be a major force in rock and roll again.
More importantly, Elvis Presley had received his draft notice in December of 1957. Although he was given a brief deferment in order to complete the film King Creole, Presley was inducted into the Army in March of 1958, shortly before Buddy Holly joined the Big Beat tour. Elvis would remain a major star after his hitch, but he would no longer be the symbol of rock and roll rebellion that he was before entering the Service.
Of more immediate concern to Buddy Holly, was the commotion that disrupted the Big Beat tour just three weeks after the Flint performance. On May 3rd during a show at the Boston Arena, a sailor was stabbed, others were injured, and arrests were made outside of the concert hall. In addition, Alan Freed was arrested and charged with inciting a riot.
The charges were eventually dropped but the negative publicity, exemplified by the Time magazine report headlined Rock-'n-Roll Riot, caused a backlash that resulted in the cancellation of shows in Troy, NY; Providence, RI; New Haven, CN; and Newark, NJ, and a major black eye for rock and roll.
The incident also put an end to Freed's star-studded package tours. He went on to host a local television show called the Big Beat, but Freed was fired from both the television show and from his radio program on WABC in 1959 when he became entangled in the payola scandal.
The next serious blow to rock and roll's reputation occurred shortly thereafter when Big Beat headliner Jerry Lee Lewis began a tour of Great Britain. A British reporter learned that Lewis' third wife was Myra Gale Brown, his 13-year-old second cousin. The uproar from the negative publicity caused the tour to be cancelled after only three concerts. The scandal followed Lewis back to the States, and as a result, he was blacklisted from television and many radio stations thereby ending his run as a chart-topping artist.
More bad news came in the form of The Platters, the most successful vocal group of the early rock and roll era. In 1959, the four male members of the quintet were arrested in Cincinnati on drug and prostitution charges. Although none were convicted, the group's professional reputation was seriously damaged, resulting in their records being removed from radio playlists and lead singer Tony Williams leaving to pursue a solo career.
Chuck Berry was also a headliner on the 1958 Big Beat tour. In 1959, Berry was arrested for violating the Mann Act. He was charged with bringing a 14-year-old Apache waitress across state lines for immoral purposes while working as a hat check girl at his club. Berry was initially convicted, fined $5,000, and sentenced to a jail term of five years. Although his first conviction was overturned on appeal, Berry would eventually serve 18 months in prison.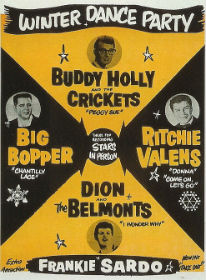 The shocking deaths of Buddy Holly, along with up-and-comings stars; Ritchie Valens and J. P. Richardson (a.k.a. the Big Bopper), in a tragic plane crash was by far the most stunning event that drew the curtain on the golden period of rock and roll's first decade.
Three months after Cederberg filmed the Crickets in Flint, Holly married Maria Elena Santiago in Lubbock, Texas. In October of 1958, Buddy split with both the Crickets and Norman Petty, and he and Maria began living in an apartment in Greenwich Village.
Because of legal and financial problems engendered by his breakup with his manager Petty, and with Maria pregnant with their first child; Holly needed money. It was the reason he reluctantly agreed to perform on the Winter Dance Party, an ill-advised bus tour of the Midwest in the winter of 1959.
Following a show in Clear Lake, Iowa, Holly chartered a private plane to the next stop on the tour, Moorhead, Minnesota. Two other performers, Valens age 17, and Richardson age 28, joined him. Their plane left the Mason City, Iowa, airport at one in the morning on February 3, 1959, and crashed in a cornfield a few minutes later, killing all aboard – an event immortalized in Don McClean's "American Pie" as "the day the music died". Buddy was 22 years old at the time of the accident. Maria miscarried after hearing the news of his death.
During his brief career, Holly had established himself as a major force in rock and roll as a songwriter, singer, and guitarist. In addition, he had already delved into music production with the first single by future country music star Waylon Jennings, and had plans to start his own record label. Buddy's final studio recordings ("Raining In My Heart", "It Doesn't Matter Anymore" and "True Love Ways") had displayed both his creativity and courage in experimenting with his sound. There is little doubt, had he lived, Holly would have continued to be a major figure in rock and roll for years to come.
Those events seemed to usher in a more conservative period in rock and roll. Although there were still many great records made, the five years following Holly's death saw a more homogenized and less raw version of the music topping the charts. The rebellious nature of the early years of rock and roll would not return until the British Invasion of 1964, spearheaded by bands like the Beatles and the Rolling Stones who were heavily influenced by the music of Buddy Holly.
Tom Cederberg was midway through his freshman year at Bay City Central High School when he heard the news of Holly's death. Cederberg can't remember anything particular about that day but, like all rock and roll fans, he was undoubtedly shocked when he learned about the plane crash.
After he graduated in 1962, Cederberg got a job as a stock boy at one of the Ray's Food Fair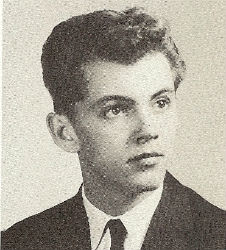 Tom 1962supermarkets and then enrolled at Delta College in the fall. After two years at Delta, Cederberg began taking classes at the Northeastern School of Business in Bay City. It was there he met his future wife, Diane Biarski.
Cederberg was drafted into the Army in May of 1967. He was stationed at U.S. Army Garrison Vicenza in northeast Italy and worked as a finance clerk for most of his two-year hitch. He married Diane while home on leave, and the couple lived off post in the city of Vicenza for 14 months until his discharge in 1969.
Following his return to Bay City, Cederberg was offered a job as an assistant manager with Ray's Food Fair. He worked in that position at both the Washington Avenue and Center Road locations until he left the company in 1981 and opened his own business, Teddy Bear Records.
Throughout the 50's, 60's and early 70's, Cederberg continued buying rock and roll records at Lucky's Record Shop, and over time formed a close friendship with owner Frank "Lucky" Peplinski. An independent record shop like Lucky's is a relic of another time, but during rock and roll's first two decades, it's difficult to imagine a better place to go record shopping. Lucky used a system whereby you filled out a card that recorded your purchases. For every ten records you bought, you would earn a free one of your choice. Cederberg estimates that he had over twenty cards at the shop.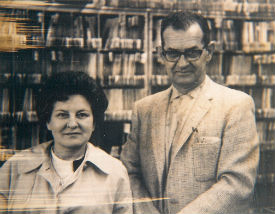 Gen and Lucky Peplinski in their record shop
Lucky Peplinski was a very knowledgeable and unique man. With his dark curly hair and horn-rimmed glasses, he could have passed for Buddy Holly's father. Lucky had been in the jukebox business in the Thumb area for many years before opening his own shop to clean and repair jukeboxes on John Street in Bay City.
He and his wife Gen eventually bought a large, stocked record store on Midland Street from Harry Ball, and Lucky's Record Shop was in business. By 1973, Peplinski was looking to sell his record store and retire. He thought that Cederberg would be the ideal buyer for the shop because he knew Tom would take good care of his "baby". The offer was tempting. Peplinski was willing to stay with Cederberg for a year to teach him the business; and he even offered a discounted price because he really wanted Tom to buy it.
Unfortunately, Cederberg did not have the money to make the purchase, and could not get a bank loan to complete the deal. The bank balked because the sale was strictly inventory; Peplinski didn't own the building. Looking back, Cederberg says that he regrets not pushing harder to try and get the money. Lucky's Record Shop ended up being sold to William Tacey from nearby Hampton Township.
Cederberg remained good friends with Peplinski, and they kept in touch right up until the latter's death. Cederberg told me that after he opened Teddy Bear Records, Peplinski was thoughtful enough to come to the shop with some materials such as clip-on numbers and letters to help him make signs. Lucky stopped by the shop on a few other occasions as well, just to shoot the breeze.
Divorced since 1975 and in need of a job after leaving Ray's Food Fair, Cederberg was looking for a new start when he opened his used record store. It was an ideal fit because it was a business he knew a lot about, and it was also something he was very interested in.
Teddy Bear was the first store of its kind in the Tri-Cities, and he initially stocked it with his own records, along with a few things on consignment. It turned out to be a successful venture that ran at its location on 22nd Street in Bay City until 1997, when Rite Aid came in and bought out all the small businesses on the block. Teddy Bear was also the place where his old Buddy Holly footage first came to the attention of the International Buddy Holly Memorial Society.
Bay City native Benny McGee worked for International Multifoods and handled the wholesale account at Ray's Food Fair. He got to know Cederberg while Tom was an assistant manager there. McGee stopped in Teddy Bear one day and, while looking through the racks of records, mentioned to Cederberg that he had attended the annual Buddy Holly Tributes held at the Surf Ballroom in Clear Lake, Iowa, in 1981 and 1982.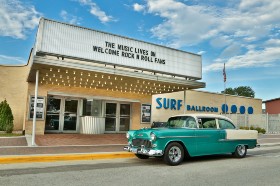 Surf Ballroom
The first Tribute to Buddy Holly concert had taken place in 1979 in Clear Lake on the 20th anniversary of Holly's last performance at the Surf Ballroom. McGee had seen a television program about the event in 1980, and he and some friends attended the tribute for the first time the following year.
When McGee said he was planning on going again in 1983, Cederberg told him about the film he had shot back in 1958; and that it contained footage of Buddy Holly performing with the Crickets in Flint. McGee was friends with Bruce Christensen who was a regional representative of the International Buddy Holly Memorial Society. Knowing that Christensen would want to see the footage, McGee arranged for him to fly into Tri-City Airport from his home in Clearwater, Florida. The plan was to watch Cederberg's film, and then drive to Clear Lake for the 1983 Tribute to Buddy Holly along with McGee and his friends, Ken Crandall and Fred Brydges.
When Christensen arrived in Bay City, Cederberg brought a projector into Teddy Bear, and they watched the film inside the store on a blank wall. Bruce Christensen was blown away by the film, and they watched it four or five times. It was quite a find. Tom Cederberg was in possession of the only color film of Buddy Holly performing in concert in the United States that was known to exist.
Christensen contacted Bill Griggs, the head of the International Buddy Holly Memorial Society, and told him the exciting news. Griggs founded the organization in 1975 and operated it under a license from the Holly estate. He was considered to be the foremost Buddy Holly expert in the world, and he called Cederberg to get more information about the film. Bill Griggs would also become the person most responsible for Cederberg eventually being contacted by the BBC, and his footage used in the documentary, The Real Buddy Holly Story.
Interest in Buddy Holly never really went away following his death. His songs were covered in the 60's by a variety of artists including Bobby Vee, the Beatles, the Rolling Stones, Peter and Gordon, Herman's Hermits, and the Bobby Fuller Four. "American Pie" was a big hit single, staying at # 1 for four weeks in 1972. "That'll Be The Day" was used on the soundtrack for the 1973 hit movie American Grafitti, in which the John Milner character utters the famous line; "Rock and roll's been going downhill since Buddy Holly died". Linda Ronstadt also had hit singles in 1976 and 1977 with her covers of "That'll Be The Day" and "It's So Easy".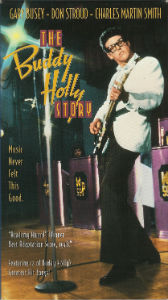 Even more interest in Holly was generated by the 1978 film, The Buddy Holly Story. The movie was a box office hit, and Gary Busey was nominated for an Academy Award for Best Actor for his portrayal of Buddy. Holly's songs were honored when the film won an Academy Award for Best Adaptation Score.
Not everyone was enamored with the Hollywood film, however. Many of Buddy's friends, family members, band mates, as well as Holly aficionados around the world were critical of the inaccuracies in the movie. This led longtime fan Paul McCartney to produce a documentary film in England about Holly.
Whereas Elvis Presley is considered the "king of rock and roll" in the United States, Buddy Holly probably holds the title in England, where he was even more popular than he was in America. With that in mind, it makes perfect sense that a documentary with the purpose of setting the record straight would be done in Great Britain and financed by an ex-Beatle.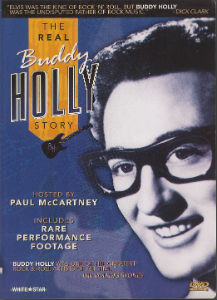 Featuring interviews with Holly's family, Keith Richards, Sonny Curtis, Jerry Allison, Phil and Don Everly, and hosted by McCartney, The Real Buddy Holly Story was first shown on the BBC in 1987; the year after Buddy was selected as one of the first ten Inductees to the Rock and Roll Hall of Fame.
It is both an entertaining film and also a moving tribute to one of the great musical icons of the 20th century. One of the highlights of the documentary was the performance footage of Holly, some of which had never been seen before. This is where Tom Cederberg's film played an important role.
Alerted by Bill Griggs about the existence of Cederberg's Holly footage from 1958, the BBC contacted Tom about using it for the documentary. They arranged a contract whereby Tom would be paid $1,000, guaranteeing the BBC would have exclusive use of his film for one year. Cederberg had no contact with McCartney during or after the negotiation. The film was picked up by U.P.S. and returned after the documentary had been completed. Although he was complimented by the BBC on the quality of his shots, he did not receive a thank you note and his film was not rewound correctly. When the footage was being transferred to DVD, it was discovered that the 8 mm film played backwards and upside down, resulting in additional time and effort.
More upsetting was the fact that he was not given name credit for his contribution to the documentary. Besides the footage of Buddy, the filmmakers also used shots of several other stars on the Big Beat show in Flint. The only clue that Cederberg was involved came from the words "Fan's film, Michigan 1958" listed at the bottom of the screen. To add insult to injury, his name was also omitted from the end credits.
Cederberg is not bitter about any of this. He still lives in Bay City, is happily retired, and gets to spend a good deal of time with his two grandchildren. He has maintained his music collection over the years. Tom says his basement is filled with vinyl and the upstairs filled with CDs. He still has boxes of stuff in his house leftover from Teddy Bear Records after he closed the business. Somewhat surprisingly, he does not have any rare Buddy Holly vinyl. Although he owns all of Holly's recordings, Cederberg explains that he's more interested in having clean copies than spending a lot of money on rare records.
Tom still has the original film he shot over fifty years ago. He does plan on eventually selling it, but hasn't yet checked into the best avenue for doing so. He has no idea of the actual worth of the footage, but auctions of rock and roll memorabilia can bring in some high prices these days.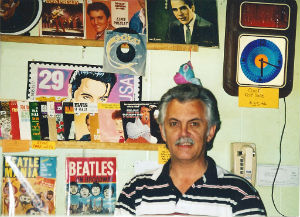 Cederberg at Teddy Bear Records
I have seen the the original film. It runs a little over eight minutes, and the picture quality of the Big Beat footage is outstanding. A conservative estimate of the worth of Cederberg's movie in today's market would seem to be in the high five figures. Perhaps he could even get into six figures if the right buyer came along.
The film certainly has historical value, not only for the Buddy Holly footage, but also for the other Hall of Fame performers: Jerry Lee Lewis, Chuck Berry, and Frankie Lymon. There's also the strong possibility that it is the only color film of the last big Alan Freed package show. Not many people thought to take movie footage in the golden days of rock and roll's first decade. One of the few that did was an anonymous teenager from Bay City, Michigan, and in the process of doing so; he managed to preserve something very special.
"A love for real, not fade away" – B. Holly
Part 2: Buddy's Sweet Sixteen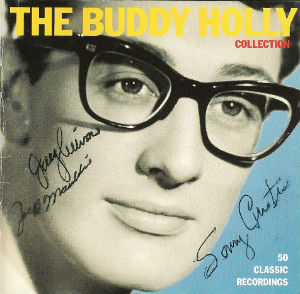 The seeds for writing the above article were planted after I had purchased the The Real Buddy Holly Story on DVD in 2005 and discovered that Cederberg was not credited in the film.
This was reinforced by my meeting Jerry Allison, Joe B. Mauldin, and Sonny Curtis of the Crickets at the 2007 Rockin' 50's Fest in Green Bay, WI. I spoke with them about both the Hollywood movie (which they all disliked) and their participation in The Real Buddy Holly Story.
I also had them autograph my copy of "The Buddy Holly Collection" CD booklet. When I told them I was friends with Tom Cederberg, the guy from Bay City, Michigan who had shot the color footage of Buddy and The Crickets from 1958, they had no idea who I was talking about.
I hadn't got around to doing anything with the story since then, but I liked the idea of writing a Buddy Holly piece that had a Michigan connection. The idea resurfaced again before the last meeting in 2011 of the Rock and Roll Trio. This is the name I give to myself, John Len, and Ron Witucki, a group of retired teachers who love to get together to play, discuss, and sometimes argue about rock and roll.
The fun task that we had set for ourselves at that meeting was to select the 16 all-time best Buddy Holly recordings. Before we met, we each wrote out a list of our Top 25 Holly songs. We then got together and hashed out our final list of 16 by using a graded point system that makes sense to us ex-teachers and helps prevent any fisticuffs. Our ranking of Buddy's greatest recordings can be found below.
After listening to all those great songs while preparing my list for the meeting, I finally made a commitment to interview Cederberg and get the long-delayed story written and up on the site in time for the 53rd anniversary of Buddy Holly's passing.
01. "That'll Be The Day" – Buddy's only # 1 single with the Crickets sounds as wonderful today as it did when it was first released 55 years ago.
02. "Peggy Sue" – Originally titled "Cindy Lou" after Buddy's niece, drummer Jerry Allison got him to change it in order to help him get back together with ex-girlfriend, Peggy Sue Gerron.
03. "Rave On" – Rolling Stone magazine called it "one of the great rock n' roll songs", but its chart ranking was hurt when several radio stations identified it as a cause of juvenile delinquency.
04. "Rock Around With Ollie Vee" – Written by Sonny Curtis and recorded at the second Decca session, this cool rockabilly number shows the influence of Elvis Presley's Sun recordings.
05. "Maybe Baby" – The third Crickets' hit single was recorded at Tinker Air Force Base while Buddy and the group were on tour. The lyrics were partially written by Buddy's mother.
06. "Everyday" – The flipside of "Peggy Sue" features the celesta, a keyboard xylophone that Buddy found in Norman Petty's studio. It helps give the record its endearing, soft-textured appeal.
07. "Oh Boy!" – Originally titled "Alla My Love", the second Crickets hit was so spontaneous and rocking that the released take includes Buddy's cough, audible just after the guitar break.
08. "Think It Over" – The last Top 40 record by the Crickets featured Vi Petty on the piano solo. In his Holly biography, Ellis Amburn claims the song represented Buddy's attitude towards women. I don't buy that, but I love the song.
09. "Peggy Sue Got Married" – Recorded as a demo in his apartment in Greenwich Village, it was later overdubbed with additional instruments. The original with Buddy and his guitar is the best version.
10. "It Doesn't Matter Anymore" – Written especially for Buddy by Paul Anka and recorded in New York with strings; this was Holly's last recording session before the fateful Winter Dance Party tour.
11. "It's So Easy" – This underappreciated final single from Buddy & the Crickets did not chart in 1958, but a cover version by Linda Ronstadt was a # 5 hit in 1977. Go figure.
12. "I'm Gonna Love You Too" – This excellent follow-up to "Peggy Sue" did not chart. It was about the delicious things his girl is going to do to him, even though another boy has stolen her away. If you listen closely you can hear a cricket in the studio near the song's fadeout.
13."Well…All Right" – The B-side of "Heartbeat" got zero airplay when first released, but it is a favorite of Holly fans worldwide. The Buddy Holly Memorial Society rated it # 4 on their list.
14."Not Fade Away" – My personal favorite Holly song. Jerry Allison drumming on a cardboard box helps give it a unique sound. It was covered by the Rolling Stones for their third single, and it became the band's first record to chart in the U.S. in 1964.
15. "Tell Me How" – Many people consider this B-side to "Maybe Baby" to be the better of the two songs. I'm not sure I agree, but it made for an outstanding two-sided record in early 1958.
16. "Heartbeat" – This was the first record released after Buddy had parted ways with both Norman Petty and the Crickets. Despite its innovative Latin beat, it was only a minor hit, peaking at # 82.