The Michigan Box Pt. 1
Details

Category: Dr. J's Blog
Published: Monday, 15 February 2016 13:28
Written by Gary Johnson
"The Michigan Box: 1950s & 1960s Oddball Labels" offers a unique look at many of the state's independent music labels at the dawn of the rock and roll era. The set has over 330 recordings on ten full length CDs containing over 12 hours of music; along with a 200 page hard cover book filled with photos, biographical information, and recording data. You won't find any Top 40 hits, but you will discover some obscure early recordings by significant Michigan artists such as Tommy James, Andre Williams, Dick Wagner, Nolan Strong & The Diablos, Brian Holland, and The Falcons.
The box set mostly concentrates on lesser known musicians who often recorded their rockabilly, country, R&B songs and instrumentals in primitive one man (or woman) studios often outfitted in the front room, back room, garage, or basement. The 45s and 78s were pressed in Michigan plants and issued in limited numbers on tiny labels found in cities all around the state.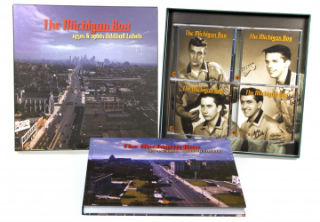 The Michigan BoxIndependent labels in Detroit and the rest of Michigan were very important factors in the birth of rock and roll. All had people who not only wrote, arranged, and produced rhythm and blues and pop, but also hillbilly and rockabilly sessions. The artists who recorded on the many small independent record labels around the state were also exposed to the sounds of gospel, jazz, folk, and ethnic music popular among the various races and nationalities of the people who migrated to Michigan's factories before, during, and after World War II.
These independent labels often encouraged country artists to record R&B songs and rhythm and blues artists to cover hillbilly songs. This example of the cross-pollination of musical styles, which was a hallmark of the state's and especially Detroit's music from the 1940s through the 1960s, was creatively explosive and eventually coalesced into a type of musical stew resulting in the development of Michigan's unique style of rock and roll.
"The Michigan Box: 1950s & 1960s Oddball Labels" is expensive and is probably a good purchase only for those people with a very strong interest in the history of Michigan music. The 10 CDs are arranged in alphabetical order by record labels. The following contains highlights from each CD as well as some information about the artists, the recordings, and the record labels found on each disc. There are also YouTube links so that you can listen to many of the songs in this massive collection. The Michigan Box Pt. 1 covers CDs 1 - 5 from the box set. CDs 6 - 10 are covered in The Michigan Box Pt. 2.
CD 1 – (33 tracks)
The Blue Echoes recorded on the Alderay label out of Holt, Michigan. They were a Lansing group with a guitar/sax sound somewhat similar to The Champs of "Tequila" fame. "O' Misery" is an interesting release from 1963 replete with a Conway Twitty-styled vocal. 1964 saw the group switch to British Invasion approach with a nice cover of the Bobby Lewis hit, "Tossin' and Turnin'". Listen to "O' Misery at https://www.youtube.com/watch?v=IWRpqxGjB0Q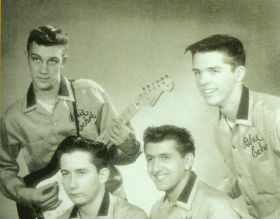 The Blue Echoes
Joyce Songer migrated to Detroit with her husband Earl to find work in Detroit's automotive industry. The duo was active in the Motor City's country music scene in the early 50's. After the pair divorced, Joyce teamed up with Rufus Shoffner in 1962 for "Orbit Twist", a countrified take on the dance craze that was sweeping the nation. It was issued on American Artist Records in Monroe, Michigan. After remarrying, Joyce appeared as Joyce Singo on "Raindrops", a catchy honky tonk duet with Kelly Rogers recorded on the Alderay label in 1964.
The Atlantics were an all-white band that backed Gino Washington on his first local hit, "Out Of This World", on Detroit's Amon label in 1963. The Atlantics, featuring Jeff Williams' lead guitar, also recorded instrumental tracks for Amon including the rocking "Heartburn" released in 1963. Listen to "Heartburn" at https://www.youtube.com/watch?v=2MA0ldbVNnI
Although my wife, Lynn-J, sweetly declined my invitation to sit and listen and help me review the 10 CDs in "The Michigan Box", she did listen to some of it and mentioned that she liked "Rocket To The Moon" by Kathy Hawk. This little-known and very obscure 45 was issued in 1956 on the Apt-To label out of Wyandotte, Michigan. More country than rockabilly, the song makes use of the catchphrase made popular by Jackie Gleason's character, Ralph Kramden, on the hilarious 50s television comedy The Honeymooners. In the case of the song, however, Kathy Hawk is using the phrase to describe the feeling of being in love.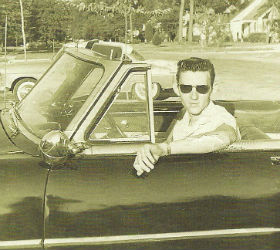 Lenny Drake
Lenny and the Thundertones recorded on Detroit's Astra label and featured guitarist Lenny Drake. The rocking instrumental "Homicidal" from 1963 fit nicely into the surf rock genre. The group also recorded the cool car song called "Interstate 45" in 1963 under the pseudonym Dwight Douglas and the Jayhawks on Astra. Listen to "Homicidal" at https://www.youtube.com/watch?v=COCQuoIOjAE
Lafayette Yarborough was born in Mississippi and moved to Michigan after high school. Described as a cross between Elvis and Fabian, Lafayette performed mostly in and around Flint. In 1958, he recorded a great rockabilly song called "Cool Cool Baby" on the Bart label in Detroit. The 45 is highly sought after by collectors, and the market value for a copy is $1,000. Listen to "Cool Cool Baby" at https://www.youtube.com/watch?v=KgAzYhw6o_E
Ron Bergman and Bruce Stratton formed the Flamethrowers in Royal Oak, Michigan in the late 1950s. The group signed with Clix Records in Detroit and issued their first single in 1960. After a couple of personnel changes, the band recorded two boss surf music instrumentals, "Intensity" and "Whippy Wow", in late 1960. Clix was a primarily country label that dabbled in rockabilly and was unwilling to market the single. As a result, the Flamethrowers created their own Bel-Mar label to issue the 45. This very rare single has a market value of $500. Listen to "Intensity" at https://www.youtube.com/watch?v=FXLyO_Hv0kk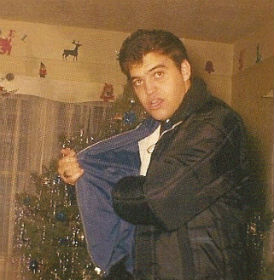 Lafayette Yarborough
Chubby Martin's "Soul Salesman" is a groovy R&B dance song featuring a vocal that is reminiscent of Otis Redding. The song was issued in late 1966 or early 1967 on Big Star Records, the Detroit label owned by Bobo Jenkins. Jenkins recorded for both Chess and Fortune before opening his first recording studio in in the Motor City in 1959.
The Bumble Bee label was owned by soul music pioneer Robert West. He moved to Detroit from Alabama in 1935. West was an inspiration to Berry Gordy, and his labels provided the launching pad for some of Detroit's biggest recording stars including Wilson Pickett, Eddie Floyd, Sir Mack Rice, and The Primettes (later to be renamed The Supremes).
My nominee for 'Obscure Artist with the Best Band Name' has to be Leon James with Walter Atkins and His Homotones. (No, I'm not kidding!) James moved to Detroit from Tennessee and issued the two-sided gem, "Baby Let's Rock" and "Ride That Train" on the Bumble Bee label in 1958. The A-side is a piano-driven rockabilly number with a strong vocal. The flip features James' harmonica simulating a train whistle. Listen to Leon and the Homotones' recording of "Baby Let's Rock" at https://www.youtube.com/watch?v=Jxvcb86E_zg
CD 2 – (34 tracks)
Ron Allers kicks the disc off with "Heartless Woman", a moody, mid-tempo rockabilly recording. Allers put the 45 out on his own Caron Records label in Kalamazoo. The single was released in 1962 and has a market value of $250. Allers reportedly still lives in Kalamazoo and performs occasionally. Listen to "Heartless Woman" at https://www.youtube.com/watch?v=ebsQ_BRYjZ4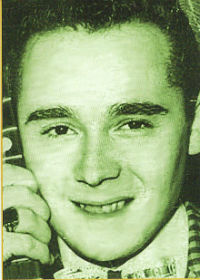 Rod Allers
Sixteen of the recordings on CD 2 come from Clix Records from Troy, Michigan. Although it was primarily a country music label, Clix did issue some good rockabilly sides. The Flamethrowers, who appeared on CD 1, released their first single on Clix in 1960. Duane Eddy's influence is strong on the twangy guitar sound of both "Suzette" and "The Knights Caper". "Suzette" is the better of the two instrumentals that seem a little out of place with the other releases on the Clix label. Listen to "Suzette" at https://www.youtube.com/watch?v=EmGhnp_9bDE
Ray Taylor & Alabama Pals put out an outstanding two-sided rockabilly 45 in 1959 on Clix. It's tough to decide which of Taylor's sides, "My Hamtramck Baby" or "Connie Lou", is the superior side, but I'm going with "My Hamtramck Baby", which seems to have been inspired by "Hamtramck Mama", a country boogie originally written and recorded way back in 1939 by the Detroit-based York Brothers. Because of his oft repeated lyric: 'My Hamtramck baby really put a brand on me', I can only assume that Ray Taylor liked it hot. Listen to "My Hamtramck Baby" at https://www.youtube.com/watch?v=7L4mfR4uPew
Ford Nix & Moonshiners were basically a country outfit, but they recorded an interesting two-sided debut single on Clix in 1959. The Moonshiners, on both "Ain't No Sign I Wouldn't If I Could" and "Nine Times Out Of Ten", sound like they might have been recording at Sun Studios in 1954 with help from Scotty Moore and Bill Black. Nix was no Elvis in the vocal department, however, pronouncing 'ten' like 'tin' and giving the impression that he just got off the bus from the hills of Georgia. Listen to "Nine Times Out Of Ten" at https://www.youtube.com/watch?v=VTzkDer7nLM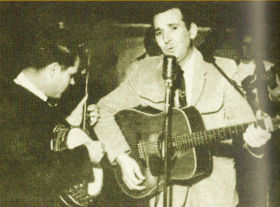 Ford Nix
Lenny and the Thundertones appeared on CD I with recordings on the Astra label but they had released an earlier 45 on Coma Records in Detroit. The label printed its catchphrase 'Separates the BEST from the Rest' right on the 45's label. Released in 1960, "Thunder Express" is a badass instrumental that showcased Lenny Drake's hot lead guitar and sounds like it would have been right at home on a Link Wray album. Listen to "Thunder Express" at https://www.youtube.com/watch?v=fU-DqQv9Nrc
Bob Reinhardt was born in Grand Rapids. In 1958, Bob and the Rockbillies cut their first record, "Baby Why Did You Have To Go". It was released on the Blue Chip label in Lansing, and the song is on CD 1. Before he became a famous recording artist, Del Shannon used to come to Bob and the Rockbillies' practices and often sat in with them at their engagements. In 1961, the same year Shannon topped the charts with "Runaway", Reinhardt recorded a solid rocker called "Sweet Love" as Bobby Bond & The Bandits on the Danceland label. Listen to "Sweet Love" at https://www.youtube.com/watch?v=lQwT4ENkKUQ
The Galaxies was the Upper Peninsula's first important rock and roll band. Singer Danny Sullivan and lead guitarist Greg Winn went to high school together in Ironwood. Their band was managed by local radio personality Dick 'Nite Train' Williamson who introduced them to Jimmy Bowen. It was Bowen who had written "Party Doll' for Buddy Knox and had a hit of his own with "I'm Stickin' With You". Bowen offered to produce the band's first single, "If You Want To Be My Baby", which was backed with the instrumental "Ad Lib".
Danny Sullivan (right) and The Galaxies
"If You Want To Be My Baby" is a cool rockabilly tune, written and sung by Sullivan, and he sounds a lot like Eddie Cochran. The single was released on the Darbo label in Ironwood in 1960 as by Danny and the Galaxies. Copies of the Darbo single go for $500 in today's market. The success of "If You Want To Be My Baby" led to a recording contract with Guaranteed Records in New York, a subsidiary of Carlton Records. The band released "My Tattle Tale (I'm Gonna Tell My Mommy On You)" backed with "Love Has Its Ways" in 1961 but it did not become a hit. Listen to "If You Want To Be My Baby" at https://www.youtube.com/watch?v=l44SyuVQDCM
Tino & the Revlons recorded their excellent cover of Buddy Holly's "Rave On" for Dearborn Records in Dearborn, Michigan in 1965. Lead singer Tino employs Holly's hiccupping vocal style to good effect on this faithful and well-played version of the rock and roll classic. Listen to "Rave On" at https://www.youtube.com/watch?v=7-dfj9veWec
CD 3 – (33 tracks)
Danny Zella was Detroit's 'big daddy' of early Rock and Roll. After having a big local hit with "Wicked Ruby" on the Fox label, he recorded "Sapphire" on Dial Records, another small Detroit company. Zella recruited a white vocal group called The Larados to do the backing vocals on "Sapphire", Zella and the Zell Rock's big, greasy, sax-drenched 1958 single. Listen to "Sapphire" at https://www.youtube.com/watch?v=rV2ajJoP0KQ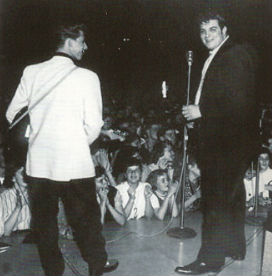 Danny Zella (right)
Connie Dykus moved from Arkansas to Flint, Michigan where he worked for General Motors and performed rockabilly music with a strong country influence. After working as a country music DJ, he got his own television show in Flint called The Connie Dykus Show. Dykus recorded the humorous "I Could Shoot Myself (If I Wasn't Afraid Of A Gun)" in 1960 for Dixie Records in Saginaw. Dykus recorded for a variety of labels throughout the 50s and 60s and has been inducted into the Rockabilly Hall of Fame. Listen to "I Could Shoot Myself" at https://www.youtube.com/watch?v=5GPgh7YrB9s
The D & S Wildcats were formed by brothers Dale and B. B. Dixon. Dale Dixon was obviously inspired by Booker T. & The MG's "Green Onions" for his "Wildcaten" instrumental. The 45, which has a strong primitive garage feel, was issued on the Dixon Sound label in Ecorse, Michigan in late 1965. Listen to "Wildcaten" at https://www.youtube.com/watch?v=rqqbfkpXqr0
The sensational lead guitar on "Goodbye Bo" was played by MRRL Hall of Fame inductee Cliff Bramlett. He also composed the instrumental homage to Bo Diddley, one of his main guitar inspirations. When the record was released on the DoDe label in 1964, the tune was credited to the Royal Playboys because it was recorded at the Royal Playboys/Dynamics session that produced the hit single "Misery", on which Bramlett also played guitar. "Goodbye Bo" was a sizeable hit in Detroit, peaking at # 18 on WKNR's Classic Top 30 Survey and reaching # 29 on CKLW's Big 30 Survey. Listen to "Goodbye Bo" at https://www.youtube.com/watch?v=4UUxBjQUFEQ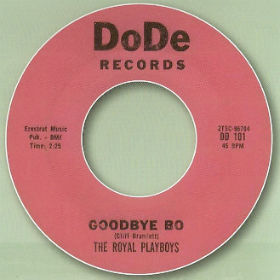 Featuring Cliff Bramlett on guitar
The Hesitations were from Adrian, Michigan, and were led by vocalist Donnie Sweet. The band worked the Southern Michigan circuit from 1963 to 1967 and inspired many local musicians including Cub Koda. The band cut their hot rockabilly debut, "Wild Little Willie", at United Sound Studios in Detroit and it was released on D-Town Records in 1963. Listen to "Wild Little Willie" at https://www.youtube.com/watch?v=78SmpAFwftI
The Fugitives were formed in Birmingham, Michigan. They were originally called The Tremelos and included drummer Elmer Clawson, and brothers Glenn (keyboards) and Gary (guitar) Quackenbush. After meeting Ed "Punch" Andrews and Dave Leone, the band was convinced to change their name to The Fugitives. They then recorded a song that Leone had written called "A Fugitive", inspired by the popular television series. The single was released on D-Town Records in Detroit. The rocking "On Trial", was also written by Leone. It became the band's second single on D-Town and was released in 1965. Listen to "On Trial" at https://www.youtube.com/watch?v=ih5btI9MLME
The Fugitives would go on to record an album on Leone's new Hideout Records label before adding Steve Lyman (guitar), Robin Dale (bass), and Scott Richardson (vocals). Renaming themselves the Scot Richard Case, and later SRC, the band would go on to record for A-Square, Capitol, and Rare Earth. SRC was voted into the MRRL Hall of Fame in 2010.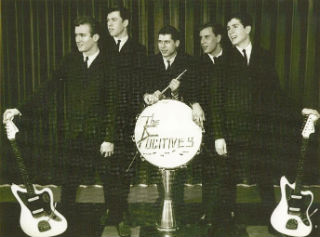 The Fugitives
"Yes, Juanita's Mine" and "Wiggle Walkin' Baby" is a great two-sided rockabilly record by Roy Moss with Cliff Allen's Band. Moss was born in Arkansas and started playing country music before switching to rockabilly in the mid-50s. None other than Elvis Presley helped get Moss a slot on the Louisiana Hayride. After moving to Detroit, Moss recorded his two-sided classic for Fascination Records in Highland Park in 1958. "Yes Juanita's Mine" was later covered by Dale Hawkins of "Susie-Q" fame. Listen to "Yes, Juanita's Mine" at https://www.youtube.com/watch?v=IN6Fal3ZPxE
The Mysterions, not to be confused with ? and the Mysterians, have 3 instrumentals on the CD that were recorded for the Fascination label. "Transylvania" and "Down Hill" were both recorded in 1960 at the height of the popularity of instrumental rock songs. "Transylvania" was picked up by Warwick Records for national distribution, the same label that released the hit singles of Johnny & The Hurricanes. Listen to "Transylvania" at https://www.youtube.com/watch?v=zycIQ_0NWiQ
Jimmy Carroll also recorded for Fascination. His "Big Green Car" is a wild rockabilly recording that features car motor sound effects and a very heavy drumbeat. The record was originally pressed mistakenly as by Billy Carroll, but it was quickly repressed correctly as Jimmy Carroll. Classic! Listen to "Big Green Car" at https://www.youtube.com/watch?v=zatf3jy3cnE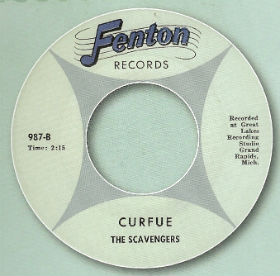 Dave Kalmbach's Fenton label
Fenton Records is probably Michigan's greatest garage rock label, and I can't recommend the 2 CD "Scream Loud!!! The Fenton Story" highly enough. There is only one Fenton recording on "The Michigan Box", a guitar-driven instrumental titled "Curfue" by The Scavengers. The question is, were The Scavengers just trying to be cool or couldn't they correctly spell "Curfew"? Listen to "Curfue" at https://www.youtube.com/watch?v=A-rjS6cm60Q
The Vulcans released their bluesy two-sided instrumental 45, "Jambo" and "Shimmy Shuffle", on the Flick label in 1960. Flick was owned by Robert West who also owned the Bumble Bee label that was covered on CD 1. The previous year, West released "You're So Fine" by The Falcons on Flick and it went on to be a # 17 hit on Billboard's Hot 100.
CD 4 – (33 tracks)
Every song on CD 4 was released on Detroit's legendary Fortune Records label. Jack and Devora Brown started their business in 1947, and by 1951 they started recording in their own studio located at the back of the small shop they rented. In 1956 they purchased a building on Third Street in Detroit that became Fortune's permanent home.
Some of Fortune's early recordings were 78s of hillbilly artists, many of whom had come to Detroit from the South to work in the auto plants. "Drunk Man's Wiggle" by Jimmy Myers & His Happy Highway Gang from 1951 is a classic proto-rockabilly gem from Fortune's early years. "I was drunk last night and the night before, and I'm gonna get drunk just once more, and do the drunk man's wiggle". Eddie jacksonListen to "Drunk Man's Wiggle" at https://www.youtube.com/watch?v=WoCXPtL8r1s
Rockabilly had taken hold by 1956 when Eddie Jackson & His Swingsters recorded "Rock And Roll Baby" for Fortune. Jackson was originally from Tennessee and was primarily a country artist. "Rock And Roll Baby" was an obvious attempt to generate some teen interest by incorporating rock and roll into the title of the catchy hillbilly bop tune he composed. Listen to "Rock And Roll Baby" at https://www.youtube.com/watch?v=ApB3kRj5aZg
"Blue Flame" was another early rockabilly tune recorded in 1956 by Bill Hicks & The Southerneers. I love the lyric: "She's got a blue flame shootin' from her brown eyes, if she don't watch that blue flame, I'm gonna have to pack my clothes and say goodbye." Listen to "Blue Flame" at https://www.youtube.com/watch?v=F679UvFijrQ
"You Ain't No Good For Me" by Jimmy Lee employs an echo similar to what Sam Phillips used on his Sun recordings. Lee's song is somewhat comparable to Sanford Clark's "The Fool", but his vocal shifts from a baritone to falsetto throughout the recording. It's an interesting approach for 1956, about six years before singers like Frankie Valli, Lou Christie, and Brian Wilson helped popularize the falsetto on their recordings. Listen to "You Ain't No Good For Me" at https://www.youtube.com/watch?v=HwoKHLesAek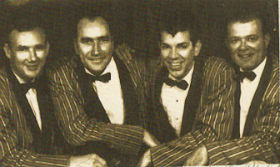 Pete De Bree (right) and The Wanderers
Pianist Pete De Bree and The Wanderers recorded a rocking tribute to Elvis in 1958 called "Hey, Mr. Presley. Written by the band's guitarist Jimmy Franklin, the titles of some of Presley's hit records were woven into the lyrics: "Well, he took the crazy rhythm and he set it to the blues, Started into rocking with his 'Blue Suede Shoes'. 'Heartbreak Hotel' brought fame to his name, He got 'em 'All Shook Up' with his 'Mystery Train'. Hey, hey, Mr. Presley. Where you gonna rock tonight." Listen to "Hey, Mr. Presley" at https://www.youtube.com/watch?v=fdkUO_SUBN8
Dell Vaughn was one of Fortune's best rock and roll vocalists. "Rock the Universe" with backing by the Fortune Aires, packs a wallop as hard as anything issued by the label. Released in 1958, an original copy of the single is worth $500 in today's market. Listen to "Rock The Universe" at https://www.youtube.com/watch?v=ZnOFZ7Ehhzk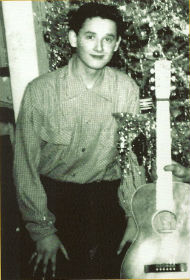 Don Rader
An original pressing of Don Rader's 1958 Fortune release "Rock and Roll Grandpap" is even more valuable. Rader was born in 1937 and grew up in Hazel Park, Michigan. Rader wrote "Rock And Roll Grandpap" in 1956 about his own grandfather, who used two canes to walk. Featuring a pounding piano and a rocking steel guitar along with Rader's great vocal, the record is worth $750 in today's market. Listen to "Rock And Roll Grandpap" at https://www.youtube.com/watch?v=wZArNtX0BT8
Last but not least, CD 4 gives us the teenaged country-tinged harmony vocals of the Hunt Sisters on two tracks. First up is their 1960 recording of "Elvis Is Rocking Again" which coincided with Presley's return from the Army. The backing group is Roy Hall & His Boys. In 1961, the Hunt Sisters recorded "I'm Not Gonna Take It Anymore", a rocking ultimatum to a cheating boyfriend/husband. Listen to "Elvis Is Rocking Again" at https://www.youtube.com/watch?v=hVSh5u64Bo0
CD 5 – (32 tracks)
Nolan Strong & The Diablos' rocking "Try Me One More Time" kicks off 20 more recordings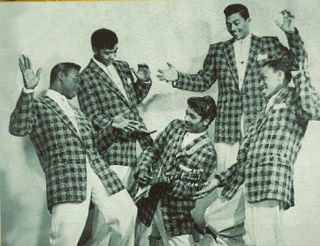 Nolan Strong & The Diablosfrom Detroit's Fortune Records. Issued in 1956, this wild R&B blaster sounds very different from "The Wind", the group's first big ballad success. "Try Me One More Time" is more like what one might expect from Hank Ballard & The Midnighters. Fantastic! Listen to "Try Me One More Time" at https://www.youtube.com/watch?v=Dlz4nPUDeuU
The Catalinas were one of many Detroit-area instrumental groups in the late 50s and early 60s. "Destruction", a raw sax-driven instrumental, was released on Fortune in 1960. That very same year, Floyd Smith with The Montclairs issued a soulful R&B dance number titled "Granpa's Gully Rock". The 45 for this one is very rare and a copy is worth around $250. Listen to "Granpa's Gully Rock" at https://www.youtube.com/watch?v=L-T-cgk7leg
The Royal Jokers were one of Detroit's most popular early vocal groups. The group had a national hit in 1955 with "You Tickle Me Baby", which featured Danny Zella and The Zell Rocks as the backing band and reached # 77 on Billboard's Hot 100. By 1964, the Royal Jokers were recording for Fortune and released the rocking "I Don't Like You That Much" featuring a hot guitar solo and the lead vocal of Noah Howell. Listen to "I Don't Like You that Much" at https://www.youtube.com/watch?v=SiK2fmcp9PM
Little Ernest Tucker put out the great two-sided R&B masterpiece, "Gonna Get Me A Satellite" and "Too Small To Dance" in 1958. Backed by the Ted Walker Orchestra, Tucker's "Satellite" was an attempt to cash in on all the fear and excitement cause by Sputnik 1, the first artificial Earth satellite launched by the Soviet Union in late 1957. An original copy of this rocking 45 is worth $175. Listen to "Gonna Get Me A Satellite' at https://www.youtube.com/watch?v=6rGXNiWyXVY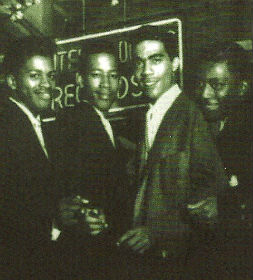 Andre Williams (second from right)
John Lee Hooker is the last word in Detroit blues, but Earl Chatman's "Loving You Baby" gives Hooker a run for his money. Besides singing and playing guitar, Chatman also composed "Loving You Baby" which was released in 1958. This very rare 45 is worth $300.
Andre (Bacon Fat) Williams was one of Fortune's biggest stars. He was born in Alabama and moved to Detroit when he was a teenager. "Bacon Fat" was his first R&B hit. It was originally issued on Fortune before being picked up by Epic Records and eventually reaching # 9 on Billboard's R&B chart in 1957. In 1960, Williams released the catchy doo wop rocker "I Still Love You". Andre Williams is still performing and recording. He was voted into the MRRL Hall of Fame in 2012. Listen to "I Still Love You" at https://www.youtube.com/watch?v=e2rMKBi9i3A
What would rock and roll be without a little sex thrown into the mix? Johnny Buckett provides a whole lot of sexual innuendo on one 45 with "Griddle Greasin' Daddy" and "Let Me Play With Your Poodle", released in late 1956 or early 1957. Both sides are great examples of early rockabilly. Buckett was born in Tennessee and was blessed with a deep, raspy voice that sounded a little like Ernest Tubb. Listen to "Griddle Greasin' Daddy" at https://www.youtube.com/watch?v=Leuy-G40yF8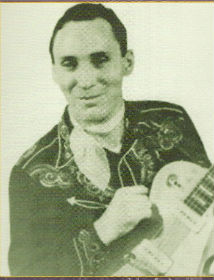 Johnny Buckett
Danny Zella and The Zell Rocks established themselves as one of the Motor City's early rock and roll stars with their dynamite two-sided 45, "Wicked Ruby" and "Black Sax", released on Detroit's Fox Records in 1958. "Wicked Ruby" is a finger-snapping rocker with a wailing sax. It's Zella's hard hitting tale about one dangerous Motor City chick. "Black Sax" is a thunderous, sax-led, rock and roll instrumental. Listen to "Wicked Ruby" at https://www.youtube.com/watch?v=DVwCv0GVZHI
A much rarer two-sided rock and roll classic on Fox is Bobby Smith's 45, "Bevy Mae" and its flipside "She's Gone From Me", issued in 1959. Both sides of this cool rockabilly record combined great vocals and terrific guitar. A copy of this one goes for $500. Listen to "She's Gone From Me"at https://www.youtube.com/watch?v=t9R2s62pqlE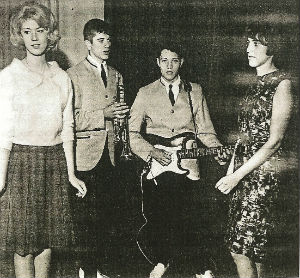 The Neutrons from Bay City
The Neutrons were the first band to record a rock and roll song at Art Schiell's studio, located in the rear of his small family residence on Raymond Street in Bay City, Michigan. Three years later, Schiell would record the # 1 hit "96 Tears" by ? and The Mysterians in that very same studio. Neutrons' leader Guy Lore was a student a T.L. Handy High School when his band recorded his rocking instrumental composition of "Cut-Out" in 1963. The 45 was released on Golden Triangle, one of the Bay City labels owned by local record store owner Frank 'Lucky' Peplinski. The market value for the 45 is said to be $75. Listen to "Cut-Out" at https://www.youtube.com/watch?v=uJqoc_o5CtA
The Michigan Box Pt. 2 covers the songs, artists, and labels found on CDs 6 through 10. https://www.michiganrockandrolllegends.com/dr-js-blog/265-the-michigan-box-pt-2