The Michigan Box Pt. 2
Details

Category: Dr. J's Blog
Published: Tuesday, 16 February 2016 11:09
Written by Gary Johnson
This is the second part of the MRRL review of "The Michigan Box: 1950s & 1960s Oddball Labels", the massive 10 CD collection of obscure Michigan recordings that were released on small independent labels from around the state during rock and roll's first two decades. Part 1 dealt with the first five CDs in the set, and Pt. 2 covers the songs, artists, and labels found on CDs 6 through 10. Many of the songs have YouTube links so that you can hear the original recordings.
CD 6 – (32 tracks)
Vic Gallon's super-rare 45 of "I'm Gone" has a market value of $1,000; and one known copy was rumored to have been sold recently for $6,000. Little is known about Vic Gallon, but legendary Detroit guitar player Dennis Coffey backed him on the recording that was released on Gallon's own Gondola label in 1957. "I'm Gone" is a killer echo-drenched rockabilly song with cool lyrics like: "You better kiss me mama, you better kiss me sweet, you better kiss me kinda strong. You better not let me… out of your sight or I'll be gone".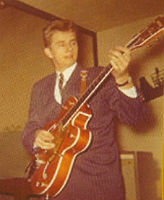 Dennis CoffeyListen to "I'm Gone" at https://www.youtube.com/watch?v=1OVlvDufWHQ
Howard Perkins released "Double Clutchin' Man" is the late 60s on Detroit's Go-T Records. Perkins' voice sounds a little like the great Johnny Cash on this country-tinged rockabilly 45.
The Torquays were yet another instrumental group that had the misfortune of releasing their excellent two-sided 45 on Detroit's Gypsy label in 1965, a point in time when instrumental rock had fallen out of favor. Both "Busting Point" and "The Other Side" are excellent examples of instrumental surf rock. "The Other Side" sounds just as good as "Pipeline", the 1963 hit by The Chantay's, but it came two years too late. Who knew that Detroit was the surf capital of the Midwest? Listen to "The Other Side" at https://www.youtube.com/watch?v=2mP3Wm1XZlM
"Connie" and "Three Years" make up a classic rockabilly pairing on a 1962 single by Harold L, & The Offbeats on the Happy Hearts label in Wayne, Michigan, located just south of Dearborn. Harold L's real name was Harold Sliger and he came to the Motor City after serving in the U.S. Navy. Listen to "Three Years" at https://www.youtube.com/watch?v=5qZ5LlysYs0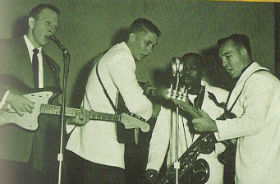 Harold L. & The Off Beats
In 1957, Clarence 'Frogman' Henry had his first big hit,"Ain't Got No Home", on which he demonstrated that he could "sing like a frog" and earned himself a nickname as well. Country artist Earl Long had a deep voice that sounded similar to the Frogman's, and he adopted the pseudonym 'Shorty Frog' for his excellent 1958 release. Backed by his Space Cats band, he recorded "I'm Glad We Didn't Say Goodbye" and "Sheddin' Tears Over You" for the Hi-Q label, a subsidiary of Fortune Records. The current market value for this unique 45 is $500. Listen to "Sheddin' Tears Over You" at https://www.youtube.com/watch?v=-t0iu3jX31I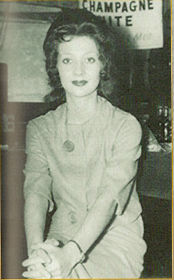 Patti Lynn
Joyce Songer teamed up with Rufus Shoffner on the bouncy country number, "Every Little Raindrop" in 1961 on the Hi-Q label. Bobby Bernell's "Move Over Big Dog (Let A Little Dog In)" is also strictly in the country bag. It was released on Hi-Q in late 1963 or early 1964 and was written by label owner Devora Brown.
Patti Lynn was raised in North Carolina and came with her family to Hazel Park, Michigan, when she was 13 years-old. She had been singing in church for most of her life, but started performing with Ford Nix and other country bands in bars around Detroit in the late 50s. Her great voice is on fall display on "Same Old Blues", a hot toe-tapper with a western swing feel that was released on the Hi-Q label in 1964. Listen to "Same Old Blues" at https://www.youtube.com/watch?v=KflmL1wZvKI
CD 7 – (33 tracks)
Detroit's Hi-Q label issued quite a few country songs including the infectious "Polecat Hollow" by Jimmie Click. Click has an interesting dead pan style of singing that works well on the catchy piano-based country rock song that he composed in 1965.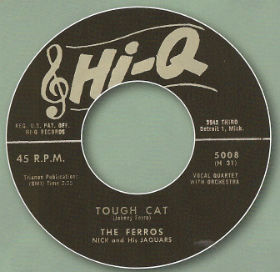 The Ferros a.k.a. Nick and His Jaguars
Nick and His Jaguars were an instrumental group from Pontiac, Michigan. They are notable for being the first white act signed by Berry Gordy during Motown's first year of operation. Prior to signing with Motown, the group released the rocking "Tough Cat" single on the Hi-Q label in 1958 with drummer Nick Ferros doing the lead vocal. Nick's father, Johnny Ferro, composed the song as well; hence 'The Ferros' name on the label. Listen to "Tough Cat" at https://www.youtube.com/watch?v=26CENgk6xBg
Big Daddy G was a pseudonym that guitarists Lenny Drake (The Thundertones) and Jim Stokes used to release "Big Berry (Boss Man Guitar)", their tribute to the great Chuck Berry. Released on Hyland Records in Detroit in the early 60s, the single is unusual in that it doesn't have a different B-side; they put the same song on both sides of the record! This one is pretty rare and has a market value of $200. Listen to "Big Berry (Boss Man Guitar)" at https://www.youtube.com/watch?v=rdq1h5AcN6I
Chubby Checker's cover of "The Twist" was the most successful dance record of all time. It kicked off a wildly popular dance craze in the early 60s, and there were many records made in its wake that hoped to duplicate its fame and fortune. One Michigan example was "Butterfly" by Wade & the Nationals, released in 1963 on J & J Records in Detroit. According to the lyrics, in order to "do the butterfly" dancers had to wiggle around and wave their hands and arms in the air. Sounds simple, but it didn't catch on with teen dancers. Lead singer Wade Cummings went on to have the distinction of becoming the world's first Elvis impersonator, using the imaginative stage name of 'Wade Elvis'.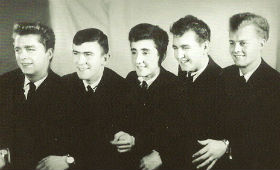 Wade (left) & The Nationals
Not much is known about The Lyonaires who recorded the country rock single, "Why You Been Gone So Long" for the Kountry Karavan label, a product of Small Town Records in Jackson, Michigan. Recorded in 1968, the song suggests that the band was heavily influenced by Gram Parsons' work with both The Byrds and Flying Burrito Brothers.
The single "Shock" is interesting not because it's a great song, but rather that it is the only solo single released by future Motown songwriter/producer Brian Holland; and the fact that it was written by Berry Gordy and his older sister Loucye. The song was released as by 'Briant' Holland on the Kudo label in Detroit in 1958, one year before Gordy started his own company. Marv Johnson, who would record Motown's first hit single in 1959, also released his debut on Kudo in 1958. Loucye Gordy would go on the run Jobete Music, Motown's main publishing division, until her sudden death from brain cancer in 1965. Listen to "Shock" at https://www.youtube.com/watch?v=aRFs4LNiOvc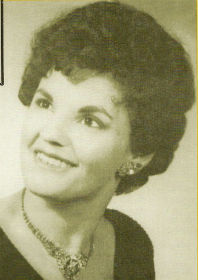 Roxie Williams
Buddy Holly died in a tragic plane crash in February of 1959, and later that year Bob & The Bandits released a terrific Holly-esque song called "I'm Gonna Stop Cryin'" on the Loki label. Bob Reinhardt had recorded a solid single as Bob & The Rockbillies on Blue Chip Records the year before, but he did an outstanding job of channeling Buddy Holly's recordings with The Crickets on "I'm Gonna Stop Cryin'"; even the guitar solo sounds like Holly. Listen to "I'm Gonna Stop Cryin'" at https://www.youtube.com/watch?v=nIysjxnwOME
Roxie Williams rocks every bit as hard as Wanda Jackson or Brenda Lee on the incredible "15 Seconds", released in 1961 on the Lucky 11 label out of Flint, Michigan. Female rockabilly doesn't get any better than Roxie's 45, and the Shamrocks provide solid, hip-shaking backing guaranteed to get folks on the dance floor. Listen to "15 Seconds" at https://www.youtube.com/watch?v=bCkXNAqjTys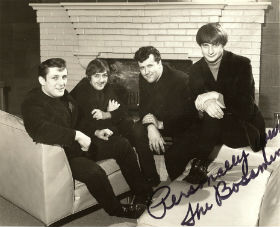 The Bossmen
Dick Wagner and The Bossmen released a half dozen singles in the mid-60s that played an important part in kick-starting the garage rock movement in Michigan. The Bossmen were easily the best band playing teen clubs and dances all around the state in the wake of the British Invasion. Wagner had an uncanny ability to write catchy songs inspired by The Beatles without sounding like an imitation. "Help Me Baby", released on Wagner's own M&L label, is a prime example of his craft. Listen to "Help Me Baby" at https://www.youtube.com/watch?v=QURpACuY-uc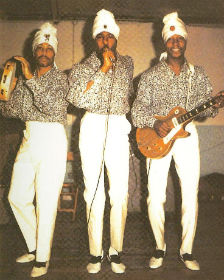 The Egyptians
Wagner also served as a mentor to numerous bands that played on the teen circuit in the 60's, offering advice, providing songs, and even producing some of their records. After the break-up of The Bossmen in 1967, Wagner formed The Frost, one of Michigan's most popular late 60s bands. He went on to great success as a songwriter with Alice Cooper in the 70s, co-writing several of Cooper's biggest singles.
Could a band wearing turbans be successful in Michigan today? The Egyptians, a black instrumental group, pulled it off in 1960. Recording for Mah's Records in Detroit, the combo released "The Party Stomp" backed with "Inkster Boogie". "The Party Stomp" is a rousing R&B instrumental with a honking sax and wild guitar that was probably a late-in-the-evening party favorite. Listen to "The Party Stomp" at https://www.youtube.com/watch?v=Fxy2x5v-CG8
CD 8 – (34 tracks)
"Stepping" by Frank Monday & The Steppers is one of the rarest 45s featured in the "Michigan Box". The song was released on the M.T.F. label in Monroe, Michigan, in 1958 and only 4 copies of the rockabilly 45 are known to exist. That accounts for its high market value of $2,000. Listen to "Stepping" at https://www.youtube.com/watch?v=sEH47V3hpk4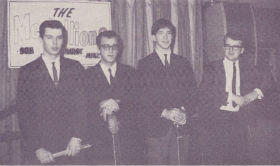 The Medallions
The Medallions released "Blowin' Through Yokahama Pts. 1 & 2" on the Munro label in Saginaw, Michigan, in 1963. It's been described as a fantastic sax-driven rocker with monkey noises. It's an exotic and somewhat hypnotic sounding 45 that would cost you $400 in today's market. Listen to "Blowin' Through Yokahama" at https://www.youtube.com/watch?v=m-bYfDLWjnE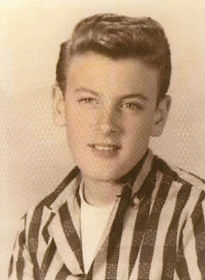 Tom JacksonTom and The Tornadoes was the second band that Tommy James put together in Niles, Michigan, when he was still known as Tom Jackson. While working at the Spin-It record store, young Tom met record distributor Bob Ruiter, who ran a small record label called Northway sound in Ionia, Michigan. Tom and The Tornadoes recorded a cover of "Long Pony Tail" by The Fireballs along with one of Tom's own tunes called "Judy" in a session in 1962. An original copy of the 45 is worth $750. Listen to "Long Pony Tail" at https://www.youtube.com/watch?v=OC2EP1jwy1I
The Northwest Sound Company was operated by owner/engineer Jody Skinner in the basement of his parents' home in Detroit. Although the studio was small (9 x 12), Skinner had good ears and managed to get a good sound despite the rather cramped conditions. "Big Nick" by Nick Harris & The Soundbarriers was recorded in 1960. The sax-led instrumental also features an almost Oriental sounding lead guitar.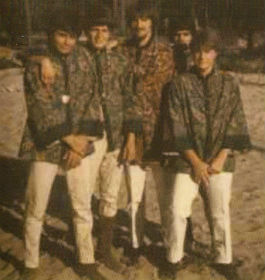 Zookie and The Potentates
Zookie and The Potentates were put together by drummer Gary Story in Flint after he graduated from high school. They were originally called Gary and The Playboys until Jerry Lewis' son, Gary, came out with his band of the same name and had a # 1 hit in early 1965 with "This Diamond Ring". As a result, Story's band had to change their name. His nickname was 'Zookie'; and the 'Potentates' was taken from a Three Stooges' skit. Both sides of the band's first single, "Bachelors Got It Made" and "Telephony" were written by guitarist Mike Snyder; and the 45 was released in 1965 on Nu-Sound Records in Davison, Michigan. Listen to "Bachelors Got It Made" at https://www.youtube.com/watch?v=n2IXjUUUEKI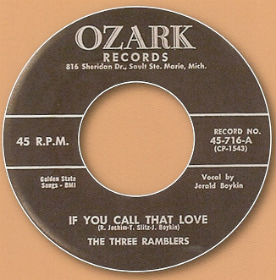 Ozark Records from Sault Ste. Marie
This super-rare rockabilly 45 recorded by The Three Ramblers and released in 1958 by Ozark Records in Sault Ste. Marie, Michigan. Both sides of the record are heavily influenced by classic Sun recordings. "If You Call That Love" uses the tune from the Johnny Cash hit "Folsom Prison Blues" with different lyrics. The band employs the same technique on the flipside, "Walking, Talking Babydoll", as they change the lyrics to Elvis Presley's first Sun release, "That's All Right". The 45 is a true rockabilly classic that has a market value of $2,500. Listen to "If You Call That Love" at https://www.youtube.com/watch?v=6hvKvSsaKO4
The Princetons Five released a cool cover of Chuck Berry's "Roll Over Beethoven" on Princeton Records in St. Joseph, Michigan in late 1964. It's pretty certain that they recorded the song because it was on "The Beatles' Second Album", released in April of 1964. Playing hits by The Beatles was required of teen bands at the time; but the Princeton Five played "Roll Over Beethoven" at a faster tempo than either Berry or the Beatles, helping to put their own stamp on the classic song. Listen to "Roll Over Beethoven" at https://www.youtube.com/watch?v=UsytmRY3uus
CD 9 – (34 tracks)
The first track on CD 9 is "Wildlife", a country-style instrumental by The Wildwood Playboys, a young band from the Midland, Michigan area ranging in age from eleven to sixteen. The six-person band also featured a female singer who could be heard on the flipside. "Wildlife" was released on the Prophonics Studios label out of Mt. Morris in 1968.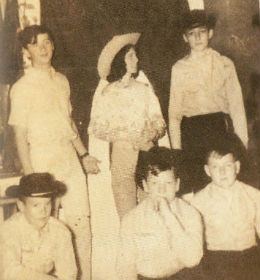 The Wildwood Payboys
The Starlighters released a nice two-sided rocker in 1963 on the Radio label in Detroit. "Cindy Lee" boasts a good vocal and a honking sax solo, while "Wicked Ruby" is a faster version of the Danny Zella record with a cool horn section that actually improves on the original. Listen to "Cindy Lee" at https://www.youtube.com/watch?v=siheRlsBjQk
Pete Cummins & The Redeemers Four also recorded a great two-sided 45 in 1963 on the Raelex label in Lansing, Michigan. Cummins is a strong lead vocalist, and "In The Middle (Of The Night)" rocks hard and features a hot guitar solo. "The Surfin' Freeze" is a dance floor number on which the teeny boppers had to briefly "freeze" at various points while dancing. Listen to "In The Middle (Of the Night)" at https://www.youtube.com/watch?v=Fom4IEhQFBg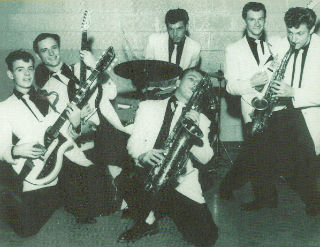 The Thunder Rocks
"Johnny Sax" was the debut 45 on Roselawn Records of Detroit's Thunder Rocks. The instrumental has a brief spoken introduction and then lets the band convey what happened when Johnny bought his sax in the next two minutes of hard-hitting, greasy rock and roll glory. The flipside, "What's The Word", asks the proverbial question. Did you remember that the answer is "Thunderbird"? Listen to "Johnny Sax" at https://www.youtube.com/watch?v=3A1N3Xvu0Eo
S.V.R. Records was a small label located in Detroit, owned by John Checkaway. "Grits 'n Grease" an instrumental by The Quintet Plus was an early release on the label. It features the usual guitar/sax combination, common to so many Detroit groups, along with a great drumbeat throughout. The label later released important garage band records by The Unrelated Segments and the Tidal Waves. Listen to "Grits 'n Grease" at https://www.youtube.com/watch?v=Adoc_7sVxrk
Fred Farrah with The Hitch-Hikers released the rocking "Settle Down" in 1961 on Sabre Records in Detroit. Farrah has a great voice but the weak backing vocals from the Hitch-Hikers add nothing to this rare piano-led rocker. The market value for this 45 is $150. Listen to "Settle Down" at https://www.youtube.com/watch?v=So5bzbN57JY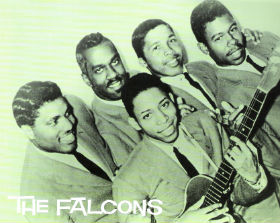 The Falcons
The Falcons were one of Detroit's great early vocal groups. Originally a mixed race group, by 1957 had went through a number of personnel changes and now featured an all-black line-up that included future big names like Eddie Floyd, Joe Stubbs, and Sir Mack Rice. "Sent Up" was the first Falcons' single to feature their new line-up and the first for Robert West's Silhouette label. A year later, The Falcons recorded "You're So Fine" on West's Flick subsidiary. The song became a # 2 R&B hit and crossed over to # 17 on the Pop charts in early 1959. Listen to "Sent Up" at https://www.youtube.com/watch?v=x_oJooo1wR4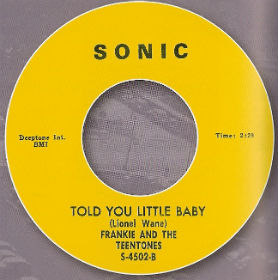 Frankie and The Teentones
Frankie and the Teentones formed in Jackson, Michigan. They were managed by 'Jolly Prince John' Hopkins, a popular DJ for WKHM-AM. Hopkins arranged for the band to record three tracks for the small Dearborn Records label. "Told You Pretty Baby", a Chuck Berry-style rocker recorded at the session was released on the Sonic label in 1963, but because most of the members of Frankie and the Teentones were still in high school, it hindered the band's ability to perform outside of Jackson. As a result, Hopkins recruited older musicians and the band changed its name to the unusual 'Me & Dem Guys' in 1964. They went on to a successful performing and recording career, as well as eventual induction into the MRRL Hall of Fame. Listen to "Told You Little Baby" at https://www.youtube.com/watch?v=73iDqbzx6Kg
CD 10 – (34 tracks)
Spoke Records was located in Manistique, Michigan, and its motto was "Spoke speaks for itself". It was owned by Irene Davis, a local businesswoman who also wrote some of the songs recorded on her small label. "Nicotine Fit", a garage rocker with a bit of social commentary about the ills of smoking, was co-written by Davis and recorded by a Chicago band called The Society in 1967. The market value for this hard-to-find 45 is $150. Listen to "Nicotine Fit" at https://www.youtube.com/watch?v=jRX-YRofnE8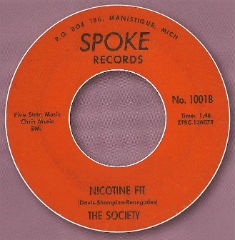 The Society
"Jam-Up" is a rocking jump blues recorded by Jackie Carbone along with the Eddie Bartel Orchestra in 1957 for the Star-X label in Detroit. Besides a strong vocal from Carbone, the record features a great guitar break.
One of the most unusual 45s to come out of the Motor City was "Drunk Driver's Coming" backed with "Stolen Property" by the Richard Brothers. Both songs start out much like John Lee Hooker country blues numbers, before going into a storytelling mode in which brothers Robert and Howard Richard basically stop playing and act out the tales being related in the songs. Released on the Strate 8 label in 1959, this strange and primitive blues has a market value of $1,000. Listen to "Drunk Driver's Coming" at https://www.youtube.com/watch?v=AMxDWt8hTYY
Don Rader had been playing in Chicago for two years before he returned to Michigan and recorded his rockabilly composition, "Rockin' The Blues", at the Fortune studio with guitarist A Allen and members of his band, The Five Stars. Label owner Jack Brown released "Rockin' The Blues" on the Fortune subsidiary, Strate 8 Records, in 1959. The song is unusual for a rockabilly recording in that it features a sax. An original copy of the 45 on the yellow label is worth $250. Listen to "Rockin' The Blues" at https://www.youtube.com/watch?v=VtMJnyA_2qE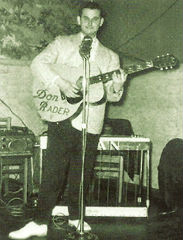 Don Rader
"Columbus Stockade Blues" is another very rare Strate 8 rockabilly recording. Released by Kenny Layne and His Bull Dogs in 1960, it features a rockin' piano and a rough hewn vocal by Layne. A copy of the original 45 is worth $300. Listen to "Columbus Stockade Blues" at https://www.youtube.com/watch?v=egIwXVWK5Xk
Nick and The Jaguars were led by drummer Nick Ferro. Nick's father, Johnny Ferro, brought the group to Berry Gordy in 1959. Motown was in its first year of operation and was willing to try just about anything in order to generate hits. Nick and The Jaguars recorded two instrumentals written by Johnny Ferro, "Ich-I-Bon # 1" and "Cool And Crazy", that were released on the Tamla label in 1959. "Ich-I-Bon # 1" is the clear winner, a great guitar-led instrumental that pre-dates the surf rock instrumentals by Dick Dale and The Del-Tones by nearly three years. An original copy of the 45 goes for $800. Listen to "Ich-I-Bon # 1" at https://www.youtube.com/watch?v=5_ifIc-FLQ0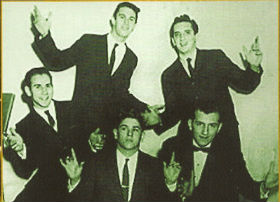 Nick and The Jaguars
Devil On Death Highway" by Ken Mc Williams and The Twi-Lighters is a cool country rock song about the dangers of driving trucks on infamous Highway US 131 in West Michigan. The song is much like a travelogue as it covers the driver's route from Cadillac to Kalamazoo and all the small cities along the way. Unusual for a country song, "Devil On Death Highway" features a sax solo. The 45 was released on the Twi Lite label in Grand Rapids in 1969.
The Saharas from Lansing, Michigan, were one of many garage bands that recorded at Dave Kalmbach's Great Lakes Recording Studio in Sparta, Michigan. The company was a "pay as you go" label, meaning that it offered bands recording, mastering, and vinyl pressing for a fee. The vinyl was pressed at American Record Pressing in Owosso, Michigan. "They Play It Wild" is a great little rocker recorded and released in 1964 on the United label, a subsidiary of Kalmbach's Fenton Records. Listen to "They Play It Wild" at https://www.youtube.com/watch?v=6JMdGgQe2Xo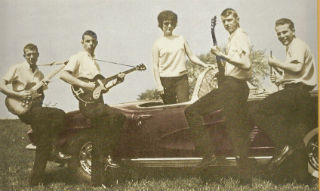 The Saharas
I was born in Bay City, Michigan, and I remember that Purser's Bar was located at the corner on Third Street and Washington Avenue, just across the street from the Federal Building where my father worked. The former site of the tavern is now a parking lot. I also attended St. Joseph Grade School with Dawn Purser, the daughter of the bar's owner. None of these facts can save "Saturday Night At Purser's Bar" by Max Culler and the Carolina Troubadors, however, a poorly recorded country ditty about the good times to be had there on the weekend. It was released on Bay City's Wanda label in the 60s. This one goes in the "It's so awful that it's kinda cool" file.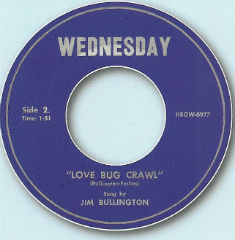 Jim Bullington a.k.a. Jimmy Edwards
Jim Bullington was born in Missouri, and after serving a hitch in the Combat Engineers, he moved to Flint, Michigan, where he worked for General Motors' Buick Division. Bullington met Bill Lamb, a Flint DJ and record store owner who also had a small recording studio. Bullington and his co-writer Jack Foshee recorded their catchy rockabilly song "Love Bug Crawl" in 1957 with some local Flint musicians at Lamb's studio. The three then formed their own Wednesday label and had 500 copies pressed. Listen to "Love Bug Crawl" at https://www.youtube.com/watch?v=TWnZvHldihM
The record caught the interest of Mayflower Music in Flint, who had Bullington re-record "Love Bug Crawl" in Nashville along with Chet Atkins and Floyd Cramer. The master was sold to Mercury Records and the label gave Jim Bullington a new artist name, Jimmy Edwards. Released in early 1958, the re-recorded version of "Love Bug Crawl" peaked at # 78 on Billboard's Hot 100. An original copy of the excellent Wednesday 45 is worth $1,000.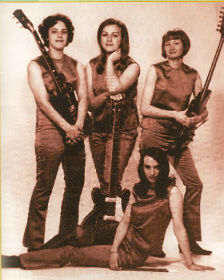 The Tremolons
The Tremolons were an all-girl band from Niles, Michigan. The quartet was formed by singer and lead guitarist Char Vinnedge, but also included her sister Chris on bass, Mary Gallagher on rhythm guitar, and Faith Orem on drums. The girls cut a blistering, slightly unhinged cover of the Jerry Lee Lewis classic, "Whole Lot Of Shaking Going On", for the debut single on Benton Harbor's Wildwood Records in 1964.
They toured as the Tremolons throughout Michigan, but soon decided that they needed a more feminine sounding name. They adopted The Luv'd Ones as their new moniker before they recorded their second single. An original copy of "Whole Lot Of Shaking Going On" on the Wildwood label is worth $150. Listen to "Whole Lot Of Shaking Going On" at https://www.youtube.com/watch?v=Zq5a_mH3LrQ
CDs 1 - 5 are covered in The Michigan Box Pt. 1 at: https://www.michiganrockandrolllegends.com/dr-js-blog/264-the-michigan-box