Frankie Lymon's Tombstone Blues - Part 1: The Teenagers
Details

Category: Dr. J's Blog
Published: Monday, 14 December 2020 09:56
Written by Gary Johnson
He was the first teenage rock and roll star, and many believe that 13 year-old Frankie Lymon, along with his group The Teenagers, were very important factors in helping to change the music business in the 1950's. The Teenagers featured a unique group harmony style that matched perfectly with their lead singer's stellar voice and stage presence. Their youth and exuberance enabled them to headline shows across the country and help break the color barrier for minority rock and roll acts to appear on national television.
Sadly, the Teenagers' career, that had started so brightly with "Why Do Fools Fall In Love" and four additional Top Ten R&B singles, only lasted eighteen months. A questionable management decision removed Lymon from the group to pursue a solo career in 1957. This, along with a change in his voice as he grew older and the acquisition of a drug habit, had left the singer broke and scrounging for jobs by 1968.
After traveling to New York in hopes of making a comeback, Lymon overdosed on heroin while staying at his grandmother's house. He was just 25 years-old at the time of his death, but Frankie Lymon's story didn't end there.
The group harmony style, later called doo wop, that Frankie Lymon and the Teenagers helped make popular all across the country was a genre of rhythm and blues music that first gained popularity among African-American youth in the 1940s, primarily in large cities including New York, Philadelphia, Newark, Chicago, Detroit, and Los Angeles.
With roots that dated back to the Ink Spots and the Mills Brothers, it featured harmony singing with little or no instrumentation and lyrics that were primarily about love. It was usually sung by a lead vocalist over backing vocals of repeated, varying nonsense syllables which led to the use of the term 'doo wop' to describe it.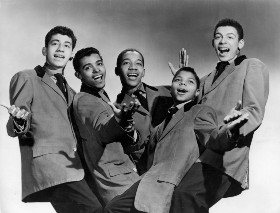 The Teenagers (L to R) Joe Negroni, Herman Santiago, Jimmy Merchant, Frankie Lymon, Sherman Garnes
Doo wop started to cross over to a young white audience with four songs on independent labels that became hits on Billboard's Pop Singles chart in 1954. These included two young New York City groups; The Crows who recorded "Gee" on George Goldner's Rama label, and The Chords with "Sh-Boom" on the Cat label, a subsidiary of Atlantic Records. Detroit was represented by The Midnighters' risqué "Work With Me Annie" on Federal Records, and finally The Penguins from Los Angeles who had a Top Ten hit that year with "Earth Angel" on the Dootone label.
Because doo wop songs could be performed a cappella with little or no instrumentation and featured a wide range of vocal parts, groups of teenagers who couldn't afford musical instruments formed groups. They rehearsed songs on street corners, apartment hallways, locker rooms, and other places that had an echo with hopes of performing at high school dances and other social occasions. If they were good enough, and maybe got a little lucky, they might even get discovered and make a record.
Although Frankie Lymon would become the focal point of the Teenagers, the young man most responsible for putting the group together was Jimmy Merchant. Raised in the Bronx, Merchant began appreciating music at a young age by listening to his parents' records. In 1954, his folks separated and he moved to Washington Heights in Upper Harlem to live with his mother.
In the fall, he started his 9th grade year at Edward W. Stitt Junior High School. All of the other singers who would eventually join together and become the Teenagers attended the same school.
Merchant's first recruit was Sherman Garnes, a tall basketball player with a deep voice. They formed a group with some school friends, and called themselves the Earth Angels, after the song that everyone was singing around school that fall.
By the spring of 1955, Merchant and Garnes joined forces with Joe Negroni and Herman Santiago, both of Puerto Rican descent. The quartet sang under several names including the Coup De Villes and the Ermines.
The youngsters would often sing the hits of the day in the hallway of Sherman Garnes ' apartment building across the street from their school. In an interview on Island Hop many years later, Merchant recalled that a gentleman who lived on the first floor encouraged them to write their own songs and, to help them come up with lyrics, he gave them a batch of love letters from a girl whose writings contained rhymes.
Merchant said that he took them home and was struck by one of the rhymes titled "Why do birds sing so gay?" It also contained the line "why do fools fall in love?" Having a gift for arranging vocal parts, he then proceeded to start putting together a slow song titled "Why Do Birds Sing So Gay" and, after some contributions from Santiago, the group began singing it regularly.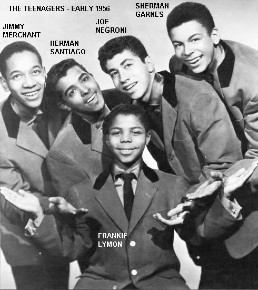 The Teenagers
In August of 1955, Merchant, Garnes, Negroni, and Santiago participated in a talent show at the school, performing as The Premiers. Frankie Lymon, who was two years younger than the others, had been following the group around during the spring and summer, begging them to let him sing.
"Frankie was very mature for his age," Merchant recalled. "He worked at the corner grocery store, handling the cash register and delivering packages to customers."
They initially thought he was too young but they changed their minds after seeing him perform at the talent show. Impressed with Frankie's high tenor/soprano voice and stage presence, they began jamming together and Frankie soon became a member of the Premiers.
In the meantime, Richard Barrett, lead singer of the Valentines, moved into their neighborhood and began living in an apartment above the grocery store where Frankie worked. Besides being a member of one of New York's finest vocal harmony groups, Barrett also worked for George Goldner's other label, Gee Records. He discovered the Premiers in early fall of 1955 and brought them to George Goldner's office on W. 42nd Street in New York City.
At this time, Herman Santiago was the usual lead singer, but sometimes he and Frankie did a duet lead and sometimes Joe Negroni would front the group. At the audition, Frankie's voice and confidence stood out, and Goldner asked if he could sing lead and if the group had any original songs. Impressed with what he heard, Goldner told the group to further develop their songs for a recording session with Frankie as the lead singer.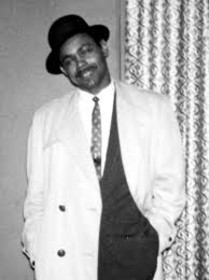 Richard Barrett
The Teenagers started working on material to record for their November session, but the song that was to be their biggest hit was still a ballad at this time. According to Merchant, Richard Barrett told them they needed a fast song for the session, and he helped them add an intro to turn "Why Do Birds Sing So Gay" into an upbeat number.
Although the writing credits would be a source of controversy in the future, it seems that Merchant and Santiago put the initial song together while Lymon changed the title to "Why Do Fools Fall In Love" and improvised some changes in the melody to better match his singing style.
Gee Records contracts, designating George Goldner as their manager, were signed by their parents as they prepared for their session. Working with Jimmy Wright and his hot studio band, Merchant told Island Hop that it took 26 takes before Goldner was satisfied. Goldner did not like the name 'Premiers', however, and Merchant said that it was Wright who suggested 'Teenagers'.
After the Teenagers had recorded the master of "Why Do Fools Fall In Love", they were asked who wrote it? Merchant claimed that he replied, "We all did…there were actually several people involved." He also revealed that Goldner told them that they could only put two names down as the songwriters, and that Herman blurted out "Santiago and Lymon."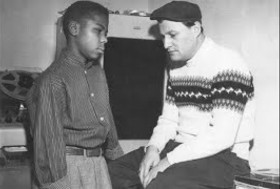 Frankie Lymon and George Goldner
When the single was released on January 10, 1956, however, Frankie Lymon, Herman Santiago, and George Goldner were listed as co-writers of the song. To add to the confusion, later releases and cover versions were credited to only Lymon and Goldner.
In later years, Goldner's name was replaced by Morris Levy after the mob-connected label boss had purchased Goldner's interest in Gee Records, the Teenagers' record company.
"Why Do Fools Fall In Love" was released on January 10, 1956, while Merchant, Santiago, Garnes, and Negroni were in their sophomore year at George Washington High School and Lymon was in the eighth grade at Edward W. Stitt Junior High. It was an immediate hit, and Merchant remembered that kids were even singing it in his high school while they were changing classes.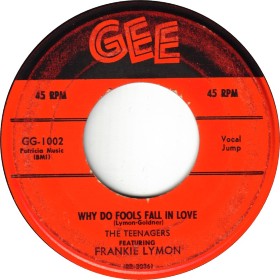 Why Do Fools Fall In Love
It spent five weeks at # 1 on Billboard's R&B chart and crossed over to # 6 on the Pop Singles chart as well. "Why Do Fools Fall In Love" also reached # 1 on the UK Singles chart in July of 1956, making the Teenagers the first American vocal harmony group to achieve that feat.
Typical of the times, "Why Do Fools Fall In Love" also spurred traditional sounding covers by white artists including The Diamonds and Gale Storm, both of whom had Top Ten hits on Billboard's Pop Singles chart in 1956.
"Groups were expected to not only sing but also include choreography with their performances," Jimmy Merchant recalled during his Island Hop interview. "The Cadillacs helped teach us some steps for our first show at the State Theater in Hartford, Connecticut, in February. They also advised us to work with Cholly Atkins, who choreographed the Cadillacs, and he sharpened our stage presentation."
Atkins, who had been very successful in the 30s and 40s as one-half of the Atkins & Cole dance act, would go on to gain fame in the 1960s as the house choreographer for the various artists on the Motown label.
Later in February, the Teenagers made their first appearance in Michigan at Detroit's Riviera Theater with local WKMH DJ, Robin Seymour. The show also featured the Jewels, the Teen Queens, the 5 Keys, Ivory Joe Hunter, and the Bonnie Sisters.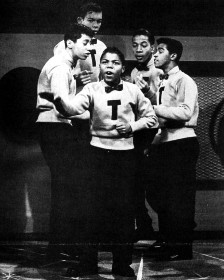 Letter sweaters and bow ties
The Teenagers were very energetic on stage and, attired in their letter sweaters with bow ties, the group projected a wholesome, clean-cut image. This led to their being booked to make their prime time television debut on Shower Of Stars, the popular CBS variety show, in the spring of 1956.
Television executives did not want to upset middle-class parents who might be concerned that rock and roll music could turn their children into juvenile delinquents; and the innocence projected by the Teenagers fit the bill perfectly, enabling them to become the first black and brown-skinned doo wop group to appear on a popular network program.
The Teenagers participated in a short, light-hearted skit with guest host Frankie Laine and then sang an inspired version of "Why Do Fools Fall In Love". Watch the 1956 performance of "Why Do Fools Fall In Love on Shower of Stars. https://www.youtube.com/watch?v=q96ylFiQK_I&t=24
The group's second single, "I Want You To Be My Girl", was released in April. Once again featuring the backing of Jimmy Wright and his band, it would go on to become another big hit, reaching # 3 on Billboard's R&B chart and crossing over to # 13 on the Pop Singles chart.
The song, under the working title of "Come On Baby", had been one of the original songs the group had been working on, and they performed it at their audition with Gee Records. George Goldner and Richard Barrett went on to finish the song and change the title to "I Want You To Be My Girl", but they took full songwriting credit on the hit single.
The Teenagers, along with The Platters, were the headline acts at Alan Freed's Easter Jubilee at the Brooklyn Paramount. The bill also included other top vocal groups of the day including the Flamingos, the Willows, the Valentines, and the Cleftones.
In the accompanying souvenir booklet, the group was billed as simply 'The Teenagers', but the short group bio contained several falsehoods e.g., "Why Do Fools Fall In Love" was taken from a poem that Frankie Lymon had written just after the turn of the New Year and the boys decided to set it to music and recorded it for Rama Records.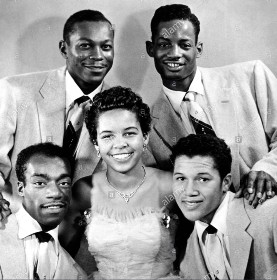 Zola Taylor with The Platters
Their successful appearance led to the Teenagers joining Alan Freed's Biggest Rock and Roll Show of 1956, a 45-day tour in which they headlined with Bill Haley and His Comets and The Platters. Also appearing on the bill at most of the shows were Chuck Berry, Clyde McPhatter, the Clovers, LaVern Baker, the Drifters, Bo Diddley, and the Teen Queens.
Zola Taylor, the female member of the Platters had just turned 18 at the start of the tour. According to court testimony many years later, she and Frankie, who was still just 13, became friends while riding the bus to the 81 dates on the tour. Zola testified that they became lovers one night in Bangor, Maine, when Frankie had won $1,700 gambling with Clyde McPhatter and she had "gotten a little loaded drinking scotch and water." Their affair continued off and on for several years.
As shocking as that relationship might sound, Frankie Lymon had grown up fast before he met Zola Taylor. "I was never a child, although I was billed in every theater and auditorium where I appeared as a child star," Lymon told Ebony magazine during an interview in 1967. "I was a man when I was 11 years old, doing everything that most men do. In the neighborhood where I lived, there was no time to be a child."
"I knew every prostitute in our neighborhood and I'd get a commission for every customer I brought them," Lymon told the interviewer. "I was a fresh young kid and some of them thought I was cute. Sometimes they'd pay me off with something extra. I learned everything there was to learn about women before I was 12 years-old."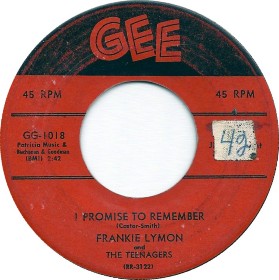 I Promise To Remember
In June, Gee Records released the group's third single, "I Promise To Remember". The song was co-written by Jimmy Castor, a talented singer who grew up in the same Washington Heights neighborhood as Frankie Lymon. He also possessed a high, clear voice like Frankie, and filled in for the singer at some early Teenagers' gigs when Lymon couldn't make the performances.
Castor went on to form his own group, Jimmy Castor and The Juniors, and they recorded Castor's composition in May on the tiny Wing label, one month before Frankie Lymon and The Teenagers covered it for a hit.
The billing on the record labels of the groups' first two singles was 'The Teenagers featuring Frankie Lymon'. It was changed to 'Frankie Lymon and The Teenagers', with Frankie's name in larger print, on "I Promise To Remember". This was a direct reflection of Lymon's star power and the screaming girls at the shows. "Frankie Lymon just transcended all the other doo wop groups," stated Bob Hill of Murray-Hill Records. "He had such presence; he'd just take over a stage and just wipe the audience out."
While "I Promise To Remember" was reaching # 10 on the Billboard R&B chart, the group shot scenes for the Alan Freed movie, Rock, Rock, Rock!. Despite appearing with a number of rock and roll heavyweights including Chuck Berry, the Moonglows, LaVern Baker, the Flamingos, and the Johnny Burnette Trio, the Teenagers' performances of "Baby, Baby" and "I'm Not A Juvenile Delinquent" were the undisputed highlights of the rather lackluster film when it was released to theaters in December, 1956. Watch their great performance of "Baby Baby" from the movie https://www.youtube.com/watch?v=_QjO3fA4xpQ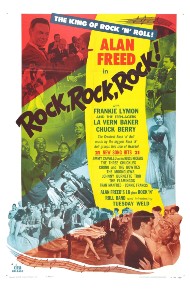 Rock, Rock, Rock!
In September, Frankie Lymon and The Teenagers headlined Alan Freed's Story of Rock N Roll show at the Brooklyn Paramount with Fats Domino and Big Joe Turner. The show featured several other vocal harmony groups including the Penguins, the Harptones, and the Cleftones.
The Teenagers then embarked on a series of 40 one-nighters as part of the Biggest In-Person Show Of 1956. They were on the bill with the Platters, the Clovers, the Flamingos, and Carl Perkins. The tour played 36 cities in 17 states, plus 4 cities in Canada.
The tours were grueling, but the exposure was needed and they made more money from shows than they did from record sales. The Teenagers only received small allowances, however, starting at $24 per week. The rest supposedly went into trust funds.
In a recent interview, Jimmy Merchant related an incident in Canada while they were on the tour. "A young boy came backstage and wanted to pitch us a song he wrote. We told him to talk to our manager and thought no more of him," Merchant recalled. "Some months later we were doing a show at the New York Paramount Theater and we saw him again. It turned out to be Paul Anka, and the song he wanted to sell the Teenagers was "Diana", which became Anka's first big hit."
Frankie and the Teenagers were headlining shows at the Apollo Theater in Harlem later that month when Gee released the group's 4th single, "The ABC's Of Love". While the single was moving up to # 8 on the R&B chart, they began another tour with Bill Haley and His Comets that lasted through November.
The Teenagers could no longer attend traditional school because of their touring schedule. As a result, the boys were enrolled in the School for Professionals and took correspondence courses with tutors while on the road.
In December, their debut album, "The Teenagers Featuring Frankie Lymon", was released. The LP contained the group's hit singles and their B-sides, but it would be the only album to be issued that featured the original group members. Gee also released a single of the two songs they performed in Rock, Rock, Rock! but the pairing of "Baby, Baby" and "I'm Not A Juvenile Delinquent" was the first that failed to reach any of the Billboard charts.
The Teenagers LP
In what might be considered omens of what was to come, the group had fallen behind in their education and had to stay home during the first part of 1957. "Paper Castles" backed with "Teenage Love" was released as their next Gee single but it also failed to chart.
Much worse was the fact that George Goldner, a habitual gambler, had been forced to sell off half of the shares of his Tico, Rama, and Gee record labels to Joe Kolsky and Morris Levy to pay off his gambling debts.
In January, Goldner formed Roulette Records with Kolsky and Levy, who were both connected to the Mafia. Needing additional money, Goldner soon sold his interest in Roulette as well as the remaining shares of his other three labels to Morris Levy. Goldner then started two more labels, End and Gone, both of which were distributed by Levy's mob-backed Roulette organization.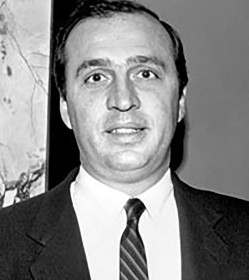 Morris Levy
With Levy now firmly in the picture, plans were made to start recording Frankie Lymon, now 14, as a solo artist. "They looked at Frankie as the star," Jimmy Merchant said in his Island Hop interview.
The Teenagers had been one of the top rock and roll singing groups in the country during 1956, but now they were being given pop standard material to record as Frankie Lymon was being pushed into a pop career. Gone was the rocking sound of Jimmy Wright's band, now replaced by the lush strings of the Rudy Traylor Orchestra.
"They felt the other four of us were expendable. They talked to Frankie's mother, who was seemingly ignorant of the fact that the group had already been formed when Frankie joined," Merchant said. "She looked at her son as being the star, and it was easy to convince her to have Frankie pulled out of the group to become a solo artist."
In the meantime, Gee released what would turn out to be the final single by Frankie Lymon that would include the other Teenagers. "Out In The Cold Again" was a cover of a 1934 ballad first recorded by Glen Gray and the Casa Loma orchestra, and it would peak at # 10 on Billboard's R&B chart in early 1957.
The group was booked for a ten-day tour of Panama before embarking on an ambitious three-month tour of England, Scotland, and Ireland in the spring. They were told that they would be recording during the tour, but the other members were unaware that it would be Frankie Lymon recording without the group. The writing seemed to be on the wall, however, as management had already started pushing Frankie as a solo artist by giving him solo spots in the show.
While in England, Frankie did three sessions by himself, guided by Rudy Traylor who had been sent along as musical director. Merchant said that they were told that they would also record as a group but it didn't happen.
During their tour, "I'm Not A Juvenile Delinquent" was released as a single in England and it reached # 12 on the UK chart. Watch a performance of "I'm Not A Juvenile Delinquent" from the 1956 movie Rock, Rock, Rock! If you watch closely near the end of the performance, you can spot 17 year-old Valerie Harper making her film debut as an extra in a white dress applauding the Teenagers. https://www.youtube.com/watch?v=PCj1zy-ehPs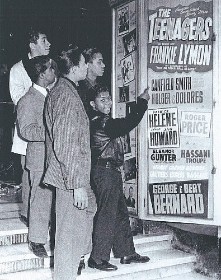 The Teenagers in London
Things came to a head at the end of the tour of Great Britain when Lymon and Herman Santiago almost came to blows over Frankie leaving the group. According to Jimmy Merchant, after they returned to the States, Frankie and the group only did two more things together. Although their fans didn't know it yet, it was all over for the original group.
"George Goldner was very talented but he was dishonest when it came to the proper care of Frankie Lymon and The Teenagers," Merchant recalled in a recent phone interview. "But the move to make Frankie a solo artist had more to do with Morris Levy than Goldner. He would only have to pay one family rather than five," Merchant said.
The Teenagers only lasted 18 months but the group was very significant in several ways during the short time the five original members were together. One of their songs, the immortal "Why Do Fools Fall In Love", would be revered, covered, and battled over for decades to come. They could also be considered the first successful boy band whose appearances were marked by shrieking girls who all but drowned them out with their screams.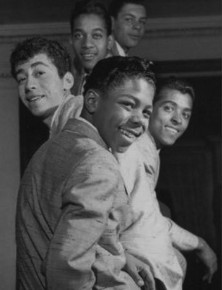 Frankie and The Teenagers
In addition, the youthful lead vocals of Frankie Lymon inspired a whole genre of young vocal groups who emulated the sound of the Teenagers. Later called 'kiddie' doo wop groups, they included Frankie's younger brother Lewis Lymon and The Teenchords, the Students, the Schoolboys, the Kodaks, and Tiny Tim and The Hits to name just a few.
More importantly, the Teenagers' incredible success in 1956 made them rock and roll pioneers who helped change the music industry from one that concentrated on adult tastes to one that catered to the emerging youth market.
"It was all over so quickly," Joel Warshaw recalled in a recent interview. "The group didn't get the exposure it could have had." Warshaw, who managed a reunited version of The Teenagers in the 1980s, went on to say, "If they would have had another 18 months, maybe they could have established something more lasting like the Platters, Drifters, or Coasters."
That didn't happen, however, and things went downhill pretty quickly for both Frankie Lymon and the other four Teenagers during the coming years.
End of Part 1