Frankie Lymon's Tombstone Blues 2: The Downslide
Details

Category: Dr. J's Blog
Published: Monday, 21 December 2020 08:02
Written by Gary Johnson
When Frankie Lymon and the Teenagers returned to the United States from their overseas tour, they were together in name only. Frankie would begin his solo career in earnest with high hopes while the Teenagers were faced with the prospect of trying to carry on without the lead singer who had become the face of the group.
As far as the public knew, Frankie Lymon and the Teenagers were still together. In June of 1957, the only single to emerge from Frankie's recording sessions in London was released. "Goody Goody" was a popular standard that had been written in 1936 and recorded over the years by a host of artists including the orchestras of Benny Goodman, Freddy Martin, and Bob Crosby in the 30s, and singers Mel Torme and Peggy Lee in the early 50s.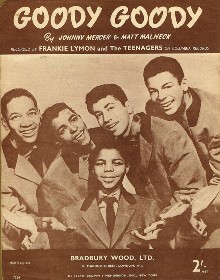 "Goody Goody"
Although it was issued on the Gee label as the entire group, it was really a Frankie Lymon solo release with the backing vocals done by studio singers. The Teenagers had originally recorded the song with Frankie, but that version was never released. Instead, a version with the Ray Charles Singers backing Frankie was used for the single. It sounded like Frankie Lymon and The Teenagers to record buyers, however, and the single reached # 20 on the Billboard chart.
The original group would only appear together twice that summer. The first was a week-long spot on the Alan Freed Summer Festival show at the New York Paramount, beginning on July 3rd. The bill included Chuck Berry, the Everly Brothers, the Moonglows, LaVern Baker, Screamin' Jay Hawkins, Paul Anka, Clyde McPhatter, and Lewis Lymon and the Teenchords.
Shortly after that appearance, they were rushed into the studio to film their performances in the new Alan Freed movie, Mr. Rock and Roll. Clad in sharp looking suits, Frankie and the Teenagers sang two songs, "Fortunate Fellow" and "Love Put Me Out Of My Head".
Both songs had been recorded during Frankie's solo sessions in London, and the other Teenagers were rushed into the studio after they returned to the United States to dub in the vocal backgrounds. The songs were not released as a single, however, and they were not heard by the public until the movie was released in October 1957. Watch the group's performance of "Fortunate Fellow" from Mr. Rock and Roll. https://www.youtube.com/watch?v=7ceinXyVT8c
Alan Freed was also involved in a televised music and dance program called The Big Beat that was broadcast on ABC-TV. Freed's show had debuted on May 4, 1957, four months before American Bandstand. Frankie Lymon and the Teenagers had originally been booked, but the group had already split up. As a result, Lymon made his first solo appearance on the program on July 19th. Everything had gone well, but at the end of the show Freed invited the audience to come down and dance as the credits were rolling. Frankie was seen dancing with a white girl during the sequence, and it caused a major controversy among the ABC affiliates in the South.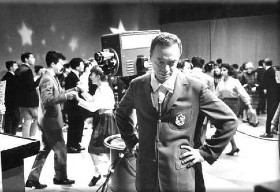 Alan Freed' & The Big Beat TV show
In 1957, the civil rights movement was in its early stages, and the Jim Crow laws that enforced racial segregation among the former Confederate states were still in effect. After stations throughout the South cancelled the show, the ABC executives buckled under the pressure and The Big Beat was dropped by the network.
By August, the break-up of Frankie Lymon and the Teenagers had been officially announced. Frankie would now be recording for the Roulette label and the Teenagers would stay on the Gee label. Later that month, Frankie completed his first session for his new label, backed by the Hugo Peretti Orchestra, and "My Girl" was the choice for the new single. Although it contained a strong vocal from Frankie, including some scatting, the record was bogged down by the big orchestra and the uninspired backing vocals.
September saw Frankie join the Biggest Show of Stars 1957 tour that covered 28 states and 5 Canadian provinces with a total of 80 shows. He headlined the bill along with Fats Domino, Chuck Berry, LaVern Baker, the Everly Brothers, and Buddy Holly with the Crickets. Despite promoting "My Girl" at every show, the new single did not chart. Racism was certainly not confined to the South, and it's entirely possible that the failure of Frankie's new single may have been part of the fallout from him being seen dancing with a white girl on national television.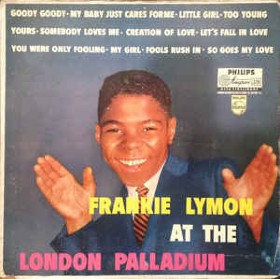 London Palladium LP
Following the tour, his first solo album, "Frankie Lymon at the London Palladium," was released. Another single, "Little Girl", was issued as well, but it suffered the same fate as "My Girl". Frankie finished the year on a high note, however, when he was booked to appear on the popular Ed Sullivan Show in December. Watch Frankie's performance of "Goody Goody" https://www.youtube.com/watch?v=ch-ubs_46c8&t=25s
In the meantime, the four remaining Teenagers faced an uncertain future without Frankie Lymon. The group was still reeling from the way the break-up had been handled. "It was awful," Jimmy Merchant told interviewer Marv Goldberg. "The group was divided by management while we were in Europe. They had Frankie convinced that this was it," Merchant said. "He didn't seem to have any sorrow, and he never looked back." Goldberg reported that Merchant only saw Frankie Lymon twice more after the break-up was officially announced and that Frankie seemed somewhat aloof.
The Teenagers didn't return to the recording studio until November 1957. They had been looking for a new lead singer, and some girls they knew recommended Billy Lobrano, a young white singer who attended Forest Hills High School in Queens. When Lobrano joined the group, he made the Teenagers one of the most racially diverse groups in rock and roll.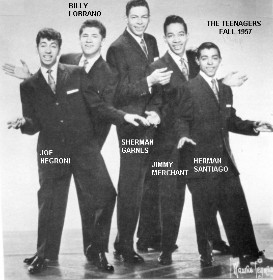 Teenagers 1958
The only problem was that Lobrano sounded nothing like Frankie Lymon and "Flip Flop", the group's first single with its new lead singer, didn't sound even remotely like the Teenagers who had recorded "Why Do Fools Fall In Love".
The single bombed as did the follow-up, a ballad called "My Broken Heart", released on Roulette Records in 1958. Although hindsight is always 20/20, it's difficult to understand how the original four members and their management failed to see that Lobrano's vocal style was not a good fit for the Teenagers.
Frankie Lymon's first single of 1958, "Thumb Thumb", represented a return to rock and roll. Nevertheless,it failed to chart, possibly because it was yet another departure from the doo wop sound that had been so successful with the Teenagers. Frankie continued in that vein in March when he recorded a batch of covers for the "Rock & Roll with Frankie Lymon" album that was released later in the year. Several of the songs, including "Little Bitty Pretty One", "Jailhouse Rock", "Waitin' In School", and "Silhouettes", would be issued as singles two years later.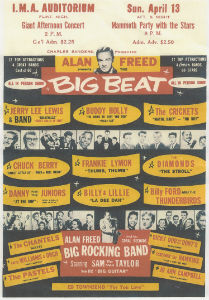 Big Beat poster
Even though his records were no longer charting, Frankie Lymon was still a big draw. He headlined the Alan Freed Presents The Big Beat show in April along with Jerry Lee Lewis, Chuck Berry, the Crickets, and the Diamonds. It's interesting to note that the tour's official souvenir booklet included a different story regarding the writing of Frankie's biggest hit: "Calling themselves Frankie Lymon & The Teenagers, they cut their first record, 'Why Do Fools Fall In Love', which Frankie wrote himself."
That same month Roulette issued his fourth solo single. "Portable On My Shoulder" was a good song idea that dealt with the rising popularity of portable transistor radios that were all the rage among teenage rock and roll fans; but the song itself and its unimaginative arrangement proved to be another dud. The flipside, "Mama Don't Allow It", was an upbeat cover of a traditional song first recorded in the 1920s. It also failed to chart despite Frankie performing the song in primetime on Dick Clark's Saturday Night Beechnut Show. Watch his performance https://www.youtube.com/watch?v=076WrfWA77g
Although the introduction of drugs into rock and roll is commonly thought of as happening in the 1960s, that was not the case. "In the 50s drugs were everywhere…potent and cheap," Jimmy Merchant revealed in a PBS interview in 1983. "Drugs were backstage and offstage, onstage – everywhere. It took a lot of people away from their normal course of life and Frankie was one of them."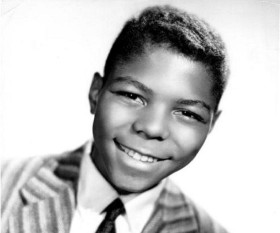 Frankie Lymon
According to Frankie's 1967 interview with Ebony magazine, he was first introduced to heroin at the age of 15 by a woman twice his age. He might have started using because his solo career hadn't taken off like expected. "It hurts an artist who has been popular to have nothing going and you're still in that world," Jimmy Castor said in a PBS interview. "You begin to look for substitutes."
Being with an older woman was not unusual for Frankie Lymon. Because of his early sexual encounters with the prostitutes in his neighborhood, Frankie preferred older, experienced women rather than the teenage girls who screamed his name at shows. In order to preserve his image as a clean-cut young entertainer, however, Frankie would pass off the women he dated in different cities as his mother. He often told the story that he once got caught by a reporter who went to shows in New York and Chicago and saw that his "mom" was two different women.
"The Only Way To Love" was Frankie's final single of 1958. Once again, the record ignored the doo wop style that made him a success. It followed the same blueprint of his previous non-charting solo releases that featured backing by the Rudy Taylor Orchestra and a nondescript pop chorus. Watch Frankie perform "The Only Way To Love" in 1958. https://www.youtube.com/watch?v=M-P_FObKsF8
By 1959, Frankie Lymon was battling addiction, and he was also fighting for his professional life. He recorded 14 songs that year, but Roulette only released two singles, neither of which charted. By the time he had reached his 17th birthday, his signature voice had changed. Frankie no longer sounded like the young artist who had captivated the nation with "Why Do Fools Fall In Love". His voice was still strong, but now he sounded more like a crooner than the Frankie Lymon the public wanted. Things were starting to go downhill fast.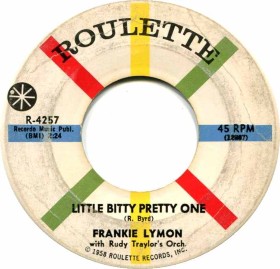 "Little Bitty Pretty One"
Frankie only did one recording session for Roulette Records in 1960, but the two singles released that year were both recorded in 1958 for the "Rock & Roll with Frankie Lymon" album. The first of these, a cover of Thurston Harrris' "Little Bitty Pretty One", became the first charting record by Frankie Lymon in three years to make the Billboard Hot 100 when it reached # 58. It would also prove to be the final charting hit of his career. Watch Frankie lip synch "Little Bitty Pretty One" on Dick Clark's Saturday Night Beechnut Show https://www.youtube.com/watch?v=E9PNVUpI19A
Roulette unleashed the new crooning vocal style of Frankie Lymon in 1961 with a cover of the 1938 Irving Berlin song, "Change Partners". After that effort failed to chart, Frankie tried to take advantage of Barry Mann's big summer hit, "Who Put Bomp (in the Bomp, Bomp, Bomp)", a catchy song about the frequent use of nonsense lyrics in doo wop music.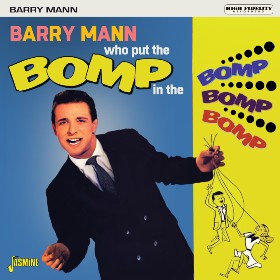 "Who Put The Bomp"
Frankie's answer record was titled "I Put The Bomp" (in the Bomp, Bomp, Bomp)". It used the same melody as Mann's hit, but with slightly different lyrics, as Frankie staked his claim as a doo wop pioneer. It failed to chart, but it was nice to hear him do something in the doo wop style, even if he no longer sounded like the 13-year-old who had all those hits in 1956.
Sadly, Frankie's addiction to heroin had worsened, and it had turned him into a junkie pariah in the music business. Roulette Records, run by Morris Levy, ended its relationship with the singer in 1961. "The drug situation made him a no-no. I don't care how good he was, it was a bad scene at the time," Richard Barrett told a PBS interviewer.
Despite his drug issues, Frankie Lymon had not lost his ability to charm. It was during this time that Frankie met Elizabeth Waters backstage at a show and they began a relationship. In court testimony years later, Waters testified that she insisted that Frankie check in to a Manhattan hospital to cure his drug habit. She said that he seemed clean during her pregnancy in 1963, and he was genuinely shaken when their daughter Francine died shortly after her birth.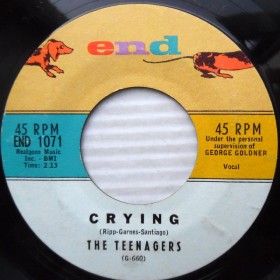 "Crying"
The Teenagers were struggling as well. Billy Lobrano had left the group by early 1959, and the group failed to release a single that year. In 1960, Herman Santiago departed and Howard Kenny Bobo, a long-time friend who had been a member of Jimmy Castro and the Juniors, was brought in to replace him.
The group recorded two songs for a single on George Goldner's End Records, "Crying" featuring Joe Negroni on lead vocal and "Tonight's The Night" featuring Howard Kenny Bobo. The record failed to chart, however, and Bobo left the group when Herman Santiago returned. Listen to "Crying" https://www.youtube.com/watch?v=SZWr7YBDiho
The Teenagers hoped to turn it around when they added a tenor named Freddie Houston to sing lead, but he left after one non-charting single. It was the group's final single on End Records, and it also marked the end of their musical relationship with George Goldner.
The group's last gasp as a recording unit was a single released on Columbia Records in 1961. "What's On Your Mind" featured a lead vocal by Joe Negroni, and the group was listed on the label as Joey & The Teenagers. The flipside was interesting in that Sherman Garnes took over the lead vocal on the humorous story song written by the team of Jerry Leiber and Mike Stoller. Listed on the label as Sherman & The Teenagers, "The Draw" was similar to some of the songs Leiber and Stoller had written and produced for the Coasters, but it lacked the magic of those hits and failed to bring the Teenagers back to the charts.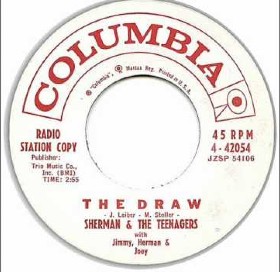 "The Draw"
Worse yet, was reaching the age of 21 and finding out that the trust fund that had been set up for them only contained $8,000. Jimmy Merchant revealed that, after deducting his lawyer's fee, he received only $1,100. With little knowledge of contracts and financial matters, the Teenagers and their families had put their trust in others to handle the money only to discover that they had been cheated by the very people who were supposed to be looking out for them.
It's a sad tale that has been repeated many times over the years by musicians at every level. Like the Teenagers, many were young and naïve, and they had put themselves in a position to be exploited by narrowing the scope of their goals and knowledge to just the music. As a result, they had gotten ripped off over the years simply because they were ignorant of the financial side of their careers and trusted dishonest managers and label executives to take care of it for them.
Discouraged with their continued lack of success and the way they had been treated by the music business, the Teenagers were history by the end of 1961, at least until the next decade.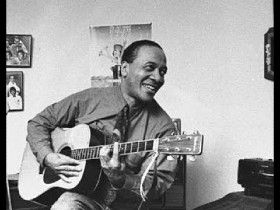 Jimmy Merchant "After the break-up, everyone in the group moved into regular life and having families," Jimmy Merchant recalled in a recent interview. "I got married in 1961. I met my first wife after the group broke up with Frankie in 1957 and my mother had relocated to Queens," Merchant said. "Sherman got married to Lana and they had a baby. Joe got married and had two children, and Herman had a daughter from a woman he was living with, but he ended up marrying a different woman."
Frankie Lymon married Elizabeth Waters in 1964 while he was trying to resuscitate his career. Although he had fallen off the wagon and was using heroin again, he had managed to get a one-shot recording deal with TCF Records, a subsidiary of 20th Century Fox. Alas, the big band arrangements on "Teacher Teacher" and "To Each His Own" failed to generate much interest when they were released on a single in early 1964. Listen to "Teacher Teacher" https://www.youtube.com/watch?v=7a6qBJCGEpo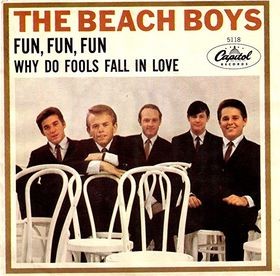 "Why Do Fools Fall In Love"
"Why Do Fools Fall In Love" returned to the Billboard charts in 1964 when it was covered by the Beach Boys for the B-side of their hit single "Fun, Fun, Fun". Band leader Brian Wilson was a big fan of doo wop, and he provided the memorable falsetto lead on their version of the Teenagers' signature song. Although the Beach Boys' cover was only a minor hit, B-sides paid the same amount as A-sides in terms of royalties. By this time, however, Frankie had sold his songwriting credit on the song to Morris Levy to support his drug habit.
After signing another one-single deal with Columbia in 1964, Frankie recorded what sounded like his best shot at a comeback. "Sweet And Lovely" was a very soulful and contemporary sounding tune that could have fit comfortably on the Top 40 playlists of the day. Its flipside, an interesting arrangement of "Somewhere" from West Side Story, was also very good, but Frankie's record got lost in the tsunami that was the British Invasion.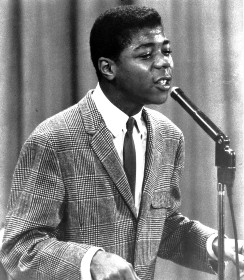 Frankie 1964
That same year, Frankie was arrested for drug possession. "Nobody wanted anything to do with him – he got blackballed by the nightclubs, record companies, and booking agents," Sam Bray recalled in a PBS documentary. "Frankie would come in and beg the booking agents to try to get him a gig," singer Bobby Jay revealed. "He would even get on the phone himself to beg. It was a sad thing to see, particularly if you knew him."
In 1965, Frankie went to Los Angeles where he hoped his old friend Zola Taylor could help him land some gigs. Taylor would later claim that she and Frankie were married that year in Tijuana, Mexico. It was during this time that Frankie made his last television appearance on Hollywood A Go-Go, lip synching "Why Do Fools Fall In Love". He didn't look good on the broadcast, however, and he appeared to be missing some teeth. "It really hurt to see Frankie like that," Jimmy Merchant said. "He was at this lowest point. He was no longer the Frankie Lymon I knew." Watch Frankie's appearance on Hollywood A Go-Go.https://www.youtube.com/watch?v=O3NpKQPSlGc
Frankie Lymon hit rock bottom in 1966 when he was arrested in New York for grand larceny or heroin possession. After completing another drug rehabilitation program at Manhattan General Hospital,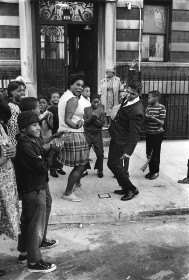 Frankie in the Bronx Frankie appeared at a block party organized by a group of nuns at a Catholic settlement house in the Bronx. He told an audience of teenagers, "I have been born again. I'm not ashamed to let the public know I took the cure. Maybe my story will keep some other kid from going wrong."
With the Vietnam War escalating and the Selective Service looking for more recruits, the court allowed Frankie to join the Army in lieu of being sentenced for his drug offenses. He was inducted in December and sent to Ft. Gordon in Georgia. The Army provided him some much-needed discipline, and he was able to stay off drugs while stationed there.
Frankie was introduced to Emira Eagle at this time. She was a churchgoing elementary school teacher who lived with her family in nearby Augusta, and Emira knew nothing of Frankie's drug or marriage history when, after a short courtship, they were wed in June of 1967. The couple lived with her parents, and Frankie traveled by bus to the base each day.
He also attempted to rekindle his career by playing gigs in the area while serving at Ft. Gordon. Unfortunately, this resulted in several AWOL offenses that could have led to some serious disciplinary measures. Instead, Frankie was allowed to request a discharge in lieu of court-martial. As a consequence, he agreed to accept an OTH (other-than-honorable conditions administrative discharge), in exchange for not being tried.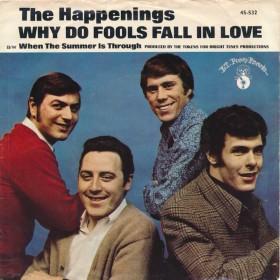 The Happenings 1967
Following his discharge, Frankie got a new manager in the person of Sam Bray, and he recorded two new songs, "I'm Sorry" and "Seabreeze," for Bray's Big Apple label. He also got some unexpected publicity in late 1967 when "Why Do Fools Fall In Love" was back on the radio in the form of a # 41 hit by the Happenings, a New Jersey pop music group that specialized in doing cover versions of classic songs in a unique style.
These developments, along with an interview in Ebony Magazine, helped Bray set up a recording session with Frankie's old label, Roulette Records. Frankie reportedly wanted Emira to accompany him in late February, but she could not leave her teaching job. As a result, he traveled to New York City on his own and stayed at his grandmother's apartment on West 165th Street.
It was there that Frankie made the fatal decision to celebrate the night before the recording session by shooting up. He was found dead from a heroin overdose on the floor of his grandmother's bathroom the following morning. It was the same apartment building where he was living in 1955 when he recorded "Why Do Fools Fall In Love" with the Teenagers.
In They All Sang On The Corner, Phillip Groia's definitive book on New York City's rhythm and blues vocal groups, the author describes Frankie Lymon as "a solid natural, a true born star at the age of thirteen with all the presence and poise of a stage veteran. He would come out on stage and set the whole world on fire."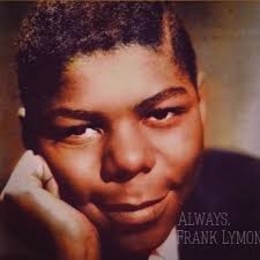 Frankie
Frankie Lymon's stranger than fiction life was filled with an extraordinary array of twists and turns. He was a pimp a 12, and he became the star of the Teenagers at 13. Frankie left the group for a solo career at 14, and he became a heroin addict at 15. Then, at 17, his voice changed and his career began to go into free fall.
The arrests, the marriages, the rehab stints, the relapses, and a less than honorable discharge occupied most of the next eight years. All of this was followed by an unexpected comeback opportunity that ended with him dead on a bathroom floor with a needle in his arm. So much drama in such a short period of time.
In a way, Frankie Lymon was bigger than doo wop. With his looks, voice, and dance moves, he became a star performer in a genre that celebrated collaborative vocal group singing, and maybe that was part of the problem. Some called his death the official end of the era, but it turned out to be the beginning of something unexpected.
End of Pt. 2