Frankie Lymon's Tombstone Blues 4: The Reunions
Details

Category: Dr. J's Blog
Published: Wednesday, 24 March 2021 19:43
Written by Gary Johnson
The four surviving Teenagers, Jimmy Merchant, Herman Santiago, Joe Negroni, and Sherman Garnes, reunited in 1973. In an attempt to recapture the sound that had made them famous back in 1956, they recruited Pearl McKinnon to recreate the adolescent lead vocals of Frankie Lymon.

Pearl McKinnon grew up in the Central Ward of Newark, New Jersey. "The Teenagers used to perform at hops at the armory in my neighborhood," Pearl McKinnon recalled in a recent interview "That was where I first saw them. Frankie and I were around the same age, and I was so inspired by them. They were the cutest guys I ever saw."

In 1957, Pearl was invited to join a male quartet called the Kodaks. The fact that they were now a mixed male/female group, featuring Pearl's powerful lead vocals, quickly set the Kodaks apart from the other aspiring Central Ward groups.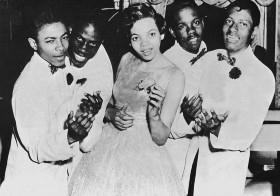 The Kodaks: Pearl McKinnon (center)

"After I joined the Kodaks, a friend of ours knew Bobby Robinson, and he introduced us and took us for an audition at Bobby's record shop at 125th Street in Harlem," Pearl said.

Robinson had started his own Fury record label in 1956, and his new enterprise made an auspicious debut in December with "I'm So Happy", an infectious, uptempo record by Frankie's younger brother, Lewis Lymon and the Teenchords. Although Lewis did not possess the vocal talents or charisma of his ill-fated brother, he and his group could belt out a song in the "kiddie" style made popular by Frankie and the Teenagers.

Pearl, who emulated Frankie Lymon with a distinctive sound all her own, sealed the deal for Robinson, and the Kodaks were signed to the Fury label. He changed the spelling of the group's name on the record label to "Kodoks" to avoid a possible lawsuit from Eastman Kodak, and released their first single, "Teenager's Dream" and "Little Boy and Girl" in 1957. Both sides of the record received heavy airplay in Newark, New York, and other nearby cities.

The group's biggest hit on the Fury label was their second single, "Oh Gee Oh Gosh", released in June of 1958. It reached # 8 on the local Cashbox chart in Newark and sold well in other East Coast cities. Robinson did not have the national distribution to command wide airplay on his early Fury releases and, as a result, they were not heard on most radio stations across the country. Listen tp "Oh Gee Oh Gosh" https://www.youtube.com/watch?v=pPo5DeLAaOo
The success of their single lead to numerous gigs along the East Coast including appearances at the famed Apollo Theater. "The Kodaks appeared at the Apollo Theater at least a dozen times," Pearl recalled. "When I was a very young kid my family used to take me to the amateur night shows at the Apollo. I saw a lot of artists there for the first time. I saw James Brown and the Flames there when I was a teenager. Many years later, I saw Michael Jackson and the Jackson 5 for the first time at an amateur show at the Apollo. I liked them a lot, and they definitely reminded me of the Teenagers," Pearl said.
She was not alone. Berry Gordy Jr. recognized the similarities with the Teenagers when he signed the Jackson 5 to Motown in 1969. This was especially true in the case of Michael Jackson, the group's precocious and charismatic 11-year-old lead singer. When Marvin Gaye saw his new Motown labelmates perform for the first time, he reportedly said, "It was Frankie Lymon and the Teenagers all over again."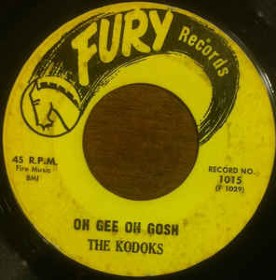 The Kodaks underwent some personnel changes in 1958. The new lineup recorded two more singles, including the excellent "Runaround Baby", but neither sold as well as their predecessors. Shortly thereafter, the group broke up and Pearl got married.

In 1961, she returned to the music business after the Deltars asked her for singing lessons and then invited her to join the group. Changing their name to Pearl and the Deltars, they recorded one single, "Teenage Dream"/ "Dance Dance Dance", on Fury before the group disbanded and Pearl concentrated on raising a family.

"My first involvement in the Teenagers' reunion started when I was contacted by Herman Santiago in 1973. It lasted less than a year," Pearl stated. "During that time, Sherman Garnes and I became kind of close because I used to love my bass singers. He was very nice to me, and I used to ask him to talk to me in his bass voice."

"Later in the 1970's, I recorded some music with Bobby Shad in a group called the Second Verse," she said. With Pearl singing lead, the group released two singles, including a fine soul ballad titled "Da Da I Love You," on the tiny IX Chains label in 1975 before she rejoined the Teenagers for their second reunion in 1981.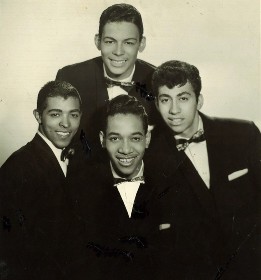 Teenagers: (top) Sherman Garnes (bottom L to R) Herman Santiago, Jimmy Merchant, Joe Negroni

Tragedy prevented both Sherman Garnes and Joe Negroni from being part of that reunion, however. Garnes, who was 6 ft. 6 in. tall, shocked everyone when he died of a heart attack in 1977. The talented bass singer was only 36 at the time of his death.
JoeNegroni, who some have claimed to have been the organizer and leader of the group, also died unexpectedly in 1978 when he passed from a cerebral hemorrhage at the age of 37.

Negroni had enjoyed a long-term relationship with singer/actress Darby Lloyd Rains prior to his death. When Rains' singing career failed to take flight in the early 70s, she began appearing in X-rated film loops to earn money, and then went on to appear in over 50 full-length adult films. Chief among these was her starring role in Naked Came The Stranger, a critically acclaimed X-rated film that displayed her talents as both an actress and comedienne. Negroni, who served as her manager, appeared in a small speaking role in the movie.

Following the success of Naked Came The Stranger, Rains and Negroni collaborated to write a screenplay for a more artistic X-rated film in hopes that it could attract investors and even compete with mainstream Hollywood features. The proposed film, titled Desdemona, Cinzano, and Raw, called for a budget roughly five times that of a typical pornographic feature. As a result, it failed to find financial backing from investors who were much more interested in cheaply made, gratuitous productions that could turn a quick profit rather than more expensive, explicit films with pretenses of becoming art.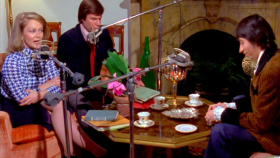 Darby Lloyd Rains, Levi Richards and Joe Negroni in Naked Came The Stranger.

After becoming disillusioned by the roles she was being offered, Rains retired from performing. She and Negroni went on to co-author The Price Of Heaven, a book about the pornography industry that was published after his death.

Of greater interest to music fans, however, was the screenplay the pair wrote called The Teensters (The Rage Of The Age). It was a fictionalized account of the Teenagers' rise to stardom based, at least in part, on Negroni's experiences within the group. According to Jimmy Merchant, Negroni used his connections with the producers of Naked Came The Stranger to make a deal for a film about the Teenagers. "Because he had been involved with Frankie Lymon and the Teenagers, Joe was able to pull some strings," Merchant said. "With his background, he was knowledgeable about the music business, but after Joe died the movie didn't materialize."

The second reunion of the Teenagers in 1981 marked the 25th anniversary of the group bursting onto the scene in 1956 with their debut recording of "Why Do Fools Fall In Love". This second reunion was much more successful than the first, and the man largely responsible for helping it all happen was Joel Warshaw.

Born in in the Bronx in 1939, Warshaw attended quite a few of the Alan Freed shows in the 1950s where he saw many of the top vocal groups of the day including the Wrens, Harptones, Moonglows, Clovers, and Frankie Lymon and the Teenagers.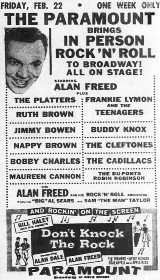 1956 show

"My friends and I loved slow dancing with young ladies, and vocal group music was great for that," Warshaw recalled. "Many of the other groups were a little older and more mature, while Frankie Lymon and the group were uptempo and were actually teenagers. Their onstage energy and the fact that they were singing to teenagers in the audience enabled then to make a big impact."

"Going to an Alan Freed show was a big deal for my friends and I," Warshaw recalled. "Most were held at the Brooklyn Paramount, and the shows were very exciting for those of us who listened to Jocko Henderson and Dr. Jive at the end of the radio dial. We traveled to the theater by subway. None of us had cars at that point. The shows always had long lines and always sold out. Ironically, the audiences for the Freed shows were primarily white. The black population in New York was probably only about 15% at that time." Warshaw said.

"I attended Delaware Valley College in Pennsylvania, about two and a half hours from home. After graduating, I started working for General Mills and Modern Maid Food Products, and then I decided to start my own business as a food broker. Warshaw Associates was started in the early 70s and was based in Great Neck, Long Island."

Warshaw started a second company called LifeStream Music out of his office in Great Neck and began working with a rock band called Cotton Shot and the Impalas vocal group. He also started his own LifeStream record label and released the "From Doo Wopp To Disco" album by the Salutations in 1980 before linking up with the Teenagers.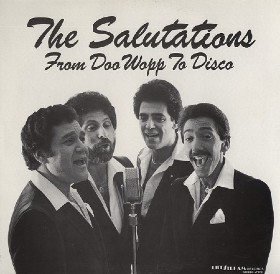 Salutations LP

"I saw the reformed Teenagers in 1973," Warshaw said. "I thought they were very good. They had Pearl McKinnon singing lead, but they didn't have the management or the wherewithal to keep it together. As a result, they broke up after just a few shows."

"The doo wop revival, as far as bookings for performances, wasn't happening to a great degree in 1973; but interest had increased by 1980, and it became a great time for the groups because most of them still had quite a few original members."

"I reached out to Jimmy Merchant to reunite the Teenagers. We met, and I spoke to him about my love of both management and the group, and that I thought we could get something together. It was Jimmy alone that I met with. Herman was more of a laid-back sort of guy. I also called Pearl and talked her into it. She had aspirations to go into modern music, but she was a big fan of Frankie Lymon and was happy to fulfill that spot in the group."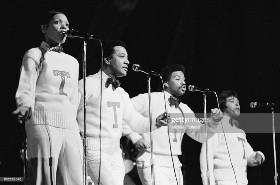 Teenagers 1981 (L to R) Pearl McKinnon, Jimmy Merchant, Eric Ward, Herman Santiago

"There was an underlying friction when Pearl and Eric Ward from the Second Verse joined," Warshaw recalled. "Both Herman and Jimmy were somewhat bitter that the Teenagers had never attained the goals they hoped for after Frankie left. They felt they got screwed monetarily. Here were guys who were sitting on top of the world and then disappeared into the woodwork during their 20s, 30s, and 40s."

"One of the places the reunited Teenagers rehearsed was Harlequin, located in New York City. Christophe Pierre worked with the Teenagers' choreography there. He was a great help and was a great friend of mine. He played the Tin Man in The Wiz on Broadway and was a well-respected figure in Harlem. Christophe also helped with the first UGHA Hall of Fame."

"I think it was a member of the Teenagers who told me that Frankie was buried in an unmarked grave," Warshaw recalled. "After a discussion with Ronnie Italiano and the current Teenagers, I drove to St. Raymond's Cemetery in the Bronx by myself."
"When I went up to the small office at the cemetery, the woman was very nice, but the only name listed was Emira Lymon. Frankie's name was nowhere to be found. She helped me find the grave. It had a tiny metal cross, but Frankie's name was not on the plot. It was unmarked, but they at least had a record of it in the office."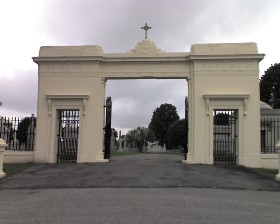 St. Raymond's Cemetery

"I had first made contact with Ronnie Italiano by going to his record store. We started talking and he was always willing to help. In a sense, Ronnie was a one man show, but he always had individuals who were willing to help. He dedicated his time to the UGHA (United in Group Harmony Association) and Clifton Music.The first show we did together was at the Beacon Theater. Ronnie got a woman named Robin Adams to finance the show. That was the reunited Teenagers' first performance. They were a little rough around the edges, but they did a good job."

"The idea for having a benefit show to buy a tombstone for Frankie's grave came up as I was sitting around with Pearl and Ronnie," Warshaw stated. "It was kind of a group decision, but Ronnie did most of the work."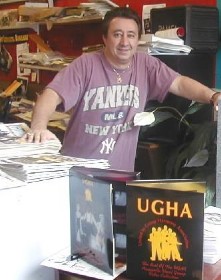 Ronnie Italiano

"I was gung-ho about doing the benefit for the tombstone," Pearl McKinnon said. "I wasn't going to rest until that happened because I thought it was appalling that he was in an unmarked grave. I was horrified."

Ronnie contacted Frankie's widow, Emira Lymon, and she was in favor of the benefit to place a tombstone on Frankie's grave. It was all done over the phone, nothing was put in writing. Ronnie not only loved the vocal group harmony sound from the past, he also did business under the principle that a person's word is bond, that you will do what you say and keep your promise.

Ronnie and the UGHA ran the benefit fundraiser on August 15, 1981 at the Great Gildersleeves. The lineup included the Teenagers, the Impalas, Willie Winfield & the Harptones, Joe and the Platinums, Stardust, and the Encores. The groups did not get paid, and even though tickets were just $5.00 in advance and $7.00 at the door, the benefit made a lot of money. Several people sent in donations, and all proceeds were to be used to erect a monument at Frankie Lymon's gravesite. "Emira was invited to go to the fundraiser, and Ronnie would have paid for her transportation," Bill Olb recalled, "but to my knowledge she didn't attend."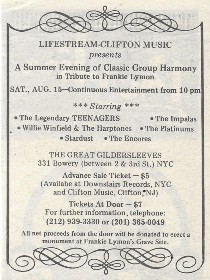 1981 Tombstone Benefit"Prior to doing the benefit, Ronnie and I had done a number of doo wop shows at the Great Gildersleeve's, which was basically a rock club in the Bowery," Warshaw said. "We had an agreement at those shows that stipulated that we would get the door and the owner got the bar. We didn't make much money after paying the groups, but Ronnie and I did it out of love for the music."

Just four weeks after the tombstone benefit, Diana Ross released "Why Do Fools Fall In Love", her debut album on RCA Records. Eleven days later, on September 25, 1981, the album's title song was released as a single. It soon became the superstar's first hit on her new label, peaking at # 6 on Billboard's R&B chart and reaching # 7 on the Hot 100.

It was a shock to many that Ross left Motown, her record label for the past 20 years. By 1981, she was the biggest female artist in popular music. Diana Ross had recorded twelve # 1 hit singles and eighteen Top 40 albums with the Supremes, and then six more # 1 singles and thirteen additional Top 40 albums as a solo artist on Motown.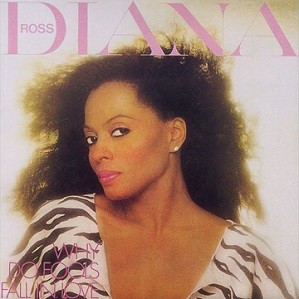 Why Do Fools Fall In Love LP

In November of 1980, her contract with Motown expired, and since she was at the peak of her career, Ross was in no hurry to renew it. She had been under contract with Motown for nearly twenty years and had been obligated to defer to someone else's judgement during that time. With numerous record labels making offers, Ross wanted to renegotiate a new contract with Berry Gordy Jr., one in which she would have total control over her career.

Gordy reportedly thought Ross was bluffing, and no one at Motown believed she would actually leave the label. Nevertheless, Ross began negotiations to leave Motown at the end of 1980. RCA Records offered her a $20 million, seven-year recording contract that gave her complete control of her albums. Allegedly, she offered Berry Gordy Jr. the chance to match the offer before signing. When he explained that he couldn't afford it, she signed with RCA on May 20, 1981. At that time, it was the most expensive recording deal in music history.

"Why Do Fool's Fall In Love" was the first studio album issued by Diana Ross that was produced by the singer herself. Ross embarked on a world tour and also did a number of magazine interviews to support the album, including one in Jet magazine in which she credited Frankie Lymon as an influence.

The article stated: "The unassuming element surrounding the glorious career of Diana Ross is that it all actually started for the superstar with Frankie Lymon and the Teenagers." It went on to proclaim that, while it was the Supremes with whom she originally made her claim to fame, Frankie Lymon was definitely an influence. It also revealed that "Why Do Fools Fall In Love" was the song that started her singing career, and it was the reason Ross recorded it for her latest album.

"I had selected "Why Do Fools Fall In Love" because this was the song that started me singing," Ross told Jet. "I used to sing it on the streets. I'd walk through the backyard where I lived and there was an echo there; and I'd sing 'ahhh, ahhh' like when Frankie Lymon used to do the high part. That was one of my favorite songs."

The Jet article claimed that Ross hoped to get back to the basics of music with her first self-produced album. "I wanted to go back to that simple late-50's, early-60's sound," Ross explained. The article also included a 1956 photo of the Teenagers in their letterman sweaters and bowties with the caption: "Little did Frankie Lymon and the Teenagers know when they made their hit 'Why Do Fools Fall In Love' that it would inspire Diana Ross."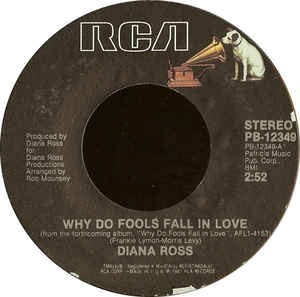 Why Do Fools Fall In Love 45
By the same token, Diana Ross couldn't have known, when she covered "Why Do Fools Fall in Love" twenty-five years later, that her hit version of the song would inadvertently lead to a series of events that would ultimately prevent Ronnie Italiano and the UGHA from placing a tombstone on Frankie Lymon's grave.

The "Why Do Fools Fall In Love" album sold over a million copies and that, along with Diana's hit single, pushed the value of the songwriting royalties and publishing rights of "Why Do Fools Fall In Love" to somewhere between $750,000 and $1,000,000. The scent of big money was now in the air, but the songwriters were listed as Frankie Lymon and Morris Levy.

It was at this point that Emira Lymon contacted Ronnie and the UGHA and asked them to hold off on placing a tombstone on Frankie's grave on the advice of both her attorney and the representative of the Artists Rights Enforcement Corporation, who were in the process of preparing a lawsuit on her behalf. Emira informed Ronnie that she didn't want the headstone placed on the grave while the court case was unsettled.
With lawyers involved and court proceedings on the horizon, the failure to have a written agreement between Emira Lymon and Ronnie and the UGHA involving the benefit, the construction of Frankie Lymon's tombstone, and the placing of it on his grave would loom large in the future.
In the meantime, the reunited Teenagers had begun playing regularly. Now a quartet with Jimmy Merchant singing the bass parts, the group had name value because of their hits. "With Pearl McKinnon singing lead, if you closed your eyes, you would swear that Frankie Lymon himself was fronting the group," Joel Warshaw said. Watch the reunited Teenagers with Pearl McKinnon perform "Why Do Fools Fall In Love" in Atlantic City in1981. https://www.youtube.com/watch?v=ZuX0ESY2K7M

"When I started with the Teenagers, I booked things mostly in the New York area," Warshaw recalled. "They did some smaller shows at little clubs like City Limits, Blossoms, and Plaza Suite in Brooklyn that were controlled by the Mob. They loved to book the oldies acts so it provided a lot of work for the groups, including the Teenagers. At one of the gigs, a wise guy wanted to hear them perform "Why Do Fools Fall In Love" again, and he walked up to Jimmy and gave him $200 to sing the two-minute song one more time."

"As time went on, the tours expanded to the Midwest and the South. The big doo wop booking agencies were Ernie Martinelli at Martinelli Attractions and Arnie Kay at Mars Talent, and I booked the Teenagers mostly through them. I would often drive them around and they would somehow get into fights, but I had patience and I understood that managing a group is difficult for anyone," Warshaw said.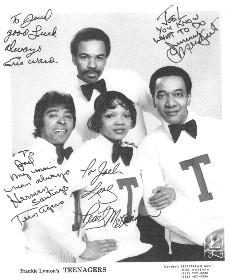 (Top): Eric Ward (Bottom) L to R: Herman Santiago, Pearl McKinnon, Jimmy Merchant

"I didn't really have a problem when it was a one-to-one situation, but they had a tough time as a group," Warshaw recalled. "The first guy we got to be the fourth member was Eric Ward, and then we got Derek Ventura. I can't remember why we replaced Eric. He had been in Second Verse with Pearl."

"We were getting a lot of work through Joel Warshaw as he put us with a booking agency who had us doing a lot of outdoor shows, gigs in Atlantic City, and a lot of clubs," Pearl McKinnon said. "It didn't last very long. I left because I thought the group was getting a little negative, and they weren't getting along with my friend from the Second Verse. I then joined a reformed version of the Kodaks. I was the only original member. It didn't last that long either, maybe a year and a half."

"When Pearl left, we decided to have auditions," Warshaw recalled. "We had Christophe Pierre set them up at Small's Paradise, a legendary venue in New York, and that's where we found Rozz Morehead. We couldn't get another Pearl, but Rozz was an incredible singer. She went on to make a career for herself after the Teenagers. She came in second on Star Search, did some Broadway work, recorded with Moby, and sang in churches."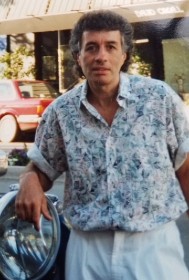 Joel Warshaw

Joel Warshaw left as the Teenagers' manager in 1985. "Rozz was still with the Teenagers when I left," Warshaw said. "I was also working with the Impalas and the Exciters when I decided to step away from the music business because my food company was struggling. I recommended that the Teenagers go with Mars Talent and Arnie Kay. Sadly, Arnie passed away while he was handling the Teenagers."

"The 1980s was a very vibrant decade in that you could recapture some of the authenticity of the original doo wop era. Everybody was in their 40s, both the performers and the audience. When we did a show with the Teenagers and the Impalas and others in Atlantic City, it was very successful and kind of opened the doors for doo wop at the casinos," Warshaw recalled.
During those years, however, Jimmy Merchant, Herman Santiago, Morris Levy, and the three women who claimed to be Frankie Lymon's legal spouse and rightful heir would all become involved in a number of court cases that revolved around the songwriting credits and royalties to "Why Do Fools Fall In Love". Those hearings would also profoundly affect Ronnie Italiano and the UGHA.
End of Part 4