Legendary Michigan Songs
87.) Village Of Love - Nathaniel Mayer and The Fabulous Twilights
Artist Name:

Nathaniel Mayer and the Fabulous Twilights

Year Inducted:

2014
Details

Category: Legendary Songs
"Village Of Love" (N. Mayer, D. Brown) – Nathaniel Mayer and The Fabulous Twilights; Fortune and United Artists labels, # 22 Billboard Hot 100, # 16 Billboard R&B – 1962. Inducted in 2014.
According to author David A. Carson, Nathaniel Mayer recorded his own composition of "Village Of Love" for Detroit's Fortune Records at the age of 18 in 1962. It would go on to become Fortune's biggest hit after it was leased to United Artist for national distribution and peaked at # 22 on the Hot 100.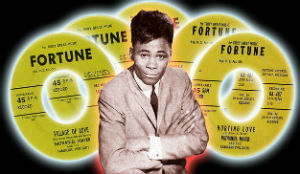 Although label owner Devora Brown received songwriting credit along with Mayer, it is doubtful that she contributed anything to the song beyond running the recording session in the Fortune building. Mayer's raw brand of doo-wop was very different from the smooth tones of his Fortune label mates, Nolan Strong & The Diablos, but it is an unquestioned Motor City classic.
TCarson wrote that the prominent bass voice at the beginning and end of "Village Of Love" was that of the Diablos' bass singer, Jay Johnson, but Nathaniel's son claims that thebass part was sung by Harold Smith. After the song became a national hit, Nathaniel Mayer played the best clubs in Detroit including the Gay Haven and the 20 Grand, and then went on to headline a tour around the country fronting his own revue.
YouTube Video:

https://www.youtube.com/watch?v=ZpA5Ljxuxl4